GAMEDAY CENTRAL
Week Nine – Parsley Field at Kubiak Stadium

Eagle Football 37
St. Pius X 14
WHAT YOU NEED TO KNOW
Scorching quarterback Jake Wright '22 threw for 362 yards with four more touchdowns, two to raucous receiver Cameron Price '22, as St. Thomas burned and buried St. Pius 37-14 for the Eagles 18th district win in 19 games.
Eagle Football continues to own the long-standing series with a fourth straight victory and 9th in 11 games since 2011.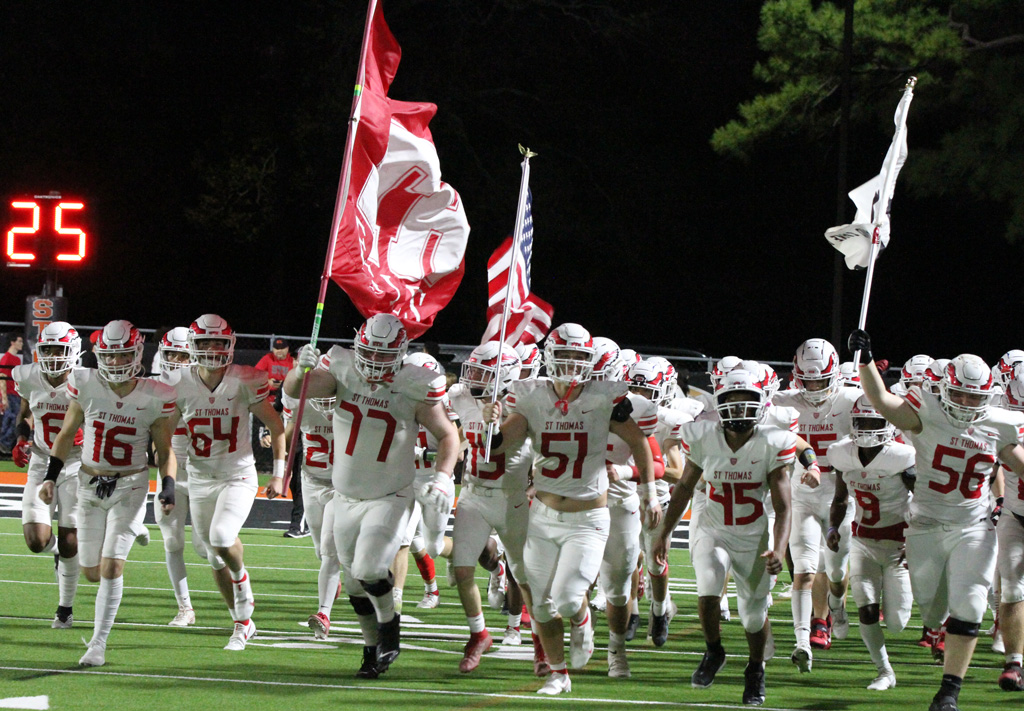 TURNING POINT
The Eagles (7-2, 4-1) struck with a spontaneous combustion not seen since Squid Game erupted on streaming audiences, exploding for 37 unanswered points through the first three quarters. St. Thomas never felt the slightest game pressure and as the rock & roll gridworld reminds us – you know I'm here to stay, got you in a stranglehold baby, you best get oughta the way.
FRIDAY NIGHT FIVE
1. Wright and Price fling and cling as one of the most stat-stuffing combos in the nation. They connected on a 26-yard out pattern to the right corner of the end zone 2:07 before halftime for a commanding 24-0 advantage.
2. The pitch-and-catch partners later slapped a copy-and-paste score on the first St. Thomas possession of the second half, a 20-yard hit for their 12th tag-team touchdown of the campaign and a 30-0 cushion.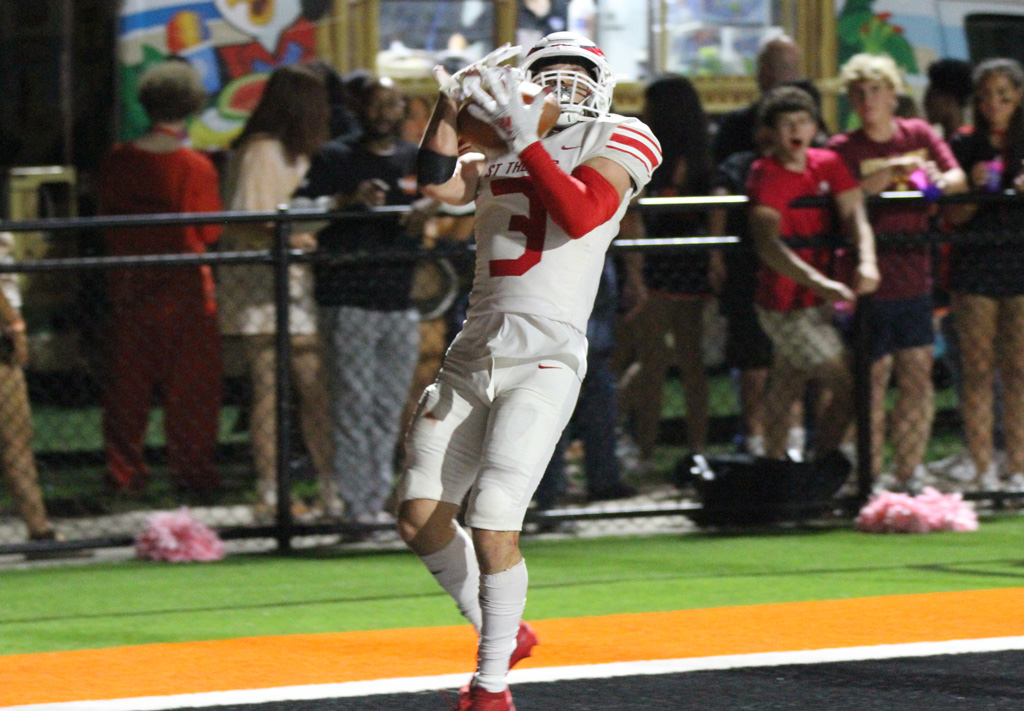 3. Wright (28-39) shared the wealth with Sam Mahlberg '22 (4-51 yards) to post the Eagles' first 14 points. After a punt and a turnover to start the offensive night, Wright dialed up completions worth 16, 17, and 26 yards before a 12-yard payoff on a right-to-left slant for 7-0.
The two then capped a numb-and-stun 94-yard drive that required only three plays with Wright lasering a 14-yard strike to the right corner. Running back Johann Cardenas '24 bolted for a 72-yard shock play from the St. Thomas six-yard line to jump-start the opportunity.
4. Cardenas (16-144 yards, 160 all-purpose) supplied the final Eagle points in the closing seconds of the third quarter in a six-play set where he ripped off romps of 15 and 18 yards before bulldozing an empty left side for his sixth rushing touchdown of the season that pushed the count to 37-0.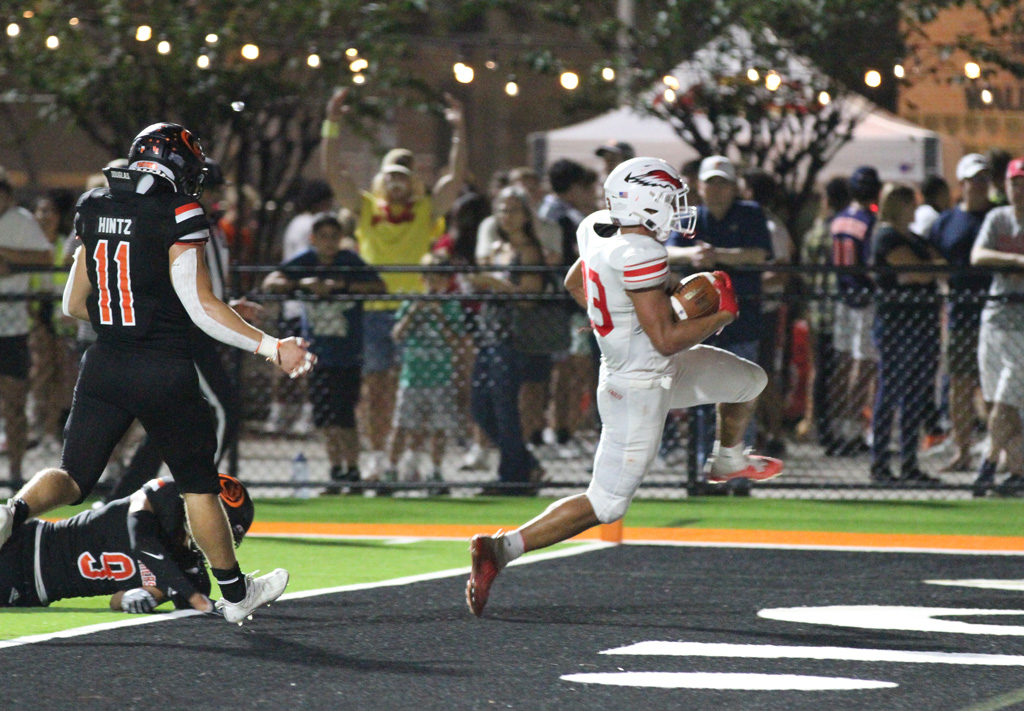 5. The three-time defending distinct champions entered as the No. 4 private in the Houston Chronicle media poll and were ranked No. 3 by VYPE Houston after winning six of their first eight games.
VENI VIDI VICIOUS
Eagle Football arrived in a rude mood to make Stevie Ray Vaughan envious …
… and then hammered the point home with the force of a nail gun.
A diabolical defense faced six series in the first half and forced five punts, allowing one first down along with a fourth-down punishment from leading tackler Zach Rocha '23 at their 28-yard line that ignited the runaway rout. The Eagle surrendered a scant 167 total yards, 44 on the ground, and two consolation touchdowns in the final 12 minutes with the outcome firmly secured.
RAPID REACTION
Head Coach Rich McGuire: "It's a rivalry game, our rivalry game at St. Thomas. It means a lot to our kids, it means a lot to our school, it means a lot to our alumni, everybody associated with it."
ROCKIN' THE FILLMORE
Wright and Price continue to flash as a pair without parallel in Texas high school football.
Wright tops the Great State's passing charts with 3,100 yards, the first quarterback to break the 3K barrier.  Peerless Price is the only target to surpass 1,200 yards with with 1,210 yards on 70 catches with a particular talent to piles yards after the catch and contact.
QB1 has rifled for three or more touchdowns in eight of his nine St. Thomas starts. Wright's total swelled to 34 against one single solitary interception in what has developed into a better than fiction one-and-done senior season. He's completing 72% with a rating of 150.5.
Earlier on Friday, Wright was recognized on Bally Sports Southwest as the Built Ford Tough Player of the Week for private schools in Texas. He is the son of Brian Wright who is in his second season as head coach at Division II Pittsburg State in Kansas. He was the offensive coordinator and quarterbacks coach at Toledo for four seasons and the offensive coordinator at Florida Atlantic from 2012-15.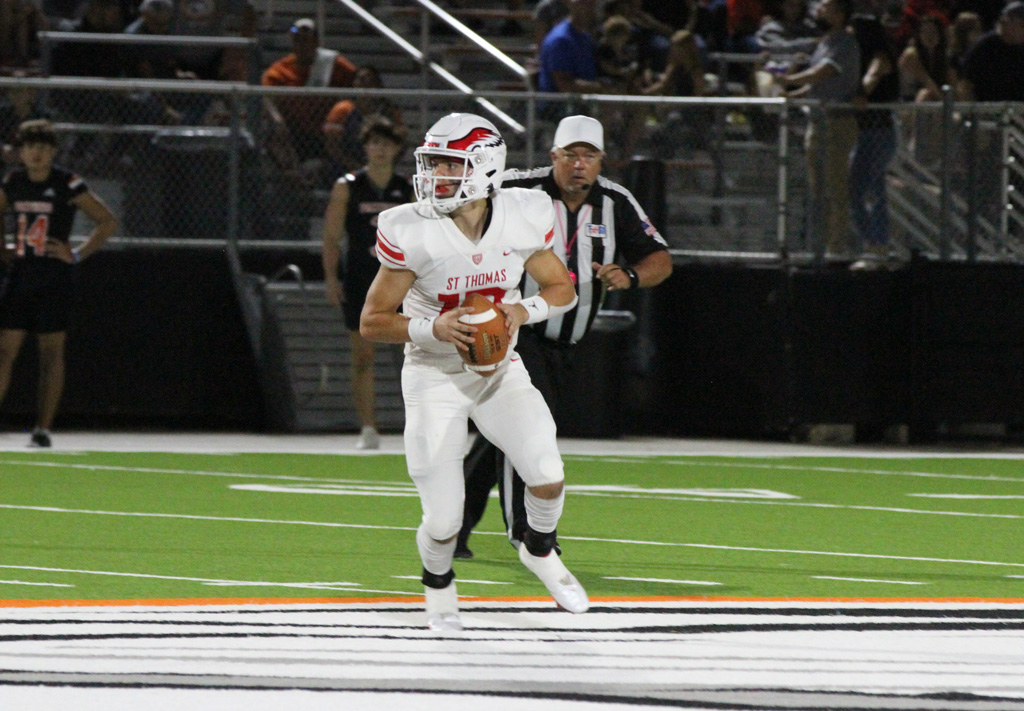 STATE OF PLAY
For the fifth game in six weeks, the Eagles left nothing to chance and looked like the team McGuire had hoped to see all along, transition year or not.
St. Thomas flexed following a tepid offensive start, SPX blinked, and Eagle Football flipped the game in an instant. The first of Wright's scoring zaps arrived with 3:04 remaining in the first period to move the Eagles in front 7-0. Ten minutes of game clock later they were in command by 24.
Complete efforts have suddenly become the standard with an array of high-octane weapons that operate as if EA Sports debuted a schoolboy video game set on easy mode with all of the sliders turned to 100.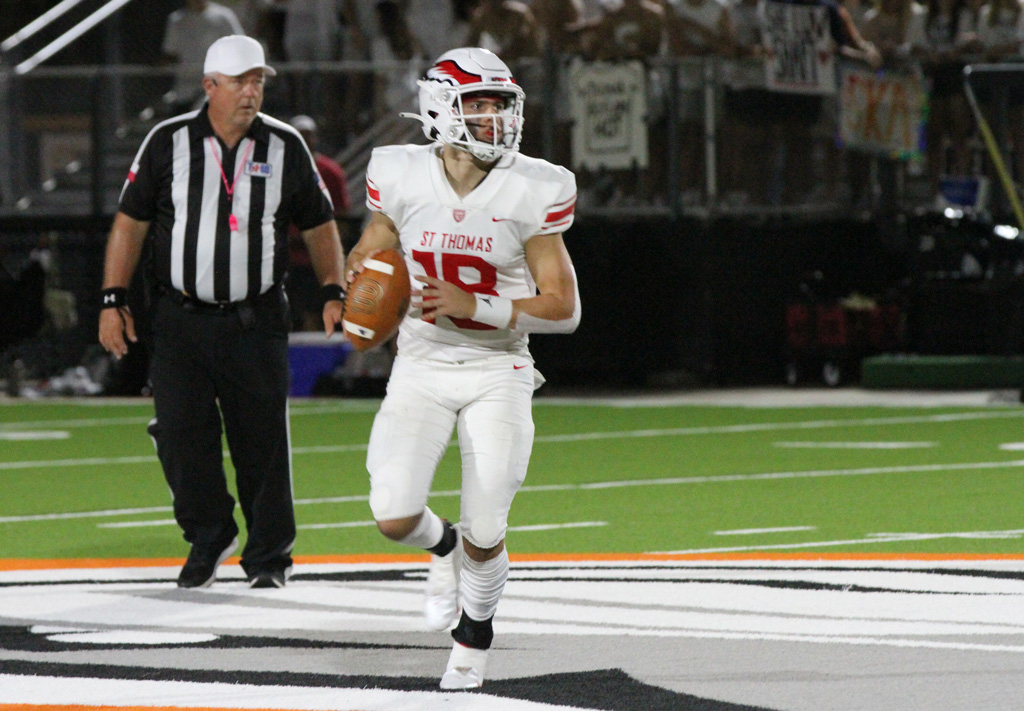 The Eagles offensive scheme is again proving to be an oasis for quarterbacks and a hellscape for opposing defenses. From record-smashers Michael Keating '16 (University of San Diego) to Payton Matocha (Miami) '19 to Maddox Kopp '21 (Houston) to the resident Wright, the clear philosophy is to aggressively seize any advantage when the slightest weakness or opportunity is offered. The Eagles stomped SPX for a season-high 574 yards while averaging seven years per rushing attempt.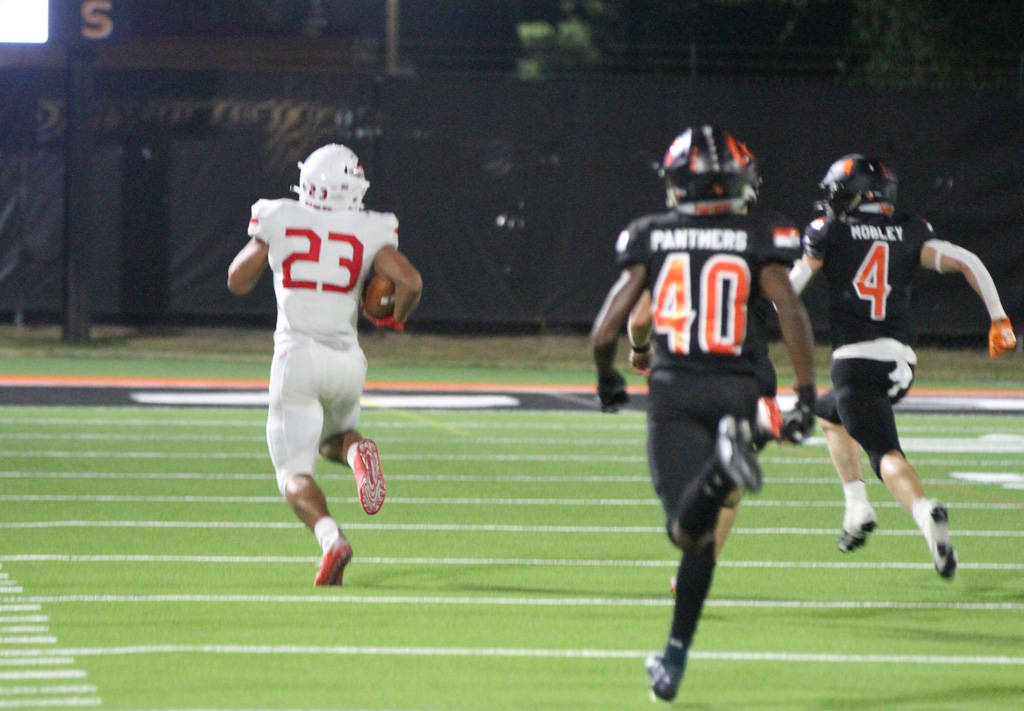 An intensively determined defense is playing seek-and-destroy and eliminating game-turning explosives in recent weeks. The group has emphatically responded to consistently reaching a higher level than merely being fundamentally sound and surviving weekly melt-your-face shootouts.
St. Thomas has now roared for five convincing wins in its last six games, allowing 38 points while racking 222.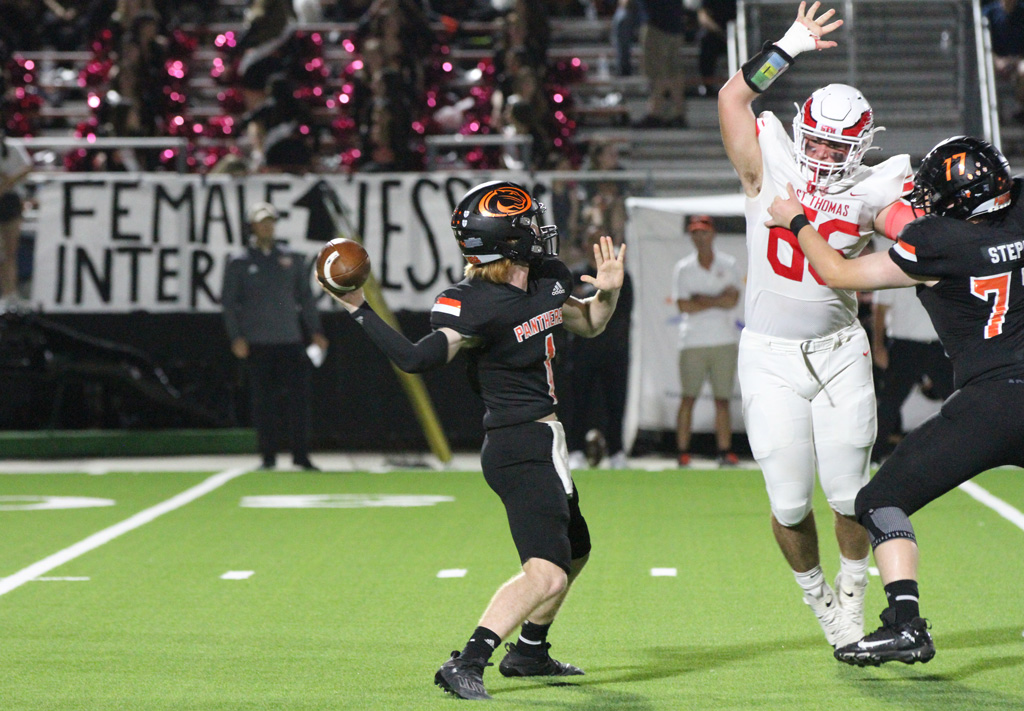 ¡UNO!, ¡DOS!, ¡TRÉ!
The Eagles have won 13 of their previous 15 regular-season games.
From 2012-15, St. Thomas captured four straight SPX showdowns with the district title at stake by a combined score of 144-62.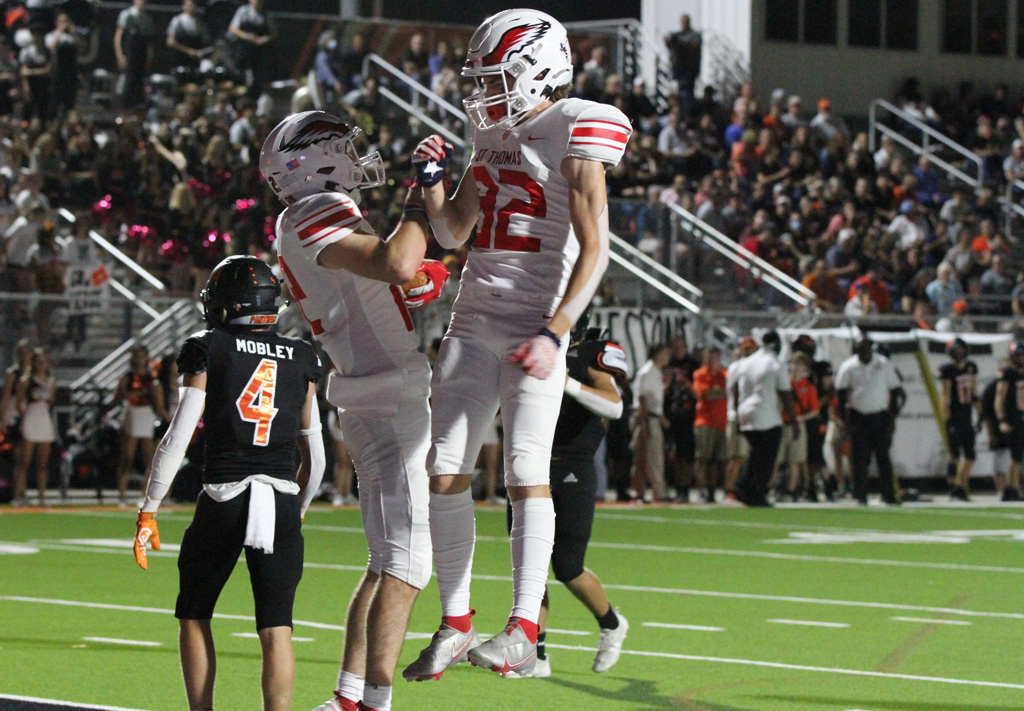 Kicker Jack Ohlenburg '24 split the uprights from 27 yards in the second quarter to salvage a 10-play series for 17-0. He and Keenan Bonner '24 later teamed for a touchdown-saving tackle on the second half kickoff that preserved a 24-0 margin.
PREVIOUSLY
GameDay Central || Eagle Football Most Complete in Roaring Red & White Road Show
GameDay Central || Homecoming Shutout Gives Eagles Seventh Straight Win at Granger Stadium
GameDay Central || Eagle Football Romps and Stomps to 15th Straight District Win
GameDay Central || Eagle Football Dominates for First Shutout since 2016
Inaugural Catholic Bowl || Faith, Freedom, Football Celebrates Authentic Religious Identity
GameDay Central || New Look Eagle Football Sizzles in Season Opening Thriller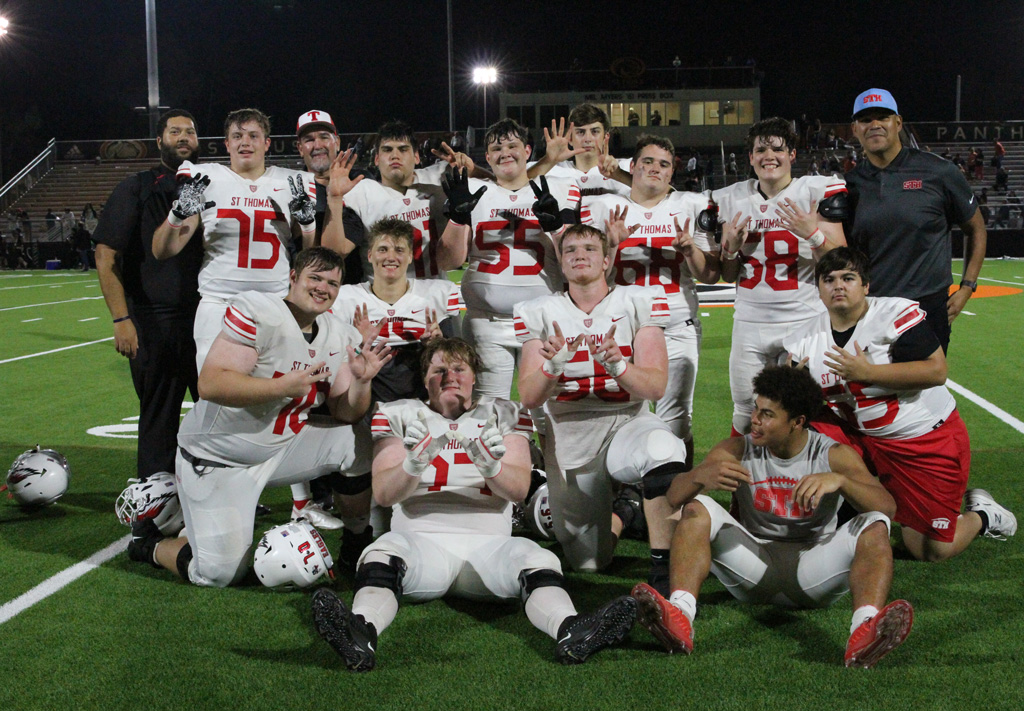 UPCOMING
Following an open date, the Eagles will host Tomball Concordia Lutheran on November 5 to conclude the regular season. St. Thomas has dominated the duel in recent years, collecting 10 knocks in 11 tries by a combined margin of 340-117.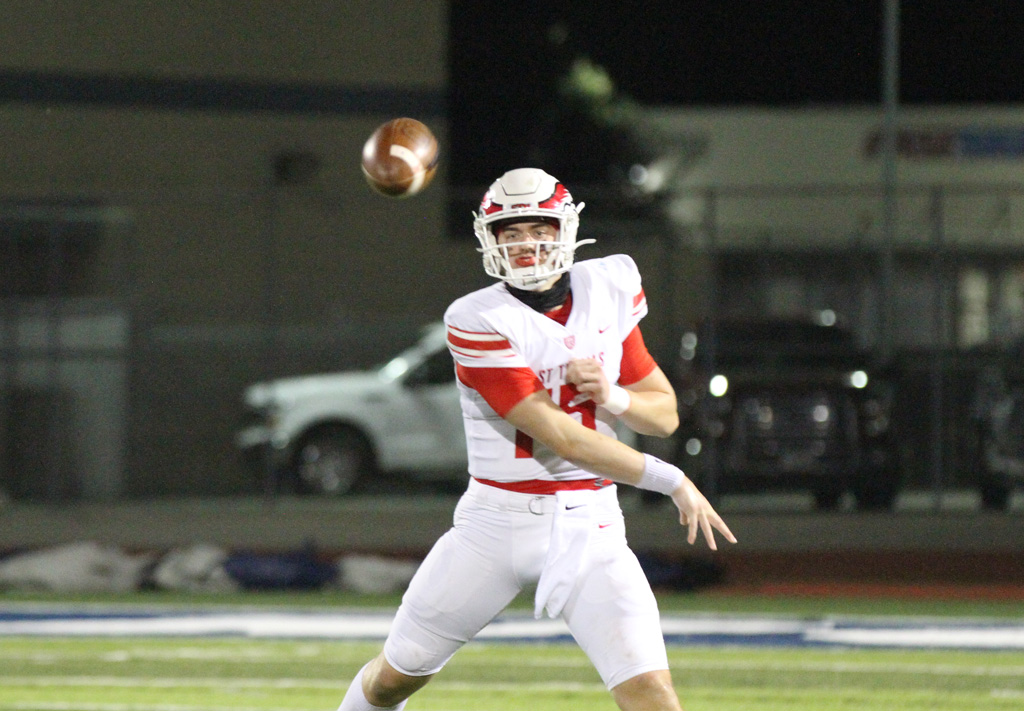 Last season, Kopp rifled three touchdown passes while the sudden sensation Cardenas romped for 157 rushing yards and three more scores in a 48-17 runaway as St. Thomas finished the regular season with a furious six-game win streak.
Eagle Fight Never Dies!