Nothing drives descending chaos quite like family – particularly when charged by lunatic misfits, murder, and mayhem.
The quaint house at first glance is anything but when it is revealed that Aunt Abby and Aunt Martha, seemingly too sweet for unsavory, are serving their guests something a little stronger than tea in Arsenic and Old Lace by Joseph Kesselring. The classic screwball black comedy was brought to life by the energetic and enthusiastic St. Thomas Theater for a robustly entertaining engagement at Cemo Auditorium.
Abby and Martha Brewster, played by Amelia Horner (Incarnate Word Academy '22) and Zoe Yokubaitis (IWA '23), proved confidently able in perfecting the art of euthanasia, offering laced elderberry wine to unsuspecting, lonely old men, leading to an early respite.  The eccentric pair are wholly devoted to their calling and unable to comprehend why their excitable nephew Mortimer (Brandt Peterson '23) is getting so anxious about his astounding discovery.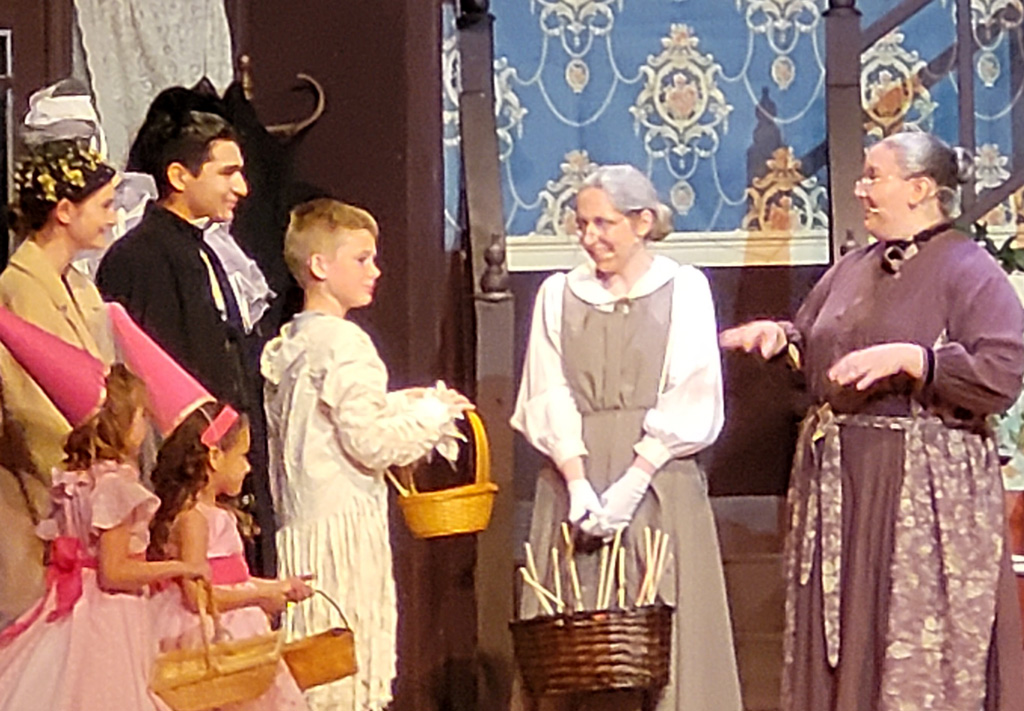 The enduring, docile dears barely bat an eye at their penchant for poisonous potions or the mounting body count in the cellar. Nor are their peccadilloes the half of it. Barreling up and down the staircase is their partner in crime, nutcase Teddy (Damian Wilson '23), Mortimer's troubled, bugle-blowing brother, believing he is Teddy Roosevelt in the Battle of San Juan. Then there's prodigal Jonathan (Joel Johnson '22), a much-wanted murderer who recently escaped from an asylum and a ghoul-some Boris Karloff lookalike. Alongside is reluctant henchman Dr. Einstein (Casey Salvatierra '23) who's not THAT Einstein.
Amid such company, what chance is there of normalcy? Insanity, Mortimer concedes, "practically gallops" in the family, much to the distress of his fiancée, the playful and always confused Elaine (Cecilia Carrasco, Duchesne Academy of the Sacred Heart '24).
"I couldn't be more proud of the entire group effort," says long-time theater director Dan Green.  "There was great character development throughout the rehearsals, even from Friday to the Sunday finale. In every practice, there's one missing element – the audience. And once the actors got that response, the laughter, there was a jolt that ignited them to another level."
First-rate were Horner and Yokubaitis as the innocently scheming spinsters. Both captured sweet nurturing demeanors, the entertaining foils to the bumbling, exclamatory deeds afoot. Their matter-of-fact descriptions of crime were pitch-perfect, oblivious to the implications of their 'charitable' logic.
Peterson showed great ease and flexible, reactive comedic skills in portraying the straight man in this frantic farce (the Cary Grant role in the iconic 1944 Frank Capra film). His panicked incredulity at unearthing his family's secrets was a welcomed livewire.
Arsenic and Old Lace was at its strongest when it balanced the lampoon elements of the play's DNA. Officers Brophy, Hobbs, Klein, Murphy, and O'Hara, played by Hudson Hollingsworth '23, Rhys Lloyd '24, Daniel Hernandez '23, Chase Molineaux '24, and Evan De Anda '23 were excellent examples. In their introduction, they practically wrestled with each other for the spotlight in true Marx Brothers fashion, setting the tone for the delightful evening.
De Anda was especially a scene-stealer whenever he entered the room. His deliberate character quirks and adept expressions/reactions were a fantastic match for the show.
"It was truly an ensemble, rapid-fire humor with no one person serving as the fulcrum," Green says. "Zoe was brilliant and Brandt's take was phenomenal. Any work is only as good as the villain and Joel truly understood how to play the Karloff-like creature. This was his first larger role and he responded – great scary mannerisms, and performed it all with threatening undertones. Damian captured the core of Roosevelt. And I was so impressed by Evan and Casey."
Another standout of the production was the delightful set design and construction led by faculty members Phil Gensheimer and Daniel Bryant '93. Their expertise was enhanced by a legion of student assistants with skilled contributions from Audio/Visual Coordinator Chris Hodge and Lighting Manager Ben Haworth '08.
Green lost a cavalcade of show-stopping talents and vital supporting players through graduation. The returning talent pool in his acclaimed program was in the predictable churn with only three seniors available for the transition phase.
"COVID was still ongoing and my initial strategy was to choose a small play given the limited experience coming back," Green says. "But that doesn't sit well with me because that usually means more demand (for roles) than supply. We took a 14-person cast and flipped into a 43-person play. And we've done that countless times. It's the progression. The method is to give every actor an opportunity and see what he or she makes of it. They may earn a moment on the stage where they're the focus. That gives them confidence that they contributed to the overall success."
Arsenic and Old Lace has long been regarded as close to foolproof since its debut in 1941. Kesselring's play enjoyed an astonishingly long first Broadway run with 1,444 performances. Innumerable high school and community theater revivals have mounted through the years but this was Green's first St. Thomas attempt at the shenanigans portraying the elderly, batty Brewster sisters and their equally out-of-kilter kin. Credit Green for avoiding old hat and refreshing yesteryear's historic run so that the escapist amusement would resonate for the TikTok generation.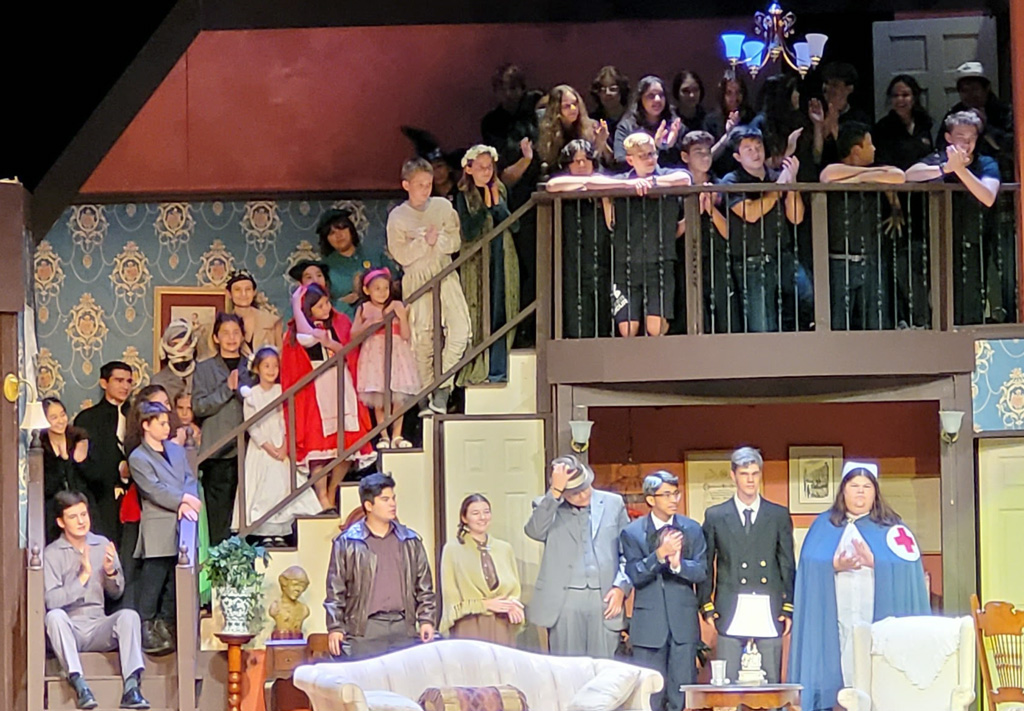 "I'm always amazed – and grateful – to introduce the students to something that doesn't bore them," Green says. "And from the initial read-throughs, the students bought into the material. They were enthused from beginning to end. And let's face it, we all need some levity during these times."
Catholic. Basilian. Teaching Goodness, Discipline, and Knowledge since 1900.