Batter Up.
The latest enhancement to the Joplin Campus redevelopment will position Eagle Baseball in a league of its own.
St. Thomas faculty, staff, and community partners gathered on October 14 for a ceremony to break ground on the school's new Fr. Wilson Field. The next jewel among the school's ever-expanding athletic facilities will stand as one of the premier on-campus high school baseball parks in Texas and the region.
A number of prominent members from the Board of Directors joined President Fr. James Murphy, CSB; Vice President for Advancement Mark deTranaltes '83, Principal Aaron Dominguez '96, and Head Baseball Coach Adam Massiatte in celebrating the next transformative phase in St. Thomas history.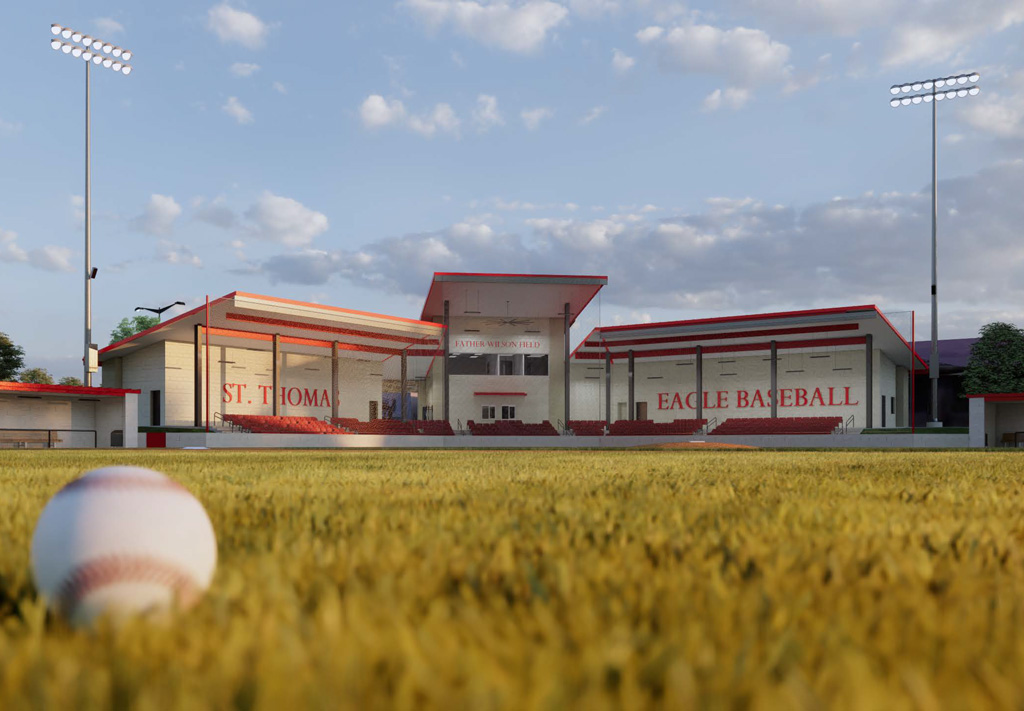 Texas-based and valued St. Thomas stakeholder Vaughn Construction is teaming with international architecture firm Stantec and Hellas Construction to rebuild the venerable ballpark from the ground up,
much more than a makeover for the home of 24 state champions since 1953.
Funded as part of the 4500Forever capital campaign, the new Fr. Wilson Field is positioned in the north area of the Joplin Campus, creating a unique experience for one of the most loyal fan bases in high school baseball, combined with an enduring legacy of championships.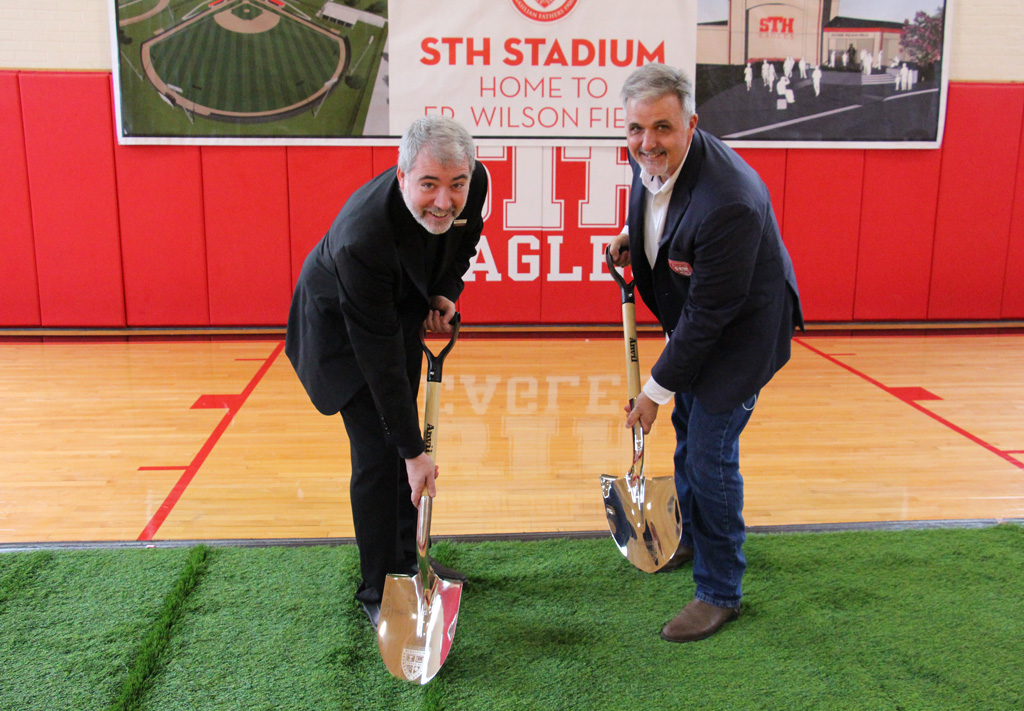 "These are extraordinary days for our athletic programs and St. Thomas," deTranaltes says. "This is a linchpin move forward to unite our physical campus community and build our shared dream of excellence. We have been honored to help craft a thriving future for this program and the school, where student-athletes will thrive. We are truly grateful for all our benefactors who are making the Fr. Wilson project a reality."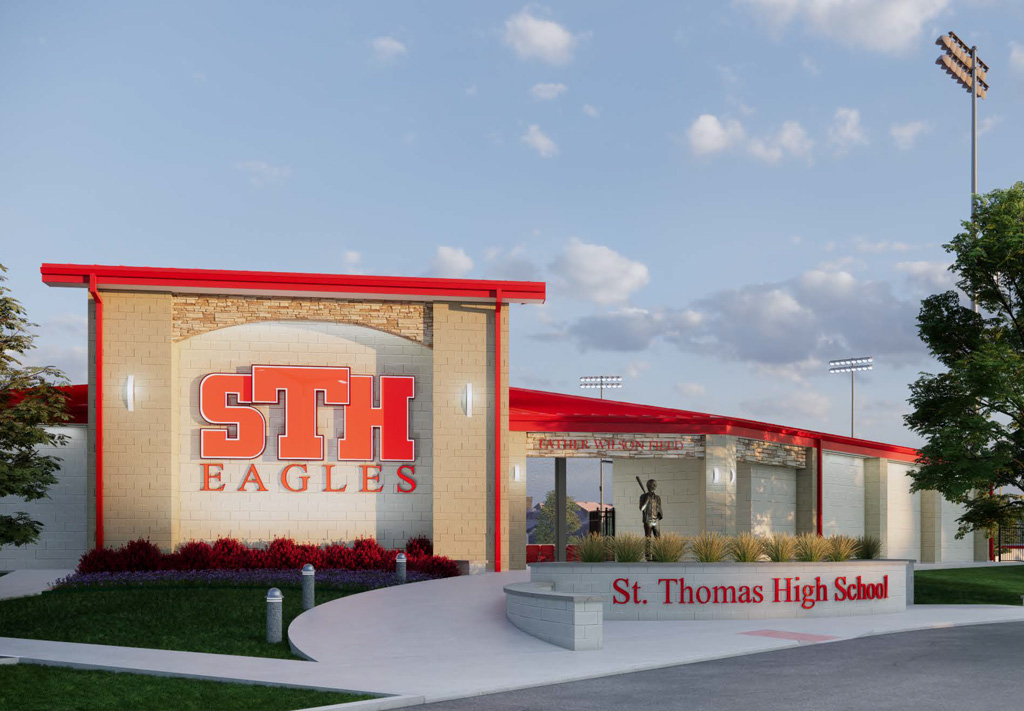 Views within the new facility will be striking. The multi-phase will incorporate individual chairback seating for a 440 capacity, a state-of-the-art synthetic turf that maximizes safety, playability, and utility; LED field lighting by Musco Sports, and a scoreboard in left center field featuring an Ace video board that measures 13 feet by 25 feet. The dimensions extend 375 feet to center field, 315 to right, and 305 feet to a left field fence that spikes at 16 feet, extending to left center and then dropping to eight feet to complete the outfield.
Student-athletes will be provided with improved and expanded home and visitor locker rooms, 50-foot dugouts, expansive batting cage, and open-air pitching areas. The additional amenities include coaches offices and spaces for athletic training and equipment management. Graphics and content that highlight the program's rich history will adorn the walls throughout.
In addition to substantial structural updates, the new Fr. Wilson will feature a welcoming entry plaza accessed from the current baseball field parking, spacious restrooms, a concession area behind home plate, and media facilities.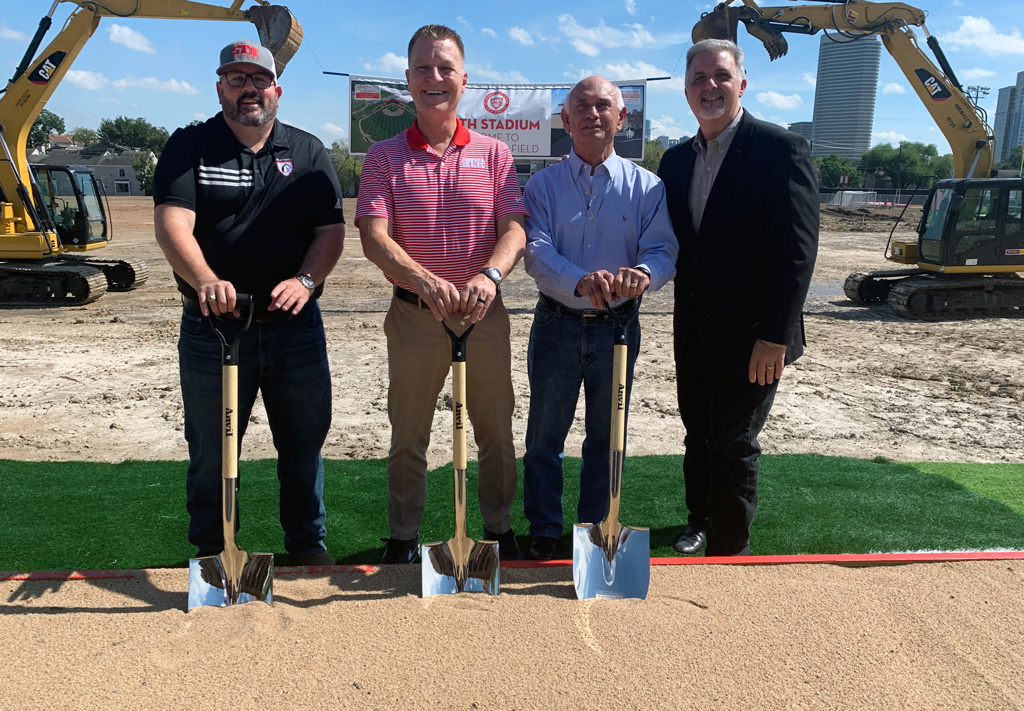 "It wasn't meant to be the most luxurious building," Athletic Director Mike Netzel says. "More than anything, the idea was to create a home for our players, alumni, and vibrant supporters. And it's a great opportunity to pay tribute to our legendary coach Fr. Wilson for all that he's meant to St. Thomas and amateur baseball in Houston with a showcase venue."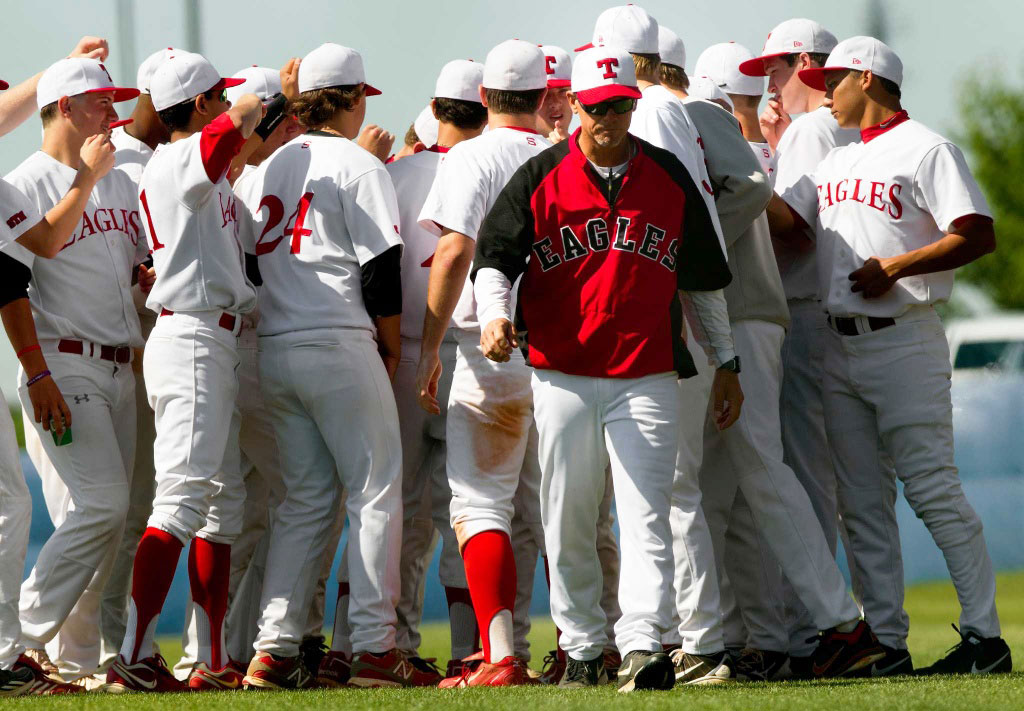 Fr. Wilson Field serves as the home of Eagle Baseball which proudly produced four state titles from 2010-17 under the leadership of eternal Astros icon Craig Biggio (2009-13) and his successor Ryan Lousteau (2014-18).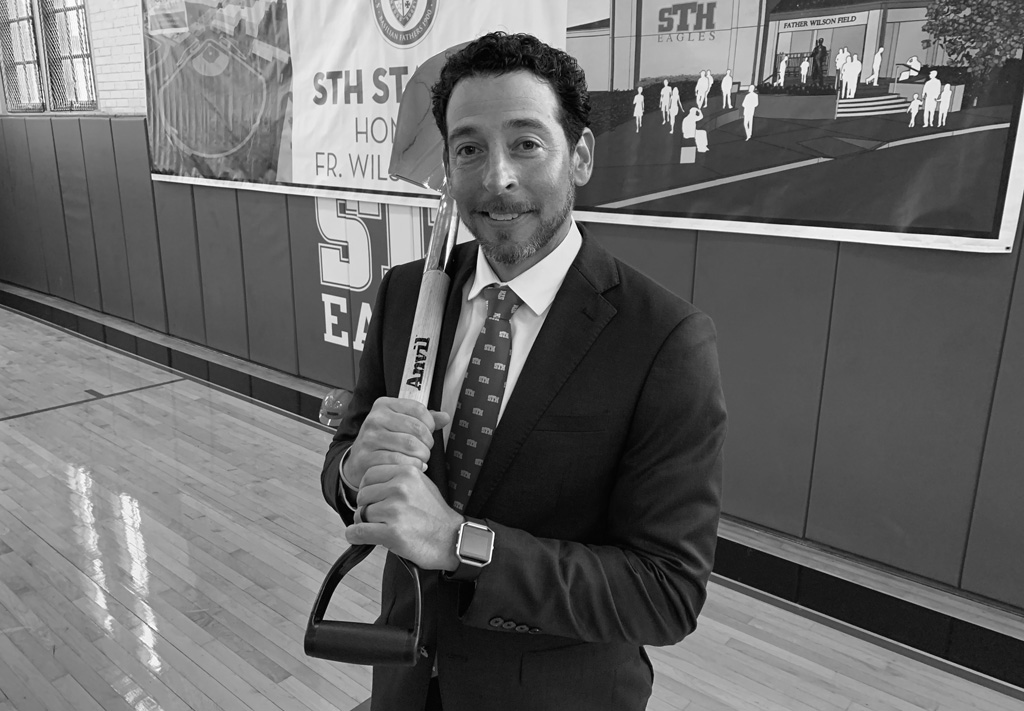 St. Thomas has competed in 10 state tournaments in the previous 11 seasons with Massiatte emphatically continuing the championship identity of the program. The Eagles reached the 2019 state title game in his first season as head coach and the state semifinals in 2021 after the COVID-19 pandemic forced the previous campaign to be cancelled.
"For all the tradition and great players and coaches who are synonymous with Fr. Wilson, we honestly have outgrown the present location," Netzel says. "This move gives us a much larger footprint. The setting takes advantage of the surrounding residential neighborhood on Dickson Street, the same dynamic views of downtown, and allows for alumni gathering areas. Our fans will be thrilled by the game day experience."
Filling the Fr. Wilson Field vacancy will be natural grass practice fields and valuable green space to best serve many of the 12 varsity sports of a surging Eagle athletic program that has captured the TAPPS All-Sports Trophy an unprecedented nine times in the previous 11 years that the honor was awarded.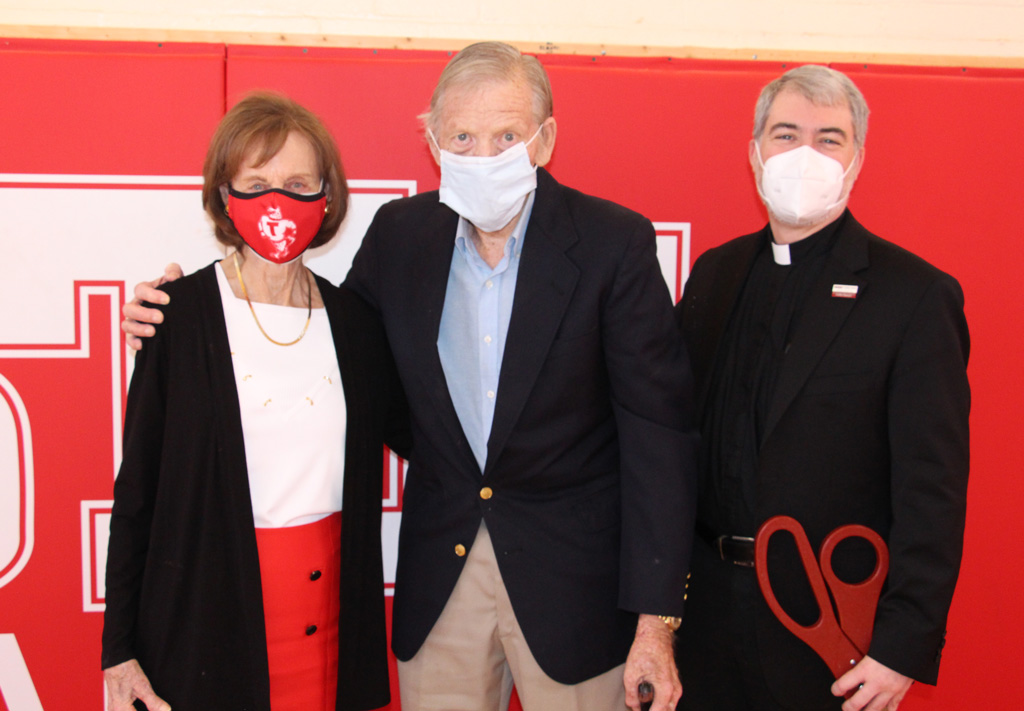 The Joplin Campus, named to recognize the extraordinary philanthropy of Jane and Bill Joplin '54 during 4500Forever, contains four vital components. All are different in their use, but all four supply Eagle student-athletes with superior mental and physical training and preparation facilities.
The extensive renovation includes more than 20,000-square feet devoted to enhanced practice amenities and locker rooms for Eagle Basketball and Eagle Wrestling, plus a complex for strength and conditioning, and sports medicine to be utilized by all Eagle student-athletes.
The jaw-dropping 3,760-square foot weight room offers custom equipment and one of the most comprehensive free-weight and exercise machine facilities in Houston while ensuring a safe environment. The technologically advanced 3,000-square foot sports medicine center emphasizes specialized diagnostic stations for therapy to promote rapid recovery.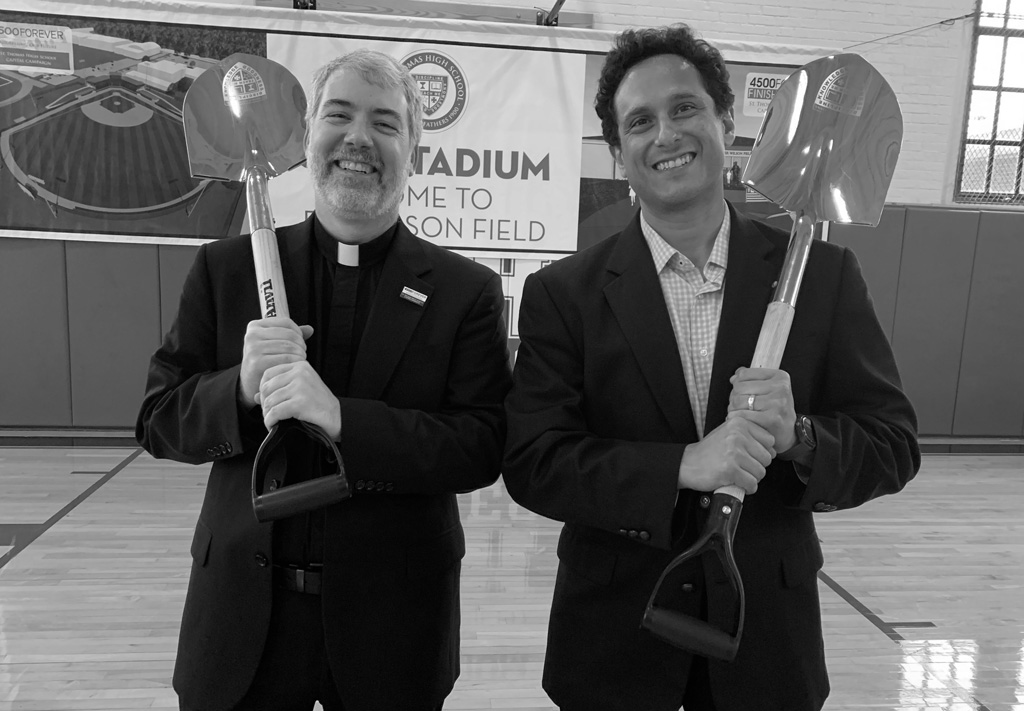 "Our commitment, as one of the preeminent college preparatory institutions in Texas, has never been stronger," President Fr. Murphy says. "Our athletic program has allowed us to open the doors of this institution to our city and beyond our state in unique ways. We're blessed to upgrade the day-to-day accommodations and resources for our student-athletes. We truly thank the donors and contributors who stepped forward to make this happen and propel St. Thomas to take the very important next steps."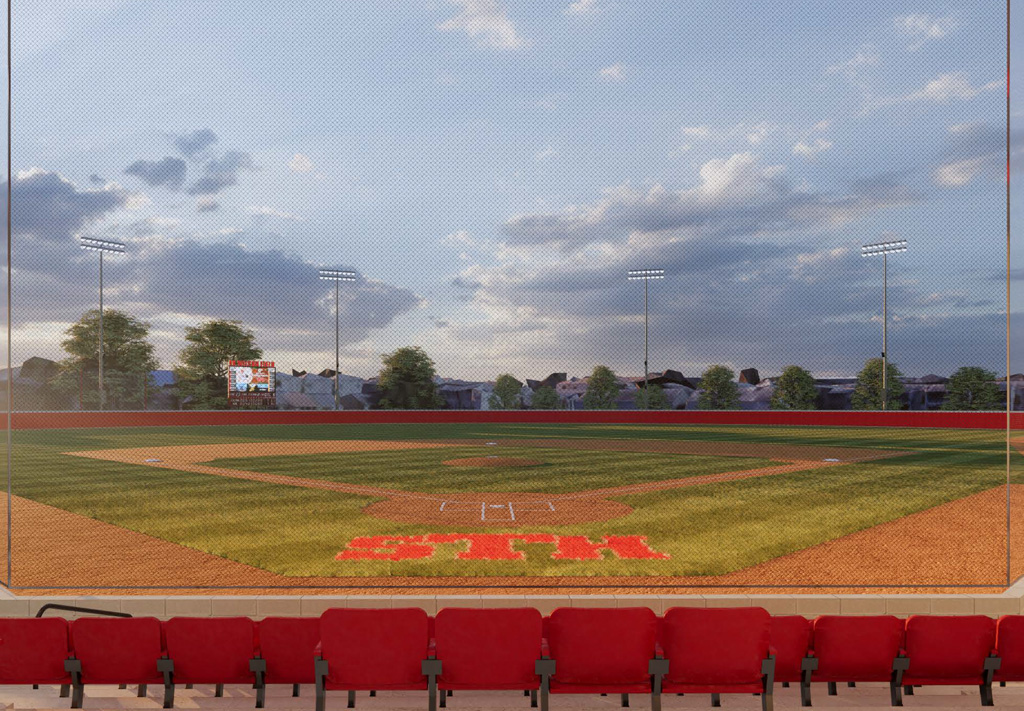 Catholic. Basilian. Teaching Goodness, Discipline, and Knowledge since 1900.