St. Thomas and Eagle Athletics are proud to celebrate faculty member and state championship coach Nathan Labus who was inducted into the Birdville Independent School District Athletic Hall of Honor.
Labus was recognized for his decorated two-sport career at Haltom High School where he excelled in the pole vault. In 1991, he was the Texas Amateur Athletic Federation champion. As a senior, Labus flashed a series of notable accomplishments, including individual titles at the National AAU Youth Indoor and Fort Worth Coaches Indoor meets before capturing the bronze medal at the UIL state track and field championships.
Labus accepted an athletic scholarship to the University of Houston where he performed under legendary head coach Tom Tellez. Labus was a 1994 NCAA All-American and still holds the second-best indoor mark and third-best outdoor standard in program history. His Cougar legacy was cemented in 1997 with election into the UH Sports Hall of Fame.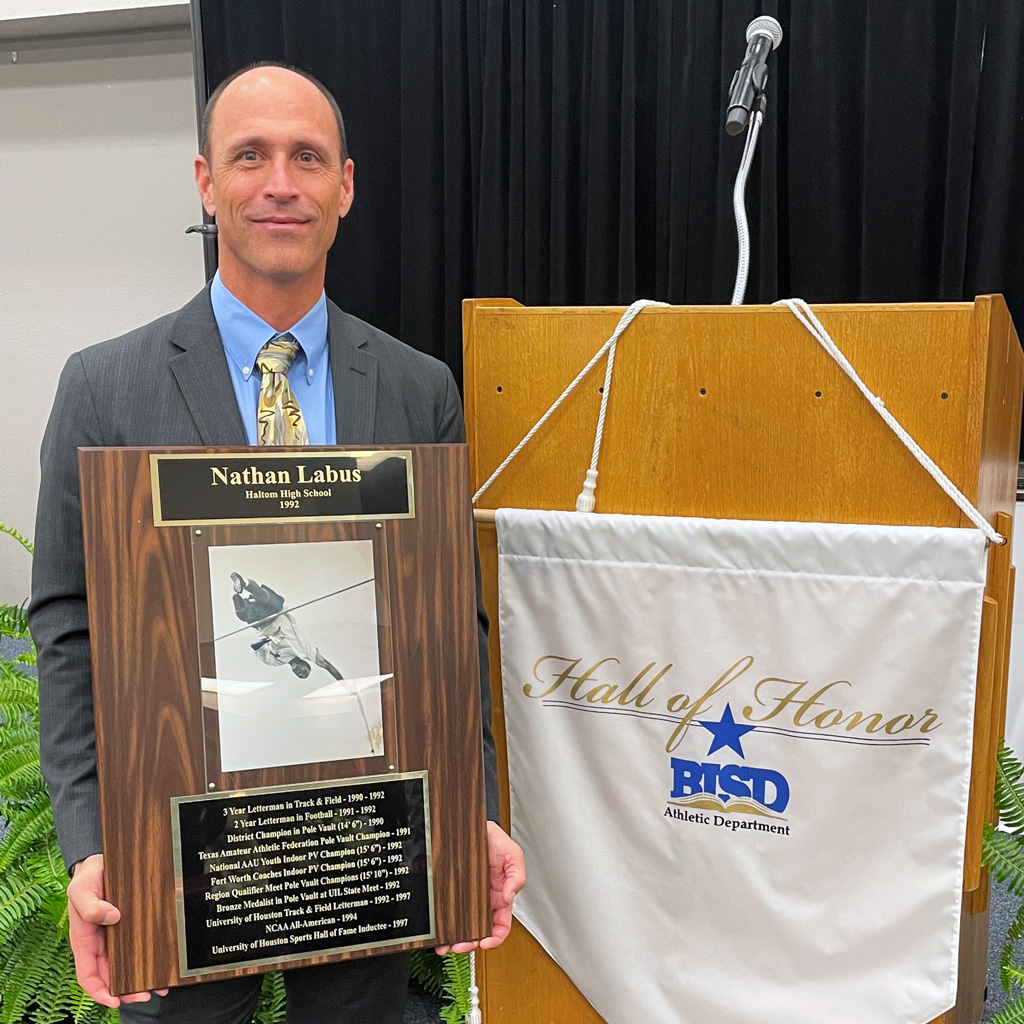 "This distinction was made possible by so many people who invested in me, trusted in me, gave me an opportunity to discover my talents and ambitions," Labus says. "I want to thank all who share in this success. When people come together with the mindset of accomplishing something, it can add up to something truly amazing."
Labus has consistently combined endless perseverance and drive with a steady unwavering influence since joining the St. Thomas faculty and became the head coach for track and field and cross country in 2006.  He was the tactical and inspirational force leading a landmark achievement in 2016. Behind multi-event phenom Landon Malouf '16, Labus cashed the 100th state championship in the rich and storied history of Eagle Athletics. In 2019, the program again ruled supreme after a magical title-clinching effort from high jumping sensation Peyton Matocha '19 in the final event capped a historic rally. And in 2021, two-sport all-state dynamo Cameron Bonner '21 fueled a dominant state title effort for Labus's third bold bonanza in six years.
Labus also helped navigate Eagle Cross Country to the state crown in 2004 as an assistant coach, then orchestrated hard-charging state runner-up results in 2018, '19, and '20.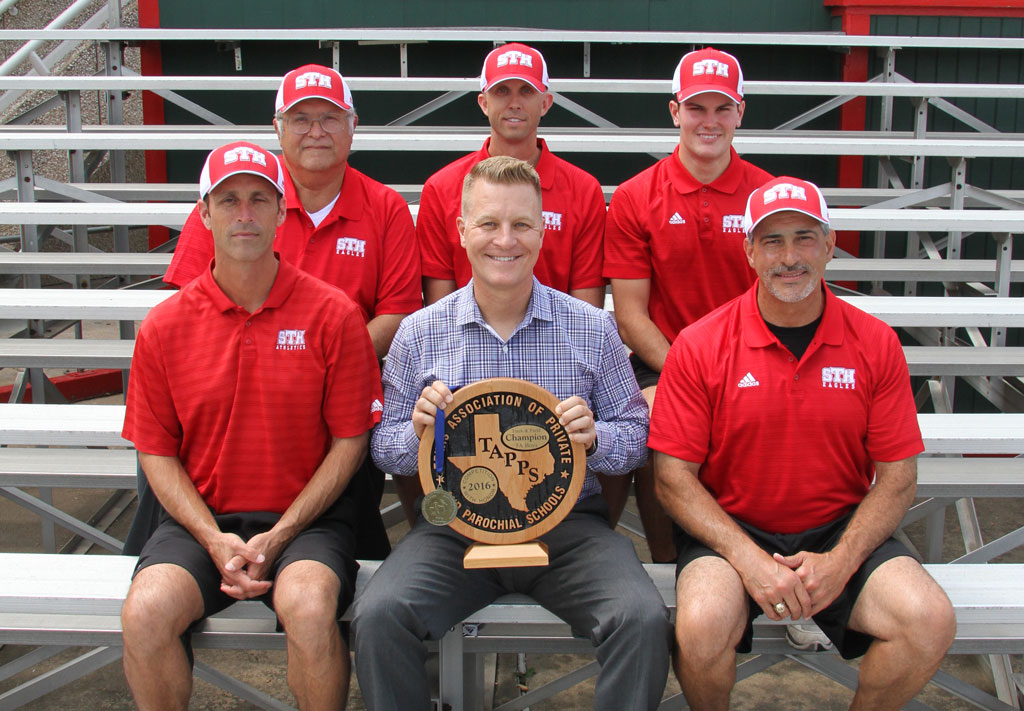 "Nathan is simply one of the best coaches in Texas high school athletics. The results speak for themselves," says St. Thomas Athletic Director Mike Netzel, who attended the gala event honoring Labus along with family, friends, and supporters. "What the banners don't reveal is the culture he creates. His student-athletes are valued as people developing into their best possible versions. He doesn't accept anything less. His commitment is to educate the complete person – college preparatory academics and elite level athletics. Success in every facet of life is his priority. That's why the relationships he cultivates within the St. Thomas community are meaningful and for a lifetime."
Eagle Fight Never Dies!