The swan song more resembled a grand slam crescendo than a heart-tugging stroll through career appreciation.
The last call of precocious practitioners were bent on a #BestIsStandard ethic embedded before them. A ceramic arts lab that had annually nurtured and produced a conga line of regional and national acclaim wasn't interested in a nostalgic parade punctuating previous champion scholars. The serious intent was to close the lead shepherd's near four-decade career climb in the most fitting, riveting way possible – mounting Everest.
When Mike Nebel fused with the St. Thomas faculty 15 years ago, he immediately began inspiring students with the fascination of interpretation. As the program's profile expanded, his modus operandi was the familiar metaphor of the windshield and rear view mirror. The former clear and wide to see the next ripe opportunity life is offering ahead. The latter small and on the peripheral providing ever shrinking images of the past.
Translation. Enjoy the results. And then target for the most bodacious yet, all emphatic testimony to the rise and reputation of St. Thomas Fine Arts and Nebel's undeniable force of nature. For the grand finale, the maestro again forged work as a meditation between mind and matter, crafting an infectious culture that ignited imaginations, broadened creative horizons, and fostered confidence.
And another host of Eagle scholar-artists gained supreme praise from the premier juried competitions in the United States, as predictable as the changing of Grenadier Guards at Buckingham Palace. As striking as Tom Cruise making movie magic as Maverick takes to the cinematic skies and trumps all in a series of furious adrenaline-fueled flying escapades.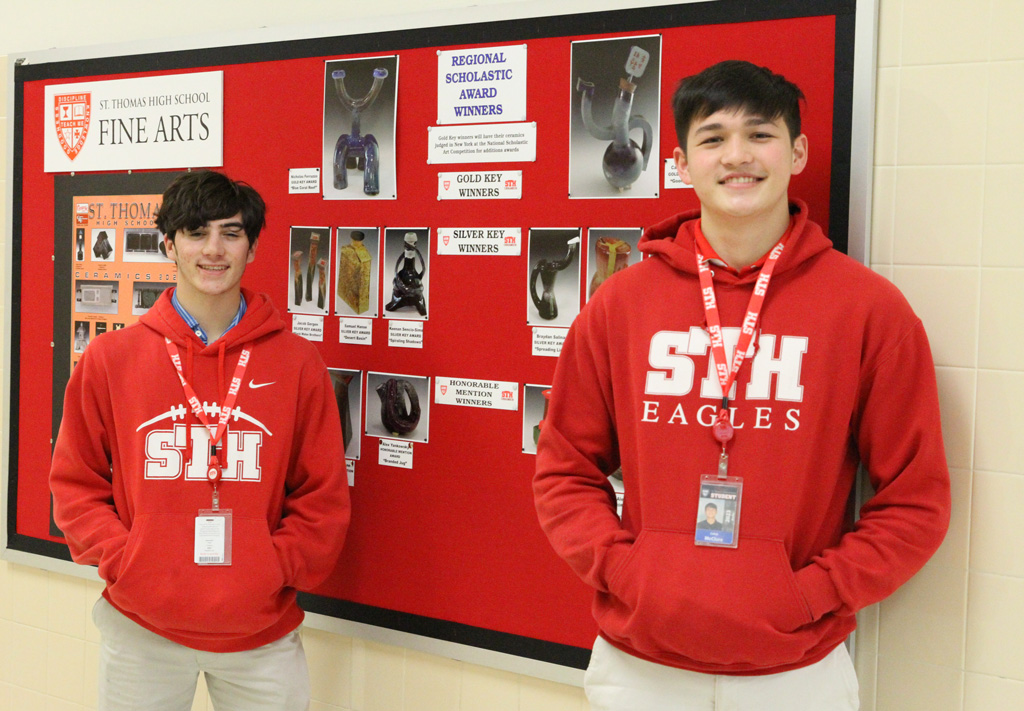 Caleb McClure '22 and Nicholas Ferruzzo '23 captured Gold Key distinction in the 2022 National Scholastic Regional Art Competition, leading the latest procession of St. Thomas merit.
The most recent stream of excellence included Silver Key status for Keenan Sencio-Sims '24, Jack Westby '23, Braydan Salinas '25, Jacob Gergen '24, George Antill '23, and Samuel Hanse '24. Another half dozen Eagles earned honorable mention – Luka Ljuboja '25, Knox Vacek '24, Alex Ostrom '22, Brandon Maya '23, Alex Yankowsky '22, and Julian Winstone '23.
Roberto Asencio '24 also received an honorable mention for his work in Scratchboard Portrait.
Fourteen of Nebel's scholar-artists were recognized out of 18 entries. A confirmation of the program's aim to provide the highest caliber of education for those poised with talent and aspiration to thrive.
"This exhibition represented a range of creativity, from simplistic to complex," Nebel says. "From seven inches in height to more than two feet. And only two seniors in the group. You can never predict what will register during subjective judging."
The outside validation provided particular pride for Nebel after he presented a challenge that was unprecedented during his tenure.
"I wanted all my first-year students in the fall semester to have an accelerated project and compete at an elite level with second-year themes," Nebel says. "And I wanted unique pieces. Great credit goes to the students. They knocked it out of the park with so much individual effort, dedication, and execution. They didn't allow themselves to become frustrated early in the process when the results weren't meeting their expectations. The clay was talking to them and they had to listen to do what the clay wanted to do, not what they wanted to do. It was a remarkable showing."
McClure's advance came as a Ceramic I student. "Right away you notice the tubes from the handle to the spout," Nebel says. "He used a new glaze for a softer shine. The handle incorporates cork and the Chinese characters pay homage to his grandfather – the alpha translates into 'Caleb McClure.' The red dye symbolizes longevity and peace. Really impressive."
Ferruzzo utilized "contrasting blue shades on the glaze with some white frosting effect. Stunning."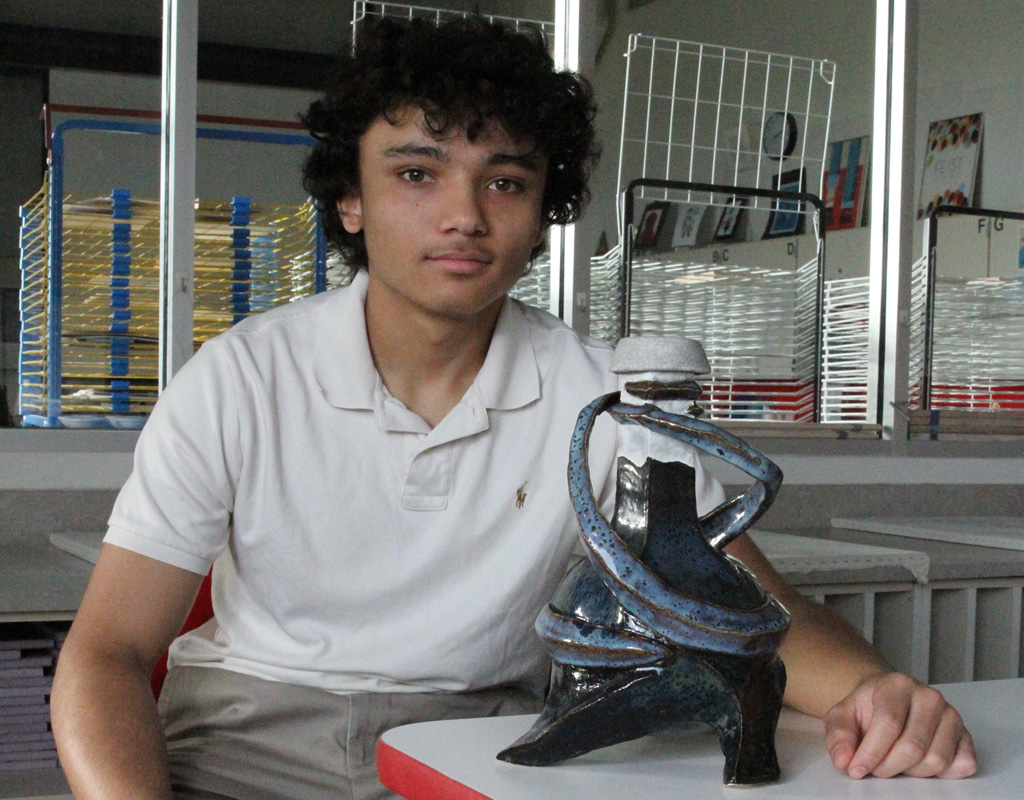 A last slap of superiority came courtesy Sencio-Sims later in the academic year with accolades for the 25th Annual National K-12 Ceramic Exhibition.
The prestigious event designed to showcase the country's best age-specific ceramic art awarded Sencio-Sims' Spiraling Shadows, selected for the national show in March at the SAFE Credit Union Convention Center in Sacramento, California. The competition was again extreme with Sencio-Sims receiving select inclusion from nearly 900 national entries. Jurors determine superiority based on three criteria: originality, technical expertise, and the emergence of a personal vision or voice.
"Keenan produced a wonderfully expressive sculpture," Nebel says. "There was a complexity that engaged the viewer on a visceral level. The audience was pulled into the piece. The remarkable detail and finish was testament to his vision and commitment to execute."
During Nebel's celebrated St. Thomas stay, which included an audacious run as department dean, he orchestrated a seismic shift for the program, providing a rigorous yet supportive environment that relied on persistent curiosity and due diligence, exposing students to a wide range of traditional techniques and contemporary concepts while encouraging their signature style.
Nebel's lab was stimulating, a fulcrum for artistic and intellectual growth. With the realization that discipline and freedom go hand in hand with gifted activities, he instilled a responsibility for student's to find meaningful content and an effective means to express it.
Among the many constants was Nebel's awareness of the diverse backgrounds of his students, their variety of impulse and personalities. He respected each individual with compassion and demanding old-school, family loyalty. The dual dose of motivation encouraged them to detect their inner visions and establish a voice by combining influences from the world around them with personal identity and symbolism.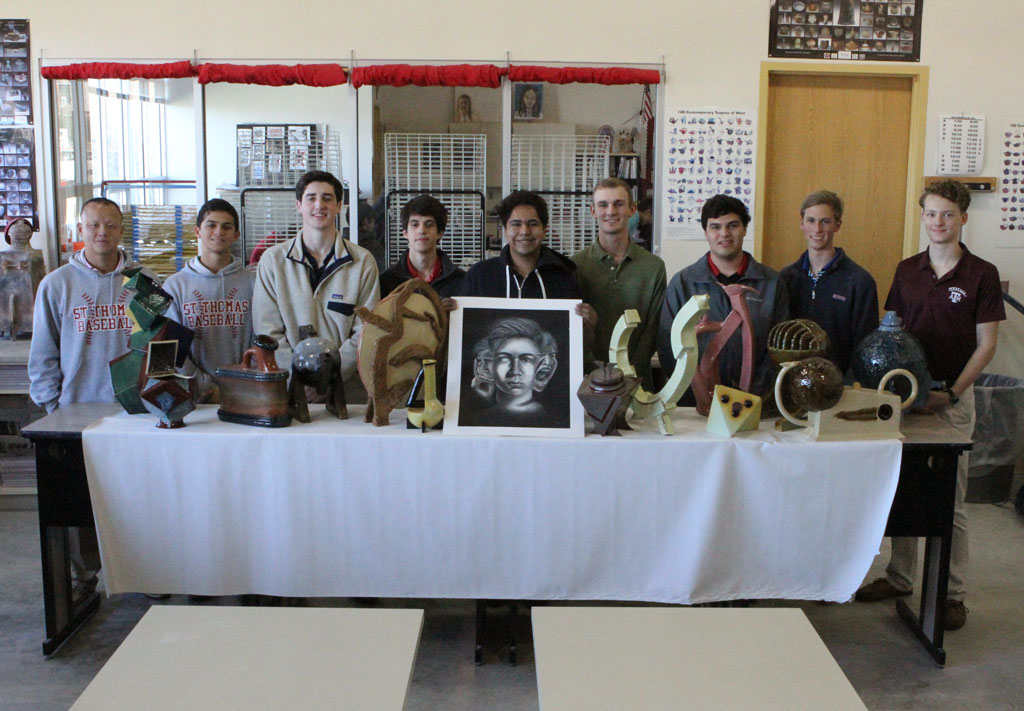 "I taught the way I would want someone to teach my sons or daughter or granddaughter," Nebel says. "There was an expectation for their best effort and to never settle for good enough. It demonstrated the type of students St. Thomas attracts. They're driven to achieve, regardless of the arena. And this last group wanted to not only live up to the previous success but take it to another level. Every year, so many students at St. Thomas accept leadership roles in so many areas of our campus life."
Before Nebel joined the St. Thomas college-preparatory ranks, he had firmly established a prominence in fine art education. Two students, in particular, emerged from his photography curriculum and mentorship at Jersey Village High School in the early 1990s to achieve astonishing individual success.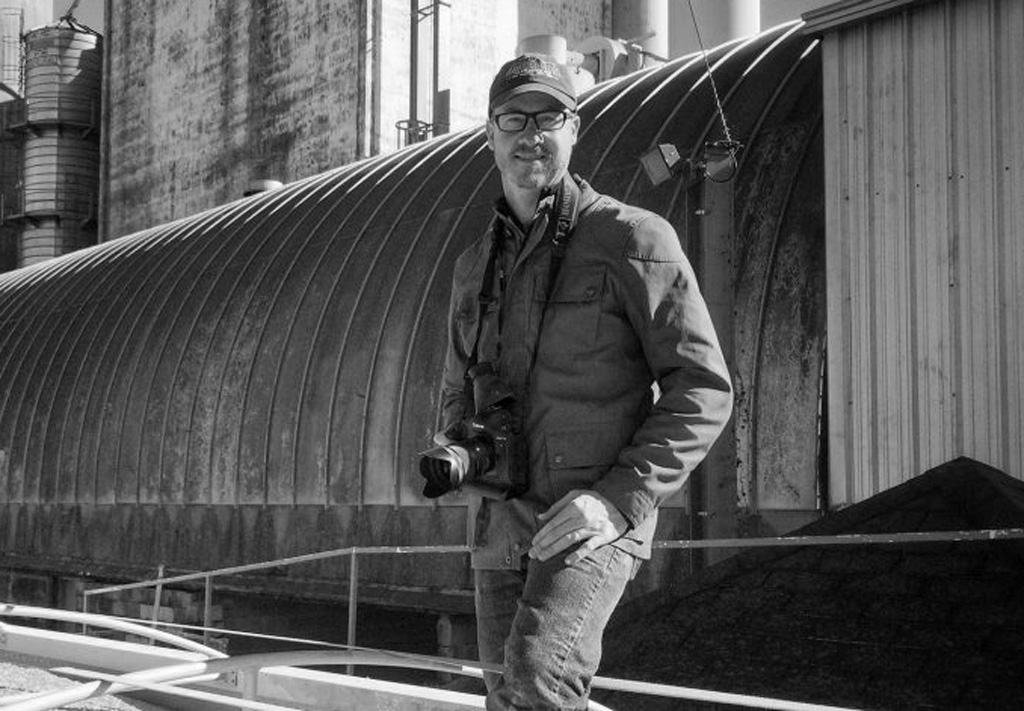 Tadd Myers is a commanding Dallas-based commercial artist who learned from his teenage years the "meticulous nature of my business … the importance of quality craftsmanship from both the technical and artistic sides." His array of international clients range from Apple to Verizon to Chevrolet to 44 Farms to Russell's Reserve Bourbon Whiskey and Walmart and the United Way.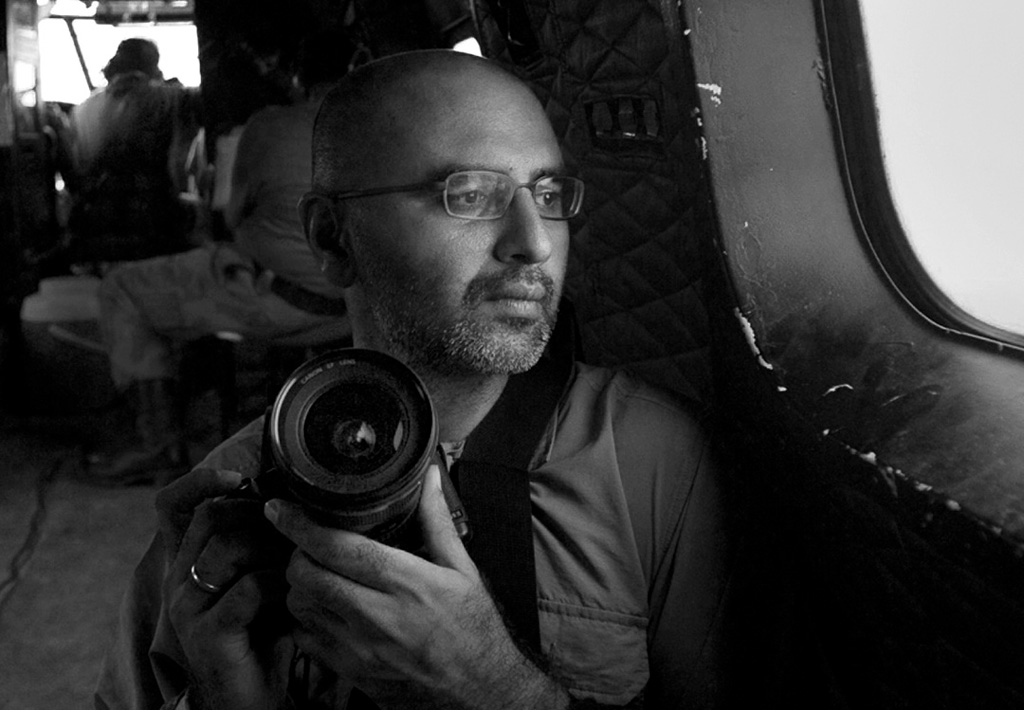 Adrees Latif was born in Lahore, Pakistan before immigrating with his family to Texas in 1980. He is a
Pulitzer Prize winning photojournalist and enterprise editor with a career spanning nearly three decades with Reuters covering conflict, natural disasters, sports, and entertainment. "The art and science of photography is such that a moment captured in less than a second can last a lifetime."
The lens master Nebel owned much the same white-hot passion for the art he instilled in his students such as Myers and Latif, and others not nearly as notable but equal in desire and purpose. Nebel understood that no other medium has the ability to better preserve and celebrate fleeting moments of joy, passion, and glory, as if guided by the muse of French master Henri Cartier-Bresson who believed that "there were those who took photographs arranged beforehand and those who went out to discover the image and seize it … To take photographs is to hold one's breath when all faculties converge in the face of fleeing reality … It is putting one's head, one's eye, and one's heart on the same axis."
Nebel's picture-perfect connection to St. Thomas student life outside his strict role within the faculty seemed to penetrate every crevice of the campus community. His photography skills poignantly chronicled much of the school's new millennium history – particularly athletics – one homecoming, one Round Up, one state championship showdown at a time. Nebel held an uncanny ability to be in the right place at the right time and make the pictures come to him. Much of his tableaux illustrated the timelessness of high school years. Were it not for the obvious changes in fashion, the classic shots were almost indistinguishable from decades past. Graduating students treasured still frame passports of their Eagle journey as they set course on their next destinations into young adulthood, equipped with vivid, lasting proof of their St. Thomas times and tales.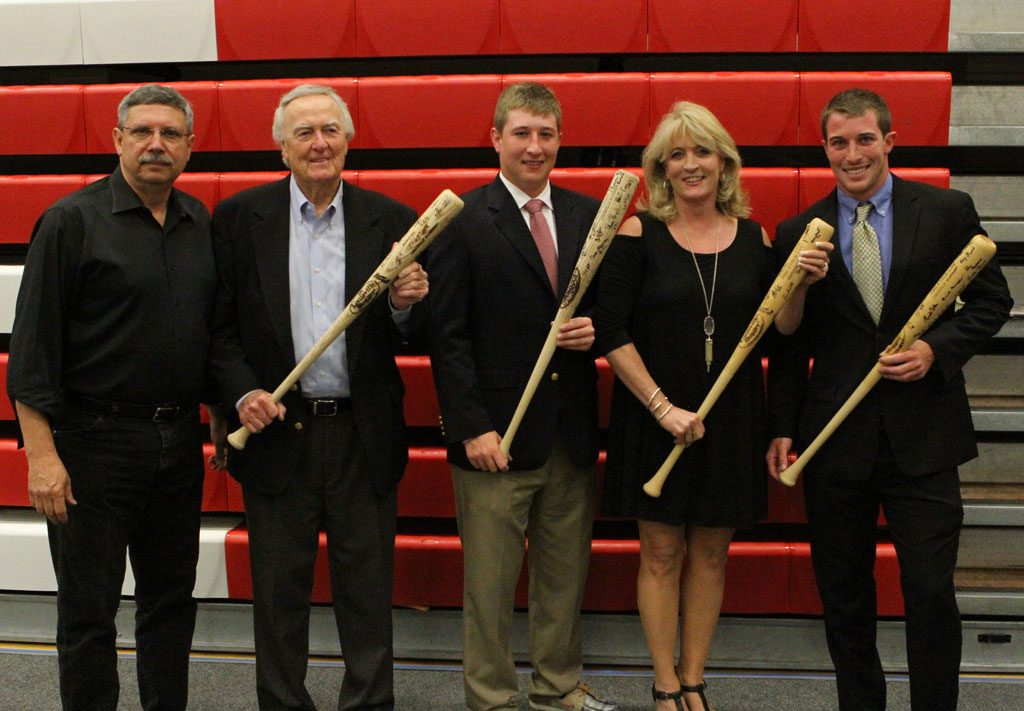 Nebel's own departure from St. Thomas is marked by blending an uncommon expertise within scholarship and a permeating caring that defined beyond the classroom. The mastermind behind a model program in peak prowess was committed to persistence and promise but most importantly – the process. He encouraged and empowered scholar-artists to engage in visual storytelling as the primary inspiration, with opportunities for increased exposure through exhibitions and special events a bonus dividend.
The lore of Nebel's legacy will long reverberate throughout the confines of the Basilian campus.
Much more than a testament to longevity. His essence came from the grace he showed to everyone along the way. The breadth of his impact daunting.
Catholic. Basilian. Teaching Goodness, Discipline, and Knowledge since 1900.