Food is the center of his universe.
Rafael Nasr '10 is most comfortable in the kitchens at his popular Craft Pita cafe or at home. The apron is inevitably battle-stained with remnants of his creations. The first-generation Lebanese American plays out his culinary dreams like an artist, applying his signature flair to the intricacies of Mediterranean cuisine with hit after delightful, delicious hit, bold ingredients, and deeply satisfying dishes that speak from his soul.
"I appreciate the opportunity to promote my family's culture," Nasr says with vibrating energy. "Regardless of the turmoil and crises facing the homeland, our identity stands undeniably through food. It's the global language. What better way to break down barriers."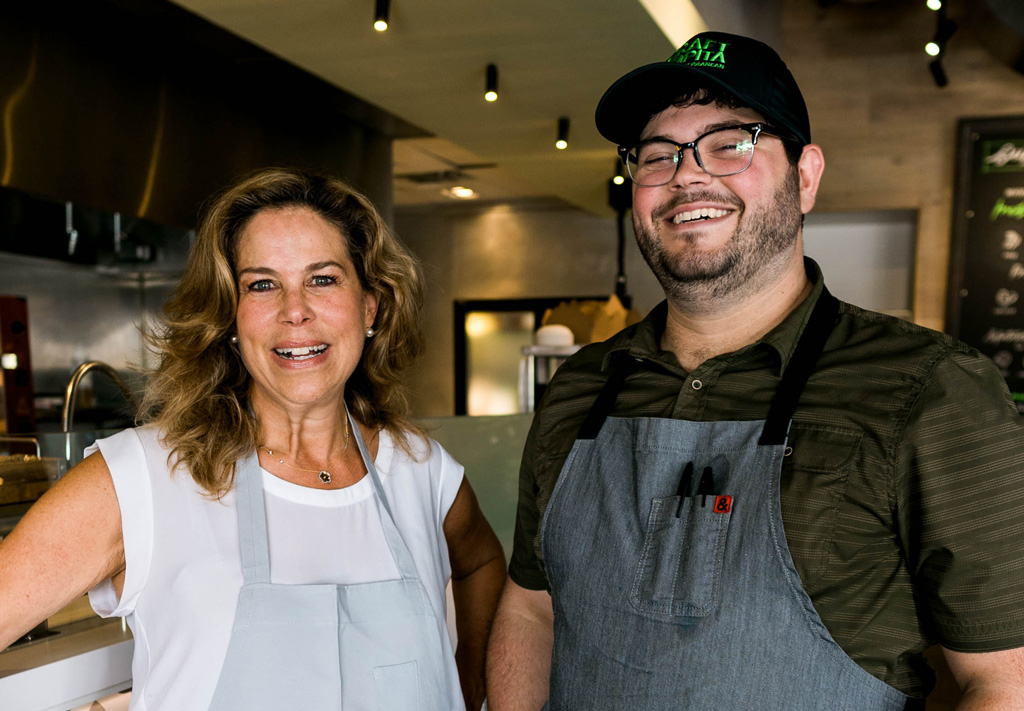 Nasr's thriving enterprise is a blend of his Lebanese roots and the Peruvian heritage of his mother Claudia Nasr. Years ago she tirelessly learned and mapped the unwritten recipes of Nasr's grandmothers and grandfathers, aunts and uncles that linked generation to generation. She first converted them to family-style portions for the growing household, then scaled them for the Craft Pita menu with occasional flavor forays that are wowing a diverse audience of 200-300 a day.
Food that is made entirely in house – assertive yet simple, pleasantly earthy, balanced by lemon, and tempered by tahini. Standout status includes pitas with rotisserie Naked Truth Premium chicken and certified Akaushi Heartbrand beef, crisp flatbread dressed with a za'atar herb blend, savory baba ganoush (roasted eggplant), and parsley-zinging tabbouleh and fattoush salads. All in happy harmony with organically extracted extra virgin olive oils authentic in classic taste and undefeated in their uniqueness and class. The roster rounds out with local artisan baked goods, dairy, beverages, and wines from the native region.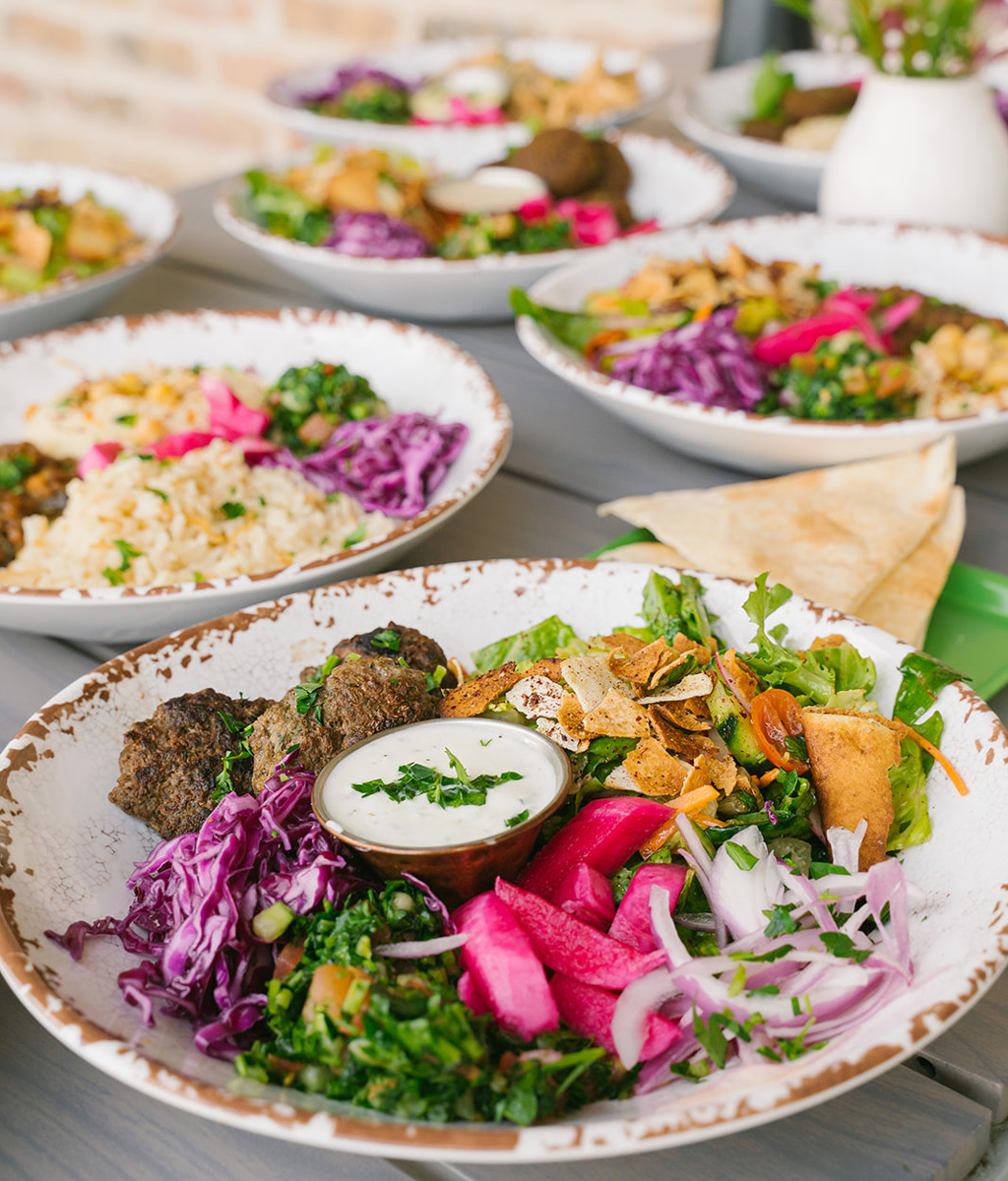 The salty allure of the Mediterranean quickly struck a chord within a younger, discriminating crowd, but also a broader church that includes business foursomes, parents with babies, and older couples. Within six months of his August 2019 debut, Nasr's Tanglewood dining venue was ranked among America's Top 100 Places to Eat according to Yelp! and later made Allison Cook's 20 Most Interesting Restaurants list for the Houston Chronicle.
Yet, the menu is never done, always on the move as Nasr dives deep for inspiration and innovative interpretations with fresh takes on old standards that explore different parts of his home country's culinary repertoire.
Nasr launched from St. Thomas to earn his degree in entrepreneurial management at Texas Christian University. Originally his sights were aimed at a career in finance or sports management. But those designs were shredded when Nasr bought a food truck during his sophomore year, serving up chicken shawarma and street food along Greek row on the TCU campus. The initial $30,000 investment came at a fraction of his four-year tuition payments. The introduction to rough-and-tumble commerce was equally invaluable.
"There was nowhere to eat and students were up late studying or partying. I figured I could fill the void," Nasr says. "But I faced a ton of red tape for the permit to get started. Finally, I said what does it say when an undergraduate from the entrepreneurial school can't get the ok to start a business to meet the needs of other students. That was the clincher. Then the real work kicked in. Class from 8:00-3:30 p.m., food prep in the commissary from 4:00-5:30 p.m., serving from 6:00-2:00 a.m. I lost my social life, but at age 21 I learned what I wanted to do with the rest of my life."
View this post on Instagram
Armed with a formidable, formal education, Nasr sold his food truck and sought the answers to what he didn't know to even ask relating to his future endeavors. He chose his moves carefully to abstract the strict, fundamentals essential to the judicious restaurateur, the demands and tricks of the highwire risky trade.
Nasr first joined the original Island Grill on Woodway Drive. Owner and founder Faysal Haddad had immigrated from Damascus, Syria in 1981, and is as serious about hospitality as he is about his vibrant menu.
"I wanted to learn what the Houston market demanded from a Mediterranean menu," Nasr says. "I ended up opening the Bunker Hill location. But the greatest takeaway was how Faysal respected his customers. He welcomed them every day. Ultimately, people want to go to a restaurant where they feel special."
Next, Nasr chose a move to Austin for a one-year stay with Verts Kebap (think fast-casual Mediterranean Chipotle). He then joined Pappasito's Cantina for insight into the renowned Pappas Restaurants, Inc. Nasr invested three years inside the privately owned behemoth. The totality of experience "shaped my operation today."
"To say it was rigorous is a huge understatement,' Nasr says. "Busser, server, bartender, front manager, kitchen manager. Dining rooms of 250-300 people, parties of 20, getting home at 3:00 a.m. Rinse and repeat. I knew from the outset that to live your dream, you have to ignore your ego, make sacrifices, and learn how to do it right."
And throughout the day-to-day, night-to-night grindhouse, Nasr's familiar mantra resounded for all to hear: "I'm going to open my restaurant. I'm going to open my restaurant. I'm going to open my restaurant."
By 2019, the play was primed to execute. Nasr had fashioned an exciting concept and business plan, acquired financing, scouted premium Houston real estate, and committed to the highest quality ingredients from locally sourced farms, ranches, and bakers. He also tapped into the savvy expertise of his sister Sofia Nasr, who understood the power of social media, influencer marketing, and grassroots promotion to build anticipation.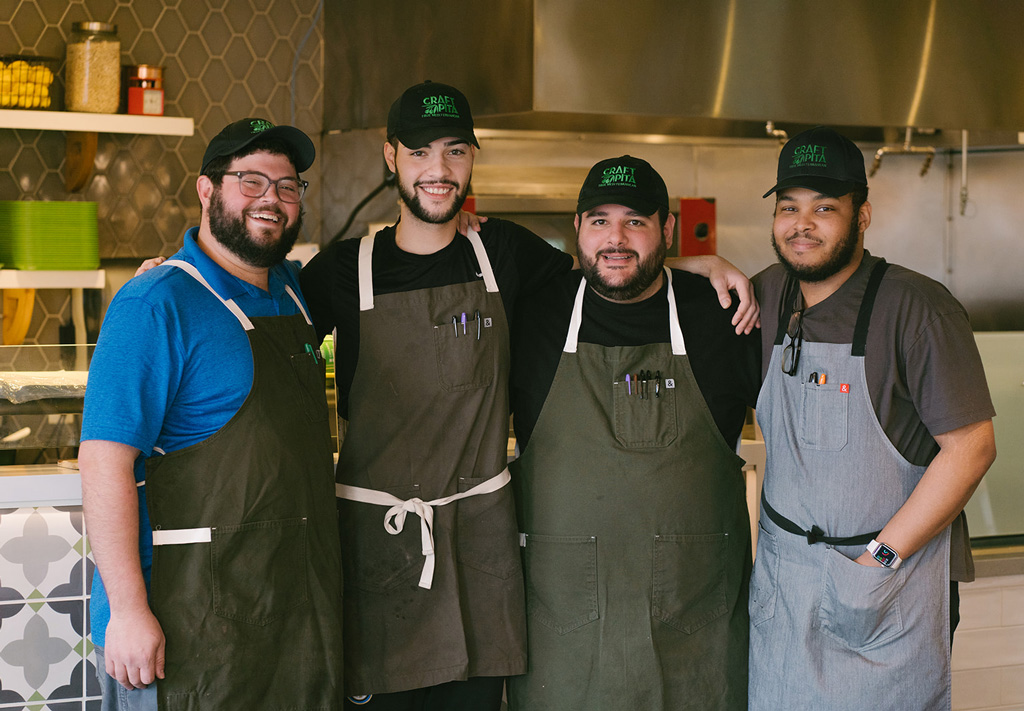 Opening day arrived August 25, 2019, with a line of customers braving the scorching Houston heat for the first taste of Craft Pita. Monthly momentum mounted driven by an immediately dedicated clientele.
And then the coronavirus pandemic.
The nation's economy and capital roared to a halt, a siren reverberating from Wall Street to Main Street, landlords to lenders. The hospitality sector was hammered. Shutdowns, critical shortages of staff, food supplies, and even customers. Unprecedented times and remarkable twists and turns for an independent owner and chef maintaining a start-up business venture.
View this post on Instagram
"We were so fortunate," Nasr says. "We were built with small square footage with a high-quality take-out product. Once COVID-19 struck, we didn't have to make radical adjustments. We opened a huge party tent out front, room to fit F250s, and created a temporary drive-through. We wanted to be there for the neighborhood and our neighborhood was there for us at the same time.
"Houston is my home. This is where my family is, my friends, my St. Thomas community, my St. Cecilia Church community. They all took care of us through the pandemic and wanted us to succeed. When you're in high school, you're often just going to high school. When you become a professional adult, you develop a deep understanding of the power behind relationships. I can see now how invested the St. Thomas community is in taking care of its own. It's humbling."
Nasr brilliantly navigated the series of pandemic-related disruptions to not only keep Craft Pita thriving but the founder has also hatched plans for a second location in West University at Buffalo Speedway and Westpark Drive.
"This is a tough business, physically and emotionally taxing, but serving people is the most rewarding aspect," Nasr says. "I know people. And I know you have to get your hands into the food and understand what people like. Same thing with the business side. Get your head into the numbers and the excel and the Quickbooks and understand the economics."
Nasr's father Hatem left Lebanon in the 1970s during a civil war that resulted in an estimated 120,000 fatalities and an exodus of almost one million people. At that same time, Claudia escaped Peru during a communist takeover. They met at the University of Houston and raised Rafael, Sofia, and their sister Caterina on Houston's west side. Both parents cooked extensively and Nasr spent his teenage summers visiting Lebanon where he was impressed and even dazzled by what streamed from the kitchens of everyday people. Those experiences also convinced him that family partnerships are best.
Nasr met his wife Brittney in a class at TCU. Early in their dating days, he confessed that "just so you know, I'm about to do this crazy, stupid thing, buying and running a food truck. My free time is going to be limited." She completely understood, remained locked into her own academic priorities, and has shared the unconventional journey to Craft Pita every step of the way.
"I'm so blessed to have had such strong support since graduating from St. Thomas," Nasr says. "A world-class education at TCU. A series of genuine mentorships. A loving, caring family and wife. I couldn't ask for more."
Chef Raffi is unafraid and undaunted by the long odds of favorably navigating the continuing minefield that is his chosen profession. He begins each day immersed in what he loves and who he adores. It's how he works, how he lives, food the center of his universe.
Catholic. Basilian. Teaching Goodness, Discipline, and Knowledge since 1900.