The gold medalist is positioned and applauded atop the awards podium in direct line of sight for eyewitnesses within the natatorium and those live streaming across Texas. An array of excellence to easily recognize.
The litany of school swimming records is readily available for all to admire. And the social media swirl vibrant if not viral, exploits eminently Instagrammable. The accounts of acclaim a mere Google search away, a world wide digital footprint scantly below anyone's radar.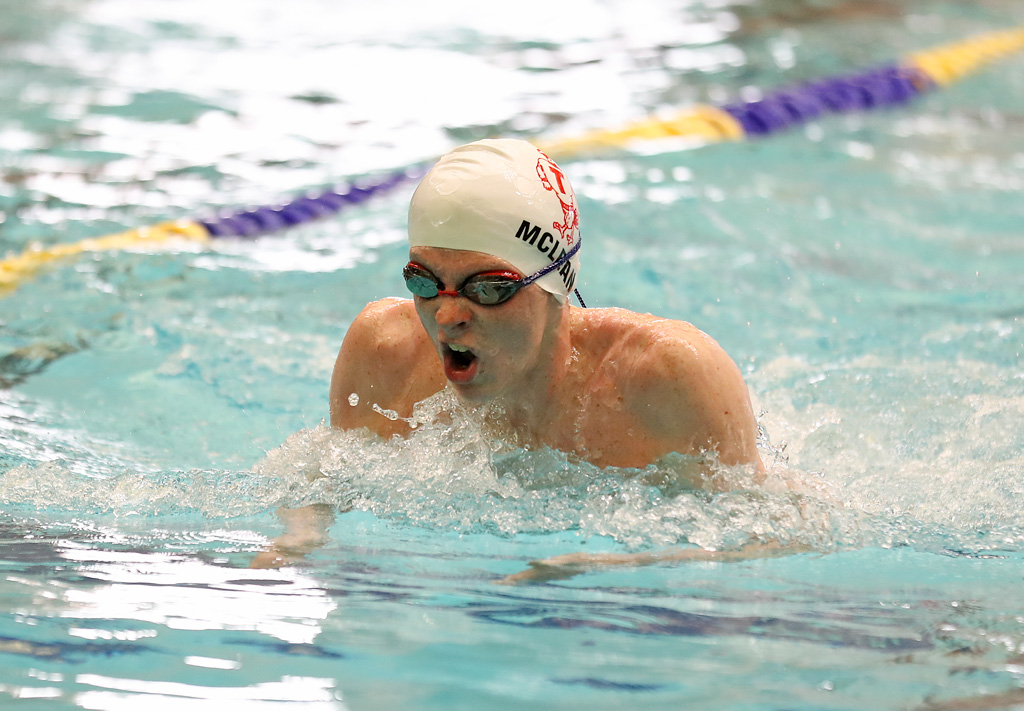 What is hidden from view, never fully appraised, appreciated, or remotely understood is the daily grindhouse endurance demanded for the swimming machine to rip and roar.
What was required for Josh McLean '22 to summon brilliance as he stood on the starting block and experienced a percussive adrenaline surge. And amid a boiling sensory cauldron, produce one of his greatest aquaman moments, again and again and again.
What was necessary for masterful McLean to uncork a furious series of precision strokes and dolphin kicks off the wall that essentially ended a race, destroying competitors to the right, eliminating the hopes of others to the left, emerging with a commanding lead that grew as he churned toward the finish.
What was incumbent for an inexplicable surge and reach to out-touch the weary at the wall when the margin separating heart-pounding pleasure and heartbreaking defeat was a mere nanosecond.
All the effort and exertion of exemplary competition. Josh McLean knows as Will Hunting knew, owning a wicked smart love for the sport – and its most minute details that come to the surface.
Chlorine in his soul.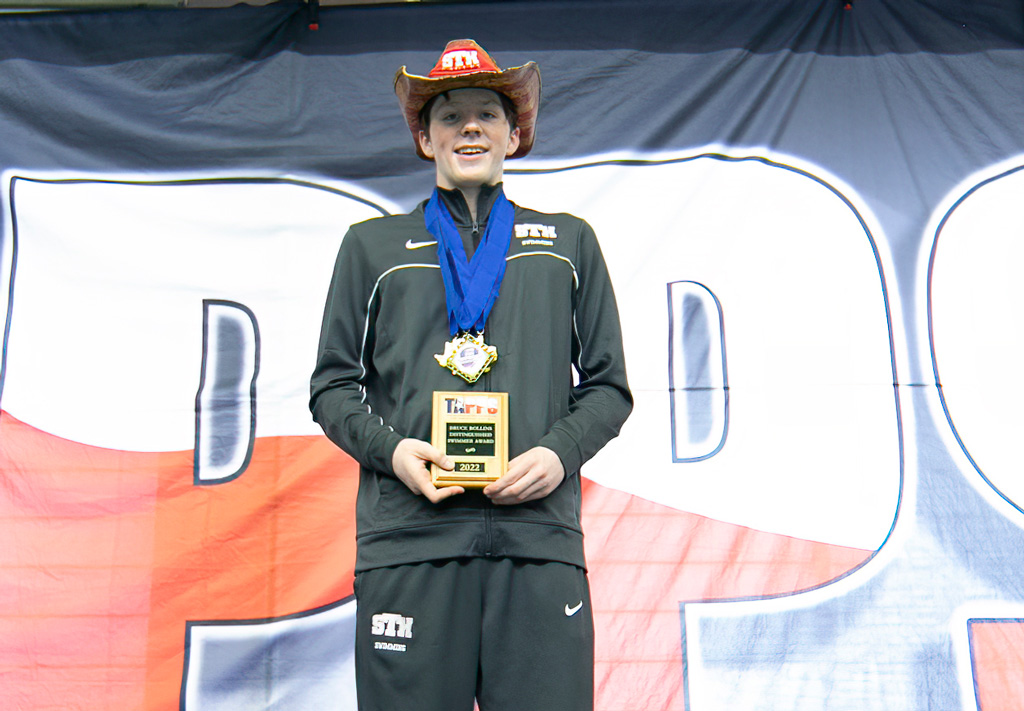 McLean's sensational senior season was capped by being named the Bruce Rollins Award winner as the top male swimmer of the TAPPS Division I state meet. He ignited early momentum for the Aqua Eagles, teaming with Dylan Sandrock '22, his brother Tyler '24, and Carrick Brogan '22 to seize first place in the 200 yard medley relay in 1:39.01, then capturing the gold in the 200 freestyle in a blistering 1:44.04.
McLean later answered the call when Eagle Swimming required a late charge to retain its championship hopes. He smashed the field in the 500 free with a dominant 4:41.31 clocking. His last triumphant hurrah was the lead leg in the 200 free relay, followed by the Sandrocks and Brogan, cashing gold with a torrid time of 1:28.82.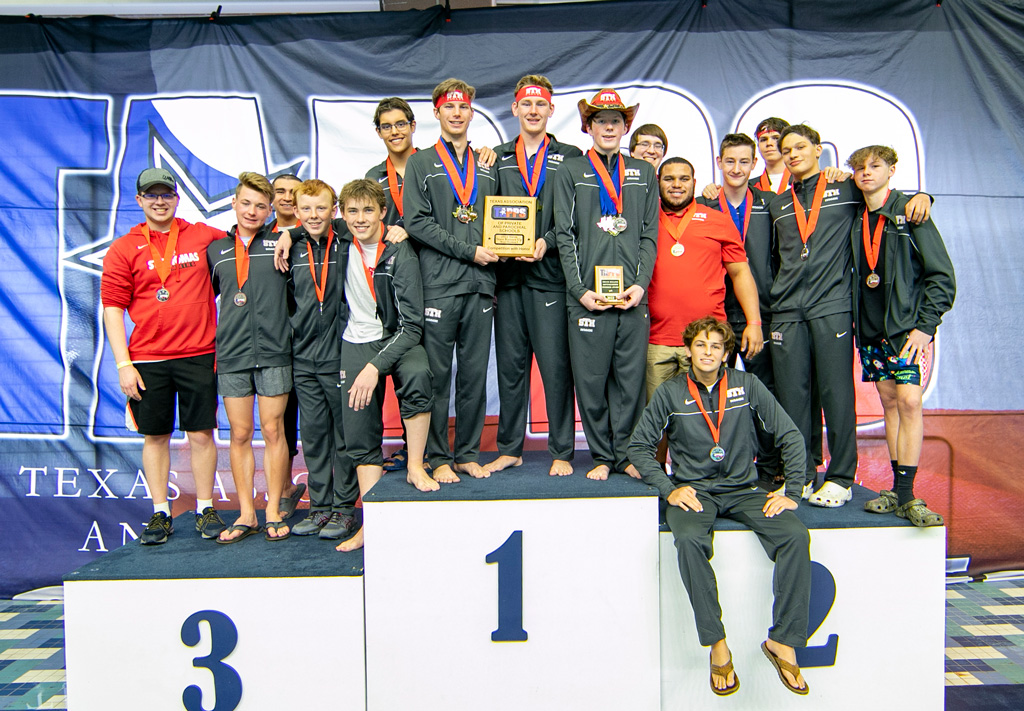 McLean was awash in the program's continued wave of elite accomplishment within the Texas ranks – a second consecutive state runner-up result and third in five years for St. Thomas, along with the breakthrough state crown in 2019 and the successful title defense in 2020.
And during the course, McLean solidified his legacy as one of the top performers in the history of Eagle Swimming. Weeks before his grand finale, he shattered three school standards and contributed in two critical first-place relay results to power St. Thomas to a commanding East Regional championship.
At the 2021 state meet, McLean sizzled to third in the 200 IM medley with a school-record 2:00.49 and swam a critical backstroke stage in the winning 200 medley relay. As a sophomore in the Eagles' championship repeat, McLean rocketed the lead leg in the third-place 200 medley relay (1:41.38), was part of the 200 free relay that took second (1:30.92), then captured fourth in the 200 IM and fifth in the 100 breaststroke.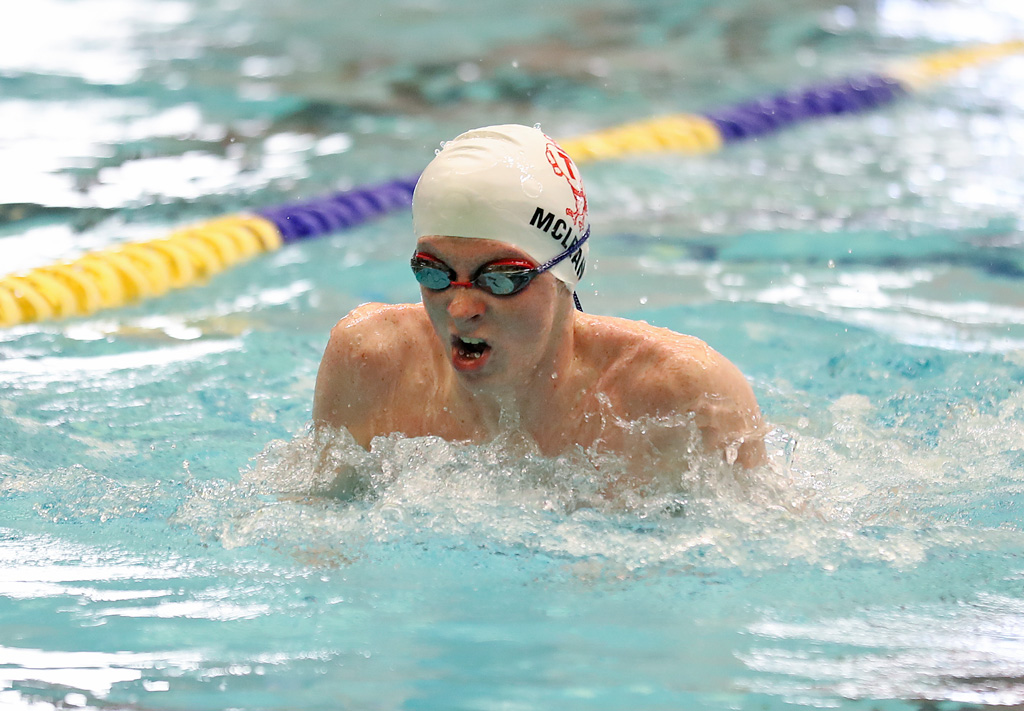 Such a prominent individual profile didn't appear in the offering during McLean's introductory years to the sport. Even today he doesn't skew sheer power and speed. After three or so years of ordinary results in summer league, he decided an emphatic change was necessary.
"I was tired of constantly getting beat," McLean says. "I told my mom I wanted to shift to club swimming. She explained it was a big commitment but she supported the decision."
McLean joined the city's acclaimed Dad's Club program. The incremental jumps within their highly competitive age-group teams were not immediate but McLean was determined as the sun rising daily in the east.
"I was done losing," McLean says. "My work ethic started to make a difference, the times improved. I found a rhythm in the distance races. All of a sudden, I was moving up, and this was fun."
Not all of a sudden. And a regimen not for the meek. During the 10-month St. Thomas academic year, McLean was in the Dad's Club pool from 5:45-7:00 a.m. Then a full curriculum on campus. Next, a return to Dad's Club for two hours in the water plus half hour dry land exercises. McLean was also a periodic participant during the St. Thomas practice from 7:00-8:30 p.m. Monday-Friday workouts week after week with competition on Saturday. A day of rest Sunday. Rinse and repeat. Success built on endless laps and deep breaths.
On the mornings McLean reluctantly answered the 5:15 a.m alarm, knowing that murderous practice laying ahead, the goals he'd embossed on his brain spurred him on.
"With the work you can get what you want," McLean says.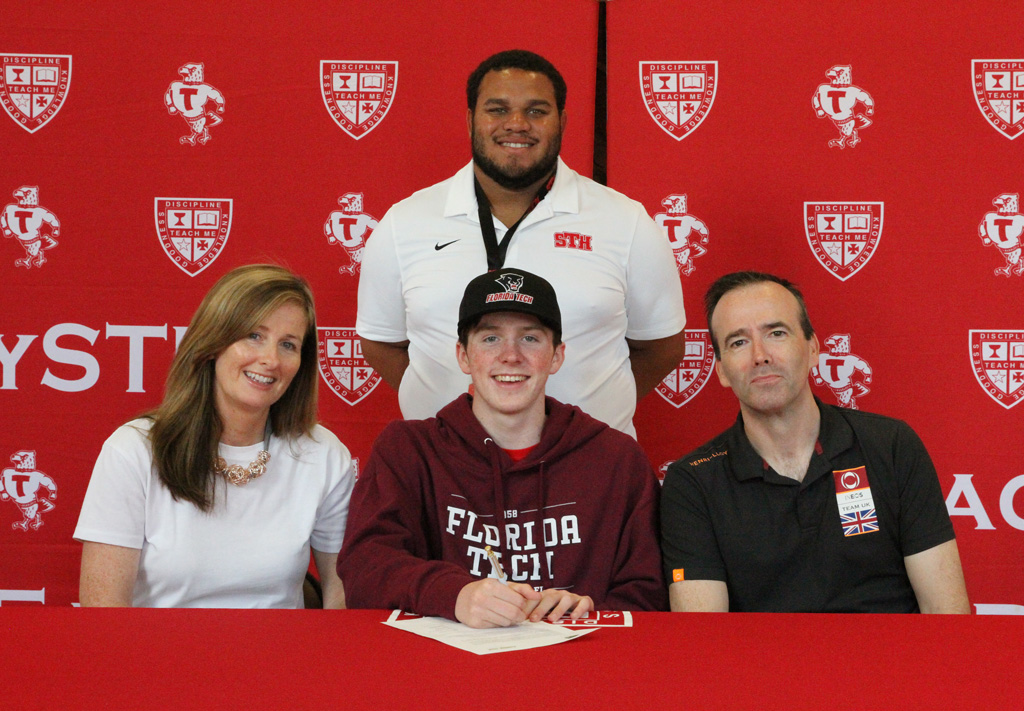 Much of what he wanted was the chance to extend his career at the collegiate level. A proactive approach in seeking out opportunities led McLean to the Florida Institute of Technology, a private research university in Melbourne where he will study in the College of Aeronautics. "I instantly clicked with the coaches and the setting. It felt like home. I knew before I started at St. Thomas I wanted to compete in college. The goal now is an NCAA final. And then see what happens."
One of the allures of swimming is that it is a ruthless meritocracy – the clock rules. You are your time. Fastest swimmers get the spoils, without allegations of coaching favoritism or bad officiating or crooked judging.
From his humble age-group beginnings, McLean leaves Eagle Swimming with a slew of signature records – 100 freestyle, 200 freestyle, 500 freestyle, 100 breaststroke, the two relay times from the state meet, in addition to the 200 IM mark he set in 2021. And McLean wasn't comfortable closing himself off in his own cocoon of success and focusing on himself. He grew so substantially outside the pool that he was an equal contributor to Eagle Swimming as a mentor and motivator.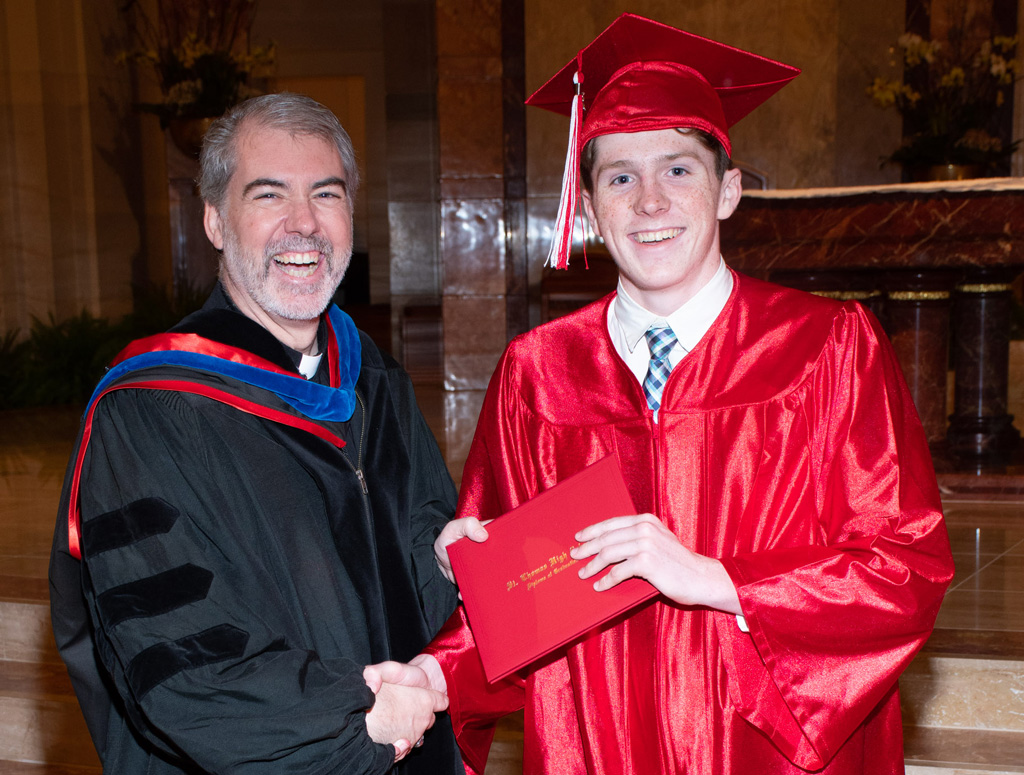 "Skill, desire, dedication, sacrifice, leadership were all part of the package," McLean says. "I put in as much as I could. There's something left for others to chase."
The story of culmination. And coronation.
Eagle Fight Never Dies!