Throughout 2022, Basilian Fathers in the United States, Canada, Mexico, and Colombia are relishing the 200th anniversary of their order – celebrations capped with a commemorative Mass at St. Basil's Church on the campus of the University of St. Michael's College at the University of Toronto November 21.
Two hundred years guided by faith and rooted in the resolve of Teach Me Goodness, Discipline, and Knowledge.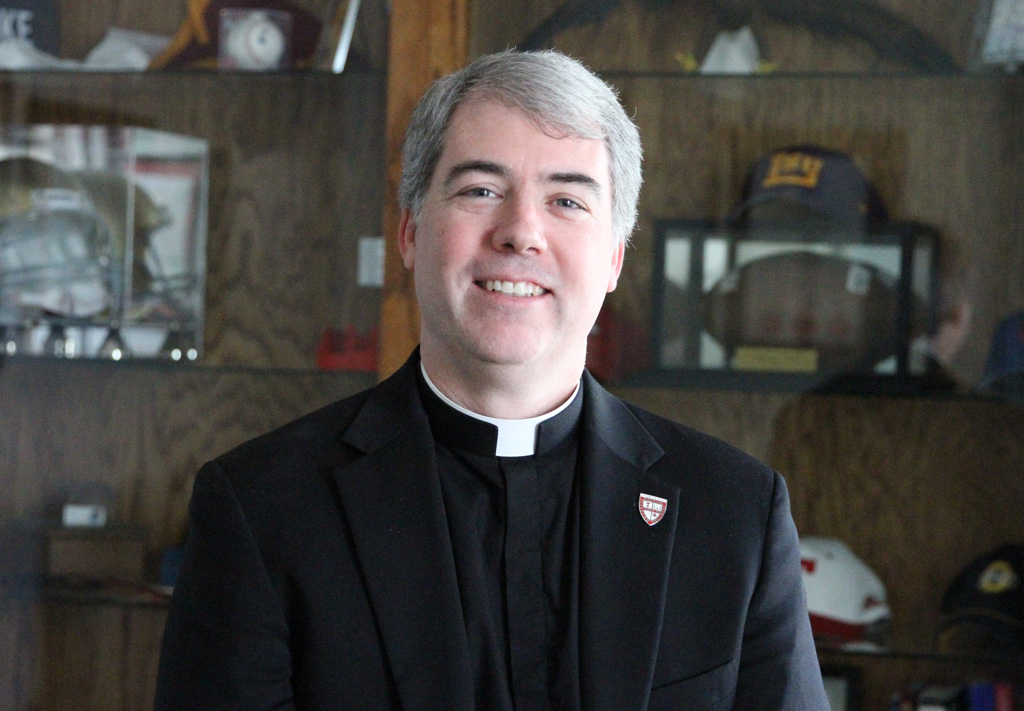 The milestone strikes St. Thomas President Fr. James Murphy, CSB with a spirit of gratitude, to reflect on the achievements of the past as well as the exciting opportunities that lay in the future.
President Fr. Murphy: I've always seen the Basilians as having this charism of doing what needs to be done, when it needs to be done, where it needs to be done. We've consistently responded to local needs. France, Toronto, Houston, Detroit, wherever we may be, flexible to remain vibrant with the times while never compromising our core values.
The Basilians deal with reality. We take what is asked of us from all walks of the city and life, all areas of need – financial, spiritual, family. We get to know people, develop trust, and agree on a meeting of minds. There's intimacy and genuine care in relationships. Time and time again, we are there for Catholic education. For decades. For generations. I saw that when I first met the Basilians in college. And I see that ever-present today.
—
The Congregation of St. Basil developed from the humblest of beginnings in the shadows of the French Revolution and Reign of Terror.
In 1822, 10 priests and seminarians teaching at the Annonay school in the Ardeche region, south of Paris, formed a sort of association. These men would become the congregation's founding fathers. On November 21 – the feast of the Presentation of the Blessed Virgin Mary – they selected Father Lapierre as the first Superior General and the Greek philosopher and theologian St. Basil the Great as the patron for the order. In 1863, Pope Pius IX would raise the status of the association to a religious congregation of simple vows.
But Basilian history didn't simply spawn from a cluster of teaching priests isolated in rural France. Rather, the oppressed emerged to leave an emphatic legacy – refusing to succumb to the threat of the Napoleonic conception of the French Church as somehow separate from the Pope. Scholars. Educators. Leaders. Pastors. Vows of chastity, poverty, and obedience. Education within the Church's mission of evangelization. Animated by the spiritual vision of Teach Me Goodness, Discipline, and Knowledge.
—
St. Thomas College was established in 1900 in an old Santa Fe Railroad warehouse on the fringe of downtown Houston. Three years later, founder Fr. Nicholas Roche, CSB purchased the property at the corner of Austin Street and Hadley Street to construct the city's first college preparatory school for boys. Native Texan Fr. T. P. O'Rourke, CSB inspired and orchestrated the move to the school's current 4500 Memorial Drive location in 1940.
More than a century of Basilian leadership tradition pivoted in June 2017 when Dr. Aaron Dominguez '96 became the first lay principal in the school's then 117-year history. He brought a bevy of experience in Houston education and leadership expertise to navigate the Eagle academic community into its next great chapter. Dr. Dominguez completed his Doctorate of Advanced Study in Educational Administration and his Bachelor of Arts in Elementary Education from the University of Texas at Austin, and his Masters in Educational Leadership from the University of Houston.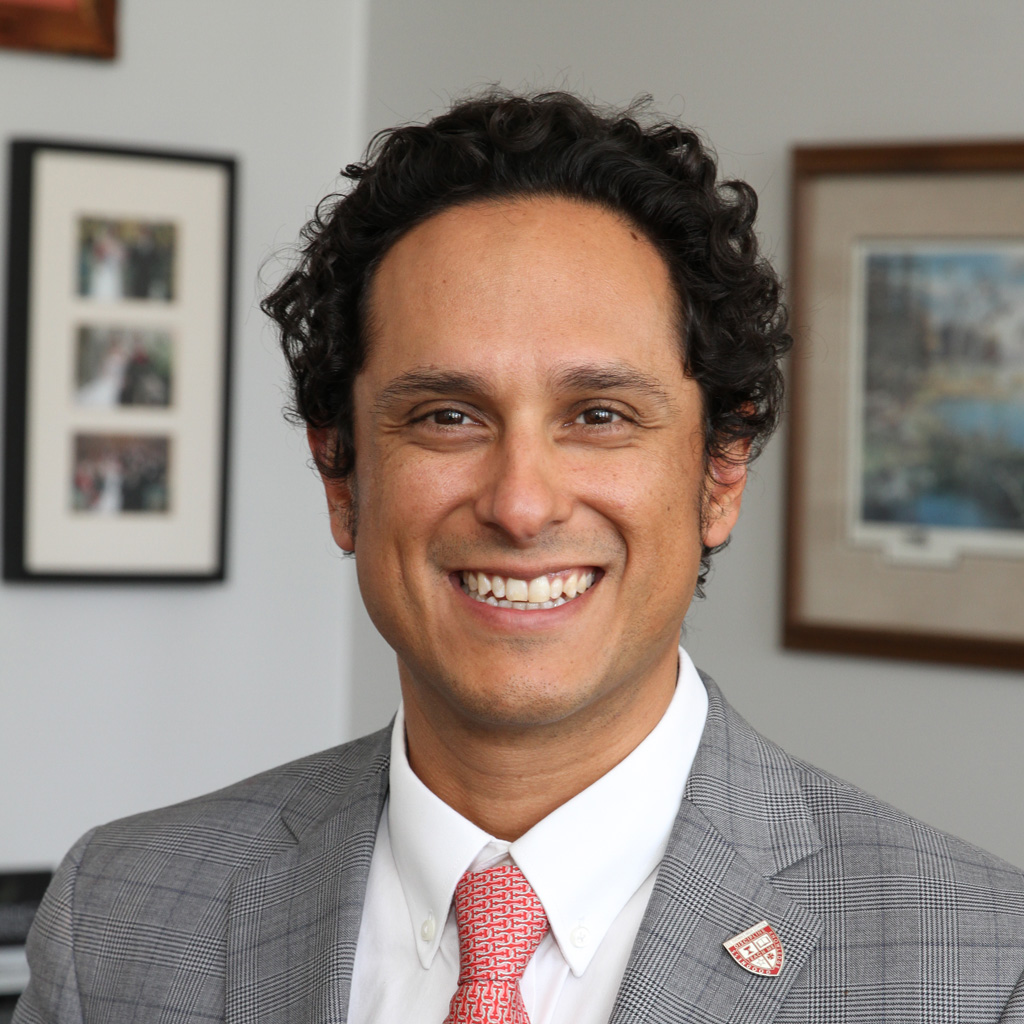 Dr. Dominguez: I understand the trust the Basilians have placed in me and St. Thomas will not waiver from the mission that began 200 years ago. When honesty and truth are embedded in your intellectual tradition, you may change with the times. But our priorities remain that our students are filled with goodness every day of their St. Thomas experience. That's what I try to live out as a Basilian educator and instill in our faculty and staff. I view that role as an incredible responsibility to ensure our students thrive as they always have.
—
The Basilian Fathers founded the University of St. Thomas in 1947, as well as St. John Fisher University in Rochester, New York, where Fr. Murphy is forever proud to have received his introduction to the Basilians, made possible by the generosity of Piehler, Piehler, the Pontiac Dealer, as the advertising jingle would ring.
Michael Piehler had established a scholarship in the name of his father and the passion for St. John Fisher paved Fr. Murphy's only path to attend the university. He earned his Bachelor of Arts in Communications/Journalism with plans to emerge as "the next Tom Brokaw." Rather, Fr. Murphy has lived the Basilian vocation of education for more than a quarter-century. He gained his Master of Divinity in 2001 from the University of St. Michael's College in Toronto, and his Master of Education from the Lynch School of Education at Boston College University in 2016.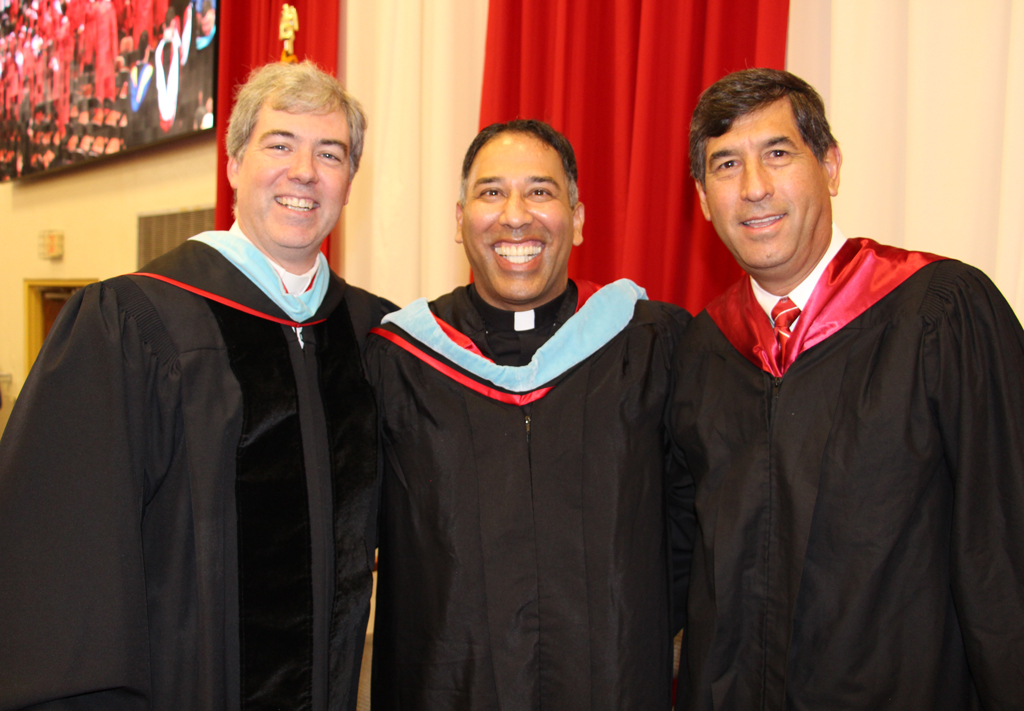 In 2019, Fr. Murphy was the unanimous choice of the St. Thomas Board of Directors as the institution's third president in its profound history. After excelling in a series of diverse roles throughout the campus community, he succeeded the Very Rev. Kevin Storey, CSB, who was elected Superior General of the Congregation of St. Basil in June 2018 after six years as the St. Thomas president.
President Fr. Murphy: St. Thomas is a Catholic school, a Basilian school, and that is foremost in our identity. Prayer is an essential element in everything we do during our academic day. This gives our students an understanding of who we are and that exposure provides them a foundation. For the good times in their lives, for the setbacks, for the tragedy. They will have that foundation to rely on. That's the reality.
Casey Johnson '05 believes his near lifetime association with the Basilians wasn't so much his choice but "the Holy Spirit" choosing for him. A scholarship opportunity took him to the University of St. Thomas where he earned both his bachelor and master of arts. Then an unexpected, late offer to join the St. Thomas faculty drew him back to campus where he's an emphatic, driving force within the theology department and campus ministry.
Johnson: As a student at St. Thomas, there were semesters when I was fortunate to have Fr. Carl Belisch for the first two hours of my day – homeroom, English, and Latin. He had a larger-than-life personality. Through that witness, his kindness, his teaching style, and his love I grew a relationship with the Lord. His influence led me to be a teacher.
The Basilians laid a phenomenal educational foundation here. Most rewarding for me is to continue to grow, be challenged, and engage the students through critical thinking. The cultural demands on students may be much different today than decades before, but there's always a desire to know the real truth and real knowledge. I've grown in my own faith life through the process and I wouldn't trade it for anything else.
—
Mark deTranaltas '83 returned to serve his alma mater in 2012 as the vice president for advancement after a distinguished corporate and leadership career. He graduated from Texas Tech in 1987 with a Bachelor of Arts in Mass Communications and Advertising and has contributed to the university's National Professional Advisory Board for more than two decades.
deTranaltes' commitment to St. Thomas comes with the hope that the next generation of promising scholars may participate in the same rich Basilian experience he has found invaluable to his success.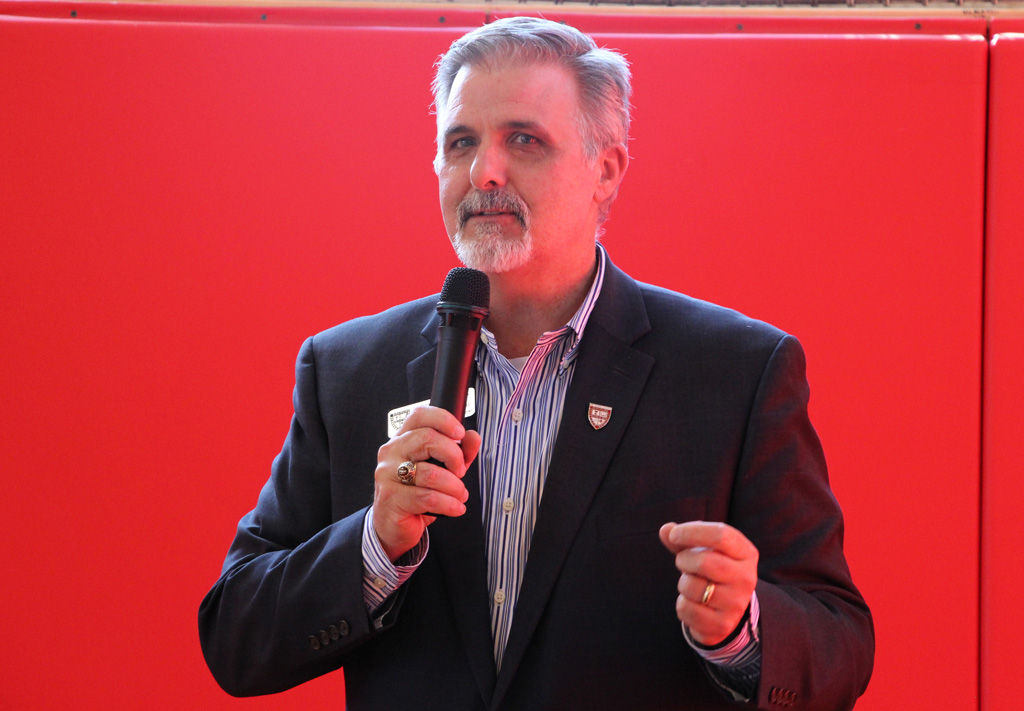 deTranaltes: Circumstances change, people do not. There's great confidence, a position of strength, in the Basilians' ability to develop young men. The 'Teach Me' in the Basilian motto is what resonates with me, that's my beacon. 'Teach Me' brings an open-mindedness, a lowering of the guard, a humble admitting that I don't have everything mastered. I've utilized that throughout my life and imparted that to my son (Mark '10; Miller, Scamardi & Carrabba P.C.) long before he reached St. Thomas. Embrace 'Teach Me' and the possibilities are endless.
Greg Phillips '82 shares the same pay it forward sentiment as deTranaltes. The current chairman of the St.Thomas board is an acclaimed corporate attorney and impassioned civic servant, that rare individual who inspires both respect and affection. Phillips received his Bachelor of Science in Engineering from Southern Methodist University and his Juris Doctor from the University of Texas School of Law.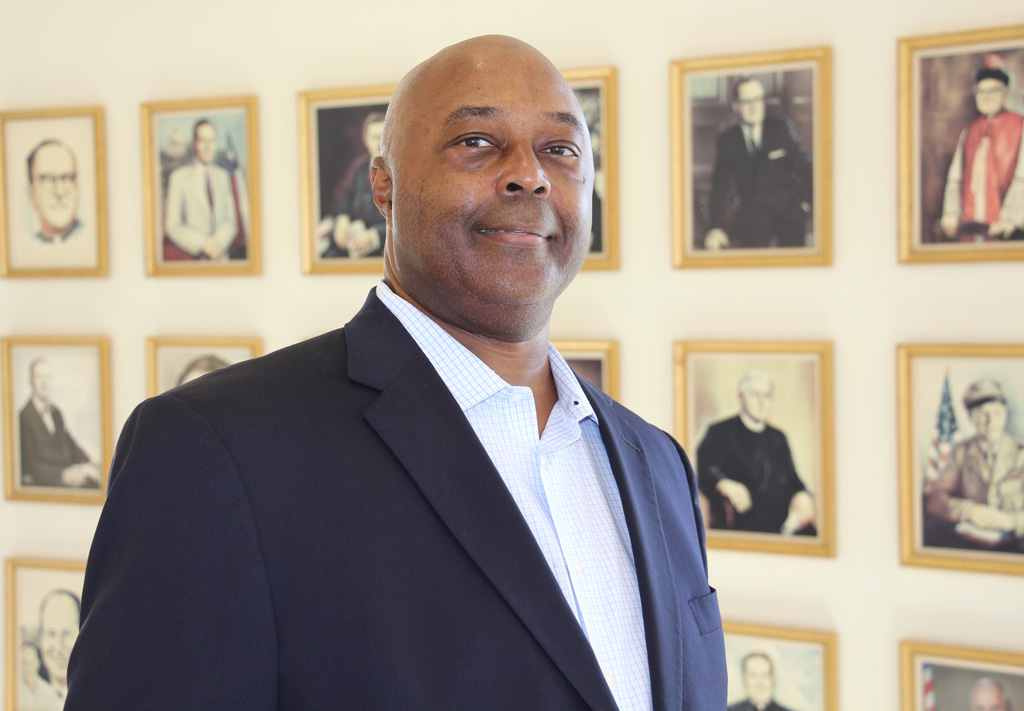 Phillips: Coming through here, you learn those three words – goodness, discipline, and knowledge – and how to make them real in your life. I can recall many times when presented with challenges or tough times and I would draw on those three words. It's about character, forming young men to become difference-makers in their communities.
That's the reason I'm still involved. My formation as a man started at St. Thomas. And if the Basilians opened doors for me, the least I can do is assist in making that same opportunity available for someone who seeks the same experience. I tell students that whatever they invest is what they will receive. All the tools are available for students to grow and reach their goals. But it's not pixie dust. You have to earn it.
—
Andrew Quittenton is the director of St. Thomas Campus Ministry and a member of the theology faculty. The Toronto native was initiated to the power of the Basilian ideals as a student at St. Michael's College. He later earned his Bachelor of Education from the University of Toronto and a Master of Religious Education from the University of St. Michael's College.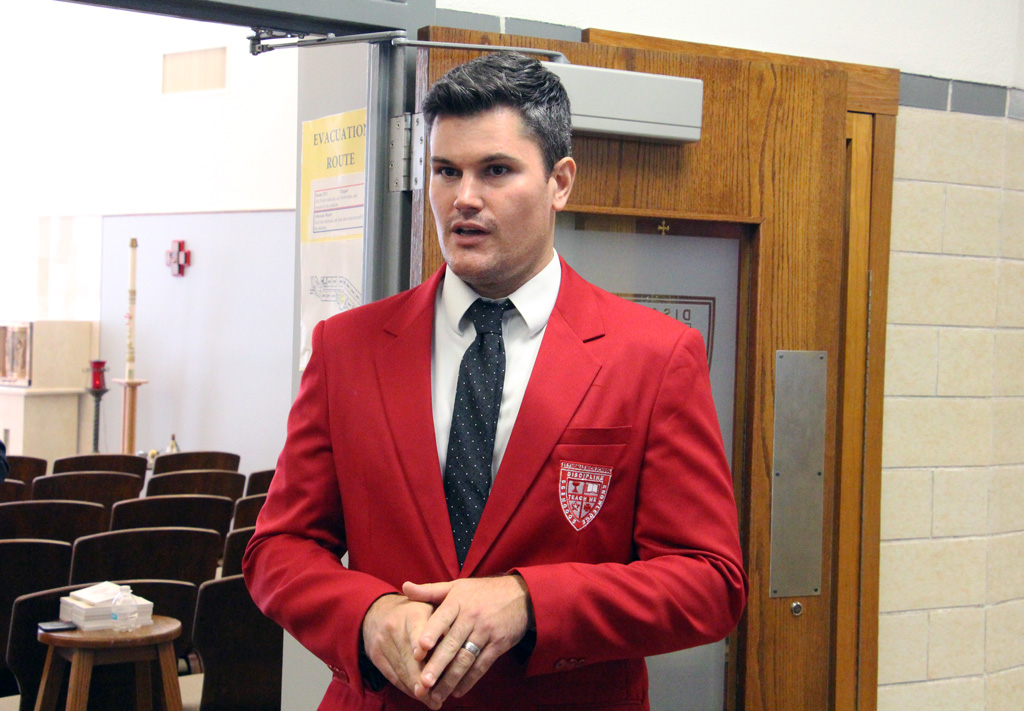 Quittenton: The greatest aspects of my life I owe to the Basilians. If they had not accepted me at St. Michael's College, I would not have attended college, studied theology at the university, met my wife, and been prepared for a move to Houston and a position with St. Thomas. This is where I started my family. The Basilians opened so many doors for me and continue to present great opportunities. I'm so grateful and blessed for this association. We often don't recognize the gifts we've been handed until later in life. Then we understand that the Catholic Basilian beliefs changed our lives.
Danny Hernandez '08 first felt the Basilian influence when he began kindergarten at St. Anne's Catholic School. He then graduated to St. Thomas with more than a dozen of his classmates. Hernandez joined the St. Thomas theology faculty after earning his Bachelor of Arts from the University of San Diego and his Master of Theological Studies from Boston College University.
Hernandez: The Basilian impact on my life is so strong I considered a vocation to the order. It's foundational – who I am, what I studied, how I teach. During my years as a St.Thomas student, the Basilians Fathers were genuine, could relate, and cared for me as a person. They connected and were instrumental with so many others like me. I gravitated and embraced their values.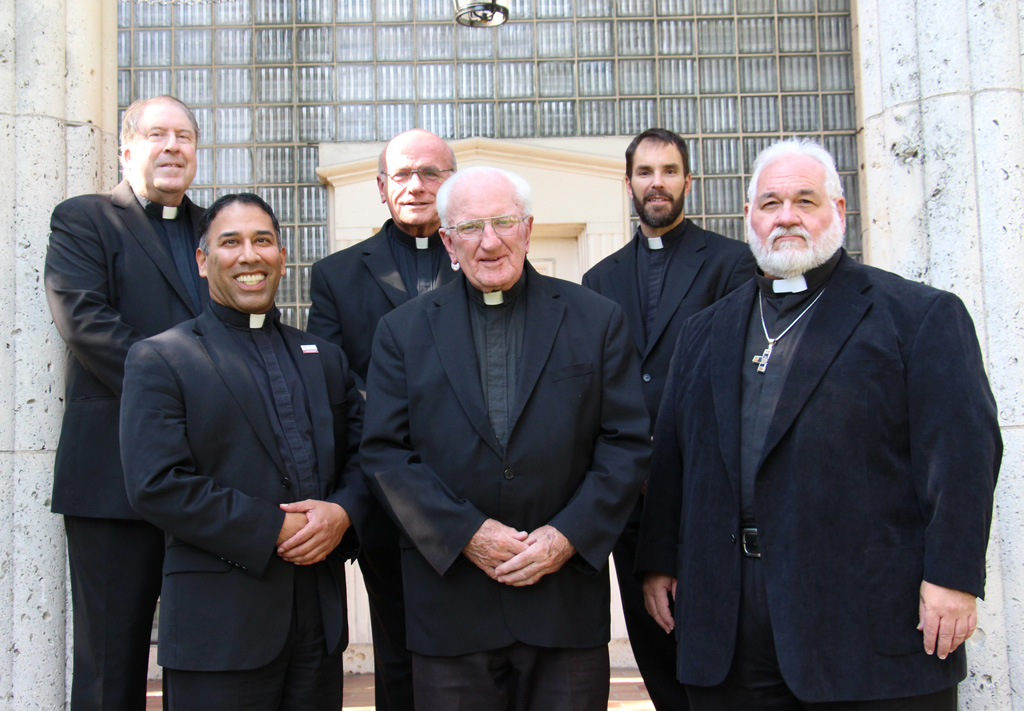 —
The present and future center of Basilian life are shifting, just as from Annonay to Toronto 100 years ago. The distinguished order of Catholic priests devoted to teaching will continue in the United States and Canada, Mexico and Colombia. The great array of voices and gifts continues their singular mission and motto.
Fr. Murphy speaks for thousands of St. Thomas graduates when he says, "If it weren't for the Basilians, I wouldn't be where I am today."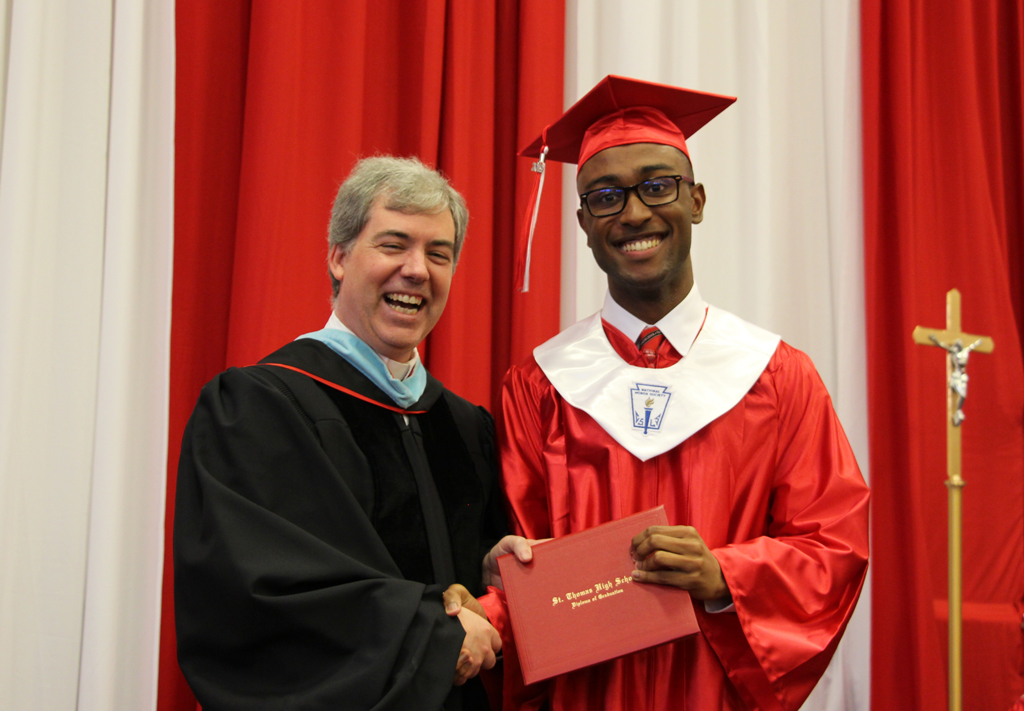 President Fr. Murphy: This is at the heart of how I live out this charism – the person in front of me is who I am called to serve at this moment. I want our students and faculty to sense that care, that love. I want our students to grow in goodness, discipline, and knowledge, and be prepared to answer confidently for whatever the world asks of them.
Catholic. Basilian. Teaching Goodness, Discipline and Knowledge since 1900.