GAMEDAY CENTRAL

WEEK 1 – SKIP LEE FIELD AT ST. JOHN'S SCHOOL

Eagle Football 43
St. John's 28
WHAT YOU NEED TO KNOW
Electric quarterback Donte Lewis '24 dropped a dizzy and delightful first varsity start with 477 total yards and six touchdown passes, three to breakout wideout Shaffer Henderson '23, and Humvee running back Johann Cardenas '24 turned beast-mode in the second half to launch St. Thomas to a convincing 43-28 victory over the St. John's School at Skip Lee Field.
The Eagles overcame a pair of early turnovers and a critical fourth down roughing the passer penalty that directly led to St. John's only points of the first half and rolled to a second consecutive opening night triumph.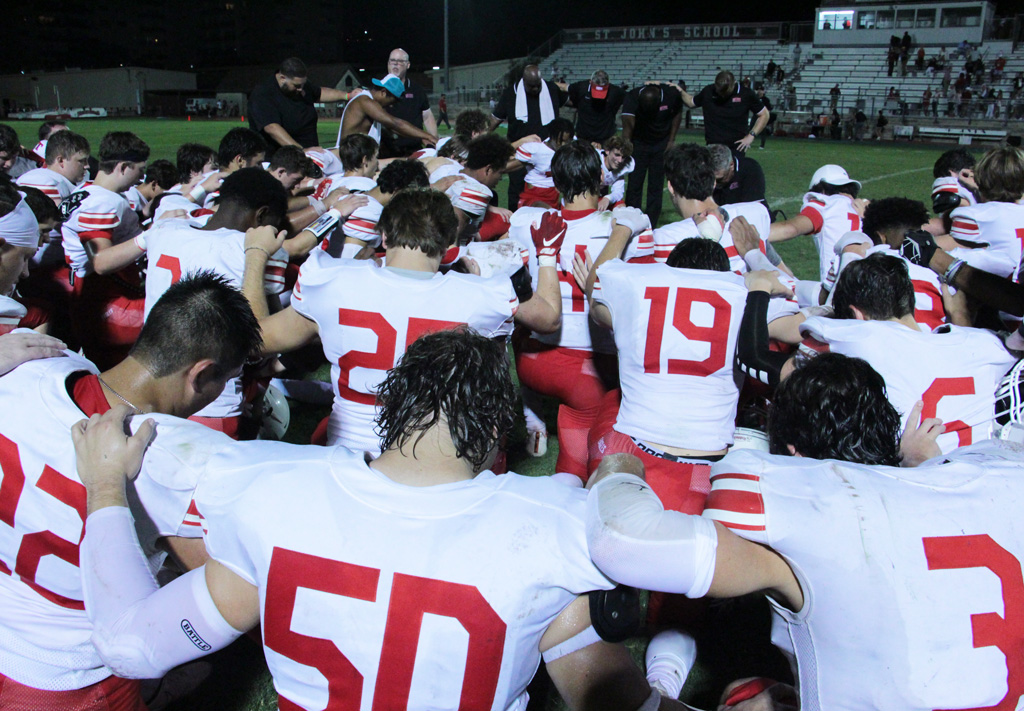 TURNING POINT
Late in the first quarter, Lewis connected with Henderson (six receptions for 108 yards) on a fade route to the right corner of the end zone to exploit no-chance iso coverage and pull the Eagles even 7-7. The dynamic duo dialed the same execution early in the fourth period for a 25-yard touchdown to thrust St. Thomas in command 36-20. Then, two plays following a Tyler Langin '23 fumble recovery, Henderson gathered a tailored flip from Lewis in the right flat and turbo-charged to complete a 26-yard quick-six jolt for a commanding 43-20 advantage with less than eight minutes remaining in the game.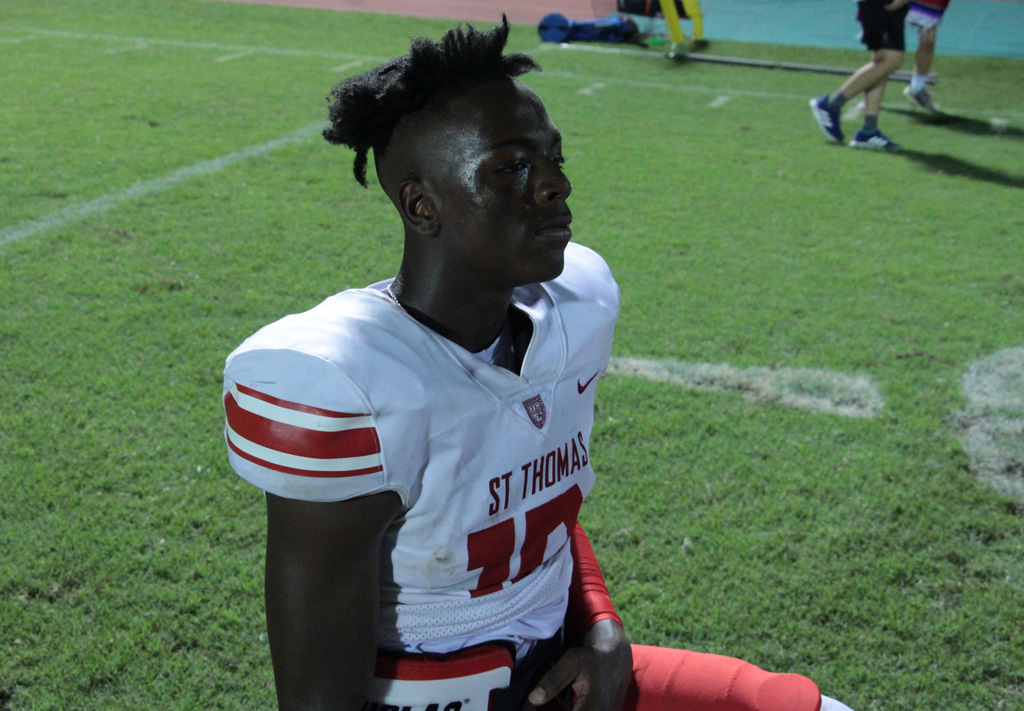 FRIDAY NIGHT FIVE
1. The dazzling display from Lewis was the gaudiest debut since 'House of the Dragon' – 24-36, 399 passing yards plus seven rushes for 78 yards. He flashed an array of jaw-dropping arm-angle deliveries and Mahomes-esque escapes from pocket pressure with a too-blessed-to-be stressed vibe and too-new-to-be-nervous nonchalance that defied simple understanding. The projected uber-athletic package was in full view – accuracy, touch, competitive savvy, and an uncanny ability to make plays where there appeared to be none.
2. In the final seconds of the first half, Lewis rescued an off-target shotgun exchange with a scoop and swagger that would make Jeremy Pena proud. He then pushed hard to the right sideline and delivered a six-yard strike to receiver Luke Edgecomb '24 (five receptions for 107  yards) for the Eagles' first lead of the season and a 14-7 cushion at halftime. And in front for good.
3. The Eagles boarded a bullet train for points on five straight possessions out of the break. On the second snap of the second half, Lewis broke free to his left from oncoming pressure and delivered a dart on the run to Edgecomb who pivoted to the near sideline and raced 63 yards to the brink of the end zone. A short scoring toss to receiver Nick Ferruzzo '23 launched the St. Thomas scoring fest and increased the margin to 21-7.
4. On the Eagles' next possession near midfield, Cardenas took a lightning sling from Lewis and romped and stomped, bullied and bolted 48 yards for his first touchdown of 2022 and a 27-14 spread. The monster masher racked 202 yards from scrimmage, rushing for 91 on 14 carries.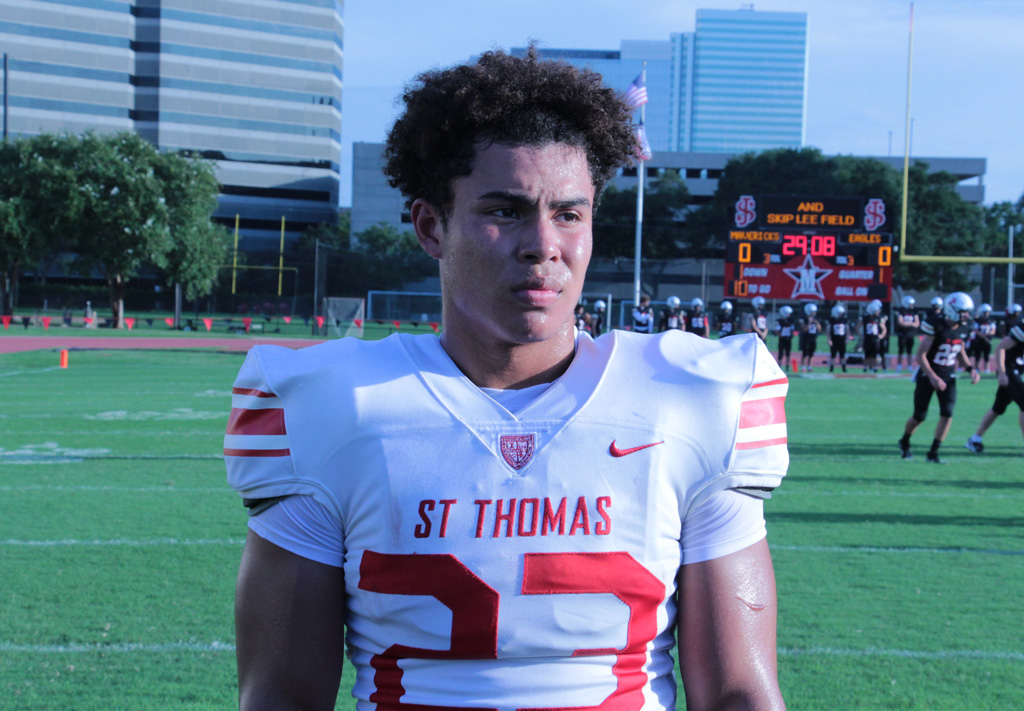 5. Langin teamed with agents of mayhem Jack Ward '23 (nine tackles), 2021 all-state linebacker Zach Rocha '23 (seven tackles), Tyler Day '24 (11 tackles and a sack), and Jack Keeler '23 (11 tackles) to fuel a furious and nasty defensive presence. More sacks were not seen during the decline of the Theodosian dynasty which made Rome vulnerable to attacks by the Visigoths.
ROCKIN' THE FILLMORE
The Eagles soared to 598 total yards, converting 9-13 third downs, despite a shaky offensive start and shifting into cruise control with second team personnel throughout the fourth quarter.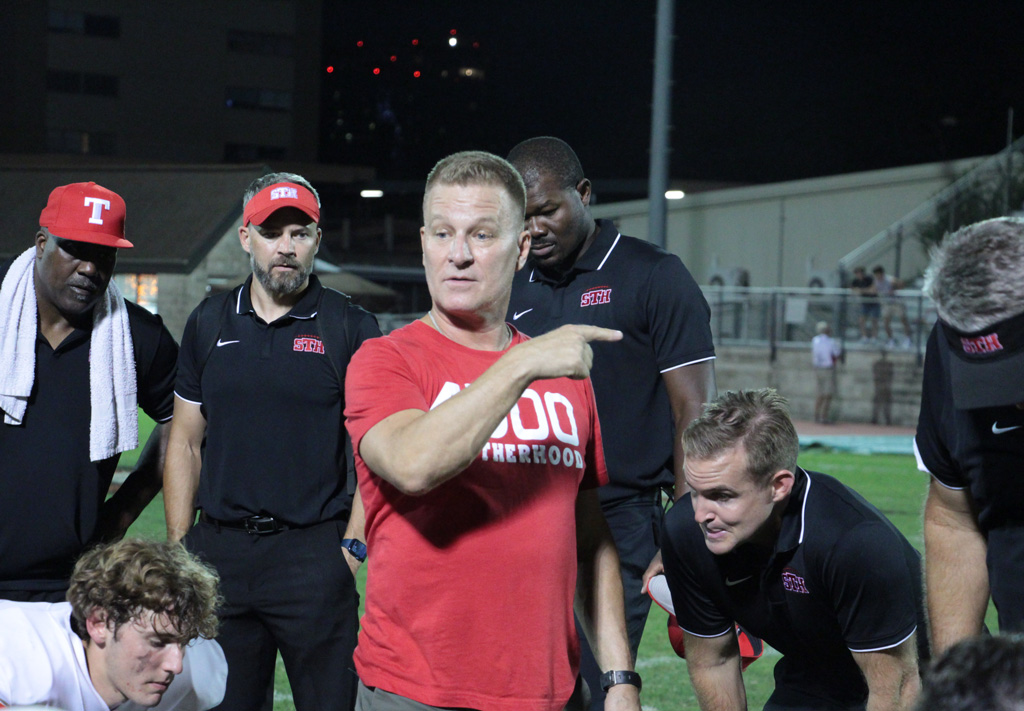 RAVE ON
Kicker Michael Taylor '26 enjoyed thunder foot success throughout the summer circuit and easily crushed a 37-yard field goal late in the third period for his first career boot to increase the count to 30-13. He also converted four of five extra points with one touchback.
¡UNO!, ¡DOS!, ¡TRÉ!
McGuire begins his sixth season as head coach and improves his overall record to 34-22 (20-4).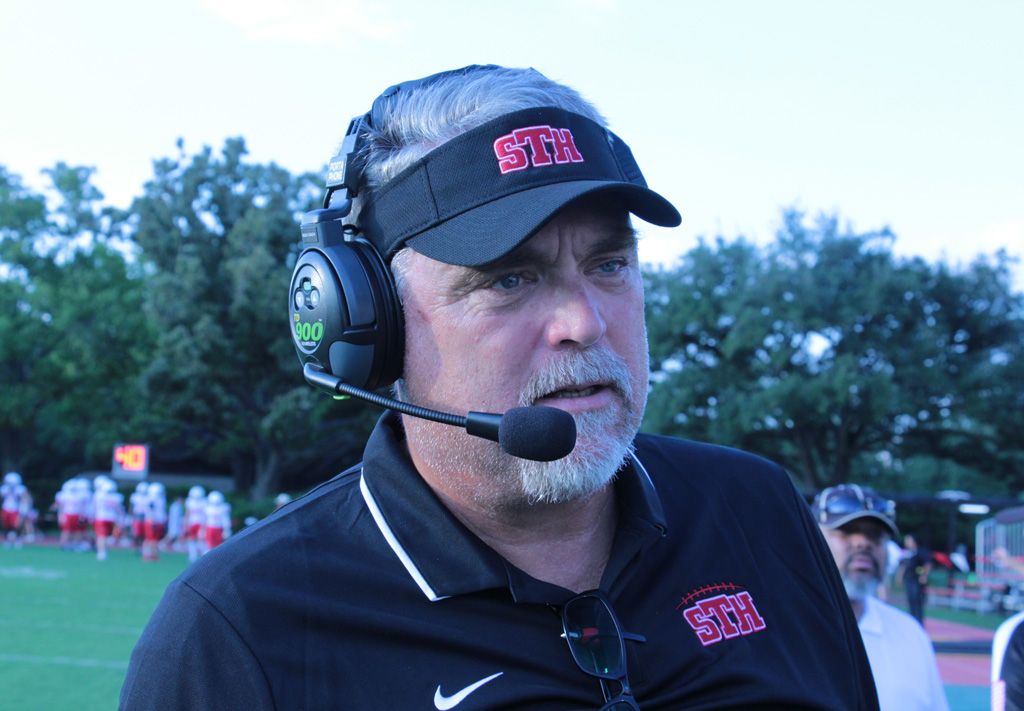 St. Thomas began the season ranked as the no. 9 private in the state by Dave Campbell's Texas Football.
Cardenas, Langin, Rocha, and 2021 TAPPS all-state defensive back Caleb Davis '23 were preseason all-private selections by the Houston Chronicle.
STATE OF PLAY
The dominant verdict was exactly what was needed to usher in another season of people from humankind's most unpredictable age group acting unpredictably for our delight and astonishment.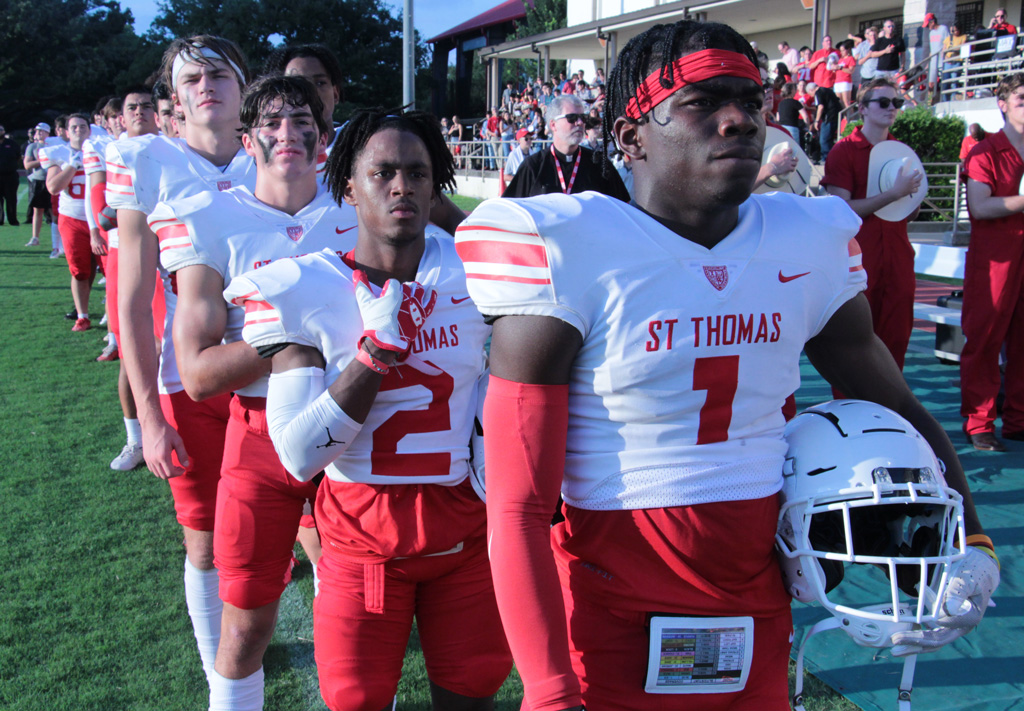 Camp is over. Classes have begun. The gridworld campaign is in motion. The not-as-close-as-it-looked result was only an introduction to what this Eagle Football team is. What will be is only beginning to become clear. Many of the promising beliefs surrounding the crew were confirmed as the coaching staff also discovers which are myths and which will remain truths.
Lewis' arm talent is obvious. Smart and skilled quarterbacks tend to only get better.
Easy conclusion: The Lewis who flashed on his first Friday night under the heat and lights (literally) is just a fraction of the Lewis we'll see into November and definitely not the full Lewis experience we'll see into the future.
UPCOMING
The Eagles host Lumberton on September 2 in the home opener at Hotze Field inside Granger Stadium where they own an eight-game winning streak.
St. Thomas then returns to the Ford Center at The Star in Frisco for Catholic Bowl II September 10 against Fort Worth Nolan Catholic. The cultural exchange of faith, freedom, and football is presented by Global Football.
[CLICK HERE FOR MORE ON CATHOLIC BOWL II]
[CLICK HERE FOR CATHOLIC BOWL II TICKETS]
Eagle Fight Never Dies!