GAMEDAY CENTRAL

WEEK 3 – CATHOLIC BOWL II at FORD FIELD at THE STAR in FRISCO

Fort Worth Nolan Catholic 28
Eagle Football 45
WHAT YOU NEED TO KNOW
Raucous running back Johann Cardenas '24 romped and stomped, battered and bolted for 249 total yards with four rushing touchdowns and added a fifth on a flip from charismatic quarterback Donte Lewis '24 as St. Thomas blasted Fort Worth Nolan Catholic 45-28 in Catholic Bowl II at Ford Field at The Star in Frisco.
The verdict wasn't as close as the final margin might suggest. Eagle Football rolled past 40 points in its third consecutive runaway win and racked four turnovers for the second straight week in staking its first 3-0 start since 2015. The dominant encore Catholic Bowl performance followed a 38-31 thrillarama verdict over Plano John Paul II in the inaugural 2021 event.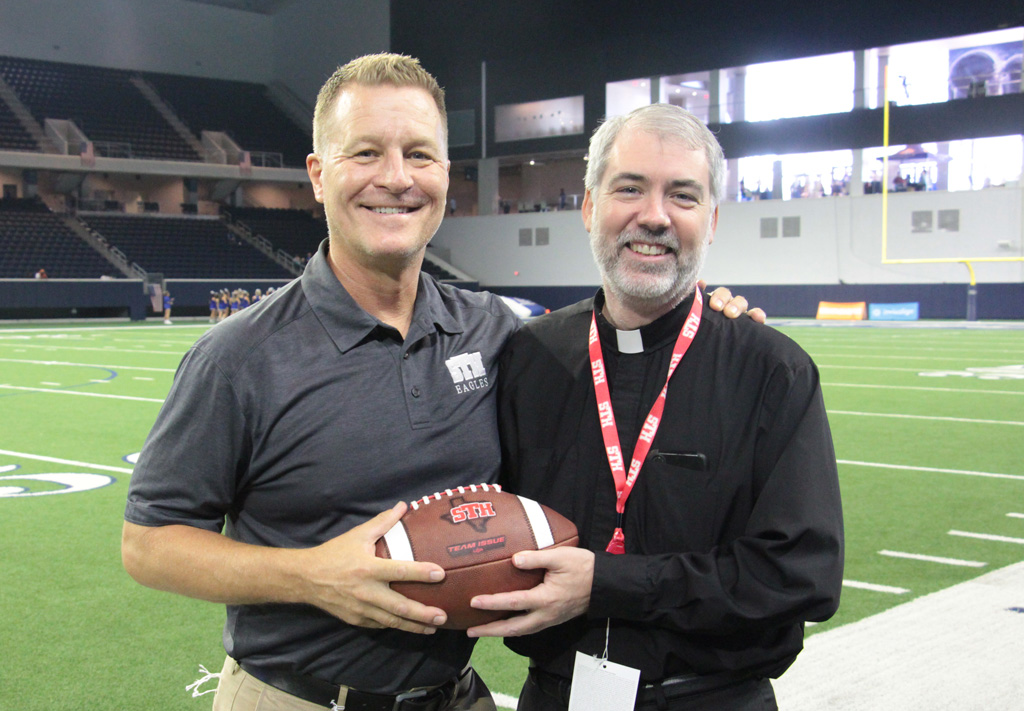 TURNING POINT
The Eagles closed the half flexing for an 87-yard march with Cardenas (18 carries for 191 rushing yards) converting a pair of third downs, first a screen catch-and-run worth 20 yards, then a 14-yard blast to set up a Lewis (19-38 for 265 yards) payoff to Preston Bowman '23 (five receptions for 30 yards) that raised the count to 28-7 at the break.
After Eagle Football recovered a fumbled kickoff to start the second half, the rampage runner took the second snap and dodged, ducked, and dashed away for 28 yards for his fourth score and an insurmountable 35-7 advantage.
FRIDAY NIGHT FIVE
1. Cardenas occupied repeated end zone residence, cashing in from short range following an explosive 47-yard connection from Lewis to receiver Larry Benton '24 for 7-0 in the first quarter.
2. On the next St. Thomas possession, Cardenas collected a quick toss from Lewis in the left flat and expertly cut to the sideline for a 48-yard mad dash to give the Eagles the lead for good.
3. The 28-point scoring surge continued after consecutive possessions ended in interceptions. Eagle Football capitalized on a botched punt snap and needed only four plays for Cardenas to crash the right side for 21-7 with 9:49 remaining in the half.
4. Cardenas represented certain success in every high-leverage situation. Late in the third period, he stamped his career-best night with an emphatic exclamation – accelerating into breakaway gear and overmatching the final two tacklers deep in the Nolan secondary to finish a 60-yard lightning bolt score. Unbridled euphoria soon had its new poster man-child.
5. The Eagle defense delivered a strong dose of Armageddon time to rival any production involving Anne Hathaway, Jeremy Strong, and Anthony Hopkins. The four takeaways enabled St. Thomas to feast on field position deep into the third quarter when the outcome was being decided. Eagle Football forced four punts in Nolan's first five possessions. In the second period, sledgehammer linebacker Jack Ward '23 (10 tackles) seized his first interception of the season followed by all-state safety Caleb Davis '23 stripping a Nolan ball carrier breaking to the end zone with Jonathan Saracho '23 recovering at the St. Thomas 13-yard line.
FAITH, FREEDOM, AND FOOTBALL
Catholic Bowl II celebrated Texas high school football as an opportunity for cultural exchange and authentic Catholic identity between rising powers within the TAPPS ranks and an out-of-state college preparatory institution founded in 1911.
The tripleheader commemorated the 21st anniversary of the horrific 9/11 terrorist attacks that killed 2,977 people and injured thousands at the World Trade Center, the Pentagon, and in Somerset County, Pennsylvania. Lives were lost and millions forever changed by the deadliest terrorist act in world history. The Catholic Bowl was designed to climax a series of distinctive events and activities held to mark the occasion
St. Edmund of Eunice, Louisiana opened the Saturday extravaganza with a 40-14 victory over
Plano John Paul II. The expanded slate for 2022 included Muenster Sacred Heart defeating four-time TAPPS IV state champion Shiner St. Paul 30-20 in a rematch of the 2021 state title game.
President Fr. James Murphy, CSB was a con-celebrant of the Friday night Mass for the participating teams at St. Martin De Porres Catholic Church in Prosper.
The joint venture between the schools is the genius of Patrick Steenberge, founder and president of
Global Football since 1996, an acclaimed exporter and producer of American football and marquee matchups for U.S. colleges and high schools to play internationally.
¡UNO!, ¡DOS!, ¡TRÉ!
St. Thomas has now met Nolan Catholic eight times – the first seven in the playoffs. Eagle Football owns a string of matchups previously dominated by slam-dance defense with six victories.
McGuire is in his sixth season as head coach and improves his overall record to 37-22 (20-4).
St. Thomas entered Week 3 the no. 5 private in the state by Dave Campbell's Texas Football after beginning the season no. 9. The Eagles were third for the second consecutive week in the Houston Chronicle in the Greater Houston private school rankings.
PREVIOUSLY
GameDay Central || Eagle Football Soars to Dazzling Debut Win
GameDay Central || Eagle Football Roars in Home Debut for 2-0 Start
UPCOMING
Following an off week, the Eagles travel again to the Dallas Metroplex for a rematch with JPII (0-3), now coached by 2008 graduate Nick Schiele who replaced former Florida State national champion and five-year NFL cornerback Mario Edwards after just one season.
Eagle Fight Never Dies!