WEEK 2 – HOTZE FIELD INSIDE GRANGER STADIUM

Lumberton 24
Eagle Football 42
WHAT YOU NEED TO KNOW
Play-making magician Donte Lewis '24 mesmerized for the second straight Friday night, running and throwing for five touchdowns while Eagle Football's demolition defense feasted on four turnovers in a commanding 42-24 victory over Lumberton.
Despite a near half-hour weather delay minutes into the game, St. Thomas posted its ninth straight home win and is 2-0 out of the gate for the second consecutive season.
TURNING POINT
St. Thomas matched its first-half scoring in the first 10:00 of the third quarter. The Eagles capitalized on an ill-conceived on-sides kick to launch the third quarter. Smash-mouth running back Johann Cardenas '23 (15 carries for 92 yards) needed one play to shift into breakaway gear and explode 41 yards to push the advantage to 28-10. After some expert thievery courtesy deluxe cover corner Marquis Kiatta '24, Lewis orchestrated a seven-play scoring push and capped it with a short-range jaunt for 35-10. On the next Eagle possession, Lewis delivered a dart that receiver Larry Benton '24 came back and glue-gripped on the right side of the end zone for the knockout punch, an insurmountable 42-17 margin
FRIDAY NIGHT FIVE
1. The Eagles pumped and pounded a tenacious D that would have made Jack Black and Kyle Gass stomp with rock steady delight.
2. War-daddies Jack Ward '23 and Jack Keeler '23 each took part in 13 tackles. Tyler Day '24 racked a pair of sacks. Aron Valentine '24 set the tone in the opening moments retrieving a red zone fumble caused by Michael-Anthony Okwura '24. All-state safety Caleb Davis '23 piled a pair of interceptions on back-to-back series in the second stanza, including an end zone swipe set up by a contested ball by Keenan Bonner '24. Kiatta and crew continued to flash the most raucous flesh hammer since The Woggles dishing a heaping helping of hip-shaking, windshield-steaming three-cord fusillade, shaking the rafters in a dance party rave-up that could melt Dick Clark's face off.
3. On the initial snap following the weather shutdown, Lewis danced, pranced, for 73 yards deep into Lumberton territory. The first of two short-range scoring runs from Lewis gave the Eagles the lead they would never surrender. He completed 11-18 for 181 yards while rushing for 118 and three scores, mortal-type numbers that don't reflect or reveal the dynamic impact on the outcome.
4. Lewis, Cardenas, Benton, and match-up maven Shaffer Henderson '23 served as a four-man delivery system for 200-proof, nitro-fueled offense. After a Lumberton field goal, the sudden quarterback extraordinaire required but three completions to extend the lead – a 17-yard hook-up up the right seam with Luke Edgecomb '24, a short connection to Benton, and a go-and-get-it opportunity to Henderson that spoiled overmatched coverage in the middle of the end zone for 39 yards and the payoff worth 14-3.
5. Late in the half, Lewis cashed in the second Davis takeaway with a now-you-see-me now-you-don't 16-yard scamper for 21-3.
ROCKIN' THE FILLMORE
The dazzling Lewis debuted with rollicking rip-roaring 477 yards in a 43-28 slap on St. John's, including 399 passing yards and six touchdowns, three to Henderson.
Cardenas threw down a 202-yard blockbuster in the opening night smash featuring a 48-yard pitch-and-romp score that ignited a 29-point second-half assault.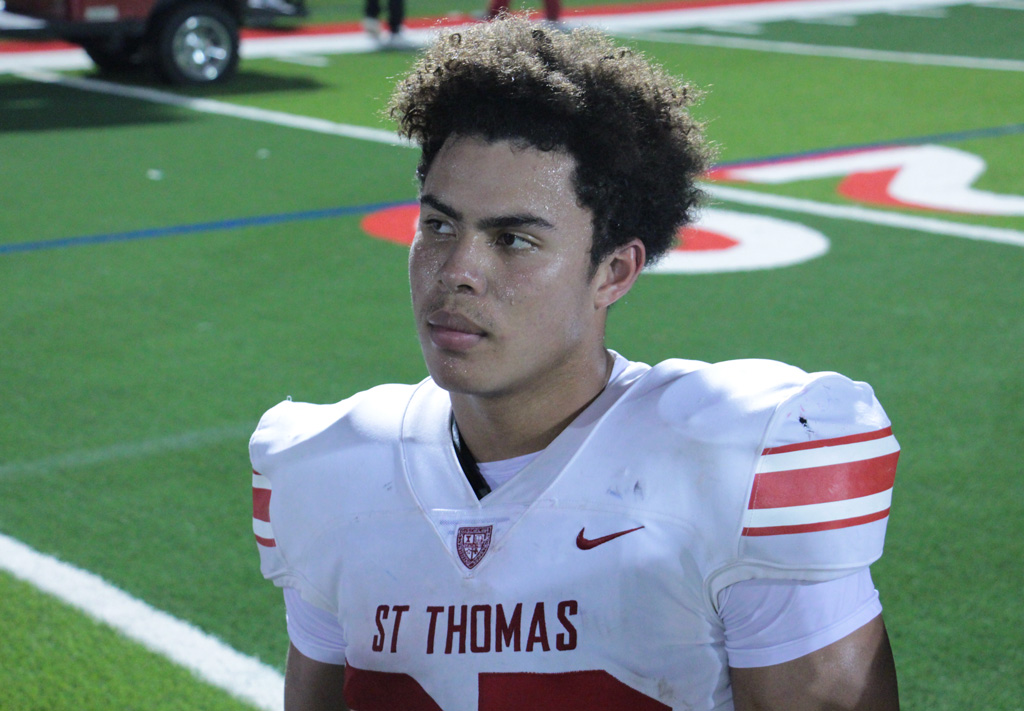 RAVE ON
The Eagles totaled 392 yards in breaking the 40-point barrier for the second straight week.
PROUDEST RESPECT
Before the game, St. Thomas recognized the passing of Hall of Honor member William Fr. Joplin '54, a philanthropic champion who played an essential role during a transformational period of the school's history.
Joplin died August 1 at the age of 86. In November 2020, St. Thomas was extremely blessed to officially dedicate the Jane and Bill Joplin Campus expansion. The priority project promotes the success of Eagle scholar-athletes in competition, in the classroom, and in the community. The Joplin Campus contains four vital components, all different in their use, but all four supplying a superior training and preparation facility.
The Eagle community also paid respects to Jamey Rootes P '20, a significant contributor to the St. Thomas campus operation and the first team president of the Houston Texans. Rootes was the driving force of the Houston Texans Foundation, which has raised more than $36 million since its inception. He passed away August 22 at age 56.
¡UNO!, ¡DOS!, ¡TRÉ!
McGuire is in his sixth season as head coach and improves his overall record to 36-22 (20-4).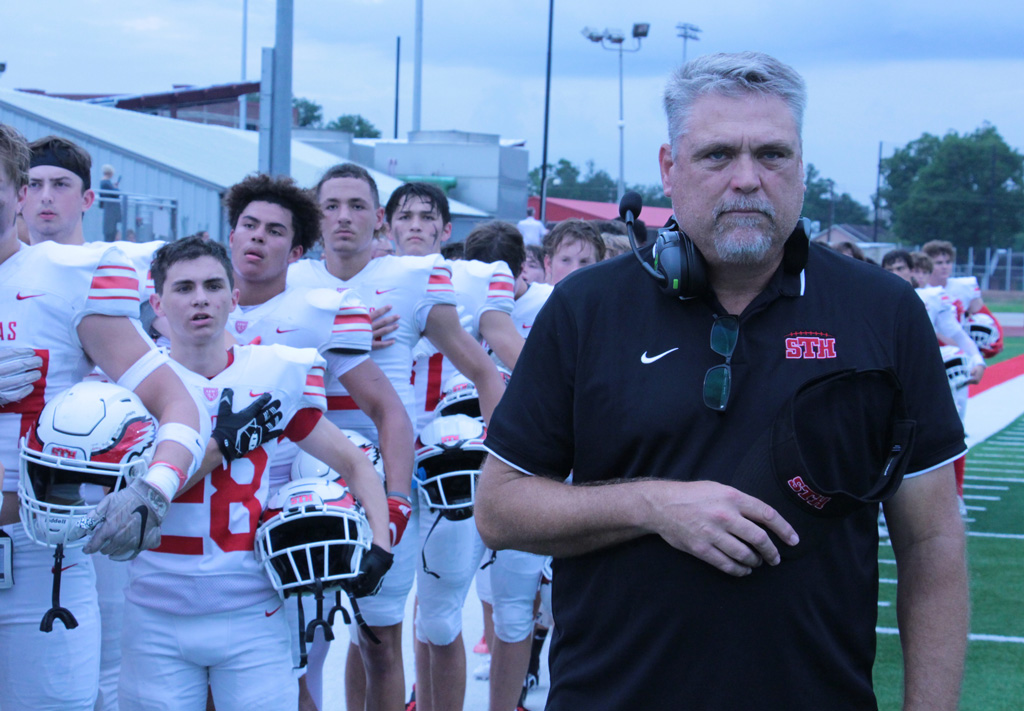 St. Thomas entered Week 2 third in the Houston Chronicle in the Greater Houston private school rankings. The Eagles began the season as the no. 9 private in the state by Dave Campbell's Texas Football.
Cardenas, Langin, Rocha, and 2021 TAPPS all-state defensive back Caleb Davis '23 were preseason all-private selections by the Chronicle. Cardenas, Rocha, and Davis were named preseason All-VYPE private.
STATE OF PLAY
The quality of game-alerting players on offense and defense is clearly there. Enough so that there's still considerable upside for both units as the season advances.
The Eagles appear to be playing "connective football," which wasn't so much about on the field but off. Caring about each other, being excited when others are breaking big plays and commanding the spotlight.
There are zero concerns about Eagle Football's loaded offense. But it's not exclusively a pinball passing attack. It's also the ability to have that high-octane explosion when it detonates, then flip to the run when to change tempo, shatter the opponent's will, or bleed the clock.
The Eagle's shared identity includes a seek-and-destroy defense flexing a decided level of toughness and purpose at the point of attack.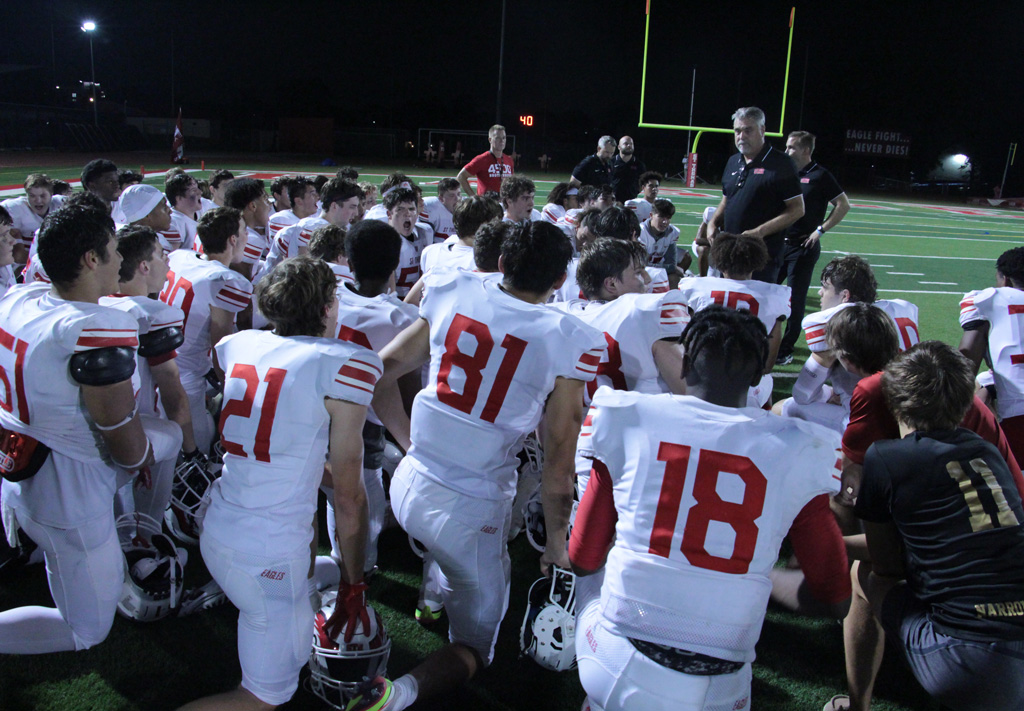 PREVIOUSLY
GameDay Central || Eagle Football Soars to Dazzling Debut Win
UPCOMING
The Eagles now return to the Ford Center at The Star in Frisco for Catholic Bowl II September 10 against Fort Worth Nolan Catholic. The cultural exchange of faith, freedom, and football is presented by Global Football. The two programs have met seven times – all in the playoffs. Eagle Football owns a string of matchups dominated by slam-dance defense with five victories.
[CLICK HERE FOR MORE ON CATHOLIC BOWL II]
[CLICK HERE FOR CATHOLIC BOWL II TICKETS]
Following an off week, the Eagles travel again to the Dallas Metroplex for a rematch with Plano John Paul II, now coached by 2008 graduate Nick Schiele who replaced former Florida State national champion and five-year NFL cornerback Mario Edwards after just one season. George Teague remains as athletic director (yes, the former Dallas Cowboy, Terrell Owens-blasting safety) after stabilizing the program on the heels of three straight 0-10 seasons and a 58-game district losing streak that spanned nearly 10 years.
Eagle Fight Never Dies!