St. Thomas is proud to salute Austin Burke '23 and Jackson Guyre '23 for earning the prestigious rank of Eagle Scout, the highest achievement in the Boy Scouts of America (BSA).
Burke and Guyre continue the thriving legacy of Eagle scholars who have reached this milestone accomplishment that remains richly recognized throughout the United States. Since the BSA's inception in 1911, only four percent of scouts have earned this superior honor after a lengthy review process.
The two Eagle students have gained distinction in Troop 30 through St. Mark United Methodist Church since 2016.
For his significant service project, Guyre partnered with the Houston Parks Board (HPB) to reforest Strickland Park, a seven-acre plot of land in East Houston, and help mitigate the erosion of Greens Bayou. Once the area was cleared of invasive species, Jackson and more than 80 volunteers planted 3,100 trees over two days. The expanded areas provide additional green space within the park for use by the general public as well as further ongoing conservation efforts along Houston's bayous.
In addition to the project, Jackson helped raise nearly $9,000 for HPB for the purchase and planting of trees in the area. He networked with the Houston Tool Bank to secure the equipment and expertise to empower these ambitious goals.
Burke collaborated with 28 volunteers and the Armand Bayou Nature Center (ABNC) to expand a portion of the gravel road that stretches across the conservation center. The group soaked, laid, spread, and packed $5,000 of gravel road that will benefit the ABNC's mission to preserve and raise awareness of the endangered animals and marsh habitats of Texas.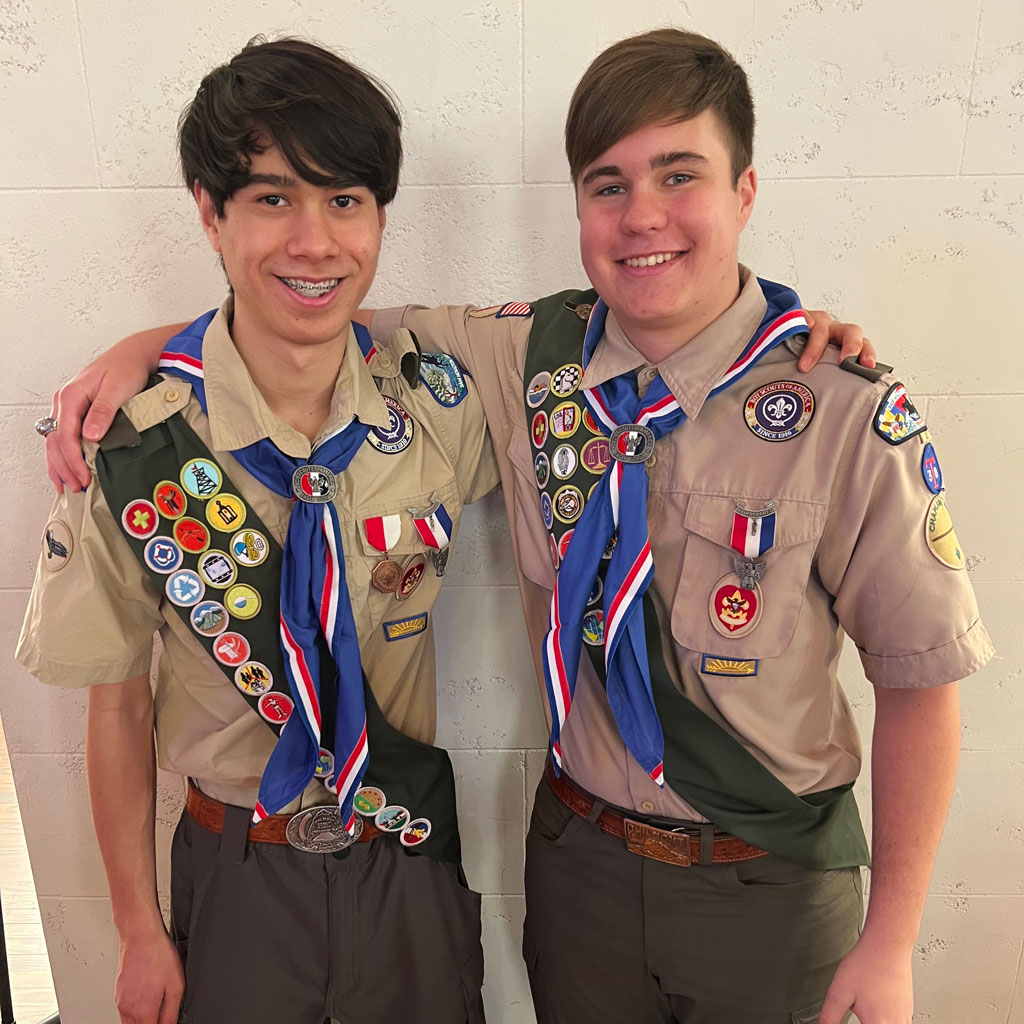 Guyre and Burke have served in various leadership positions within Troop 30. They participated in the Philmont Scout Ranch in 2019 and summited the two highest peaks, Little Castilla and Mt. Baldy. Their collective scouting successes are a testament to a deep dedication to the BSA values of character, citizenship, community service, and allegiance to the purpose and goals of their troop – all consistent with the Basilian credo of Teach Me Goodness, Discipline, and Knowledge.
Earlier in the academic year, Burke earned finalist acclaim in the 68th annual National Merit Scholarship Program and is the president of the St. Thomas chapter of the National Honor Society (NHS). He will attend Rice University and pursue a degree from the George R. Brown School of Engineering. Guyre is also a two-year member of NHS and will study at the Raymond J. Harbert College of Business at Auburn University.
Catholic. Basilian. Teaching Goodness, Discipline and Knowledge since 1900.