Much before Thomas Pham '23 elevated to salutatorian status, he was presented with the unenviable (ultimate?) tough act to follow – casting his lot in the formidable shadow of his brother and 2021 valedictorian Patrick Pham.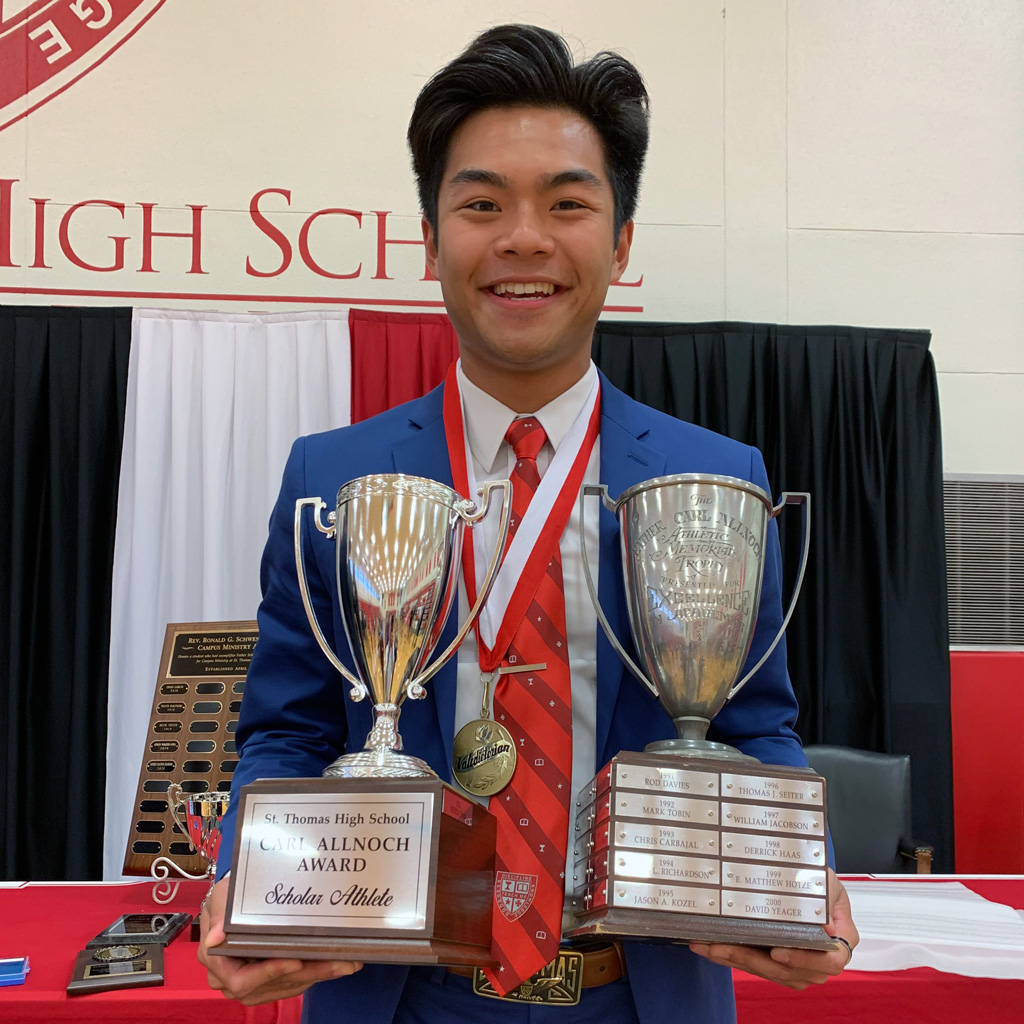 The initial burst of Pham-arama featured a unique blend of profound personality and performance. Patrick stoked a sheer, irresistible force of charisma with a contagious, megawatt celebrity. His coup de grâce was teaming with Gus Boettcher '21 for a ground-breaking first-place achievement at the prestigious National Speech & Debate Association Tournament and the first national championship in St. Thomas history.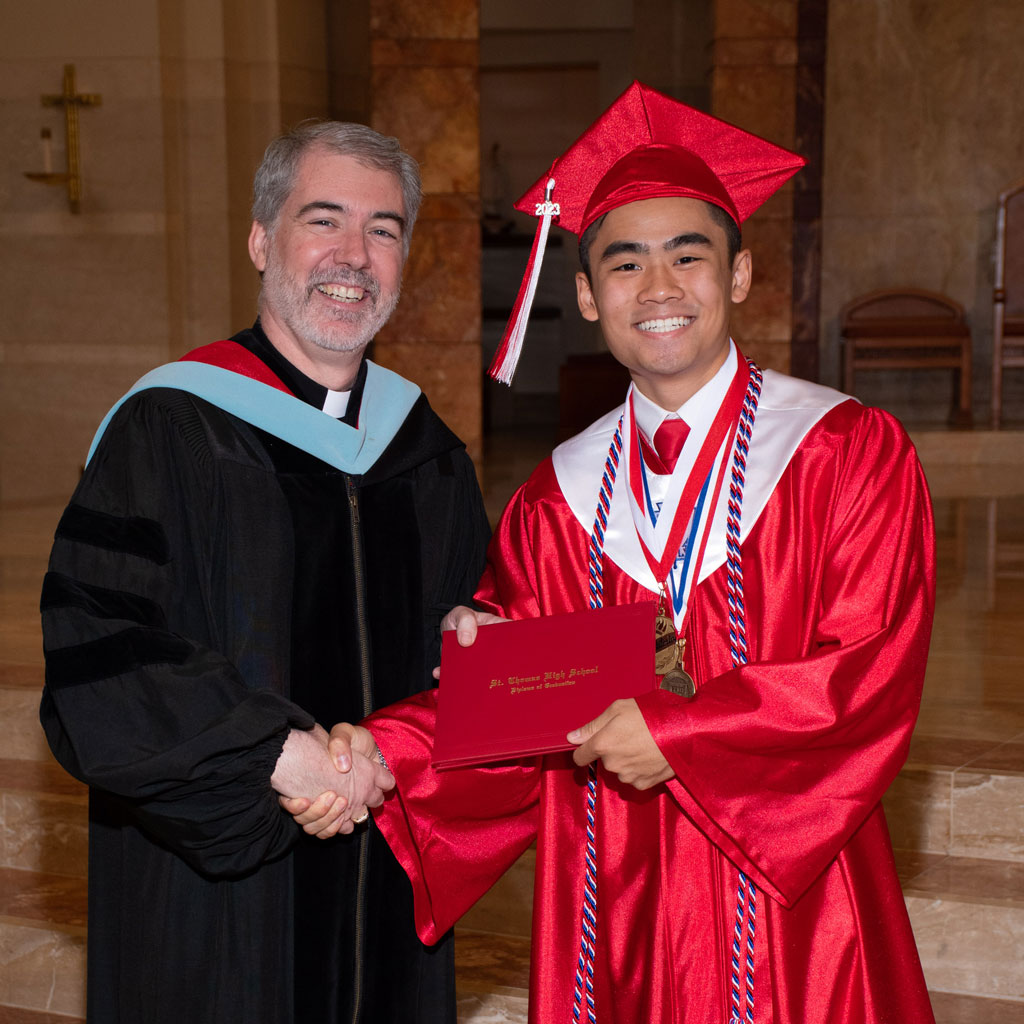 Yet, the undaunted Thomas harnessed his signature skill set and cleverly crafted a stellar St. Thomas career of his own spiked with wide-ranging and roaring achievements.
Such as …
College Board AP Scholar with Distinction. Thomas also excelled in Dual Credit Philosophy, Dual Credit Texas State and Local Government, and Advanced Journalism. His closing academic year included English Literature, Calculus AB, and Physics.
Pham the Younger was a two-year member of the National Honor Society and permanent member of the St. Thomas Club awarded to scholars who maintain a 4.0 GPA during seven consecutive semesters. He was also a four-year recipient of the Principal's Scholarship for scoring in the top 3% in the High School Placement Test and maintaining a GPA of at least 4.70.
4.70!
He was active in student government and the Youth Council for the Archdiocese of Galveston-Houston where he was among three from 80-plus members elected Catholic School Vicariate.
Thomas was the lead morning news anchor for Eagle Broadcasting Network, an Eagle Ambassador, a Senior Leader in the St. Thomas House System, a two-sport varsity performer for Eagle Soccer and Eagle Track and Field, and an Eagle Scout in the Boy Scouts of America through Troop 642.
Four years of superlative achievement and savvy discovery catapulted Pham into the highly exclusive Honors Program in the Hayes Business School at Texas A&M University while Patrick continued studying in the Canfield Business Honors Program at the University of Texas at Austin.
"The program at A&M is only a mix of 80 students," Thomas says. "When I first opened the offer, I was like 'This is sick.'"
Thomas is convincing when he claims that never for a nanosecond did he feel the perceived burden of comparison in the wake of Patrick's illustrious exploits. "I've always understood to focus on doing my best and that would be enough."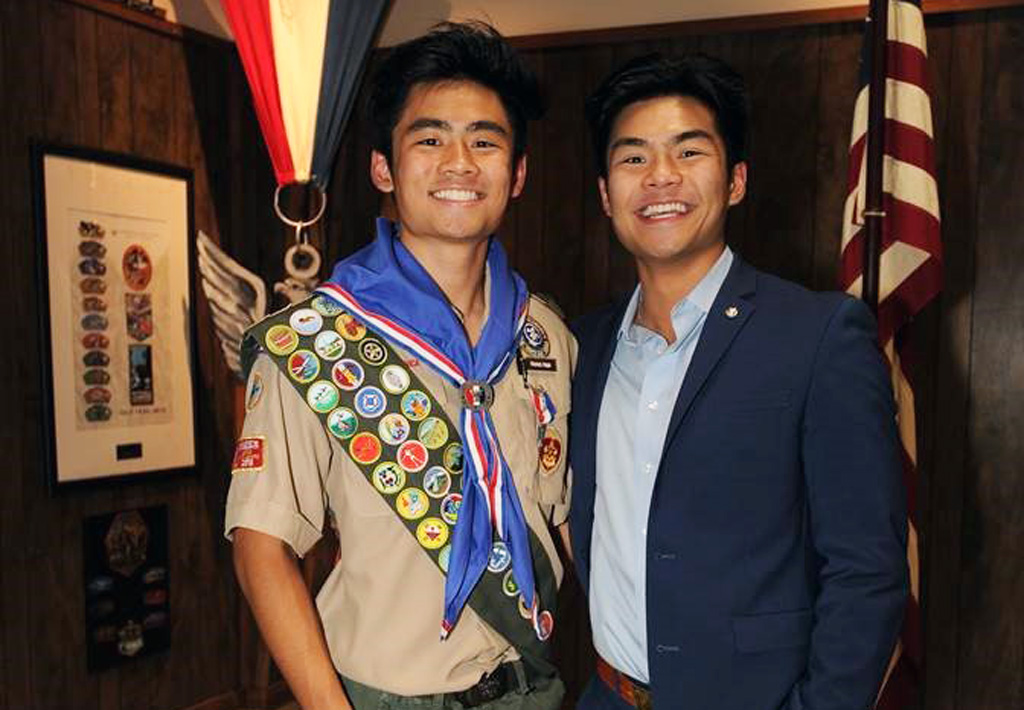 And what the two brothers in arms share most passionately is the extreme gratitude as first-generation Americans for the immeasurable sacrifices made by their parents.
Tracy Pham arrived in the United States from Viet Nam when she was 18 years old and Phillip when he was in his early 20s. Neither had the advantage of formal education and were forced to rely on reliance and persistence to adapt through an acute cultural shift to forge a successful life – while serving as resonating pay-it-forward role models.
"My parents have invested their lives in providing me and my brother with opportunities they didn't enjoy growing up," Thomas says. "It's an honor to make them proud."
Catholic. Basilian. Teaching Goodness, Discipline and Knowledge since 1900.