Gus Boettcher '21 and Patrick Pham '21 concluded their profound St. Thomas careers with a ground-breaking first-place achievement in Duo Interpretation at the prestigious National Speech & Debate Association Tournament.
The national championship acclaim for Boettcher and Pham is the first in school history in one of the largest competitive college preparatory events in the United States that dates to 1931. The thundering twosome outperformed 201 teams of challengers through 13 rigorous rounds before capturing the most elite distinction. The champion scholars created and enacted a deeply riveting and compelling scene inspired by, and dedicated to, their grandfathers who courageously fought for the United States in the Vietnam war.
When the official results were revealed online on June 19, Boechter was "completely flabbergasted. Patrick and I have been working on this material since the seventh grade, acting together since the fourth grade. Our goal for this senior year was to reach the final round and then see what happens. The expectation wasn't to reach the top spot but to tell this story the best we could. To win it all feels like an accomplishment that was years in the making. Amazing."
Pham acknowledges that "Gus and I are not the cleanest actors, the most polished actors. But I believe the judges saw our friendship was true, our rapport was genuine, and our story was real."
With the tournament hosted virtually due to concerns relating to the pandemic, Boettcher and Pham submitted a 10:00 video for adjudication. In a traditional setting, the two would have delivered their performance more than a dozen times in front of live judging over three-four days. Their undaunted portrayals articulated intimate insight and emphatic command.
"Gus and I envisioned the details from beginning to end," Pham says. "My grandfather is one of my idols. He created a path to the United States for our family. And in many ways, I'm a manifestation of his dream, the American Dream."
Boettcher echoed much of the same sentiment, that their rendering was "personal, not political. The themes were universal, not agenda-driven. There was a strong sense of realism, not stylized for the stage. No clichés. I believe all of those factors resonated with the judges across a screen when we couldn't connect with them directly.
"My character was a mix of both my grandfathers. My great grandfather was D-Day Second Wave. Patrick and I agreed that we owed it to these men to tell this story as a tribute. Their influence in our lives created enormous opportunities. We're both so grateful for their sacrifices. And that's what was most gratifying about the process for me."
The crowning achievement for Boettcher and Pham capped four years of paramount success in the celebrated St. Thomas speech and debate program anchored by faculty member Darrell Yarbrough. The two consistently earned renown in the most notable competitions across the country, including a ninth-place result in the Association's 2020 tournament.
"I'm happy that the St. Thomas name is represented," Boettcher says. "The school played such an important role in cultivating my friendship with Patrick. And Mr. Yarborough was a huge part in how we worked together, particularly this year, spending so much personal time with us to make this accomplishment possible."
The pair without parallel each received $1,000 scholarships applied to their destination colleges. Boettcher will attend Vanderbilt University with a focus on human organizational development, business psychology, and political science. Pham was accepted into the Canfield Business Honors Program at the University of Texas at Austin where he'll study marketing and finance.
"I have had an almost obsession with speech and debate, watching national champions and emulating what they did and how they succeeded," Pham says. "Now that Gus and I have reached this pinnacle, there's a standard for the next wave at St. Thomas to aim for. We're incredibly proud of our story, to show something authentic, and to have the validation from an outside audience made all our efforts well worth it."
Earlier, Pham and Boettcher earned the Association's Academic All American distinction. The coveted award recognized academic rigor, champion speech and debate success, and personal excellence. Fewer than 1% of the more than 141,000 members of the Association shared such a milestone.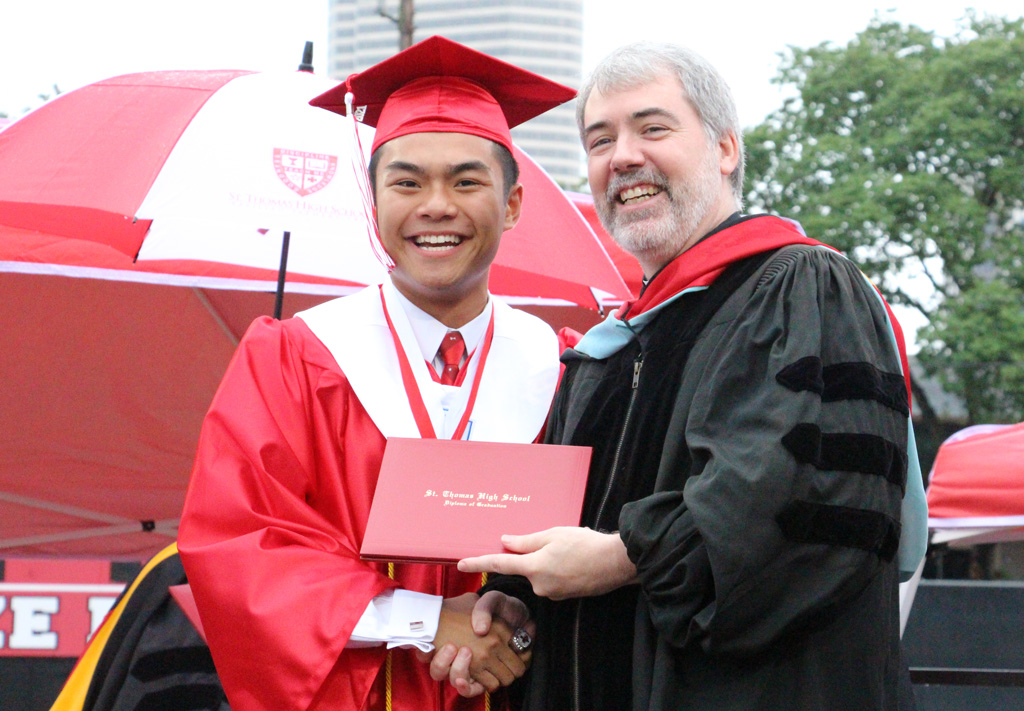 Pham was the 2021 St. Thomas valedictorian based on the calculation of his four-year grade point average. Boettcher was a National Commended Merit Scholar and student body vice president. Both are two-year members of the St. Thomas Chapter of the National Honor Society and earned permanent membership into the prestigious St. Thomas Club – preeminent scholars with a minimum 4.0-grade point average for seven consecutive semesters.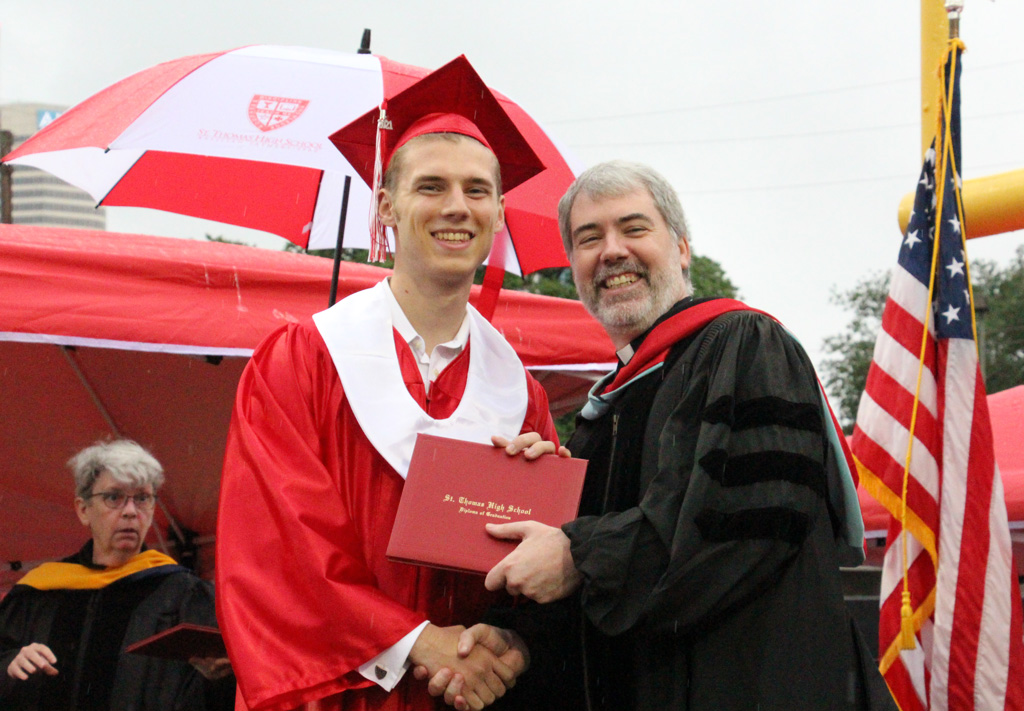 The sensational senior send-off included Pham accepting the 2021 Rev. Carl M. Allnoch, CSB Athletic Memorial Trophy for Excellence in Academics. The two-sport student-athlete was an important contributor during the unprecedented four-year ascent of Eagle Swimming that included consecutive TAPPS state championships in 2019 and 2020, and Eagle Track and Field's 2021 state championship. Boettcher was selected for the Rev. Albert R. Gaelens, CSB Award, given to the senior student who best embodies the school motto of Teach Me Goodness, Discipline, and Knowledge.
Catholic. Basilian. Teaching Goodness, Discipline and Knowledge since 1900.