GAMEDAY CENTRAL
WEEK 4 – HOTZE FIELD INSIDE GRANGER STADIUM

Austin Regents 41
Eagle Football 51
WHAT YOU NEED TO KNOW
Wrecking crew running back Johann Cardenas '24 romped and stomped, battered and bolted for 302 yards of total offense in his long-awaited return, while charismatic quarterback Donte Lewis '24 broke a pair of madcap, long-range touchdown explosions as the state's no. 1 private outlasted no. 2 for a third straight double-digit victory to begin the St. Thomas season.
The deadly and undaunted duo provided a robust brand of emotion and commotion, a myriad of game-shifting plays with Lewis shredding an overmatched Regents defense for 294 passing yards and blazing touchdown runs for 61 and 65 yards. The Eagles scored 16 unanswered points in the second quarter for a commanding 30-14 lead and built three 17-pt advantages in the second half. The cosmetically close final produced considerably less drama and tension than an icy dose of "Real Housewives of Salt Lake City" (given the aftermath of Jen Shah's imprisonment after she pleaded guilty to charges of wire fraud and money laundering in connection to a telemarketing scheme).
TURNING POINT
After Regents narrowed the St. Thomas margin to 30-20, Lewis flashed a shock of lightning that would make the brothers Gallagher ripe with envy. He broke right away from pressure in the pocket, darted against traffic to the opposite sideline, avoided four aimless defenders past midfield, raced to the brink of the end zone through one final feeble tackler, and somersaulted to finish an electric 65-yard touchdown.
The road-grading Cardenas controlled the fourth stanza. His 39-yard romp set up a short-range score from running back Raymond Vara '25 for 44-27. Then in the final four minutes, Cardenas blasted through the right side for a 23-yard touchdown to raise the count to 51-34 and effectively stamp the verdict.
FRIDAY NIGHT FIVE
1.  Cardenas was an emphatic force in his first competition since suffering a right ACL injury the previous October, rushing for a mammoth 178 yards plus 124 yards receiving.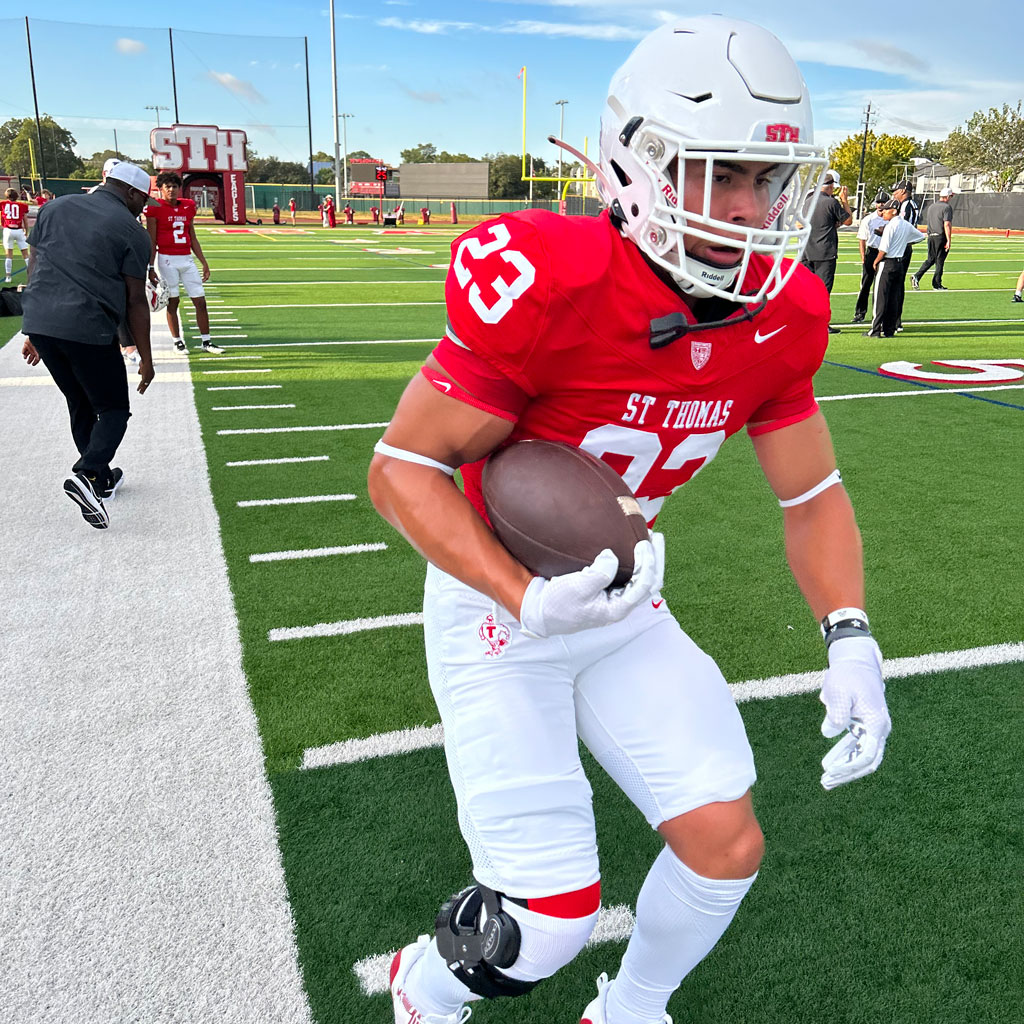 2.  His 32 carries were a throwback to old man bully-ball days. Cardenas handled the ball on seven of the opening 11 plays and capped the series with a one-yard touchdown. He then opened the second quarter circling out of the backfield for a one-handed glue-grip grab and romp good for 52 yards to set up an easy Lewis flip to tight end Blaze Covington '24 to give Eagle Football the lead for good at 21-14.
3.  Lewis's innate ability to create offense in the face of disruption is nearly unmatched. In the final minute of the first half, QB1 moved up in the pocket, scrambled past two diving defenders to the right sideline, and shifted into overdrive for a sizzling and sudden 61-yard scoring spree and a 16-point halftime cushion.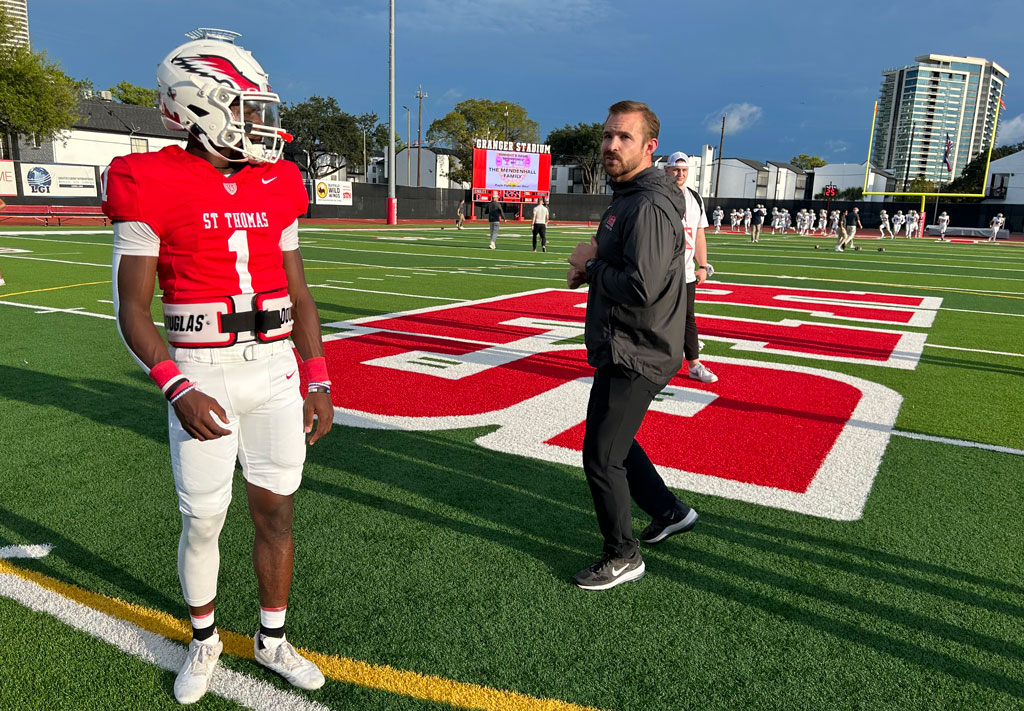 4.  Lewis (26-39 and two touchdowns plus 150 rushing yards with two touchdowns) is routinely lethal when he repurposes his biggest weapon, that mobility to both gain chunks on the ground and allow receivers time to emerge open late. On the second St. Thomas possession, he found Larry Benton III '24 with a high-arcing 47-yard touch completion to the Regents nine-yard line and immediately followed with a quick scoring strike to Luke Edgecomb '24 (11-87 yards) for 14-0.
5.  Defensive back Blake Coogan '25 impacted with a four-alarm urgency. His interception stifled Regents' last possession of the first half. His team-high nine tackles were aided and abetted by two stops for loss by linebacker Gunther Blencke '23.
ROCKIN' THE FILLMORE
The victory raised Rich McGuire's record to 45-23 in his seventh season as head coach.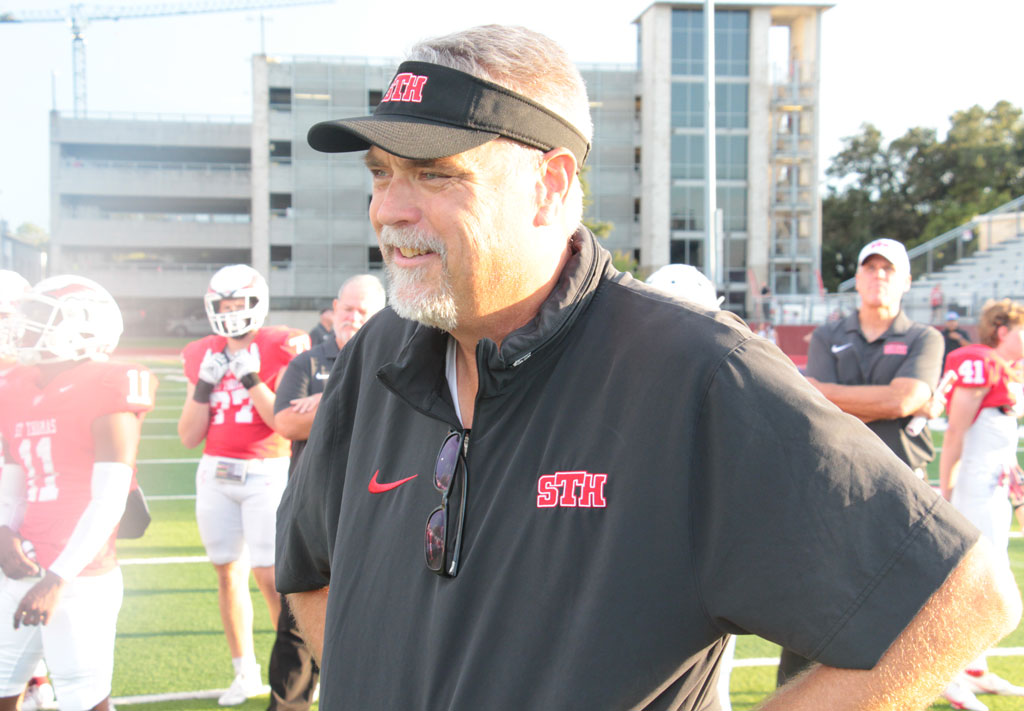 SMELLS LIKE TEEN SPIRIT
The victory marks the second straight 3-0 launch to the season for St. Thomas, the strongest starting streak since raking five straight wins out of the gate from 2012-16.
STATE OF PLAY
Prove you can do it now so you don't have to wonder whether you can do it later. For the third consecutive week the Eagles' talent, depth, and cohesion appeared real, and they were the team with an edge for most of the game.
Lewis (verbal Kansas St. baseball) is marvelously magical playing a different game from his opponents. His numbers have been scintillating but more telling is how the ball looks leaving his hand, his confidence to make any throw, his composure to hang in the pocket and keep his eyes downfield.
Running game by committee update: this is Cardenas's backfield, and the other contributors are available when circumstances present themselves.
The St. Thomas offensive line feels good and suggests it will continue to develop and improve. Offensive mastermind Matt Hudson wants to get the ball quickly to playmakers. The threat of Cardenas gashing the interior forces defenses to bunch in the box to stop the run, and opens more opportunities on the outside for those quick hits.
PREGAME PICS
POSTGAME PICS
¡UNO!, ¡DOS!, ¡TRÉ!
The game was streamed by KPRC 2 as part of its Big Game Coverage.
Edgecomb is the leading Eagle receiver averaging 142 yards per game after 27 catches with five scores.
Thunder foot Michael Taylor '26 drilled a 24-yard field goal and continues to pound kickoffs for touchbacks and valuable field position.
BIG BAM BOOM
St. Thomas is the Week 5 top-ranked private in Texas by Dave Campbell's Texas Football and MaxPreps, and the no. 1 private in Greater Houston by the Houston Chronicle.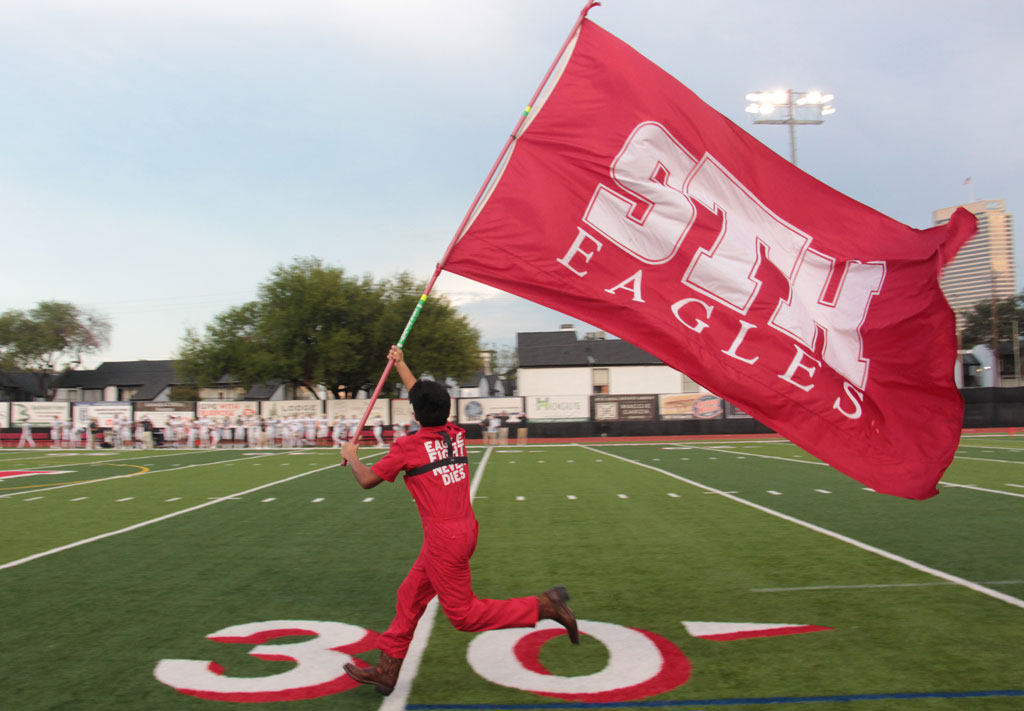 COVERING ALL THE BASES
Lewis was featured in the Hank Aaron Invitational, a showcase game at Truist Park in Atlanta in July capping two weeks of competition, coaching, and evaluation at the Jackie Robinson Training Complex in Vero Beach, Florida.
Lewis was among an elite group of 44 players invited for the exclusive event, powered by the MLB-MLBPA Youth Development Foundation and in partnership with USA Baseball. Lewis then verbally committed to continue his student-athlete career at Kansas St.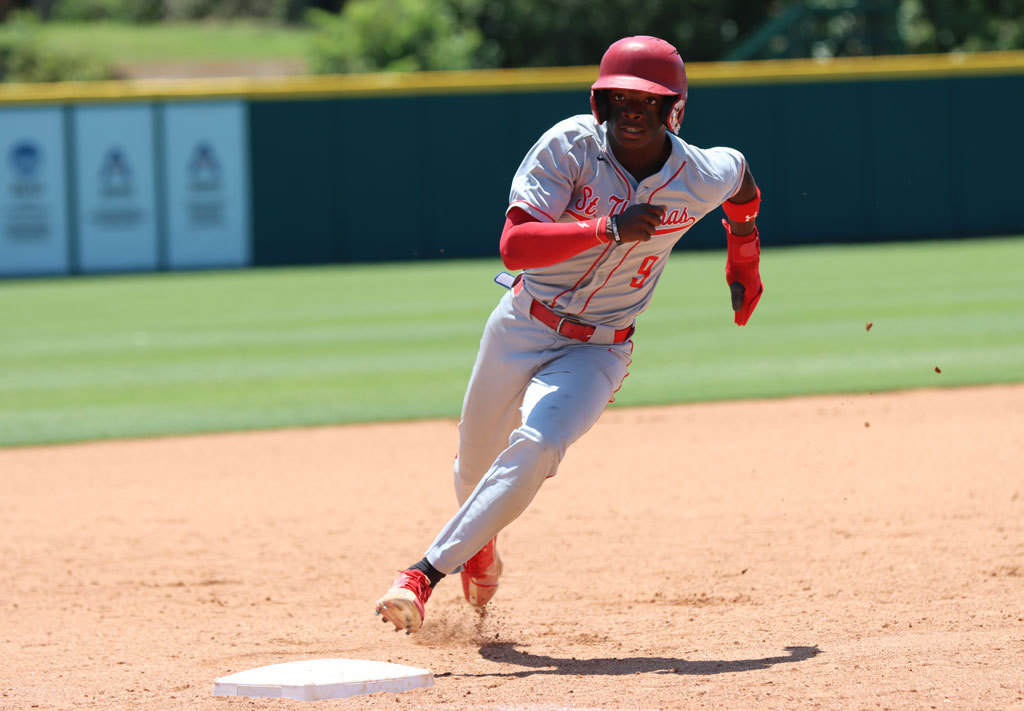 PREVIOUSLY
GAMEDAY CENTRAL || Lethal Lewis '24-Benton '24 Combo Ignites State No. 1 Eagle Football to Convincing 2-0 Launch
GAMEDAY CENTRAL || Eagle Football Enjoys Electric Season-Opening Explosion
UPCOMING
Eagles Football faces Plano John Paul II (2-2) for the third straight regular season. The 42-0 runaway in 2022 was convincingly decided by halftime and indicative of a JPII season that concluded 0-8. However, the previous Labor Day encounter in the inaugural Catholic Bowl required a pulse-pounding Eagle escape from a 10-point deficit late in the first half behind the workhorse Cardenas, startling jolts from receiver Cameron Price '22 (Yale), and a sudden late-tick takeaway from sledgehammer linebacker Jack Ward '23 (Drake University) to seal a 38-31 thrillarama.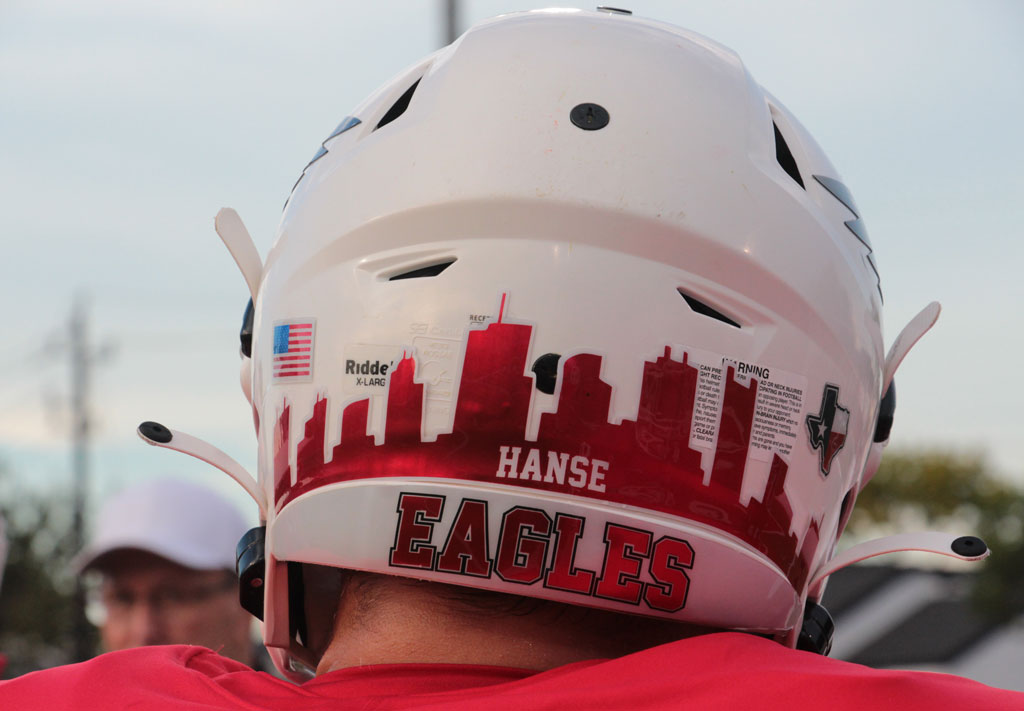 Eagle Fight Never Dies!