GAMEDAY CENTRAL
WEEK 5 – HOTZE FIELD INSIDE GRANGER STADIUM

Plano John Paul II 3
Eagle Football 49
WHAT YOU NEED TO KNOW
Catch-your-breath quarterback Donte Lewis '24 (verbal Kansas St. baseball) was part of five touchdowns and tag-teamed with Humvee running back Johann Cardenas '24 (verbal Vanderbilt) for nearly 500 yards of total offense as Eagle Football overwhelmed Plano John Paul II with a curb stomping not nearly as close as the final margin might indicate.
Undefeated St. Thomas flashed the most over under sideways down display since The Yardbirds with Jeff Beck's gloriously pushy pulsating Middle Eastern-tinged opening guitar line and the squirming riff behind the chorus. The Eagles (4-0) required only 20 offensive snaps to rack its first six touchdowns and coasted to a fourth consecutive double-digit victory to start the season.
The lone obstacle was a power hit that took away the field lights at Granger Stadium late in the first quarter and Eagle Football already in command 14-0. The onslaught continued after a 15-minute delay.
TURNING POINT
Offensive coordinator Matt Hudson crafted an attack that produced the most entertaining scripted fare since the standoff between striking writers and actors and the corporate owners of network television. The level of precision was consistent throughout as Eagle Football absolutely unloaded from the opening play – a simple handoff Cardenas crashed to the right end, accelerated through a wipeout block from receiver Jackson Skaife '24, and cruised into open turf 75 yards for the touchdown.
What ensued was the sort of easy livin' to make Uriah Heep proud, even if minus a searing Mick Box guitar on top of a vintage Hammond organ.
FRIDAY NIGHT FIVE
1.  Lewis's first and single solitary carry of the night was an effortless 69-yard romp on the third St. Thomas snap. He quick-twitched inside a defender at the line of scrimmage, bolted quickly to the right sideline, stiff-armed an alleged tackler at midfield, and never needed overdrive to reach the end zone for 14-0.
2.  Lewis completed 15-17 for 191 yards in an abbreviated night that lasted only three quarters. On the third St. Thomas possession, he patiently surveyed all day and all of the night in the pocket, moved into the right flank, and unleashed a heave-ho deep into the JP II secondary for Cardenas who reached low and glue-gripped the grab for 48 yards.
3.  Top-tier quarterbacks are not only equalizers but multipliers. Lewis is averaging nearly 400 total yards per game. He pushed the scoring spree to 21-0 by again buying time from an ineffective pass rush and delivered a six-yard payoff to Skaife for his first touchdown of the season and 21-0. Lewis then pumped his touchdown throws to 15 with a pair of short-range flips to receiver Logan Branting '25.
4.  Cardenas roamed for 206 yards on only 11 carries. He punished inside, bolting through the initial line of scrimmage, and flashed the speed to turn the corner and sprint away from anemic defenders missing takedowns in the secondary. His grand two-game return since tearing the anterior cruciate ligament in his right knee the previous October read 384 yards rushing with three touchdowns and 172 yards receiving.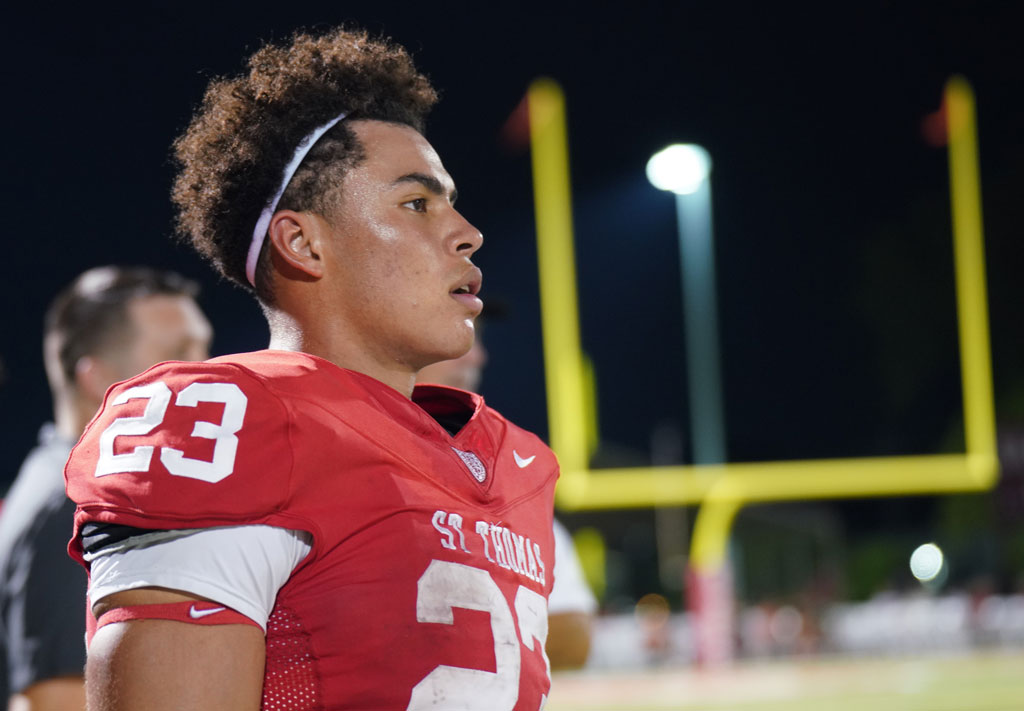 5.  Luke Edgecomb '24 has mastered a chemistry with Lewis that is obvious and strong, as is his ability to make contested catches which wasn't a necessity on this particular night. In the second half, the Eagles' leading receiver took a quick strike and exploded up the right seam, cut back across crosstown traffic, and was unbothered on a 50-yard jaunt for 35-0. Edgecomb caught four for 65 yards and owns six touchdowns in four games.
VENI VIDI VICIOUS
The St. Thomas demolition defense administered the sort of punishment that usually demands six months home detention with electronic monitoring plus 40 hours community service. They surrendered one single solitary first down in the first half. The lone field goal allowed was but a cosmetic third-quarter attempt to avoid the shutout.
Overall, the Eagles beat JP II in the trenches. They beat them in the backfield. They beat them through strength, skill, and discipline. They beat them from the opening play, up and down the field, every which way even with two sizeable punt return touchdowns from deluxe defensive back Aron Valentine '24 negated by penalties and reserves extending the margin in the fourth quarter.
There were no JP II adjustments to being road-graded.
RAVE ON
Running back Wells Granger '26, performing in the stadium that bears his surname, capped the runaway with a 17-yard gash through the middle and the first varsity touchdown of his career. He finished with 79 rushing yards. His grandparents Fran and Weldon Granger have been dedicated and vibrant advocates for the St. Thomas campus community, and steadfast in supporting Catholic education and its charities.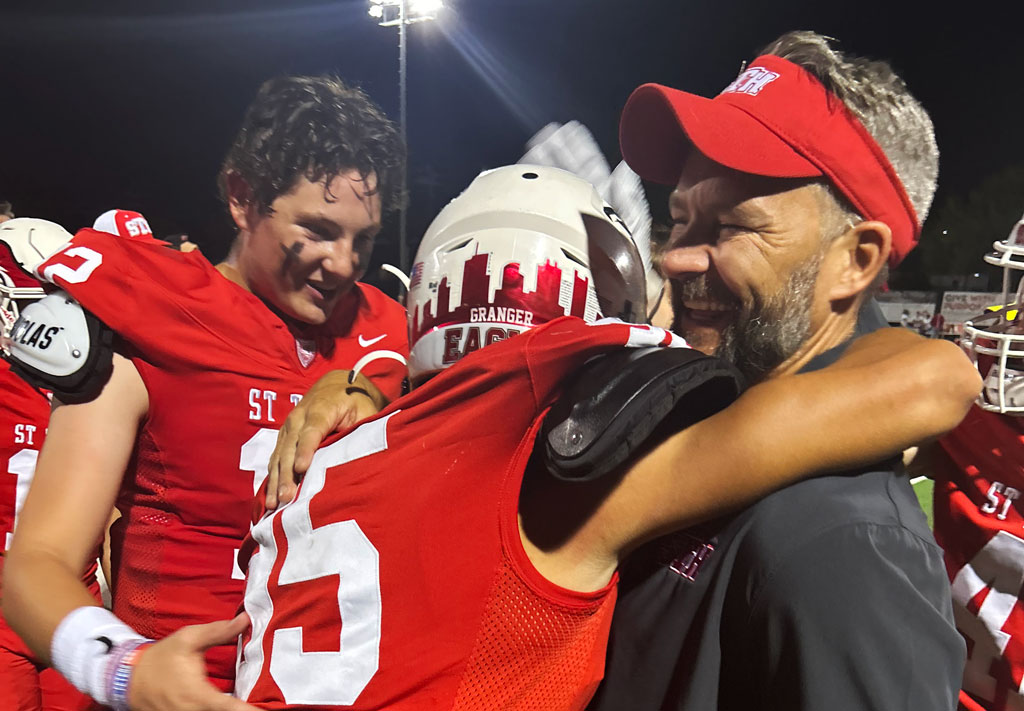 ROCKIN' THE FILLMORE
The victory raised Rich McGuire's record to 46-24 in his seventh season as head coach.
The third straight win in the series marks the second straight 4-0 launch to the season for St. Thomas, the strongest starting streak since raking five consecutive wins out of the gate from 2012-14.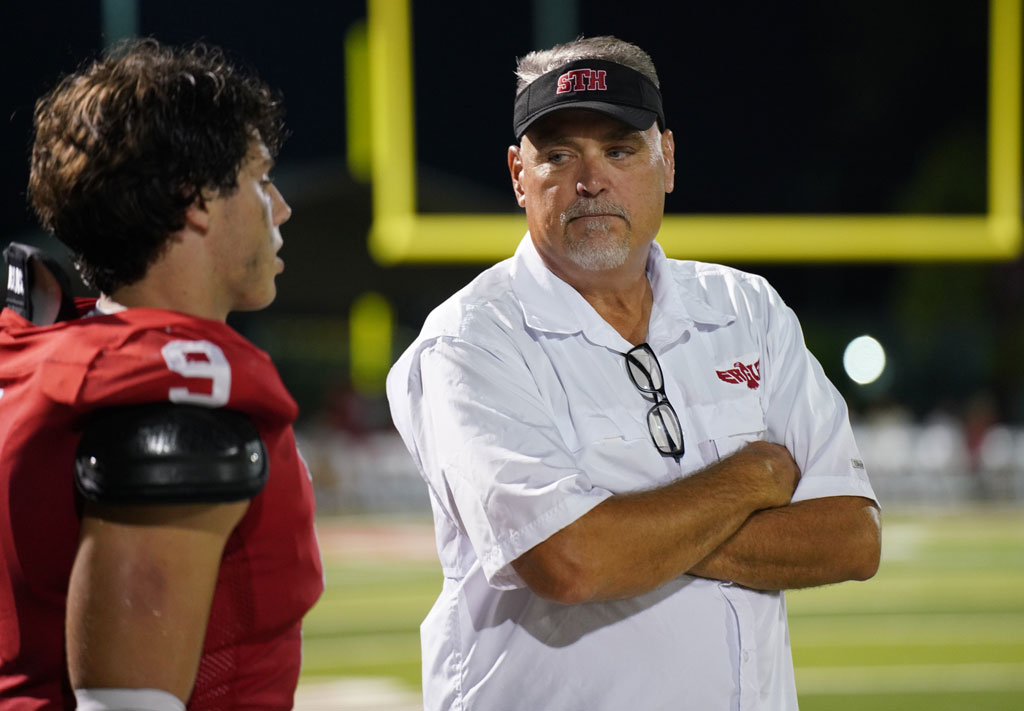 SMELLS LIKE TEEN SPIRIT
Lewis's scintillating stat-stuffing 16th varsity start earned him Private Quarterback of the Week by Dave Campbell's Texas Football.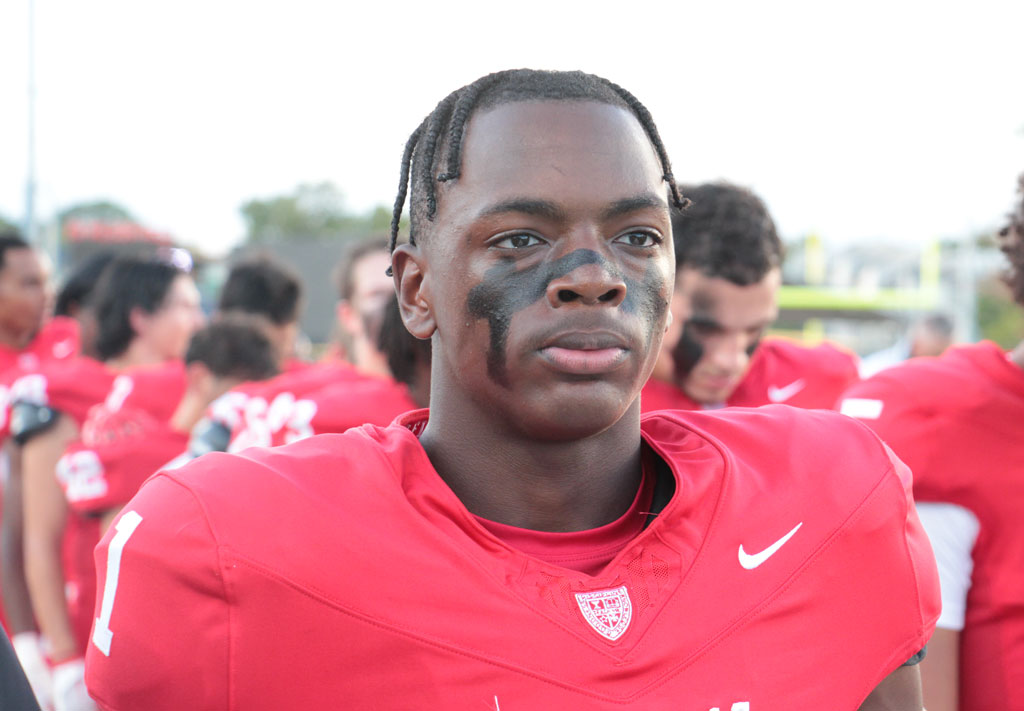 STATE OF PLAY
St. Thomas presented as not just a lion with a good roar. All three phases showed the teeth and jaws for the first time in 2023. The outcome was aesthetically pleasing, relatively mundane, and not remotely historically significant. The challenge to create flat-out urgency in the face of an overmatched opponent graded A+. The offense flashed fluid sequences of success, high-speed tempo, and complementary football to keep JP II dazed and confused. Lewis was turnover-free for the third time in four starts. The work-in-progress defense was a disruptive force near the line of scrimmage. Eagle Football continues to carve an identity and a certain level of consistency that has generated the highest expectation of winning. In short, more than enough to savor approaching the season's midway point.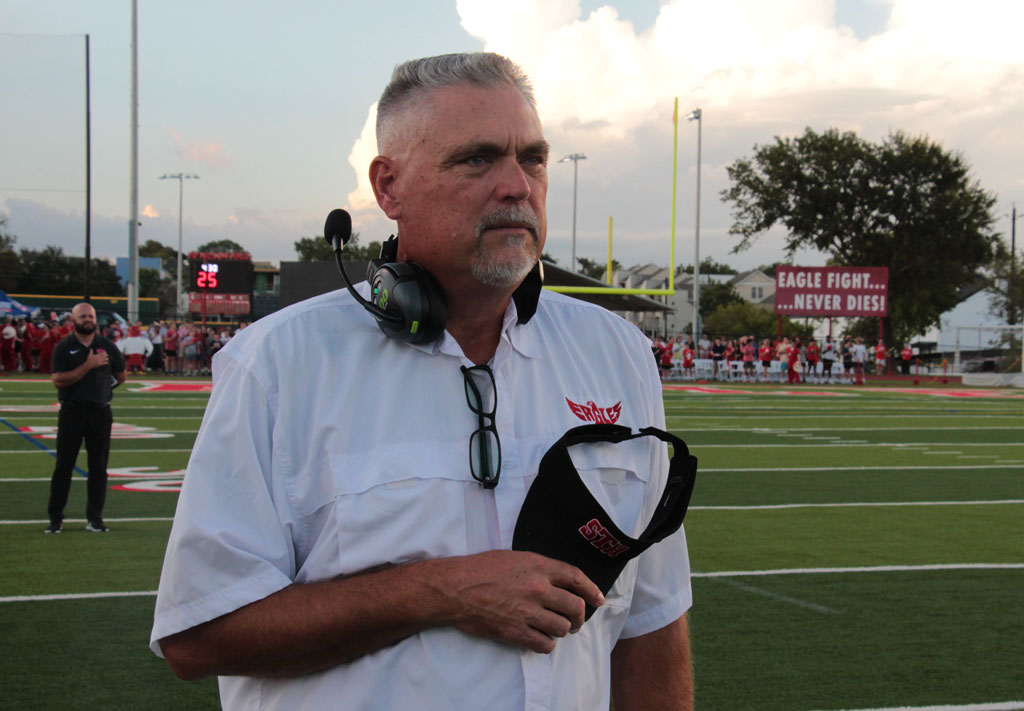 FRIDAY NIGHT LIGHTS, EAGLE STYLE
PREGAME PICS
POSTGAME PICS
DEJA VU, ALL OVER AGAIN
The 42-0 St. Thomas road runaway in 2022 was convincingly decided by halftime and indicative of a JPII season that concluded 0-8.
¡UNO!, ¡DOS!, ¡TRÉ!
The game was streamed by KPRC 2 as part of its Big Game Coverage.
This season St. Thomas is debuting a state-of-the-art video scoreboard in the south end zone of Granger Stadium.
Cardenas was ranked in the preseason among the state's top 100 football recruits and vividly showcased in the 64th edition of Texas Football only eight months removed from the ACL injury.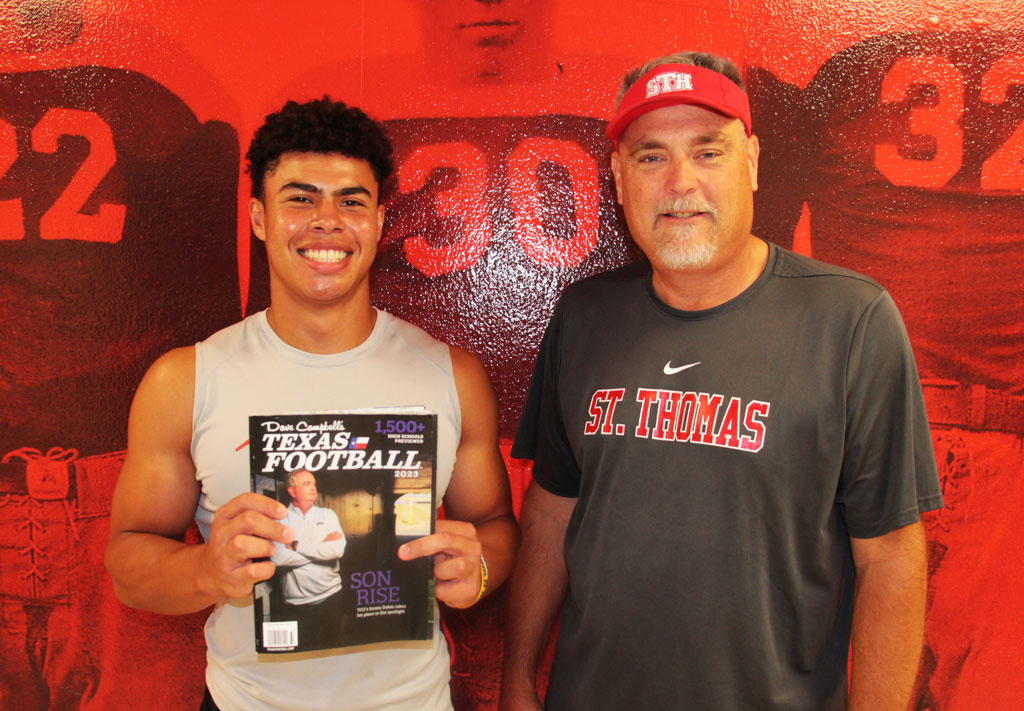 BIG BAM BOOM
St. Thomas is the Week 6 no. 1 private in Texas by Texas Football (fourth straight poll in the top spot), the no. 2 state private by MaxPreps, and the no. 1 private in Greater Houston by the Houston Chronicle and Houston VYPE.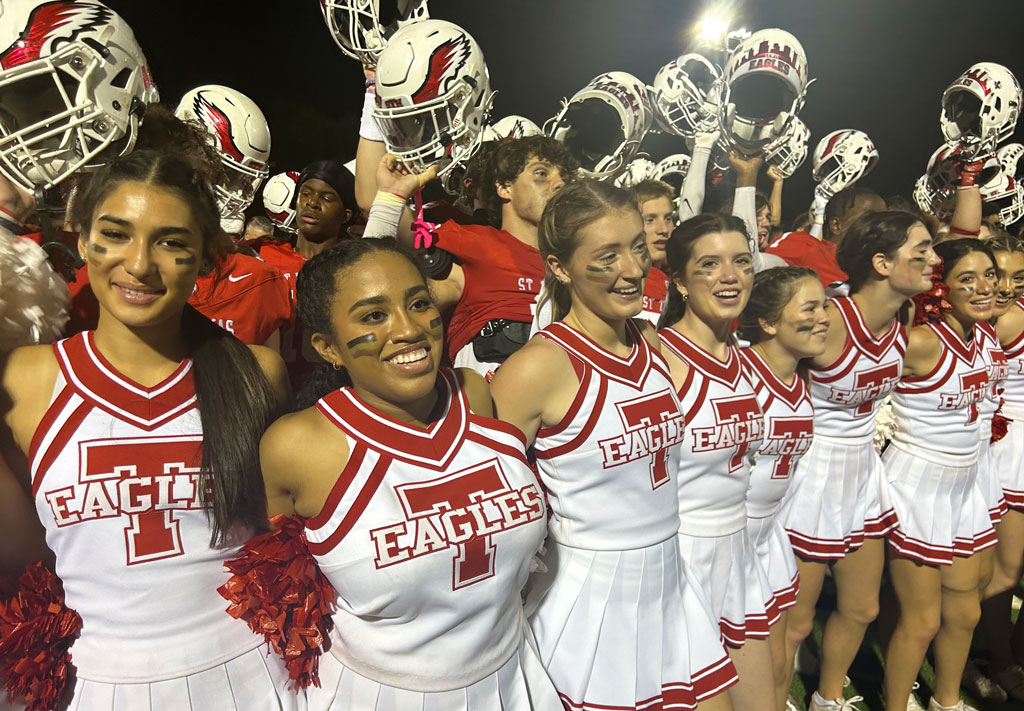 COVERING ALL THE BASES
Lewis was featured in the Hank Aaron Invitational, a showcase game at Truist Park in Atlanta in July capping two weeks of competition, coaching, and evaluation at the Jackie Robinson Training Complex in Vero Beach, Florida.
Lewis was among an elite group of 44 players invited for the exclusive event, powered by the MLB-MLBPA Youth Development Foundation and in partnership with USA Baseball. Lewis then verbally committed to continue his student-athlete career at Kansas St.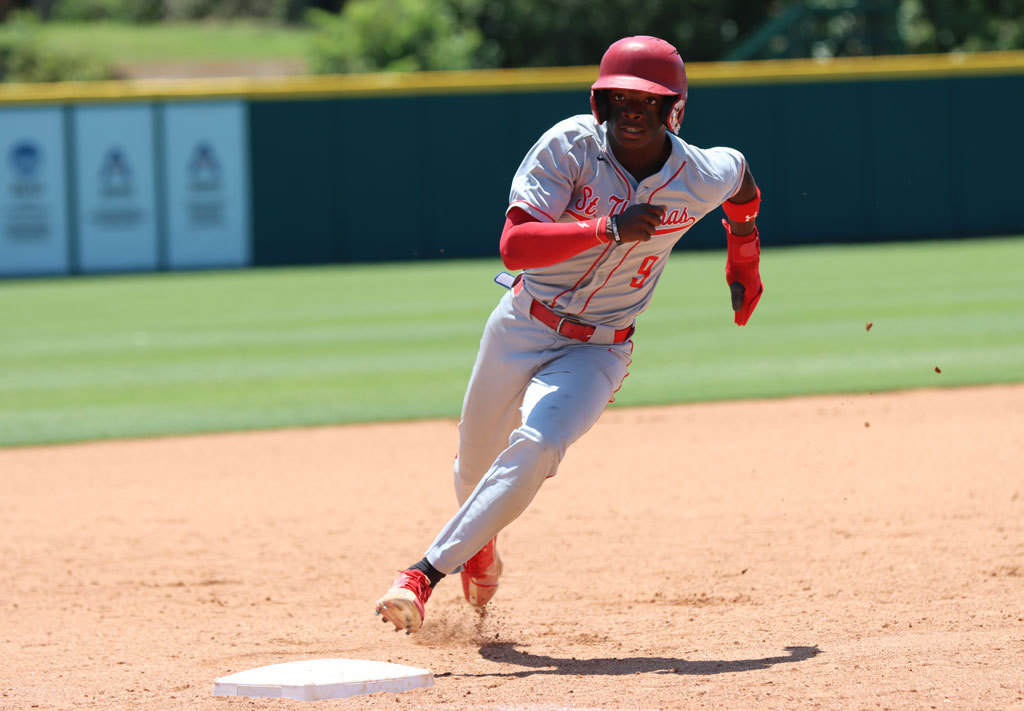 PREVIOUSLY
GAMEDAY CENTRAL || Undefeated Eagle Football Dazzles Behind Undaunted Donte Lewis '24 and Johann Cardenas '24 Duo
GAMEDAY CENTRAL || Lethal Lewis '24-Benton '24 Combo Ignites State No. 1 Eagle Football to Convincing 2-0 Launch
GAMEDAY CENTRAL || Eagle Football Enjoys Electric Season-Opening Explosion
UPCOMING
The Eagles next travel to Kinkaid September 29. The private school programs will meet for the eighth time in 10 years with interruptions courtesy Hurricane Harvey in 2017 and the response to the pandemic in 2020. In that mix, Eagle Football posted three consecutive season-opening blows over the Knights by a combined margin of 109-51.
In 2022, the daring and darting Donte threw four touchdowns, Cardenas ripped for another score with 178 rushing yards, and a gnarly St. Thomas defense forced three turnovers for a bullish 35-14 stomping.
Eagle Fight Never Dies!