The 2017 schedule for Eagle Football features five true home games plus a prime time return to NRG Stadium in a mix of traditional series, familiar foes and first-time return engagements.
Four of the seven non-district games are with 2016 playoff teams, three of whom totaled 34 wins.
The Eagles aim for their sixth consecutive season-opening victory in a Labor Day weekend showdown at Kinkaid.  St. Thomas owns three straight wins in the head-to-head by a combined score of 109-51 after last season's 27-20 verdict, ignited by three unanswered touchdowns in the final six minutes of the first half.  The result extended the Eagles' home field win streak to 27 consecutive games.
Next is the encore to the pulse-pounding 2015 victory over Strake Jesuit that drew nearly 10,000 to the home of the Houston Texans.  Quarterback Michael Keating '16 capped a six touchdown night by completing an ad-lib scoring pass to receiver Drew Guidroz '16 in the final maniacal moments in a wild 42-35 scoring fest for the Eagles' fourth straight win in the long-time rivalry.
"With the TAPPS and UIL mandates to start the season a week later, this gives us an even greater opportunity to draw a bigger crowd because there's no conflict with Labor Day weekend commitments," athletic director Mike Netzel said.  "There may have been some apprehension two years ago, that NRG would swallow our event.  But the tailgating experience was tremendous, the crowd poured in and it proved to be a playoff-like atmosphere.  Until the games deep in the postseason we outdrew any of the other high school games played in the venue.  And I can't wait to get back."
The Eagles then host three games in four weeks at Hotze Field inside Granger Stadium, beginning September 15 with defending Class 5A Division II semifinalist College Station, traveling to Beaumont West Brook, and welcoming Episcopal and Pasadena for back-to-back bouts, all before closing the non-district slate in San Antonio against Central Catholic October 13.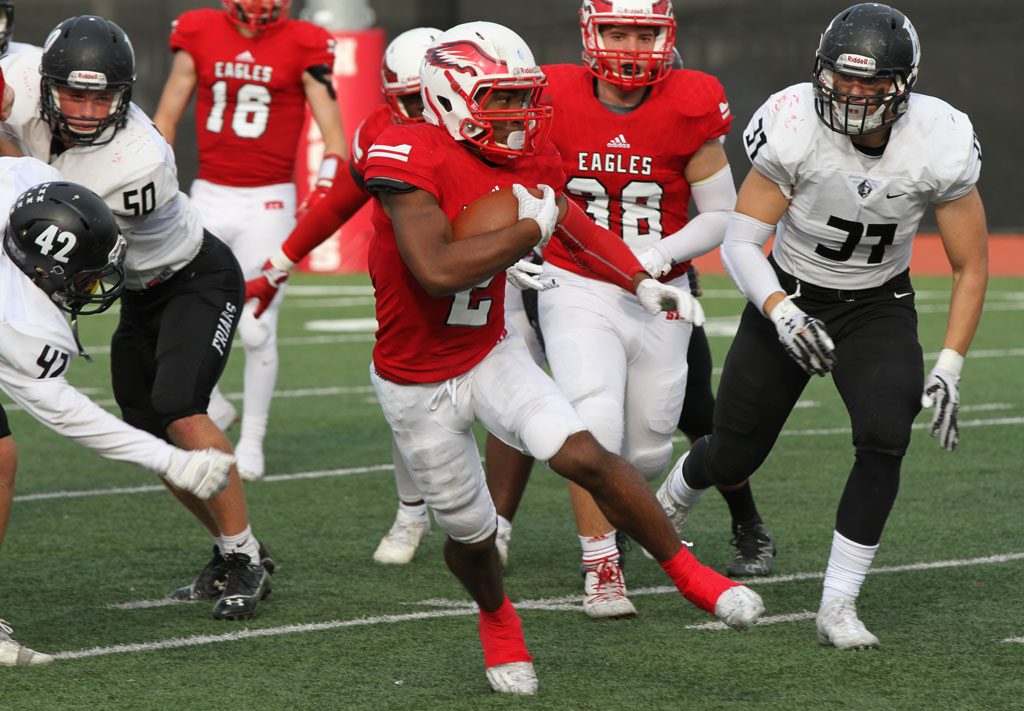 Netzel believes that given the recurring nature of scheduling and the difficulty of finding suitable opponents for seven non-district games, seeking options outside the city may become more and more a viable alternative.
"Self-preservation," Netzel said matter of factly.  "We can't be at the mercy of the UIL schools and their reclassification every two years.  I could see us planning regular road trips that have our fans and alumni excited about the travel for Friday night football and then extending into the weekend.  I'm confident we can bring the numbers with the right destination and San Antonio or Austin are certainly two of the best."
Following an off week the Eagles launch the TAPPS Division I District 3 race October 27 with Beaumont Kelly Catholic, followed by Senior Night with Tomball Concordia Lutheran, two match-ups STH has thoroughly dominated in recent years.
Eagle Football has defeated Kelly in eight straight games by an average score of 52-6, while outscoring TCL 219-66 in seven straight wins.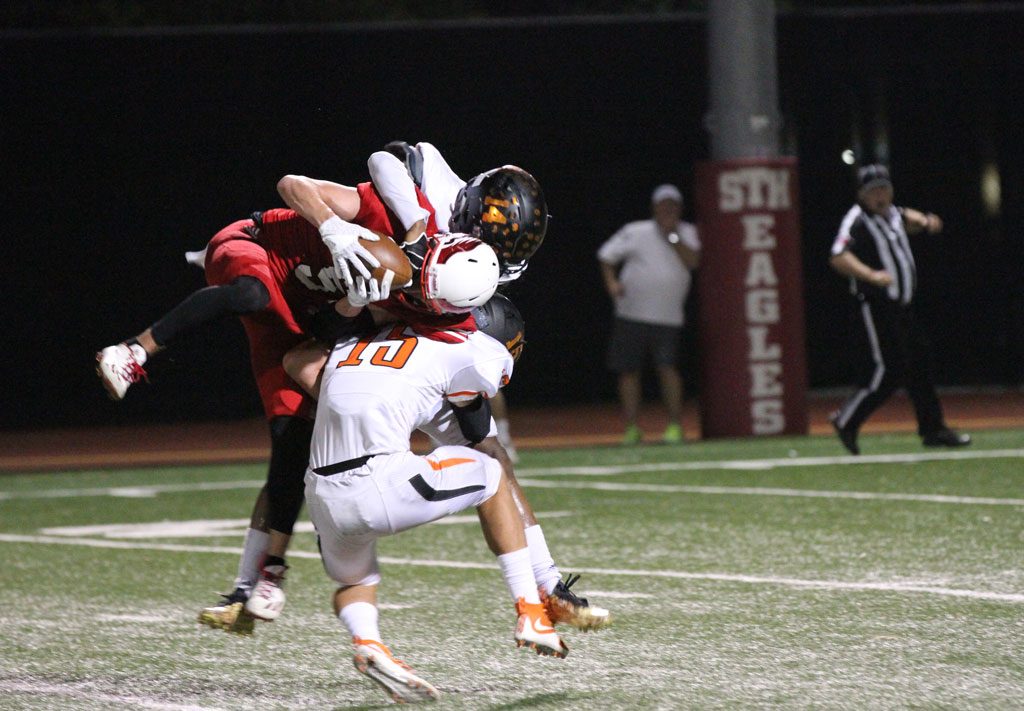 The Eagles meet St. Pius X November 10 in a regular-season finale that has determined the last five district championships.
"We were obviously very young last season and have a lot of returning talent which really gained from that playing experience, even with only four games" Netzel said.  "The advantage of that extra home date this fall will be a tremendous boom for our guys."
The four-week TAPPS state playoffs begin November 18 with the state championship final scheduled for December 9.
Eagle Fight Never Dies!
2016 Eagle Football Schedule
September 1 at Kinkaid 7:00 p.m.

September 8 Strake Jesuit at NRG Stadium 7:30 p.m.

September 15 College Station 7:30 p.m.

September 22 at Beaumont West Brook 7:00 p.m.

September 29 Episcopal 7:00 p.m.

October 6 Pasadena 7:00 p.m.

October 13 at San Antonio Central Catholic 7:00 p.m.

October 20 Off Week

October 27 Beaumont Kelly Catholic 7:00 p.m.

November 3 Tomball Concordia Lutheran (Senior Night) 7:00 p.m.

November 10 at St. Pius X 7:00 p.m.

November 18 TAPPS Area Playoff

November 25 TAPPS Regional Playoff

December 2 TAPPS State Semifinals

December 9 TAPPS State Final