Seven St.Thomas luminaries received the greatest recognition afforded an Eagle student-athlete … inducted into the St. Thomas Sports Hall of Fame … remembered and revered at a ceremony before a vibrant and supportive crowd April 29 in Cemo Auditorium.
Alphabetically, the 2017 inductees are: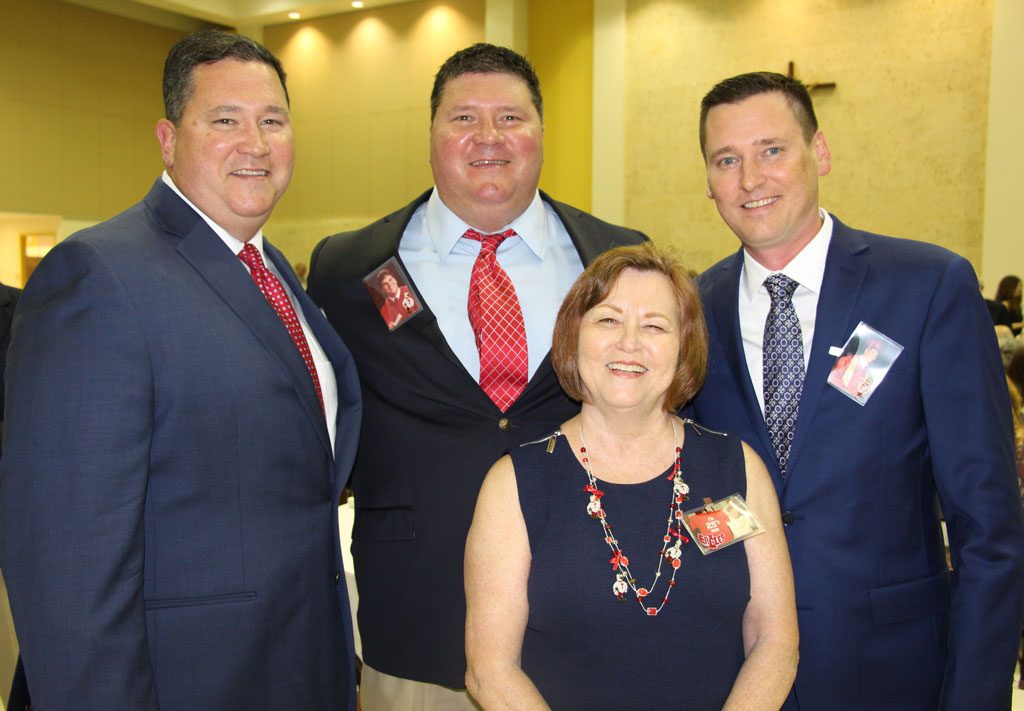 RICK APOLSKIS '85
one of the top high school lineman in the nation in 1984, three-time all-state, two-time

Houston Chronicle

All-Greater Houston, and a semi-finalist for Houston's top defensive player award as a senior
captained Eagle Football to three district championships and two TCIL state championships while his teams went undefeated four straight years in the annual series with Strake Jesuit
accepted scholarship to the University of Arkansas after multiple Division I offers including Notre Dame, Texas and Texas A&M
three-year starter at offensive tackle for head coach Ken Hatfield, second team All-Southwest Conference in 1989 and a key contributor for back-to-back SWC champions who won 20 of 24 games and earned invitations to the annual New Year's Cotton Bowl game
played for the New York Giants and NFL Europe's Barcelona Dragons and Birmingham Fire
St. Thomas family legacy includes father Rich who coached Eagle Basketball from 1972-78 following his college career at the University of Houston for Hall of Fame head coach Guy Lewis, and brothers David '89 who played at the University of Southern California, and John '92
earned his bachelor's degree in Accounting and Financial Management from Arkansas, became a Certified Public Accountant, with a distinguished professional career including more than a decade with global food and beverage leader PepsiCo
married to wife Jennifer for 26 years and proud father of Alexander
God has truly had a plan for my family … taken us in some interesting directions. My father passed away in 1985 … just as I was arriving at Arkansas for my freshman year. My two brothers were quite young … David was 14 and John was 11 … my mother (Roxanne) held us all together when I couldn't be there. I had an opportunity to attend any school in Texas but I chose Arkansas … (knowing) something was there … trusting in God. My freshman year I met my wife and we've had quite the journey … but it all comes back to St. Thomas … I'm truly honored and humbled.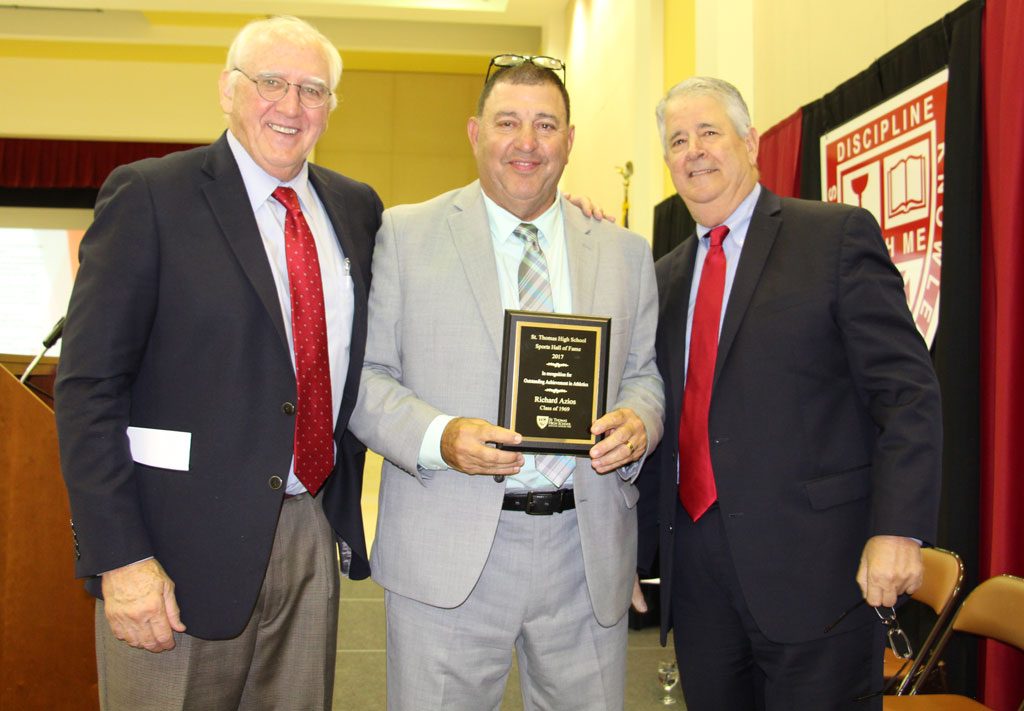 RICK AZIOS '69
two-sport student-athlete and all-state quarterback for the 1968 TCIL state champions who posted an 11-1 record and defeated Dallas Jesuit in the title game
selected to the Joe McDonald-Burr Davis all-time team
accepted scholarship to attend Southwestern Louisiana (now the University of Louisiana-Lafayette)
following his Ragin Cajun career coached for five years in the Houston Independent School District, followed by two decades in the oilfield and beverage industries
since 2000 has coached in the Conroe Independent School District and served as a boys athletic coordinator
It's been 50 years since I went to school here … (and) God had his hand in this … My dad once told me that St. Thomas is the best thing to ever happen to you … and he was right. St. Thomas changed my life. It's a brotherhood … (that we) didn't really realize until we left. A Hall of Fame at any level … it's the people you've known who care about you and love you … the classmates … and I want to thank all of them because they're the reason I'm here. This is an honor … a dream … and thanks to everyone who was involved, the committee, for allowing me to be here and enjoy this.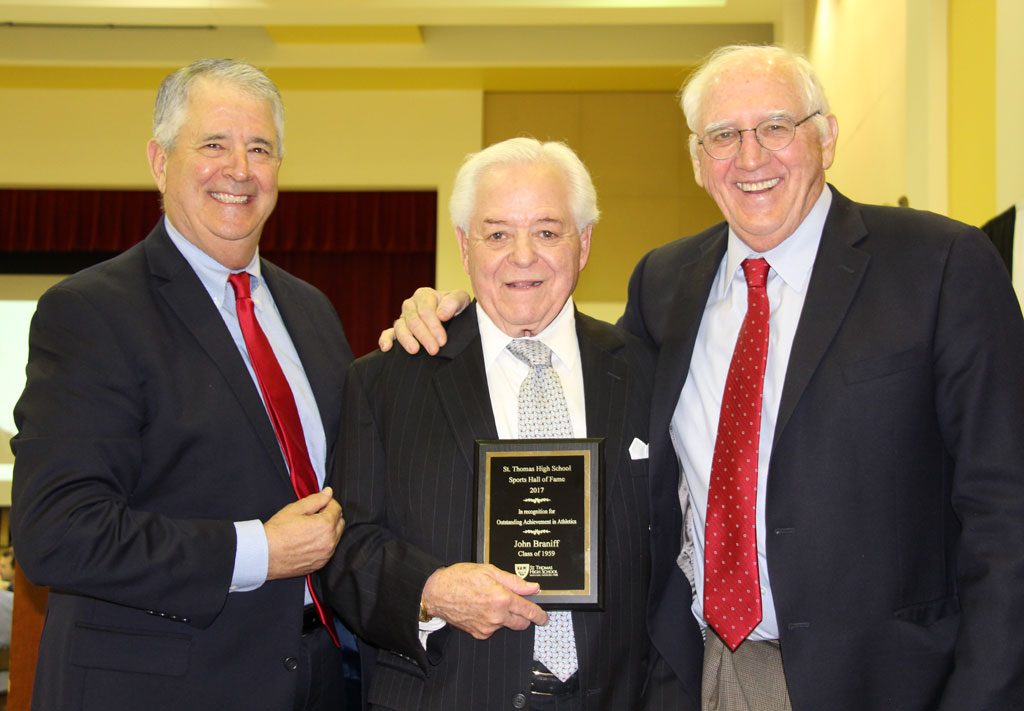 JOHN BRANIFF '59
two-year letterman and 1959 all-state performer for Eagle Baseball
all-city American Legion 1957-58
undergraduate and graduate degrees from St. Mary's University
served with the United States Army from 1967-68 before entering family's Jas. J. Braniff & Co. Insurance
served on St. Thomas Board of Directors from 1968-71
elected 1994 to Board of Directors 100 Club of Houston where he was president and chairman of the board from 2004-10
one-time Vice President, Board of Directors, Houston Livestock Show and Rodeo
Board of Directors, Tejas Vaqueros and Chairman of the Board 1991-96
married to wife Martha with three children and 10 grandchildren
I'm most grateful for the friendships I developed here, the teammates that I had. All that carries forward in your life. And when you think of where you've been and where you are today, it comes from friends, teammates and coaches like Fr. Wilson. And when (high school) is done, not only is the education so important to all of us, it's the culture that St. Thomas provides (for us) to take forward into our family lives, our civic lives. Again, I am most grateful and most humbled.
TOM BROWN '65
two-sport standout and TCIL all-state pitcher his junior and senior seasons helping lead Eagle Baseball to 40 consecutive wins in claiming the 1965 state championship and the American Legion state title
unbeaten with 14 straight wins during that stretch with an earned run average of less than one while striking out more than two batters an inning
teamed in 1965 with catcher Steve Hall '66, Frankie B. Mandola '65, Jim McConn '66, Jim Raley '65 and Larry Zientek '66 … all inductees to the St. Thomas Sports Hall of Fame
two-platoon and all-state performer in Eagle Football and part of the 1964 TCIL state champions coached by Fr. Robert Matzinger, CSB who won 10 of 11 games and set St. Thomas standards for most points scored (388) and least points allowed (37), marks which have stood for more than half a century
rejected an opportunity to sign out of St. Thomas with the New York Mets organization and chose to attend Rice University among multiple Division I scholarship offers where he was a 1969 letterman
served for six years in the Texas National Guard as an Airborne Infantryman … attended Army Basic Training and Airborne Training before returning to Houston to begin a distinguished professional career with Procter and Gamble in 1970, moving to Atlanta (1972), Phoenix (1973), Cincinnati (1977) and Dallas (1978)
married wife Julie in 1978 … daughter Erin graduated from Texas A&M and son Brendan from the University of Texas, both now living in Portland, Oregon where Erin is an anesthesiologist and Brendan is an engineer … son Richard died in an auto accident in 2007
active civic leader serving on a wide variety of nonprofit boards, including Christ the King School and the advisory committee for the Texas A&M Mays MBA Program
I would say the reason I'm here is that I'm lucky … lucky to have grow up in the 1950s when there were sandlot games all over Houston … lucky when I was nine-years-old to have my dad construct a pitcher's mound in our backyard … lucky to attend St. Thomas … lucky that when I first came to campus to be surrounded by superb athletes and wonderful teams … and lucky to be standing here tonight. Last April I left Baylor Hospital … after three months … arrived in an ambulance … unresponsive in ICU for six weeks … a tough time. When the fog cleared I was unable to walk … in rehab for several months … many of the people who I got to know in St. Thomas came to see me and they're why I'm here … the positive energy helped my family and helped me survive. Thank you so much.
DICK KIRTLEY '57
three-sport Eagle student-athlete and three-year letterman for Eagle Football earning all-state recognition as team captain his senior season
member of the St. Thomas Honor Roll and St. Thomas Club
freshman walk-on at Texas A&M and was quickly awarded full scholarship from legendary head coach Paul "Bear" Bryant in 1957
transferred to the University of Houston where he was a two-platoon three-year standout in the offensive and defensive lines from 1959-61
earned his Bachelor of Science, Master of Science and Master of Arts from UH, and received a grant from the National Science Foundation to study mathematics
distinguished professional career included 25 years at NASA, plus acclaim as an energy economist and the National Cancer Institute in Washington D.C.
ties to St. Thomas and Eagle Athletics run long and deep, having coached with Joe McDonald, Burr Davis, Larry Gillespie and Fr. Bob Powers, CSB
long-time member of the St. Thomas Alumni Association and served on its Board of Directors while also a member of the UH Alumni Association, the "H" Association of former Cougar lettermen and the UH Political Action Committee (PAC)
vibrant supporter of the two-day MS 150 Houston-Austin fundraising bike ride organized by the National MS Society, a frequent volunteer for Habitat for Humanity and a participant in the Wounded Soldier Night at the Houston Livestock Show
passed away April 8, 2017, survived by his wife of 50 years Laura, son Richard Ryan Kirtley and wife Paula of League City, and daughter Laura Kristen and husband Cody Simmons of Friendswood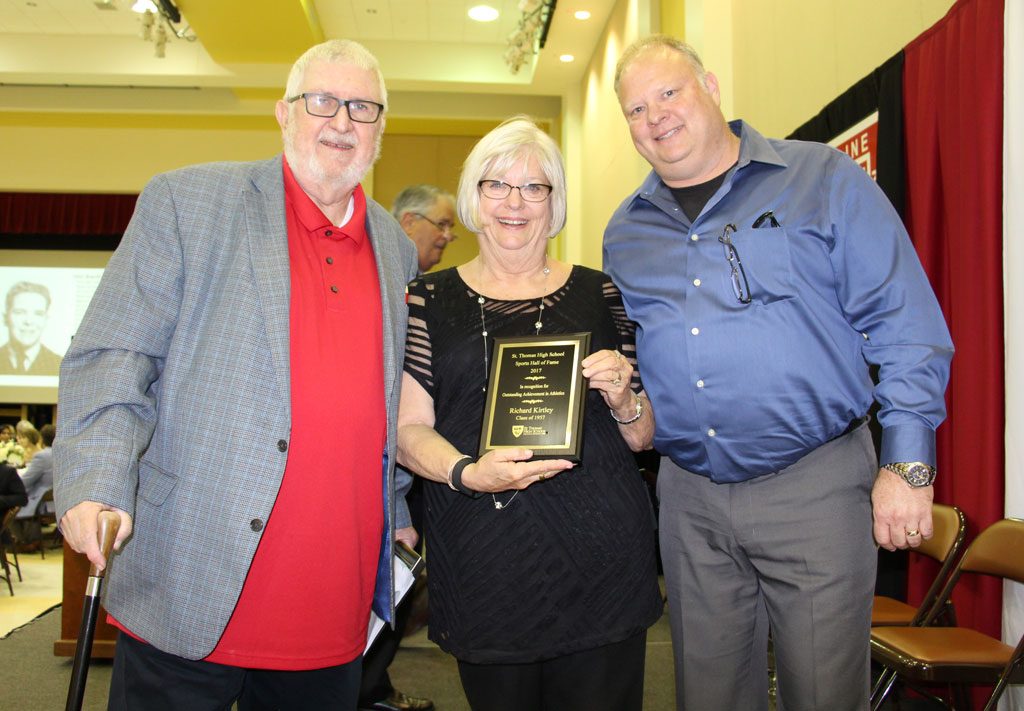 Close friend Bill McCurdy '56 (left) spoke for Kirtley, beginning with some notes the inductee had prepared for his acceptance speech.
I am pleased, honored and humbled to accept this award and join previous recipients who I admire and respect. A very special thanks to the board for selecting me and a enormous salute to all this year's nominees. And thanks to those of you who supported my nomination.
And McCurdy then added that "I know if Dick were here, the first name he would mention would be Oscar Padillo. And thank you to my wife and family, my extended St. Thomas family and friends."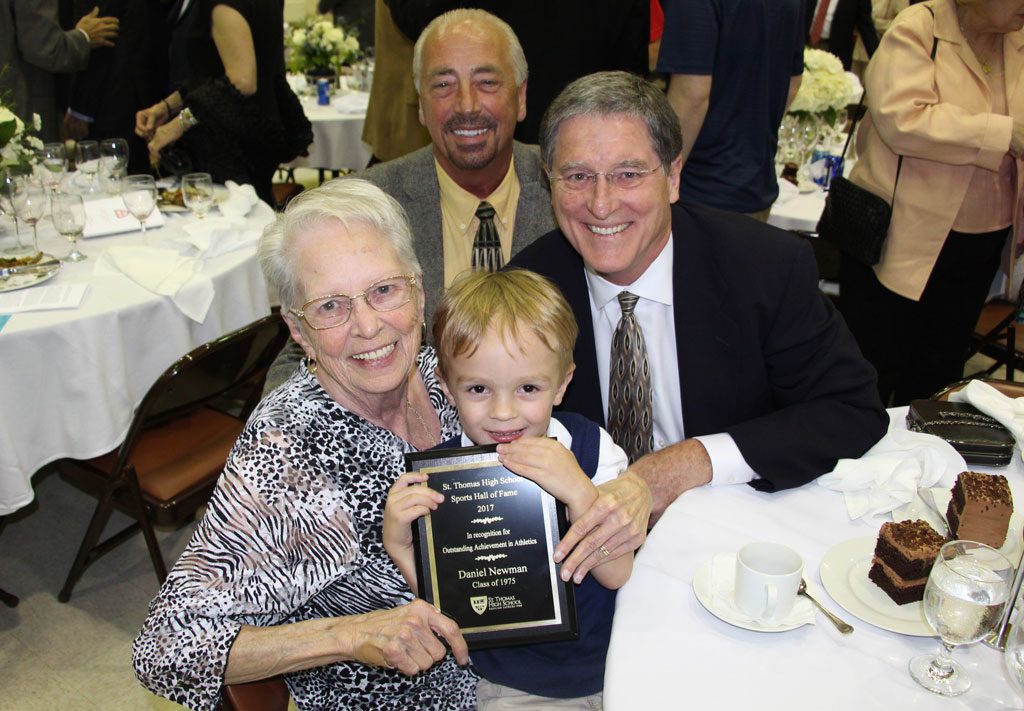 DANNY NEWMAN '75
rare four-sport student-athlete earning 13 varsity letters during his acclaimed career, including three each in football, basketball and baseball, and four in track
key contributor for back-to-back TCIL state football champions in 1972-73
team captain his senior year when he earned all-state and all-american recognition for the second consecutive season and was also selected to the

Houston Chronicle

All-Greater Houston team and the Greater Houston Blue Chip list
helped lead Eagle Baseball to the TCIL state championship game in 1973 and Eagle Basketball to the 1975 state final
placed second in the high jump at the 1974 and 1975 state track and field meets
member of the student council, St. Thomas Club and honor roll in 1974-75 while maintaining an A average
recruited by more than 40 Division I schools and accepted a scholarship to Rice University where he was a three-year letterman and two-year starting tight end playing with record-setting quarterbacks Tommy Kramer and Randy Hertel
earned Bachelor of Arts in Managerial Studies and developed a strong professional career in supply chain management
brother James '72 also a multi-sport standout who received a football scholarship to LSU
(Looking back) I want to thank all in the faculty for their dedication and vision, and my coaches for their instruction. My freshman year coach (Jim) Schwarzbach was still trying to figure out who we all were … lined us up for sprints in fours … I'm a semi-lineman with two sprinters and a running back … came in about 10 years behind them in the 40-yard dash … and Schwarzbach comes up to me and says 'You remind me of a mule running with a bunch of thoroughbreds!' Thank you for that motivation … I believe each and every person who attends St. Thomas is a better person as a result of the mission. I feel truly blessed to receive this honor.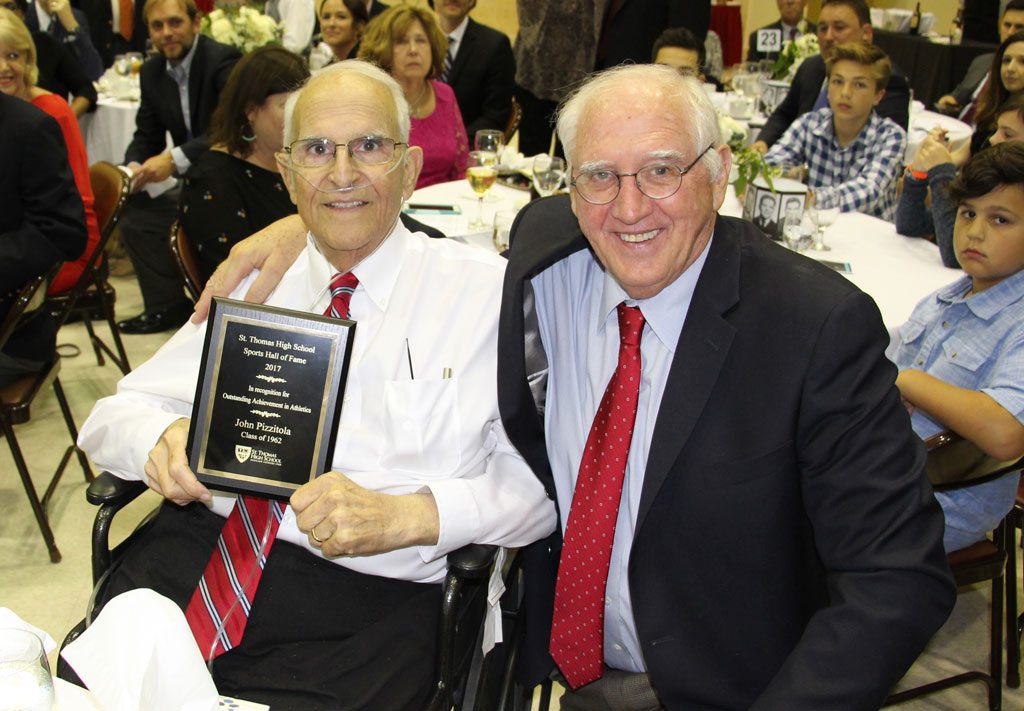 JOHN PIZZITOLA '62
two-sport all-state star who helped lead Eagle Baseball to the 1961 TCIL state championship and a return to the state championship game in 1962
capped his three-year varsity career with Eagle Football by being named

Houston Chronicle

All-Greater Houston among both private and public schools
accepted a football scholarship to Texas A&M University where he then opted for baseball, performing for two years and then transferring to the University of Texas
earned his business degree from UT in 1967 and his jurisprudence from St. Mary's Law School in 1970, ranking in the top 10% of his class and joining the Scholastic Honor Fraternity
founded and directed the St. Mary's Criminal Law Association
began his law career with the Harris County District Attorney before opting for a 40-plus year private practice specializing in Criminal Law
approaching 50th wedding anniversary with wife Peggy having raised a daughter and three sons with 10 grandchildren
joins brothers Jerry '60 and Jimmy Raley '65 as members of the St. Thomas Sports Hall of Fame
Pizzitola's son Jared delivered the acceptance speech on behalf of his father.
I want to thank the committee for including me in this most prestigious group. This is a true honor. I am so proud of my school, and all the classmates and alumni I have met throughout the years. I have never met anyone who couldn't respect St. Thomas. I had so many special friends and priests who were an influence on my life. I am equally proud of the many friends I grew up with in Galena Park, many of whom are here tonight … Knowing the list of all those selected in front of me for his honor makes it all the more special to be included … I count all 171 classmates as my special friends and want to close with the memory of the most special one, the most popular in our class, Benny Tinerella (who) was killed in an car accident eight years after our graduation and remains the heart and soul of the Class of 1962. Thank you again for this honor and remember the Eagle flies on Friday.
The St. Thomas Sports Hall of Fame was established by the Alumni Association in 1998 to commemorate exceptional Eagle athletic accomplishment while celebrating lifelong excellence consistent with the Basilian motto of Teach Me Goodness, Discipline and Knowledge.
The Class of 2017 joins Brandon Caraway '96, John Fisher '74, Marcus (Marc) Jankowski '70, Roland Laurenzo '65, Del Leatherwood '73, Stephen Martin '67, Bill Sage '61, Tim Staples '54, Michael Young '66, Larry "Zinny" Zientek '66 and the legendary undefeated 1939 St. Thomas Football Team from the Class of 2016 … and Bernard "Nardy" DeGeorge, Jr. '63, Gary Martin '69, George Mehaffey '53, Mike Mulvihill '56, Ted Nowak '70, Jerry Pizzitola '60, Jimmy Raley '65, Bradley Smith '88, Billy Welu '50 and Mark Yokubaitis '70 from the Class of 2015 as the most recent inductees … increasing the overall membership to 65 Eagles.
Eagle Fight Never Dies!