What has become an annual rite of spring within Eagle Athletics … the May celebration saluting senior St. Thomas student-athletes continuing their careers at the college and university level … now a rousing total climbing to 108 across nine sports since 2012.
"One of the things we try to create for our guys is a truly rewarding time with the Red and White, so much so that if they have the talents and options to pursue possibilities at the next level, they'll want to make that a part of their next four years," athletic director Mike Netzel said.
Among the latest representing the complete St. Thomas experience are …
Elliott Hammon to Southwestern University Football

Michael Chaplin to St. Edward's University Track

Miles Fucci to Loyola University Chicago Track

Nick Phan to St. Edward's University Baseball
And also included is a most intriguing journey by Jairan Parker who is headed to the most competitive body-slamming college football destination in America, the home of seven consecutive national champions from 2006-2012 plus an eighth in 2015, where every single Southeastern Conference Saturday registers on the richter, from the Swamp, between the Hedges or in Death Valley.
Seven months ago Parker was a forever quarterback packed a hard-charging 6-1, 210 pound-package, approached by Eagle coaches to make a radical position change to linebacker just prior to his senior season, hoping his his supreme athletic skill and presence would greater impact the team.
The move also proved beneficial to Parker's next term potential even though he would be pursuing college opportunities in quick-time offering a limited body of work to forecast his potential.
But Parker and his father Jimmie were determined to unearth first a curiosity followed by an offer. The two compiled a highlight video accentuating Jairan's versatile difference-making and game-changing skill-package and mounted an aggressive marketing strategy, identifying where Jairan would best meet his match.
Their proactive approach paid the desired dividend.
"We sent out the material to a host of schools I was interested in and Missouri was one of the first to contact us," Parker said. "We arranged a visit during the end of the spring workouts … met with head coach (Barry) Odom and (defensive coordinator and inside linebackers) coach (Demontie) Cross … spent time with the players … made the rounds on campus and the housing areas."
As Parker absorbed the activities from the sidelines at Faurot Field he mentally "tried to envision myself on the field competing against those kinds of players, in that tempo, responding to those coaches. I came away believing I could meet the challenge."
And the Mizzou coaches quickly concurred. Parker was offered a preferred walk-on opportunity, which means he'll be among approximately 20 additional Tiger student-athletes who fall within the NCAA-mandated 105-player roster limit which includes a maximum of 85 scholarship players.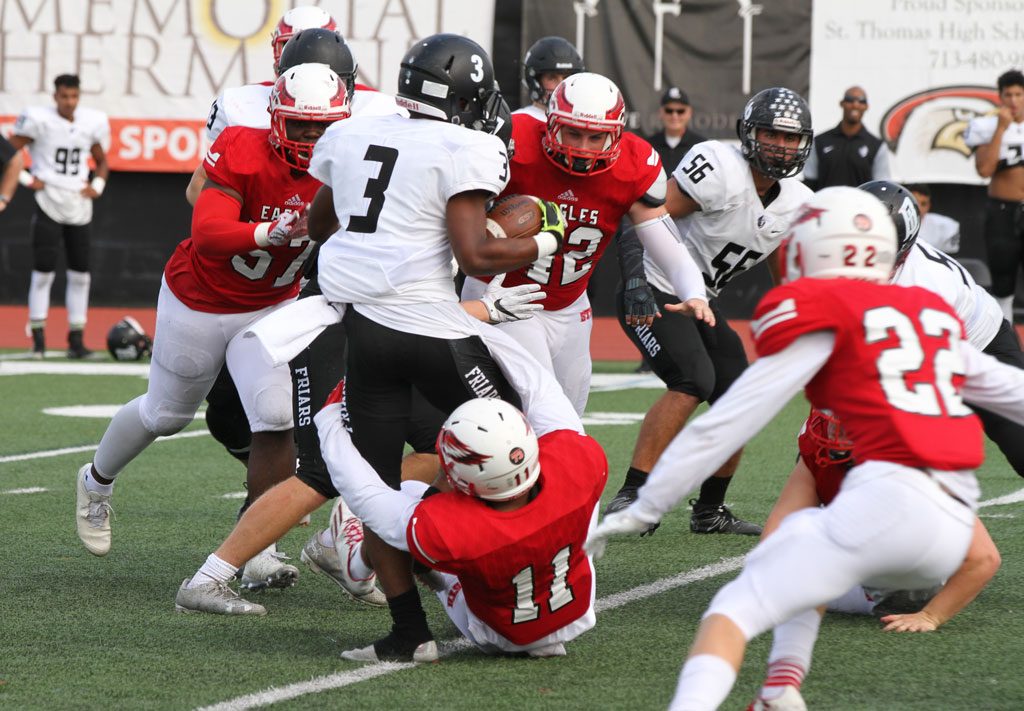 Parker will immediately join the program as a full member of the team once he arrives in June, granted the same status and receiving the same benefits as scholarship players, such as academic support, equipment, coaching, etc., fully aware that future rewards must be earned and there are certainly no guarantees.
Parker said Mizzou projects him at "the SAM position, a hybrid role between a linebacker and safety where you are utilized in pass coverage and also blitzing the quarterback in some pressure packages. It's similar to what I was doing here at St. Thomas but with more responsibilities in terms of identifying offensive personel and recognizing schemes.
"When you are a zone-read option quarterback you don't shy away from collisions and contact. I've always been an aggressive player so I'm actually looking forward to that part of the transition. And wherever you are on the field you have to rely on your football instincts. I've been playing the game since I was five-years-old."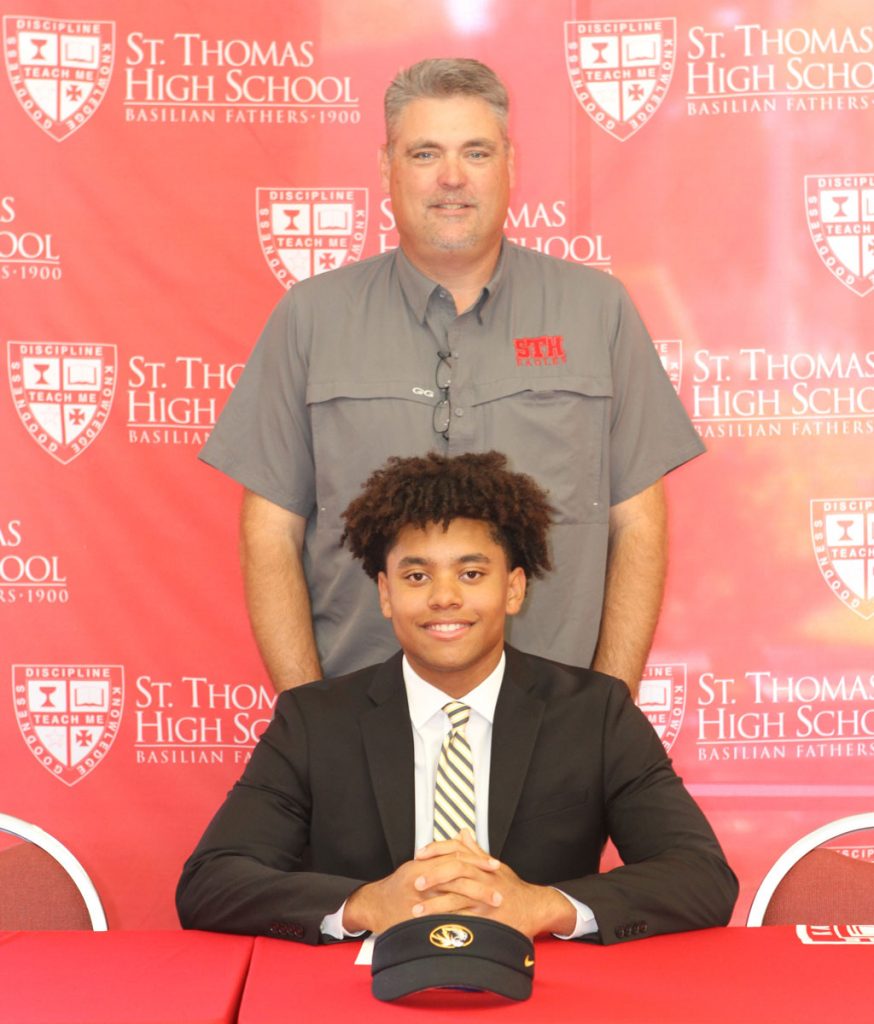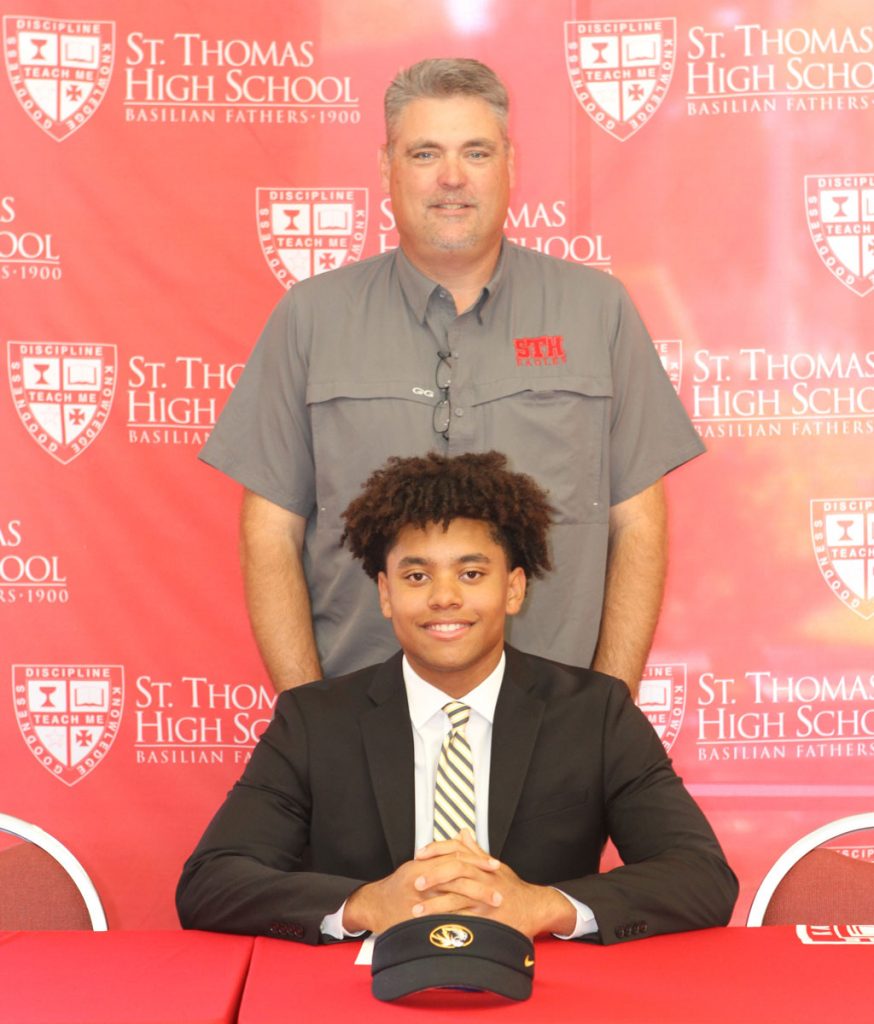 There exists a bonus attraction to the Mizzou opportunity that intrigues Parker and provides as extra dose of confidence that he selected the most advantageous football option moving forward.
Throughout the last decade the Tiger program has consistently discovered under-the-radar talents, particularly from Texas, and developed them into high-impact performers, including linebacker Sean Weatherspoon from Jasper (first round 2010 to the Atlanta Falcons), receiver Danario Alexander from Marlin (Rams and Chargers) and, mostly recently, defensive end Charles Harris (first round 2017 to the Miami Dolphins).
"I was definitely aware of that (track record) when making the visit and trying to take in all that l was presented," Parker said. "There is a tradition I really hope to keep going. But there's a lot of work ahead to make that a reality."
And Parker perhaps best sums the sentiment of each of the 2017 Eagles embracing their vault to the next test, following their hearts, trusting that it knows where it's going.
"Being a quarterback my whole life, this is not the exact dream I had growing up to play college football, but I'm so grateful for the opportunity God has given me," Parker said. "This is a great chance to play in the best college conference in the country. What more could you ask for? I'm super excited to get started and see how far I can take it."
Eagle Fight Never Dies!