GAME 37: TAPPS DIVISION I REGIONAL PLAYOFF, STRICKLAND FIELD AT VETERANS PARK, WEIMAR, TEXAS
San Antonio Antonian College Prep 5
Eagle Baseball 9
WHAT YOU NEED TO KNOW
Shortstop Brandon Campos '17 collected three hits and drove in two runs while second baseman Daniel Perkins '17 and first baseball Owen Meaney '18 (LSU) combined for three RBI as the Eagles finished a two-game sweep to capture the TAPPS regional playoff series and earn a seventh state tournament appearance in eight years, the third in four years with Ryan Lousteau as head coach.
RAPID REACTION
Head Coach Ryan Lousteau: "To be completely honest, at the beginning of the season I wasn't convinced what kind of team we were going to have. We had to replace so many key contributors (from a 30-2-1 state semifinalist) and I couldn' be more impressed and thrilled for how this group has come together. The seniors have really taken charge and continued our tradition. We're where St. Thomas baseball belongs … back in the state tournament."
TURNING POINT
Down 1-0 in the third inning the Eagles took command with Meaney continuing his playoff tear, rocketing a run-scoring double to right center for a 2-1 advantage.
In the fourth Perkins crushed a two-run double to the left field warning track, scoring designated hitter Brock Ross '17 and third baseman Logan Bear '17 who had both walked. Perkins raced to third on the peg to the plate and then easily scored when the catcher sailed a throw into left for a 5-1 cushion.
THE DEFENSE NEVER RESTS
In the scoreless first inning Nick Phan '17 erased a runner attempting to go from first to third on a base hit to the left field corner, and then dove to his left for a leaping grab to end the inning that robbed extra bases and prevented a run from scoring.
MORE LOUSTEAU
"It all goes back to our student-athletes. We teach them to play the game the right way, put them in the best position possible so they can be successful, and they take care of the rest. If they don't buy into our program, none of this (winning) happens."
ON DECK
The Eagles (32-5) will face Dallas Parish Episcopal (16-14-1) in the first of two state semifinal games Tuesday at 4:00 p.m. at Concordia University in Austin.
A victory would send Eagle Baseball to its fourth state championship game since 2010 the following night at 7:00 p.m.
CAN'T STOP WON'T STOP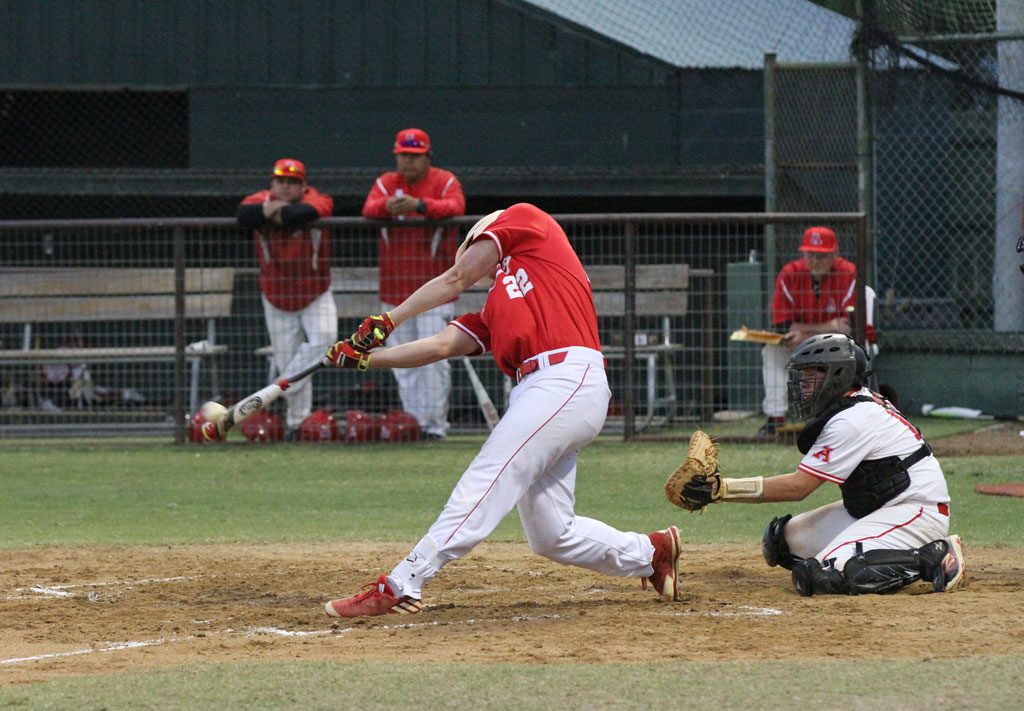 Meany is 6-12 in the playoffs and delivered an RBI single in a five-run third-inning outburst in Game 1 of the series. His double down the left field line scored Campos in an inning that included four Antonian errors … two wild pitches … and a walk.
Outfielder John Griffin '18 and designated hitter Max Winter '17 each knocked in runs in the fifth inning before Bear hammered a two-run single in the seventh, followed by Perkins smashing an RBI triple to the gap in left center in what proved to be an 11-2 final.
SIMEN SAYS … SIT DOWN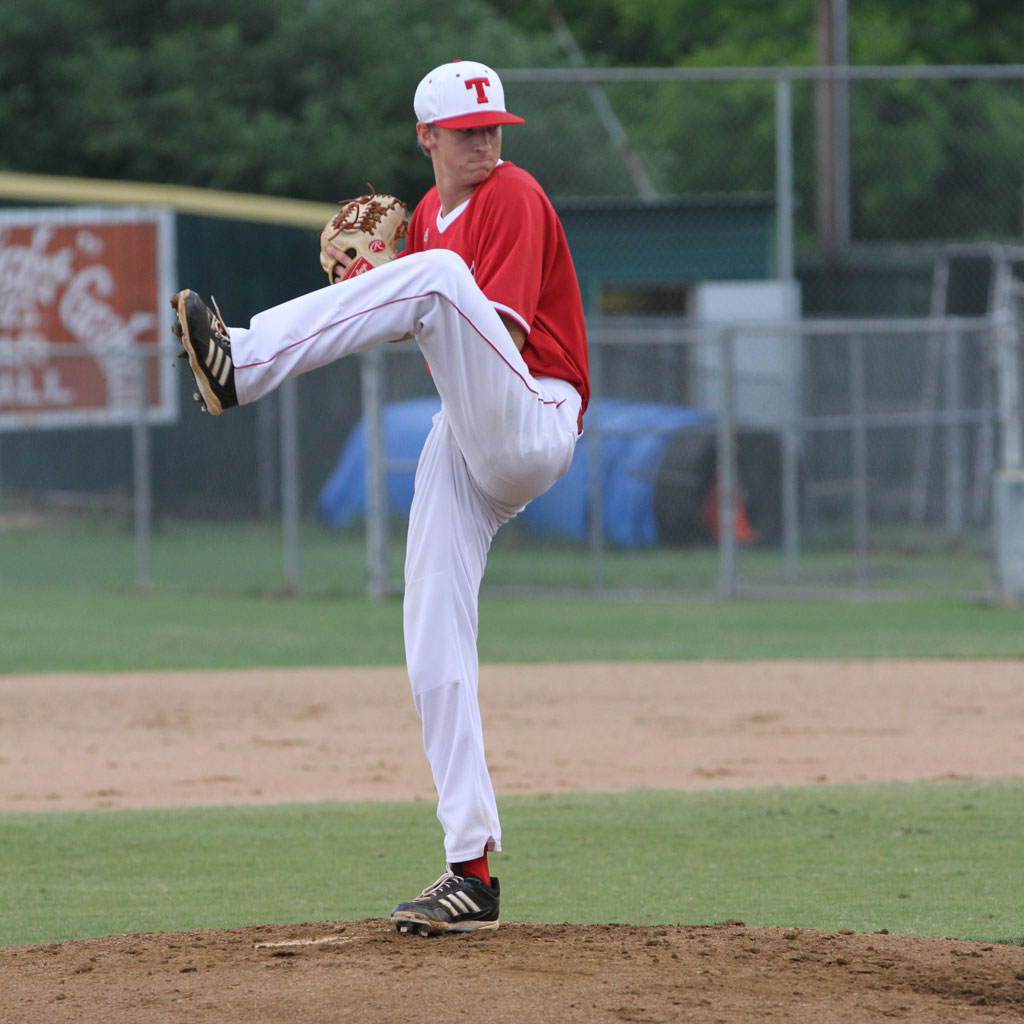 Game 1 starter Simen Borland '17 sailed through a complete game victory needing only 23 pitches to roll through the first three innings without allowing a hit. He notched a strikeout to end the fourth stranding runners at first and second, then racked a called third strike to finish the fifth with a runner wasted at third.
Borland also benefited from a series of sparkling defensive gems, including Bear's hard charge at third to glove and whip a throw to first for the final out of the sixth with runners at first and third.
BIG BANG THEORY
The Eagles have six innings in the postseason where they've scored four runs or more.
Catcher Philip Matula '18 (Louisiana Tech) hammered two home runs while collecting five RBI in a 17-2 Game 1 runaway in the opening playoff series with Plano John Paul II, then combined with Perkins '17 for four RBI in the Game 2 15-2 clincher.
RED & WHITE, RISE & ROAR
The Eagles have trailed for only only one inning in winning four playoff games by a combined score of 52-11.
The Eagles have won 10 straight games to raise their record to 32-5, overcoming a mini-slump in the district race when they dropped three games in-a-row, then rebounded with a vengeance. A 7-6 walk-off win over St. Pius X ignited a late-season surge that included critical consecutive victories over Tomball Concordia Lutheran and SPX, followed by a 9-4 verdict over eventual state semifinalist Beaumont Monsignor Kelly Catholic.
In the last two seasons Eagle Baseball is a stunning 62-7-1 while producing the first national ranking in the program's illustrious history.
TIES THAT BIND
The six state tournament appearances since 2010 include consecutive state titles in 2010-11 and again in 2014 in Lousteau's first season after succeeding Astros Hall of Famer Craig Biggio as head coach.
From his sons Conor '11 and Cavan '13 to Patrick Leonard '11 and Hunter Kopycinski '12 … from Austin Fairchild '12 to Austin Bear '10 to Logan Bear '17 … from Justin Sebo '13 to Michael Rodgers '14 … Patrick Hicks '10 to Ben Condara '14 to Matthew Ashbaugh '16 … the impressive parade of talented difference-makers and clutch performers have come and gone but one of the few connecting threads remains Lousteau who was a key member of Biggio's staff for five seasons before promoted.
MORE LOUSTEAU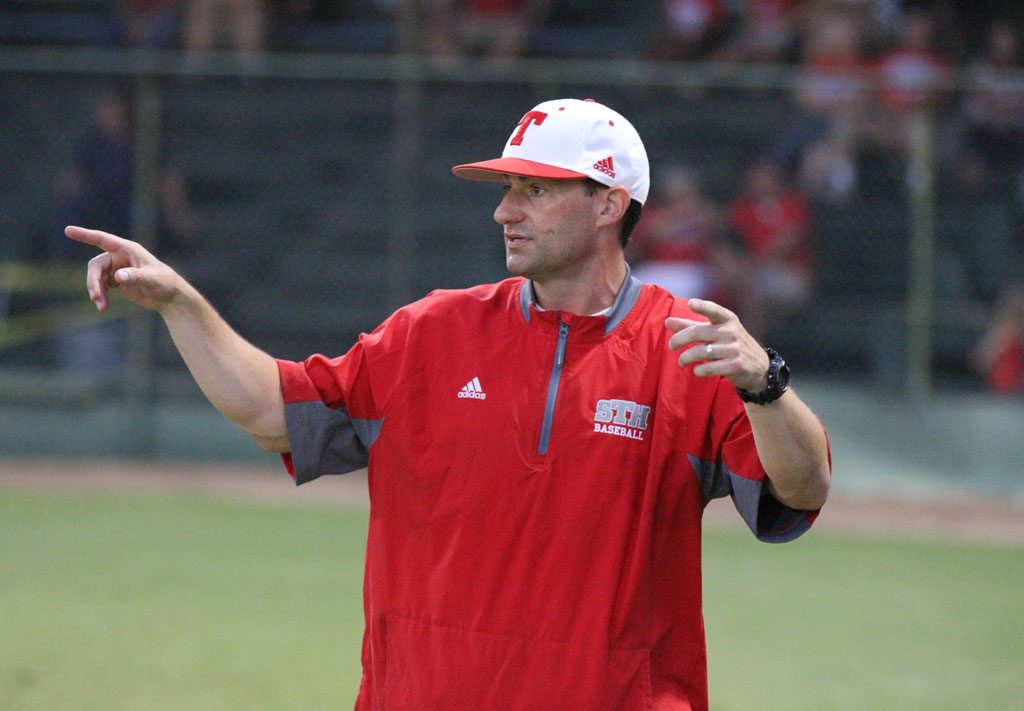 "I'm so blessed to be able to play my part in this tradition. I had a college coach say when he retired that he just wanted to leave the program better than when he took over. Well, I'm just trying to keep our program where it's been for decades. Craig and his staff did a tremendous job, re-establishing the championship standard. And my goal has always been to maintain it.
"I can't say enough about how much (assistants) Sean (O'Neill '00) and Vandy (Clayton VanderLaan) have meant to our success. Our group works so well together. The kids are highly committed to St. Thomas, what we believe in as a program and a school. And so much of the results then take care of itself."
Eagle Fight Never Dies!