More than 40% of the current St. Thomas enrollment has maintained a minimum 3.5 grade point average, with 153 champion scholars rising to St. Thomas Club distinction which requires at least a 4.0 GPA.
The 286 recognized students represent the largest-ever percentage of Eagles to earn such collective acclaim in the school's esteemed 118-year history.
This latest metric of academic excellence verifies St. Thomas among a select group of college preparatory institutions with a strong commitment to innovative teaching and personal attention, giving students the opportunity to partner favorably with faculty mentors.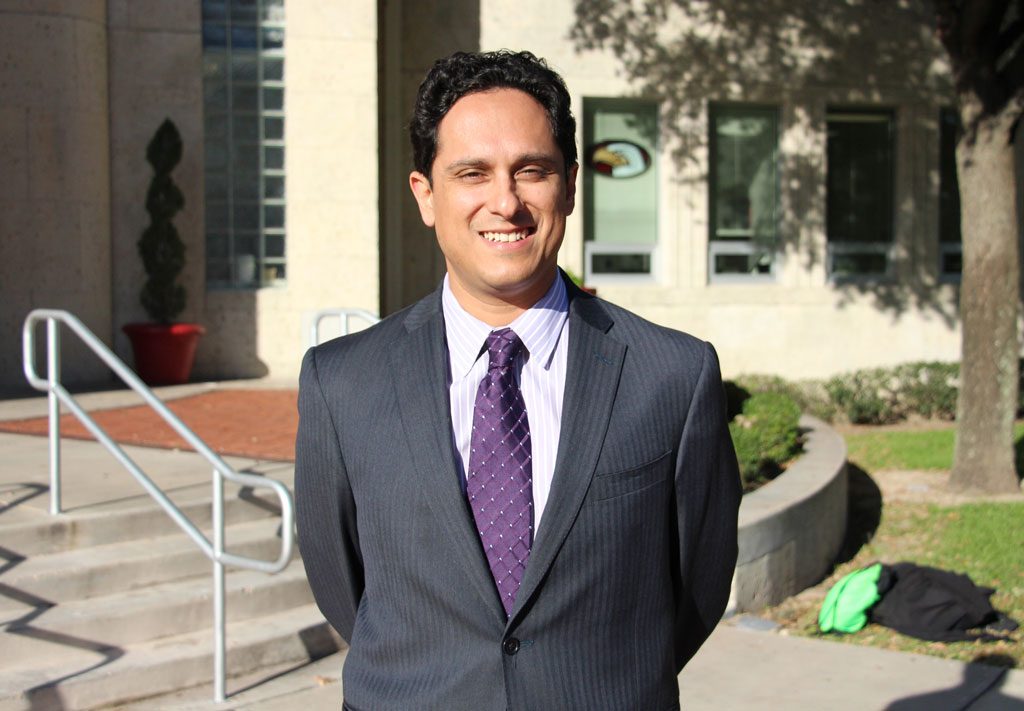 Principal Aaron Dominguez '96 believes the spiking trends are an acknowledgment of the overall strength of the St. Thomas academic experience and the emphasis placed on successful student outcomes.
"The caliber of student entering St. Thomas is obviously high. The academic rigor here is intense. This underscores the depth of our of care and commitment, from our faculty to our Learning Commons and Learning Enrichment Center, from counseling to our dean of students department, comprehensive resources that drive our students to achieve their potential," Dominguez said.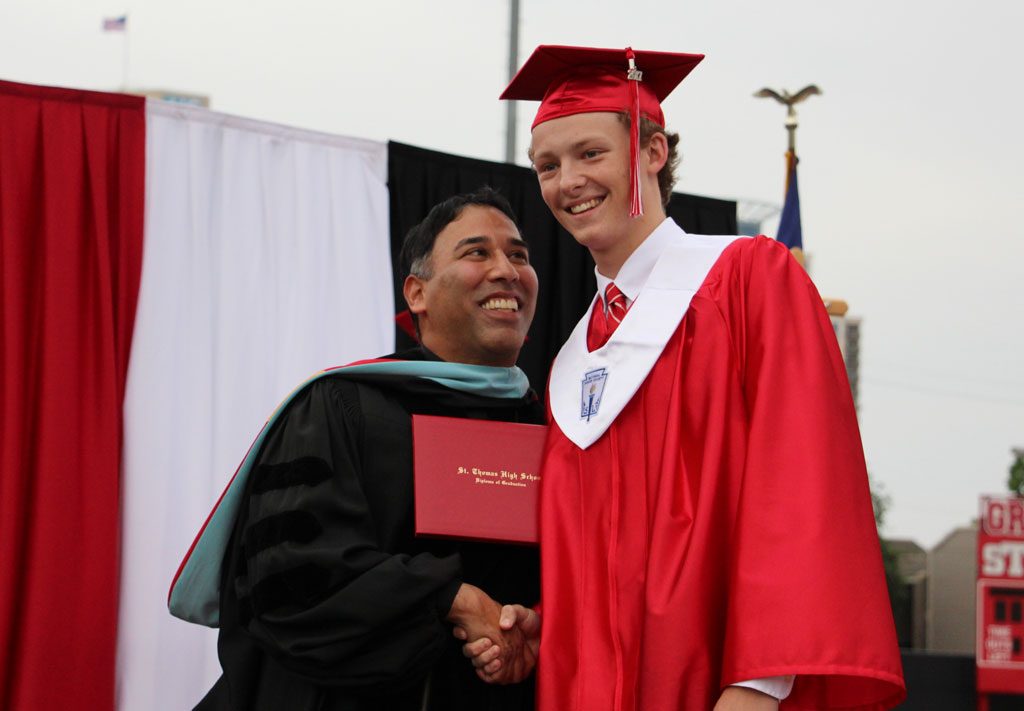 During the past decade, St. Thomas remains on a significant upward trajectory, attracting high-achieving students who think critically and consistently earn prestigious national scholarships and awards.
Four National Merit semifinalists among 18 recognized champion scholars from the 2017-2018 academic year
56% of the class of 2017 applied to Texas A&M University with 76% of those scholars accepted (74 of 97)
43% of the class of 2017 applied to the University of Texas – Austin with 70% of those scholars accepted (53 of 76)
30% of the class of 2017 chose out of state universities, including Washington and Lee University, the University of Southern California, Cornell University, Georgetown University, Fordham University, the University of North Carolina, George Washington University and Tulane University
16 Advanced Placement courses offered, with 86% of students from 2016-17 scoring 3 or higher
This continued academic excellence validates the unwavering St. Thomas focus on educating the complete student and involving each in scholarly pursuits.
"That's the St. Thomas mission," Dominguez said. "It's incredibly rewarding to prepare our students for the colleges of their choice and realizing their life-long dreams. It's our obligation, our passion, our goal to provide a supportive, safe environment for our students to thrive."
St. Thomas also has undertaken a major development initiative that will dramatically enhance its facilities and campus landscape.
The Joplin Campus expansion, funded by the ambitious 4500Forever and 4500Forever Finish Strong capital campaigns, will create new learning environments highlighted by a state of the art STEM technology wing plus renovations to athletic facilities and student activity areas.
Class of 2018 Members of the St. Thomas Club
Henry Adair Nathaniel Belcher Brooks Brickley
Nicolas Brito Kristopher Brolan Juan Castillo
Peter Chauvel Michael Colucci Kenneth Dang
Samuel Donoho Philip Everist Tristan Fauntleroy
George Fisher Daniel Garcia Joshua Gensheimer
Andreas Giannitsopoulos Cooper Gottschalk John Green
Barrett Gregory Zachary Hamm Jackson Hanna
Samuel Hebert Michael Hessel John Horner
Mario Juguilon Noah Kotlarek Alexander Lee
Andrew Leyendecker Joseph Little Grant Lurix
Philip Matulia Gabriel Meriano Christopher Miller
Michael Patton Joshua Prusak Adam Rinaldi
Gabriel Rios Parker Rzasnicki Christopher Schlak
Chase Shanley Trevor Sides Mathew Soto
William Swan Alexander Whiteley
Class of 2019 Members of the St. Thomas Club
Armando Amador Ben Bludau Jarrod Brown
Joseph Chavez Harrison Fason Robert Grove
Hunter Henderson Benjamin Huggins Jacob Lara
Gabriel Lenz Joshua Madden Theodore Mai
Connor McGovern Kellin McGowan Brendan Murray
Francisco Narro Matthew O'Connor Clement Ong
Plato Pappas Je Yoon Park Andrew Phan
Carson Rau Tuscan Savarino Thomas Snow
Angel Sosa-Yanez Samuel Stroh Juan Vazquez
Maxwell Voltz
Class of 2020 Members of the St. Thomas Club
Martin Beirne Alec Burbridge Nicholas Chandler
Carlos Copello Grayson Drinkard Adam Dunn
Christopher Ezeude John Gardner Daniel Jones
Zachary Kroencke Jonathan Lay Nathan Lee
Grant McCoy Ryan Mercado Thomas Minton
Ryan Moore Jordan Navarijo Jean-Paul Nguyen
Kien Phan Nicolas Prodoehl Andrew Rentz
Mason Ritchie Kyle Rzasnicki Anthony Schlak
Edward Sprigg David Steffes William Sterner
Joseph Swan Cooper Thomas Michael Tran
George Varcados Charles White Maxwell Zaebst
Class of 2021 Members of the St. Thomas Club
Evan Benavides Augustus Boettcher Brady Bourgoyne
Zachary Bryant Max Chung Arthur Clarke
Travis Cummins Robert Diamond William Dundee
William Edmundson Tanner Erb Adam Gensheimer
Christopher Guzman Jacob Hulvey Carlos Kaehler
Aidan Kelley Samik Khosla Alexander Kinsel
Erich Krueger Sebastian Lanz Vincent Lee
Francisco Llamosa Raphael Mamaradlo Luke McLane
Dylan Michaels Noah Mims Leonardo Morales
Benito Moreno-Garza Joseph Mundell Thomas Murray
Roman Ochoa Jhosua Pasuquin Patrick Pham
George Rentz Michael Requenes Luis Reyes
Micah Reyes John Rizzo Christian Rumohr
Aaron Schlosser Chris Tan Drew Tolson
Thomas Valdes Zachary Voltz Creighton Ward
Jonah Webster Zachary Wilson Bishop Yokubaitis
Class of 2018 Members of the St. Thomas Honor Roll
Jason Barroso Patrick Bartlett Henry Batt
Jack Brogan Charles Colley Sebastian Estremadoyro
John Evans Joshua Falcone Clark Flowers
Diego Garcia Faraon Gonzales John Griffin
Zachary Hablinski Joshua Hanks Andrew Hernandez
Andrew Herrera Sebastian Housh Jonathan Kerr
Creigh Klenke Soren Knudsen Joshua Longoria
Shawn Martinez Owen Meaney Jose Mendez
Daniel Moreno Kyle Paige Alexander Pollock
Haden Ritchie Matthew Rodriguez Cole Ross
Mason Ruch Rene Sanchez Andrew Schlosser
Sean Sisolak Jacob Stevens Daniel Vannoy
Everett Vaughn Michael Vogelsang Ryan Wagner
David Weber Wallace Woodlief
Class of 2019 Members of the St. Thomas Honor Roll
Tucker Alch Cristian Capasso Cole Carrabba
Colton Christ Jackson Crawford Seth Deitz
Johnathan Evans Rory Gonzalez David Gordon
Daniel Griggs Jack Hatcher Alexander Jacobs
Bryan Jasper Jeev Lamba Seth Macias
Mason Maida Tyler McStravick Cameron Mills
David Nemec Donovan O'Hare Nico Pivnik
Nelson Suarez John Teague Camden Thomas
Daniel Tran Kenneth VanDoren Ian Wheeler
Class of 2020 Members of the St. Thomas Honor Roll
Lake Anderson Ethan Armenta Thomas Ballard
Luke Bennett Charles Boutte Aidan Brelinsky
Shane Brelinsky Daniel Coco Javier De Leon
Kyle Dietert Travis Enochs Travis Froboese
Carson Hechler Harrison Held Jose Hernandez
Zachary Hernandez Spencer Kryger Nicholas Kurzy
Paul Langemeier Adrian Marquez Avila Ismael Melendez
Matthew Onufrow Luke Pane Matthew Payne
James Peoples Jackson Phillips Hamilton Pierce
Joseph Powell Alessandro Rivero David Rodriguez
Miguel Sanchez Dylan Shirley Sterling Smith
Taylen Washington Beamon Welch Kamal Zeidan
Class of 2021 Members of the St. Thomas Honor Roll
Vinicius Braga Nicky Calzolari Jack Carter
Jackson Cooper Peter Corbett Xander De Anda
Adam Desroches Diego Garcia James Gibson
Eduardo Gonzales Griffin Gregory Anthony Herger
Nickolas Kanakidis Matthew Lim Andrew Love
Cameron McCurry Julian Melchor Phillip Patch
Finnley Polidore Nicholas Prioli Clark Somma
John Sudkamp Pablo Tager Ballesca Dean Thomas
Marshall Turbes Nathan Vu Haotong Wang
Patrick Welch Leo Wilson
Catholic. Basilian. Teaching Goodness, Discipline and Knowledge since 1900.