February's traditional National Signing Day provided more than the usual Red & White salute for acclaimed St. Thomas student-athletes seizing the chance to continue their careers at the university level.
In the midst of the coast-to-coast carnival capping the wild world of frenzied football recruiting that long ago reached peak absurdity came the engrossing journeys of tackle Max Banes '18 and linebacker Melvin Larkins '18 to the University of Houston, linebacker Jackson Hanna '18 to the University of Texas, and receiver Blaine McDaniel '18 to the University of Mary Hardin Baylor.
All four Eagles navigated unlikely paths, conquering sizable odds and obstacles without allowing frustrations, ill-timed circumstances and self-doubt douse their determination nor deter them from fateful destinations.
Hanna ignited interest from the Longhorns with a lights-out showing during an invitation-only camp during the summer of 2017 when he left with a treasured preferred walk-on offer.
He was poised for a sensational senior send-off before a high ankle sprain in the preseason scrimmage against New Caney limited his final Eagle hard knocks to two quarters and then one full game where he registered 15 tackles.
Hanna weighed options with Davidson College, Cornell and Princeton, but Texas never wavered from its intent and Hanna never swayed far from his desire for the Forty Acres.
"UT was my number one choice for both athletics and academics," said Hanna who is a member of the National Honor Society and the St. Thomas Club which requires at least a 4.0 GPA.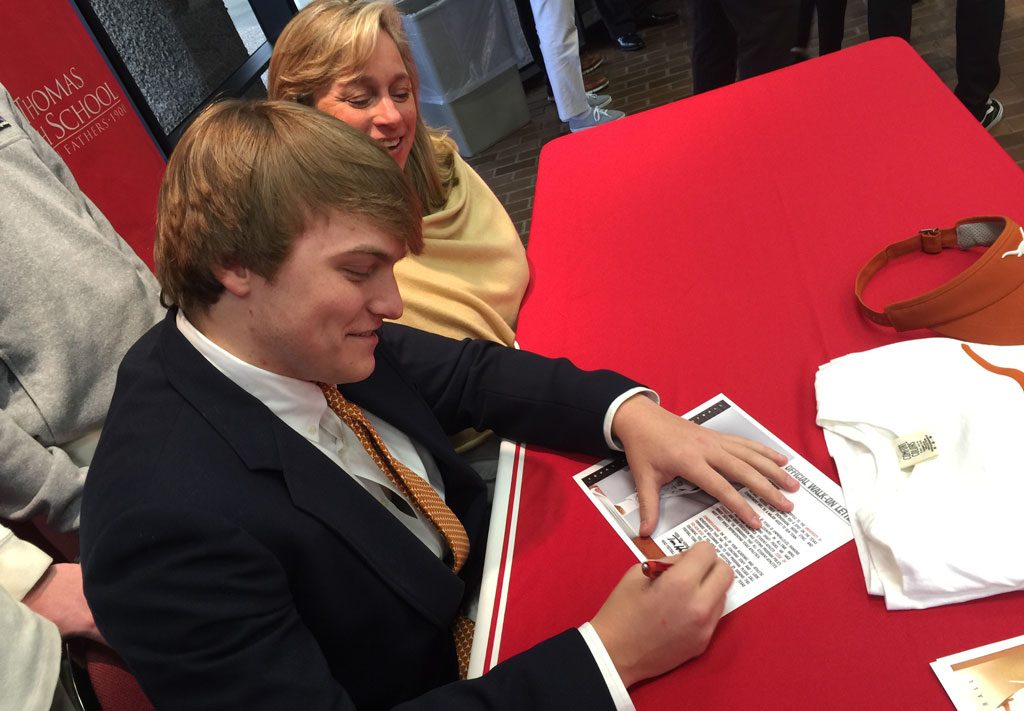 "Their recruiting assistants stayed in close contact during my senior season when I wasn't playing and emphasized they still wanted me. There are never guarantees in the recruiting process so I had some reservations during the fall but it all worked out as well as I could have dreamed."
Hanna will enroll at Texas in June as a full member of the Longhorns, granted the same status and receiving the same benefits as scholarship players in terms of coaching, athletic training, housing, academic support, etc.
He's among five preferred walk-ons mixing with the nation's No. 3 recruiting class, including 11 of the state's top 15 players ranked in the 247Sports composite, who are expected to become a primary talent boost in Tom Herman's rebuild with hopes of propelling the Longhorns back into the top tier of college football.
Hanna grew up a self-described "football guy and a Texas Tech guy. That's where my father played baseball."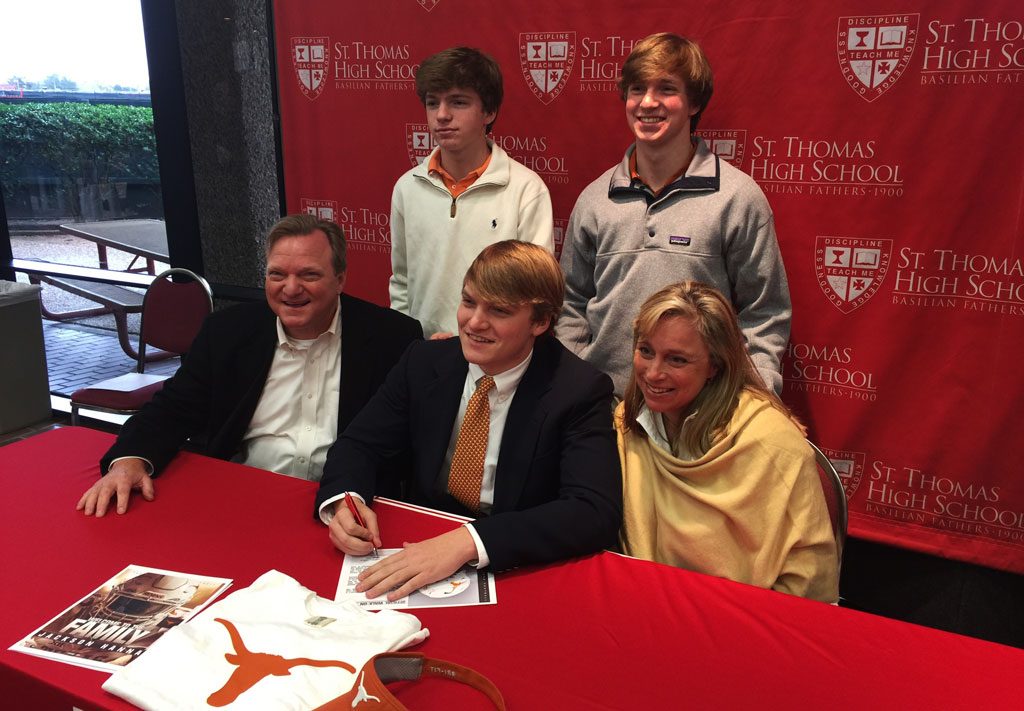 Which might explain in part why Hanna was seen at the Signing Day celebration sporting stylish burnt orange and white neckwear borrowed from his neighbor.
Hanna believes that since arriving at St. Thomas from Lanier Middle School he has "always been in the position of having to prove myself so (UT) is really nothing new for me. I've been one of those off-the-radar types, always in the weight room trying to get bigger and stronger. The (Longhorn) coaches really emphasized to me that a year inside their strength and conditioning program will make a huge difference."
At 6'3'' and 220 pounds with impressive combine measurables, Hanna projects as a hybrid linebacker who can impact as a destructive force off the edge.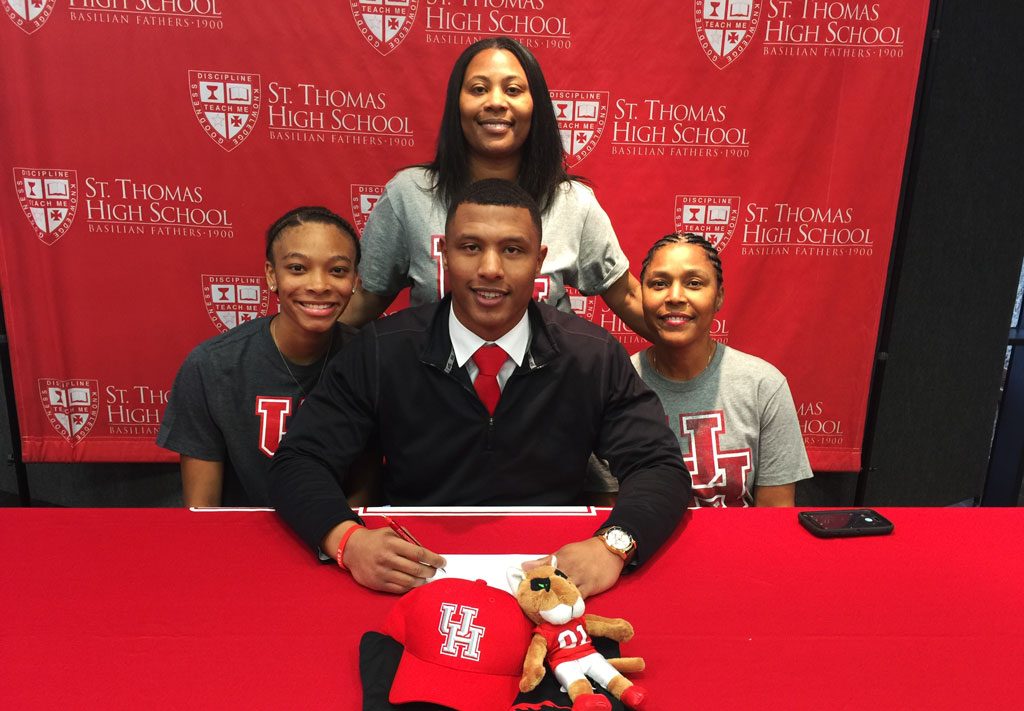 The same kind of role UH envisions for the athletic 6'2' 220-pound Larkins who spent the majority of his two-sport Eagle career with aspirations to "play basketball in college. I didn't really focus seriously on football until my sophomore year when the college recruiters really became interested."
But similar to Hanna, Larkins saw his final St. Thomas gridworld go-round derailed by a September season-ending injury without playing a single snap.
Then roughly a week before the February NSD, the Eagles team captain had a long-standing offer from a state Football Championship Subdivision program suddenly vaporize.
Larkins was left scrambling and considered "not even pursuing football to focus strictly on my degree. UH was at the top of my list to study sports management."
But the morning after absorbing the gut-kick notice that he was no longer wanted, the interest in UH proved mutual when Cougar coaches discovered that Larkins was available and quickly convened on the St. Thomas campus offering a prefered walk-on opportunity.
"They told me I fit their program not only as a player but as a person," Larkins said. "They knew all that I had gone through last season and recognized I was never going to back down. Coach D (Mark D'Onofrio, defensive coordinator and inside linebackers coach) was super excited to have me and is a big reason I'm a Cougar."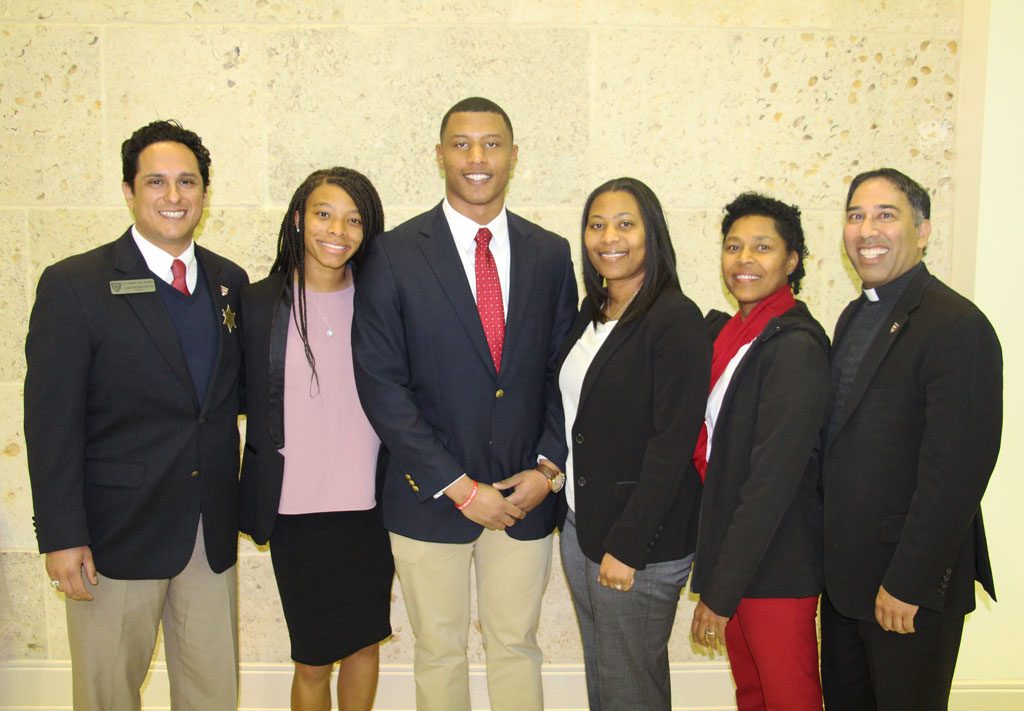 In January Larkins was a featured speaker at the 11th Annual Scholarship Breakfast which honors the vibrant St. Thomas tuition assistance and scholarships program.
His testimony to the value of the Eagle experience proved to be as penetrating and commanding as his campus presence throughout his four years when he served as an Eagle Ambassador, Senior Leader and a member of the Round-Up Board.
Revealing an even greater depth to his character, Larkins' famine to feast reversal of fortune generated a genuine appreciation rarely reserved for the NSD shenanigans.
"Someone asked me if I thought that God was maybe looking out for me. No maybe about it. He definitely was," Larkins said. "Even after I was left empty I kept the faith, kept praying, and God provided a way. When one door closes, another one opens. I really believe that."
The serendipity means locking Larkins and Banes into a second tour as football brothers.
Banes cemented his binding commitment with the Cougars during the inaugural early signing period when more than 70% of the players in the class of 2018 finalized their recruitment in December.
The 6'5'' 305-pound Banes is furthering the family's football legacy where his father Joey carved notable distinction, where his mother Linda was a cheerleader and assistant in the Cougar recruiting office, where his sister Tayler will graduate in 2018 and his brother Trevor '16 is a sophomore.
Another two-sport Eagle standout and TAPPS second team all-state performer is one of seven members of VYPE's Hot Houston 100 within Major Applewhite's first recruiting haul as the Cougars head coach.
Banes burst into the world a robust 10 pounds, two ounces, and within his first six months was tagging along for the family's fall rituals to Robertson Stadium for Cougar home games.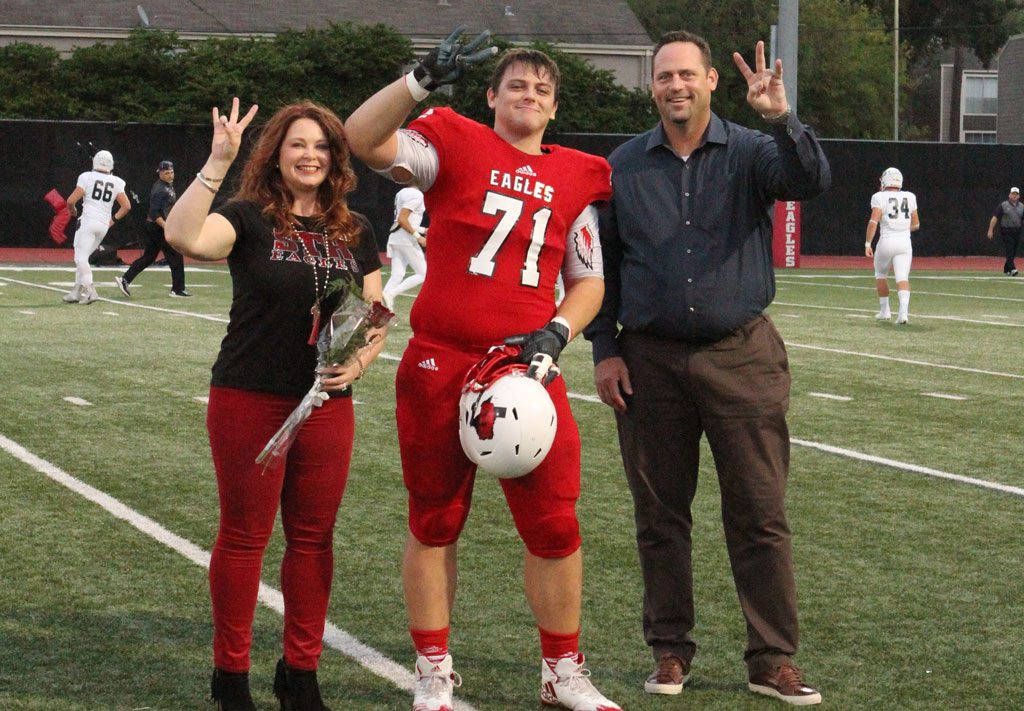 From a distance, Banes might appear preordained for the #HTownTakeover but those impressions would prove deceiving. Joey and Linda opted for a grand master plan minus manic youth league strategies and overzealous expectations which often leave aspiring student-athletes burned out and/or disillusioned in the far term.
"We held Max out of football until his eighth-grade year," Joey said. "I just never saw the advantage before his body started to mature. He played soccer and basketball to work on athleticism and footwork but I never groomed him (to play in college football). I only had one year (at Klein High School) before Bill Yeoman recruited me, finished out with Jack Pardee, and that seemed to work out. (Linda and I) just let the road for Max take care of itself. This has been his desire and his decision start to finish."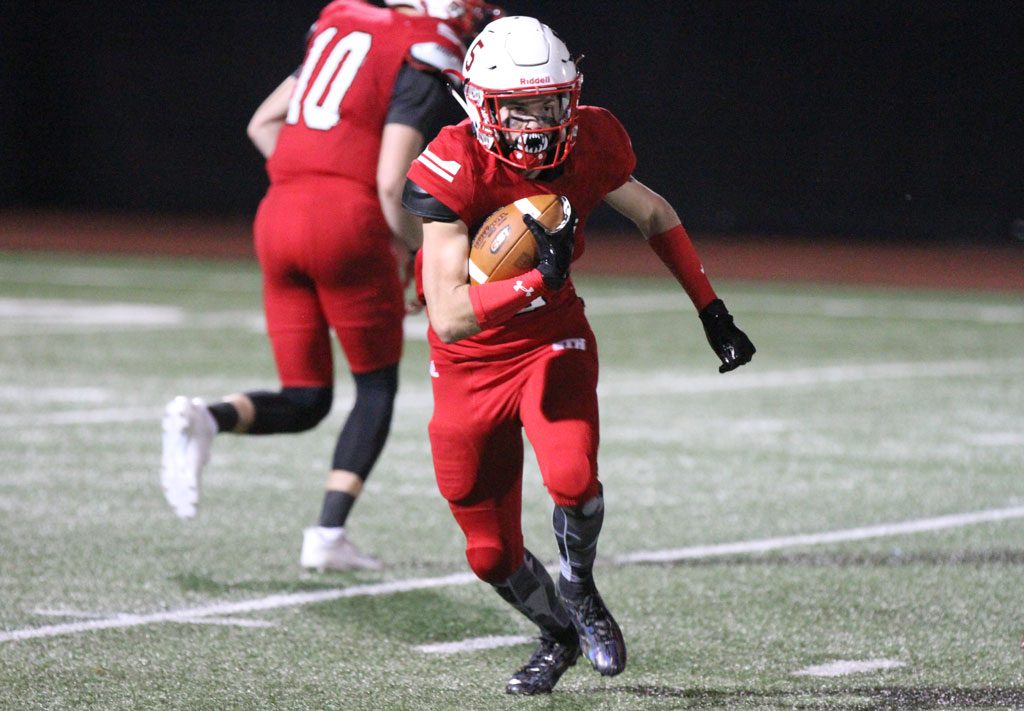 McDaniel excelled in his one season with Eagle Football as an unselfish and versatile plug-and-play contributor, a running back and slot receiver influencing in ways that statistical spreadsheets and Hudl videos will not necessarily expose.
Undersized by most projections, the 5' 9'' 170-pound McDaniel was selected to participate in the exclusive Blue-Grey All-American Bowl showcase and is now rewarded with an entry into one of the premier Division III programs in the nation. Head coach Pete Fredenburg has produced a litany of success since founding the program in 1998, including the 2016 NCAA national title, one NCAA runner-up, four NCAA semifinals and 15 American Southwest Conference championships.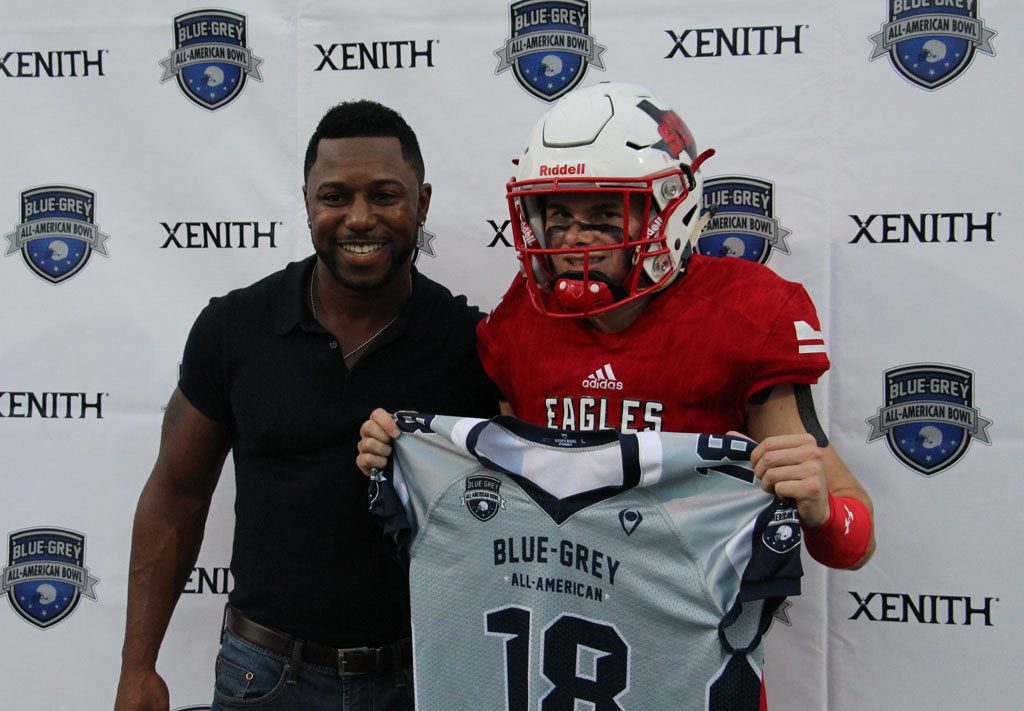 "I made my unofficial visit last summer and was immediately blown away," McDaniel said. "Awesome facilities. Personable coaches. They stayed in contact with me every week throughout last season and that made a really strong impression."
McDaniel's never-will-be-denied ethic and attitude is a preferred fit inside a DIII powerhouse that values the team-building business rather than strict talent acquisition, where every prospect is evaluated only in the context of the Crusader system, how and where that player would perform in Belton, Texas.
McDaniel took his decision down to the final days leading into February 7, reaching his conclusion while on the road returning from his official contact with UMHB and absorbing the full frontal realization that an out-of-sight childhood dream was about to materialize.
"If you had asked me in the seventh grade if I would be playing college football, I would have said no way," McDaniel said with conviction. "And the only reason I think this is happening is God. I prayed every single night, kept believing and he gave me the strength to push forward, even through injuries and skeptics and negative moments. I was just never going to give up. And now it's happening."
All too often National Signing Day proves to be the pinnacle of a student-athlete career, a fast lane entry on an anticlimactic excursion where dreams are soon drenched in disappointment when distorted Disney-like anticipations do not take shape.
Joey Banes owns a savvy perspective that provides the proper gauge to calibrate what is soon approaching for the Eagle foursome.
After entering college football as a non-descript recruit Banes departed as one of seven Cougars selected in the 1990 NFL Draft from that famed run-and-shoot pyrotechnics squad that shattered records and scoreboards will equal authority and audacity. The aerial activities resulted in maniacal maestro quarterback Andre Ware becoming the program's first and only Heisman Trophy winner.
Banes was invited to both the Hula Bowl and East-West Shrine Game, played for the Indianapolis Colts and then transitioned into corporate American where he is currently a vice president of sales for Merrill Corporation in Houston.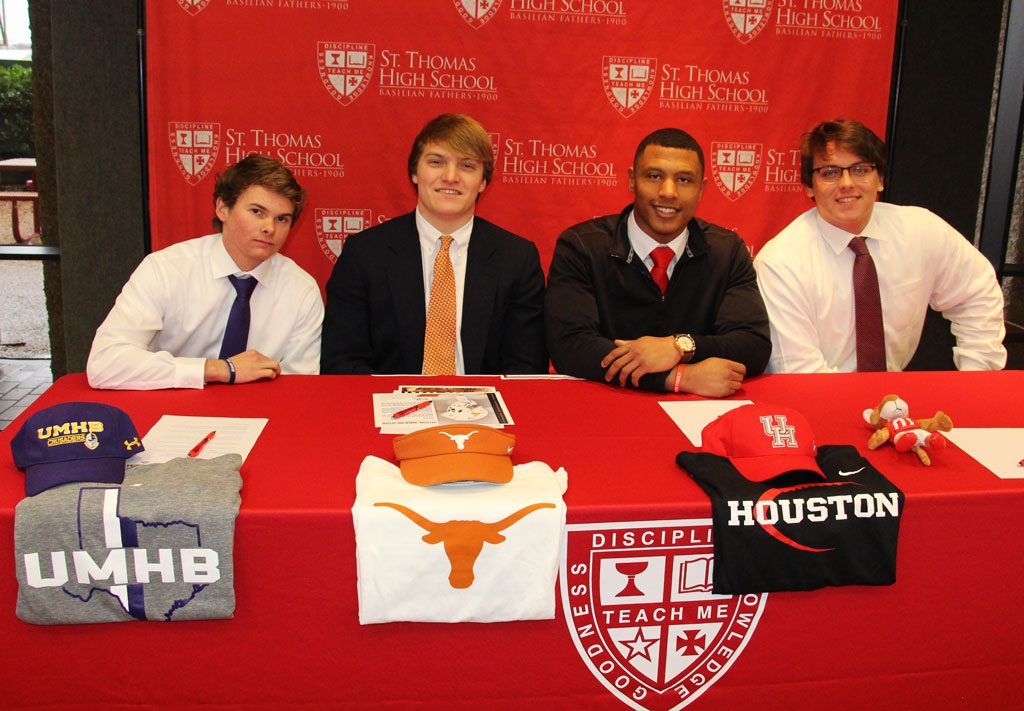 "I'm thrilled for Max and his teammates," Joey said. "But this is not just fun and games anymore. The stakes will be raised and they have to be prepared for an adult-type result-oriented world. Still, there are special times ahead … mostly great … some not so good. They have lifelong friends they haven't yet met. The camaraderie of college athletics is what I miss the most. That's what they can look forward to and much more. Ultimately, it's all a part of their becoming a man."
Eagle Fight Never Dies!