For more than a century, select St. Thomas alumni have achieved a level of excellence within their chosen fields or professions and have brought extraordinary benefit to the school and their communities.
Meet many of our significant achievers who exemplify the spirit of service that students cultivate while at St. Thomas, and some of those who have received the highest accolade bestowed upon a St. Thomas graduate – induction into the school's Hall of Honor, established in 1975 in conjunction with celebrating the 75th anniversary of the school.
Inductees personify the Basilian motto Teach Me Goodness, Discipline and Knowledge, are giving of their time and energy, sharing their talents and expertise, always with compassion for those less fortunate.
William H. Goetzmann '48
1967 Pulitzer Prize winner for seminal Exploration and Empire: The Explorer and the Scientist in the Winning of the American West … history professor at the University of Texas for more than 40 years … helped recruit the first two black professors to the college of arts and sciences and start the first classes in women's studies and Hispanic American studies before retiring in 2005 … received a bachelor's degree from Yale in 1952 and a doctorate in 1957 before joining the UT faculty … inducted into the St. Thomas Hall of Honor.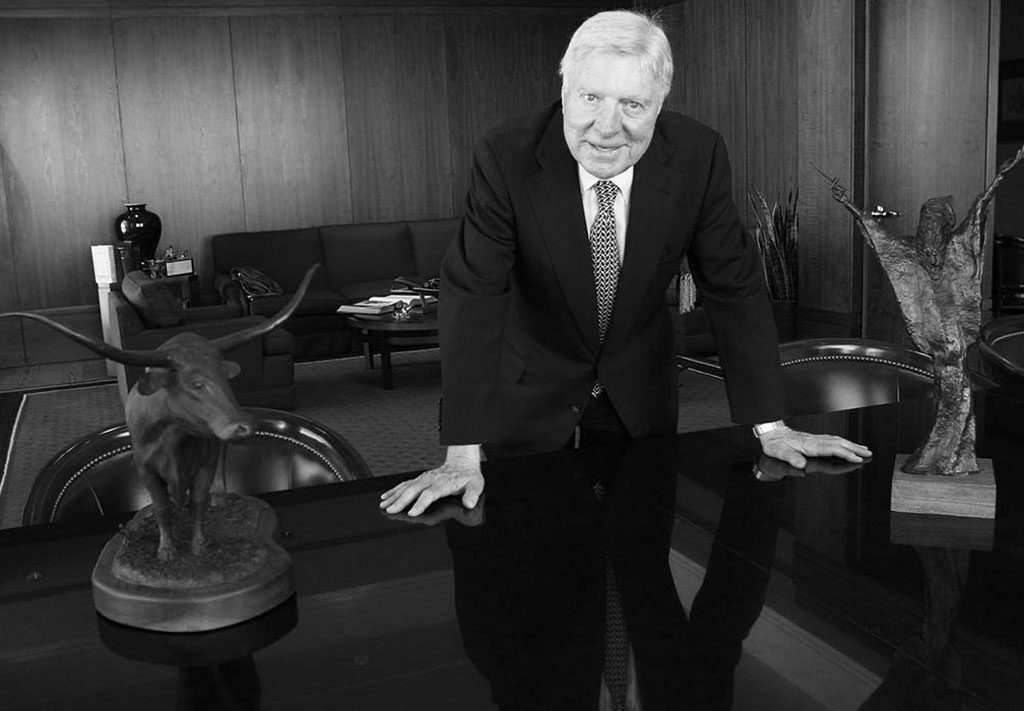 Joseph D. Jamail '42
Celebrated Texas lawyer and personal injury specialist who won more than 500 lawsuits worth $13 billion in judgments… dazzled profession by winning gargantuan Pennzoil award against Texaco in 1985 … robust donor who gave millions to the University of Texas at Austin, the Texas Heart Institute, the Museum of Fine Arts in Houston, Rice University, Baylor College of Medicine and other philanthropies … inducted into the St. Thomas Hall of Honor.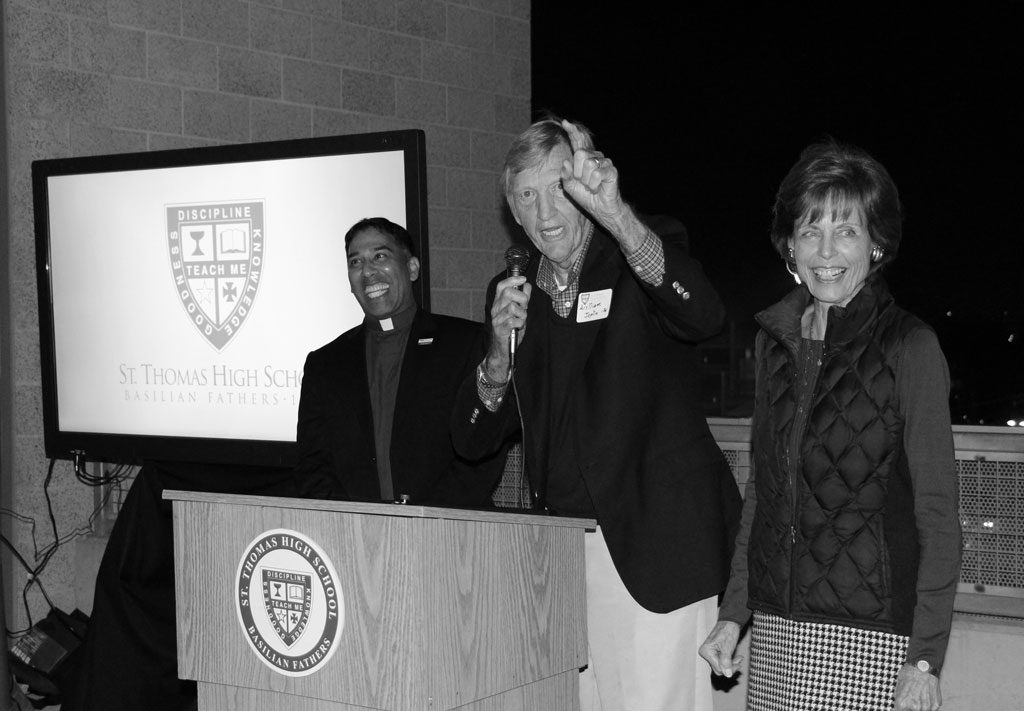 William F. Joplin '54
Prominent presence in Houston's energy industry and champion philanthropist … with wife Jane contributed one of the largest leadership gifts in St. Thomas history, an extraordinary pledge in 2014 matching up to $6 million to the 4500Forever capital campaign, resulting in the naming of the expanded campus footprint as the Jane and Bill Joplin Campus … dynamic principal and partner with his father John L. and brother John F. '42 in family's Oil & Gas Supply Company, manufacturing and selling oilfield compressors … later founded, operated and sold oilfield equipment companies Oil & Gas Manufacturing Co., Bush Manufacturing Co., Turbines Hispano Ogasco, Inc. and Sound Optics Systems, Inc. … in 1976 acquired Hutchison Hayes International, Inc., later Hutchison Hayes Separation, which was successfully sold in 2008.
The Honorable William M. Hatten '31
Appointed judge for the 176th state District Court by Governor Preston Smith in 1971 and continued through four re-elections until forced by law to retire … appointed Board of the Harris County Ship Channel Navigation District 1960-61 … resigned to become Judge of the Court of Domestic Relations until 1964 … inducted into the St. Thomas Hall of Honor.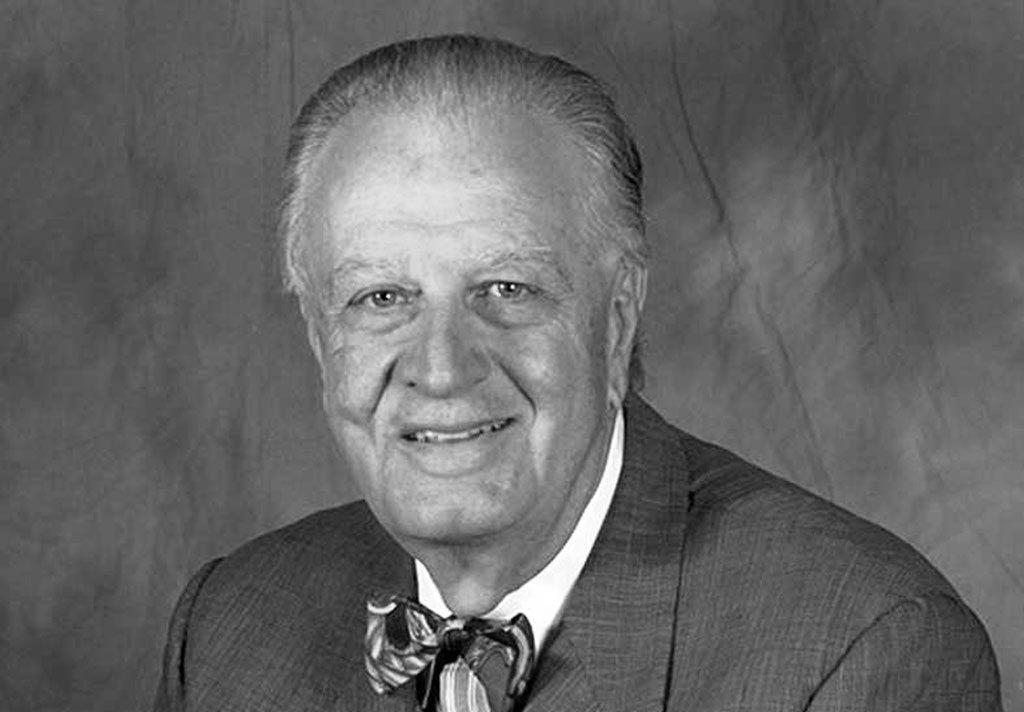 Leo E. Linbeck '52
Esteemed Houston construction magnate who became a major force in Texas politics … Senior Chairman and CEO of The Linbeck Group, the construction management firm started by his father Leo Sr. that grew into one of the southwest's biggest construction firms … co-founder of Texans for Lawsuit Reform and Americans for Fair Taxation … served on prestigious boards including Chairman of the Federal Reserve Bank of Dallas, Duke Energy Corporation, MD Anderson Foundation, The Bionomics Institute, Daniel Industries, Inc., GeoQuest International Holdings, Inc., John Hancock Advisers, Inc., MorningStar Foods Inc., and The Southland Corporation … also led the Bonfire Commission at Texas A&M University and served on the Advisory Council for the College of Engineering at the University of Notre Dame … inducted into the St. Thomas Hall of Honor.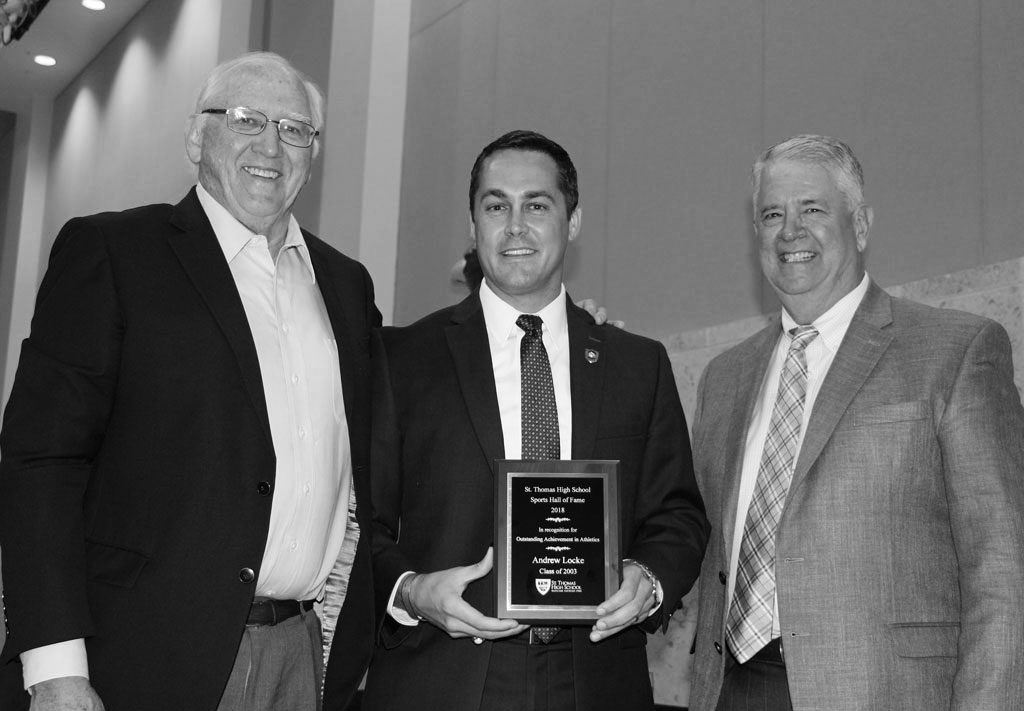 Andrew W. Locke '03
Served in the 2nd Ranger Battalion of the 75th Ranger Regiment, deployed to Iraq as a Stryker vehicle platoon leader, followed by three mission-specific Ranger engagements in Afghanistan … infantry officer and a rugby sevens coach in the U.S. Army World Class Athlete Program … assistant coach for the U.S. women's rugby team at the 2016 Olympic Games in Rio de Janeiro … member of West Point '07 … two-time collegiate rugby All-American at West Point and a member of the Under-19 U.S. National Team … senior captain as Army collected three top-8 finishes at the USA Rugby National Collegiate Championship Tournament during his career … three-year captain as a six-year member of the Army Select-Side 7s team which won the U.S. Military Championship 7s Tournament five consecutive years … prolific Eagle scholar-athlete earning 10 varsity letters while also emerging as cornerstone talent in establishing Eagle Rugby as the premier high school program in Texas … 2003 TAPPS Male Athlete of the Year … retired from the active Army in October 2017 to accept a position with Palantir Technologies, a private American software and services company which specializes in big data analysis while continuing his military career with the National Guard … inducted into the St. Thomas Sports Hall of Fame.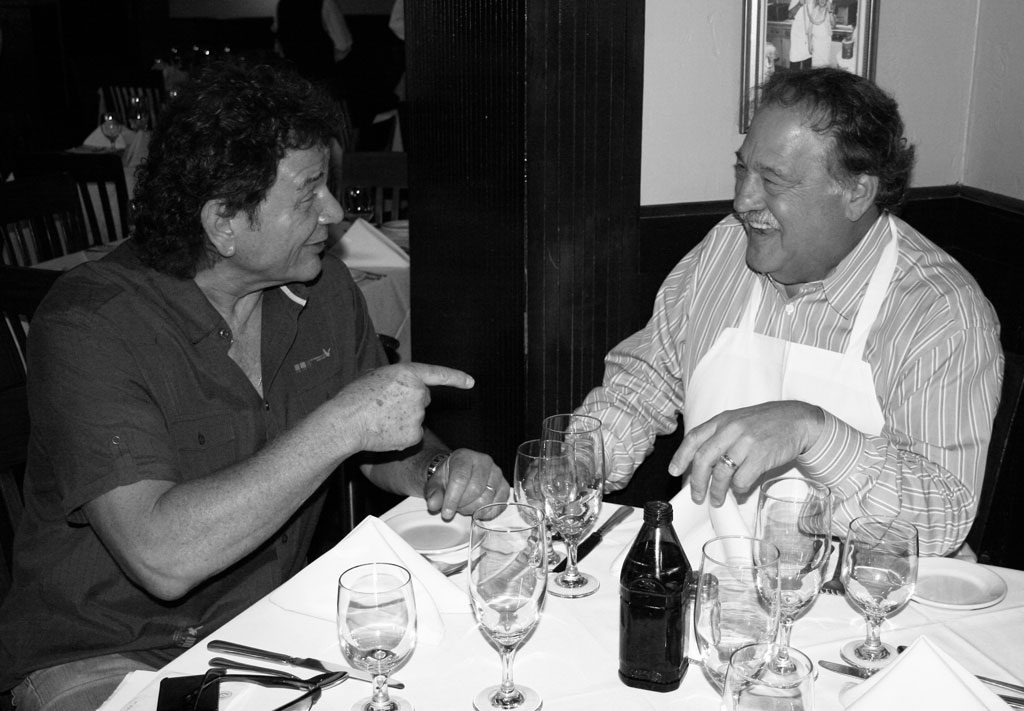 Frankie B. Mandola '65
Rose as a pillar among the first families of Houston food … famed Houston restaurateur, co-owner of Damian's Cucina Italiana and Frankie B. Mandola's Catering … larger-than-life personality and Houston civic leader who founded the Texas Italian-American Sports Foundation with Dan Sessions '65, making college scholarship dollars available to a host of well-deserving student-athletes … Eagle state champion and high school All-American student-athlete who packed his two-sport talents for Rice University … inducted into the St. Thomas Sports Hall of Fame.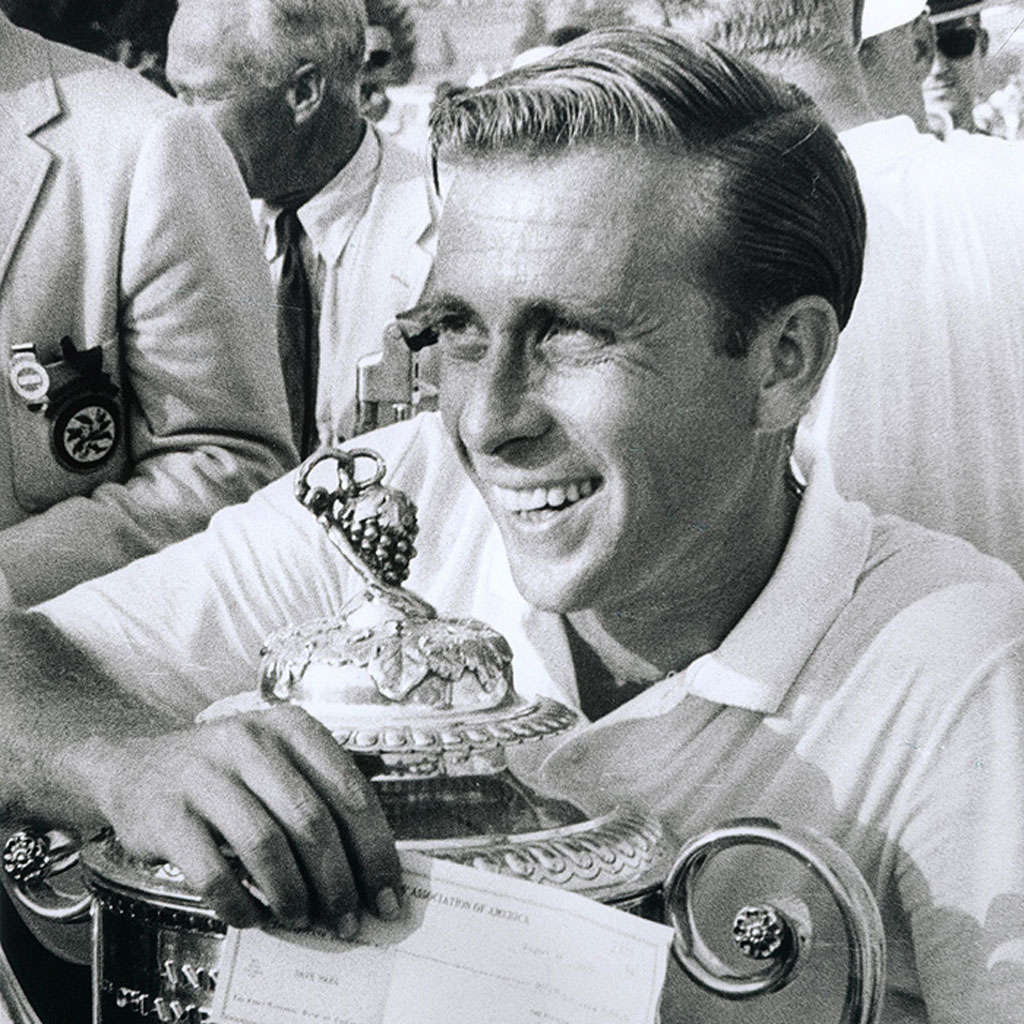 David F. Marr '50
1965 PGA Championship winner for the signature achievement in a lifetime of deep contributions to golf … 1965 Ryder Cup champion and 1981 non-playing captain of arguably the greatest contingent of all-time … protege of golfing icon Claude Harmon at the famed Winged Foot Golf Club in Mamaroneck, New York … seamlessly transitioned into a two-decade position as lead analyst with ABC, followed by extended years with NBC and the BBC … endowed scholarship in his name at the Columbia University Graduate School of Journalism … inducted into the St. Thomas Hall of Honor and the St. Thomas Sports Hall of Fame.
John L. (Jack) McConn '41
Renowned Houston attorney who would become President of the Houston Bar Association and director of the State Bar of Texas … earned his undergraduate and his Juris Doctor from the University of Texas… awarded the Purple Heart and Silver Star while serving in Europe during World War II … inducted into the St. Thomas Hall of Honor.
Robert G. McConn, M.D. '42
Distinguished four-decade medical career in Houston including an acclaimed residency at Hermann Hospital and a Fellowship in Cardiovascular Diseases at the Jefferson Davis Hospital Cardiac Clinic … co-founded the Medical Clinic of Houston and held memberships in the Alpha Omega Alpha Honorary Medical Society and the Texas Club of Internists … attended Rice University, Tulane University and earned his medical degree from Baylor Medical School … served as a medical officer in the United States Navy and Air Force during World War II … inducted into the St. Thomas Hall of Honor.
The Honorable James J. McConn '44
Mayor of Houston 1978-82 following an elected two-term city council position … president of the Houston Home Builders Association and also received Builder of the Year Award by the Home Builders Association … Director of the Greater Houston Convention and Visitors Bureau from 1989-97 … graduated from the University of Notre Dame … inducted into the St. Thomas Hall of Honor.
Thomas P. (Tim) McConn '51
President of Seagull Energy Exploration & Production … honored member of the United States Department of the Interior Minerals Management Advisory Board and also served as President of the American Petroleum Institute … received his degree in petroleum engineering from the University of Texas … inducted into St. Thomas Hall of Honor.