For the St. Thomas Fall production of Frankenstein, director Dan Green flushed both schlock and satire, opting instead for an intelligent and trenchantly faithful adaptation of Mary Shelley's archetypal monster novel of 1818 that launched a terror genre.
As the spookiest of holidays approached, audiences encountered neither Boris (Karloff) nor (Peter) Boyle. No bolt-necked galoot. Forget incoherent bellows of "Puttin' On The Ritz" from the Mel Brooks pastiche.  Instead, Green and co-director Teresa Stranahan powerfully and cleanly brought the protracted Gothic tale to Cemo Auditorium for the first time, diving into explorations of humanity, belonging and fear, love and horror.
Within every man there is a monster; within every monster, a man. But which is which?
"At the core of the story is isolation and alienation," Green said. "It's a conversation that started in my sophomore English class and we thought it was important to continue that discussion with this production. Our junior and senior actors recognized the dynamic immediately and embraced the importance of telling that story.
"We looked at six-seven different scripts, ultimately decided on one but added and deleted some sequences. Our play was essentially a Frankenstein creature in and of itself. The goal wasn't the gory version but to still express the tension and violence."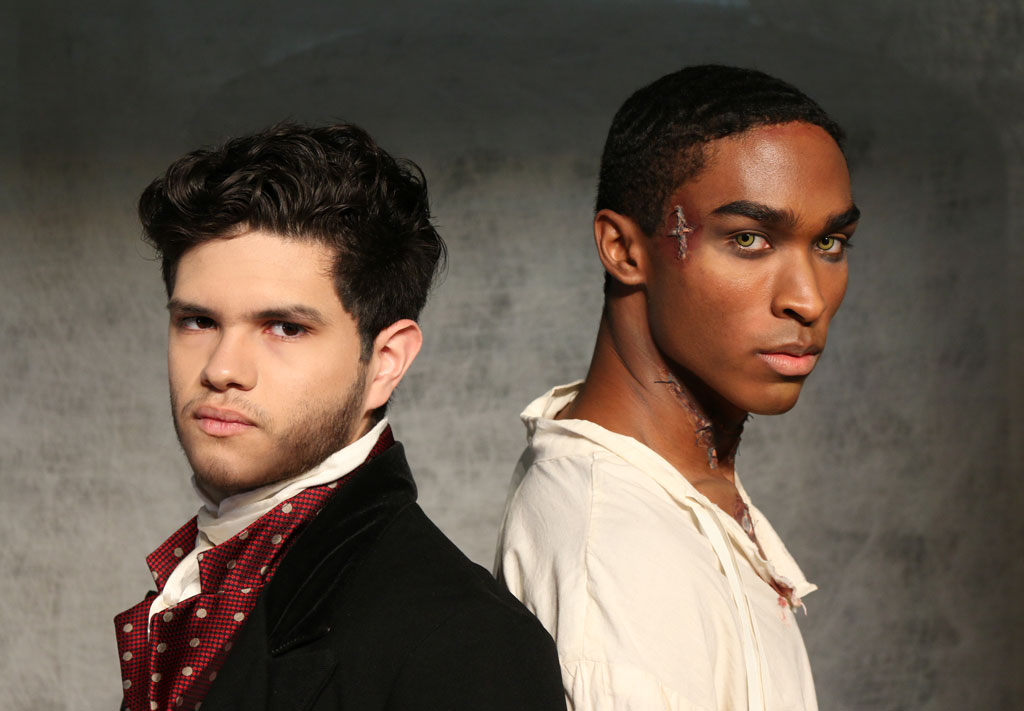 Diego Guajardo '19 played the title role of Victor Frankenstein, a scientist consumed by obsessions, as a fatally sensitive, conflicted neurasthenic while Carl Collins '19 portrayed the Creature with an equally expressive presence. Each captured the physical and artistic with unflinching commitment and remained largely loyal to the novel's tormented tone and complicated structure.
Incarnate Word Academy senior Shanna Pham (in her eighth St. Thomas production) imbued the beloved Elizabeth Lavenza while Daniel Griggs '19 was striking as Frankenstein's friend and accomplished surgeon Henry Clerval.
The ensemble cast delivered an energy, excitement and execution beyond even Green's lofty expectations.
"All those performances were as exceptional as any we've had," Green said without hesitation. "Diego is an incredibly dedicated actor. I was amazed at how much he progressed throughout rehearsals and thrilled with how much confidence he exuded on stage. He really seized the conflicts within Victor. I was knocked out by his performance.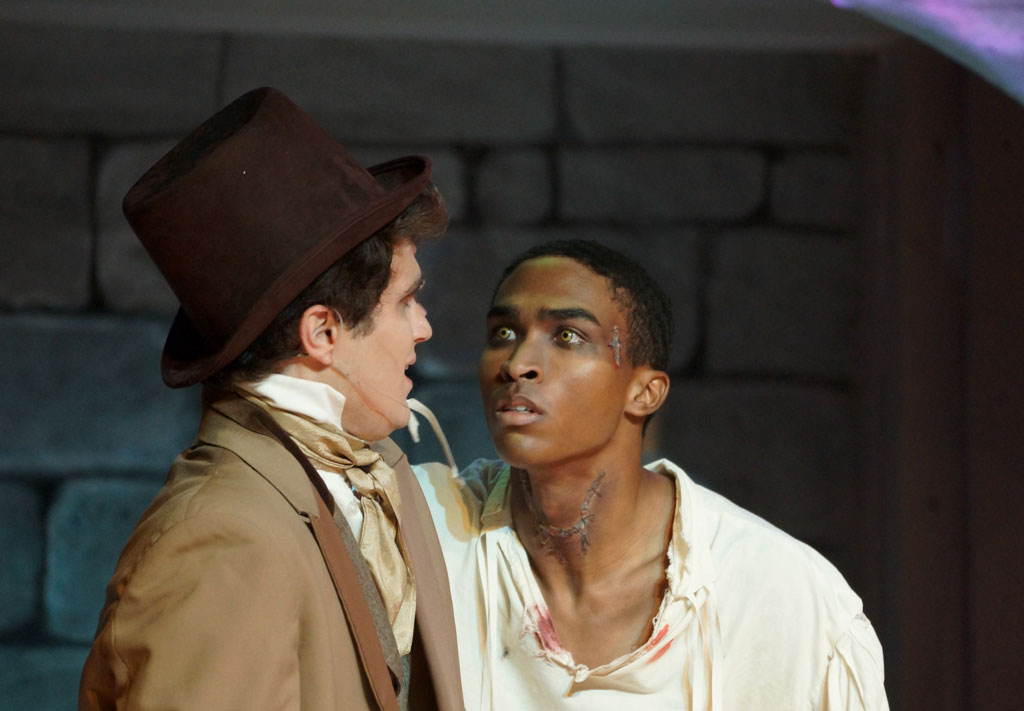 "Daniel provided the balance to Diego and was very much the conscience of the play, giving the heart when Diego was cold and reclusive. Carl was truly phenomenal … from the look to the voice to the movement … firing on all points. Shanna was the same tour de force. We recognized their potential for these roles before taking on the challenge. I truly cannot say enough about our collective effort."
The astute production was a bravura triumph in which the set design provided a series of visual coups thanks to the construction expertise of faculty members Phil Gensheimer and Daniel Bryant '93, along with chief engineer Duane Fuchser. Audio/Visual coordinator Chris Hodge also contributed to the eerie atmosphere.
"Victor Frankenstein has a lot of nightmares and dreams," Green said. "We wanted to showcase that effect through lightning and a material called Skyrim. The audience saw one version when it was lit one way and not when it was lit another way. Those kinds of effects consistently identify the quality of our productions."
Regarded as the foundational text of Gothic fiction, Frankenstein has influenced and permeated popular culture since the early 1800s, when Frankenstein's monster made his first appearance on stage.
The mythic fable and undying story have proved itself endlessly malleable, continuing to challenge the modern imagination.
The work has been brought to life in cartoon, live-action film, comic and picture-book form. It has been translated to celluloid more than any other novel – most notably a tragedy (Mary Shelley's Frankenstein), a comedy (Young Frankenstein) and a musical (The Rocky Horror Picture Show). It has been horrified (The Curse of Frankenstein) and Marvel superheroed (Frankenstein's Monster), given the Looney Toons treatment (Hair-Raising Hare) and feminized (Bride of Frankenstein).
The retelling Dr. Frankenstein's unholy experiment gone horribly awry is the latest testament to the depth and range of the St. Thomas drama department under Green's tutelage.
Beginning with his first school production in 2003, The Caine Mutiny Court-Martial, Green has established an expansive program that emphasizes a comprehensive knowledge of every aspect of the process, from acting to directing to stage management, with the experience coming together to collaborate.  At the bedrock of the steady streams of success – fostering talent and inspiring dreams, nurturing aspiring thesps to follow in the accomplished footsteps of previous St. Thomas stars.
"Our understudies are required to accept the commitment and reach the standard from their very first production," Green said. "They understand the bar is set high and what is demanded from them if they expect to step up and assume the primary roles as they grow within the program. We've been blessed with a long series of loyal actors, technicians and supporters who bring a vitality to our efforts."
Catholic. Basilian. Teaching Goodness, Discipline and Knowledge since 1900.