GAME 10 – Hotze Field Inside Granger Stadium

Eagle Football hosts St. Pius X November 9, 7:00 p.m.
WHAT YOU NEED TO KNOW
The Eagles have regrouped following a shaky September start to rack four wins in six games and take an undefeated district record into the generational series that again culminates with the regular-season finale determining the district championship.
CROSSTOWN TRAFFIC
From 2012-15 the Eagles won four straight stare-downs by a combined score of 144-62, the last two by a count of 87-33. In a stretch beginning in 2011, Eagle Football captured five straight head-to-head victories and six in seven games.
ARE YOU NOT ENTERTAINED?
The resurrection ride rolled through San Antonio with exemplary scholar-athlete Ian Wheeler '19 continuing his scintillating senior season with four rushing touchdowns and quarterback Peyton Matocha '19 adding a pair of touchdowns in a dominant 49-21 victory at Central Catholic.
The Eagles seized command with their most complete effort of the season. The offensive tsunami produced sustained touchdown drives and quicksilver scoring strikes. The resurgent and suddenly suffocating defense set the big-play tone with its first touchdown of the season for the first points of the game, stoned Central Catholic for three three-and-out punts in a stretch of four first-half series, and then body slammed the Buttons on the first possession of the second half turning the ball over on downs at the Eagle 37-yard line.
On the next offensive snap, Matocha lasered a strike to receiver Hunter Cheek '19 on a right-to-left slant. He then bolted up the seam untouched for the 63-yard touchdown and a 35-7 advantage, capping an Eagle surge of 28 unanswered points.
After Central Catholic sliced the margin to 21 points, Wheeler took a direct handoff, crashed through the left side and bolted 71 yards to the end zone for the third of his four touchdowns. He finished off the blitzkrieg bop with his final TD in the closing four minutes.
HEAD COACH RICH McGUIRE
"I really liked how our guys competed, really proud of the players who have persevered within the program. We've had great leadership throughout the season. These are unselfish guys. It's rare when you find upperclassmen like that these days. They control the attitude of that locker room.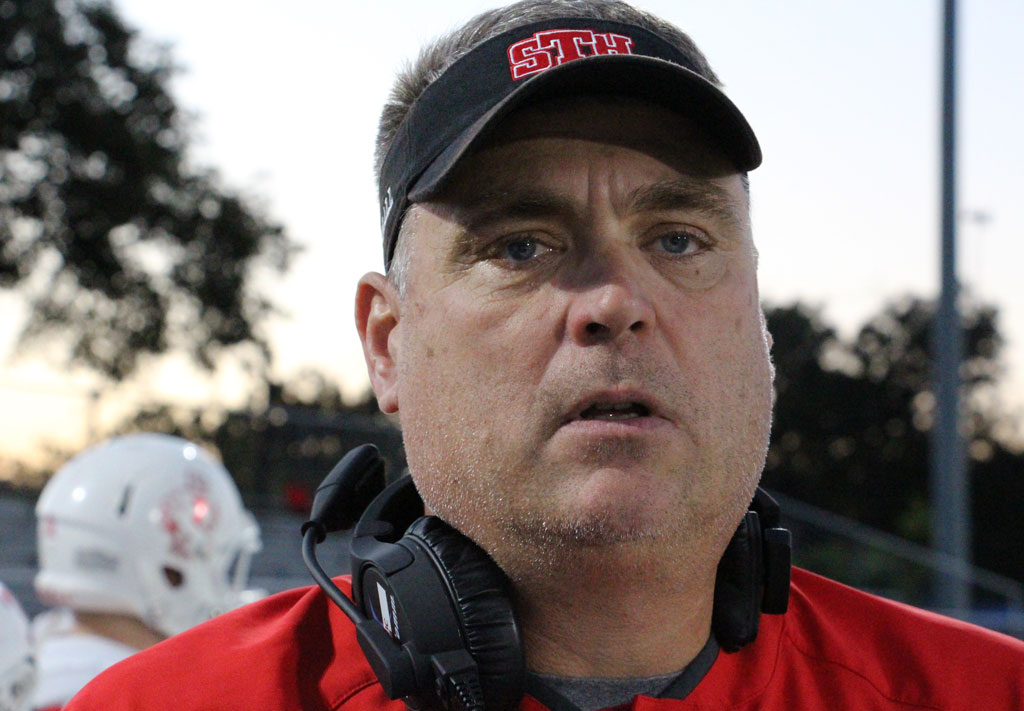 "Many teams spike or struggle, get dinged up, don't get better. We've stayed away from that. Our offensive execution is impressive but overall we are undoubtedly a work in progress … still have a lot of areas where we intend to improve. We have to continue this trend on defense and cash in on offense.
"We enjoyed the moment but will quickly reset for what's next."
LETHAL WEAPON TIMES TWO
In the second quarter, Wheeler broke a 7-7 tie with a short-range third-down score in a drive that included his 15-yard reception and a nine-yard third-down keeper from Matocha that kept the series alive.
In the final thirty seconds of the half Matocha carried from nine yards on yet another successful third down to complete a 72-yard march for the 21-7 bulge at the break.
FEATURED TWEETS
Rocking Red & White Road Show | @IanWheeler_26 4 TDs | @peyton_matocha 2 TDs | 1st defensive TD of season | 28 unanswered points | @STHCatholic 49-21 > @SATXCCHS | 4 wins in 6 games | regular-season finale for district title

VIDEO ⬇️⬇️⬇️https://t.co/URpsPt3zwG

— St. Thomas HS (@STHCatholic) October 29, 2018
Ian Wheeler '19 Epitomizes @STHCatholic Scholar-Athlete

226 rush yards & 2 TDs in win over @NationSaber ✅

4 TDs in win over @SATXCCHS ✅

2-year National Honor Society ✅

2-sport varsity performer ✅

Editor 'Aquin' yearbook ✅

BLOG ⬇️⬇️⬇️https://t.co/pfsgxsWc4h

— St. Thomas HS (@STHCatholic) October 27, 2018
👇👇👇 pic.twitter.com/WS7k98Dzun

— St. Thomas HS (@STHCatholic) October 21, 2018
MAJORDOMO MATOCHA
The three-year varsity starter has been the unquestioned steady and stabilizing influence as the Eagles navigated through choppy waters to reach the winner-take-all district showdown.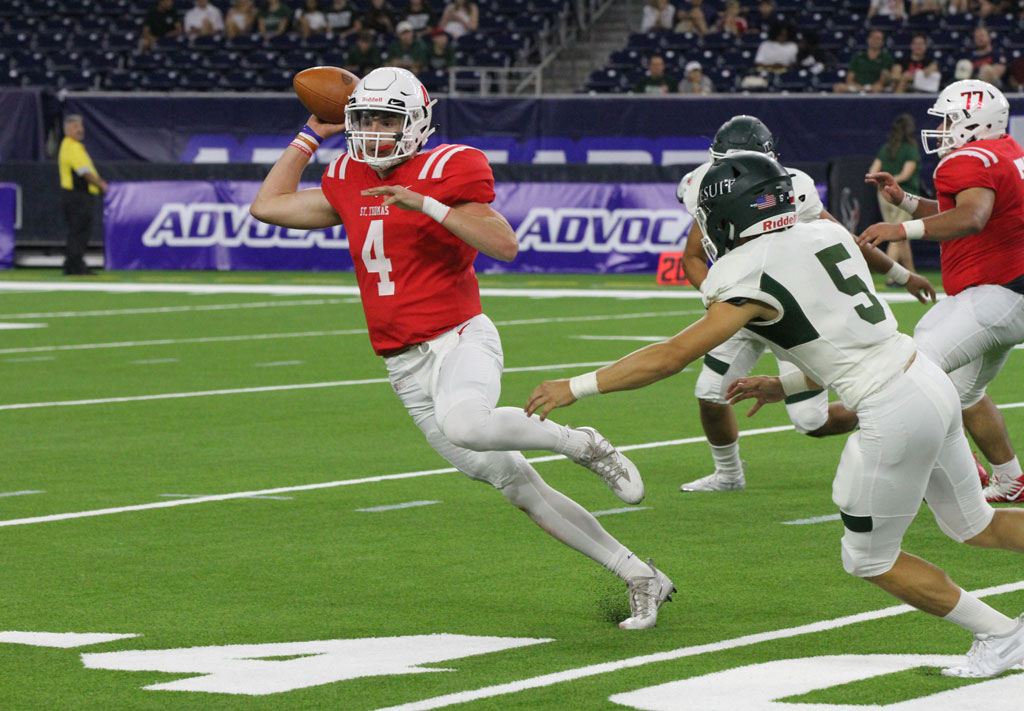 In nine games Matocha has scorched secondaries for 2,709 passing yards and 26 touchdowns while running for 579 and eight more scores, proving to be equally daunting delivering darts from the pocket, or escaping pressure by rolling either direction, buying time and accurately finding receivers leaking free in the secondary.
He has orchestrated creative and aggressive game plans for 31 consecutive starts and set the offensive tone from the opening weeks when the Eagles posted 32, 58 and 63 points in their first three games of the season.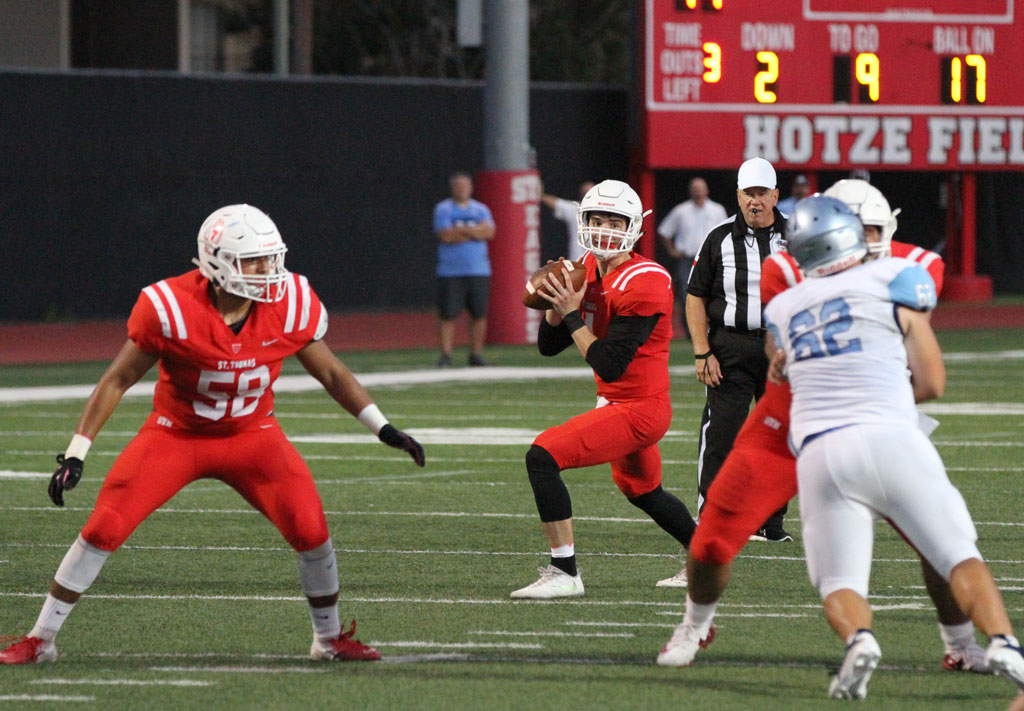 Among the most notable Friday nights …
501 passing yards and five touchdowns against UIL Needville
part of four touchdowns including a 98-yard connection with Cheek for the longest scoring play in program history in the 28-21 win at UIL Stafford
312 passing yards and three touchdowns plus 50 rushing yards against UIL China Spring
349 yards and four touchdowns against Tomball Concordia Lutheran
in his first two varsity seasons, Matocha stacked more than 3,000 passing yards with 27 touchdowns and nearly 900 rushing yards with 10 touchdowns.
MORE McGUIRE
"Peyton is as good a high school quarterback as any I have seen. His standard of play right now is comparable to guys who have gone on to play in Power 5 conferences. He is the total package … great progress in reading route progressions … touch on the deep ball … the precision routes … scrambling out of pressure … strategic scrambling and limiting the hits … understanding the zone read.  He does it all. He's a charismatic presence with an extreme focus on game nights … great internal confidence … and that belief extends to his teammates."
WELL, THAT ESCALATED QUICKLY
Wheeler's mid-season explosion has helped ignite the Eagle resurgence from a 1-5 start. He bullied TCL for 226 yards rushing and two scores in a 42-27 road verdict to open the district race.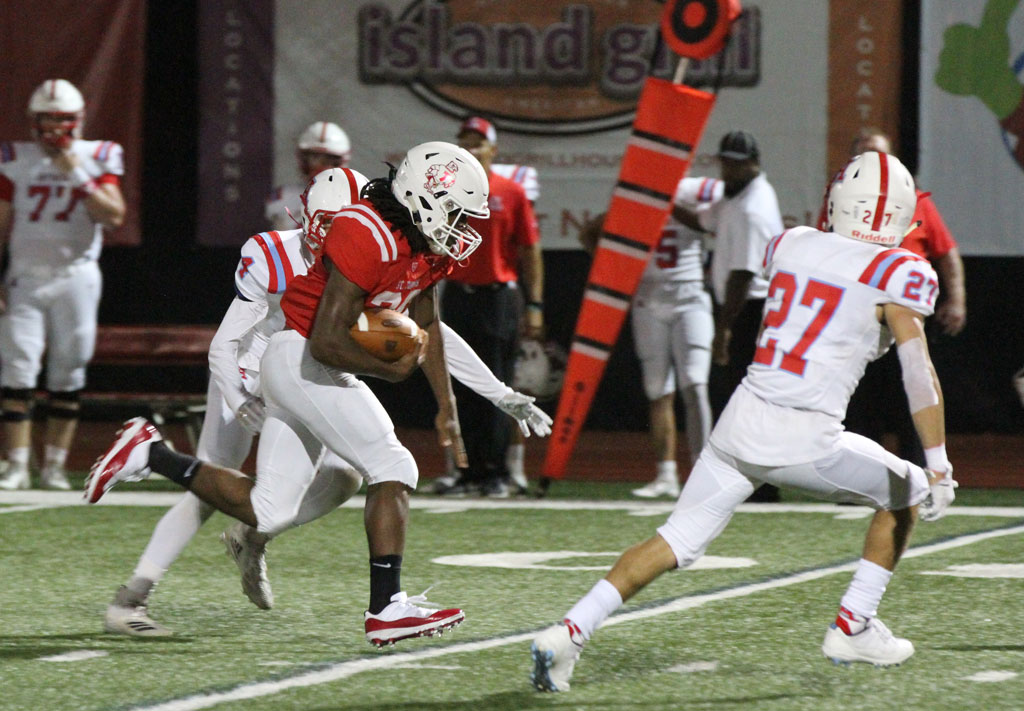 One week later Wheeler followed with two first-half touchdowns including a 62-yard jolt to the end zone to break a second-period tie and propel the Eagles to a weather-shorten 28-14 over San Antonio Antonian College Prep.
The leading rusher for Eagle Football owns 901 yards, averaging 8.5 yards per carry with 13 touchdowns.
MORE McGUIRE
"Ian is feasting on defenses that are spread out trying to match up against our passing game. He's a relentless runner … great determination at the point of attack with significant yards after contact … great burst that he's developed. He's improved his strength in the weight room and his speed running track."
SPREADING THE WEALTH
The Eagles have benefited from a strength-in-numbers glue-gripping receiving corps lead by Josh Crissmon '20 with 45 catches for 608 yards and seven touchdowns, followed by Cheek (39-576 and three touchdowns), Jordan Augustine '21 (36-485 and a team-leading nine touchdowns), and Spencer Kryger '20 (29-400 and two touchdowns).
VIVA LA BAM
Two minutes into the bout at Central Catholic linebacker Max Garcia '20 crashed into backfield, forced a fumble, immediately scooped and rambled in for a 7-0 lead.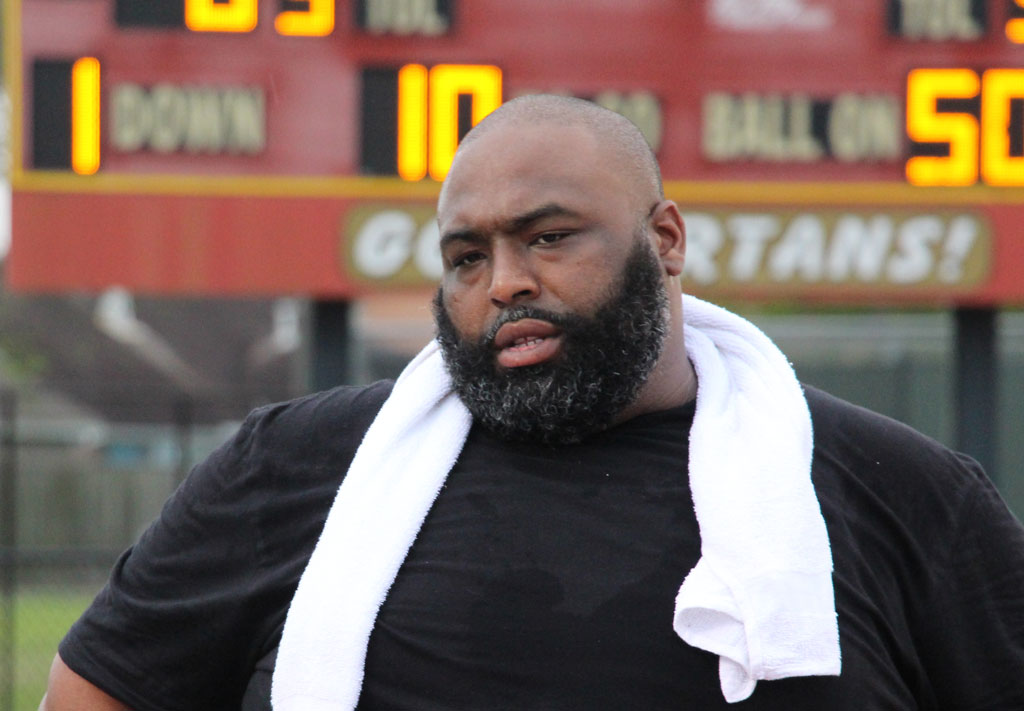 Garcia has proven to be an impact presence since the addition of Doug Smith, Junior to the coaching staff. The son of the former two-time All-SEC defensive tackle at Auburn and eight-year force with the Houston Oilers has brought savvy and insight that has paid immediate dividends from the defensive unit.
The Eagles have dramatically revamped their run fits and technique in the front seven emphasizing greater gap responsibility. The adjustments have closed generous run lanes and enabled St. Thomas to stymie their district opponents allowing a stingy 21 combined first-half points in the three-game win streak.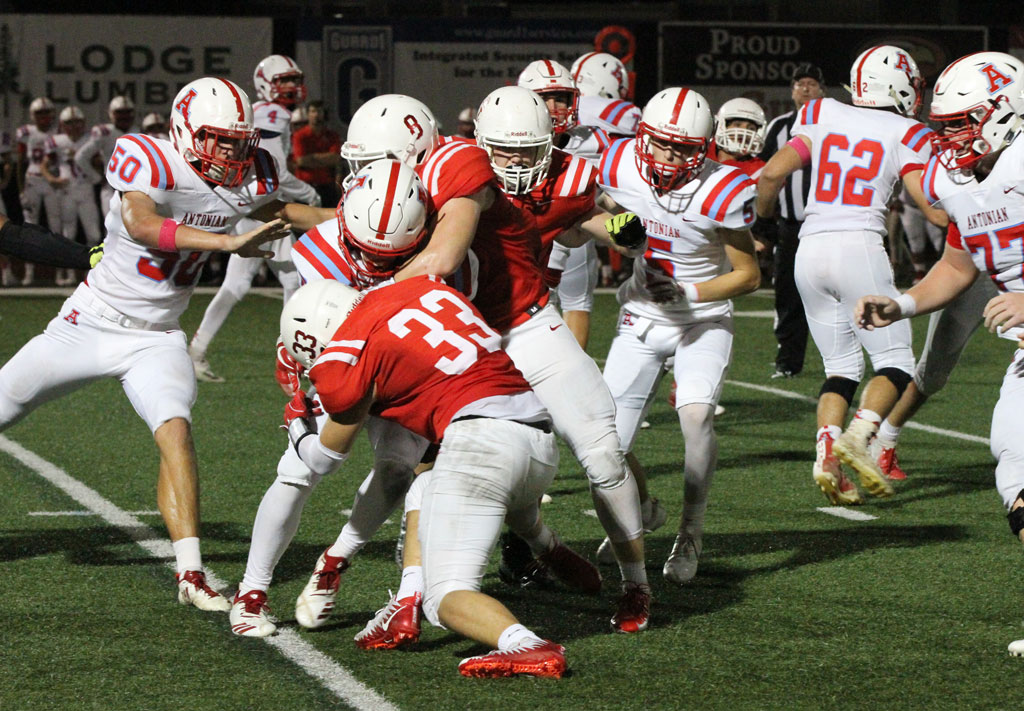 In turn, Eagle Football built 28-point second half leads against Antonian and Central Catholic before allowing late-game insouciant scores that artificially inflated the final margins.
MOVING THE STICKS
The victory over Central Catholic was the second for the Eagles at Bob Benson '66 Stadium in two years. In 2017 Matocha connected with Cheek with an ad lib touchdown in the right corner of the end zone in the final five minutes to complete a frantic fourth-period rally and a 31-28 non-district decision.
The TAPPS biennial realignment moved the Central Catholic and Antonian into District 3-6A Division I to create a five-team round-robin scheduling format with the Eagles, St. Pius X and TCL.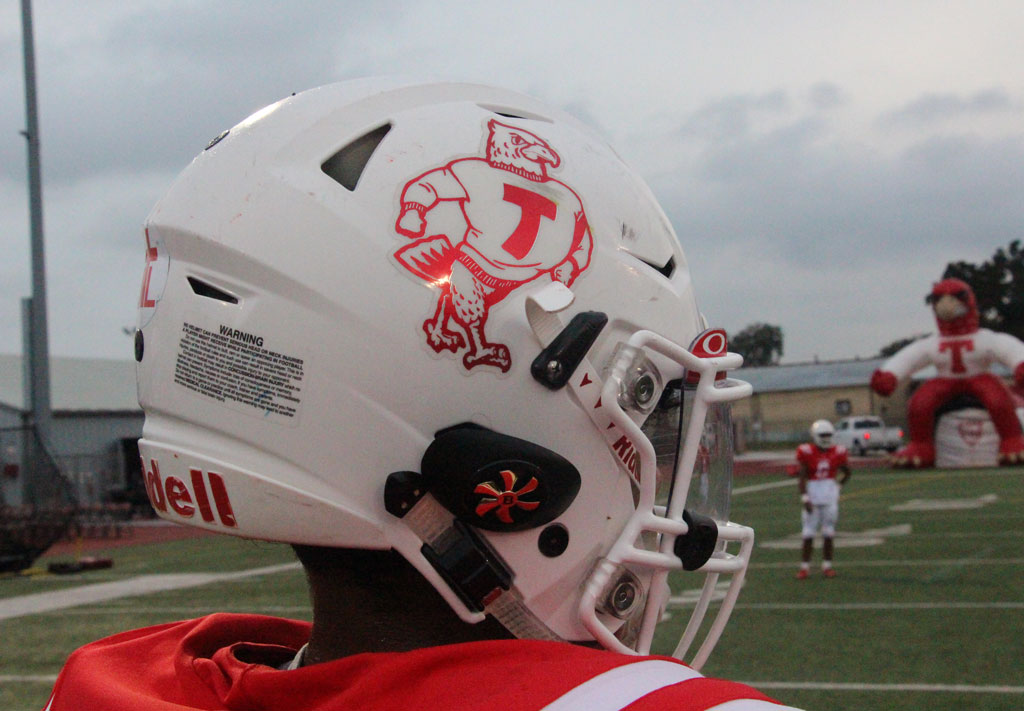 The Eagles are honoring Joe Little '18 throughout the 2018 season with a helmet decal after the Texas A&M freshmen tragically passed away in College Station days before the 2018-19 academic year was to begin. St. Thomas is also flashing a back-to-the-future helmet logo representing the timeless Tom Eagle design.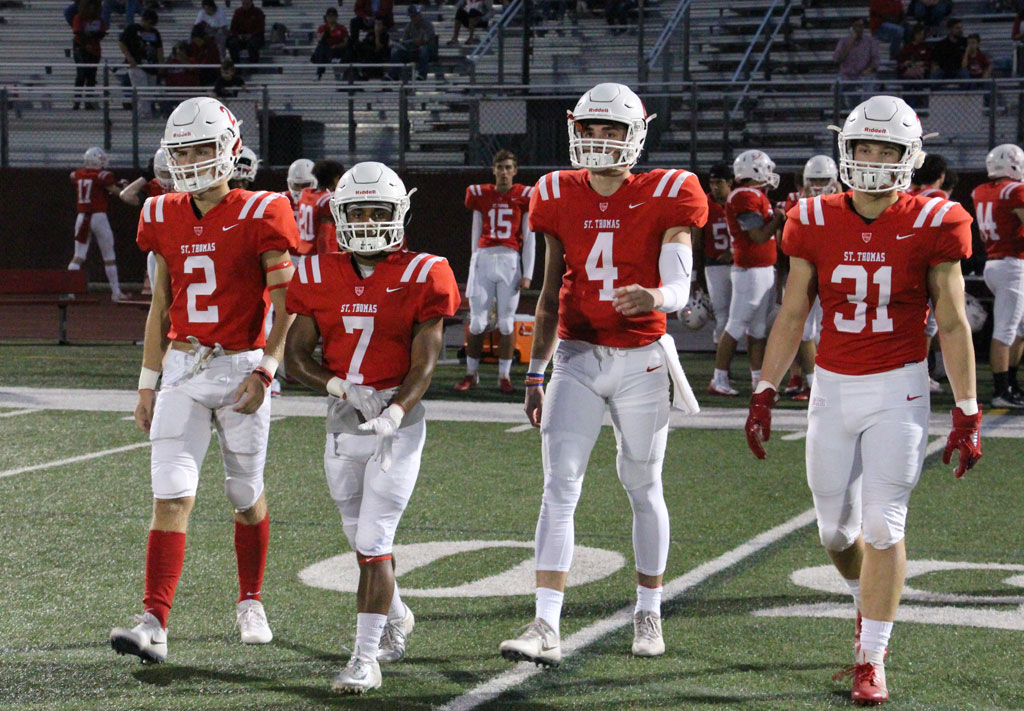 The Red & White are in the first season of a partnership with NIKE which was negotiated early in 2018. The fiercely innovative program-wide agreement, unparalleled in school history, is supplying 12 varsity sports, with Eagle Basketball featuring the Jumpman logo as the Jordan Brand continues to expand both on the court and on the
STATE OF PLAY
Eagle Football has emerged from its Calvinistic clouds of self-doubt to adopt a Bob Marley-esque spirit of get up, stand up, don't give up the fight. After an off week, the aggressive, assertive and searing momentum of its turnaround tour will be tested by a one-loss high-octane opponent in a one-night home-turf thunder-bolt opportunity to reassert the program as a deep playoff contender.
The mandatory ingredients in securing any triumph of consequence are as fundamental as they are essential … bringing a physicality to line-of-scrimmage football … eliminating turnovers … converting third downs … thriving in the red zone … situational awareness.
That accumulation fueled with a four-alarm urgency would perhaps allow the Eagles to Steal The Scene.
I got the swag
Ain't tryin to brag
But I see ya do a double take
I don't mind
I see it in your eye
I'm gonna make my own fate
I stand out
I steal the scene you know
There ain't no doubt
I feel invincible
I stand out
I steal the scene you know, ohh
It's a beautiful thing
MORE McGUIRE
"We'll get healthy during the extra week and be ready for the challenge. We have to earn the respect of people and other teams, and that's what we're trying to do. It''s the day-by-day grind for us. It's not ever going to be easy. If we keep doing what we're doing and doing it the right way, then we have a chance for the result we want."
The cameras flash
I'm making a splash
You gotta get up on your feet
I'll break it down
Watch me now
I'm gonna take it to the street
I stand out
I steal the scene you know
There ain't no doubt
I feel invincible
I stand out
I steal the scene you know, ohh
It's a beautiful thing
It's a beautiful thing
Eagle Fight Never Dies!