The rapid business rise of Patrick Ryan '99 is largely predicated on a proven principle which has long provided enduring success. Even in the midst of mega-million dollar revenues – never undersell the value of customer service.
So an unexpected avalanche of texts and emails demanded that he clear his calendar in early April, a full-frontal focus colliding with a surging current of apprehension that something somewhere had flipped sideways.
Until the one-by-one reveal through his inbox and messaging indicated quite the contrary, that Ryan's world was, in fact, rocking into a far-reaching stratosphere and the deluge of attention was merely the ready response from colleagues, cohorts, family and friends reaching out to congratulate.
Ryan was selected by Sports Business Journal for its coveted Forty Under 40 Awards, an annual list of 40 executives recognized for excellence and innovation in their careers, all before the age of 40. The elite group represents a broad cross-section of the sports business field, bringing an entrepreneurial spirit to their work in media; at leagues, teams and colleges; as agents; with corporate partners in technology, ticketing and finance; in marketing and sponsorship; in e-sports and in new sectors such as sports betting.
"Satisfying, exciting and humbling all at once," says Ryan, the co-owner and founder of Houston-based Eventellect.
Ryan was celebrated with some of his closest confidants within the industry – Al Guido, president of the San Francisco 49ers and CEO of Elevate Sports Ventures; Tucker Kain, CFO of the Los Angeles Dodgers and managing director of Guggenheim Baseball Management; and Jake Reynolds, senior vice president of ticket sales and service for the Philadelphia 76ers, New Jersey Devils and the Prudential Center.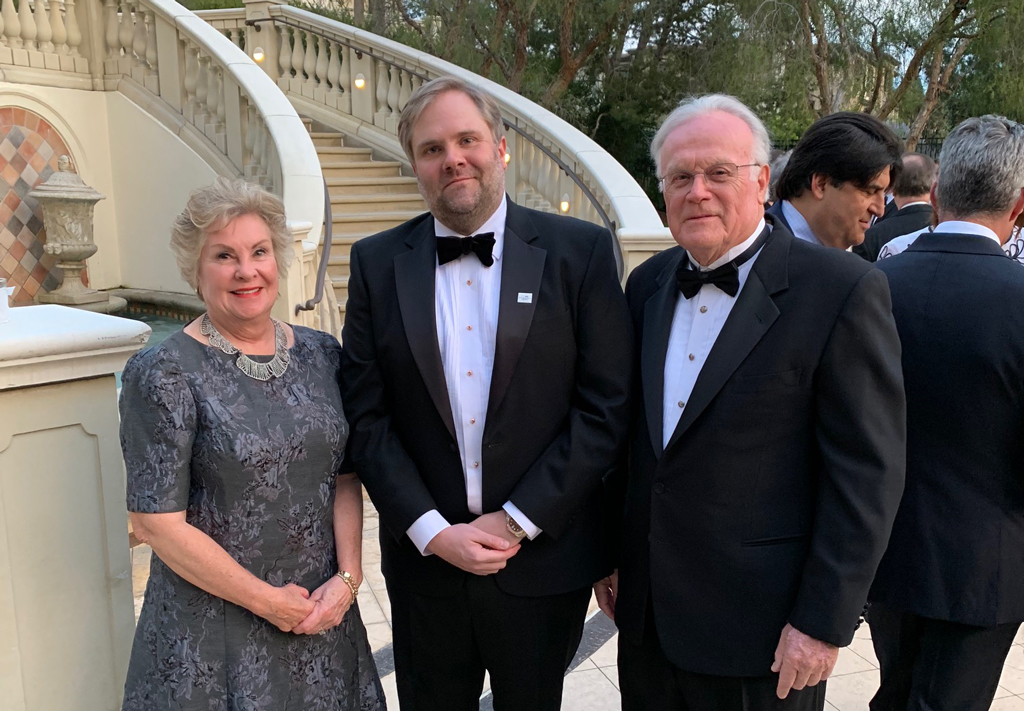 But most meaningful for Ryan as he strolled through the black-tie gala at the Monarch Beach Resort in Southern California to receive his distinction was the presence of his parents, Victoria and Tom Guennewig, the surrounding applause mixed with a large dose of Jay-Z's "Public Service Announcement" reverberating throughout the ballroom.
If you do then, how would you explain?
I'm ten years removed, still the vibe is in my veins
Ryan required roughly a decade to capitalize on the latest consumer trends in the secondary ticket marketplace. While the attention of the coast-to-coast fandom is typically fixed on favorite teams or major companies such as Ticketmaster and StubHub, Eventellect has quickly and quietly built a powerful position.
Working with dozens of professional franchises, Ryan has become a trusted ally on ticket distribution, pricing, sales strategy and inventory management, in effect becoming a valuable resource.
"We've seen teams lean on us and seek our guidance and that's allowed us to pollinate best practices in a unique way," Ryan says. "We've begun to engage in what I consider true consulting relationships because our goal remains to complement what the teams are doing themselves."
Eventellect's supercharged acceleration is staggering. One mammoth example is the nine-figure partnership with the Dodgers brokered in 2018 and believed to be the most valuable known in the ticketing world, at least in terms of a single team.  Ryan says Eventellect "handled about $350 million worth of tickets last year … up from $200 million in 2017 … up from $100 million the year before … up from $50 million."
Hardly the explosion Ryan anticipated in July 2007 when he teamed with longtime friend Ignacio Cubero on a side venture – $10,000 worth of Cleveland Indians tickets, an investment which armed the pair with plenty of playoff inventory when the team advanced to the American League Champion Series.
"If the Indians don't reach that round of the playoffs, I'm probably not here today," Ryan says. "We likely wouldn't have had enough capital to keep the business going."
But in the spring of 2008 Ryan's confidence was such that he quit at age 24 as one of the youngest national sales team reps with Careerbuilder to devote to a full-time collaboration with Cubero and The Ticket Exchange.
"Our initial goal was to get to $10 million in revenue annually," Ryan says. "We projected that benchmark would make us sustainable. Now we have many weeks when we do $10 million. We have weeks when we do $50 million. From that perspective, our success appears preposterous.
"We can't take credit for the secondary market erupting but we have taken advantage of the digital wave of commerce. From the very beginning, we were progressive, aggressive and easy to work with. We built to scale to match distribution, connecting teams with platforms. We never viewed StubHub and Vivid Seats and SeatGeek and Gametime and TickPick as competition. Our motives were to partner and reach new customers, everyone learning from the other, getting smarter together."
Ryan and Cubero rebranded as Eventellect in 2016 and are relishing a continuing robust roll of exponential revenue growth, identified eight consecutive years by Inc.'s ranking of fastest-growing privately held U.S. companies.  Not the sort of prosperity one would casually predict when an Eagle who graduates from the University of Texas strikes forces with a Strake Jesuit Crusader with a finance degree from Texas A&M.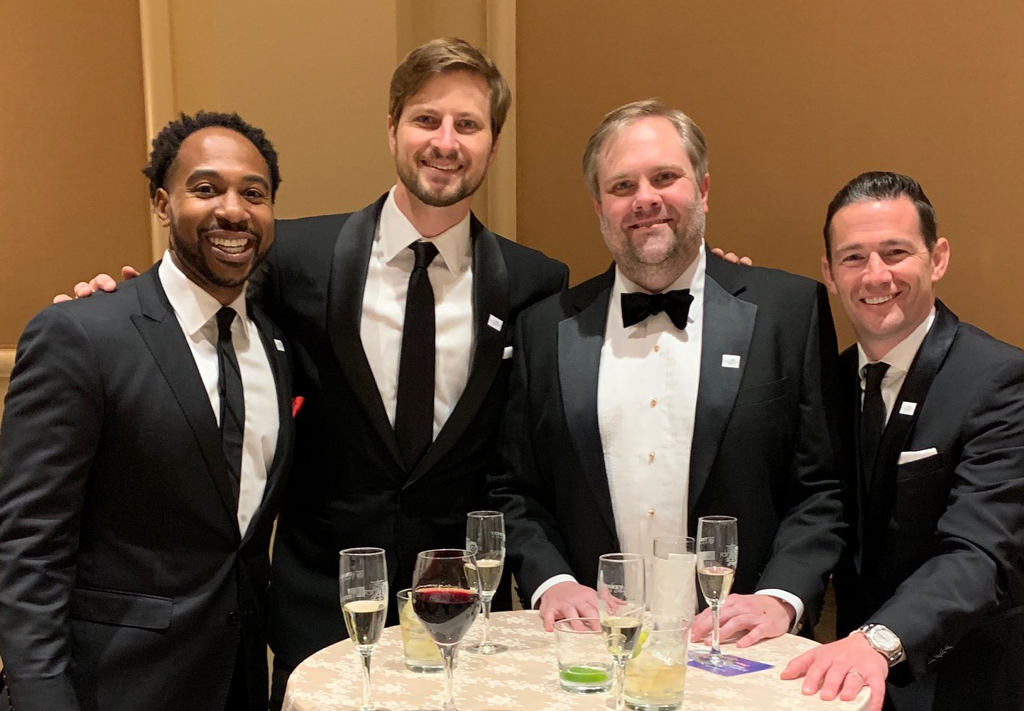 The salute from Sports Business Journal allowed Ryan to network with the likes of Boston College Athletic Director Martin Jarmond and Zach Leonsis who oversees content for Monumental Sports Network, the over-the-top digital network operated by Monumental Sports & Entertainment that counts the Washington Wizards, Capitals, Mystics and Valor as part of its portfolio along with the Baltimore Brigade and Capital City Go-Go.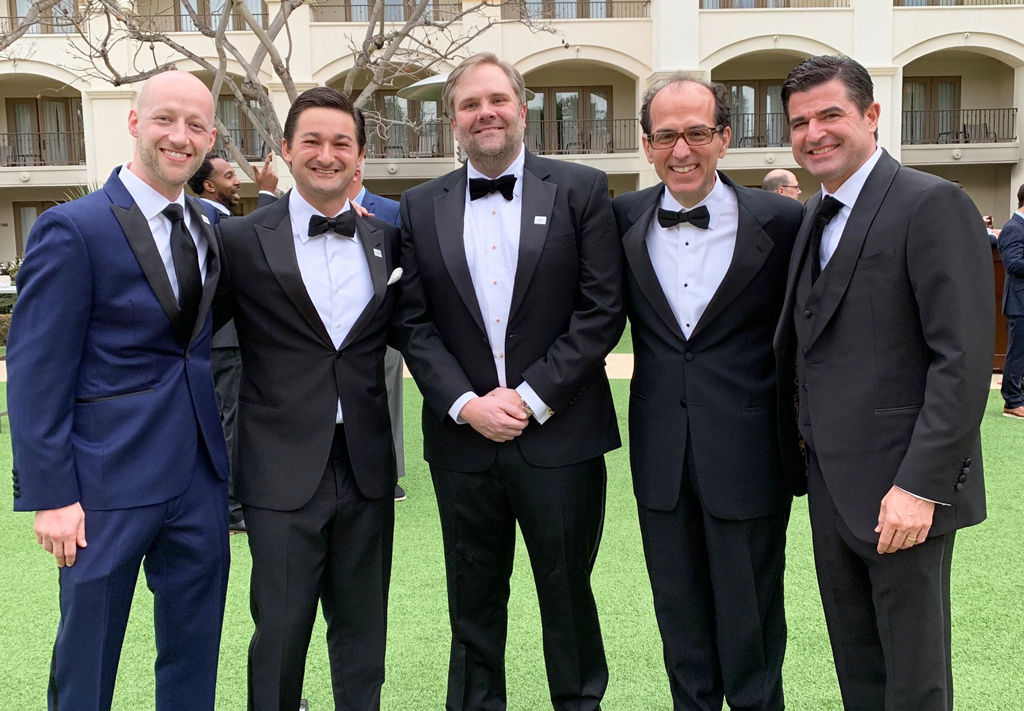 The 20th anniversary of Forty Under 40 also returned a host of previous distinguished honorees such as George Pastolos, among Ryan's Eventellect partners and the former Rockets and Astros president who played an instrumental role in working with Jim Crane and his group to purchase the Astros in 2011.
The most recent acclaim confirmed to Ryan that Eventellect shares a culture fit "in an ecosystem with like-minded developers intent on growing sports and the fan's enjoyment while attending sports. When we all engage there's the confidence that we hold ourselves to certain values and accountability.
"On any given day Eventellect processes 10,000 tickets … or 30,000 tickets … and the fan never has a problem. Our brand is built on world-class service, from pricing to operations to software to account analytics. I carry that message to our partner teams. Last year I visited 50 professional franchises. This year I'm already at 30. But I'm merely the face of a collective force, a strength of numbers."
Ryan next fortifies in the ongoing battle between venues and television screens for the spectator's attention. The competition for consumer dollars has never been more rugged given the growing popularity of digital streaming services making it easier for a potential audience to skip the stadium, the arena or the theater and stay home to binge.  The fundamental friction driving the seismic divides across the entertainment landscape – Does the experience and cost of attending an event outweigh the convenience of viewing at home?
"When we launched (in 2006) there wasn't HD television, Netflix, Amazon Prime, the flexibility of choices," Ryan says. "Going to a game or concert was a no-brainer. Tickets meant access. Now the in-home options are multiplying every month, plus Topgolf and iPic Theaters. We're on board with very powerful brands and sales forces. Our mission is to continue supporting those structures with subject matter expertise and perspective. Moving forward, the pivot points will be dynamic pricing models, a captivating game-day experience, communal seating and creative promotions."
Or as Jay-Z would offer from high atop rap Rushmore …
Get your umbrellas out because, that's when I brainstorm
You can blame Shawn, but I ain't invent the game
I just rolled the dice, trying to get some change
Catholic. Basilian. Teaching Goodness, Discipline and Knowledge since 1900.