The ambitious 2019 schedule for Eagle Football includes two generational series, four matchups with UIL programs, an equal split of 10 home-and-away games and an October travel date to San Antonio.
AUG. 30 • AT STRAKE JESUIT
After hosting Strake Jesuit twice in four years at NRG Stadium, the home of the Houston Texans, the Eagles return to Clay Stadium on the Crusader campus to open the 2019 season. Eagle Football holds the overall advantage in the all-time series 29-25-1 including four victories in the previous six meetings.
SEPT. 6 • NEEDVILLE
The opener at Hotze Field inside Granger Stadium will be the return date of a home-and-home set following the first-ever encounter. The Eagles full frontal offensive attack was in absolute display in 2018 behind 573 total yards and six touchdowns from quarterback Peyton Matocha '19 (University of Miami).
SEPT. 13 • AT THE KINKAID SCHOOL
The inner city private school programs will meet for the fifth time in six years. The series was interrupted in 2017 by the aftermath of Hurricane Harvey.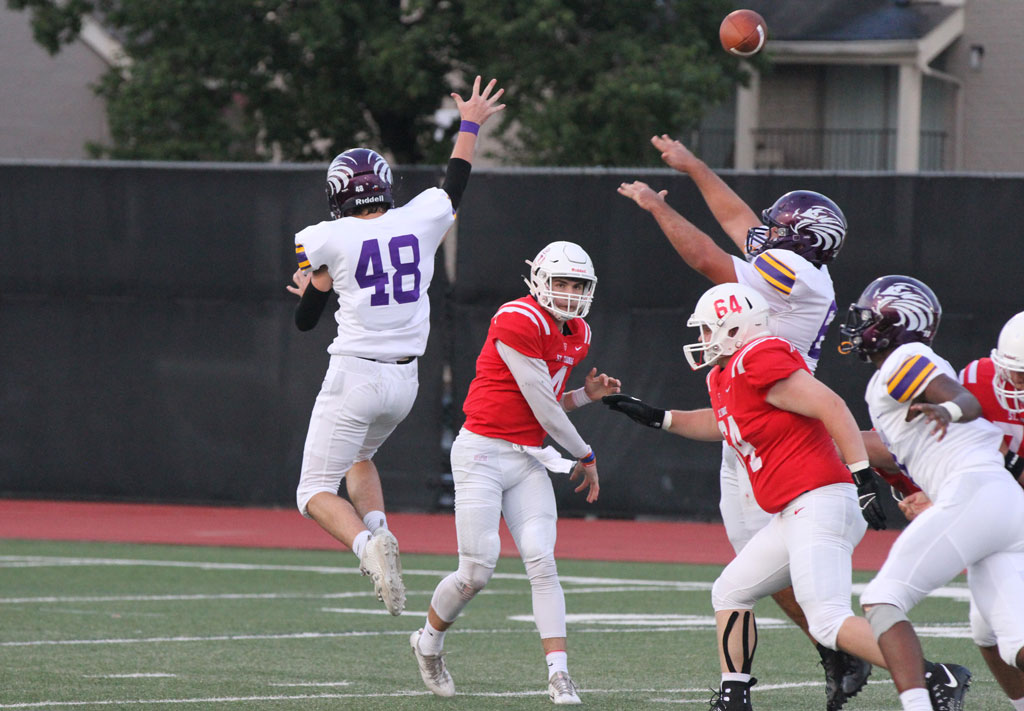 Eagle Football had posted three consecutive season-opening knocks over the Falcons by a combined margin of 109-51 before Matocha's 2018 onslaught of 489 total yards and eight touchdowns.
SEPT. 20 • STAFFORD
The Eagles will return home for the first leg of its only two-game homestand of the season and aim to duplicate their 2018 success over Stafford. Matocha took part in all four Eagle touchdowns including a stunning 98-yard connection with receiver Hunter Cheek '19 (University of Incarnate Word). And a revitalized defense delivered drive-killing sacks, game-changing turnovers and two essential fourth-quarter stops in a 28-21 win.
SEPT. 27 • CEDAR HILL TRINITY CHRISTIAN
The two programs will engage for the third consecutive year with Cedar Hill Trinity Christian fresh from an undefeated season and back-to-back TAPPS Division II state championships. Previously, Pro Football Hall of Famer Deion Sanders has served as the team's offensive coordinator.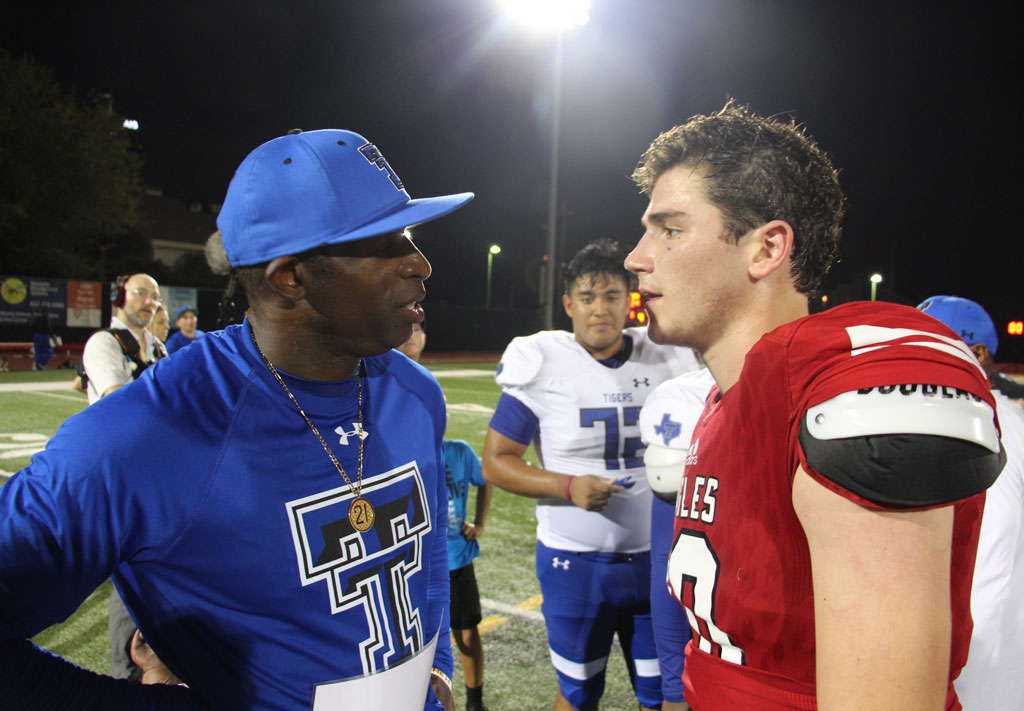 The 2017 stare-down at Hotze Field inside Granger Stadium saw three lead changes in the second half after the Eagles relinquished a 10-point advantage. Thunder-foot kicker Jacob Manley '18 had his final-play field goal attempt from 32 yards blocked to seal a 28-27 defeat.
OCT. 4 • AT CHINA SPRING
The Eagles will travel on the first Friday of October to complete the two-year home-and-home set.
OCT. 11 • TOMBALL CONCORDIA LUTHERAN
The Eagles will open district competition at Hotze Field inside Granger Stadium with a duel they have dominated in recent years. St. Thomas owns eight wins in nine tries by a combined margin of 261-93. Last season Matocha continued his season-long aerial assault with four touchdown passes while workhorse running back Ian Wheeler '19 bullied for 226 yards and two scores. Eagle Football built a commanding 28-0 edge and was never threatened in a 42-27 victory.
OCT. 18 • AT SAN ANTONIO ANTONIAN COLLEGE PREP
The final district road game of the season will take Eagle Football to San Antonio. In 2018, St. Thomas secured a weather-shorted 28-14 victory with Wheeler following his career-best game with two first-half touchdowns including a 62-yard bolt to the end zone to break a second-period tie.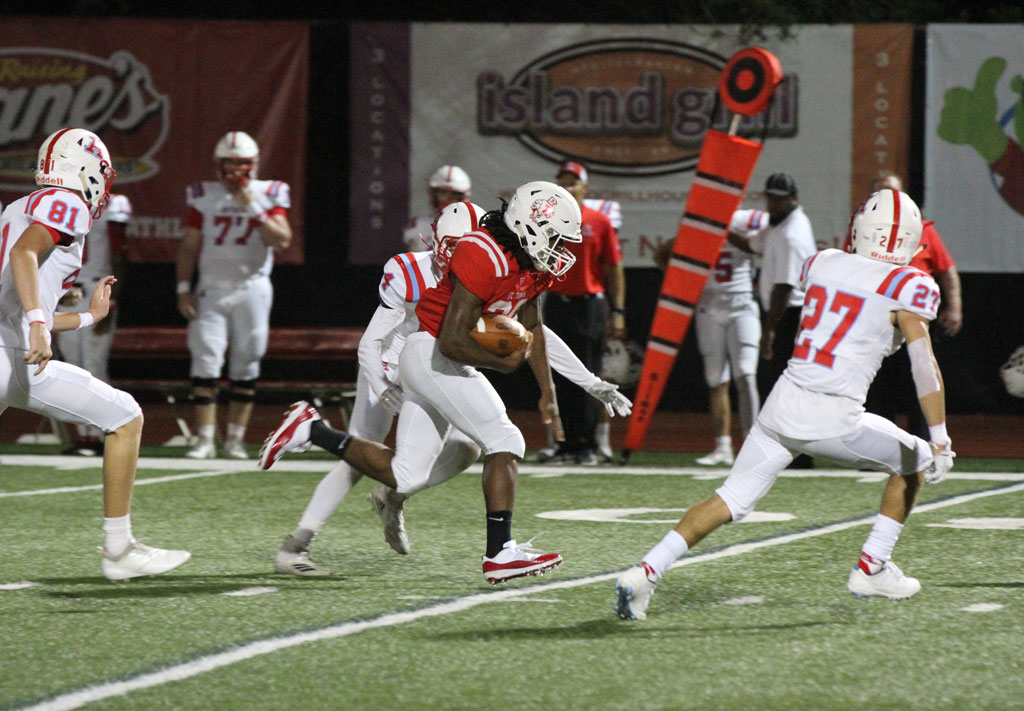 OCT. 25 • SAN ANTONIO CENTRAL CATHOLIC
The Eagles will conclude their home slate with a contest that has pivoted from non-district to district competition since 2017.
Eagle Football owns consecutive head-to-head wins. Two years ago Matocha connected with Cheek with an ad lib touchdown in the right corner of the end zone in the final five minutes to complete a frantic fourth-period comeback and a 31-28 victory.
The return to Bob Benson '66 Stadium in San Antonio featured the most complete effort of 2018 – a 49-21 body-slam that included an offensive tsunami of sustained touchdown drives and quicksilver scoring strikes and a suffocating defense that set the big-play tone with its first touchdown of the season for the first points of the game.
NOV. 8 • AT ST. PIUS X
Following an open date, the Eagles will conclude the regular season with the clash that has traditionally determined at least a share of the district championship.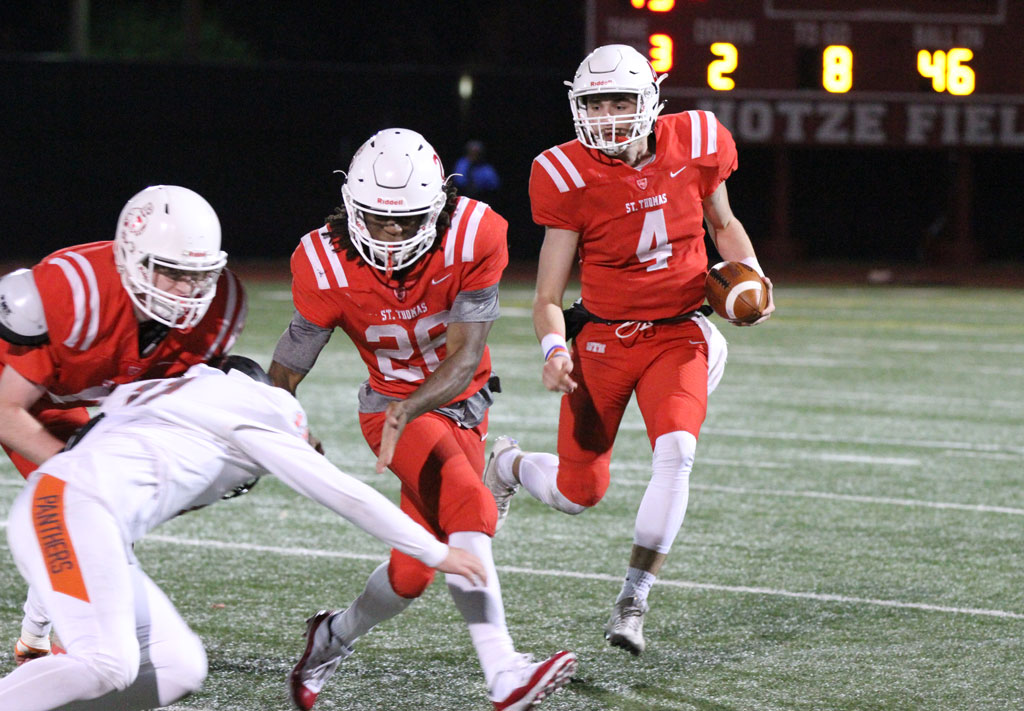 In 2018, Matocha put on a dazzling display of talent, skill, precision, will and want with seven touchdowns including four in the third quarter when Eagle Football seized control to rally for a stunning 52-49 shootout to reclaim the district crown, a fifth in seven years.
From 2012-15, the Eagles captured four straight regular-season finale showdowns with the district title at stake by a combined score of 144-62. In the stretch dating to 2011, Eagle Football enjoyed five straight wins and six victories in seven games.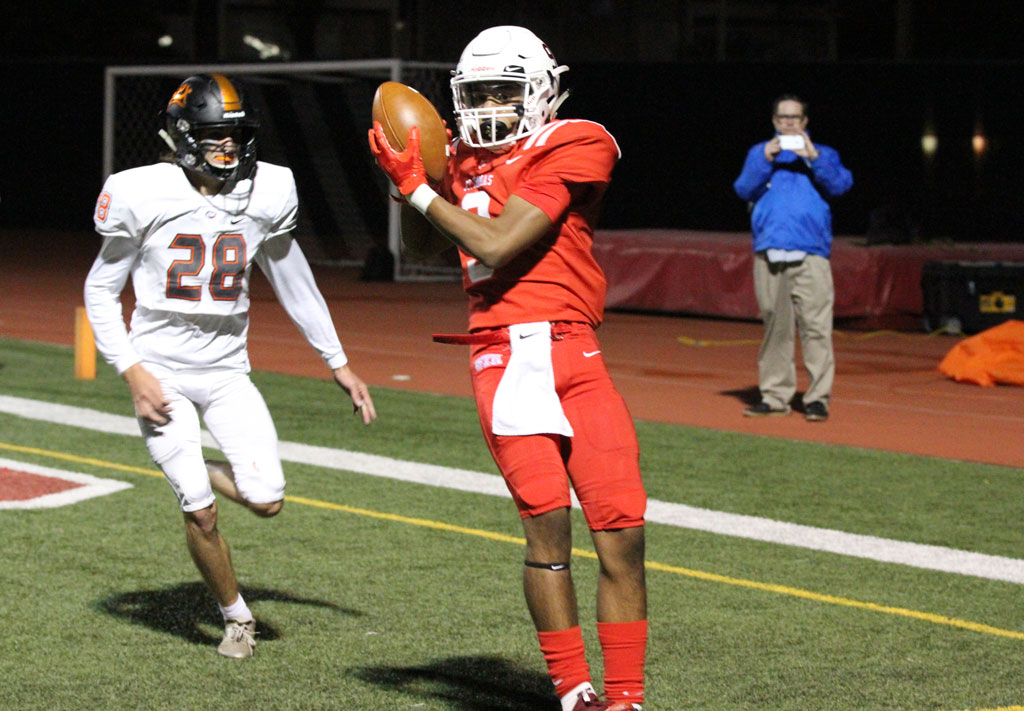 2019 St. Thomas Football Schedule
(Home games bolded)
Aug 30: at Strake Jesuit 7:00 p.m.
Sept 6: NEEDVILLE 7:00 p.m.
Sept 13: at Kinkaid 7:00 p.m.
Sept 20: STAFFORD 7:00 p.m.
Sept 27: CEDAR HILL TRINITY CHRISTIAN 7:00 p.m.
Oct 4: at China Spring 6:30 p.m.
Oct 11: TOMBALL CONCORDIA LUTHERAN 7:00 p.m.
Oct 18: at SA Antonian College Prep 7:00 p.m.
Oct 25: SA CENTRAL CATHOLIC 7:00 p.m.
Nov 1: off week
Nov 8: at St. Pius X 7:00 p.m.
Eagle Fight Never Dies!