WEEK 12 || TAPPS DIVISION I REGIONAL PLAYOFFS, EAGLE STADIUM, RUSK, TEXAS
Dallas Bishop Lynch 7
Eagle Football 21
WHAT YOU NEED TO KNOW
Game breaker deluxe Cameron Bonner '21 bolted in Usain fashion for electrifying 94 and 79-yard touchdown receptions and added a critical fourth quarter interception as resilient Eagle Football disposed of Dallas Bishop Lynch 21-7 in the TAPPS Division I regional playoffs.
The Eagles never trailed in racking their seventh consecutive win and ninth in 10 games to reach the state semifinals for the first time since 2014 and '15.
St. Thomas next faces Dallas Parish Episcopal Saturday, November 30, at 6:00 p.m. at the Ford Center in Frisco, part of The Star state of the art complex of the Dallas Cowboys world headquarters.
TURNING POINT
St. Thomas needed emergency quarterback relief from starting defensive back Aidan O'Hare '21 whose third period interception set the stage for the first Bonner breakaway moment. On the first snap following the swipe and from the brink of his end zone, Maddox Kopp '21 (223 passing yards) connected with Bonner on a high arcing throw up the right sideline. Bonner timed the completion perfectly and raced untouched for a 14-0 advantage with just under 7:00 remaining in the period.
On the fifth play of the fourth quarter, Bonner leaped high for a catch in the right seam, quickly landed, and turned on the jets leaving defenders chasing with no chance for redemption. His second scintillating score raised the count to the eventual final margin.
ROCKING IN THE FREE WORLD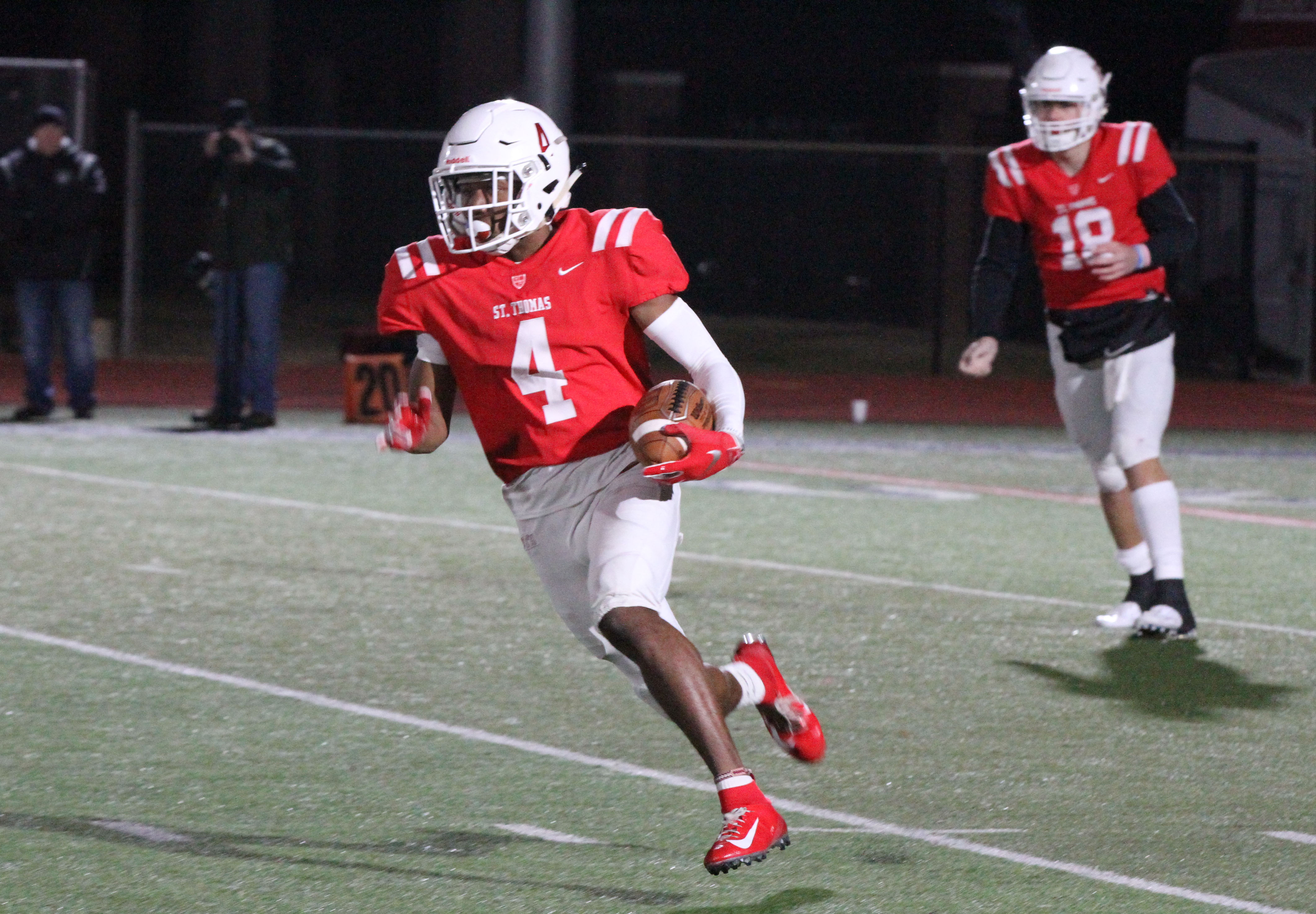 Bonner continues to unleash a couple of signature plays every game that dilates your pupils. After a 101 receiving yards in his varsity playoff debut against Addison Trinity Christian Academy, he nearly doubled dipped the production on only six grabs for 193 yards and proved to be two-way valuable midway final stanza. With Bishop Lynch on the move and threatening the red zone, Bonner made a sliding interception to keep the 21-7 cushion intact.
THIS AIN'T NO PARTY, THIS AIN'T NO DISCO, THIS AIN'T NO FOOLING AROUND
The gnarly, ornery, oppressive Eagle defense proved bulletproof forcing a first half Friar fold up of five straight punts and then pilfered three interceptions in the second half. It was the fourth first half shutout of the season after China Spring in Week 6, Tomball Concordia Lutheran opening district in Week 7, and San Antonio Central Catholic in Week 9.
The array of marauders flanked by linebacker Cooper Thomas '20 (verbal Columbia University) who was part of 13 tackles and defensive manchild Chidera Umeh '20 smothered Bishop Lynch to only 243 total yards, one single solitary first down in its first four possessions, and one measly third down conversion in eight attempts.  The Friars wheezed to a lone scoring drive aided by a face mask penalty and were pronounced DOA when linebacker Vince Lee '21 (part of 9 tackles) collected the third St. Thomas takeaway with 2:22 remaining in the game.
¡UNO! ¡DOS! ¡TRE!
Receiver Drake Martinez '21 was unusually quiet according to stat lines but the last of his three receptions was the game's most influential and essential play that no one will remember. His contested third down catch in traffic for eight yards was just enough to merit the first down at the St. Thomas 21-yard line. On the next play, Kopp and Bonner connected for the dart and long distance dash to effectively seal the outcome.
Earlier in the week receiver Josh Crissmon '20 was one of five Eagles nominated by the Touchdown Club of Houston for postseason recognition at the 8th annual Private High School Awards Dinner presented by the Hildebrand Foundation and Houston Methodist Orthopedics & Sports Medicine, joining Thomas, Umeh, All-State safety Daniel Coco '20, and kicker Paul Langemeier '20 for the select distinction. Crissmon's solo open field tackle on punt coverage late first half prevented a sizable return for Bishop Lynch and preserved the 7-0 count at the break.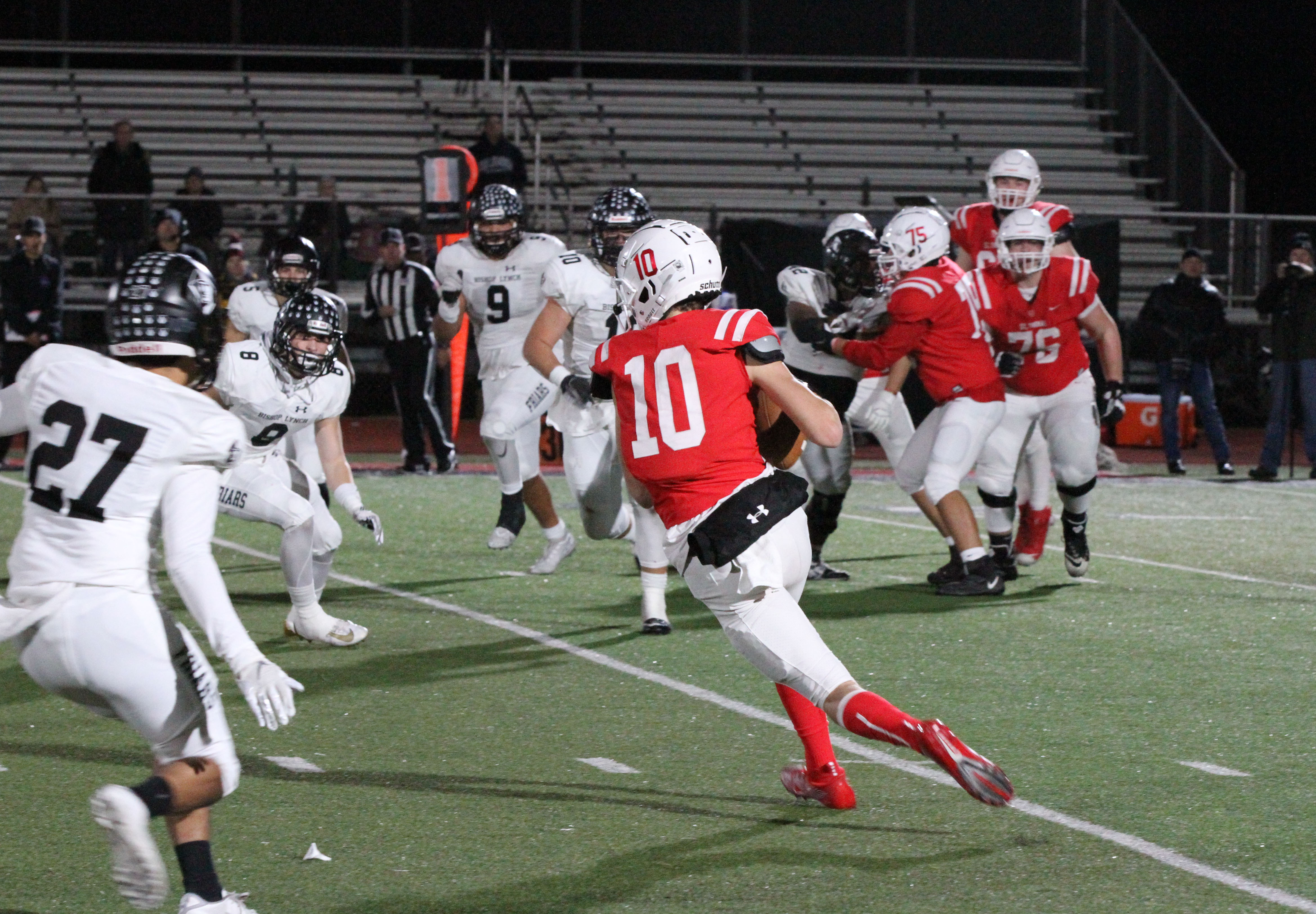 The Eagles remained aggressive but not reckless with O'Hare filling in for Kopp at quarterback. On just the second series of his first meaningful offensive snaps of the season, he drilled a strike to Spencer Kryger '19 on the left sideline who cut back twice against the grain for a massive momentum churning 42-yard gain to the Bishop Lynch 21-yard line. Four plays later running back John Fontenot '20 (20 carries for 49 yards) bulldozed from short range for the first points of the game after a scoreless first quarter.
WEEK 12 || FIRST HALF
WEEK 12 || SECOND HALF
STATE OF PLAY
In this age of offense, the Eagles continued to employ a coordinated symphony of concepts built around their best players even with their maestro temporarily MIA.
The design and disposition are about two things in particular – presentation of the play, the motion, the eye-candy to distract defenders, the deception, and the when of the play.  Without Kopp in the shotgun, the Eagles crafted a solution while continuing an attacking posture. Offensive coordinator Josh Hooten and quarterback guru Matt Hudson deployed their threats against under fronts and pattern-match coverages in a way that continued strategic advantage.
O'Hare showed his moxie. The defense dictated the terms of engagement. The season continues with the most demanding test yet for a group still maturing yet seemingly loaded with everything it might need – veteran leadership, young playmakers, invaluable experience, and an ethos that nobody will outwork them.
UPCOMING
Parish Episcopal is in the midst of a scorching stretch owning eight straight victories since its lone defeat of the season, a 24-17 loss to Fort Worth All Saints, and is averaging more than 45 points per game while allowing more than 14 only once. The Panthers have outscored their last three overmatched opponents 131-13.
The Eagles will contend with dual threat quarterback Preston Stone who accounted for 350 yards and three touchdowns in the 44-6 regional runaway route over Midland Christian. Parish Episcopal rolled for 473 yards on only 46 offensive plays.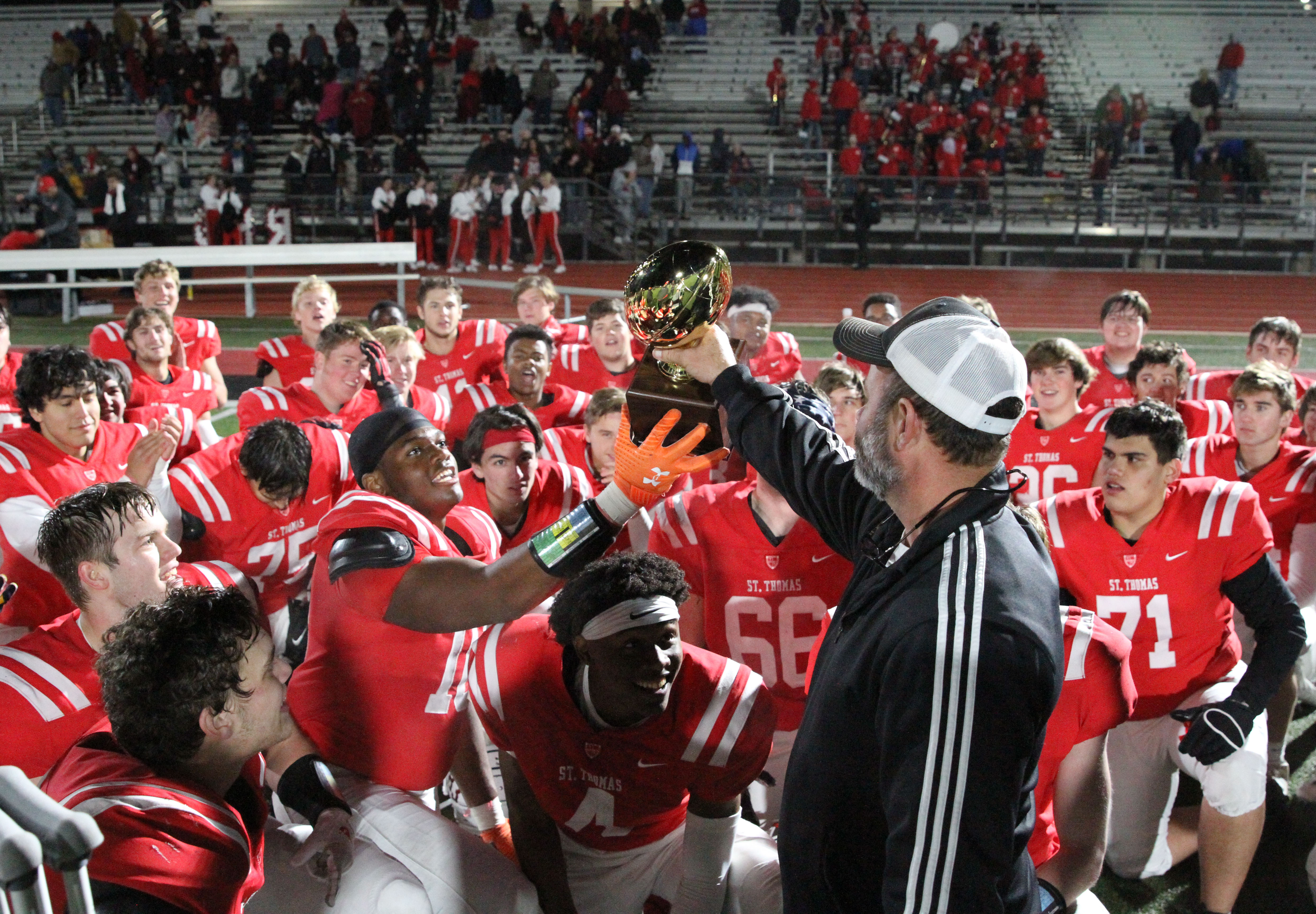 Eagle Football returns to the state Final Four after consecutive defeats to Plano Prestonwood Christian, 28-14 in 2014 in Groesbeck and 49-23 the following season in Palestine.
Eagle Football is chasing its 18th state championship and first since 1996. The program's most recent demolition dominance came in the 1980s with six titles in nine years, including a 1983-85 three-peat and consecutive titles in 1988-89.
Eagle Fight Never Dies!