St. Thomas High School has set June 8 as the date for football and cross country student-athletes to return to campus.
In the wake of the coronavirus shutting down and ripping up the spring calendar, Eagle Athletics enters the summer with at least a stationary target after nearly three months in the dark on what might be coming next.
"We are grateful and thrilled to be moving forward," athletic director Mike Netzel says. "Over the previous several weeks, we've worked in conjunction with our President Father James Murphy and Principal Aaron Dominguez to develop a comprehensive plan to support a safe reopening. We'll remain diligent in monitoring our various procedures to ensure a healthy environment as we continue to navigate through this pandemic."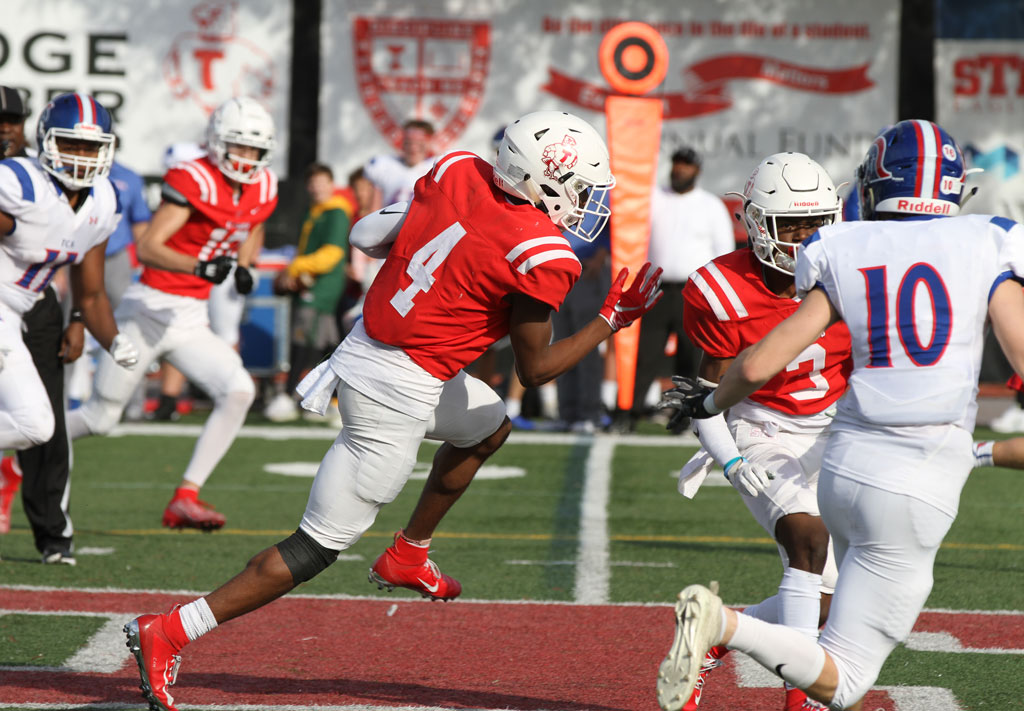 TAPPS announced May 26 that beginning June 1, each member institution could decide its own return-to-play protocols but must remain in compliance with all local, state, and national governance as it applies to their school. TAPPS indicated it reviewed executive orders from Gov. Greg Abbott, as well as guidelines from the Texas Education Agency, the National Federation of State High School Associations, the University Interscholastic League, and other similar state organizations which govern extracurricular activities.
Netzel collaborated with head football coach Rich McGuire, head cross country/track and field coach Nathan Labus, and head athletic trainer Chris Valdez, L.A.T. to design stringent health policies for "a phased approach so we could get the football people and runners back on campus, and get them established before we bring other groups of student-athletes back."
Valdez has brought an invaluable wealth of savvy judgement to St. Thomas for more than a decade through his affiliation with Memorial Hermann Sports Medicine & Rehabilitation. His wide array of expertise includes annually coating the St. Thomas locker rooms, weight rooms, and training areas with a germ-killing substance that endures for up to three months.
The clearly defined mandates relating to St. Thomas resuming limited summer workouts include:
Screening of staff and students for signs/symptoms of illness before participation
Questionnaires detailing a student's health history
Social distancing and personal protective equipment
Personal hygiene practices that prohibit the sharing of clothes, towels, and personal items
Personal water supply and water bottles with no group hydration systems
No use of common areas, except for restrooms
McGuire will orchestrate 90-minute football conditioning sessions, Monday-Thursday, June 8-July 2, with individual groups limited to 10 or fewer people. "We'll separate our 50 freshmen from the sophomore-senior group (80 student-athletes). The plan is three stations on the field, one beyond each end zone, one on the track for linear drills and sprinting, and one in the bleachers for plyometric exercises. We'll move with purpose from station to station with an area designated for resting."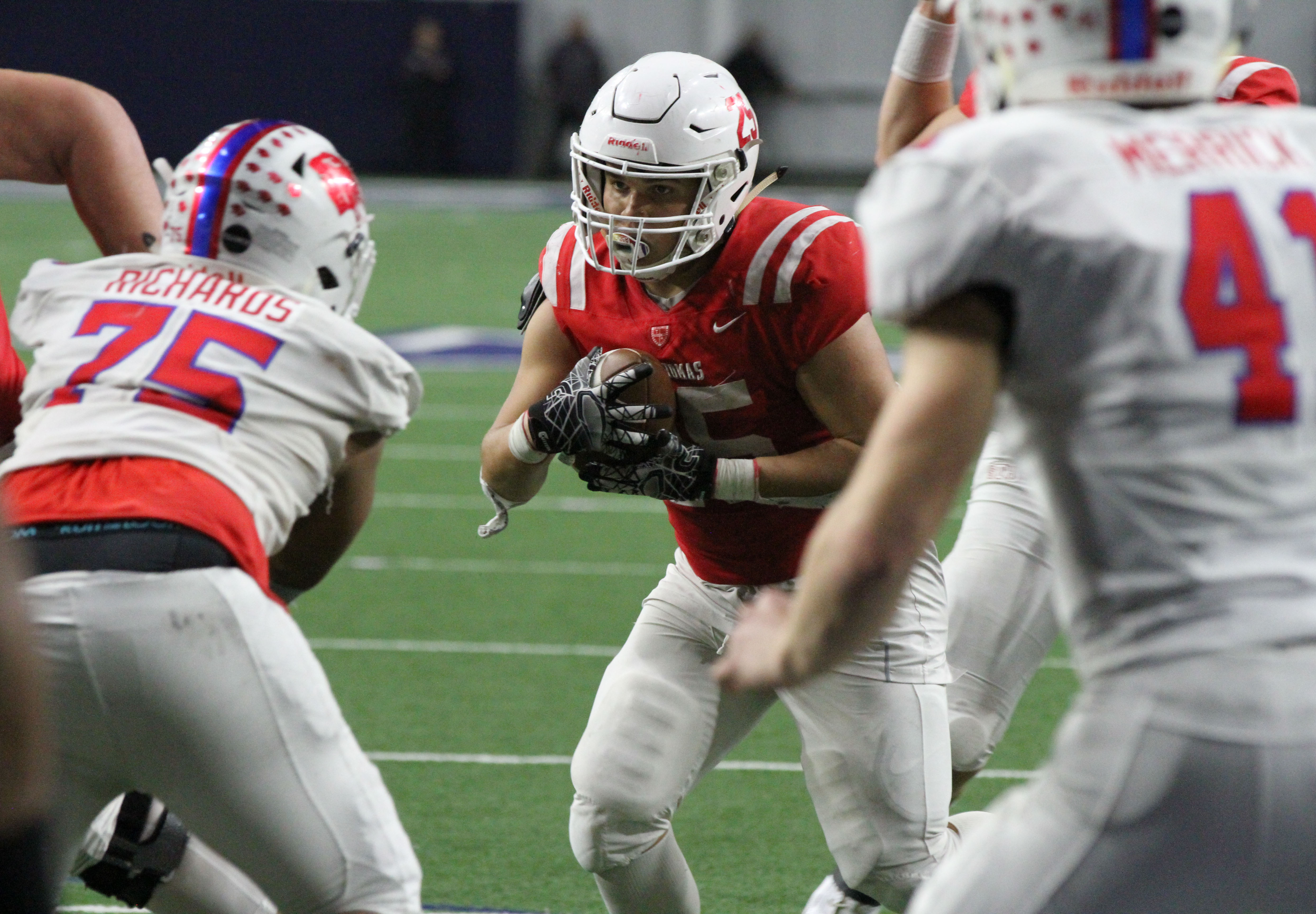 Eagle Football has not logged a single formal activity since ending the 2019 season in the TAPPS 6A state semifinals against Dallas Episcopal at The Star in Frisco.  In response to the ongoing pandemic, McGuire and defensive coordinator Ray Davis communicated with players through non-traditional channels, Microsoft Teams and Zoom conference calls, and provided at-home workouts and video demos to best navigate the forced isolation.
"The biggest loss during the shutdown was in the weight room," McGuire says. "We would normally lift from mid-March to the end of May. I'm not a big contact guy in the spring (12 on-the-field workouts) but it's an essential teaching period. We can build that into our summer as we progress."
August 3 remains the scheduled first day of fall football practices for TAPPS schools.
Eagle Football returns an arsenal of proven game-breaking weapons. Quarterback Maddox Kopp '21 threw for nearly 3,000 yards in his first starting season. He'll again team with dynamic receivers Cameron Bonner '21 and Drake Martinez '21 (Colorado St. verbal), and bulldozing running back John Fontenot '21.
Last season Bonner sent college recruiting eyes into spin cycle with 1,208 receiving yards, an average of 27 yards per catch, and 12 touchdowns. He's received more than a dozen scholarship offers including Houston, Baylor, Pittsburgh, Virginia Tech, Tulane, and Utah. Kopp was a finalist for the 2020 VYPE Awards Private School Player of the Year and in early June was also offered by to go along with overtures from Cornell, Holy Cross, Lafayette, Central Michigan, and VMI.
McGuire expects that explosive production to be sustained. Less certain are mandatory replacements in the defensive front seven. The largest void is left by relentless All-State linebacker Cooper Thomas '20 (Columbia University), the team's 2019 Most Valuable Player and full-frontal force. Also gone are two-time uber-active All-State safety Daniel Coco '20, and manic defensive ends Max Garcia '20 and Chidera Umeh '20 (Lamar University). McGuire wants to keep the aggressiveness without allowing game-changing plays. The biggest lineup questions remain unanswered.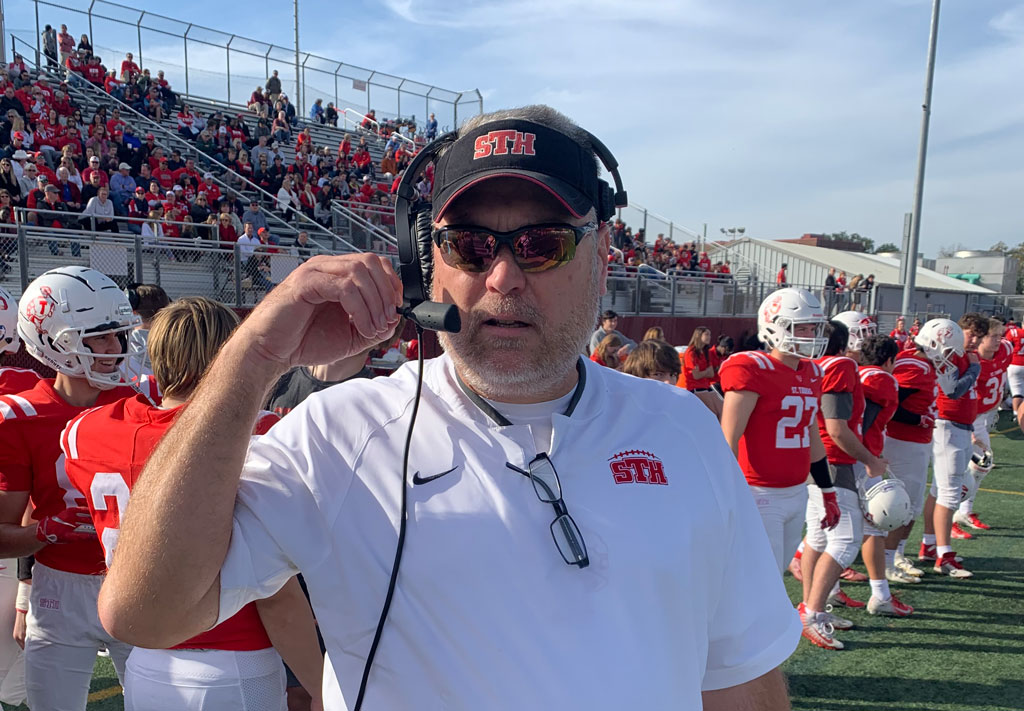 "With no spring practice, that means the four guys competing for two available spots at various positions didn't have the chance to learn the schemes and show that they know enough to merit playing time," McGuire says.
June 8 marks the first substantive advance to normalcy since student-athletes and coaches were sent home due to COVID-19. These workouts could prove as a pilot program, providing a guiding path for future undertakings such as fall training camp and the actual season.
And even though the methods of engaging are actively changing, the guiding principle for Eagle Athletics remains the same – a commitment to safety, positive health, and preparing young men to become #ChampionsForLife.
Eagle Fight Never Dies!