The unprecedented had become the precedent, chaos the expectation, and the surreal a weekly reality.
So it was no surprise that bizarre results and stupefying finishes would indelibly imprint the COVID-19 football cycle, much like empty stadiums and coaches wearing masks.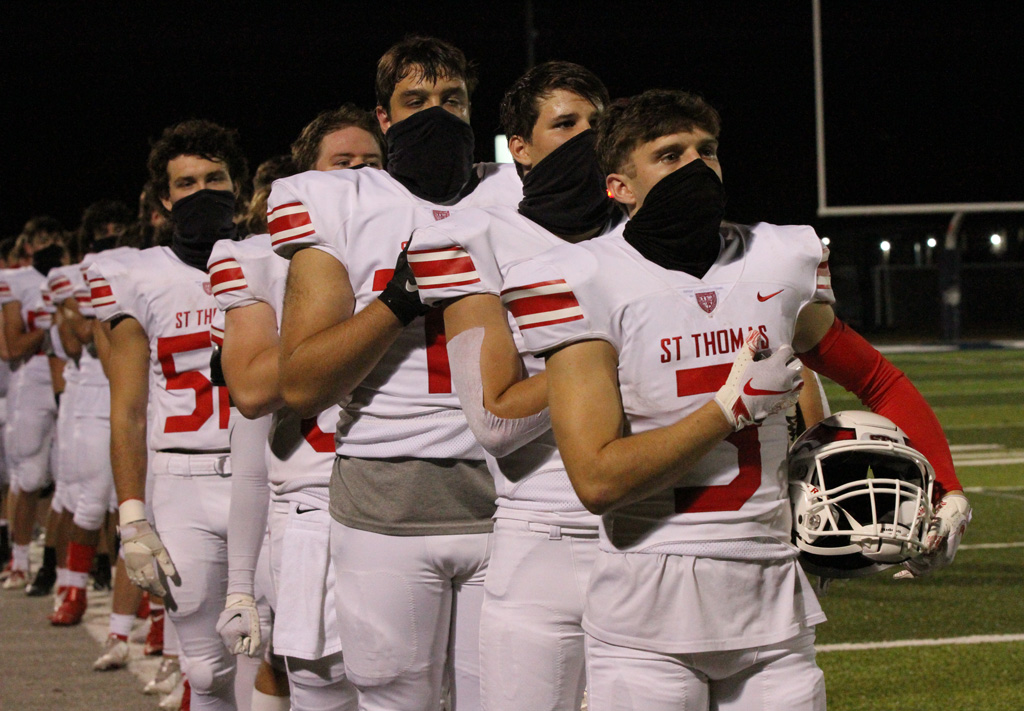 St. Thomas entered the delayed, truncated regular season as the No.1 ranked private school in Greater Houston by the Houston Chronicle and VYPE Houston, then rode the No. 2 position for the final five weeks. The Eagles launched with competitive defeats against El Campo and Pasadena Dobie in the school's first on-campus, socially distanced events of the pandemic era. They then responded to rack six straight rip rollicking wins and roll to a third consecutive undefeated district title.
After a first-round bye in the Division I tournament, the assignment in the regional final was Midland Christian, a Division II program as recently as 2017.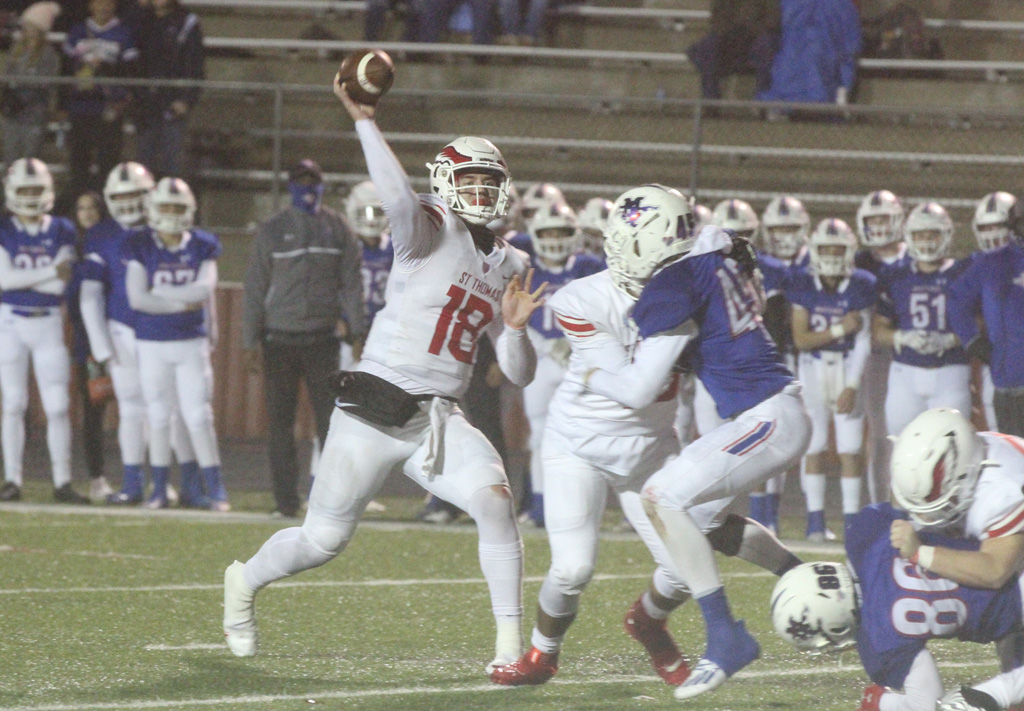 The Eagles were welcomed by cold, wet conditions in Fredericksburg. They started slowly and couldn't finish without incident against an outfit that opted out of its final two regular-season games because 30-plus student-athletes were placed in coronavirus quarantine.
An ominous tone was set when Eagle Football surrendered a pair of explosive touchdowns on its first two defensive series, a 41-yard third-down scoring throw on Midland Christian's first completion, and a 43-yard sideline romp after two missed tackles in the Mustangs' backfield.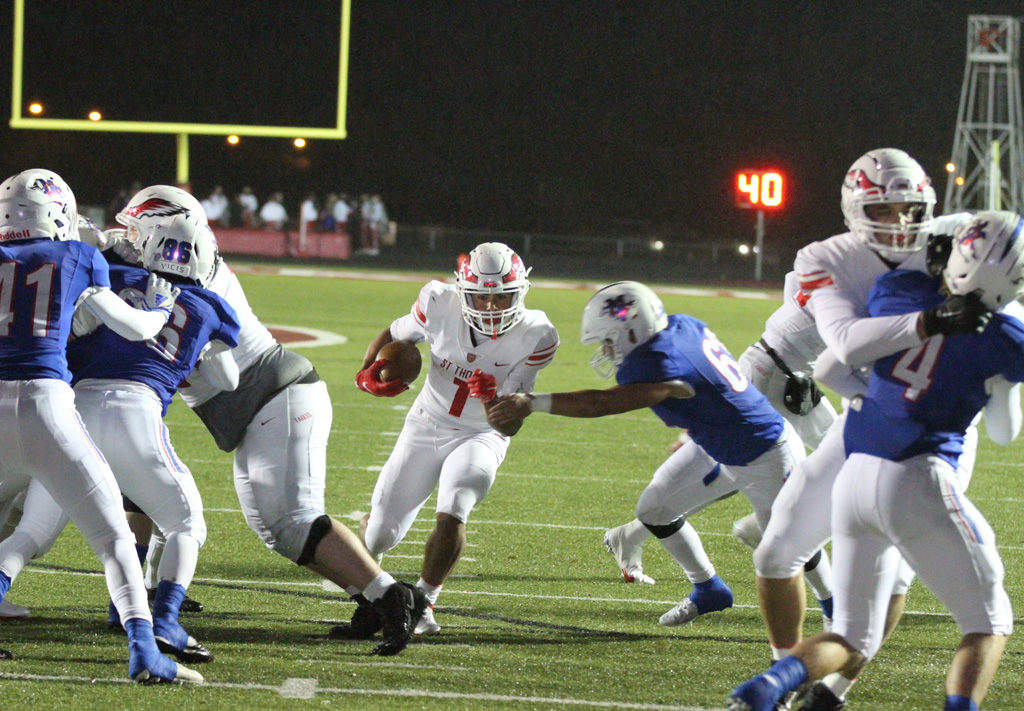 The Eagles were forced to fight uphill from those opening minutes. Twice they were on the brink of tying touchdowns in the second half but somehow failed to discover the equalizer.
Down 14-7 on the opening series of the third quarter, 2020 Elite 11 quarterback Maddox Kopp '21 (verbal Houston) delivered a fourth-down dart to receiver Drake Martinez '21 (verbal Colorado St.) for 18 yards to help St. Thomas establish first-and-goal at the seven-yard line. But the prime opportunity vaporized with a fumble.
In the final 8:00, defensive terror Mark Pownall '21 stoned Midland Christian on a crucial fourth-and-four stop from the St. Thomas 24-yard line. The sudden shift in mojo lifted the Eagles and fueled a charge to first-and-goal, one tantalizing yard away from fearlessly knotting the night.
A tense game roared into its waning minutes. But the end game Eagle execution was lacking – two penalties, a negative run, and an incompletion led to a fourth-down sack worth 16 yards. Two snaps later, a 68-yard Mustang touchdown bolt cemented not only the 21-7 verdict but also the bizarre pandemic-tainted season that once sizzled with state championship promise, only to freeze up in the mid-50s November chill.
The Eagle crowd turned silent as a vault. Success snapped, medal hopes dashed, disappointment complete, cycle still in spin, dreams of a first St. Thomas' state crown since 1996 vanished like a gambler's lucky streak.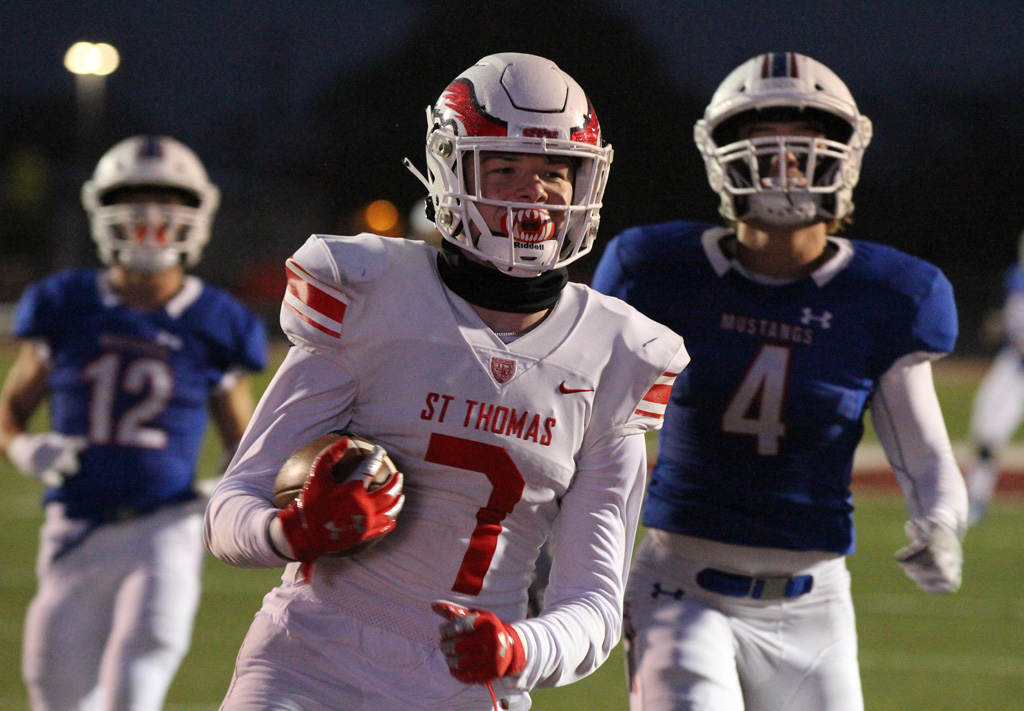 The customary sluggish Eagle beginning included three punts and a fumble on its first four possessions. With 2:10 remaining in the half, Kopp rifled his 30th (and final) touchdown strike of the season, a 33-yard laser to Martinez running to the post. His first scoring reception since Week 4 against San Antonio Central Catholic proved to be the lone St. Thomas tally.
Lost in the numb and stun was a sledgehammer performance from uber-active linebacker Kevin Silva '21 who was in on 21 bone-rattling tackles and led a marauding defensive effort through the second and third quarters.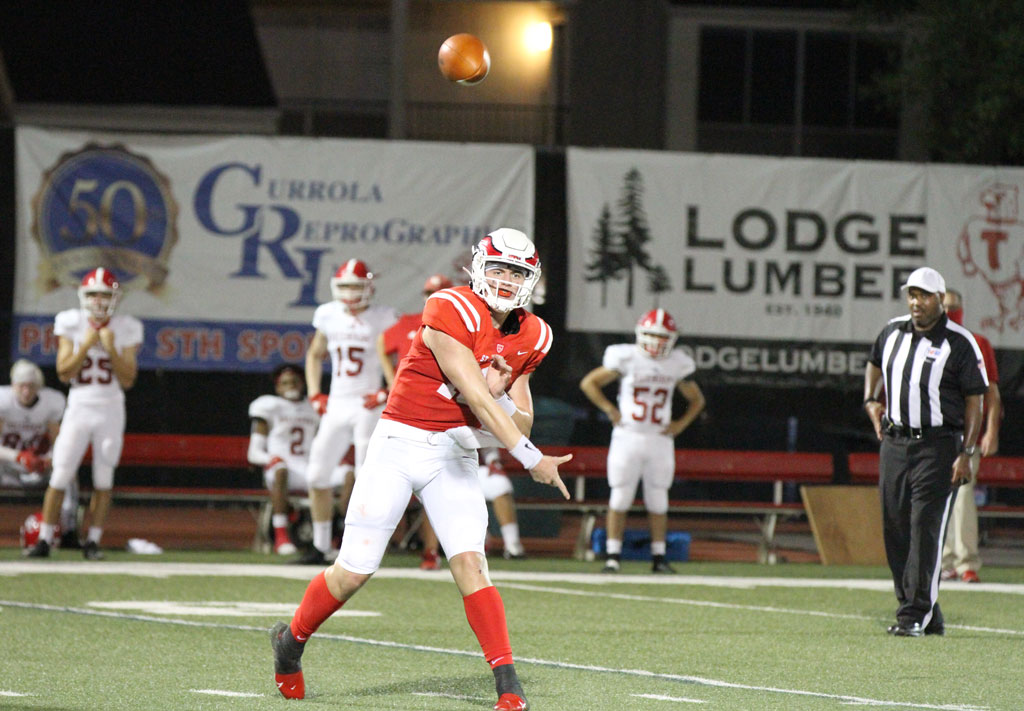 Kopp proved lethal through the campaign when he applied his rocket arm with swift mobility to allow receivers time to get open late and also pick up gains on the ground. In less than nine full games, he threw for 3,134 yards with only four interceptions while running for another 292, peaking a two-year starting career that secured him a place among the all-time quarterbacks in school history.
As predicted the Eagles' receivers represented the team's strongest position group, as Martinez, Cameron Boner '21 (more than two dozen Power 5 offers), and newcomer Cameron Price '22 emerged as the most explosive and productive trio in TAPPS. The group totaled 128 grabs for 2,201 yards and 22 trips to the end zone.
But in the heart-attack moments of a survival match, the Eagles couldn't capitalize on their signature quick crossing patterns or unleash their vertical threats in one-on-one coverages and open space and have them do the rest.
St. Thomas appeared armed with all the requirements for genuine title contention: a difference-making talent at the mission-critical position, skilled playmakers, veteran leadership, invaluable experience, and an ethos that nobody would outwork them.
During the six-pack of on-the-field outcomes (plus a forfeit courtesy St. John XXIII), the Eagles performed to their feared reputation. They had figured out how to play to their strengths while stepping back from their weaknesses instead of trying to constantly correct them. St. Thomas was far from a perfect team heading into the postseason but the Eagles knew themselves better than ever.
It simply wasn't enough. And Eagle Football was denied its fourth state semifinal berth in seven years.
"We're not interested in just winning football games; we're interested in being a championship football program," Head Coach Rich McGuire says. "Just playing to win games is not good enough anymore. We need to get our group to understand and embrace that objective. And we need to elevate our level to compete in all three phases, to play at an elite level."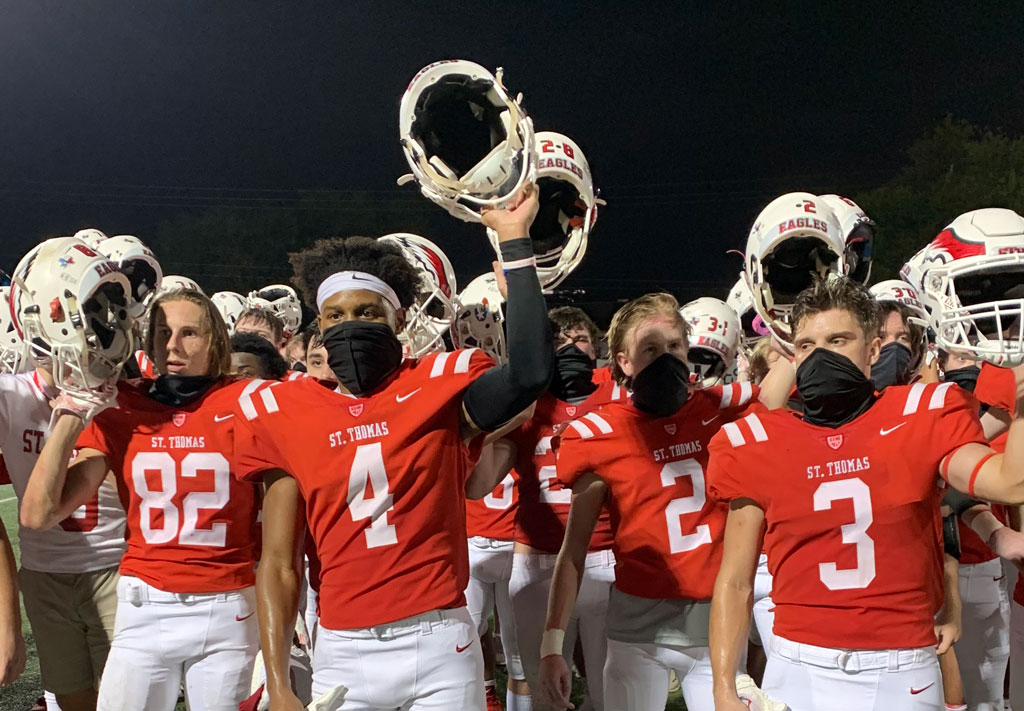 Yet, most importantly given the coronavirus crisis, McGuire and Athletic Director Mike Netzel, collaborating with President Fr. James Murphy, CSB and Principal Dr. Aaron Dominguez '96 marveled at what Eagle Football had endured through a seemingly endless series of emotional whiplash to reach its playoff point. The leadership team had guided vigilant Eagle scholar-athletes through flawless off-the-field achievement in response to the supreme challenges stemming from the pandemic. There was great solace in once again confirming that at St. Thomas, teammates become brothers, boys develop into young men, and Eagle scholars become living examples of goodness, discipline, and knowledge.
Now, more than ever.
Gameday Central || Eagle Football Finishes Regular Season with Furious Flourish
Gameday Central || Eagle Football Rocks Business-like 40-28 Beat Down at Beaumont Kelly Catholic
Gameday Central || Eagle Football Plants St. Pius X 49-21 to Clinch Third Straight District Title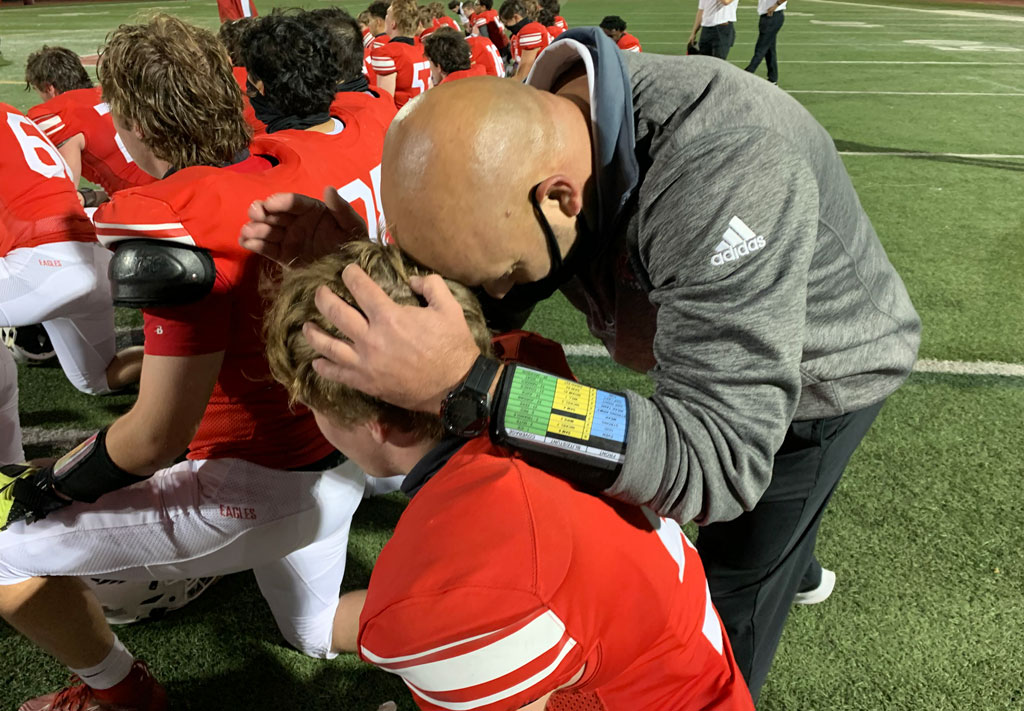 Gameday Central | High Drama as Eagle Football Wins in Overtime to Stay Unbeaten in District
Gameday Central || Record-Smashing Eagle Football Dominates 65-14 to Stay Perfect in District
Gameday Central || Eagle Football Remains Undefeated in District after 31-14 Win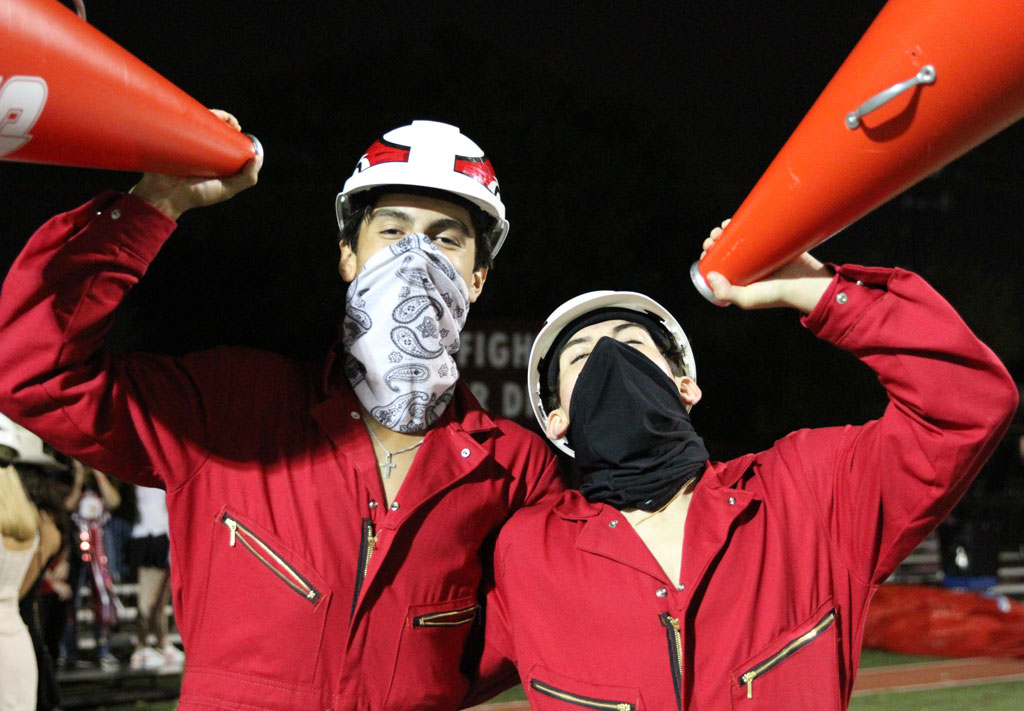 Gameday Central || Eagle Football Launches First On-Campus Event of Pandemic Era
Eagle Fight Never Dies!