Relentless right-hander Will Rizzo '21 (Texas A&M) reserved his best for his last start at Fr. Wilson Field – a tight-fisted one-hit complete game with eight strikeouts to thrust Eagle Baseball into the TAPPS 6A regional final.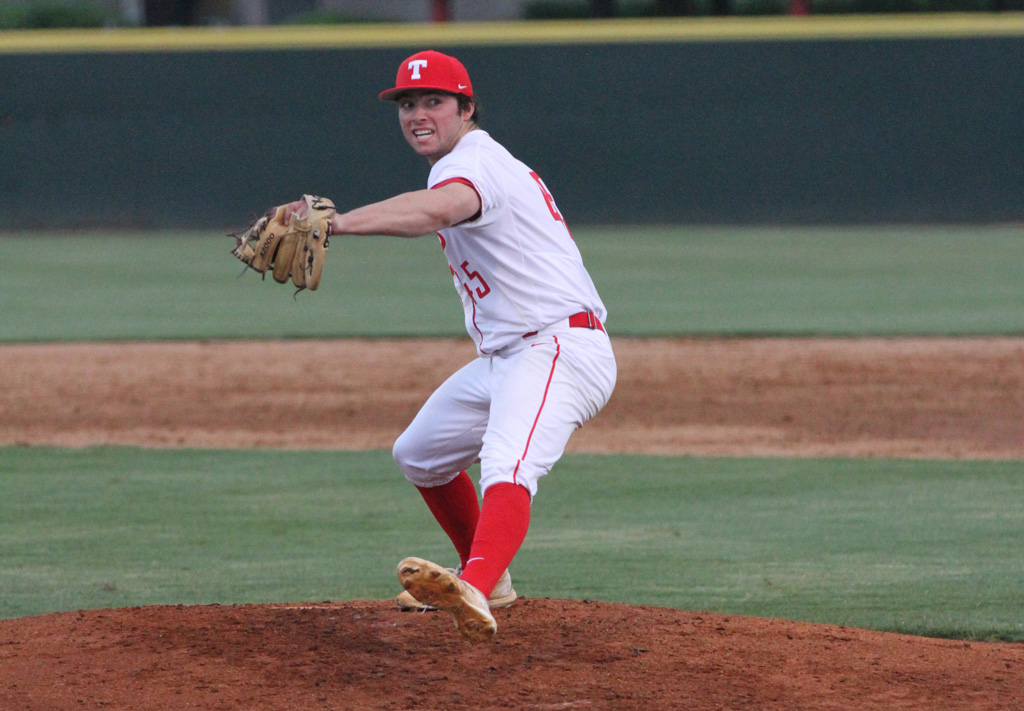 St. Thomas needed every last dramatic drop of Rizzo's raucous dominance for a 2-1 verdict in the area playoff against Beaumont Kelly. The district champion Eagles had curb-stomped their district opponent in sweeping the three-game regular season, outscoring the Bulldogs 30-8. But that sledgehammer run support was not in evidence in the most critical head-to-head match-up. Eagle Baseball cashed in a pair of unearned runs in the fourth inning to seize a 2-1 lead. In the next at-bat, right fielder Peter Corbett '21 singled, then raced to third on consecutive wild pitches and scored the all-important insurance run on a sacrifice fly to right by second baseman Colin D'Elia for the final margin.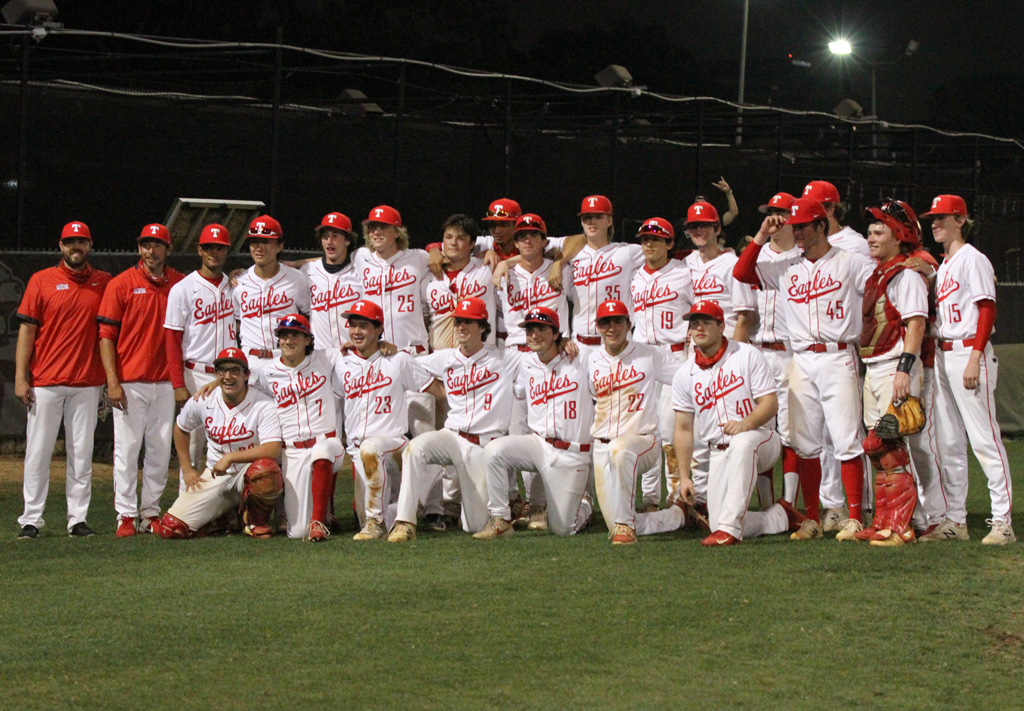 St. Thomas advances to the regional playoff against San Antonio Antonian aiming to return to the state Final Four for the 10th time in 11 years. Head coach Adam Massiatte reached the 2019 state title tilt in his Eagle debut before the encore campaign was canceled because of the pandemic.
Rizzo (89 pitches, 57 strikes) made the most of the three runs, establishing his signature command from the first pitch, torching the strike zone with high velocity to punch out five of the first nine batters he faced. He handcuffed and held Kelly hitless the final four innings after allowing an unearned run in the third. Rizzo raced through a 1-2-3 sixth, notched his final strikeout to begin the seventh, and ended the game with a 6-3 double play.
The latest robust Rizzo outburst is the continuation of a scintillating senior send-off after signing his National Letter of Intent with Texas A&M.
Including in the carnage …
A knockout of Kelly at Fr. Wilson with Rizzo (73 pitches, 46 strikes) rocking eight strikeouts and surrendering only one hit over five innings. The bludgeoning support started with a four-run assault first inning and an 11-0 avalanche margin after three.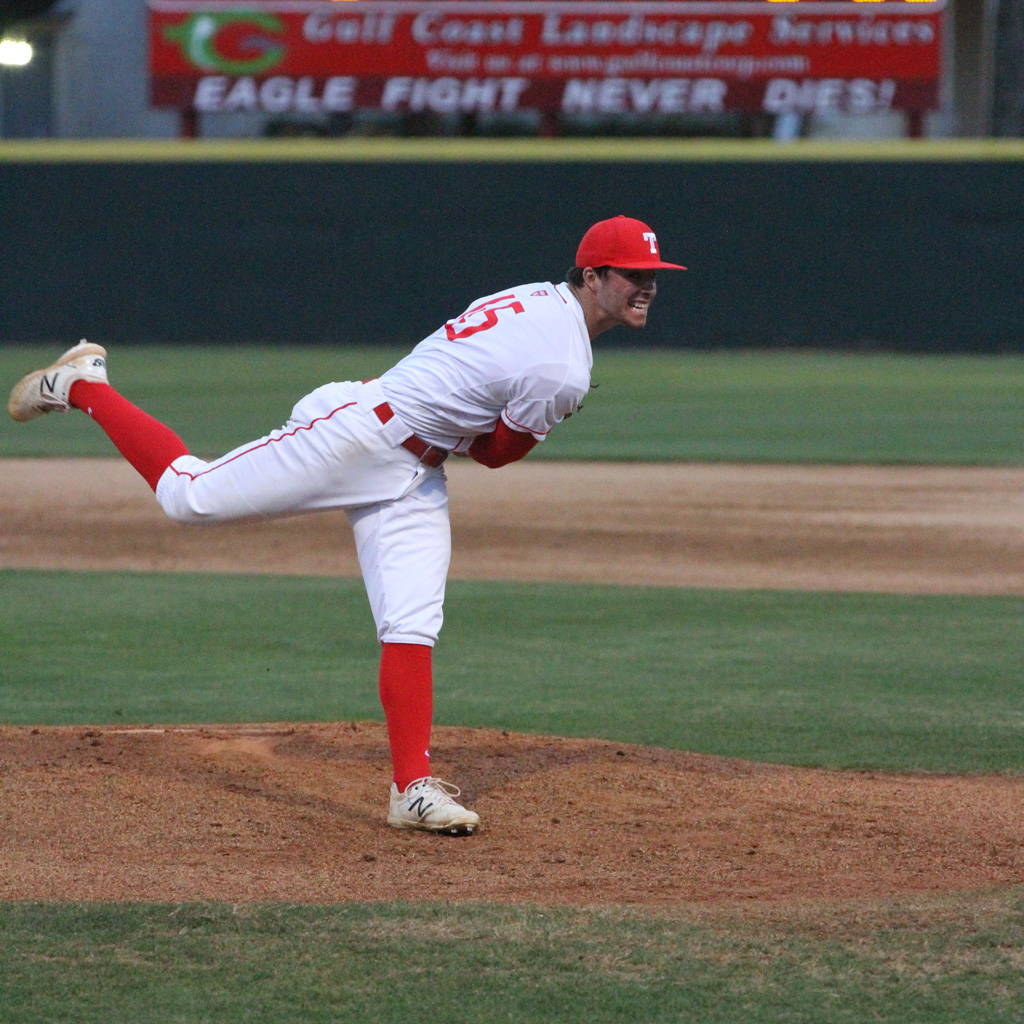 A crushing 8-3 complete-game performance over St. Pius X to take control of the district race. Rizzo (112 pitches, 66 strikes) powered through nine strikeouts and was touched for only two earned runs.
A dramatic 3-2 road verdict over Tomball Concordia Lutheran on a ninth-inning RBI single from shortstop Eddie Villeges '21 with Rizzo setting the stage at his breathtaking best (87 pitches, 55 strikes). He struck out 12 in five and 2/3s shutout innings while allowing only three hits and three walks. The game was stopped due to threatening weather and concluded the next day.
A 5-1 triumph over St. John XXIII with Rizzo (110 pitches, 74 strikes) collecting eight Ks dealing into the seventh inning on the road. He was staked by two two-run innings with Vincent Ori '21 delivering a sacrifice fly in the second and a sharp RBI single in the fourth.
A near no-hitter at Fr. Wilson in the season's early weeks that featured 13 strikeouts in a 3-1 victory against Clear Falls. He was in total control throughout with his most commanding career start to date (100 pitches, 66 strikes), punching out the side in the fifth and sixth innings before allowing a lead-off single in the seventh. He surrendered only two hits plus walks to start the second and third innings.
Eagle Fight Never Dies!