The medal haul for Eagle Track and Field was again gallant and collectively golden.
Two-sport all-state dynamo Cameron Bonner '21 raced to a new state record and a precocious corp of dynamic talents combined strength and sizzle as St. Thomas thoroughly dominated the TAPPS 6A state championship for the program's third bold bonanza in six years.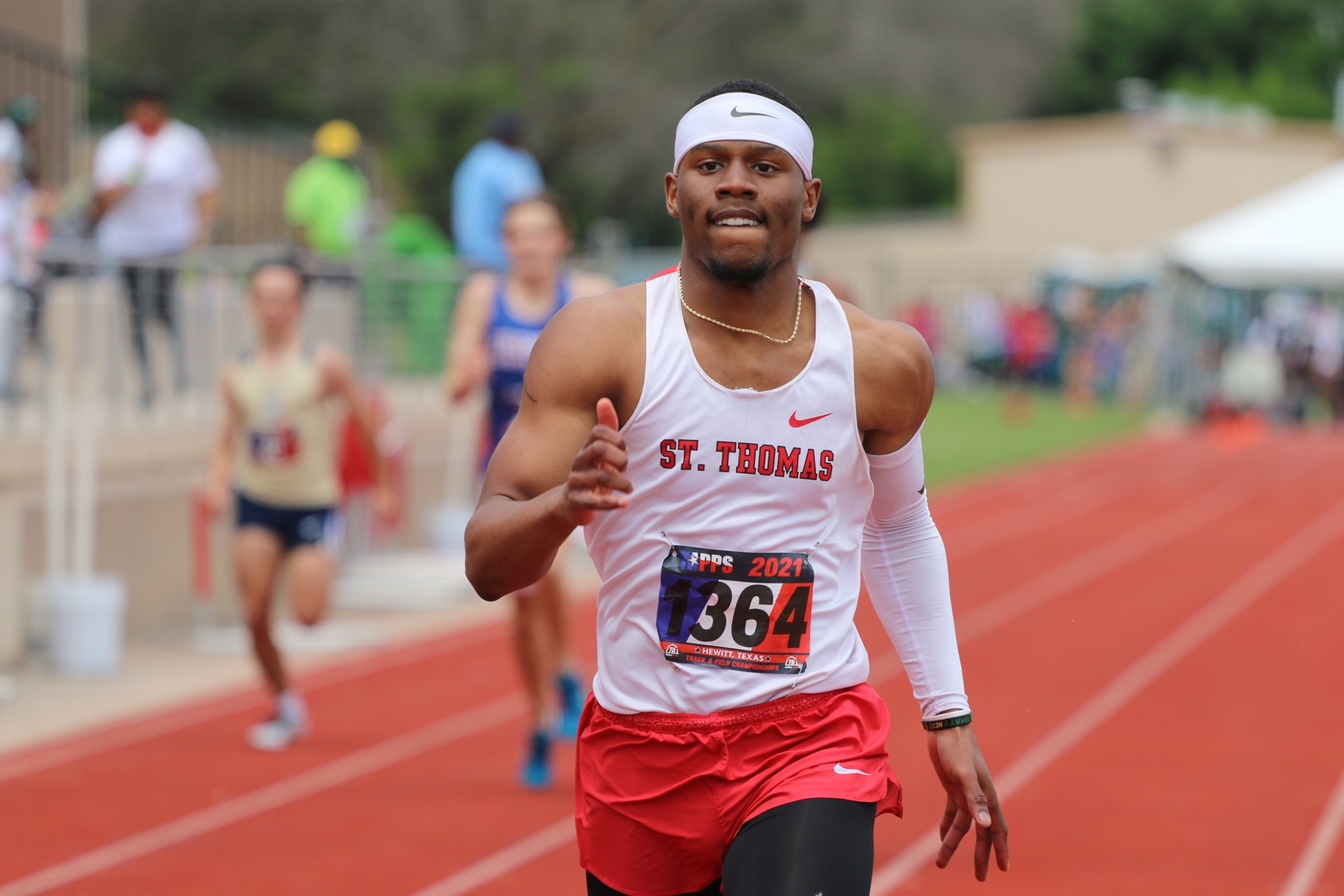 The Eagles soared and roared for a commanding first-day lead and then decisively sealed the title with 121 total points, decidedly outpacing Addison Trinity Christian (90.5), Argyle Liberty Christian (80), and fourth-place Dallas Bishop Lynch (56.5).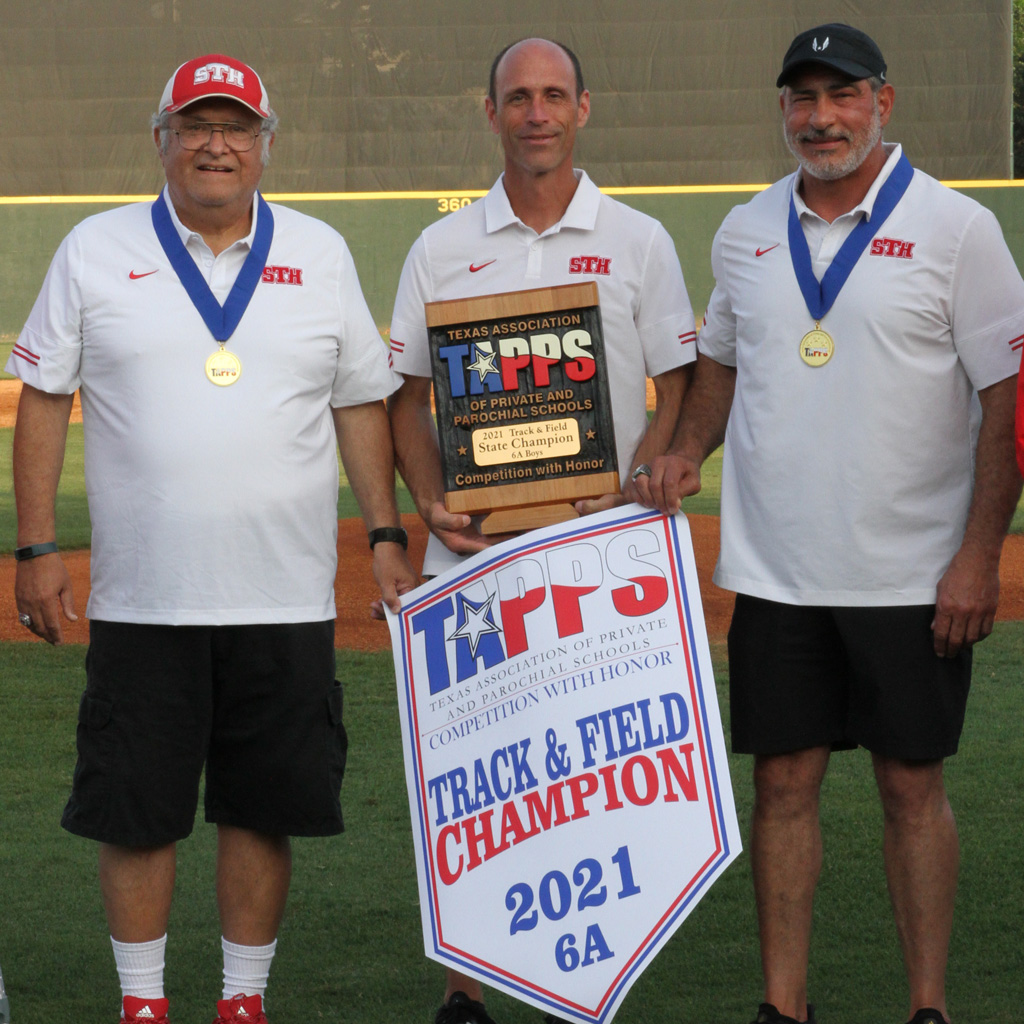 The deep satisfaction continues for unassuming head coach Nathan Labus who has consistently combined endless perseverance and drive with a steady unwavering influence since joining the St. Thomas faculty and becoming head coach for the 2006 season.
The scorching Saturday results at Midway High School's Panther Stadium in Waco were capped by a gold medal stomp in the 4×400 relay. With the team title safety secured, Joseph Romero '22, Heriberto Villegas '21, and Luke Anigbogu '23 burned an emphatic final statement with an electric anchor from Bonner in 3:23.90 to ignite the Eagle celebration.
Bonner earlier reset the standard in the 400 meters with a 47.98 clocking and helped the Eagles control the heavily-weighted relay results. The Baylor receiver signee sprinted the second leg in the second-place 4×100 flash with lethal weapon freshmen Marquis Kiatta and Aaron Blackman along with Anigbou. The foursome was timed in 42.96. Kiatta's all-around point-packing parade included the lead portion in the 4×200 followed by Joe Rick Madden '22, Blackman, and Anigbogu that crossed in fourth with 1:31.15. Kiatta began his jaw-dropping big stage debut with a silver medal in the triple jump (43-03.5) after capturing the bronze with a personal best in the long jump (20-07.75).
"This is the first time in our history to have two freshmen on the sprint relay. One is rare," Labus says. "They are typically not mature enough to handle the responsibilities. But Marquis and Aaron were awesome. The baton exchanges were seamless and they ran to their potential."
The Eagles ruled the Day 1 field events for 51 points and forged a sizable 21-point margin over San Antonio Christian. St. Thomas then returned and relentlessly increased the advantage after nine events to 36 points and effectively decided the competition despite only two individual first-place winners.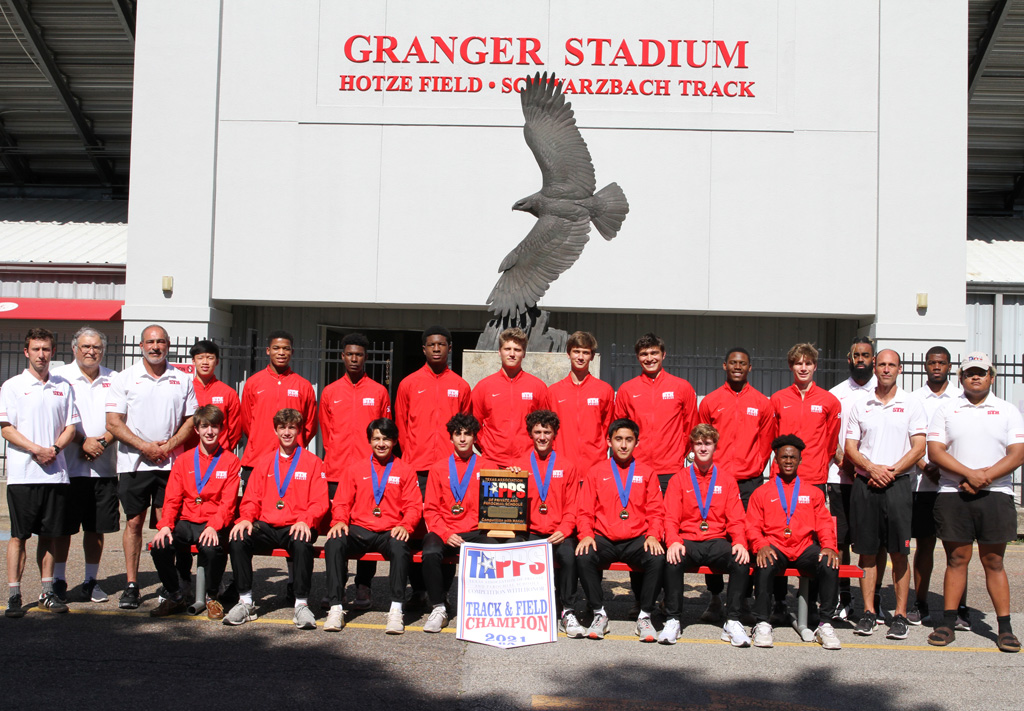 The rock and roll call included …
Villegas third place in the 800 meters (1:59.65)
Evan Crosswait '22 fourth in the 300 meter hurdles (42.17)
Andre Meza '22 first in the high jump (6-00) and Shaffer Henderson '23 sixth (5-10).
James Dickinson '23 fourth in the triple jump (40-04.25)
Brett Koehn '22 third in the 3200 meters (9:56.19)
Carrick Brogan '22 fourth in the pole vault (13-06) and Madden fifth (12-06)
Travis Dunwoody '23 sixth in the shot putt (42-02.75)
Charlie Boettcher '22 sixth in the discus (113-08)
"We picked up points in all but three events (100, 200, and 1600 meters)," Labus says. "Cameron was a great leader, our guys fed off his confidence. And out of the 18 competitors, 15 will return in 2022. The future is as bright as the present."
Labus is quick to credit a superb coaching staff, including Dave De Jonkheere, Joe Malouf, Henry Mancha, Johnny Usen, Johnathon Williams, Eli Carter '20, and Holden Hollingsworth. The staff all excelled at the collegiate level and share a deep reservoir of expertise in developing talent into elite results, shaping the imaginable into reality.
"These coaches are technicians," Labus says. "They're masterful in relating to this age group and bringing out the best in our student-athletes regardless of their existing skills. And the response was genuine. Their attitudes were don't settle, aim higher."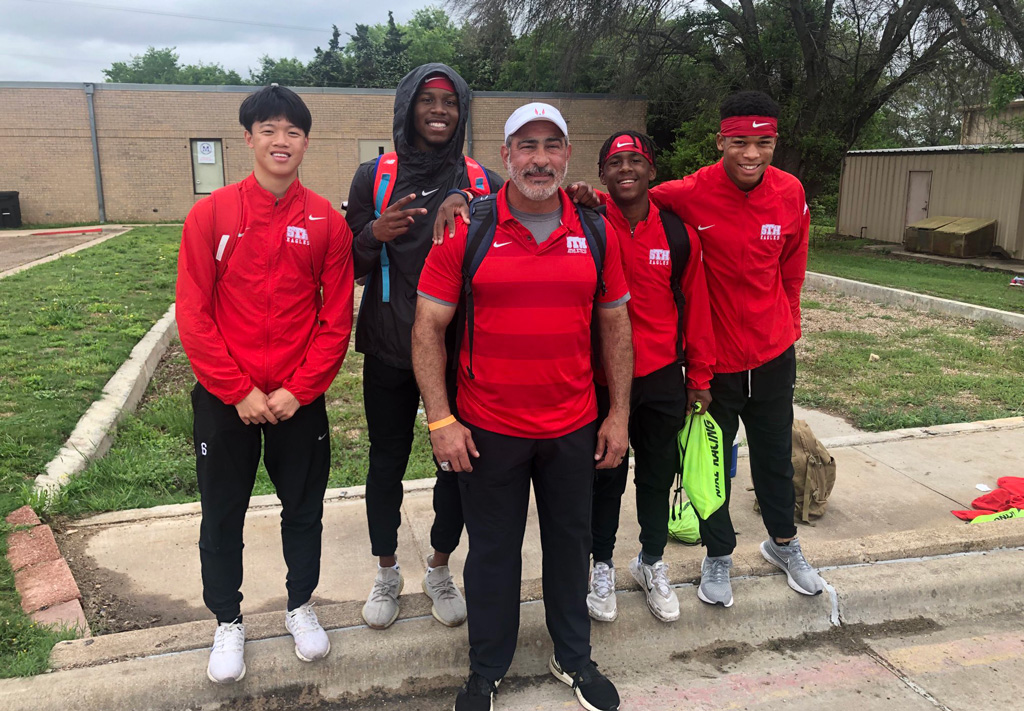 After that sterling start in the field events, Malouf sought the second-day performers and delivered an aggressive message. "I need you to look inside yourselves, seize the best-possible version of yourselves, and bring that to the track (on Saturday). Envision the race, what is required to execute. Push the nervousness aside. Focus. And they bought in. They ran with heart. There's so much pride in this group."
Malouf prescribes to adage that "most championships are won before you reach the track. The theme was to finish with a purpose. We said going in that we didn't come this far to only come this far. Everyone was accountable to each other. They ran for each other, threw for each other, jumped for each other. We were the defending champs (from 2019 before the pandemic eliminated an encore effort in 2020) with the target on our backs. It was a matter of respect, of the team."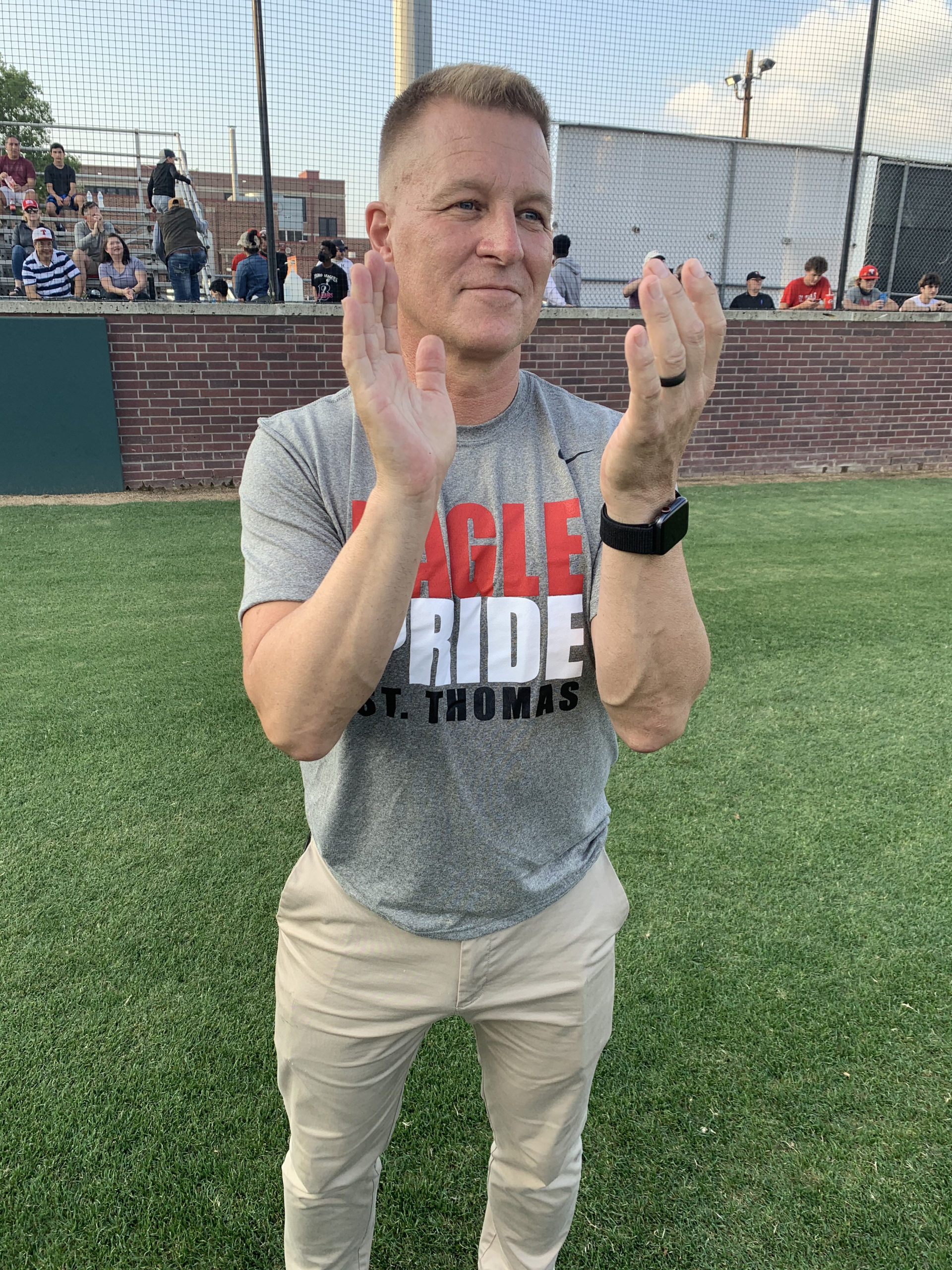 The achievement is the 17th state crown for St. Thomas since Mike Netzel was named athletic director in 2008, including four each in baseball (2010, 2011, 2014 and 2017) and rugby (2009, 2011-13), three in wrestling (2011-13), two in basketball (2008 and 2011), and one in golf (2012). Labus remains the one constant as the senior member within the Eagle Athletics coaching ranks.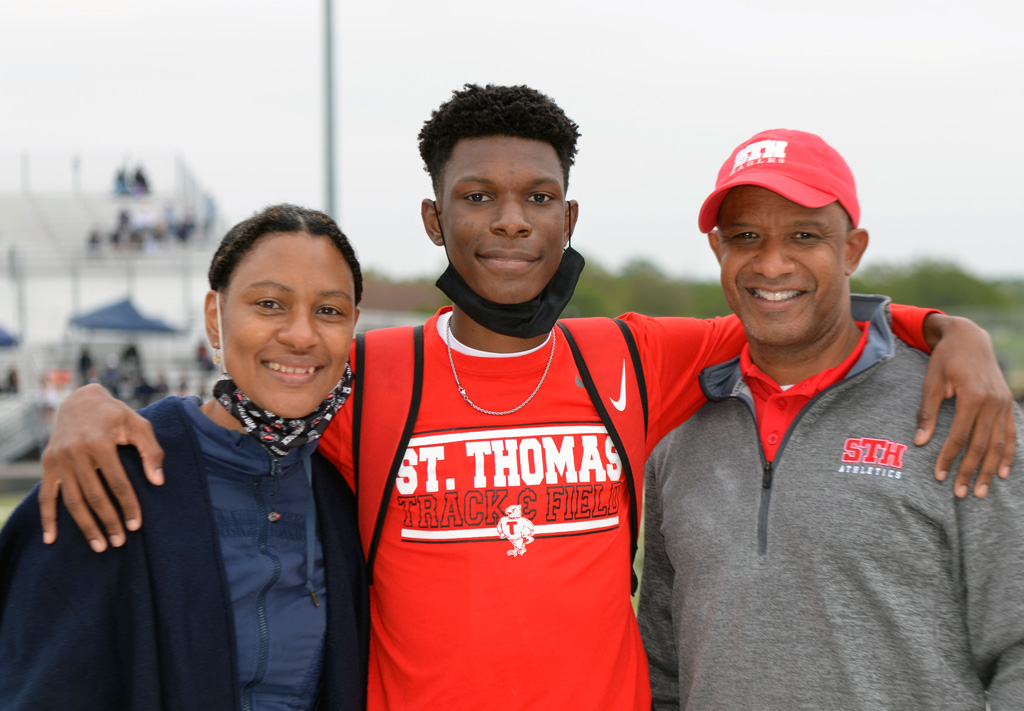 The Eagles had earlier stormed through the South Regional meet with superior swagger, sweeping the three relays, and Bonner and Kiatta serving notice in multiple events for the season's showcase conclusion.
"I was a bit concerned after the regional with so many personal bests that maybe we had peaked too early," Labus says. "That wasn't the case obviously. They maintained many of those same levels two weeks when they were most tested."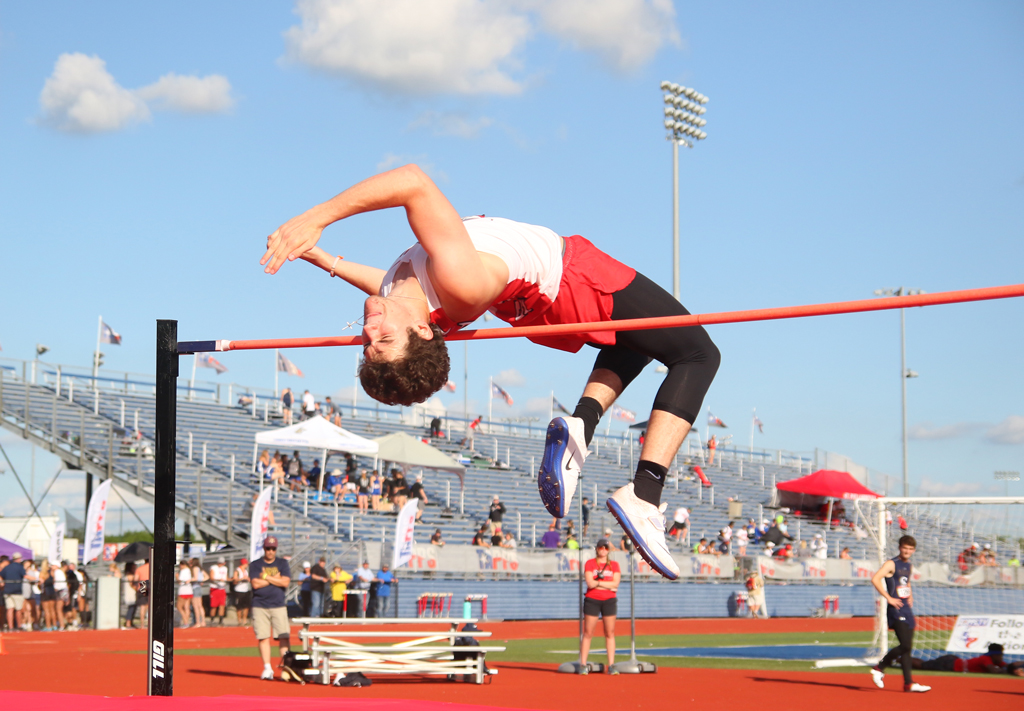 The latest conquest for Eagle Track and Field was in stark contrast to its previous masterwork when St. Thomas unleashed a fast and furious surge to the finish after trailing Dallas Bishop Dunne by a presumed insurmountable 89-29 deficit (yes, 89-29). Peyton Matocha '19 dramatically closed his stellar two-sport scholar-athlete career by high jumping 6-6 – the highest jumper in TAPPS history – in the final, championship-deciding event to push St. Thomas into command position.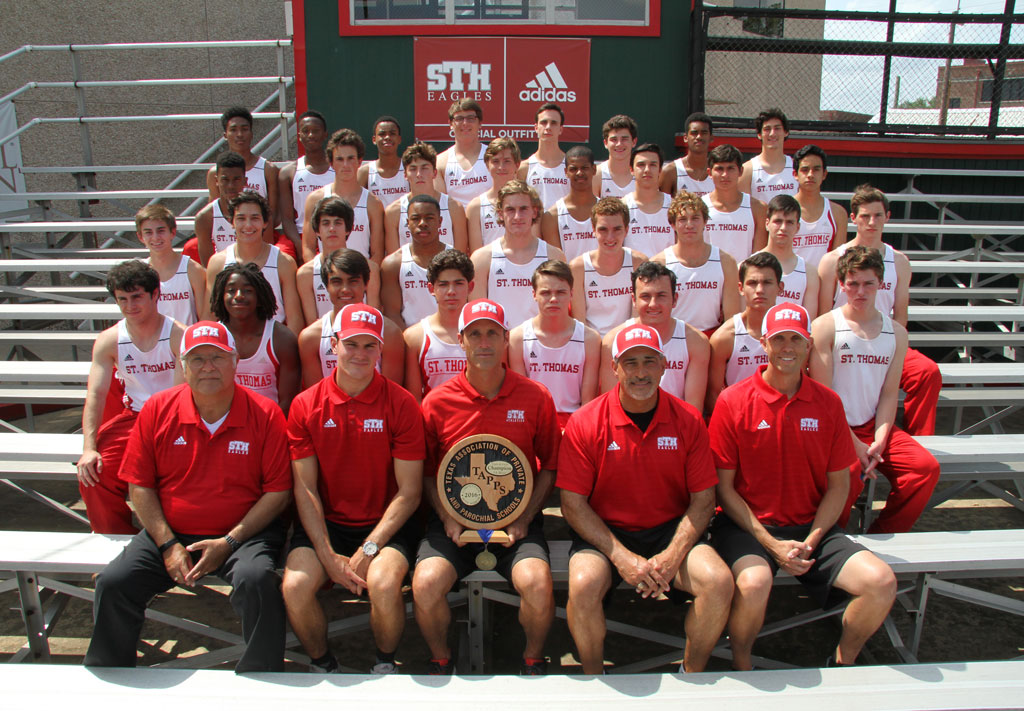 In 2016, four individual champions and a depth of contribution from throughout the roster produced the program's first state triumph since 2005. Uber-talented Landon Malouf '16 paired power and grace to re-establish one state standard he had already owned while continuing his dynamo swirl of results. Malouf first tied for third in the high jump (6-02), then blistered the 110 high hurdles in 14.17 seconds while lowering the state record he established in 2015 (14.30). He had enough octane to burn the 300 meter hurdles in 39.80 for his second individual gold to help stamp the historic 100th state title in the rich and storied history of St. Thomas athletics.
Five years later, the fastest, the strongest, the best is again St. Thomas. Now 104 state crowns. And counting.
Eagle Fight Never Dies!