Passion. Purpose. Priorities.
Raymond Bourgeois '70 has embraced and exemplified those defining qualities for a lifetime of leadership and achievement, invaluable contributions to his beloved Houston Third Ward community and to St. Thomas.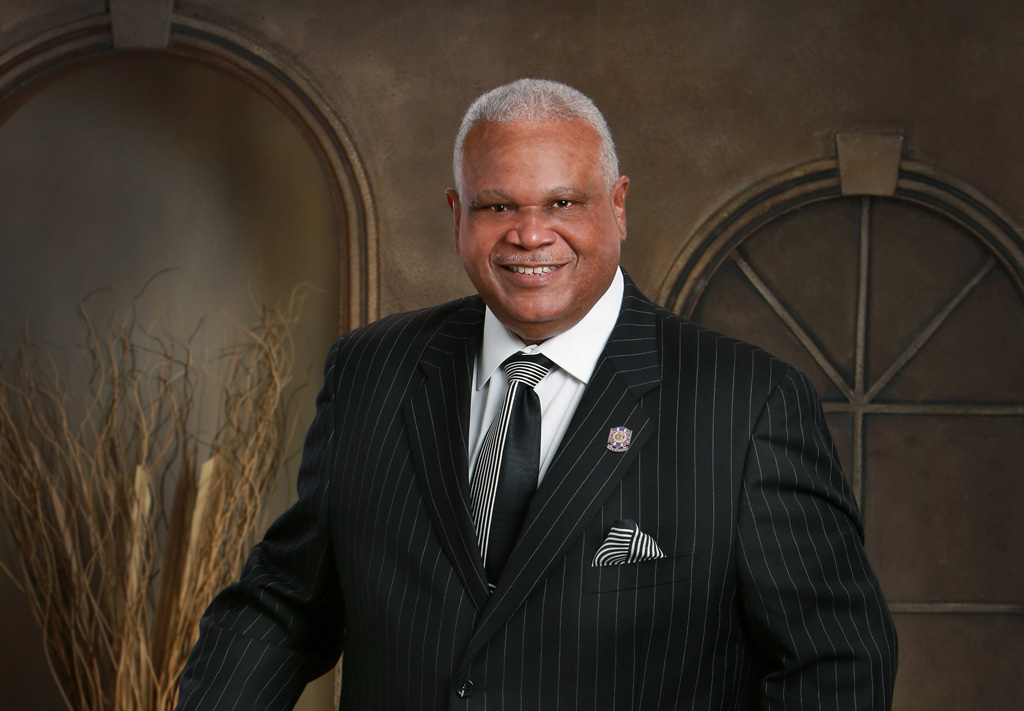 Earlier in 2021, Bourgeois accepted the school's highest alumni distinction, membership into the St. Thomas Hall of Honor. COVID-19 concerns prevented him from participating in the January event alongside his fellow inductees – Albert William Clay '61, Colonel Timothy DeWayne Gatlin '95, William Ferdinand Joplin '54, and the Most Reverend George Arthur Sheltz '63, recipients who reflect the broad and deep domain of a St. Thomas education and experience.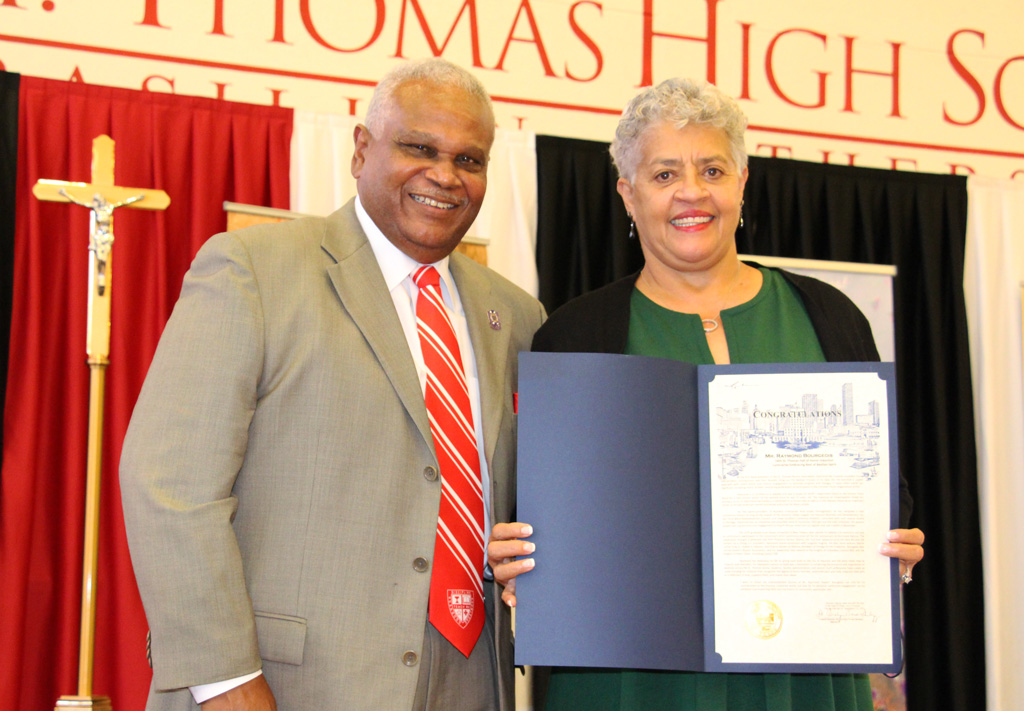 On September 20, Bourgeois returned to campus to officially join those notable alumni whose enterprise and ethic have brought prestige and pride to the institution. His cherished wife Laverne was among the host of family, friends, and supporters sharing in the revelry with scholars and the campus brotherhood at the annual Founder's Mass, including nominating sponsor Tariq Gladney '00 and councilmember Dr. Carolyn Evans-Shabazz from District D.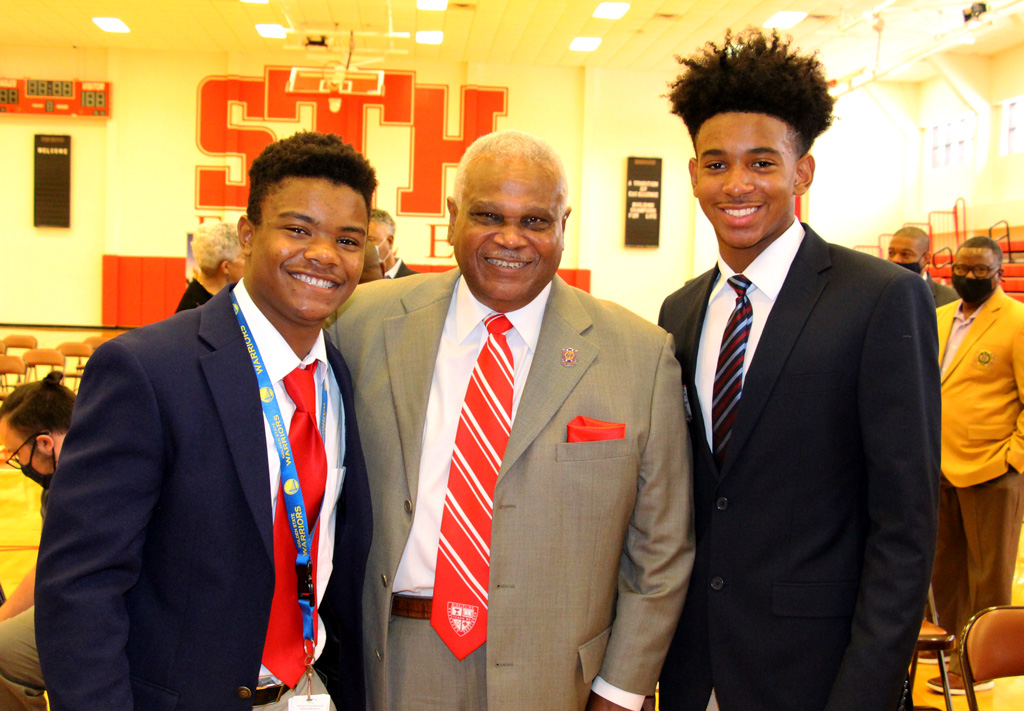 "My calling was to champion the kids from the inner city," Bourgeois said with obvious satisfaction amid enthusiastic congratulations and joyful embraces. "This recognition is an accumulation of nearly fifty years (as an advocate improving the lives of children in his Third Ward). I was never paid. I was fortunate that I had a professional career that allowed for flexibility for that volunteerism. The individual accolades are gratifying but what means so much more to me is the platform to pass this example on to the next generation."
The first Black president of the St. Thomas Alumni Association continues to invest countless hours and priceless contributions living out the Basilian mission in his daily life. He matches a supple approach with intent action and intense engagement to facilitate progress and changes in ways often subtle yet significant, including decades of hands-on mentoring in the Christian Youth Organization. His emphatic presence and expertise is still being measured at Thompson and Blackshear Elementary Schools.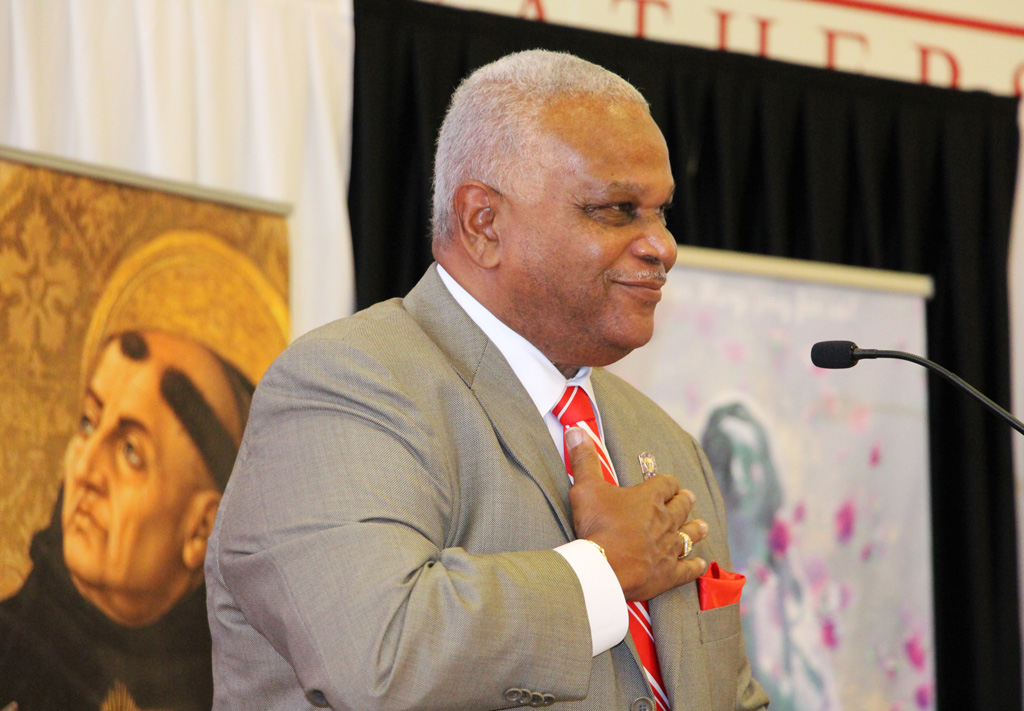 In his prepared remarks for the assembled audience, Bourgeois paid tribute to his Baptist father Roland and Catholic mother Josephine for their sacrifices that enabled him and his brother Frank '73 to enjoy "16-plus years of Catholic education. We learned goodness, discipline, and knowledge starting at home."
He recalled the confidence of knowing that as a St. Thomas graduate "I wasn't deciding if I would attend college. I was deciding which college I would go to. (The current students) will have that same option. And when you become board presidents or start your own companies, become husbands and fathers, remember to always help someone else. The rewards cannot be measured in dollars and cents.
"I'm a strong believer that not every student is the right fit for St. Thomas. But every student who wants to attend should have the opportunity. Raffle ticket sales from Round Up helped me and others like me to attend St. Thomas. You're continuing that tradition, doing what is necessary for someone else. Eagle Fight Never Dies! You're going to take that with you when you leave here. And you're going to have it for life. It's who we are. Service to others is the rent we pay to live on this earth."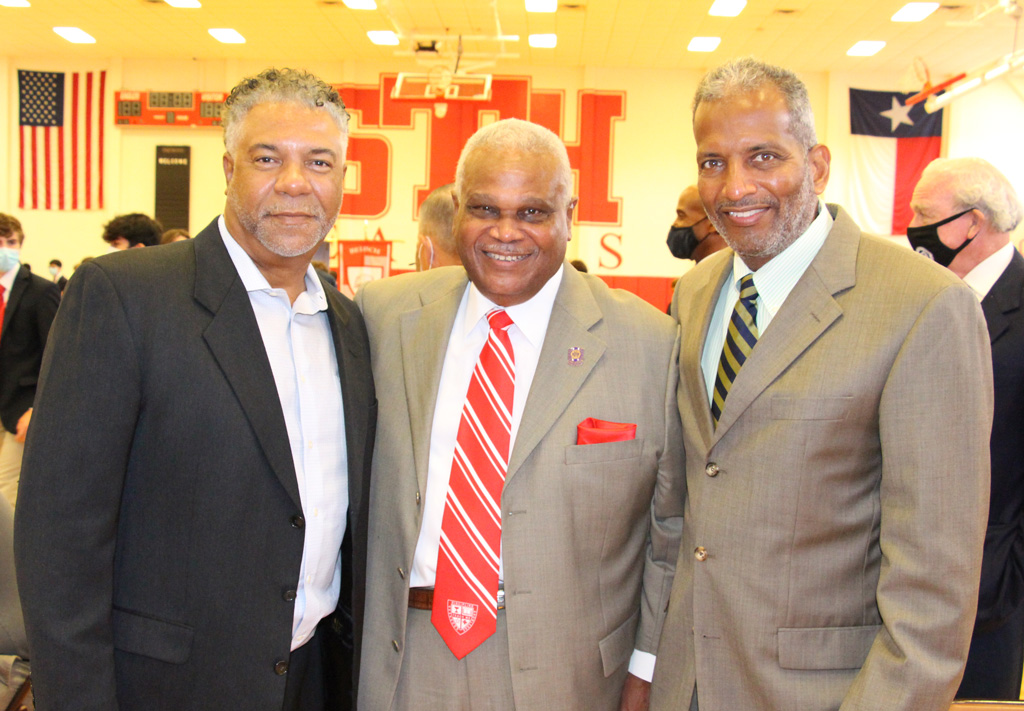 Bourgeois earned profound professional acclaim as a certified GIA jeweler and buyer for Wolf's Department Store where he worked beginning when he was 12 years old. The mainstay on Dowling St. sits among a series of state historical markers, a testament to a distant past as well as a still-relevant future as an important center of African American-owned businesses and a hub for Black culture. The owner/president of Bushwar Enterprises Real Estate Management has remained a vital community activist serving on the boards of the Houston Urban League; the Houston Business and Development, Inc; the Third Ward Redevelopment Council; and Texas Southern University Athletics.
Consistent with such intense allegiance to heritage, Bourgeois was an influential and amplified voice in numerous 2020 get-out-the-vote initiatives, a grassroots civic engagement to inspire African-Americans to register and cast a ballot in November.  His high school years crossed at the similar intersection of political, social, and cultural turbulence known as "the Sixties." Bourgeois had "friends losing their lives in the streets and in Vietnam. But I could always count on my home base. Honesty was essential. Never look down on someone who perhaps has less than you do. Have respect for all others. And never forget the lessons learned within the family. If I could consul my younger self, I would stress to just do what you've been taught. God will prepare and provide a way. Do your best. And you'll be OK."
The Bourgeois best was in full display at Xavier University in New Orleans where he first began to grasp the value and power of his Eagle experience. "I was so well prepared beginning my freshman year. Many of the demands were no different than what I was used to at St. Thomas. Chemistry and biology major, accepted into medical schools but elected for other options. St. Thomas propelled me into that arena. It was truly a college preparatory environment. I realized there was something special at 4500 Memorial Drive."
The 1975 graduate later earned his Master's in chemistry and was a vigorous participant in the University's 2011 commemoration of the fifth anniversary of Hurricane Katrina. The celebration brought a landmark visit from President Barack Obama, the first-ever appearance to the then 86-year-old campus by a sitting United States president.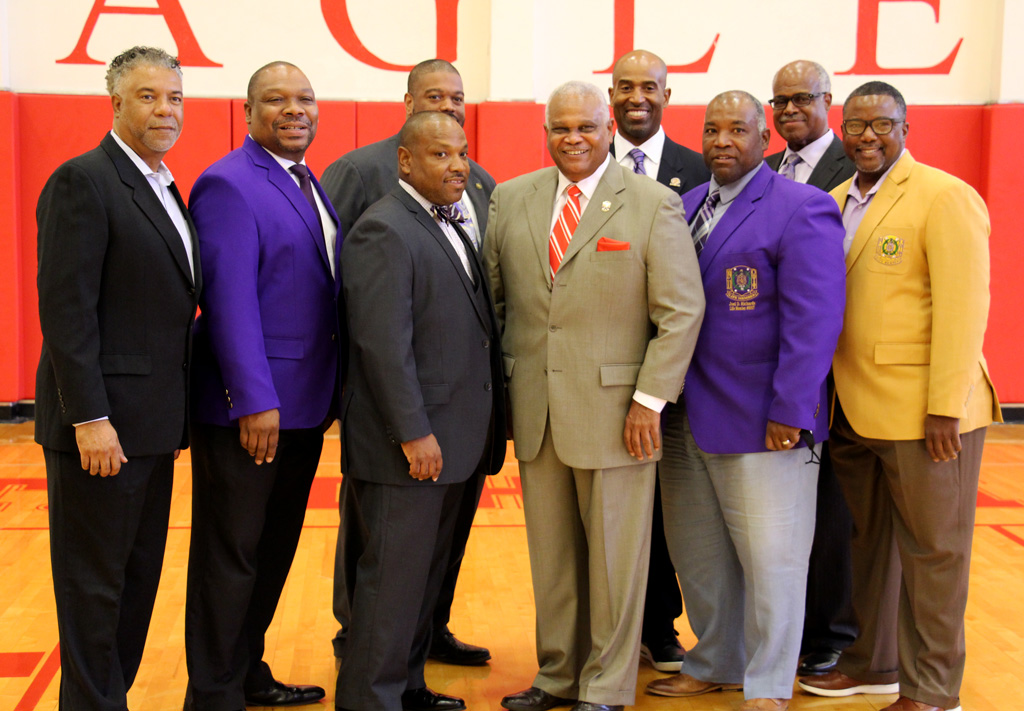 Bourgeois shares distinction with Langston Hughes, the Rev. Jesse Jackson, Martin Luther King Sr., Walter E. Massey, and Charles Bolden as lifetime members of Omega Psi Phi Fraternity. Bourgeois later served Xavier's Alumni Association, and his leadership roles extend to the Knights of Columbus, Council 803; and the Knights of Peter Claver, Founding Council 238.
Bourgeois has dedicated his life to demonstrating exceptional commitment to the city of Houston and the alma mater that he respects and reveres. His deep loyalty to both enhanced the presence and experiences of diversity across the St. Thomas family: students, faculty, administration, and alumni. Such selflessness helps create an understanding for inclusion that recognizes the dignity of every member, welcomes each one fully, treasures their gifts as a reflection of God, supports them, and shares their ideals.
All of which unites Bourgeois with his fellow Hall of Honor inductees. Along with the unbending bond of what he fervently refers to as a "love of St. Thomas. We all had different paths with different talents. But the bottom line is the devotion for the school. The Basilian priests impacted me deeply. I grew up around a number of religious orders but the Basilians were different. And twenty and thirty and forty years after graduation, you see the results."
Catholic. Basilian. Teaching Goodness, Discipline, and Knowledge since 1900.