The beginning 123 years ago was meager, the ascension without fanfare. A steady process that preached purpose, culture, and service rooted in the Basilian credo of Teach Me Goodness, Discipline, and Knowledge.
Since 1900, the St. Thomas campus community has served as a Catholic Basilian beacon with a thriving intellectual and moral tradition that remains the cornerstone of an esteemed academic pursuit and formation. The second oldest continuously operating private high school in Houston (to Incarnate Word Academy) is home to a vibrant array of accomplished scholars, distinguished faculty members, deeply committed professional staff, and unwavering supporters and donors.
Now well into the second century after its genesis, St. Thomas relished its legacy as a premier college preparatory experience with a Mass celebrating the feast of patron St. Thomas Aquinas, the 13th-century theologian who showed that the Catholic faith is in harmony with philosophy and all other branches of knowledge.
The Italian Dominican friar and immensely influential philosopher is regarded as the preeminent spokesman of the Catholic tradition of reason and of divine revelation. He is one of the profound teachers of the medieval Catholic Church, honored with the titles Doctor of the Church and Angelic Doctor.
The unity, harmony, and continuity of faith and reason, of revealed and natural human knowledge, pervades his writings. St. Thomas' best-known achievements are his works of theology. These include the Summa Contra Gentiles, the Compendium Theologiae, and the great Summa Theologica – which was placed on the altar along with the Bible at the 16th century Council of Trent for easy reference during discussions.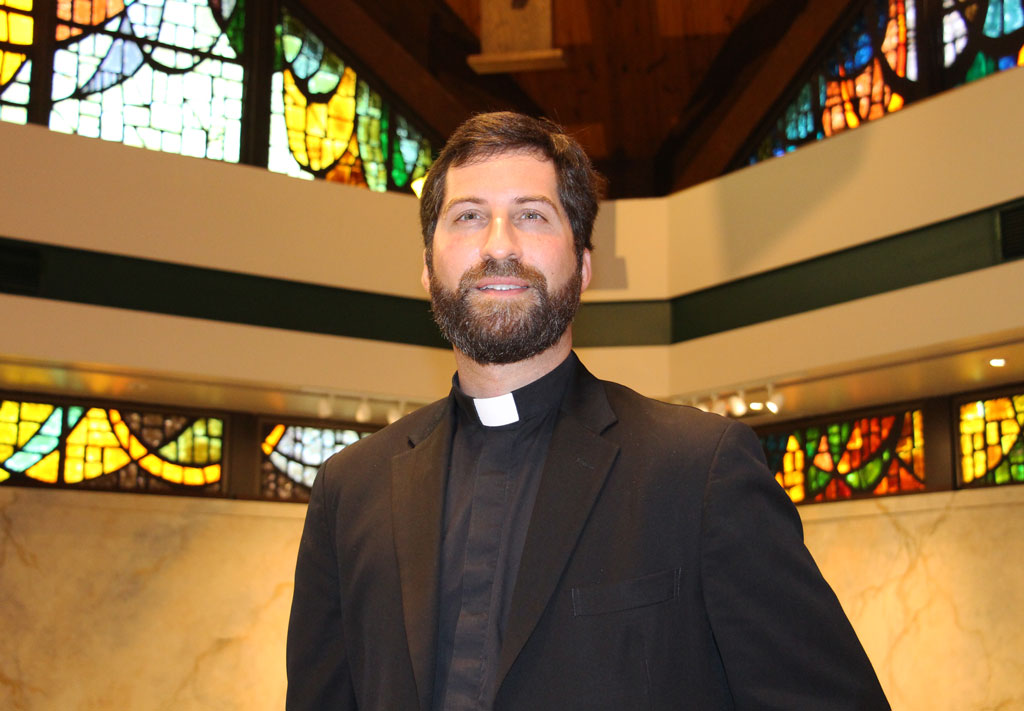 For the second time in six years, Fr. Clark Sample '01 served as celebrant in Cemo Auditorium with St. Thomas President Fr. James Murphy, CSB. Fr. Sample is the pastor of St. Thomas More Catholic Church and a member of the St. Thomas Board of Directors.
Catholic. Basilian. Teaching Goodness, Discipline and Knowledge since 1900.