St. Thomas is proud to again partner with designer KH Studio with the latest Eagles' Nest publication – a celebration that connects the Eagle Family.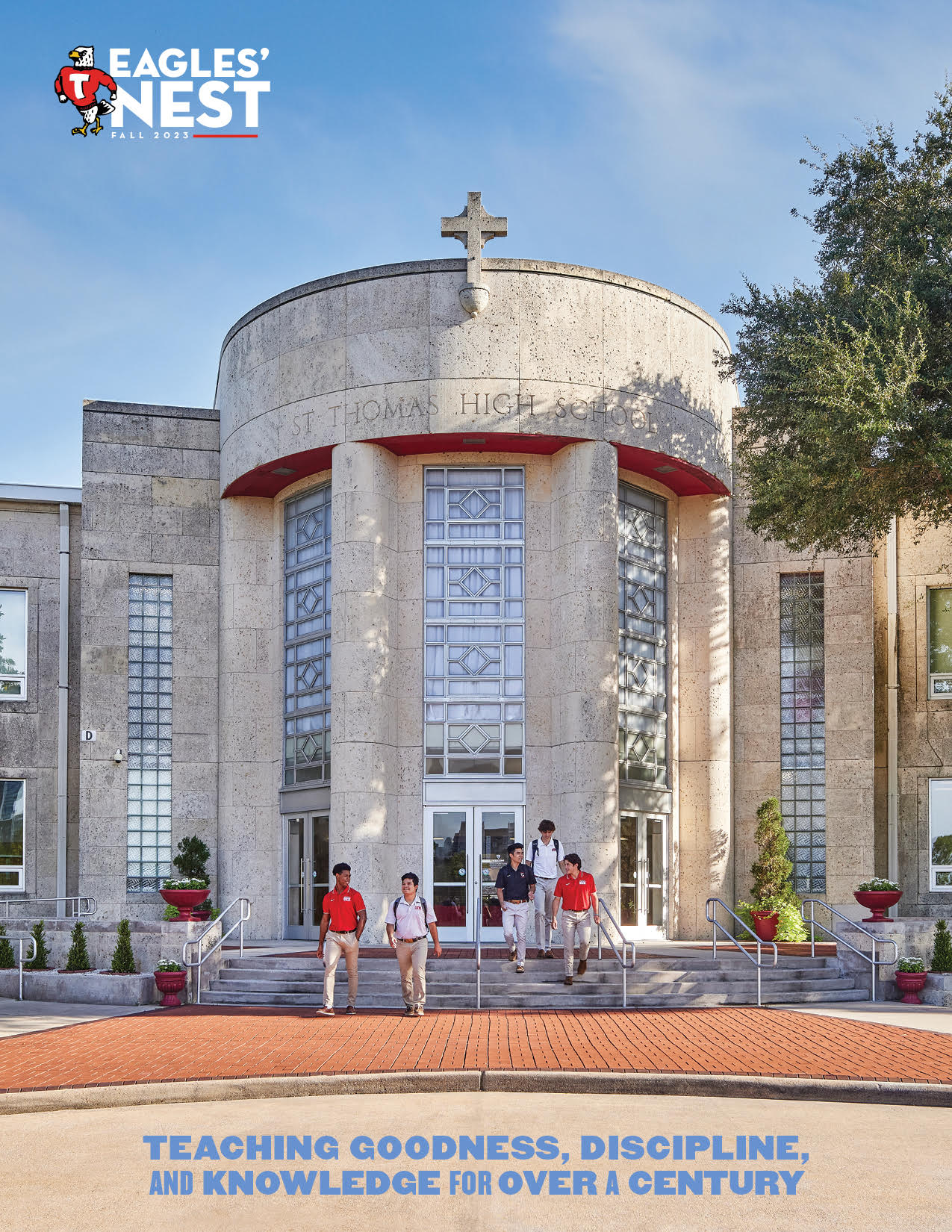 Nationally award-winning narratives.  Compelling and striking visuals.  Exploring the institution, from the change and growth on campus to how St. Thomas is leaving its Catholic Basilian imprint on Houston and throughout the United States.
Enjoy the latest profiles and highlights of diverse alumni, captivating student life, and social service leaders that define the Eagle spirit through goodness, discipline, and knowledge.
St. Thomas was recognized for Honorable Mention for Excellence in Writing, Publications and Digital Media for the Eagles' Nest Fall 2022 publication. Serving Up Success spotlighted chef Rafael Nasr '10, a vibrant first-generation Lebanese American who is enjoying immense culinary renown as founder of the Craft Pita cafes in Houston.
The St. Thomas collaboration with KH Studio has resulted in multiple elite recognitions from the prestigious National School Public Relations Association (NSPRA).
In June 2022 and for the second consecutive year, St. Thomas earned an Excellence award in the Magazine category, one of only two individual schools displaying distinction among 17 honorees otherwise representing independent public school districts. The cover story featured United States Navy Lieutenant Xavier Kelley '09, an instructor at the preeminent fighter pilot school TOPGUN.
St. Thomas was also honored twice with Merit recognition for Excellence in Writing, Publications and Digital Media.
Rarest Three Of A Kind spotlighted the emphatic successes of 2021 valedictorian Patrick Pham, his National Speech & Debate Association champion partner Gus Boettcher '21, and 2021 student body president Luke McLane. From Long Island To Lone Star chronicled the unlikely rise of exemplary scholar-athlete Kevin Silva '21, who sought St. Thomas as a sanctuary for high school football survival and a real-world reprieve from his home in New York in response to the coronavirus pandemic.
The NSPRA program annually considers hundreds of entries nationally and St. Thomas has now earned seven preeminent honors in the previous five years, the only such accolades in school history.
The Eagles' Nest Spring 2020 publication received the school's first-ever Excellence award, among only eight honorees and two private institutions in the Magazine category.
The Eagles' Nest Fall 2019 earned Merit consideration in Magazine, as did the compelling cover story from Eagles' Nest Winter 2019 featuring Arturo Chavez '85 – Grand Designs Inspired by Goodness, Discipline, and Knowledge.
The Eagles' Nest Winter 2017 received Honorable Mention distinction. Rescue Recover Rebuild Rejoice – Eagle Strong In The Year Of Hurricane Harvey recounted the compelling personal trials and accounts from the St. Thomas community during the shattering developments and aftermath of the most severe rainfall event in recorded United States history.
This latest commendation from NSPRA continues an eight-year media surge where St. Thomas has witnessed significant advances in its digital content and publications. Showcasing the authentic Eagle scholar and alumni experience through personal profiles and culture-focused topics has established real-time rapport with an ever-expanding audience. The exponential growth for the school's social platforms includes extraordinary results in reach, impressions, and engagement measured on multiple channels.
Catholic. Basilian. Teaching Goodness, Discipline and Knowledge since 1900.