HEAD COACH: Ryan Lousteau
5th year as head coach
10th year in the Eagle program
2010, 2011, 2014 and 2017 TAPPS state championships, seven state tournaments, 2015 regional tournament final
LOOKING BACK TO 2017
The Eagles furious finish included winning their final 12 games with a six-game sweep through the TAPPS state playoffs for the 24th state championship in program history … a second state title in four years with head coach Ryan Lousteau … a record of 34-5 … a phenomenal 64-7-1 during the last two seasons.
Third baseman Logan Bear '17 drove in six runs while Owen Meaney '18 added three RBI to lead an overwhelming 15-1 five-inning verdict over district mate Beaumont Monsignor Kelly Catholic to capture the 24th title in program history and fourth since 2010.
Simen Borland '17 scattered hits in each of the five innings to win for the ninth time in 10 decisions … benefitting from three double plays … two started by Bear to end the third and fourth innings.
Borland's performance completed a scintillating series of outings from the Eagles staff which allowed two or fewer runs in five of their six playoff victories.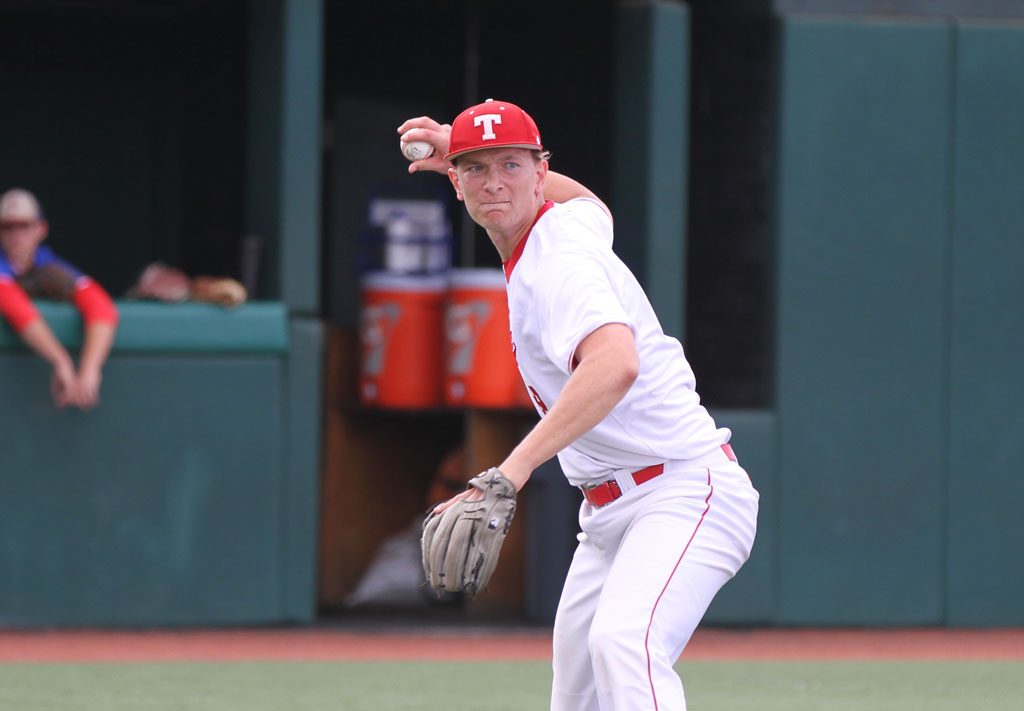 In his first career playoff start, Meaney allowed Dallas Parish Episcopal only two base runners after a leadoff single to start the state semifinals … finishing with a one-hit shutout … striking out 12 including seven of the last nine batters … and drove in the game's only run with a fifth-inning single.
Bear, Borland, Campos and Meaney were all named to the State All-Tournament team … while Meaney, catcher Philip Matulia '18 and outfielder John Griffin '18 were TAPPS all-state selections … and Matulia was also recognized All-Greater Houston by the Houston Chronicle.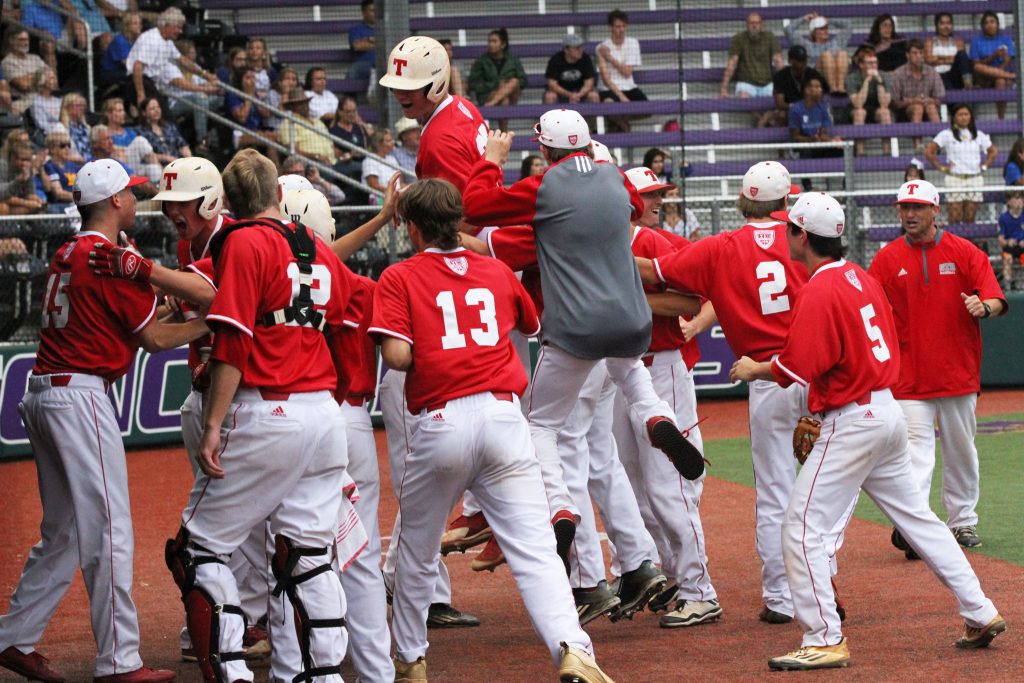 The runaway title rout over a familiar district foe returned Eagle Baseball full circle during a supreme decade of dominance.
In 2008, Colin Bear '08, Patrick Hicks '10, Jonathan Mejia '10 and Matthew Stuart '08 led St. Thomas to a 12-2 five-inning drubbing over Kelly for the second of consecutive state titles under head coach Ken Schulte.
During the next five seasons, eternal Astros icon Craig Biggio piloted the program, including four straight state tournaments, three straight championship games and titles in 2010 and '11.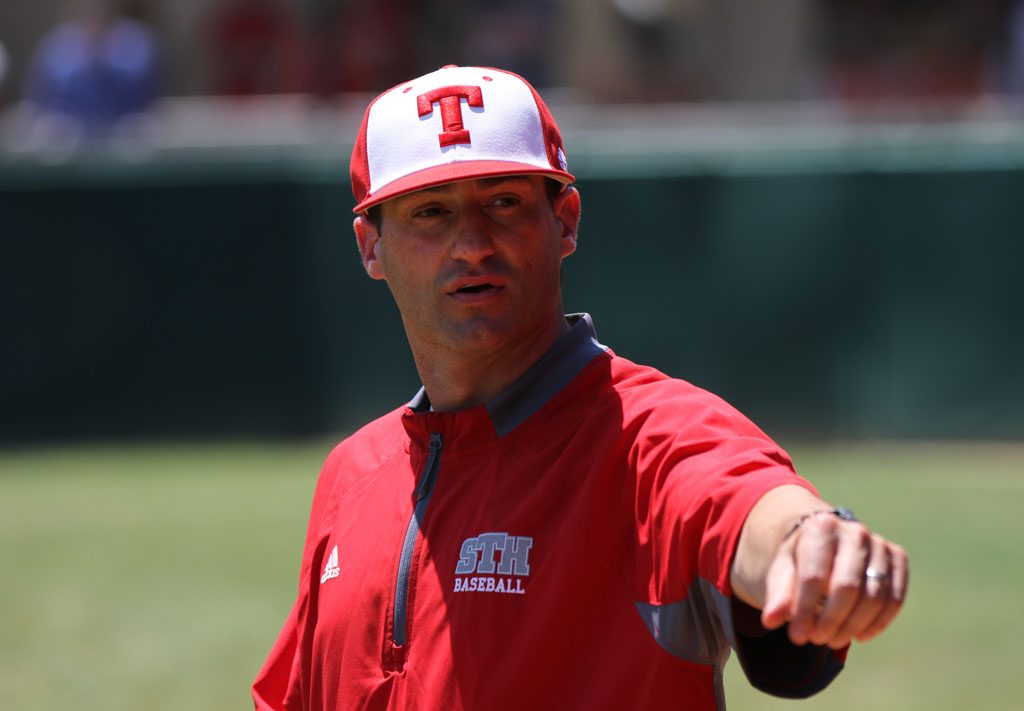 In 2014, Lousteau was promoted from Biggio's staff as his successor and cashed in repeated thrill-o-rama playoff rallies capped by a two-out two-strike walk-off single from Ben Condara '14 to score Rawlings Elam `14 with the margin that beat TCL 2-1 in the winner-take-all and guaranteed a third state crown in five years.
After two encore seasons where the Eagles were eliminated in the playoffs by the eventual state champions by a total of three runs, Lousteau guided Eagle Baseball back to the throne with a deja vu all-over-again beat-down over the outfit from Beaumont.
LOOKING AHEAD TO 2018
In-game strategy, creative decision making and scrutinizing hitter-pitcher matchups all matter in baseball coaching.
But what matters most is player development and getting players to commit to getting better every day.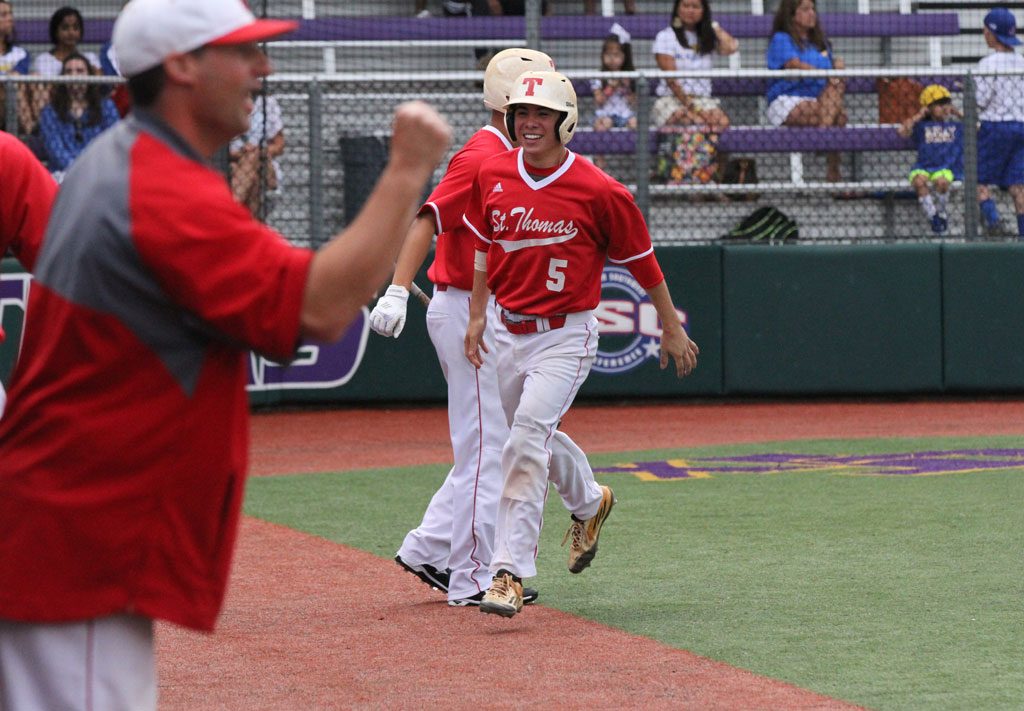 What makes Eagle Baseball the standard (if not envy) throughout the state's private school ranks is that the program has established an institutional culture that enables sustained success while plugging and playing new pieces.
"We lose six of our nine offensive starters, but our junior group is talented, just without the varsity experience," Lousteau said. "They haven't had the opportunity to play because of the seniors in front of them. Now they do. There are obvious holes to fill. There may be growing pains early in the season against our usual demanding tournament schedule, and the game certainly accelerates at the varsity level, so we'll see who responds and how quickly."
The Eagle version of the M&M Boys (Meaney and Matulia) tag-team with Griffin (John Hopkins) to provide an elite core anchoring the middle of the batting order. Lousteau's "Big Three" will determine in large measure to what degree the program can offset considerable offseason turnover within the roster.
"They really gained during the summer experience, in front of professional and college scouts in a highly competitive environment," Lousteau said. "Every pitch mattered. Come February when the talent evaluators are back in the stands, our leaders will know what to expect. When the radar guns, stopwatches and educated eyes are on them, they will have seen it, understand it and play without feeling the pressure."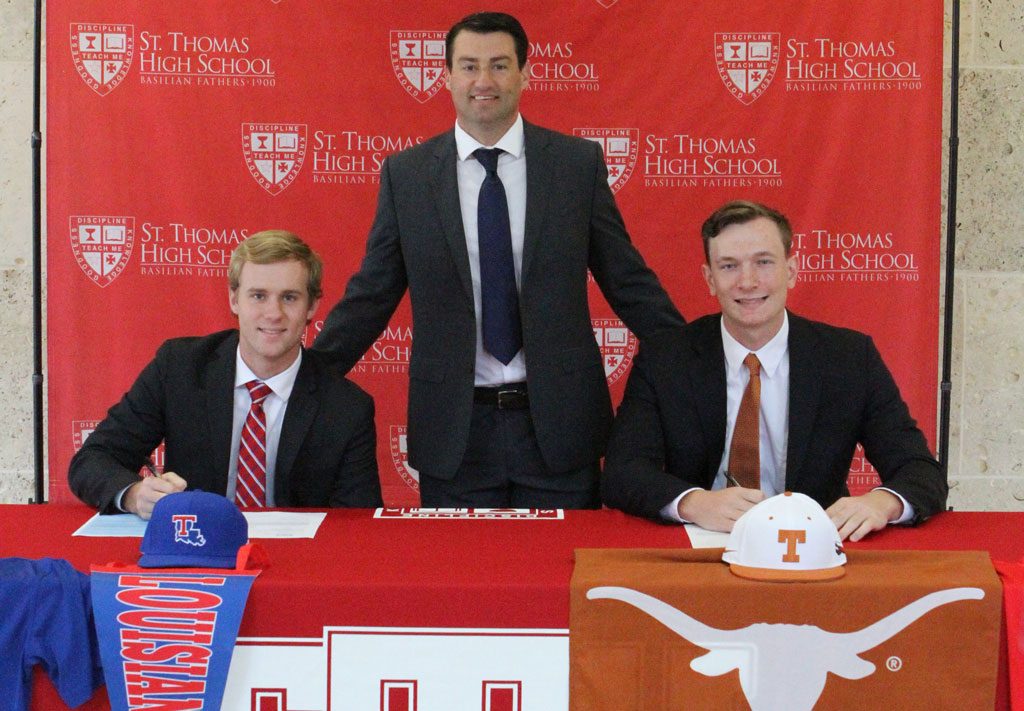 Matulia and Meaney were paired side by side for the November National Signing Day just as they were in the state championship spotlight five months before.
But the traditional all-in Wednesday was a two-pronged individual celebration reserved for the two-time all-state pitcher and thunder bat Meaney and his all-state catching partner Matulia.
Meaney followed through with his September verbal commitment to the University of Texas while Matulia confirmed his April decision to next play for Louisiana Tech.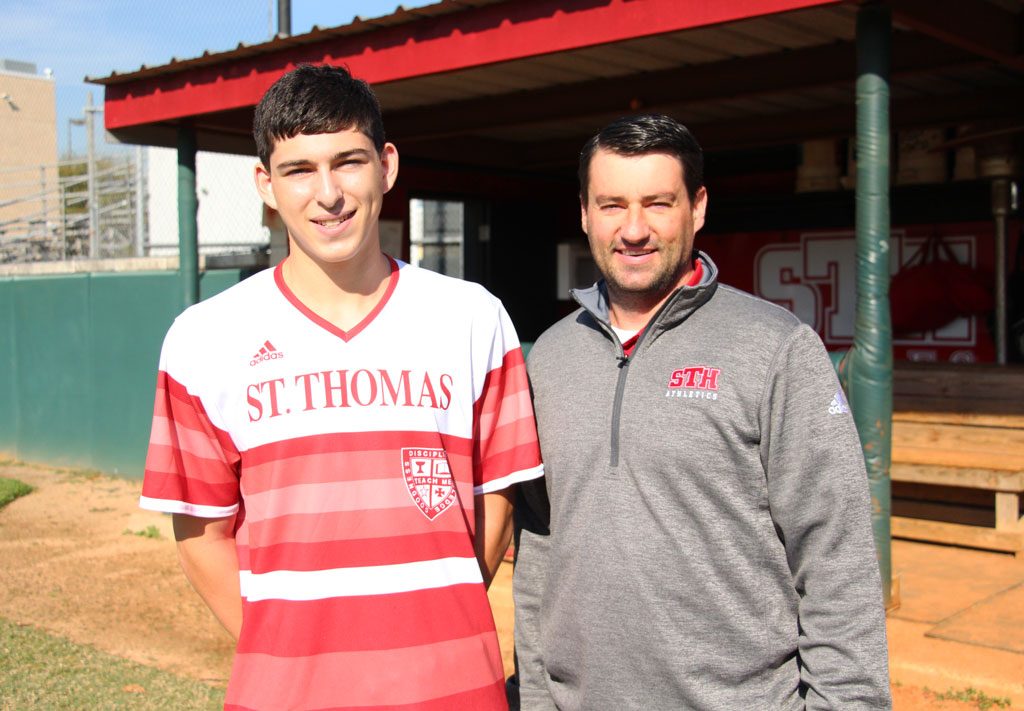 Earlier in the academic year right-hander Josh Wolf '19 committed to Texas A&M.
The road to '24' lingers, if only in one respect: the returning roster knows what is required to reach the championship destination. If that's all that remains, it may be enough to maintain Eagle Baseball's perch in the conversation for a repeat performance.
Eagle Fight Never Dies!