For more than a decade, Fine Arts Dean Mike Nebel has fostered much more than a simple appreciation for the ceramic arts within his seniors only curriculum.
He's orchestrated a seismic shift for the program, providing a rigorous yet supportive environment that relies on persistent curiosity and due diligence, exposing students to a wide range of traditional techniques and contemporary concepts while encouraging their signature style.
And through their authentic tactile and cognitive experiences, Eagle artists continue to gain regional and national acclaim from the premier juried competitions in the United States.
'It's not living up to the St. Thomas standard, it's redefining the standard," Nebel says in his annual manifesto delivered at the beginning of each fall semester. "Every year that motivation becomes increasingly more ambitious. After this year, raising the mark will be especially challenging."
Early in 2018, Nebel celebrated a staggering 27 Eagles capturing esteemed recognition from 29 entries to the National Scholastic Regional Art Competition sponsored by the Harris County Department of Education, including nine of the 12 Gold Keys from the region advancing to the national level, two each from Andreas Kapetanakis '18 and Nolan Pfeil '18.
"Astounding" was Nebel's one-word qualifier. "I never envisioned results like that. Those percentages are out of sight."
Nick Burns '18, Josh Hanks '18, David Jackson '18, Jonathan Kerr '18 and Trevor Sides '18 joined the Gold Key parade, their submissions applauded by panels of highly-qualified professionals.
Hanks and Sides were also among 11 Silver Keys recipients, along with seven Honorable Mentions in Ceramics & Glass, and two Silver Keys for Drawing and Illustration earned by William Castillo '19 (the first-ever Eagle to be honored with Gold Key identification in 2017).
The distinction becomes even more notable within the context that Nebel's students begin their projects only weeks into Ceramics II with but one previous semester of experience to develop an emphatic personal direction with their work.
"We aren't attracting artists advancing to study ceramics at the university level," Nebel says. "It's a decided mix of elite scholars, achieving students, theater performers, student-athletes, all with almost no background to the materials or the process. These guys are future lawyers, engineers, business executives. But they routinely bring a great desire, and from there, a hidden skill may emerge."
Kapetanakis, Pfeil, Burns, Kerr and Sides also contributed to the 20 St. Thomas entries for the 21st Annual National K-12 Ceramic Exhibition. Hanks, Jackson and Owen Meaney '18 were all selected for the national show March 14-16 in Pittsburgh, Pennsylvania, from more than 1,200 submissions.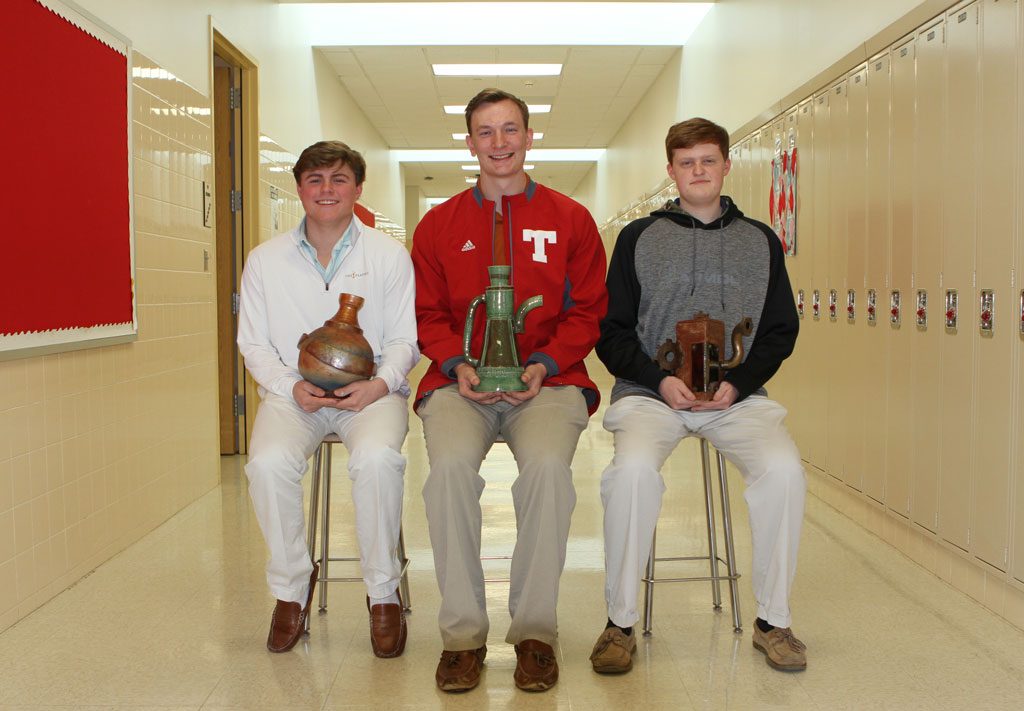 "Three incredibly distinctive and deserving pieces," Nebel says. "Hanks crafted the most riveting pottery we've ever done. Cone 5 Stoneware clay, low fire glazes for variance, then into the kiln (oven) to produce a horse hair-firing effect and burnt sugar for an added texture. Then to really blow it out, he sprayed ferric chloride on the glaze work to represent fuming and an iridescence look. People in the (ceramics) community have really been taken back and impressed."
Hanks (left) was stunned by the artistic results and the jury's reaction to his Mystic Sultan. "I really didn't expect it to turn out that well. I had a plan but there were some definite adjustments with coloring as we went along. When you invest a great effort, it's an equally great payoff and satisfaction."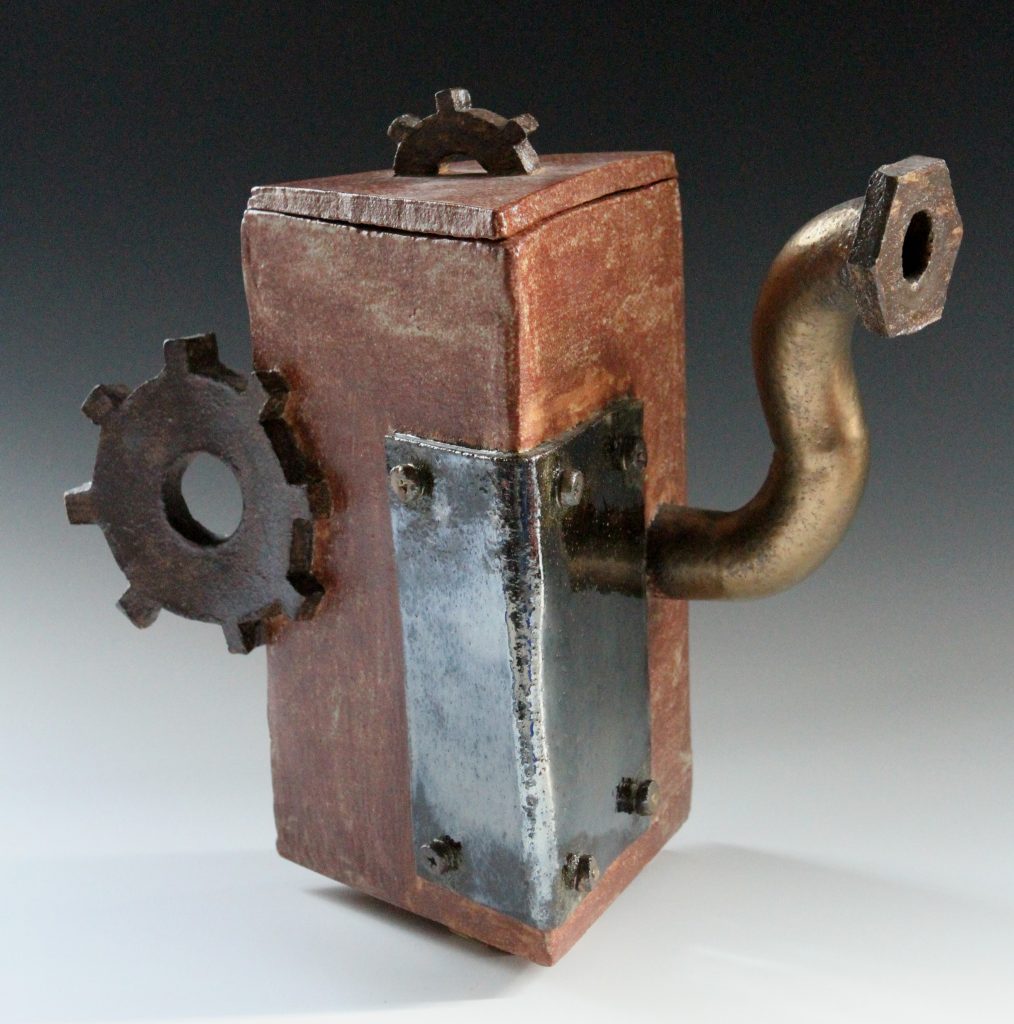 Nebel marvelled at Jackson's Mechanical Parts Teapot (right) which featured "modelled clay objects that looked extremely real. A pipe, gears, bolts and nuts with a complimentary glaze that produced a chrome/metallic look. He had the Trompe l'oeil working (art creating the illusion of a real object)."
Jackson said his "original draft wasn't going to work so I started sketching and came up with modifications. I tried to make the best piece I could, came in after hours when the rest of the class had moved on to the next project. I honestly didn't expect to make it (to show) but it's a great reward for some intense work."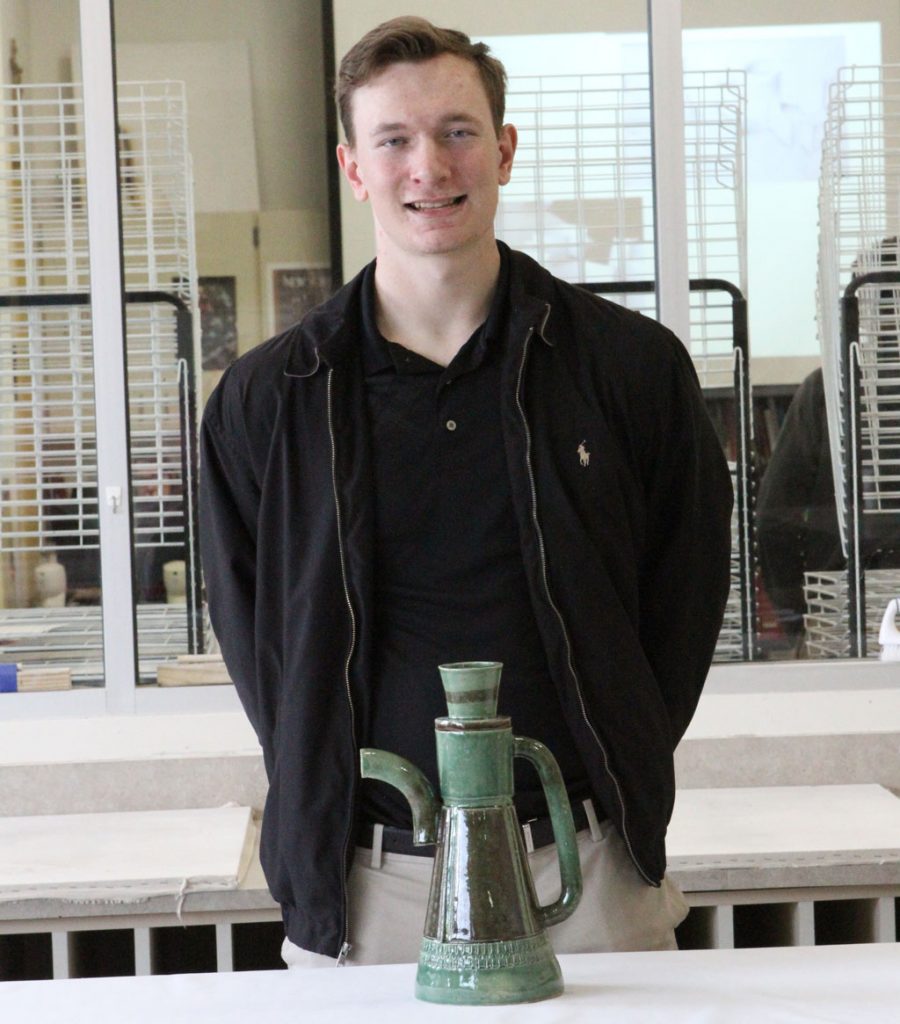 Meaney, who also collected a Silver Key in the Scholastic judging, opted for a more classic approach for his Green Tea Anyone that proved superior in the eyes of the judges to more lavish entries. When revealing to the class the latest round of supreme achievement in National, Nebel took particular delight in announcing Meaney's inclusion last, anticipating a pulse-pounding reaction which was delivered promptly on cue.
"Owen screamed, jumped three-feet in the air and the room went nuts," Nebel says. "Priceless. You just never know who's going to be the top dog."
Nebel credited his current student group for bringing "amazing originality to the lab. Unique shapes, captivating to the eye, some very large (24-26 inches in height), others extremely small (six inches). A great range of talent with precision for detail."
Clay is one of the most dynamic and versatile mediums for translating the creative impulse into three-dimensional forms. At the intersection of art, craft and design Nebel shepherds students to push the limits of their visual imaginations, striking a balance between the acquisition of fundamental skills and the promotion of independence and innovation.
"I don't want to see what we've done before," Nebel says. "Each new group will sample images from the posters (saluting previous Eagle exemplary showings) but then they must apply their own twist to make it their own."
In the current coast-to-coast academic climate espousing the sudden virtues of makerspaces, Nebel views his program as an original in what is now trending within 21st-century education, combining a deep investigation of materials, process and ideas.
"Ceramics is the definition of hands-on problem solving," Nebel said. "I was struck by the collective ingenuity and chemistry within the lab this year. This group really encouraged and fed-off one another. If someone was stuck, his lab mates would break from their own projects to help. It was a team attitude along with individual advancement. And believe me, they all wanted to beat each other, to be no. one without leaving any doubt."
Meaney has enjoyed wide-ranging success at St. Thomas, his primo pitching prowess earning TAPPS all-state recognition two consecutive years while leading Eagle Baseball to the 2017 Division I state championship. On the November National Signing Day, he cemented his commitment to attend the University of Texas.
He sees the stimulating and competitive culture within ceramics very similar to Eagle Baseball, and that "really starts with Mr. Nebel. He's a strong instructor but keeps the environment lose which helps us all enterprise. But when it comes time to work, everyone knows to take ownership, to complete the projects on time and up to expectations."
The series of Scholastic and National Exhibition notoriety continues to separate the St. Thomas powerhouse program from the pack, clear validations of artistic and intellectual growth, promise paired with persistence.
But perhaps the truest indicator of the ethic Nebel has inspired and sustained was a recent anonymous Friday afternoon without a national judge in sight.
"I came into the lab after classes and more than a dozen guys were in here working and fine-tuning their projects," Nebel says with a significant sense of pride. "At the end of the week. On their own time. They were that motivated to do their best. And so often after the competitions, almost every one of their pieces goes home and is kept for years and years.
"That may be the greatest award of all."
Catholic. Basilian. Teaching Goodness, Discipline and Knowledge since 1900.