Eagle Soccer soared to heights in 2108 not realized in the program's recent history.
And in one notable instance, not seen ever.
Yet ultimately the upstart Eagles were denied in the season's most defining moment.
Eagle Soccer surrendered the only goal of the TAPPS Division I state championship at the 22:12 mark of the second half and fell to defending state champion San Antonio Central Catholic 1-0.
"There were some matchups especially in the midfield that just did not work in our favor," head coach Kenny Martin '01 said. "There's a disappointment for sure but also great appreciation for a season that on the surface no one saw coming."
Goalkeeper supreme Jacob Manley '18 was sensational in his St. Thomas finale with at least six superior saves, including a rapid-fire series of rejections after a scoreless first half that included a 60-minute weather delay in Waco.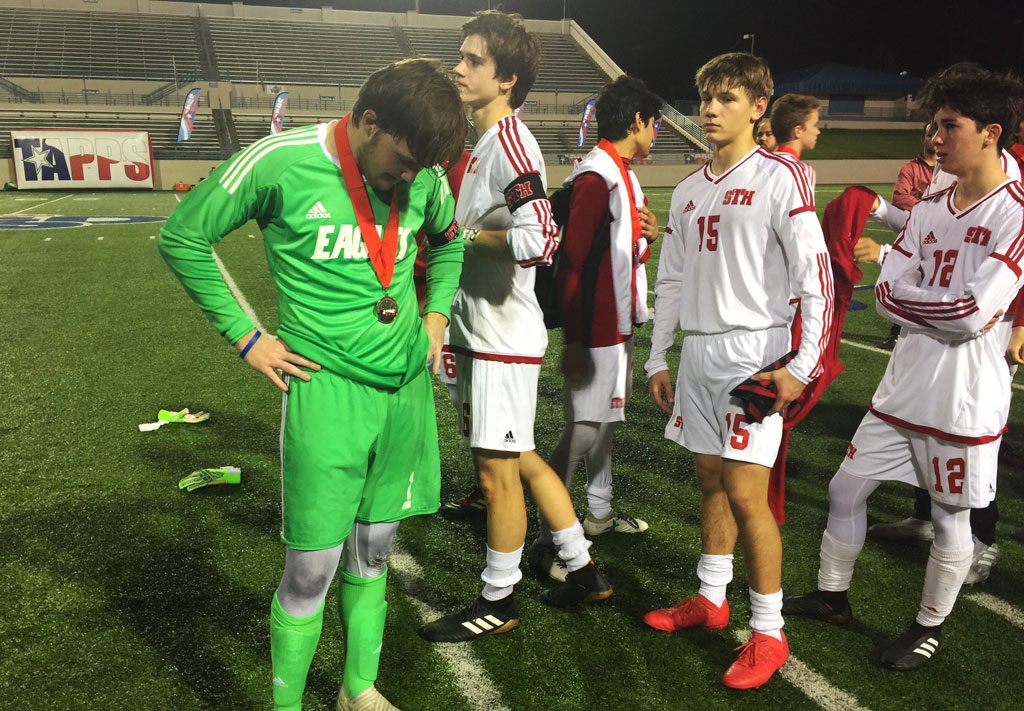 "He was phenomenal," Martin said. "I know how good he is after four years as our starter and he was at his absolute best. He excelled at every level when the stakes were highest. I don't hesitate to say he's the best in the state, championship caliber, private school or public, and the best this program has ever seen."
The curtain dropped as Eagle Soccer finished 22-5-2 after advancing to the state title tilt, crashing the postseason final four and claiming the district championship, all for the first time since 2008.
For exclamation, three consecutive scintillating playoff shutouts had them scaling a victory plateau no previous St. Thomas team had ever reached.
The 4-0 state semifinal takedown of St. Pius X included goals from catalyst Julian Zanovello '18, Zach Blice '19 and Diego Garcia '18, plus enduring an hour-plus weather stoppage in the second half after mounting a 2-0 halftime advantage.
The shutout was the 15th of the season for Manley, lowering his goals against average well below 0.50.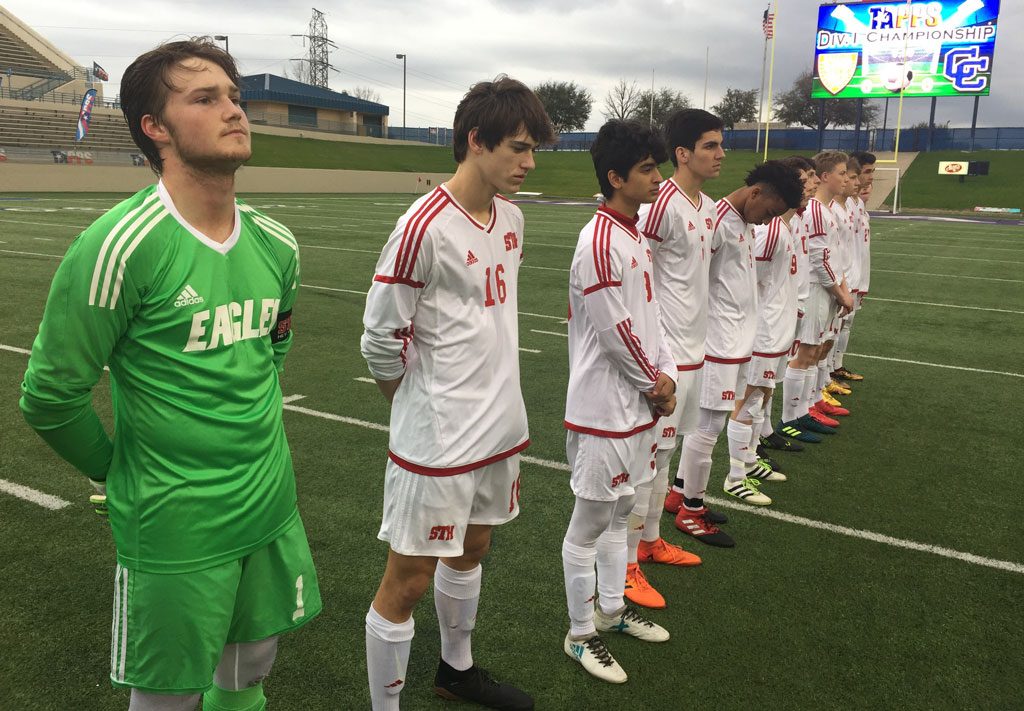 "Our guys were a great example of 'team'" Martin said. "We've had talent in the past but this group had that 'it' factor. And at the start of the season, we had no idea how they would all mesh. Many of the younger guys got the minutes but everyone understood and accepted their role. Success was a great elixir to foster the right chemistry."
The cathartic knockout of SPX completed a three-game season-sweep of the series and avenged a 2-1 defeat in the regional round of the 2017 playoffs.
Zanovello broke through on a free kick 22 minutes into the game for the first goal, then delivered in quicktime a thunder-foot approach from near midfield to the back post that Blice headed into the opposite box for a commanding shock-and-awe two-goal advantage.
"We didn't necessarily expect to score on that kind of play but there was always a strong possibility throughout the season," Martin said. "We had the skill to convert and it had a gut-punch effect on the opposition.
"Manley really set the tone with a save six minutes into the game on a corner kick that was point blank. That's a goal 80% of the time. But Manley reacted and stole the ball out of midair. That was a game-changer even though the final margin eventually blew up."
Eagle Soccer surged into the state playoffs with a wave of momentum as the winningest team in the tournament.
The opening verdict was a decisive 3-0 blanking over Plano Prestonwood Academy after first-half scoring from
offensive ace Alex Rivero '20 and Blice, and later a remove-all-doubt goal from Pablo Tager '21 in a game where the Eagles were never threatened at Hotze Field inside Granger Stadium.
The immediate encore was a 1-0 thriller over El Paso Cathedral at the University of Incarnate Word in San Antonio, a more than equitable payback for a 4-2 December decision that was the first defeat of the season in the campaign's seventh game.
Rivero again proved the master of clutch with the lone goal in the 37th minute off a Garcia throw-in.
At the outset of the season, Martin was facing a significant rebuild with a roster low on returning experience and punch.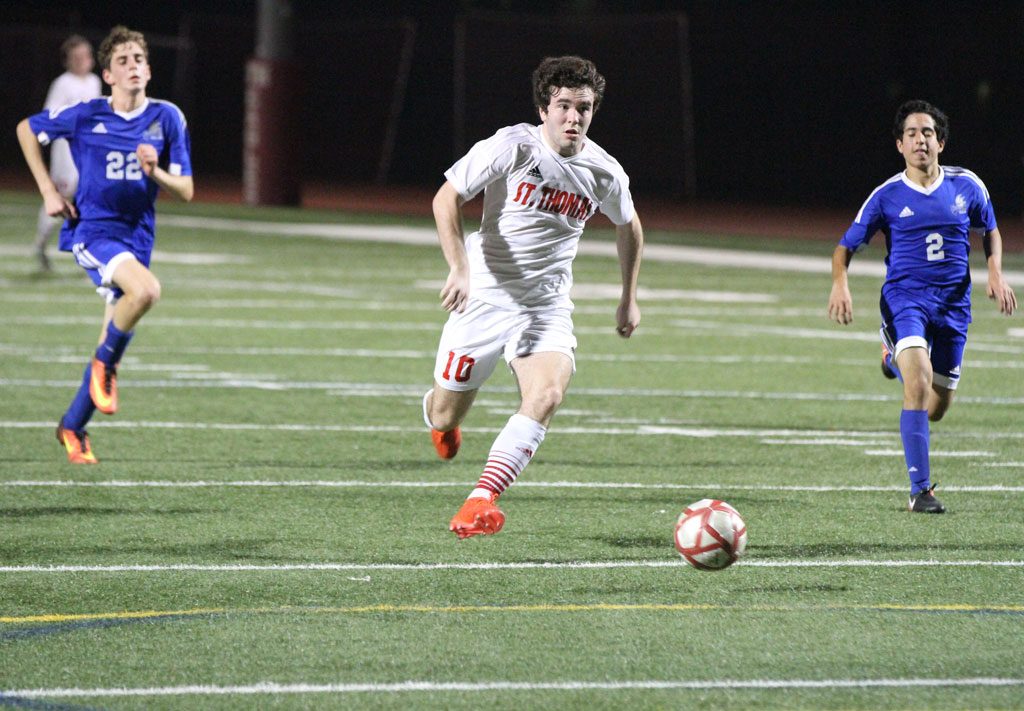 Gone were the ferocious front three of Rory Hogan '17, Matthew Leal '17 and forward Jesus Toscano '17, all capable of a moment of brilliance while igniting the high-octane Eagles to a long series of overwhelming wins.
Martin entered his 17th year with Eagle Soccer and seventh as head honcho fully prepared to digest a consistent diet of low-scoring grind-it-out outcomes featuring Manley and deluxe defender Blice commanding the backside.
But to Martin's stunning surprise, a lineup that included only four senior starters quickly discovered a powerful mojo featuring the tag-team talents of Rivero (28 goals) and Zanovello (22 assists) leading a lethal thrust that outscored opponents 78-18.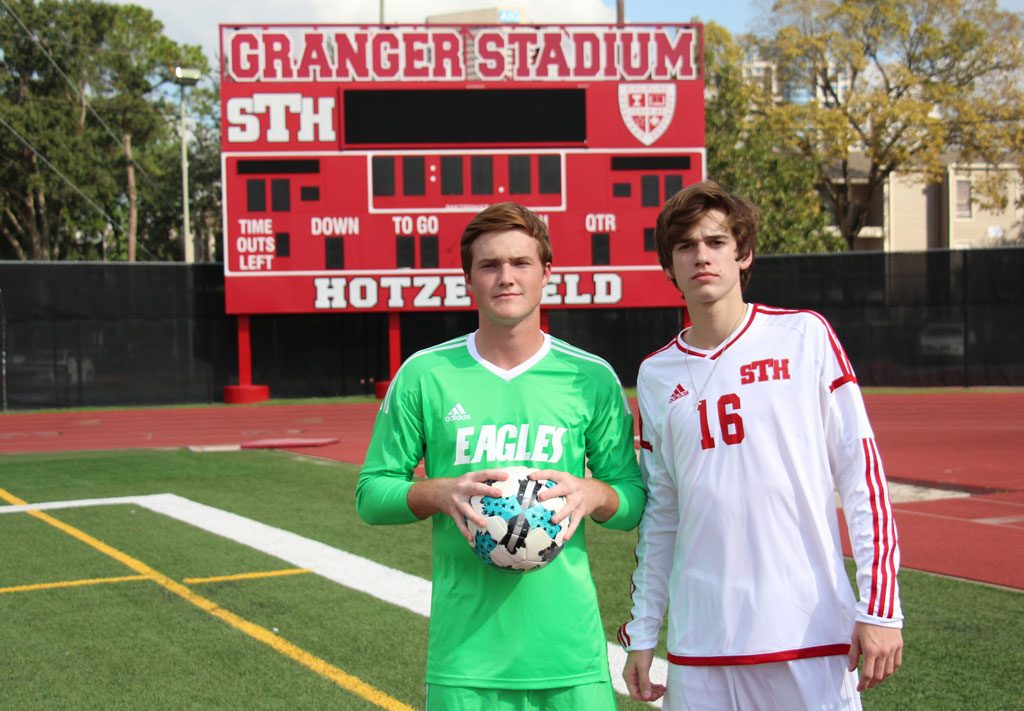 And with Manley and Blice living up to every ounce of their advance billings, the Eagles surrendered only 18 goals against, and just six in a district race the Eagles captured convincingly by two games.
"It really started with our captains, two demonstrative leaders who set the tone, got with our young guys and let them know what was expected every day," Martin said.
"Alex gained a much better feel for staying high in the field and he could absolutely finish at the goal when we advanced the ball. We developed a dominant combination in the midfield with Julian, (freshmen) Nico Prioli, and (sophomore) David Steffes. Plus, (freshman) Jordan Augustine really added to our defensive presence."
The Eagles steady assault included only four regular-season defeats. A young roster with no proven postseason pedigree then resisted the temptation of satisfaction with an insatiable humble-and-hungry desire until the final seconds of the single setback that ended the campaign short of the most valuable prize.
And for the third time, Eagle Soccer came up one agonizing win shy of matching the lone state championship in program history.
In 2003, the Eagles cradled a 1-0 margin into the final six minutes of the TAPPS final, only to see Fort Worth Nolan escape with the crown thanks to a golden goal in double overtime.
Next came a 4-0 blanking to Central Catholic in 2008, and 10 years later a deadly dose of deja vu couldn't be avoided when the cosmic forces provided another staredown with the foe from San Antonio. More than a half dozen members of the '81 Eagle champs here in attendance hoping to see history repeat nearly 40 years after their own glory days.
"Of all the supporters who reached out to us throughout the season and championship week, those guys meant the most to me," Martin said. "We all recognized we were playing for much more than family and friends. Just another example of the brotherhood at St. Thomas that is unlike any other."
Martin will soon take solace that next season seven of the 11 starters return, poised and primed with a potent combination of enhanced skill and savvy understanding of what is required to stake a claim on that elusive next championship victory.
"I'm already encouraged by what we have coming back," Martin said. "And they'll bring that big game experience with them to take it one step further. That certainly will be the objective."
Eagle Fight Never Dies!