GAMEDAY CENTRAL
WEEK FOUR – HOTCHKISS MEMORIAL FIELD, SAN ANTONIO

Eagle Football 65
San Antonio Christian 14
WHAT YOU NEED TO KNOW
In the first road encounter of the pandemic era, 2020 Elite 11 quarterback Maddox Kopp '21 (verbal Houston) shook a shaky start to finish with a school-record 533 passing yards and eight touchdown passes as Eagle Football buried San Antonio Christian with 37 unanswered points in the first half and showed plenty in a 65-14 blowout.
Receivers Cameron Bonner '21 (more than two dozen Power 5 offers) and Drake Martinez '21 (verbal Colorado St.) became the first pair of Eagle wide receivers with 150 yards each in a game in St. Thomas history.  The overwhelming verdict gives the Eagles their 11th straight district victory since 2018 and keeps them undefeated in the 2020 race (3-2, 3-0).
TURNING POINT
On the final snap of a lethargic opening period, Kopp tag-teamed with explosive Bonner (5-151 yards) for a 78-yard lightning bolt touchdown.  The strike ignited St. Thomas from its funk.  An avalanche of points followed to secure the outcome before halftime.
Kopp proceeded to capitalize on a series of clean pockets to dial up Martinez  (5-163 yards) for 90 and 32-yard scores, and Cameron Price '22 (6-129 yards) for a pair of touchdown tosses worth 15 and 62 yards. 
Kopp closed out the boat racing quarter finding Bonner separating on a fade to the right corner to end the blitzkrieg and take a 44-14 bulge into the break.
FRIDAY NIGHT FIVE
1. Throughout the second quarter the Eagles were as comfortable as chicken fried steak on biscuits with cream gravy.  Fries on the side. They needed only a lucky 13 plays to rack the 35-point explosion.
2. A sack set the Eagles' sixth series back to their own 10-yard line.  Martinez then took a short throw from Kopp and flashed strength and speed to burn the Lions.  He made a physical catch across the middle, quickly turned into open space to split the secondary, and outraced defenders for a reservation for six.  The first of his two touchdown grabs bumped the count to 23-7.
3. The Eagles' defensive thrust proved stronger than rent.  Smash mouth linebacker Vincent Ori '21 (nine tackles) and marauding defensive back Peter Corbett '21 (seven tackles) produced enough heavy hits to fill a Billboard Hot 100.
4. Defensive back Cameron McCurry '21 (six tackles) stormed in to block a punt and immediately swing momentum early in that pivotal second quarter.  His recovery set the Eagles at Christian's 20-yard line.  Eleven seconds later Kopp connected with Price for 16-7.
5. Kopp's timely rushing consistently undersells his effectiveness on the ground.  In a match with the Christian Lions that more resembled the Lions and the Christians, his 62-yard jaunt to the left sideline to open the second half preceded a third touchdown toss to Price.
WHOLE LOTTA LOVE
Kopp competed 33 throws through three periods and has now registered 1,595 yards and 18 touchdowns through four games. He's exploiting a pair of high end receivers – Bonner (23-535  yards, 24 yards avg) and Martinez (21-442 yards, 21 yards avg) – with newcomer Price (15-268  yards, 18 yards avg) emerging as a triple threat.  And Kopp has one of the state's most productive and versatile running backs in John Fontenot '21 (345 all-purpose yards).
Price enjoyed his third multi-touchdown game of the season and owns seven TDs so far in his breakthrough Eagle debut.
https://twitter.com/STHCatholic/status/1317294866846679040?s=20
The 65 points was the Eagles' largest output since a 63-point spree against Kinkaid Week 3 in 2018.
Eagle Football began the night ranked the No. 2 private in the Chronicle media poll and No. 4 by VYPE Houston.
The Week Two district match that was cancelled by St. John XXII 48 hours before kickoff for non COVID-19 reasons registered as a forfeited victory for Eagle Football.
STATE OF PLAY
The Eagles took few punches while playing the bully, landing blow after blow against an over matched district opponent.  St. Thomas delivered a knockout in a performance that registered enough high notes for head coach Rich McGuire to feel confident about where his team is headed.
Christian was tapped out by the midway point after being harassed, flipped, and flattened.
The Eagles took another step forward offensively under quarterback coach and first-year play caller Matt Hudson.  He orchestrated a diverse game and Kopp trusted that he could do whatever he wished, letting fly deep to Bonner and underneath to whomever whenever.  Hudson also crafted creative ways to get the ball to Fontenot, who rocked two breakaway romps on short receptions.  His biggest gains of the season set the stage for scoring throws to Bonner and Joe Rick Madden '22 after racking 152 all-purpose in Week 3 against San Antonio Central Catholic.
Eagle Football again demonstrated a paradoxical defense – ultra aggressive nastiness without taking risks.  Credit the line for winning the point of attack and negating the Lions' ability to establish tempo.
The drives where Christian got the ball after notching the first points of the night unfolded this way – punt blocked, punt, three-and-out punt, three-and-out punt, touchdown, punt, garbage crime to 00:00.  The Eagles crumbled the Christian offensive line and suffocated the Lions with combative pressure, scheme, and talent.
MOOD MUSIC
Change, and nothing stays the same
Unchained, yeah ya hit the ground running
Change, and nothing stays the same
Unchained, yeah ya hit the ground running
Change, and nothing stays the same
Unchained, yeah ya hit the ground running
Change, and nothing stays the same
Unchained, yeah ya hit the ground running
UPCOMING
The Eagles will return home October 23 looking for a decided dose of deja vu for a third straight victory over San Antonio Antonian College Prep.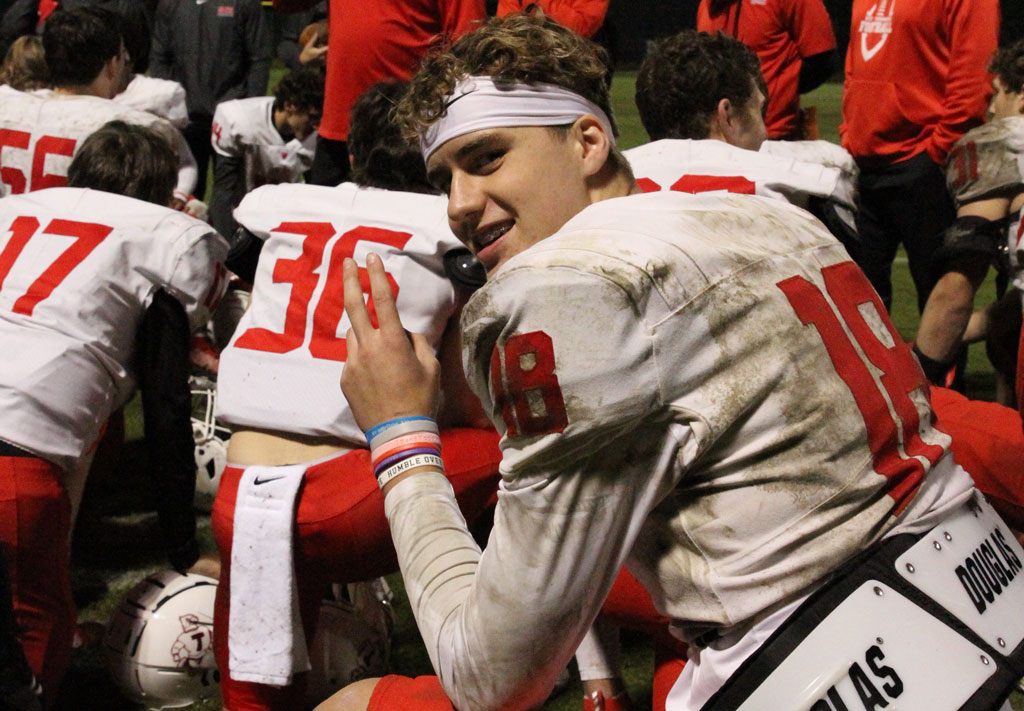 In 2019, Kopp riddled the Apaches for 314 yards and two touchdowns in a first half detonation where St. Thomas plastered points on its first four series. The Eagles coasted to a convincing 41-27 dismantling in a game not nearly as close as the final indicated.
PREVIOUSLY
Gameday Central || Eagle Football Remains Undefeated in District after 31-14 Win
Gameday Central || Eagle Football Launches First On-Campus Event of Pandemic Era
¡UNO!, ¡DOS!, ¡TRÉ!
A parade of Eagle scholar-athletes received significant recognition leading into the 2020 campaign. Kopp was selected as the VYPE private school preseason Offensive Player of the Year while Bonner, Martinez, offensive lineman Ryan Hanks, linebacker Vince Lee, and defensive back Aidan O'Hare were named All-VYPE. Bonner, Kopp, Lee, Martinez, O'Hare, and Fontenot were named by the Touchdown Club of Houston among its preseason private school honorees.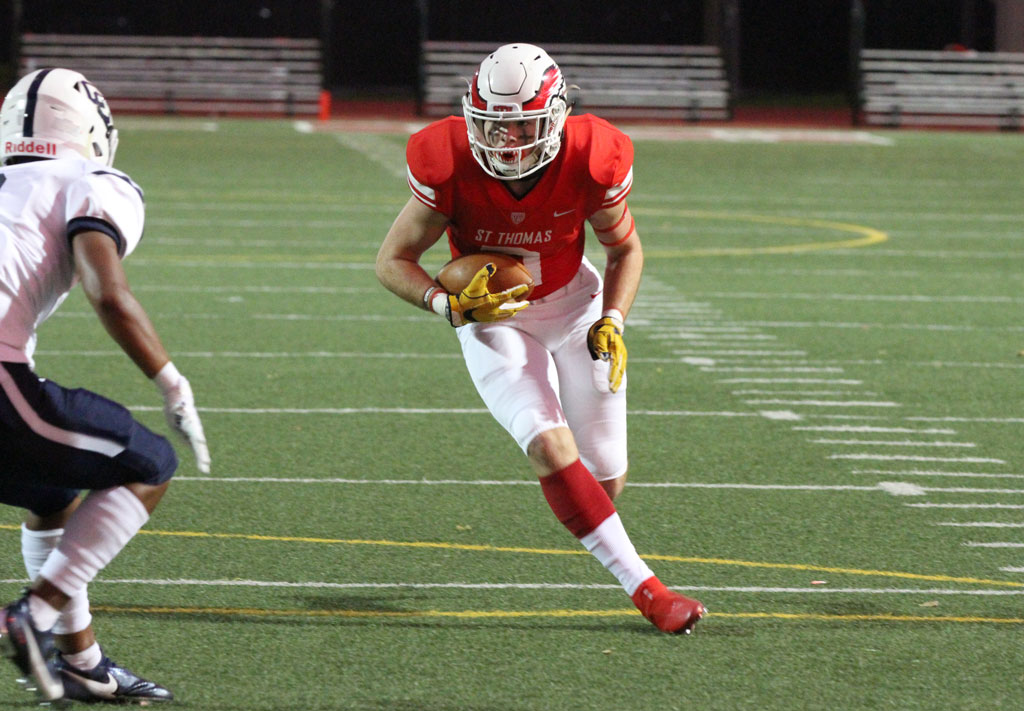 Bonner, Kopp, and Martinez are ranked among the Chronicle Top 100 Class of 2021.
St. Thomas is partnering with HomeTown Ticketing to implement a contactless and cashless solution for fans and guests attending events at Granger Stadium. The priority throughout the current academic year and beyond is to administer enhanced safety protocols and best practices – measures that instill confidence among supporters during the challenges resulting from the pandemic.
Eagle Fight Never Dies!