In the first TAPPS baseball fandango of the COVID-19 era, St. Thomas was pressed into a righteous ballgame, an emotional vise, squeezing tighter and tighter until the whole thing was too much and burst in spectacular fashion.
Eagle Baseball rescued revelry from the jaws of elimination and charged into the state tournament for the 10th time in 11 competitive seasons (last year's pandemic cancelation notwithstanding) and second in two tries with head coach Adam Massiatte. An illogical bounce back for the ages erased 3-0 and 6-4 deficits for a 7-6 outcome over San Antonio Antonian at Riverside Park in Victoria that keeps alive the drive for the program's 25th state championship crown.
St. Thomas, low on offensive octane but rich in will and resolve for the second straight playoff encounter, survived despite trailing by three runs five batters into the game. Despite a disputed no-catch ruling on right fielder Peter Corbett '21 in the fifth inning that resulted in a two-out, three-run inside-the-park home run. Despite no Eagle hits until Will Rizzo '21 (Texas A&M) lasered a double into the left field corner to lead off the sixth and ignite the game-deciding rally. Even with a four-run resurrection in the fourth – minus the benefit of a single, solitary hit – providing only a temporary reprieve.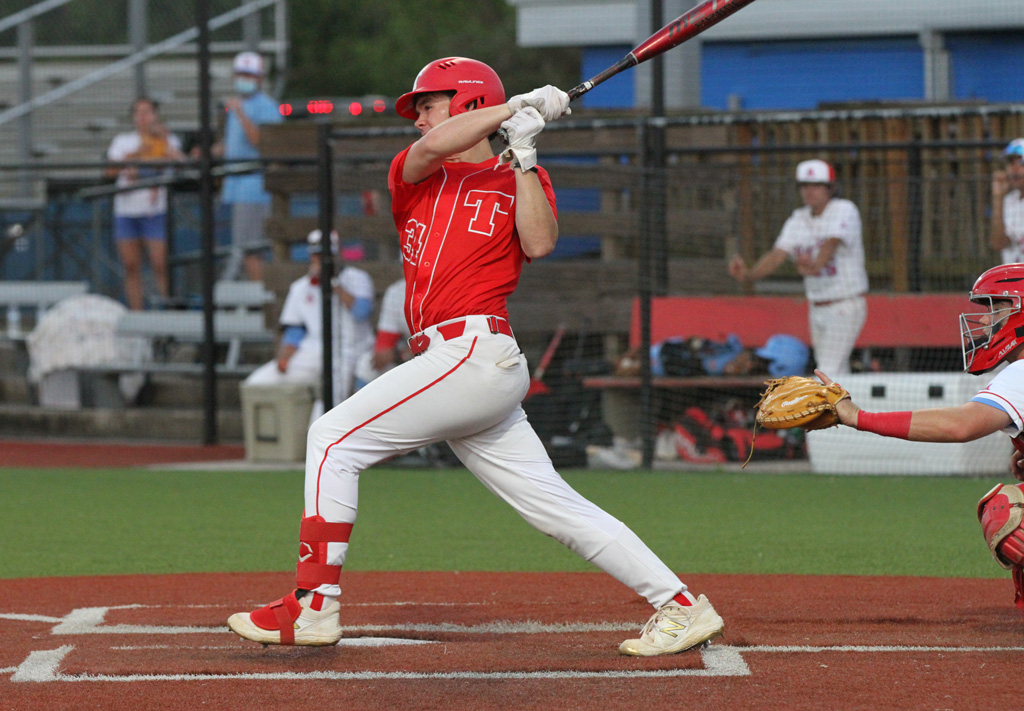 Third baseman Drew Tolson '21 (Beloit College) followed Rizzo's momentum jolt with an RBI double to close the count to 6-5. Shortstop Eddie Villegas '21 lifted a sacrifice fly to bring home left fielder Braylan Salinas '23, on the base paths courtesy one of 10 walks (yes, 10) the Eagle order coerced from Antonian arms, to tie the contest 6-6. One out and one base on balls later, Salinas raced home on a misguided Antonian throw and the King Kong comeback was complete.
Much of which paled in comparison to the see-and-still-not-believe bizarre fourth inning when the Eagles capitalize on four walks in six at-bats to force in a run, a wild pitch to shrink the score to 3-2, and a two-run error in left field with two out for a sudden, mystifying 4-3 advantage.
Sheer evidence that the Baseball Gods may provide a favorable nod to perseverance, calm, and composure through adversity, even when an outfit can manage but four total hits in consecutive one-game knockout affairs.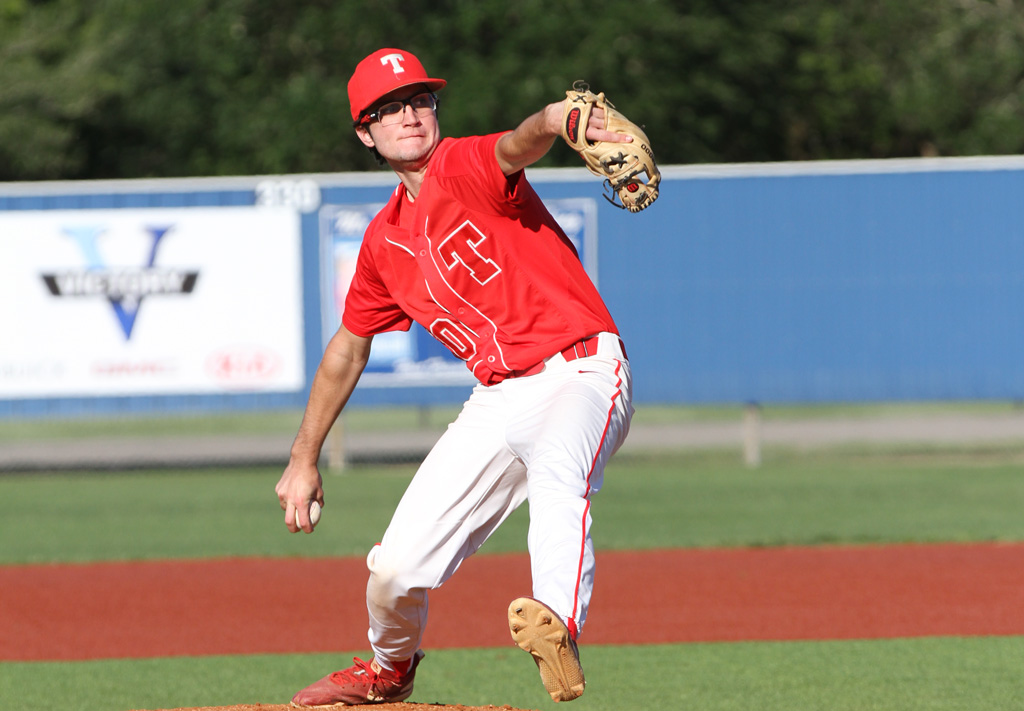 While Antonian pitching was melting down, starter Colin D'Elia '21 (79 pitches 48 strikes) kept St. Thomas within striking distance with five essential innings, all toil and tenacity, allowing five hits and racking seven strikeouts. He retired nine straight batters over one stretch and notched his sixth strikeout to leave a runner stranded at second to finish the fourth. Corbett provided a Mookie Betts-like break, charge, and diving grab to end the second after he gunned down an Antonian runner at third base to limit the damage in the first frame with St. Thomas already in recovery mode.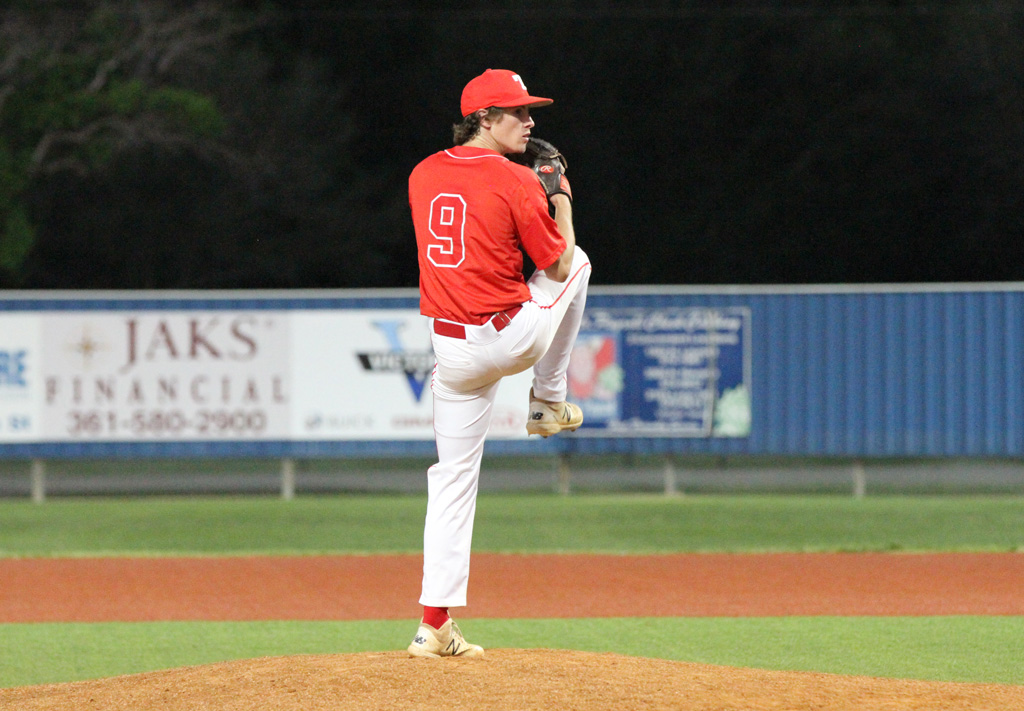 Grant Springer '21 moved from first base to relieve D'Elia in the sixth and delivered in one of the highest-leverage moments of the season. He locked Antonian down with 41 pitches but needed a next-level web gem from Villegas to erase Antonian's most dangerous swinger with a runner on base to seal the deal.
And for the fourth postseason since 2011, Eagle Baseball had wielded Antonian a death blow from contention. In 2011 and 2017, St. Thomas advanced to capture state crowns. In 2019, the Eagles reached the championship final against Argyle Liberty Christian.
Eagle Baseball now faces district mate Tomball Concordia Lutheran Wednesday, May 12, at Waco ISD Stadium in the second state semifinal. A victory pushes St. Thomas to the 10:00 a.m. title tilt the following day. The Eagles dropped the regular-season best-of-three series 1-2, their lone knock coming courtesy a ninth-inning RBI single from Villeges for a dramatic 3-2 road verdict. Rizzo set the stage with his breathtaking brilliance (87 pitches, 55 strikes). He struck out 12 in five and 2/3s shutout innings while allowing only three hits and three walks. The game was stopped due to threatening weather and concluded the next day.
The two familiar foes now return to the same venue offering similar stakes as 2014. Clutch slugging deluxe Ben Condara '14 channeled his inner Kirk Gibson and teamed with left-handed starter Matthew Ashbaugh '16 to provide the seize-the-moment style in a dramatic final last-strike, last at-bat 2-1 state championship clincher. The following year in the regional playoffs, six mandatory shutdown innings from Ashbaugh didn't suffice in a 2-0 defeat that denied the reigning kingpins a sixth straight state shindig.
The Eagles opened the current postseason with Rizzo serving as a relentless one-man rescue outfit, reserving his best for his last start at Fr. Wilson Field. His tight-fisted, one-hit complete game with eight strikeouts stymied Beaumont Kelly Catholic. Eagle Baseball required every last dramatic drop of Rizzo's raucous dominance for a 2-1 decision after the district champions had curb-stomped Kelly in sweeping the three-game regular season set, outscoring the Bulldogs 30-8.
But that sledgehammer run support was not in evidence in the most critical head-to-head match-up. The Eagles cashed in a pair of unearned runs in the fourth inning to snatch a 2-1 lead. In the next at-bat, Corbett singled, then moved to third on consecutive wild pitches, and added the all-important insurance run on a sacrifice fly to right by D'Elia for the final margin.
Rizzo (89 pitches, 57 strikes) made the most of the meager support, establishing his signature command from the first pitch, torching the strike zone with high velocity to punch out five of the first nine batters he faced. It reached the point where the Kelly lineup was hoping for dropped third strikes. Rizzo handcuffed and held them hitless the final four innings after allowing an unearned run in the third.  He raced through a 1-2-3 sixth, notched his final strikeout to begin the seventh, and ended the game with a 6-3 double play.
The latest robust outburst from Rizzo was the continuation of a scintillating senior send-off after signing his National Letter of Intent with Texas A&M.
Eagle Fight Never Dies!