The winter ritual is a return to the St. Thomas campus for the next potential group of Eagle student-athletes and their families.
The audience fills Cemo Auditorium to hear and reconnect with the school's dignitaries delivering a clear, recurring message – the power of the proven, systemic Catholic Basilian educational model that molds young teens into their best possible selves while teaching them how to be a singular piece of a larger puzzle.
The welcome back to the Class of 2026 more resembles a welcome home.
In building the premier private school athletic department in Texas, St. Thomas hasn't wavered in its approach during the 15 years Mike Netzel has served as athletic director. The emphatic force fronting Eagle Athletics leads a collective embrace, promising nothing that cannot be delivered.
The effort in tandem with the St. Thomas Admissions department is thorough and wide-reaching. Advance a rapport with prospective families. Establish their aspirations. Demonstrate how St. Thomas is built to partner in that achievement, step by step, year by year.
"Our entire focus across 12 varsity sports is development," Netzel says. "The key to being successful is seizing what is needed to get the most desirable outcome. What do you need to do to reach your goals academically, athletically, and personally? That's the focus for St. Thomas, that's what we do. This is about a 40-year decision for our families, not a four-year one."
The audience was updated on the construction of the new Fr. Wilson Field – the next jewel among the ever-expanding athletic facilities at St. Thomas. The latest enhancement to the Joplin Campus redevelopment will stand as one of the supreme on-campus high school baseball parks in Texas and the region.
The momentum will only continue a period of sustained achievement and growth since Netzel assumed the leadership role in 2007. St. Thomas captured the 2021 TAPPS All-Sports Trophy, earning the prestigious distinction for the 9th time in the previous 11 years that the honor was awarded. Within the journey toward 19 state champions spread across seven sports, nearly 150 relentless Eagles have extended their careers to the university level.
President Fr. James Murphy, CSB and Principal Aaron Dominguez '96 emphasized to the attendees that St. Thomas is fortified by more than a century of "all-encompassing excellence. The commitment is to "inspire the bold, the curious, and the creative to tackle grand challenges. We produce thinkers and achievers, not merely graduates."
Passionate testimonials were delivered by offensive lineman Wyatt Green '22, 2008 state baseball champion Tim Redden '09, and Paola Ballesca, the mother of acclaimed scholar-athlete Pablo Tager '21, now kicking at the University of San Diego.
Ballesca remembered being in the same position five years ago as the prospective families in 2022. She detailed the benefits of Tager's multi-tiered college preparatory pathway, including membership in the National Honor Society, that fueled his dream of a Division I opportunity into a reality.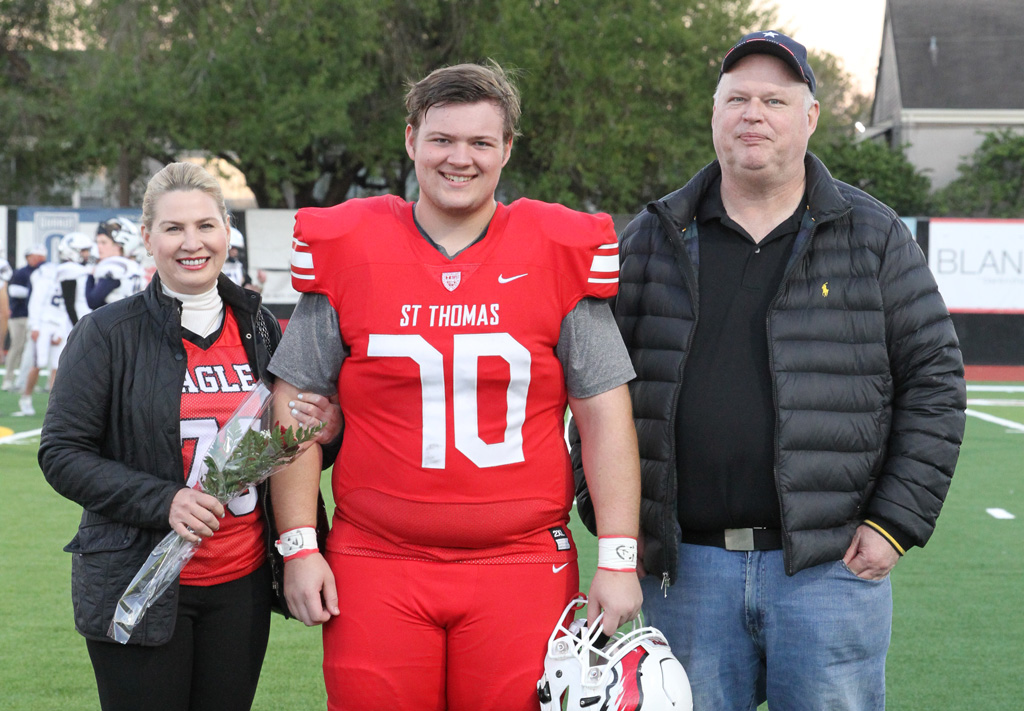 Green admitted to a measurable uneasiness entering St. Thomas as "a scared freshman." But through his determination and the vast support within the school's infrastructure, he overcame a torn ACL injury to emerge into the "young man I am today. The coaches saw potential in me that I didn't see in myself. They cared about me as a person. I gained the confidence to become the student body president. And I'm continuing my football career at the University of Chicago. That's what St. Thomas did for me. I challenge everyone attending tonight to discover what St. Thomas can do for you."
Redden is an associate attorney with Hall Maines Lugrin. He transferred to St. Thomas as a junior and spoke to the "relationships that endure and impact" well beyond graduation.
In February 2015, Redden lost his father Tim Sr. after a courageous year-long battle with kidney cancer. Jared Hoesel '15 organized a group of senior teammates to orchestrate a fundraising tribute game that generated $10,000 from gate and concession proceeds, plus monies collected from a day-long silent auction and raffle, all generously accepted with heartfelt gratitude by Redden, his younger brother Tucker, and their mother Tammy.
Two years later, a similar compassionate spirit overcame Redden in the wake of Hurricane Harvey slamming his home city of Rockport, leaving behind a trail of devastating destruction. The disaster deeply affected Redden. He and Netzel galvanized the extended St. Thomas community in a quicksilver relief effort that generated significant results for the storm-ravaged seaside town.
Forty years, not four.
Lorenzo Neal '16 and David Jones '16 represented the entirety of the St. Thomas experience. The former Eagle football teammates springboarded to significant collegiate heights and have come back to St. Thomas to pay it forward as assistant coaches in addition to their professional pursuits.
The two were building blocks in the resurgence of Eagle Football that produced 30 wins over three years and consecutive trips to the state semifinals.
Neal recently signed a futures contract with the Kansas City Chiefs after graduating from Purdue University. He was a co-captain and was twice selected as honorable mention All-Big 10 as a defensive lineman despite suffering a torn ACL injury in 2018. He continues his family's NFL legacy established by his namesake and fullback father Lorenzo Neal Sr. who played 16 seasons with four Pro Bowl appearances.
Jones was a two-time second-team all-Ivy League selection as a defensive back at Cornell University and tied for the conference lead in interceptions in 2017. The recipient of the school's 2016 Rev. Carl Mitchell Allnoch, CSB Athletics Memorial Award for Excellence in Academics was that year's TAPPS Male Athlete of the Year.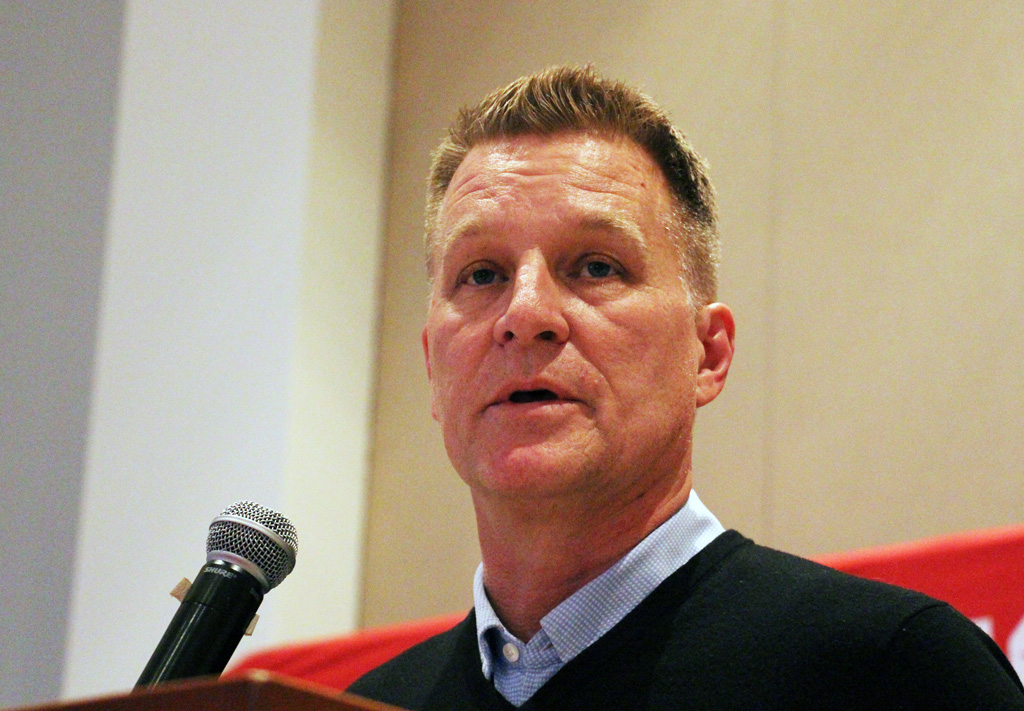 Netzel flashed enthusiasm in closing the celebratory evening with a promise that appeared to resonate among the more than 150 in attendance.
"The opportunity is here in the classroom, on the fields and courts, in the pool, with extensive extracurricular activities. But you will have to invest and work for it. There's no guarantee of anything except our resolve to shape your high school career and lay the bedrock for sustained distinction."
Forty years, not four.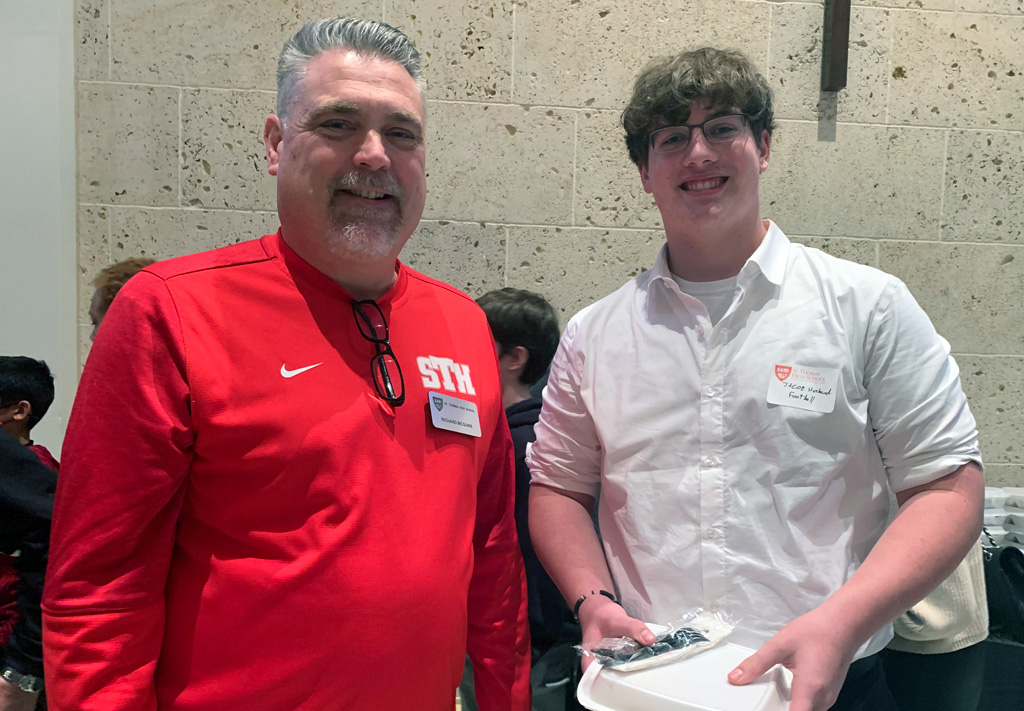 Catholic. Basilian. Teaching Goodness, Discipline and Knowledge since 1900.