GAMEDAY CENTRAL

WEEK 6 – HOTZE FIELD INSIDE GRANGER STADIUM

The Kinkaid School 14
Eagle Football 35
WHAT YOU NEED TO KNOW
Daring and darting quarterback Donte Lewis '24 threw four touchdowns, relentless running back Johann Cardenas '24 roared for another with 178 rushing yards, and a nasty St. Thomas defense forced three turnovers to seize a 35-14 verdict over Kinkaid at Hotze Field inside Granger Stadium.
Unbeaten Eagle Football never trailed and hammered a second half shutout for its 10th straight home win. St. Thomas is 5-0 for the first time since the 2013 outfit thundered to the program's first undefeated regular season since 1939.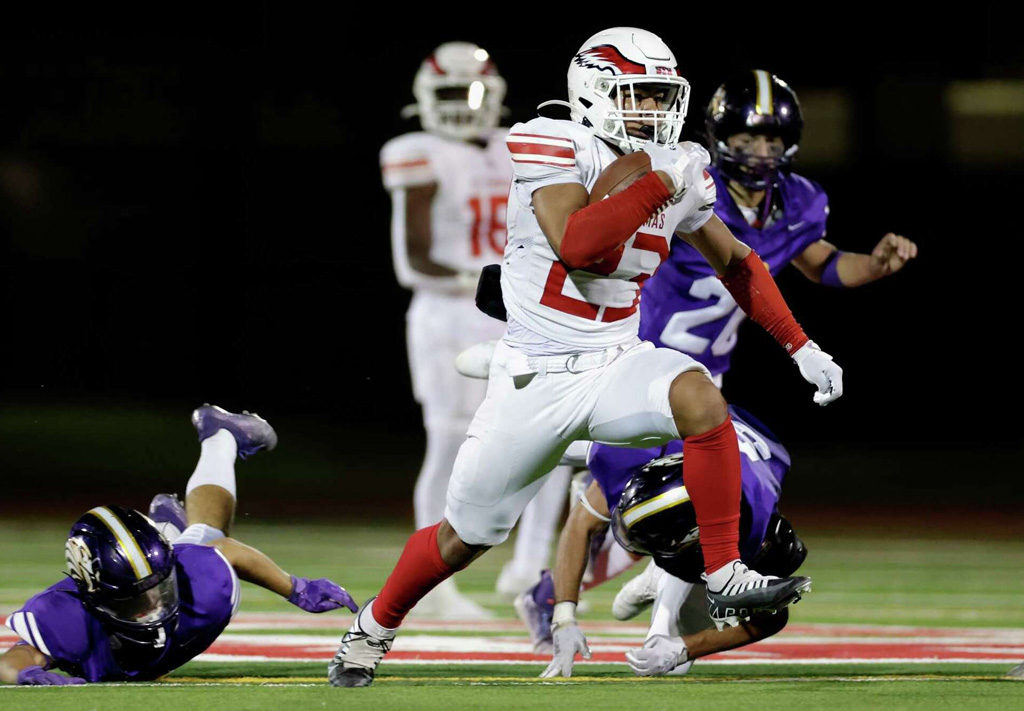 TURNING POINT
The Eagles stole a magical dose of mojo from the 2007 Fiesta Bowl, forever famous for almighty underdog Boise State and quarterback Jared Zabransky with a play called "Circus" that ignited an outrageous, implausible upset over blue blood Oklahoma.
Eagle offensive mastermind Matt Hudson was in touch with Zabransky through a mutual friend in the off-season for a how-to on the legendary hook-and-lateral scheme that fueled the bust of Boomer Sooner more than a decade ago. With the Eagles in front 21-14 and near midfield with:04 remaining before halftime, Hudson was armed with the proper voodoo for an against-all-odds opportunity. He signaled "Boise" from the sideline.
Receiver Larry Benton '24, who had already glue-gripped a red zone touchdown to push the Eagles ahead 14-7, was split to the left. He made the catch on a 15-yard square-in, turned upfield for a step or two, planted a reverse pivot, and pitched the ball back to receiver Nick Farruzzo '23, who was crossing the field behind him, going in the opposite direction. The play is much harder to pull off than it sounds.
Cardenas and Lewis were charged with pursuing down the left sideline in case more laterals became necessary. Farruzzo raced but felt defenders closing and found Cardenas in stride inside the 10-yard line to complete the crazy conclusion to a less than artistic first half.
No panic. No freak out. Firm pocket. Depth on the pass route. Chutzpah and execution. More than enough bang in their ying yang, zing in their zang zang, ting in their tang tang. Come along, come along. And the best boom boom since John Lee Hooker.
A rip-rollicking partisan response exploded and reverberated throughout the friendly confines, including a sizable throng of middle-aged Alumni Weekend supporters downing mouthfuls of famous home-made buffalo dip – which started years ago being supremely spicy but has been toned down due to various cases of gastritis.
FRIDAY NIGHT FIVE
1. Lewis (15-20, 235 passing yards and 254 total) connected with Shaffer Henderson '23 for 61 yards down the right seam to set up a short-range left-side touchdown flip to Ferruzzo for the Eagles' first points.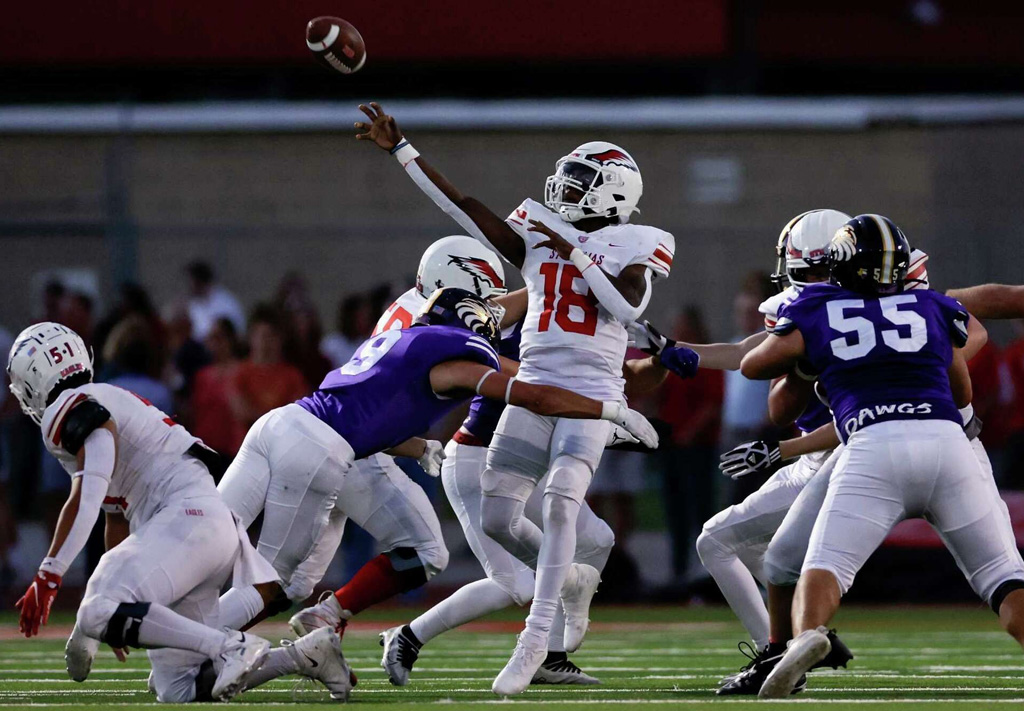 2. Lewis then sealed the outcome with a 63-yard strike to receiver Luke Edgecomb '24 that destroyed solo coverage for the final margin with 2:12 left in the game.
3. The marauding St. Thomas defense spent the night dishing a rendition of rattlin' bones not seen since the Preservation Hall Jazz Band. All-state safety Caleb Davis '23 and Aron Valentine '24 collected critical second half interceptions. Birthday boy Davis celebrated with a zany pick-six return, only to be wiped out by an illegal block.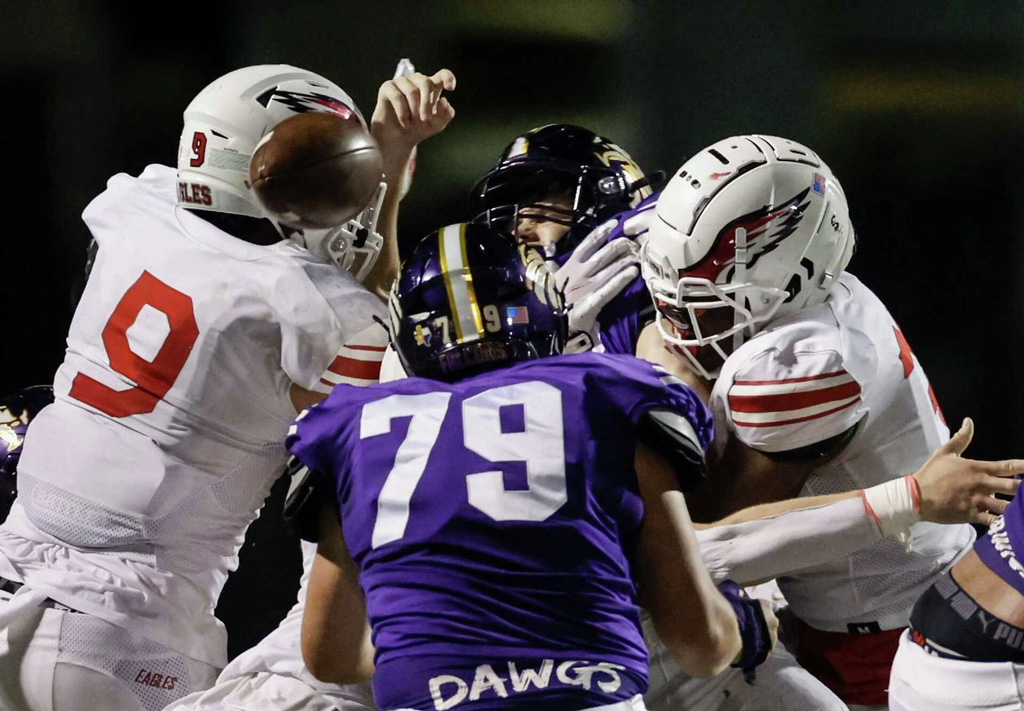 4. Earlier, Valentine had forced and recovered a fumble to silence Kinkaid after a first-and-goal at the two-yard line in the second quarter.
5. The Eagles were unable to capitalize on a 50-yard Cardenas romp on their first possession. Midway through the second period, he took matters into his immovable, irresistible hands and legs, bolting 48 yards to the end zone for a 21-7 lead.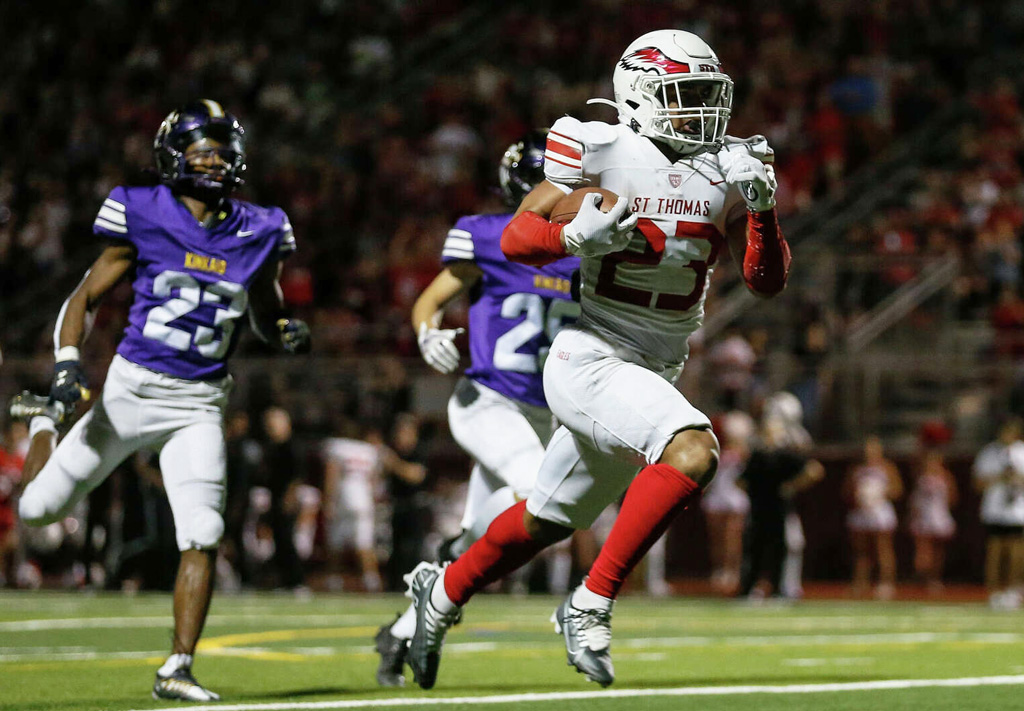 ¡UNO!, ¡DOS!, ¡TRÉ!
McGuire is in his sixth season as head coach and improves his overall record to 38-22 (20-4).
St. Thomas entered the contest as the unanimous no. 1 in the Houston Chronicle All-Greater Houston private school rankings for the second consecutive week. The Eagles began the season as the no. 9 private in the state by Dave Campbell's Texas Football and have now moved to the no. 4 slot.
Lewis was featured following the game by Jon Poorman, the high school sports coordinator, editor, web producer, lead writer for the Chronicle.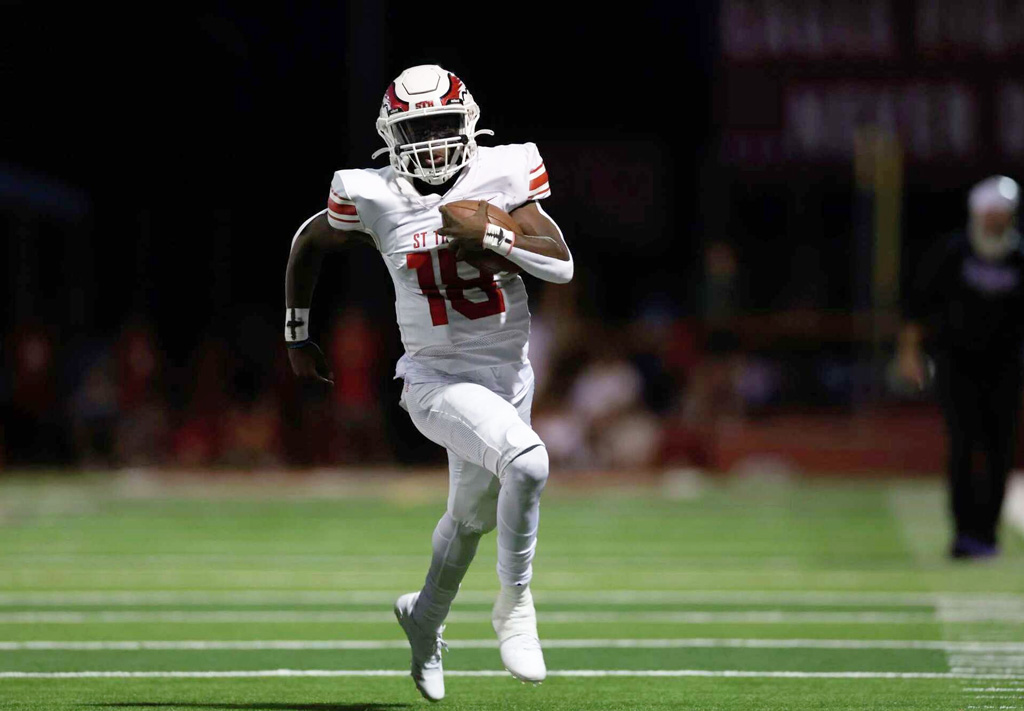 PREVIOUSLY
GameDay Central || Eagle Football Dominant in Catholic Bowl II for Best Start since 2015
GameDay Central || Eagle Football Roars in Home Debut for 2-0 Start
GameDay Central || Eagle Football Soars to Dazzling Debut Win
UPCOMING
The Eagles next travel to San Antonio Central Catholic to open the district campaign. The undefeateds return to last season's scene of the crime where record-smashing quarterback Jake Wright '22 (Pittsburg State) racked four scoring throws, three to receiver Joe Rick Madden '22, but Eagle Football couldn't hold the advantage in the closing moments in a 35-31 loss. St. Thomas will be looking to avenge its only district defeat in four seasons.
Eagle Fight Never Dies!