GAMEDAY CENTRAL

WEEK 7 – BOB BENSON '66 STADIUM, SAN ANTONIO

Eagle Football 35
San Antonio Central Catholic 18
WHAT YOU NEED TO KNOW
Wrecking crew running back Johann Cardenas '24 romped for 234 total yards with three touchdowns while dynamic Donte Lewis '24 delivered two decisive fourth quarter scoring strikes to Shaffer Henderson '23 and a sledgehammer defense dictated the major moments as Eagle Football debuted the district race with a 35-18 road win.
Unbeaten St. Thomas overcame a sluggish offensive night for its first 6-0 start since the 2013 outfit roared to the program's first undefeated regular season since 1939. The victory avenged a late 35-31 road loss last season for the Eagles' only district defeat since 2018.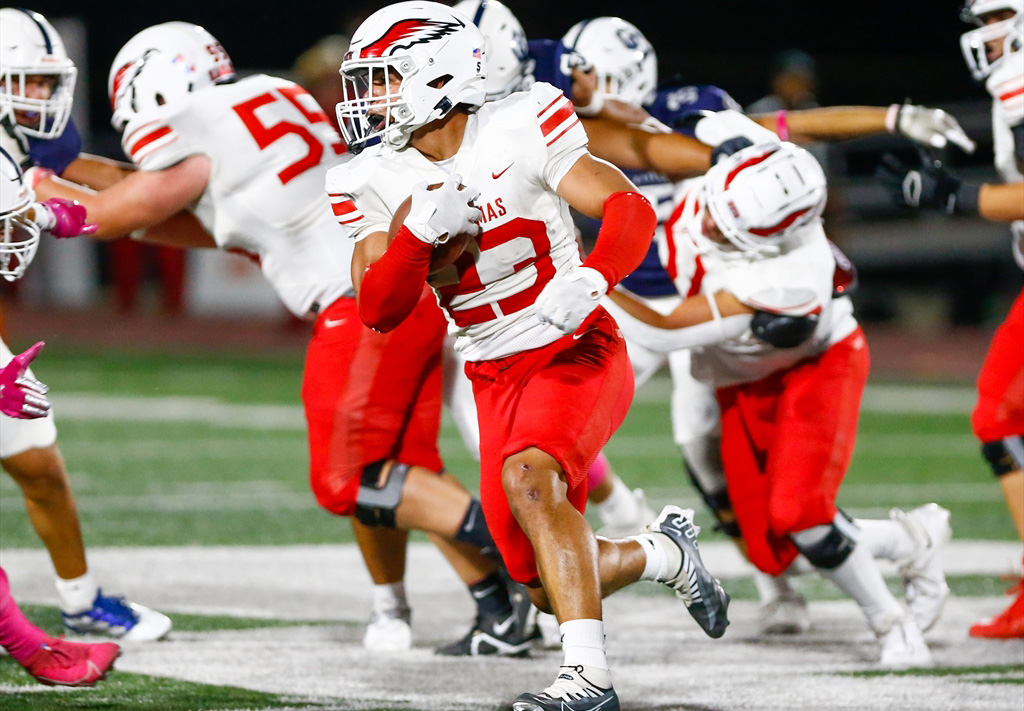 TURNING POINT
The initial shock of lightning from Lewis to Henderson came four plays into the fourth quarter. The game-breaking receiver took a quick hit in the right flat, pivoted to the outside, and detonated up the sideline untouched for a 44-yard pitch-and-catch that pushed the Eagles in front 28-18. The blast immediately answered a Central Catholic score that had closed the count to a threatening margin.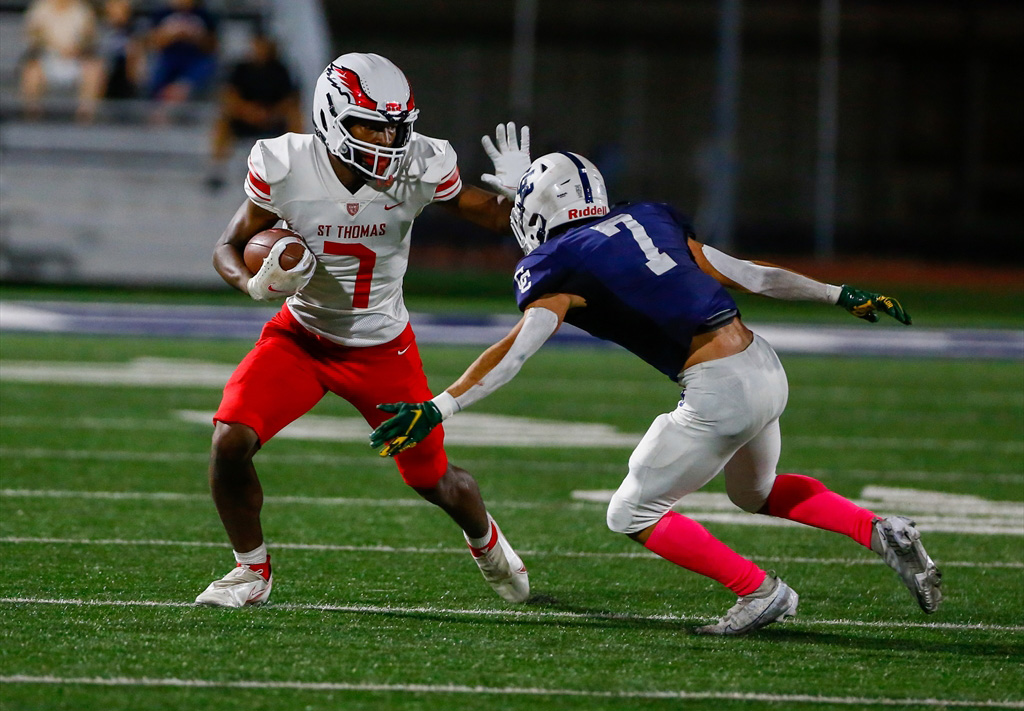 Following an essential end zone interception from all-state safety Caleb Davis '23, Cardenas bulldozed four times in a clock-killing drive that churned more than four minutes of game time before Lewis suddenly dialed in Henderson (six receptions for 147 yards) alone in the Central Catholic secondary for their second 44-yard tag-team explosion for points.
Lewis' 20th touchdown toss effectively decided the outcome with a so long baby goodbye The Blasters could appreciate.
VENI VIDI VICIOUS
The ever-improving Ray Davis demolition defensive unit consistently delivered the perfectly calibrated nastiness of a steakhouse bartender concocting a cold, agitated spirit stuck to a soggy, disposable cocktail napkin.
Linebackers Jack Ward '23 (13 tackles), Zach Rocha '23, and Jack Keeler '23 were the masters of mayhem, leading a furious charge at the point of attack. Ward's fourth down fumble recovery on the first defensive series of the second half stymied Central Catholic inside the 10-yard line.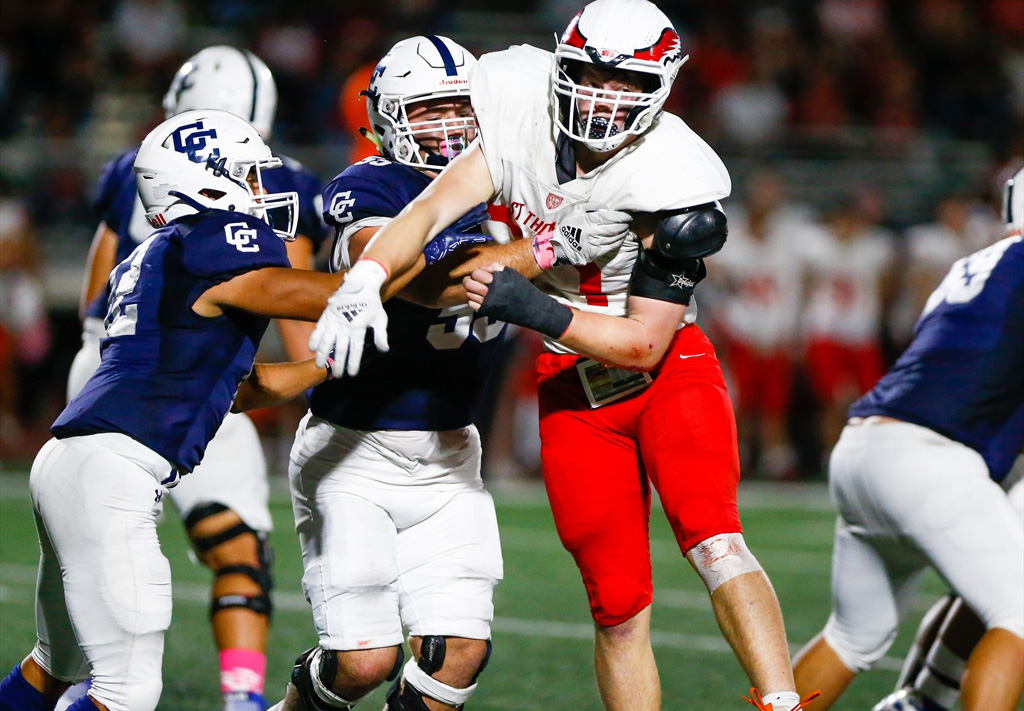 Davis permanently flipped the momentum of a tight 10-point game midway through the final stanza. He instantly recognized Central Catholic trickeration and flawlessly timed a right-corner end zone steal off a wide receiver throw. Two snaps earlier, mighty-mite defensive back Marquis Kiatta '24 provided the game's unnoticed impact with a fearless open-field solo tackle of a 6'4" 250-pound tight end that likely saved a touchdown.
FRIDAY NIGHT FIVE
1. Give Cardenas enough touches and eventually he'll turn nothing good into something special. He jump-started the attack late in the first quarter, gathering an unassuming ab lib flip from Lewis (275 total yards and 225 passing) and motoring without resistance for the first Eagles' points, a 7-3 lead they would never relinquish.
2. Johann's 50-yard house call on the next St. Thomas possession followed a third Central Catholic punt in four series. Cardenas patiently shuffled along the left-side scrimmage line before exploding into the next level and turbo-charging to the end zone for a 14-3 advantage.
3. The St. Thomas offense again went empty until the final two minutes of the third period. Lewis darted for 15 yards to move the Eagles to the brink of the red zone. Cardenas (21 carries for 194 yards) then showed rare patience and command to size his blocking before bolting through a gap and 23 yards for his 14th touchdown of the season.
4. In the final four minutes, Lewis summoned his best throw of the night to convert a third-and-seven inside his own 40-yard line. He tapped an inner Doctor Rhythm to make The Dave Clark Five proud, keeping just long enough on an RPO roll right to patiently spot Nick Ferruzzo '23 for a 15-yard gain. Four snaps later, Lewis found Henderson for the payoff that cashed a sixth straight victory.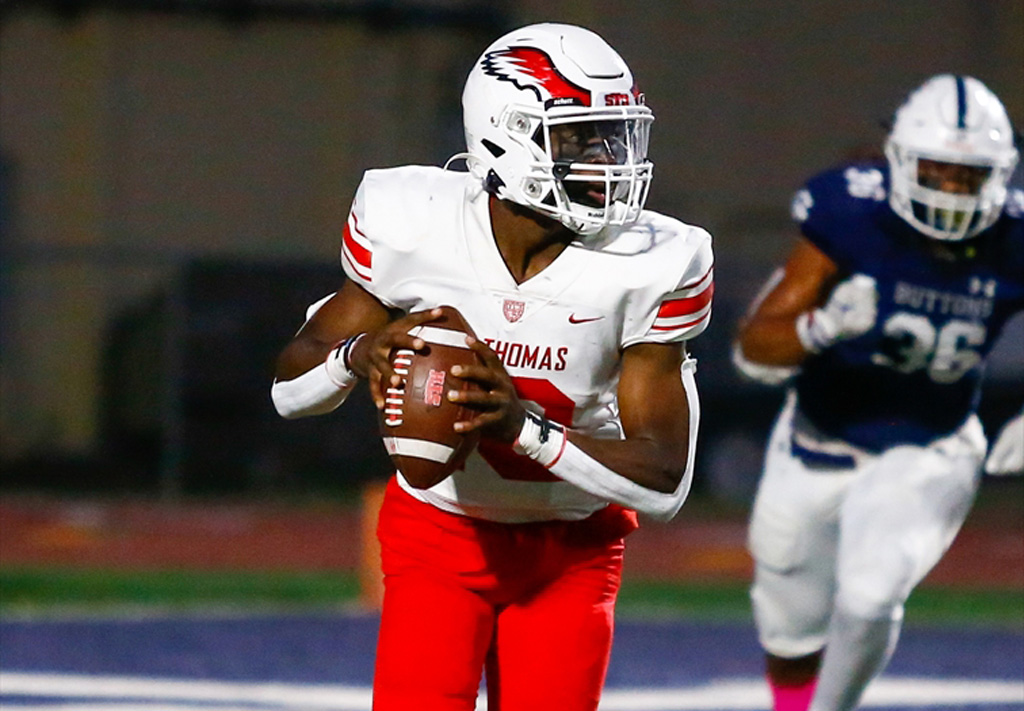 5. Cardenas has now rushed for 888 yards, averaging 147 yards per game and an explosive 9.6 per pop with nine scoring jolts (14 total). Lewis has thrown for 1,473 yards and racked 1,724 yards from scrimmage while a part of 24 touchdowns.
The Morning After@STHCatholic > SA Central Catholic 35-18

💥 6-0, 1-0
💥 2 44-yd Lewis-Henderson TDs in 4th
💥 Lewis-Cardenas ad lib 23-yd TD 3 plays after recovering botched punt
💥 Cardenas 50 & 23-yd TDs
💥 Lewis 20 passing TDs | Cardenas 14 TDs#txhsfb

HC Rich McGuire ⤵️ pic.twitter.com/g8MisyzsDd

— St. Thomas High School (@STHCatholic) October 8, 2022
ROCKIN' THE FILLMORE
The Eagles rolled for 469 total yards while allowing only 302 and two touchdowns. They averaged more than eight yards per rushing attempt and 16 yards a reception, yet the 14 first half points tied for the lowest output of the season.
Since leading St. John's 14-10 at the break in the season opener, St. Thomas had posted 21 against Lumberton, 28 against Fort Worth Nolan Catholic in the Catholic Bowl II, 35 at Plano John Paul II, and 28 against Kinkaid.
¡UNO!, ¡DOS!, ¡TRÉ!
Eagle Football started Week 7 the unanimous no. 1 in the Houston Chronicle private school rankings, no. 3 in Dave Campbell's Texas Football state poll, and debuted in the SBLive Sports Illustrated Media small state rank.
McGuire is in his sixth season as head coach and improves his overall record to 39-22, 21-4.
In chasing at least a share of the district championship for the fifth consecutive season, Eagle Football is now 20-1 in the race since 2018.
PREVIOUSLY
GameDay Central || Undefeated Eagle Football Downs Kinkaid for Best Launch Since 2013
GameDay Central || Eagle Football Dominant in Catholic Bowl II for Best Start since 2015
GameDay Central || Eagle Football Roars in Home Debut for 2-0 Start
GameDay Central || Eagle Football Soars to Dazzling Debut Win
UPCOMING
The Eagles now travel for the third time in four weeks and renew a head-to-head with Tomball Concordia Lutheran they have dominated in recent seasons. The Grand Canyon-esque gap reads 11 overwhelming wins in 12 tries by a combined margin of 385-117.
Eagle Fight Never Dies!