GAMEDAY CENTRAL
WEEK 10 – HOTZE FIELD INSIDE GRANGER STADIUM

St. Pius X 21
Eagle Football 42
WHAT YOU NEED TO KNOW
Earth-moving running back Johann Cardenas '24 (verbal Vanderbilt) responded with a colossal career-best performance in a resounding ninth-straight victory even though minus magical quarterback Donte Lewis '24 (verbal Kansas St. baseball).
The latest no-doubt decision in a generational rivalry keeps Eagle Football undefeated with its second consecutive 9-0, 3-0 launch to the season. St. Thomas is now positioned to reclaim the district championship with a win at San Antonio Antonian.  A 10th straight victory would also stamp the Eagles' first perfect regular season since 2013 and second since 1939.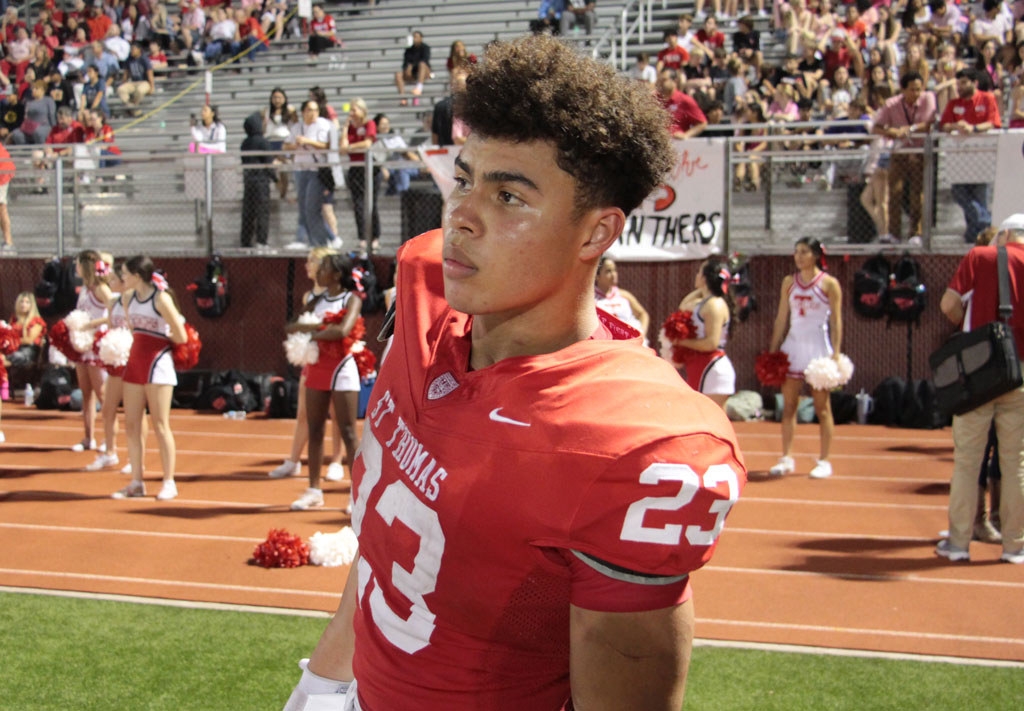 TURNING POINT
Eagle Football was never threatened, even after the daring, dynamic, pocketful of dynamite Lewis departed during the first quarter.
Cardenas bullied and bruised for two touchdowns in the first quarter, added a third score for a commanding 21-0 at halftime, and then exploded for a 50-yard jolt on the first St. Thomas snap of the third period. His 42-yard burst with 3:05 remaining was the final salvo in a five-touchdown, 244-yard rushing rampage that cemented a sensational Senior Night.
FRIDAY NIGHT FIVE
1.  Lewis was his scintillating self completing seven straight passes on the game's first possession, including a 21-yard dart to Larry Benton III '24 and a swing pitch-and-run to Luke Edgecomb '24 worth another 20. But spooky week quickly turned spine-tingling when QB1 exited with 5:33 left in the opening stanza. Despite the "I Put A Spell On You" mood that seemingly carried a chorus of Screamin' Jay Hawkins, John Fogerty, Van Morrison, and the Jeff Beck-Joss Stone tag-team, there was no panic, never disco in the state's no. 1 private outfit.
2.  In the ensuing thrills and chills, Cardenas proved to be best in shock. He finished that initial marathon series that bled 7:30 off the clock with a third-down 13-yard gash to the end zone.
3.  Defensive ballhawk Aron Valentine '24 ripped a 42-yard punt return to ignite the second St. Thomas series. Mason Hartwell '27 assumed the quarterbacking duties in his first varsity snaps of the season. But it was Cardenas who continued his in-your-face statement of intent (think Samantha Fish's rendition of the MC5's Kick Out The Jams). He capped three consecutive touches in a four-play drive, taking a fourth-down screen flip 19 yards with authority for 14-0.
4.  Less than four minutes before the break, the third Eagle scoring possession required but two Cardenas carries. He erupted for 41 yards down the left sideline and then bulldozed the final six yards for 21-0.
5.  After Cardenas stepped off his fourth touchdown to balloon the margin to 35-0, Hartwell hit Benton in the right flat for a quick slide to the end zone and his ninth touchdown reception of the season. The Eagles had inflicted more than enough fear and fright in their visitors to rival the demented "Scream" slasher Billy and his creepy accomplice Stu reeking torment and terror throughout Woodsboro ("Scary night, isn't it? … Like right out of a horror movie or something.").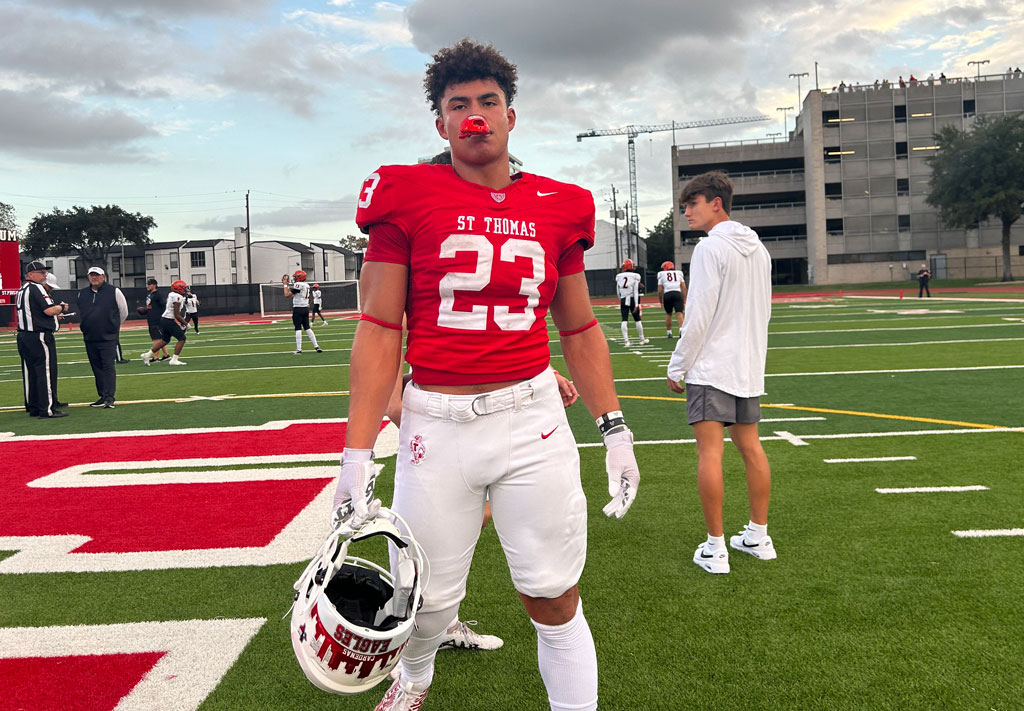 VENI VIDI VICIOUS
The gnarly, ornery, oppressive Eagle defense dished a heaping' helping' of mayhem to match Buffy and the rest of the Vampire Slayer Scooby Gang.
The demolition crew forced SPX into punting on its first four possessions in a shutout first half. They then stoned the first Panther series after halftime on fourth down.  Hartwell capitalized on the short field with the scoring toss to Benton.
Marauding linebacker Tyler Day '24 and defensive back Keenan Bonner '24 took part in a combined 21 tackles. Defensive backs Valentine and Demarcus Batiste '25 totaled another 18 takedowns with Batiste adding a fourth-quarter interception.
AFTERMATH
St. Thomas continues to own the head to head matchup, averaging 47 points per game in stacking six straight victories and collecting 11 of the previous 12 meetings.
From 2012-15, the Eagles seized four straight showdowns with the district title at stake by a combined score of 144-62.
VIVA LA BAM
Cardenas emphatically extended his grand return after tearing the anterior cruciate ligament in his right knee in October 2022. In seven scintillating starts, the Humvee running back has romped and stomped, battered and bolted for 1,349 yards with 17 touchdowns, averaging a mammoth 10 yards per carry and 192 yards an outing. Along with his seek-and-destroy carnage of SPX, the irrepressible Cardenas has gorged opponents for 178, 206, 159, 201, 165, and 196 yards with another 281 yards receiving.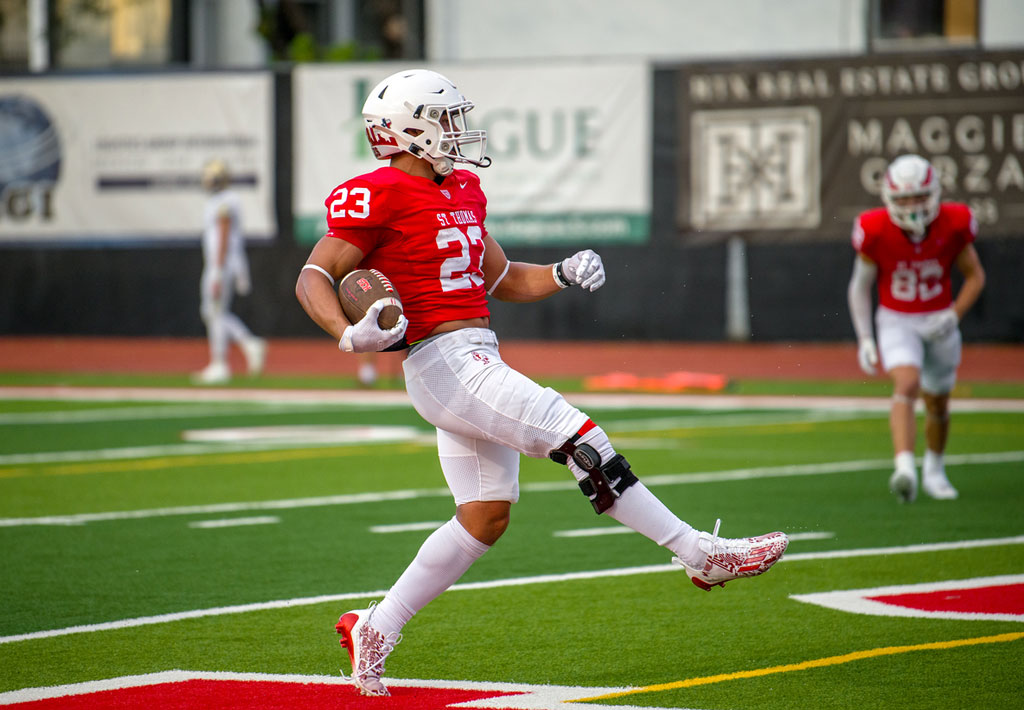 RAVE ON
Offensive coordinator Matt Hudson adheres to the adage that roughly half a dozen explosive opportunities are available per game and elite outfits must capitalize on the vast majority to achieve championship-contending status.
Simple can be sophisticated. The Eagles required only seven plays to post three straight touchdowns that tilted the contest into a laugher.
Lewis' untimely departure demanded immediate ad hoc adjustments from Hudson that were reminiscent of the 2019 TAPPS regional playoffs against Dallas Bishop Lynch.
Future Elite 11 quarterback Maddox Kopp '21 was forced out in the first half and Hudson coaxed emergency relief from starting defensive back Aidan O'Hare '21 to stabilize the win-or-go-home. Keating recovered and returned for the second half to connect with receiver Cameron Bonner '21 (Baylor) with a pair of 94 and 79-yard lightning strike touchdowns. Resilient Eagle Football prevailed 21-7 to reach the state semifinals for the first time since 2014 and '15.
Hartwell was remarkably steady if not spectacular, steady and unfazed in the bright lights beyond his years. He completed 7-12 for 57 yards and the two touchdowns.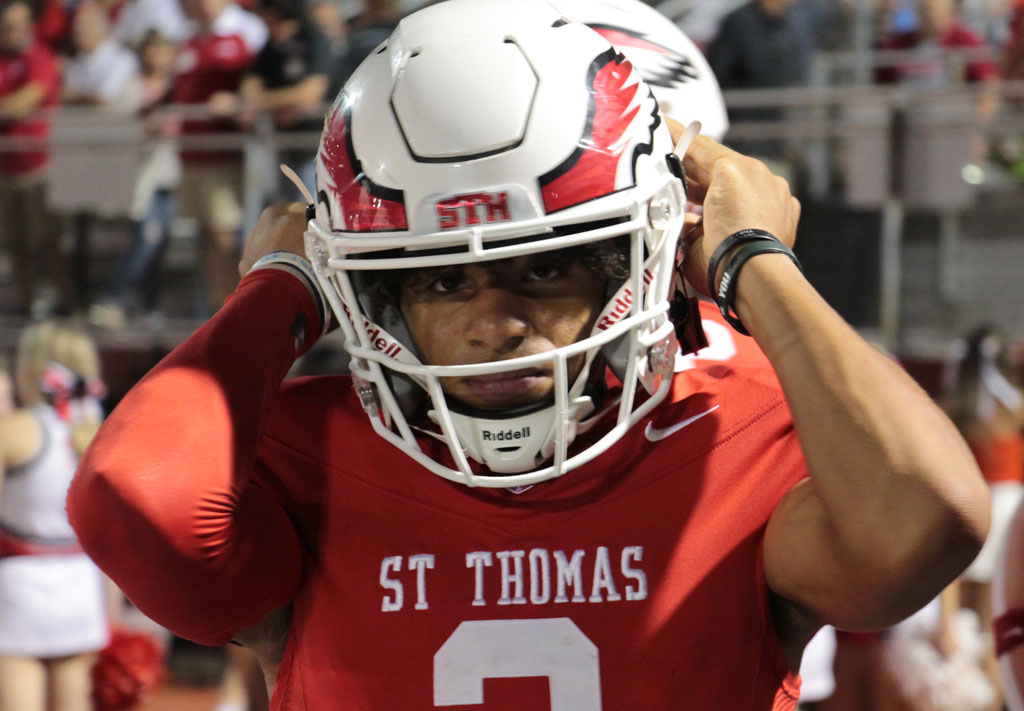 ROCK AND ROLL HIGH SCHOOL
Before his abbreviated Week 10, Lewis had orchestrated a myriad of mindnumbing highlights through an arsenal of awe-inspiring offense. His moxy was seen in a great understanding of protection and coverages. He was an accurate down-the-field thrower who didn't risk the ball in jeopardy with the confidence to respond immediately to a broken play.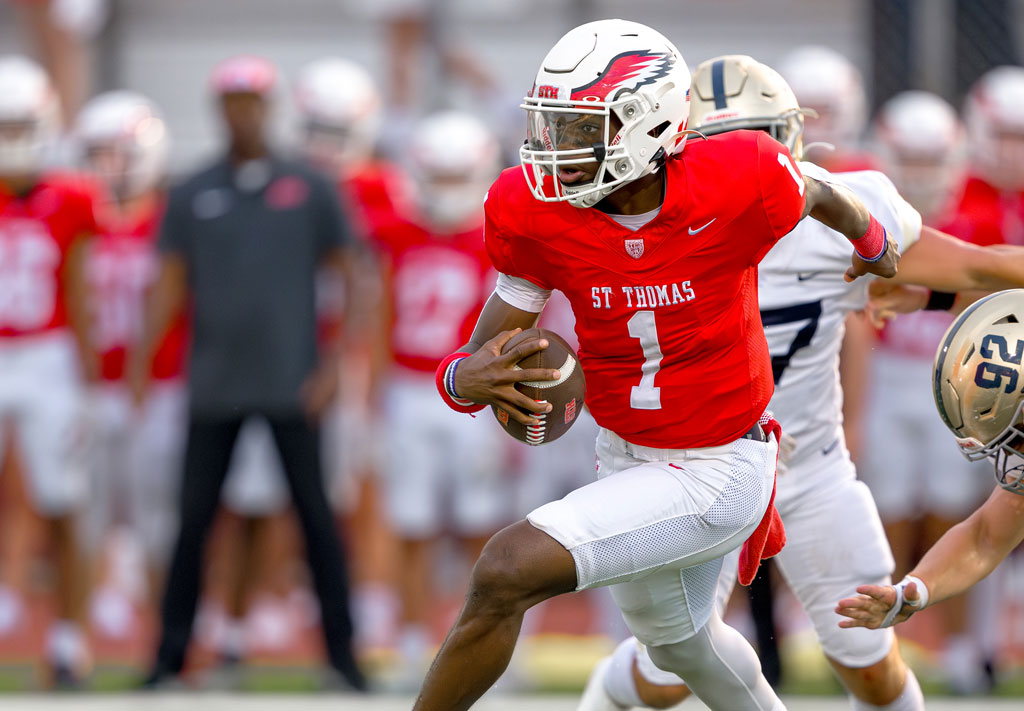 In pouring secret sauce all over a list of opponents, Lewis had scorching breakaway touchdowns of 91, 82, 81, 75, 69, 65, 61, 47, 46, 33, 31, and 31 yards plus rambling gains of 52, 49, 48, 37, and 35 yards. He owns a whomping worth of scoring throws for 77, 75, 72, 68, 63, 52, 50, 48, 41, 35, 34 and 33 yards.
Lewis is turnover-free for eight-plus games and has a 27-2 TD-to-interception ratio (53-9 in his two-year Eagle career) with the only takeaways this season in Week 4.
To steal lyrics from the bygone rock & roll ages, Lewis is a gridworld wizard.
Ain't seen nothing like him in any amusement hall
How do you think he does it? I don't know!
What makes him so good?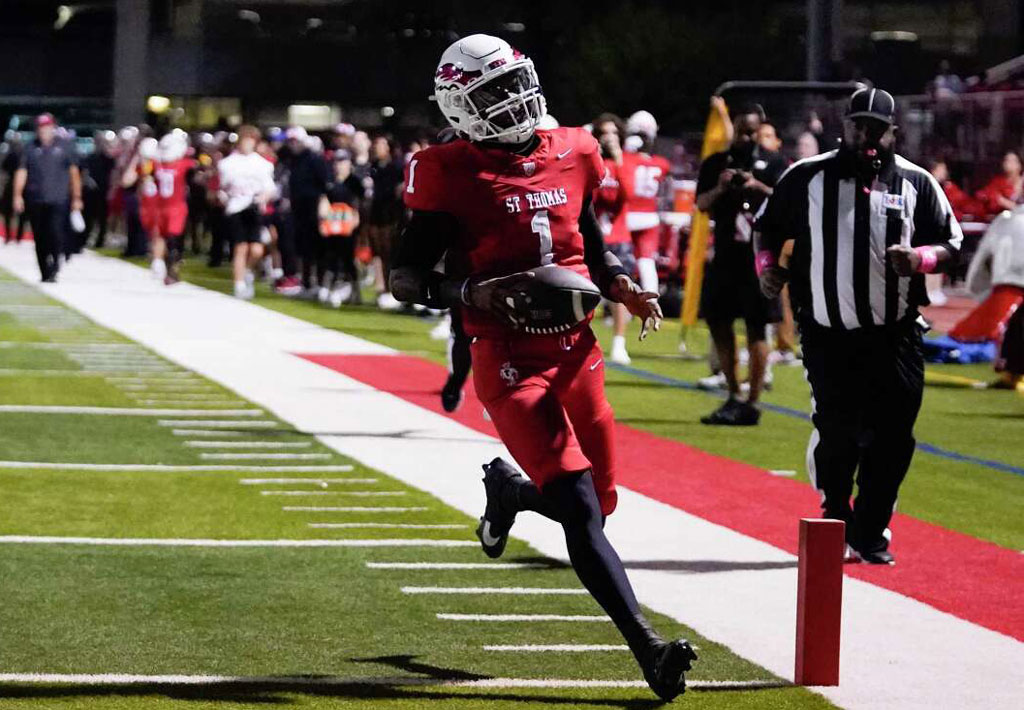 Lewis is completing a sizzling 71% (134-185) for 1,998 yards. His masterful 142.5 rating includes an outrageous 16 yards per completion. He's rushed for 805 yards and a stunning 18 yards per carry.
Also in the assault are 77, 75, 48, 46, 41, 31, and 23-yard touchdown gusts from Cardenas with 52, 45, 39, 36, and 24-yard scampers. Bonner ripped 61 and 37-yard scoring surges among his three touchdowns against St. John's. Edgecomb is averaging 16 yards per catch and 112 yards per game while Benton is good for 19 yards a reception.
SMELLS LIKE TEEN SPIRIT
The Eagles are adhering to the once-upon-a-time Barry Switzer credo of quick hang-a-half-hundred school of Boomer Sooner domination.
St. Thomas has now racked at least 42 points in seven of its nine triumphs. Outside the 28-13 verdict over Kinkaid that involved a 21-0 second-half breakout, Eagle Football is pumping 48 points per game with liberal substitution in five of the previous six weeks.
The Eagles are also 3-0 in their immediate goal of recapturing kingpin superiority in a district St. Thomas has dominated since 2018 with a 24-2 record.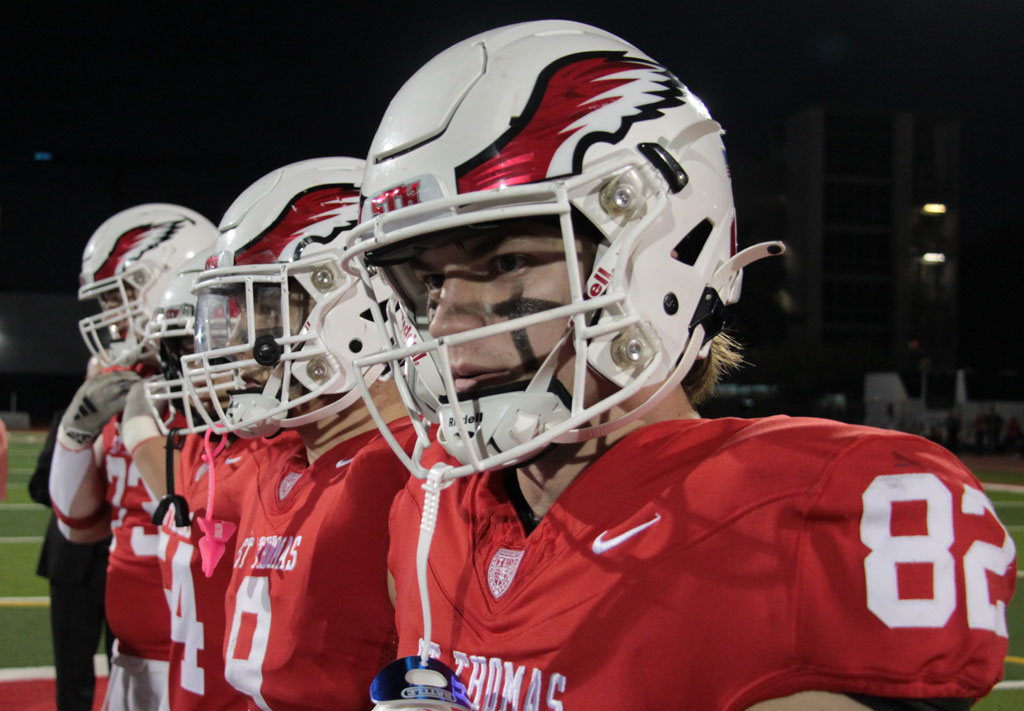 ROCKIN' THE FILLMORE
The sixth home knock of 2023 raised Rich McGuire's record to 51-24 in his seventh season as head coach.
McGuire has guided Eagle Football to 22 regular season wins in its previous 23 games and 17 victories in its previous 18 games in the friendly confines of Hotze Field in Granger Stadium. And since 2021, McGuire is 15-1 in the non-district with 11 straight triumphs.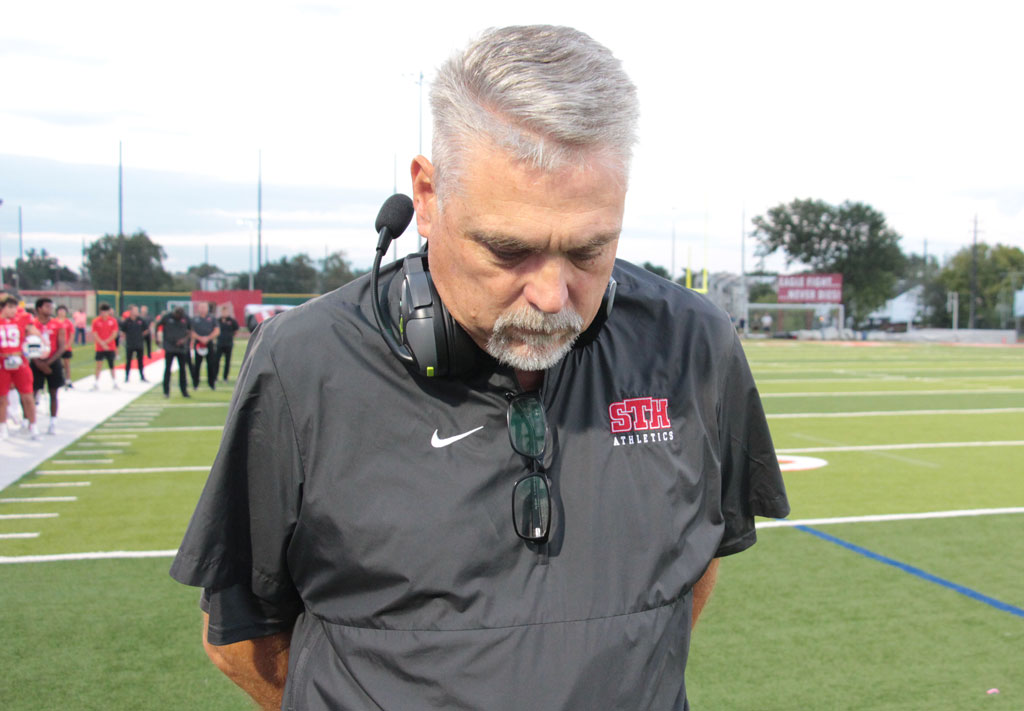 PREGAME PICS
STATE OF PLAY
The Eagle closed the home portion of the regular season in rousing style, playing Drax the Destroyer start to finish. McGuire immediately declared the playoffs start now with a prime opportunityto avenge last year's disheartening 38-35 defeat to Antonian that prevented Eagle Football from cementing the district title, an undefeated 2022 regular season, and snapping a 10-game home-field winning streak.
Eagle Football is determined to prove that the outing was a fluke not to be repeated. Thus begins the TAPPS money month. Men versus boys. Big versus small. Faster versus fast. When all three facets of superiority must mesh.
We get caught up in storylines but this sport isn't complicated. We can make it complicated. Paralysis by analysis. Last team standing is still the one capable of sucking the soul out of its opponents. Make it personal. With a chance to bank home turf for not one but two playoff affairs, including the state semifinals before emerging to the state title tilt.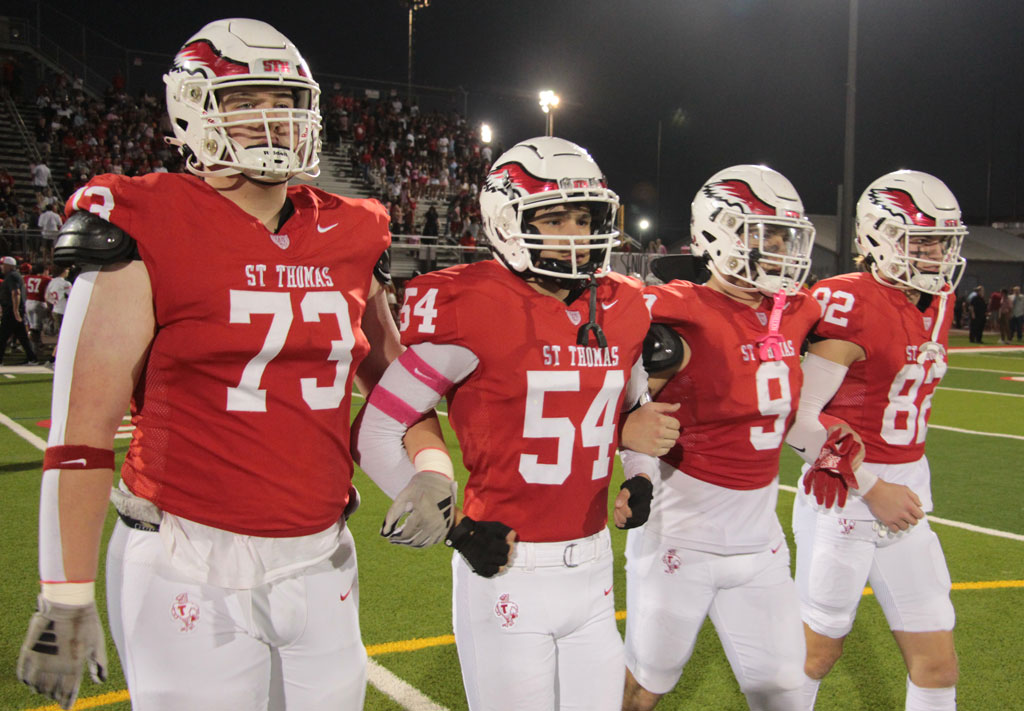 SENIOR SALUTES
SUPREME SALUTES
The St. Thomas Alumni Association recognized Victoria Bishop Brendan Cahill '81 with its Distinguished Alumni Award and long-time faculty members Joe O'Brien and Philip Cuneo with its Distinguished Service Award.
¡UNO!, ¡DOS!, ¡TRÉ!
The slam dance was streamed by KPRC 2 as part of its Big Game Coverage.
St. Thomas is debuting a state-of-the-art video scoreboard in the south end zone of Granger Stadium during the season.
Cardenas was ranked in the preseason among the state's top 100 football recruits and vividly showcased in the 64th edition of Dave Campbell's Texas Football, a prelude to his brilliant bounce back from the ACL injury.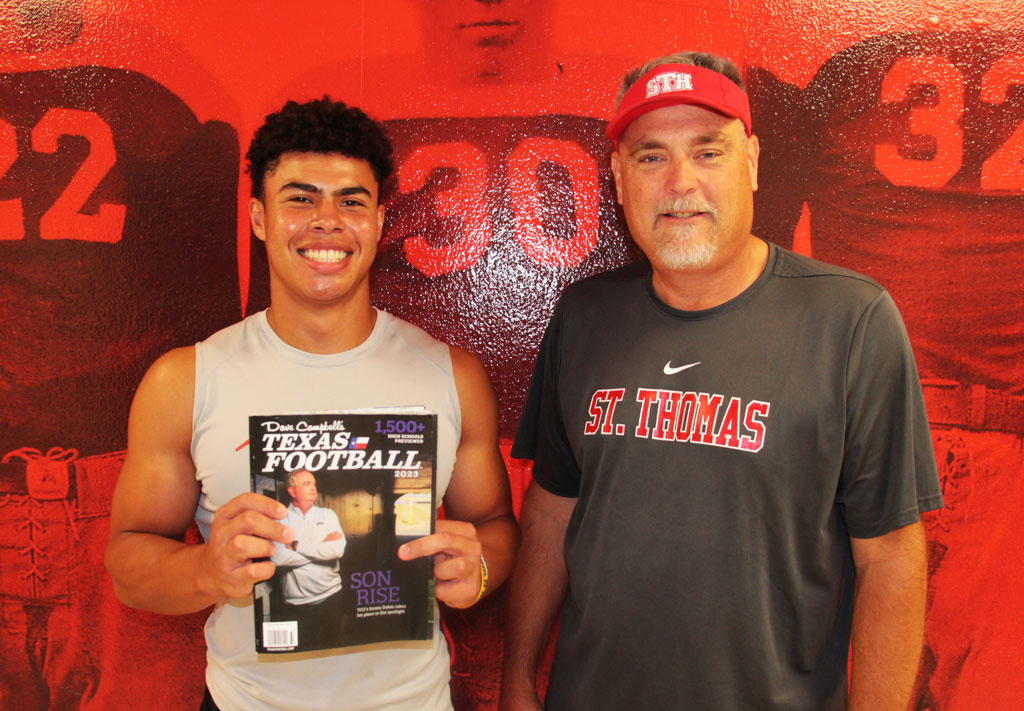 BIG BAM BOOM
St. Thomas is the Week 11 no. 1 private in Texas by Texas Football (ninth straight poll in the top spot), the no. 1 TAPPS in the state by MaxPreps, and the no. 1 private in Greater Houston by the Houston Chronicle and Houston VYPE.
COVERING ALL THE BASES
Lewis was featured in the Hank Aaron Invitational, a showcase game at Truist Park in Atlanta in July capping two weeks of competition, coaching, and evaluation at the Jackie Robinson Training Complex in Vero Beach, Florida.
Lewis was among an elite group of 44 players invited for the exclusive event, powered by the MLB-MLBPA Youth Development Foundation and in partnership with USA Baseball. Lewis then verbally committed to continue his student-athlete career at Kansas St.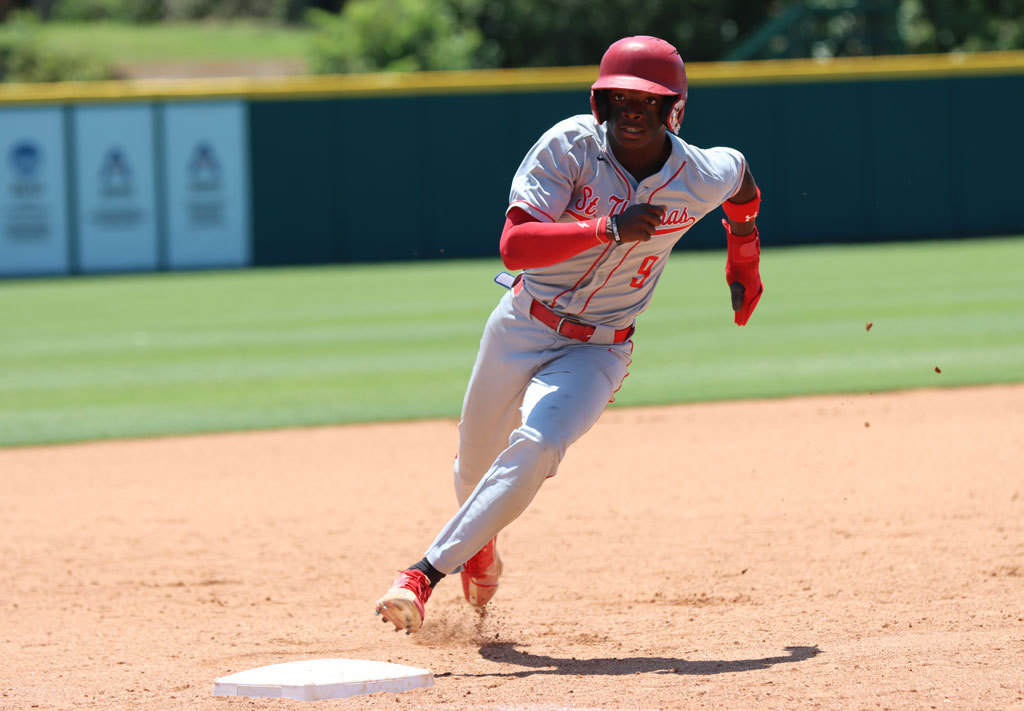 PREVIOUSLY
GAMEDAY CENTRAL || Undefeated State No. 1 Private Eagle Football Racks Record-Smashing Eighth Straight Win
GAMEDAY CENTRAL || Undefeated State No. 1 Private Eagle Football Cruises to Homecoming Win for 7-0
GAMEDAY CENTRAL || Undefeated State No. 1 Private Eagle Football Roars in District Opener for 6-0
GAMEDAY CENTRAL || Undefeated State No. 1 Private Eagle Football Storms to 5-0 Start
GAMEDAY CENTRAL || Undefeated State No. 1 Private Eagle Football Dominates for 4-0 Start
GAMEDAY CENTRAL || Undefeated Eagle Football Dazzles Behind Undaunted Donte Lewis '24 and Johann Cardenas '24 Duo
GAMEDAY CENTRAL || Lethal Lewis '24-Benton '24 Combo Ignites State No. 1 Eagle Football to Convincing 2-0 Launch
GAMEDAY CENTRAL || Eagle Football Enjoys Electric Season-Opening Explosion
UPCOMING
The climax to the regular season with Antonian carries an array of high stakes, along with the chance to claim a fifth mano-a-mano takedown in six years.
In 2021, quarterback Jake Wright '22 (Pittsburgh State) sliced, diced, and scorched Antonian for 345 passing yards with four touchdowns in a sizzling display with receiver Cameron Price '22 (Yale) for an impressive 35-14 victory. The Eagles were never threatened and rarely stymied in stamping their 17th district win in their previous 18 games.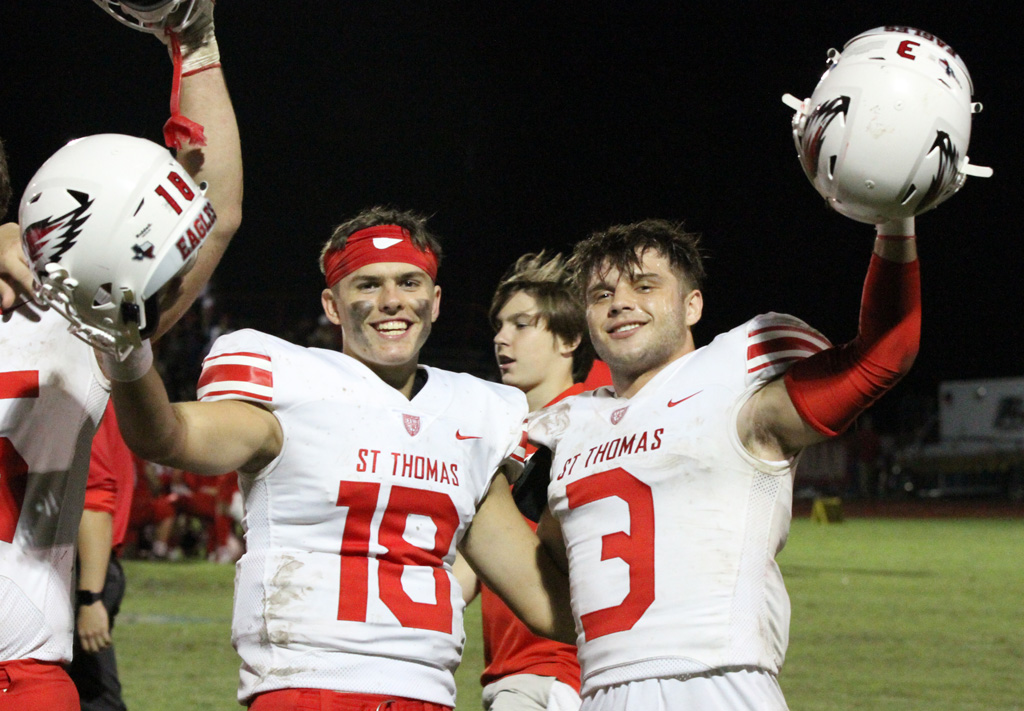 In 2020, quarterback Maddox Kopp '21 (Miami, OH) dialed in Price for a nine-yard touchdown in overtime, and defensive back O'Hare sealed the decision with a super-clutch end zone interception for a riveting 35-28 home getaway.
In 2019, Kopp raked 314 yards and two touchdowns in a first-half detonation when St. Thomas plastered points on its first four series to coast to a convincing 41-27 dismantling in a game not nearly as close as the final indicated.
Eagle Fight Never Dies!