GAMEDAY CENTRAL
Week Seven – Hotze Field inside Granger Stadium

San Antonio Christian 0
Eagle Football 35
WHAT YOU NEED TO KNOW
White hot quarterback Jake Wright '22 detonated San Antonio Christian with five touchdown passes, three to peerless receiver Cameron Price '22 to continue a pair of searing senior seasons, as St. Thomas (5-2, 2-1) blasted a 35-0 rout for its second shutout win in four games and a seventh straight victory at Hotze Field inside Granger Stadium.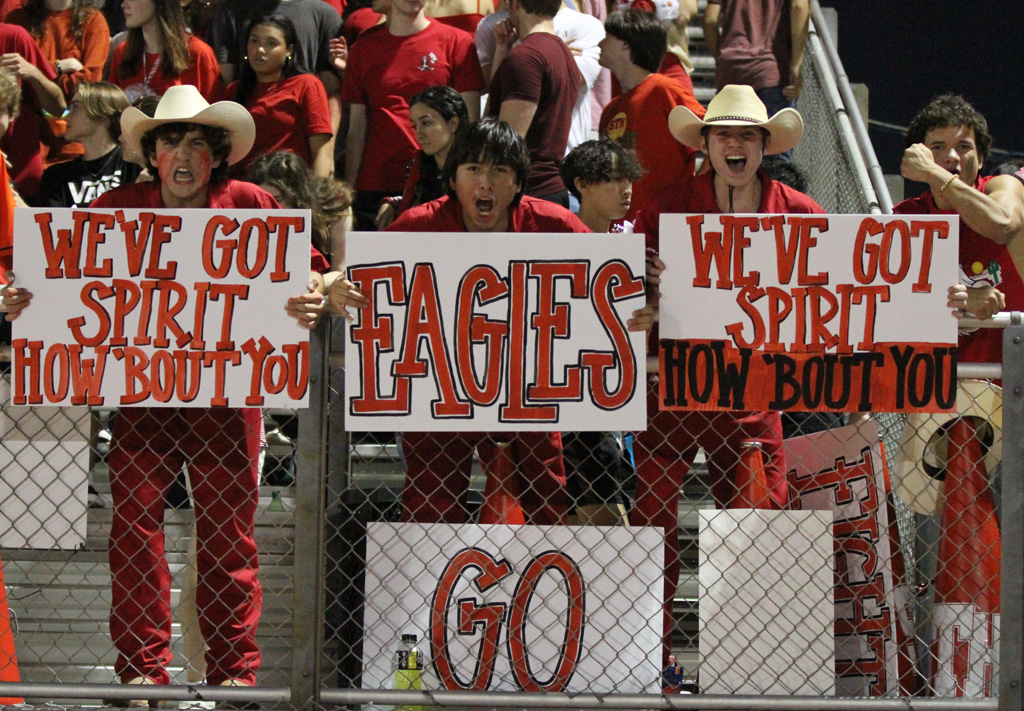 TURNING POINT
The score, and result, were never in doubt past the second official snap of the night when Wright (13-16, 373 yards) operated behind pristine protection and dialed in running back Johann Cardenas '24 for a 74-yard explosive, the first of their two long range catch-and-run touchdowns. The Eagles racked 520 yards even with Wright and and his fellow first-teamers logging roughly half the game and a running clock throughout the second half.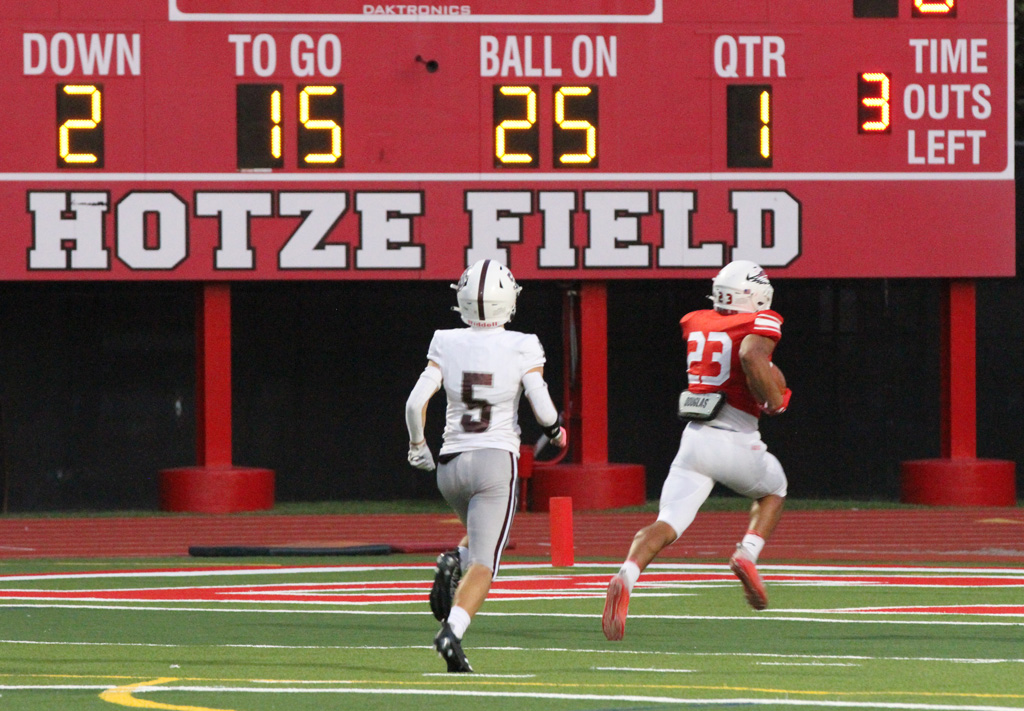 FRIDAY NIGHT FIVE
1. One week after falling in district for the first time in 16 games, the three-time defending champions arrived with an identity and a plan to maximize it. The 21-point first quarter included two payoffs from Wright to Price worth 24 and 19 yards. The lethal tag-team partners connected again in the second stanza from a 28-yard score. One of the most productive tandems in Texas high school football have now combined for nine touchdowns while Wright has tossed for 26 and 2,393 yards in seven career St. Thomas starts with one single, solitary interception.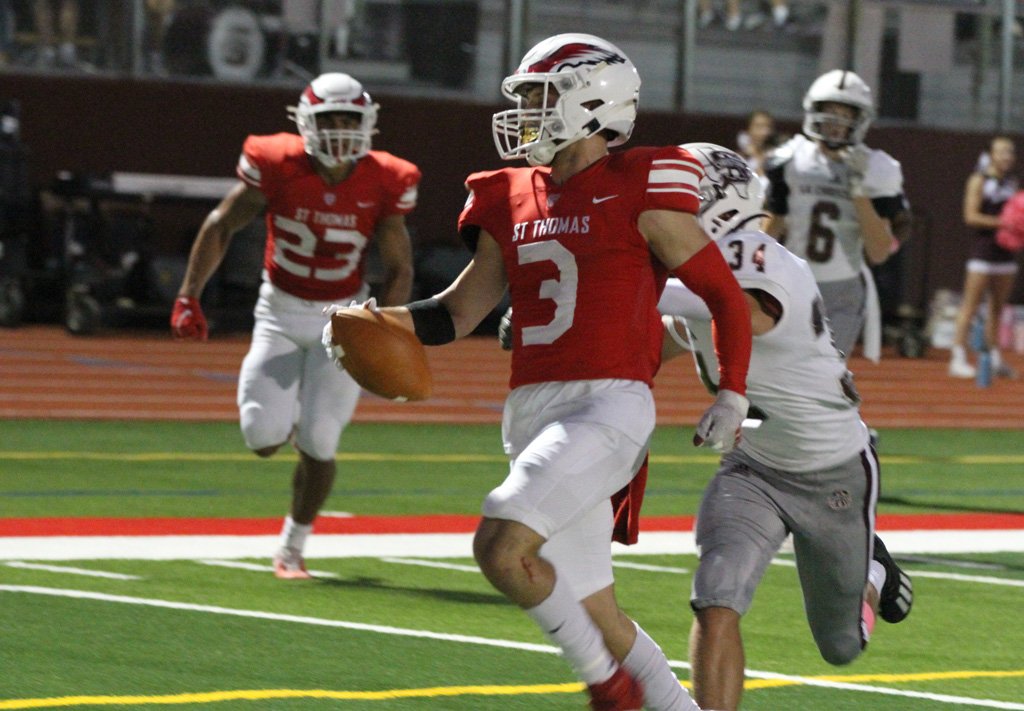 2. The high octane Eagle offense was again as sharp, lively, and compulsively watchable as "The Many Saints of Newark," minus the delinquent tendencies of young Tony, and all the homicidal temper and tribal backstabbing. St. Thomas popped more pyro than a roaring Greta Van Fleet retro set. And as the rock and roll gridworld has taught us, when the curtain falls, walk the hollow walls, once a valley doll, now you're not at all. No.
Man-child running back Cardenas bludgeoned Christian for 192 all-purpose yards while receiver Joe Rick Madden '22 turned four grabs into a 120 scintillating yards.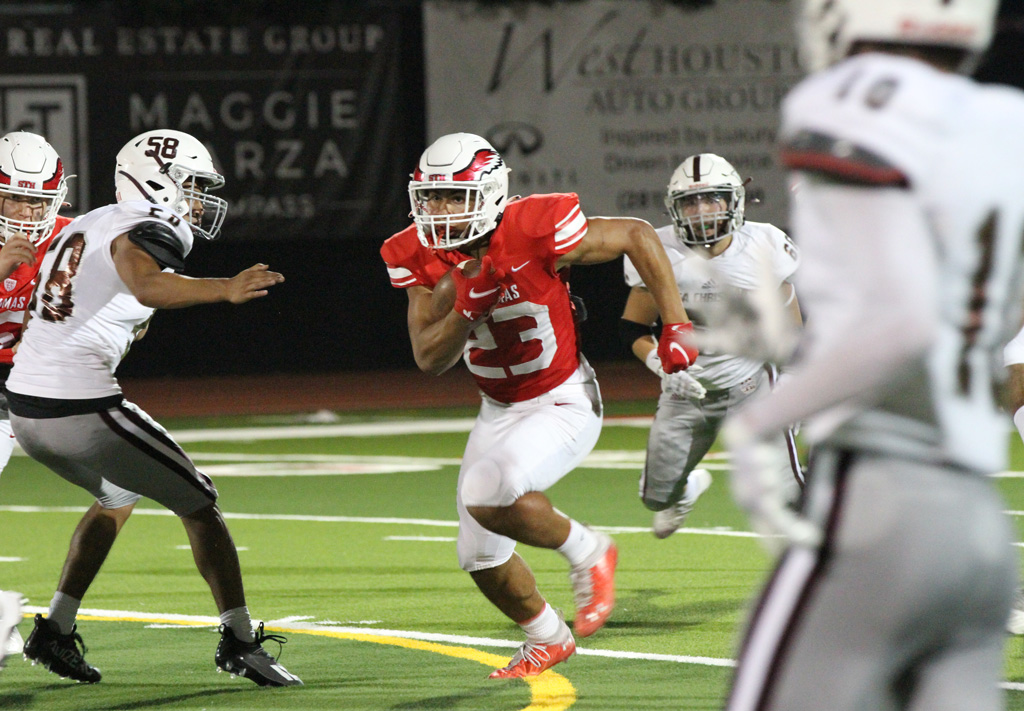 3. An admirable all-around defensive effort was fronted by linebackers Tegan Spencer '22 and Zach Rocha '23 as the Lions were abruptly bull-rushed into oblivion.
4. The Eagles began the night ranked the No. 5 private in the Houston Chronicle media poll and No. 6 by VYPE Houston.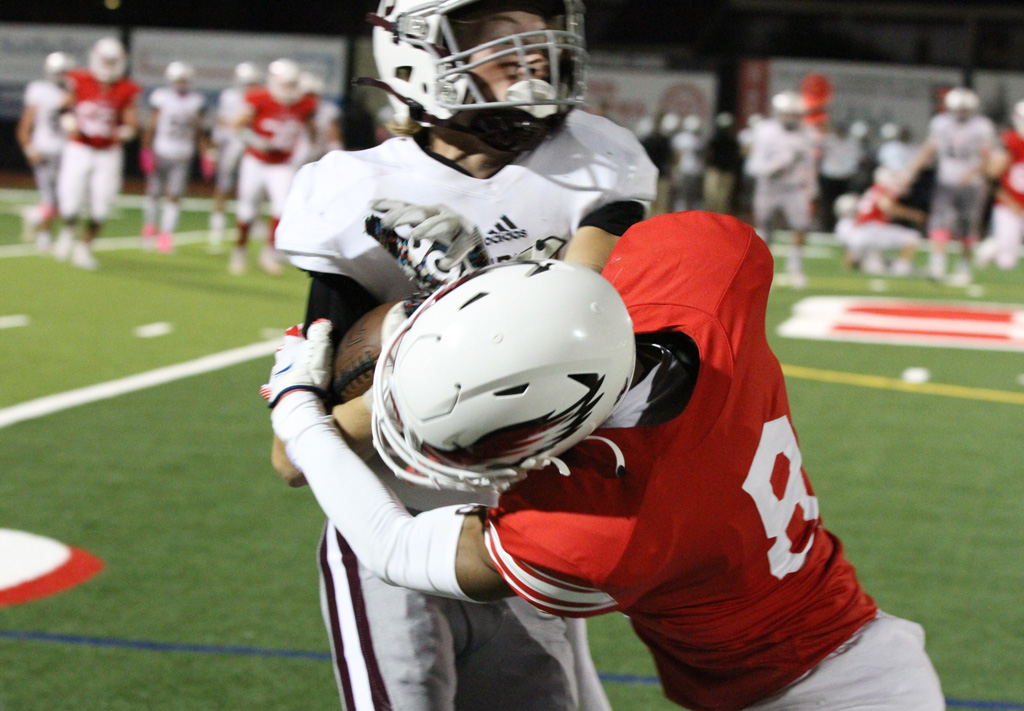 5. The runaway rout was only the second-ever encounter between the two schools. Last season, quarterback Maddox Kopp '21 (Houston) shook a shaky start with a school-record eight touchdown passes as Eagle Football racked 37 unanswered points in the first half in a 65-14 blowout.
ROCKIN' THE FILLMORE
Wright has now thrown for three or more touchdowns in six of his seven career starts while completing 72% with a quarterback rating of 150.5.  He's the son of Brian Wright who is in his second season as head coach at Division II Pittsburg State in Kansas. Previously he was the offensive coordinator and quarterbacks coach at Toledo for four seasons and the offensive coordinator at Florida Atlantic from 2012-15.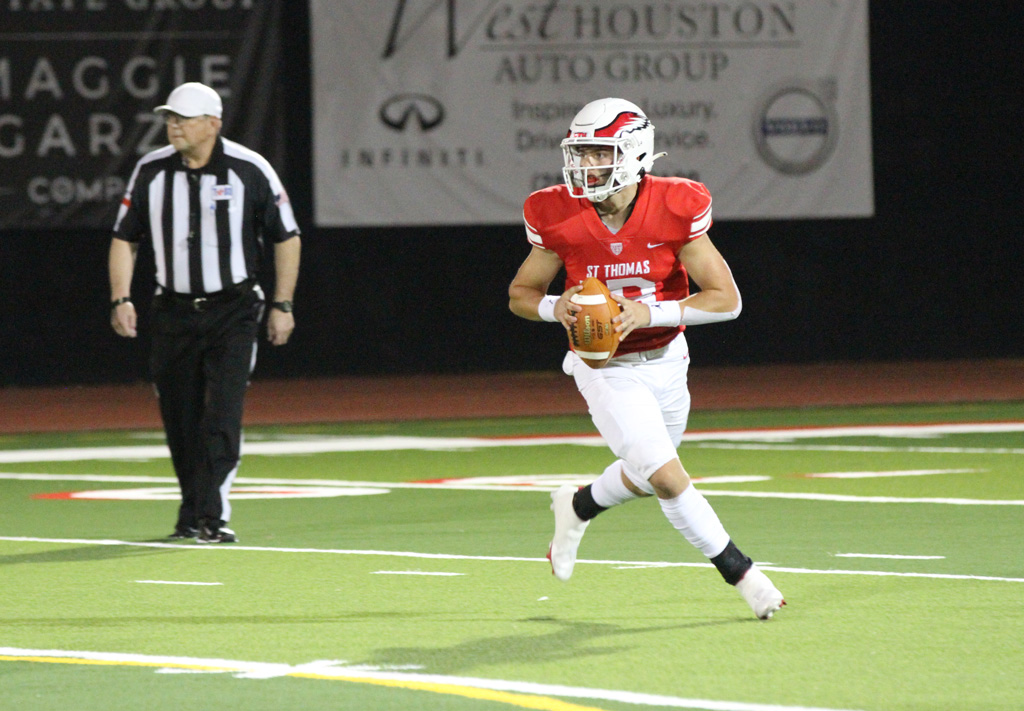 STATE OF PLAY
The Eagles swept through a three-game Hotze stand as a sign of an outfit that has a strong likelihood to be playing meaningful football in November. Especially when that team is thoroughly posting district knocks that are flat-out mismatch destructions.
In a terrific trio of home games, Eagle Football pummeled and outpaced their overmatched visitors by a combined margin of 119-10.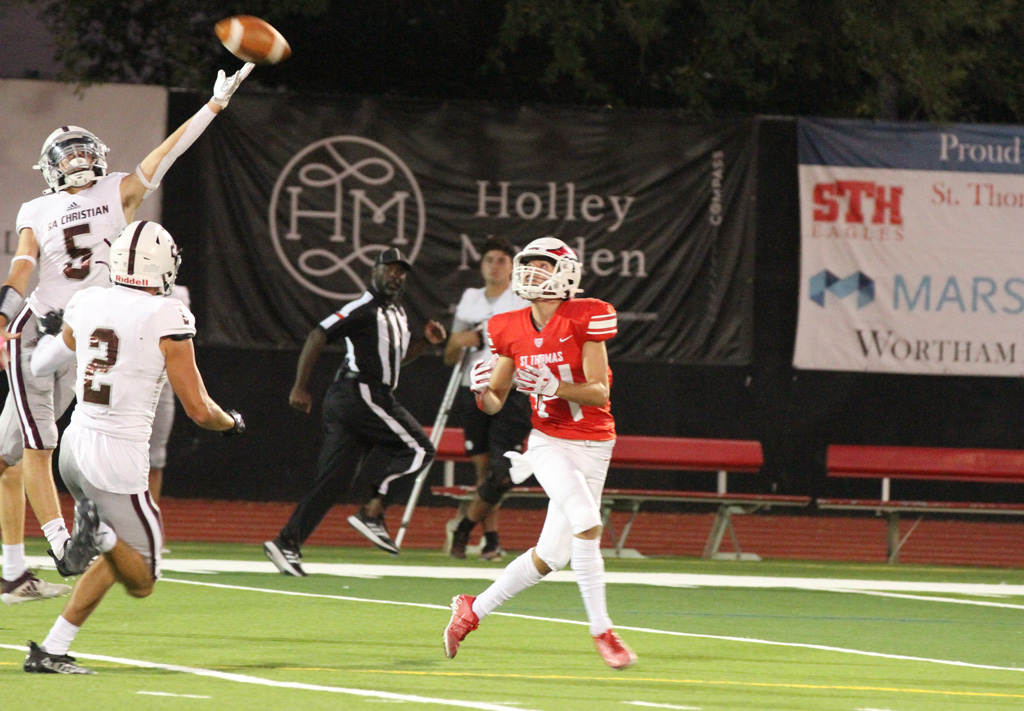 Offensive coordinator Matt Hudson blended a raucous playlist of calls that couldn't have been more imaginative had it included Green Day, INXS, the Black Keys, Dex Romweber, the Cocktail Slippers, The Animals, older Beastie Boys, and the Pixies.
The Eagles were the more physical team in both trenches, ran and stuffed the run with aggression, and exploited a wide variety of Christian weak spots with purpose.
COVER BOY
Long-time fine arts faculty member Mike Nebel was honored before the game for his significant and steadfast contributions to Eagle Athletics. He was recognized on the cover of the latest Eagles' Pride magazine for his legacy of excellence and mentorship.
Since 2008, through passion, dedication, and creative photojournalism, Nebel has vividly raised the profile of St. Thomas academics and athletics. A beloved figure within many areas of the campus community, he has fostered much more than a simple appreciation for the ceramic arts within his curriculum. Nebel brought national acclaim to St. Thomas, orchestrating a seismic shift for the program, exposing scholars to a wide range of traditional techniques and contemporary concepts while encouraging their signature style.
QUEEN AND HER COURT
Homecoming queen Alex Robey of Incarnate Word Academy was celebrated at halftime along with her court of Eva Cheng and Carson Chesnut from IWA, Mary Grace Meyer from Duchesne Academy of the Sacred Heart, Ellie Papp from St. Agnes Academy, and Gianna Santasiero from Duchesne.
PREVIOUSLY
GameDay Central || Eagle Football Romps and Stomps to 15th Straight District Win
GameDay Central || Eagle Football Dominates for First Shutout since 2016
Inaugural Catholic Bowl || Faith, Freedom, Football Celebrates Authentic Religious Identity
GameDay Central || New Look Eagle Football Sizzles in Season Opening Thriller
UPCOMING
The Eagles' second trip to San Antonio in three weeks is a visit to Antonian College Prep on October 15. St. Thomas is aiming for a decided dose of deja vu for a fourth straight victory over the Apaches.
In 2020, Kopp connected with Price for a nine-yard touchdown in overtime and defensive back Aidan O'Hare '21 sealed the decision with a clutch end zone interception as Eagle Football staged a dramatic 35-28 win at Hotze Field inside Granger Stadium.
In their most recent visit to Antonian Stadium, Kopp tossed for 314 yards and two touchdowns in a first half detonation where St. Thomas plastered points on its first four series to coast to a convincing 41-27 dismantling in a game not nearly as close as the final indicated.
Eagle Fight Never Dies!