GAMEDAY CENTRAL
Week Eight – Antonian Stadium, San Antonio

Eagle Football 35
San Antonio Antonian College Prep 14
WHAT YOU NEED TO KNOW
Throwing machine Jake Wright '22 sliced, diced, and scorched for 345 yards with four touchdowns in a dazzling display with relentless receiver Cameron Price '22 as St. Thomas (6-2, 3-1) slapped an impressive, business-like 35-14 victory for the Eagles' 17th district win in their last 18 games.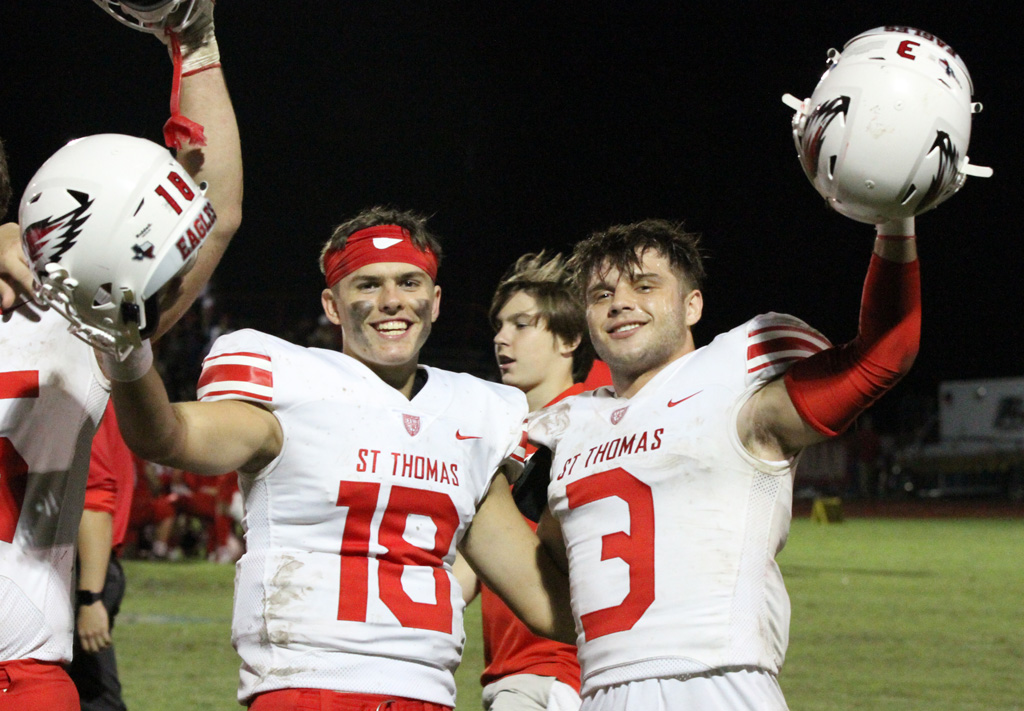 TURNING POINT
Eagle Football was never threatened and rarely stymied. They bolted to a 21-0 advantage while allowing one Antonian first down, bludgeoned the Apaches for 478 total yards, didn't turn the ball over on offense, and racked a season-high six sacks. Mission accomplished without unnecessary drama or theatrics.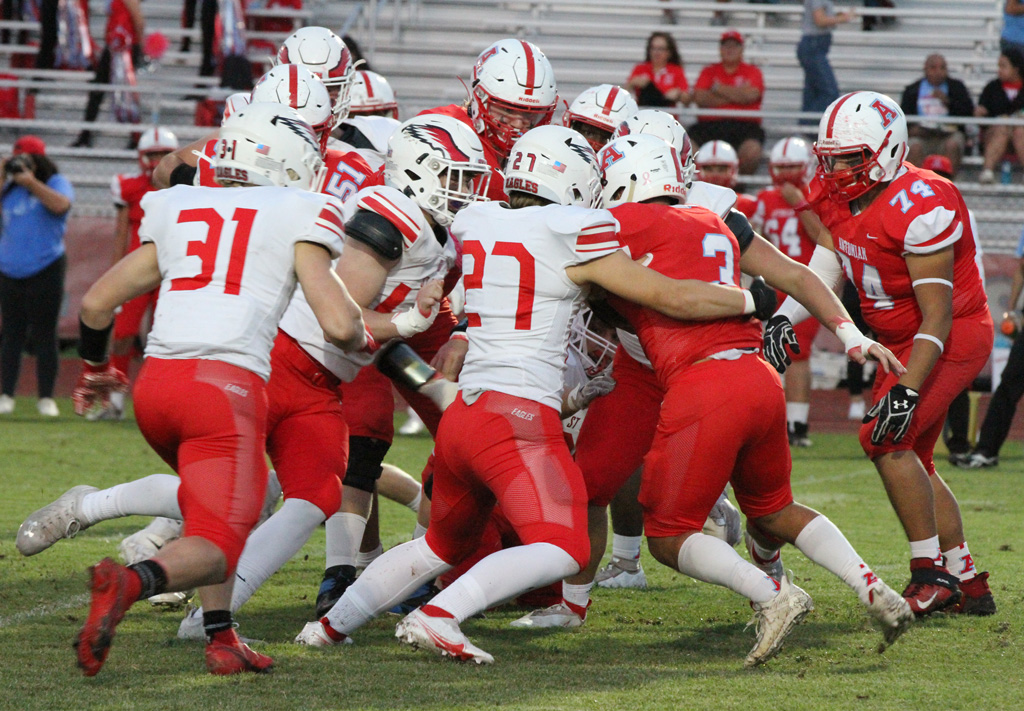 FRIDAY NIGHT FIVE
1. One of the most productive pitch-and-catch partners in the nation flashed an aerial spectacle that may have matched Francis Scott Key blowing his mind over the rockets' red glare. The pair without parallel in Texas high school football were overwhelming on a soggy, sloppy turf at Antonian Stadium with the peerless Price grabbing 14 passes for a 198 yards. They set the tone with consecutive completions worth 21, 12, and 18 yards to finish a six-play, 2:24 possession in the second quarter for a 14-0 advantage.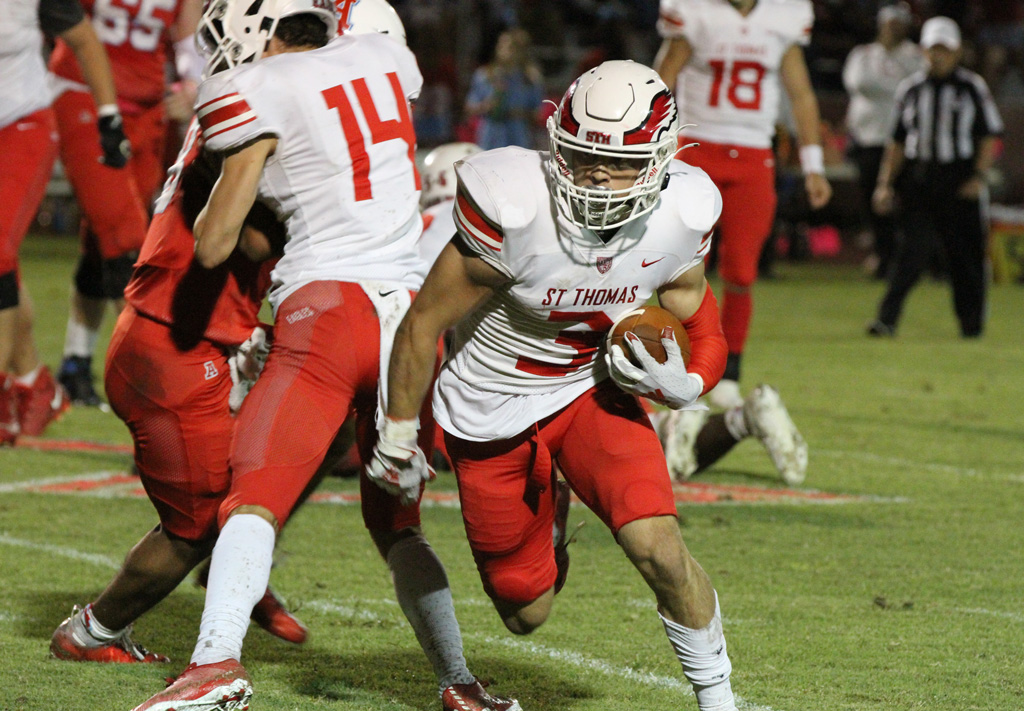 2. After the Eagles forced a fourth punt and third three-and-out of the half, the terrific high octane twosome teamed for a 54-yard connection with Price shaking defenders past midfield and extending the explosive to the Antonian 26-yard line. Three snaps later, Wright and receiver Luke Edgecomb '24 burned solo coverage in the left corner of the end zone to push the count to 21-0. The quicksilver 82-yard possession required less than three minutes for the three-score margin at halftime.
3. Wright and receiver Joe Rick Madden '22 posted the first points on the game's opening series, a 16-yard underneath strike that Madden turned to the left sideline and outraced the secondary to the pylon for the score. The same killer combo capped the first set of the second half with a seven-yard dart for Madden's eighth touchdown of the season and fifth in three games.
4. The tenacious St. Thomas D delivered the strongest naughtiest by nature effort since Treach, Vin Rock, and DJ Kay Gee were in a hip hop hooray heyday, making Antonian appear as aimless as Demi Lovato on the quest for alien lifeforms.
#UnidentifiedwithDemiLovato
Rock on.
Ringleader Spencer Tegan '22 and his sledgehammer cohorts allowed only 164 total yards, including 38 on their initial five series, then forced consecutive punts to start the second half. The cushion grew to 35-7 after dynamic running back Johann Cardenas '24 (116 rushing yards, 128 all-purpose) rolled in from short yardage early in the fourth quarter for his 10th touchdown of the season.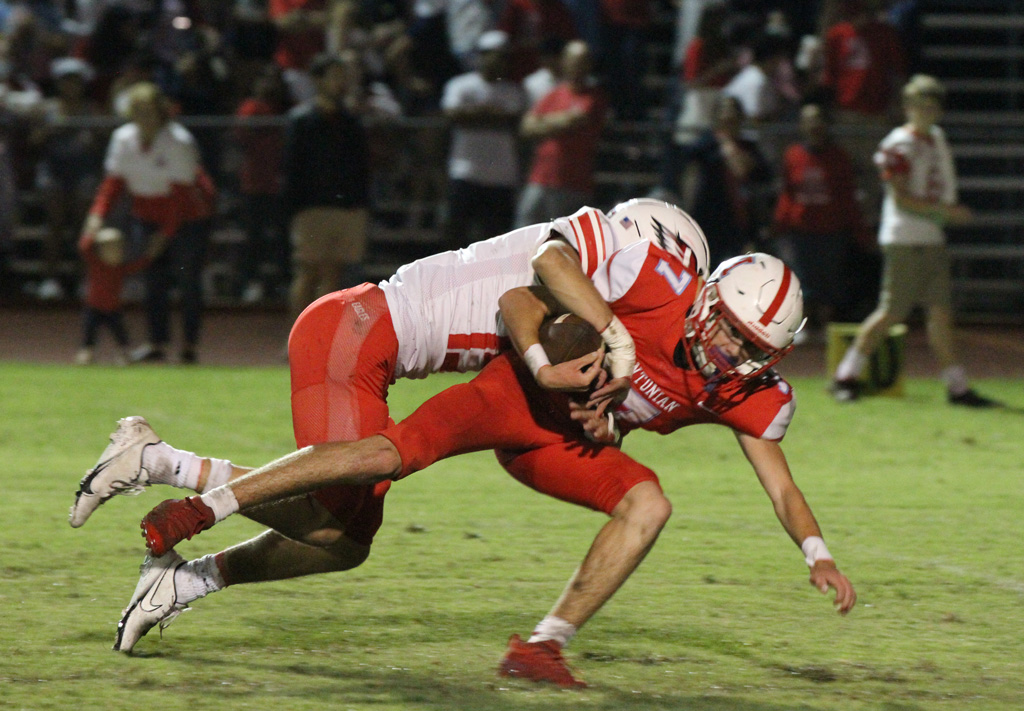 5. The three-time defending district champions started the Friday night Red & White road show ranked as the No. 4 private by the Houston Chronicle and notched their fourth consecutive win in the series.
ROCKIN' THE FILLMORE
Wright has now thrown for 2,738 yards with three or more touchdowns in seven of his eight career St. Thomas starts for 30 scores against one single, solitary interception. He's the son of Brian Wright who is in his second season as head coach at Division II Pittsburg State in Kansas. He was the offensive coordinator and quarterbacks coach at Toledo for four seasons and the offensive coordinator at Florida Atlantic from 2012-15.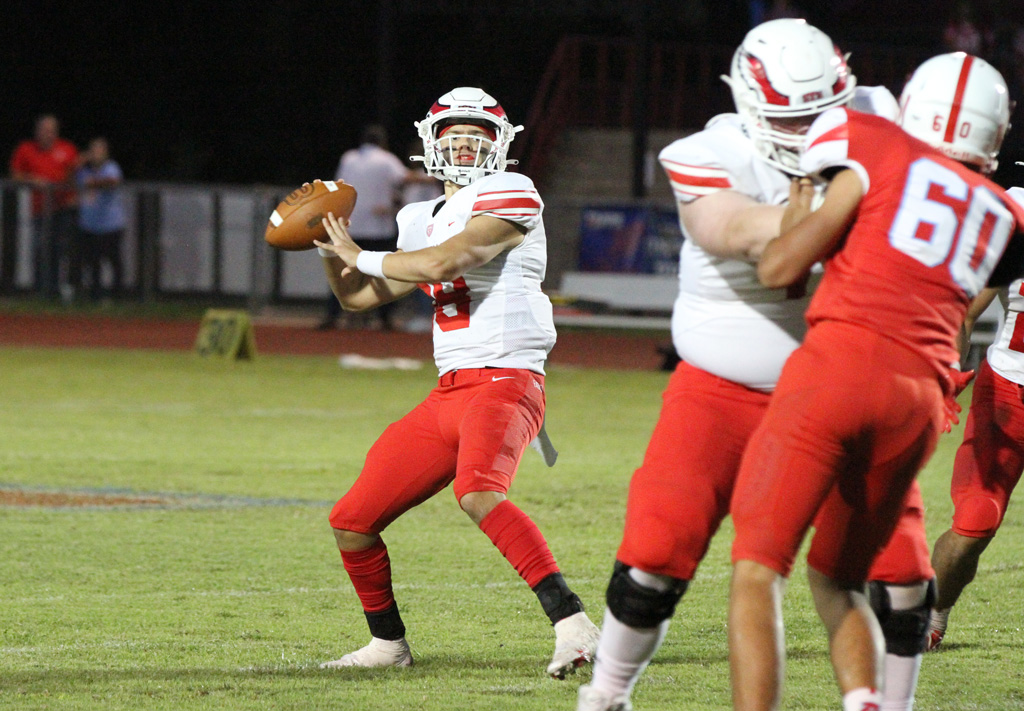 BLOODLINES
Uber active linebacker Tommy D'onofrio '24 continues to have a presence with four tackles, a sack, and a forced fumble. His father Mark was a standout linebacker and the 1992 team captain at Penn St., then selected in the second round of the NFL Draft by the Green Bay Packers. His acclaimed college coaching career included defensive coordinator positions at Temple, Miami (FL), and Houston.
THE FINAL WORD
Courtesy defensive coordinator and driving force Ray Davis.
STATE OF PLAY
The most complete execution of the season again featured one of the most lethal arsenals in Texas high school football with a roguish defense element that keeps the Eagles on a trajectory for meaningful football in November.
The Eagles modus operandi is to throw the ball frequently on early downs, early in games before score differential and time remaining influence run-pass tendencies. The rates reflect how much confidence St. Thomas has in its passing attack and how coaches prefer to win games.
Wright is officially a season-changer. He enjoyed pristine protection for the third game in four weeks behind an assertive wall anchored by tackle Patrick Wallace '22. And when the master of precision and poise operates the controls with clean pockets, the Eagles appear primed to pile points on every possession. Wright continues to work progressions at every level of the field, flawlessly executing the quick game with the drop back, the designed runs, whatever is required, and all with a maturity and moxy to throw the ball away when demanded.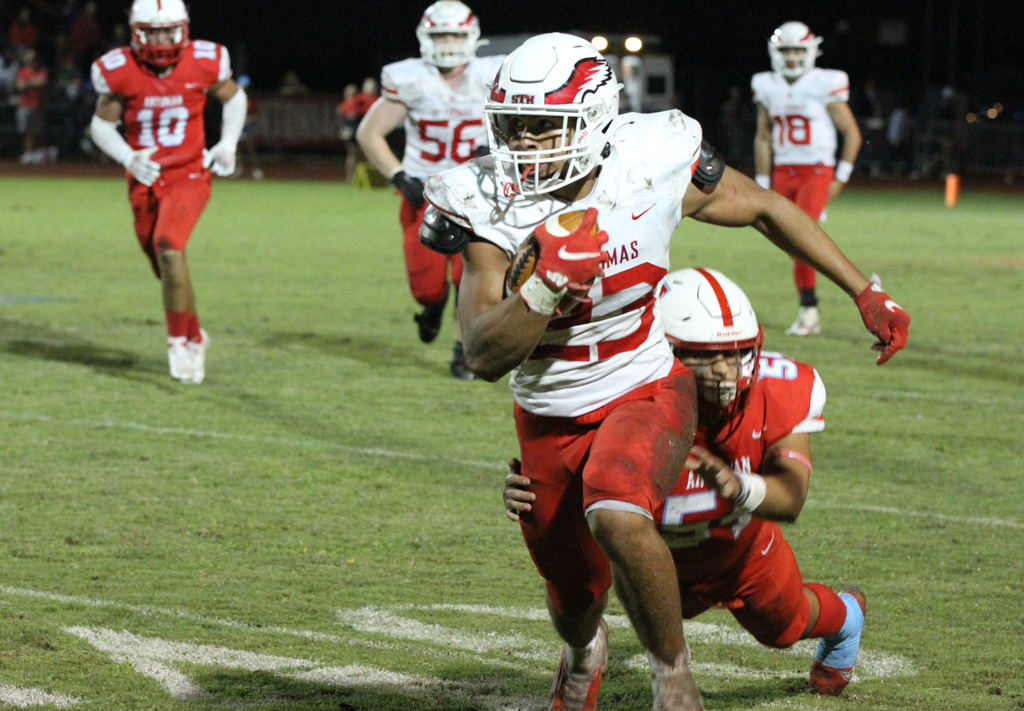 Cardenas thrives on contact and punishes defenders in the ground and pound game.
The defensive unit is crafting an identity for menace at major moments while developing a swag mandatory when the competition improves decidedly in the playoffs.
The Eagles know all too well, the gap between a good season and a historic one hinges on how they perform during the fast-approaching money month. As the R&B gridworld is quick to suggest – day or night, dynamite, we had fun, but it's just begun, it's just begun, it's just begun.
PREVIOUSLY
GameDay Central || Homecoming Shutout Gives Eagles Seventh Straight Win at Granger Stadium
GameDay Central || Eagle Football Romps and Stomps to 15th Straight District Win
GameDay Central || Eagle Football Dominates for First Shutout since 2016
Inaugural Catholic Bowl || Faith, Freedom, Football Celebrates Authentic Religious Identity
GameDay Central || New Look Eagle Football Sizzles in Season Opening Thriller
UPCOMING
St. Thomas travels for the third time in four weeks with a visit to St. Pius X to continue a generational rivalry that the Eagles have dominated in recent years.
In 2020, running back John Fontenot '21 rammed, jammed, bruised, and bolted to four touchdowns while an Eagle defense turned relentless in a 49-21 rout to cement a third consecutive district title and seventh in nine seasons.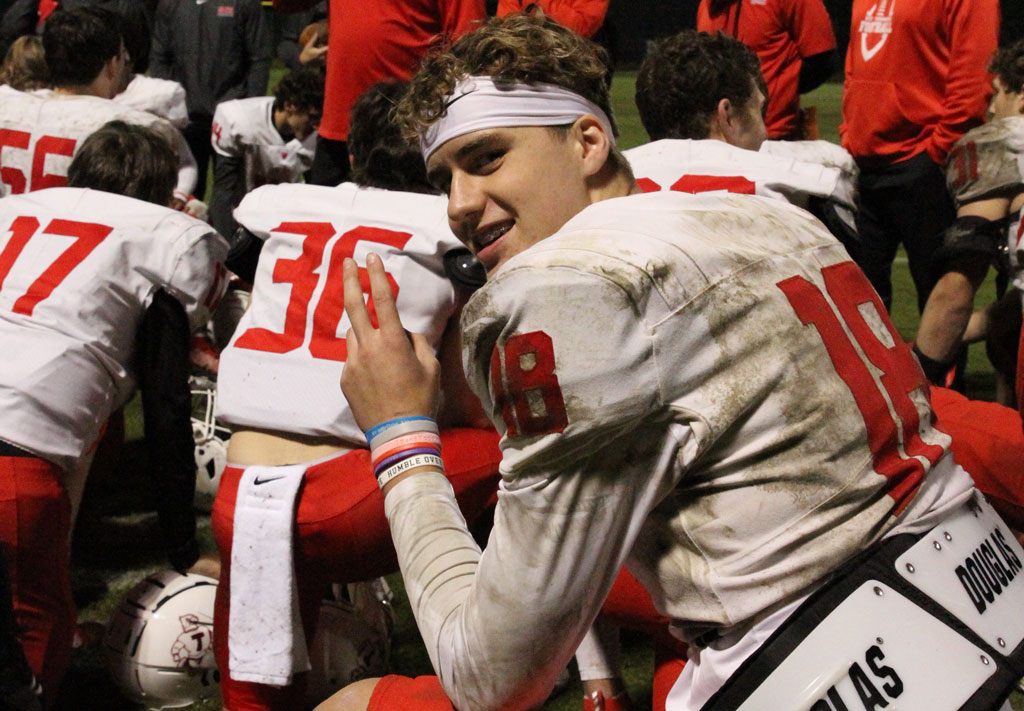 In 2019, Eagle Football used an avalanche of 40 consecutive points for a commanding 47-21 verdict behind five touchdown strikes from quarterback Maddox Kopp '21 (Houston) to face-plant the Panthers with an outcome so devastating it required an autopsy.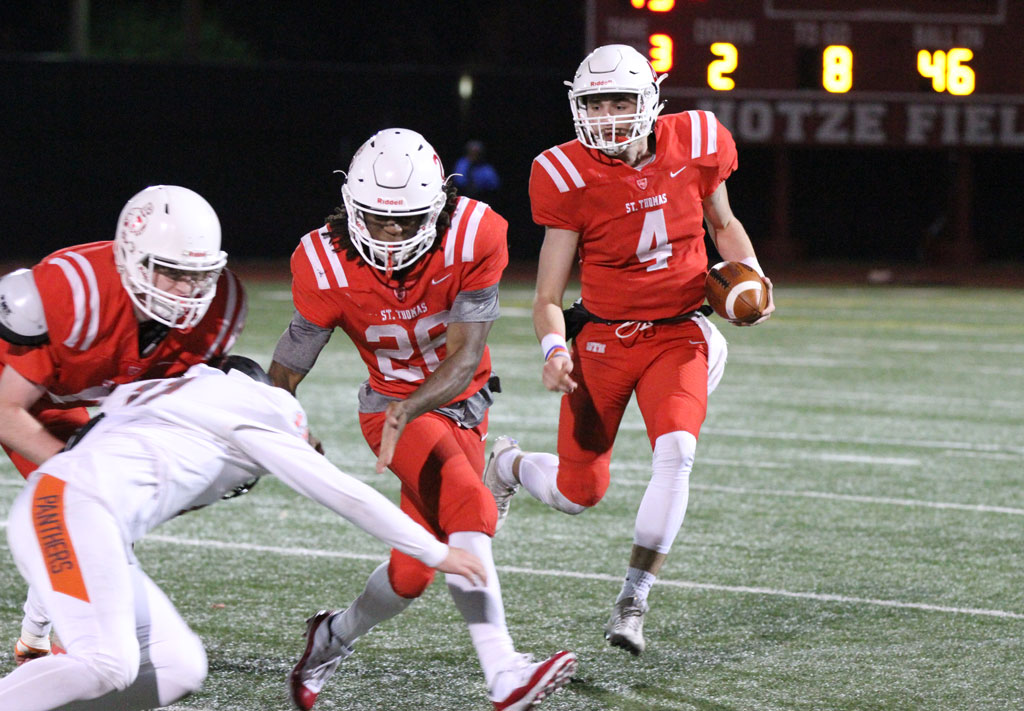 In 2018, quarterback Peyton Matocha '19 (Miami) put on a full-frontal attack of talent, skill, precision, will, and want with seven touchdowns, including four in the third quarter when Eagle Football seized control to rally for a stunning 52-49 shootout to reclaim the district crown.
From 2012-15, the Eagles captured four straight showdowns with the district title at stake by a combined score of 144-62. In the stretch dating to 2011, Eagle Football has enjoyed nine victories in 11 games.
Eagle Fight Never Dies!