GAMEDAY CENTRAL
WEEK 11 – ANTONIAN STADIUM, SAN ANTONIO

Eagle Football 42
San Antonio Antonian 24
WHAT YOU NEED TO KNOW
Johann Cardenas '24 (verbal Vanderbilt) bludgeoned Antonian for a career-best 275 rushing yards on 39 ram-like carries with four touchdowns.  The colossal closeout to an undefeated 10-0 regular season recaptures kingpin superiority in a district St. Thomas has dominated since 2018 with a 26-2 record.
Minus quarterback extraordinaire Dante Lewis '24 (verbal Kansas St. baseball), the state's no. 1 ranked private exploded to a 14-0 lead in the first seven and half minutes, then rode Cardenas during a sledgehammer third quarter for two touchdowns to take command 35-17.
The sweet payback for the Eagles avenged a 38-35 home defeat to Antonian in a similar high-stakes gambit just one year ago. The first unbeaten St. Thomas campaign since 2013 is only the second for Eagle Football since 1939 and seals the fourth perfect district title chase in six years with a share of the hardware in 2021.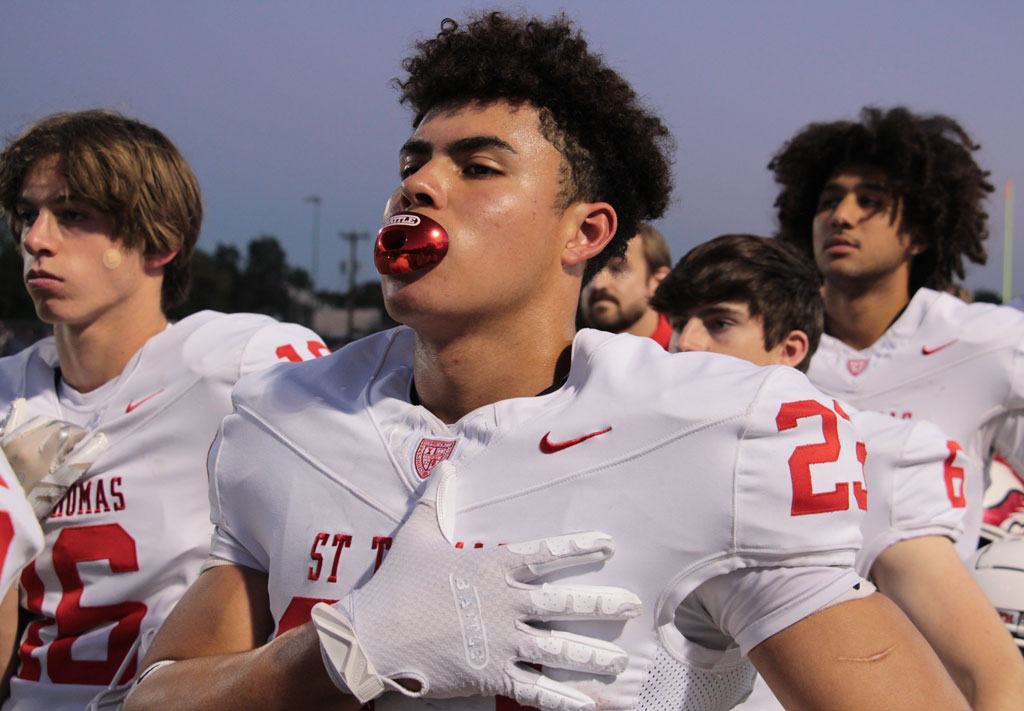 TURNING POINT
Cardenas was the fulcrum behind a seawall offensive front with his magical tag-team partner Lewis unavailable. The Humvee battering back bolted 42 yards on the second St. Thomas offensive snap for the first of two first-half trips to the end zone.
Cardenas then blazed two more touchdown jaunts in the third quarter in a span of 4:38 game time to pump an 18-point margin.
Antonian narrowed the count to 35-24 before ball-hawking defensive back Aron Valentine '24
extinguished the final Apache threat with an end zone interception in the final six minutes.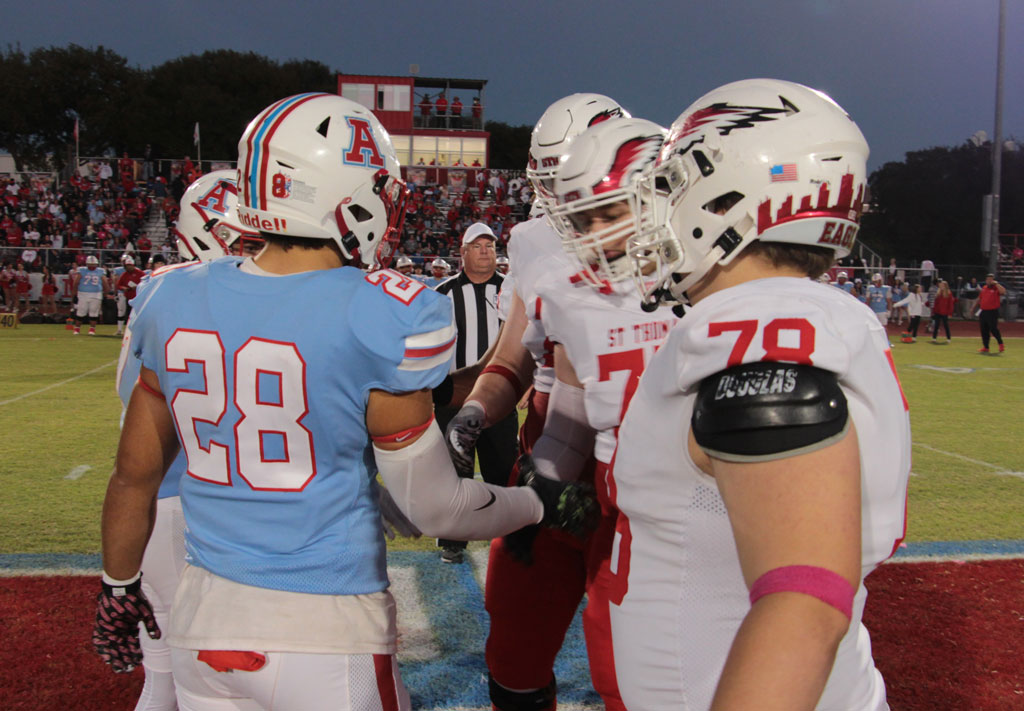 FRIDAY NIGHT FIVE
1.  Offensive coordinator Matt Hudson adheres to the adage that roughly half a dozen explosive opportunities are available per game and elite outfits must capitalize on the vast majority to achieve championship-contending status.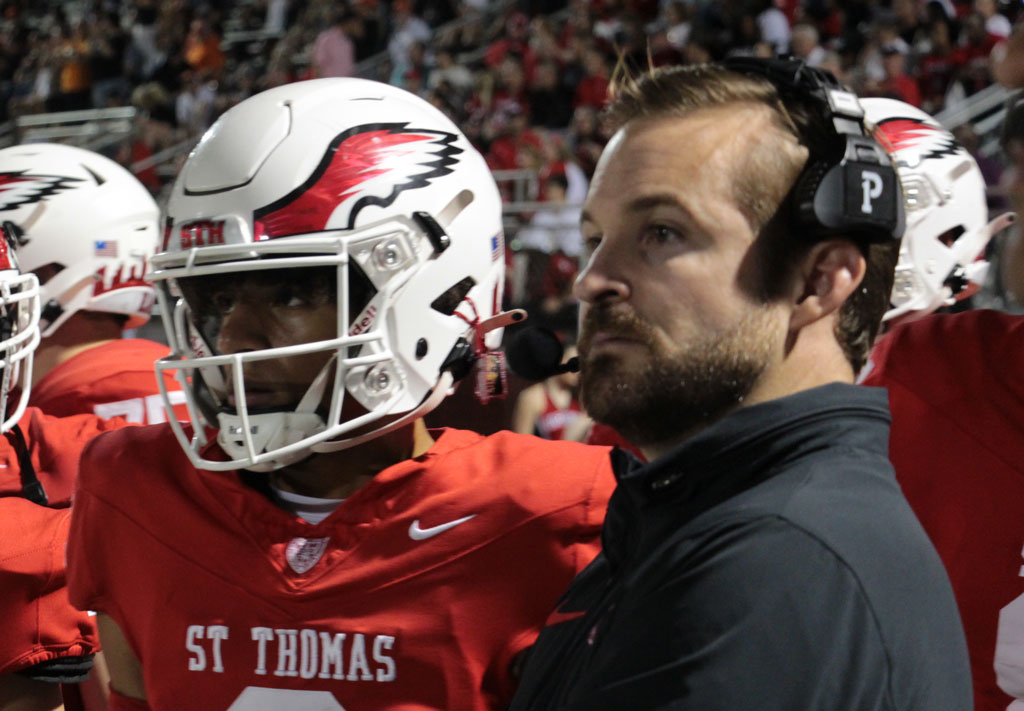 2.  After the Cardenas quicksilver gash for 42 straight-ahead yards and 7-0, he ripped a 19-yard gain on the following possession to the Antonian 39. Next, receiver deluxe Luke Edgecomb '24 moved in motion right to left from the inside slot and took a jet sweep 39 yards down the sideline for his 14th touchdown of the season.
Eight plays, 14 points, an early Mike Tyson-like statement in the heavyweight staredown. Simple can be lethal.
3.  Hudson then deviated from the signature shock-and-awe attack orchestrated by the daring Donte for an old school, bone-crushing bully-ball plan at the point of attack that would have earned the Earl Campbell seal of approval.
The two-touchdown bulge had evaporated late in the first half when Cardenas blasted on seven carries for all 48 yards in the scoring drive to give the Eagles the lead for good.  He crashed through three tacklers for 14 yards on a fourth-and-two for his second score and 21-14.
4.  Trying to contain Cardenas is akin to tackling a refrigerator with limbs. He continued in the pivotal third quarter with enough emotion and commotion to make Jeff Beck take notice. Six straight touches before QB2 Mason Hartwell '27 delivered a stunning impact for the first time in the game – a high-arcing third-down touch throw to Larry Benton III '24 in isolation coverage on the right sideline. The over-the-shoulder, falling-away grab was worth 33 crucial yards to the Antonian four-yard line. Cardenas capped the series with his third TD for 28-17.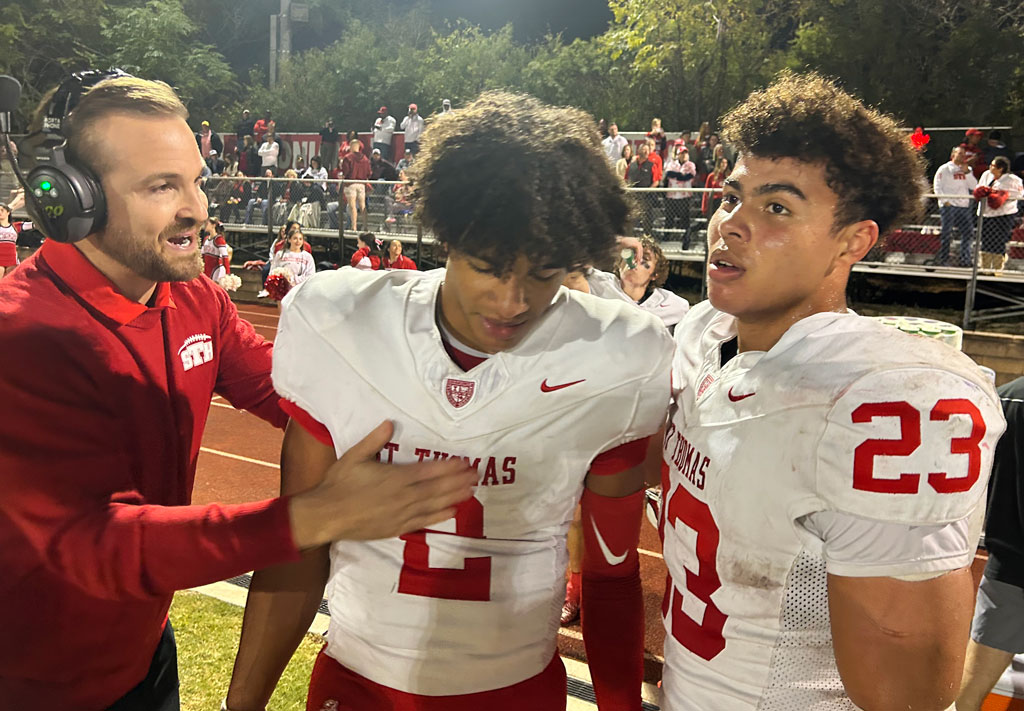 5.  After an Antonian punt, Cardenas was like Joan of Arc coming back for more (with a raucous chorus from Shirley Manson and Garbage). Two touches to ignite the drive, the final three snaps for nine yards to the end zone, and 35-17.
VENI VIDI VICIOUS
The Eagles couldn't exhale until Valentine pulled his latest larceny. Antonian was charging to the brink of the goalline in the final six minutes trailing by 11. Valentine perfectly broke on a sideline route for his sixth interception of the season and the title-clinching outcome effectively sealed.  He was also involved in seven tackles.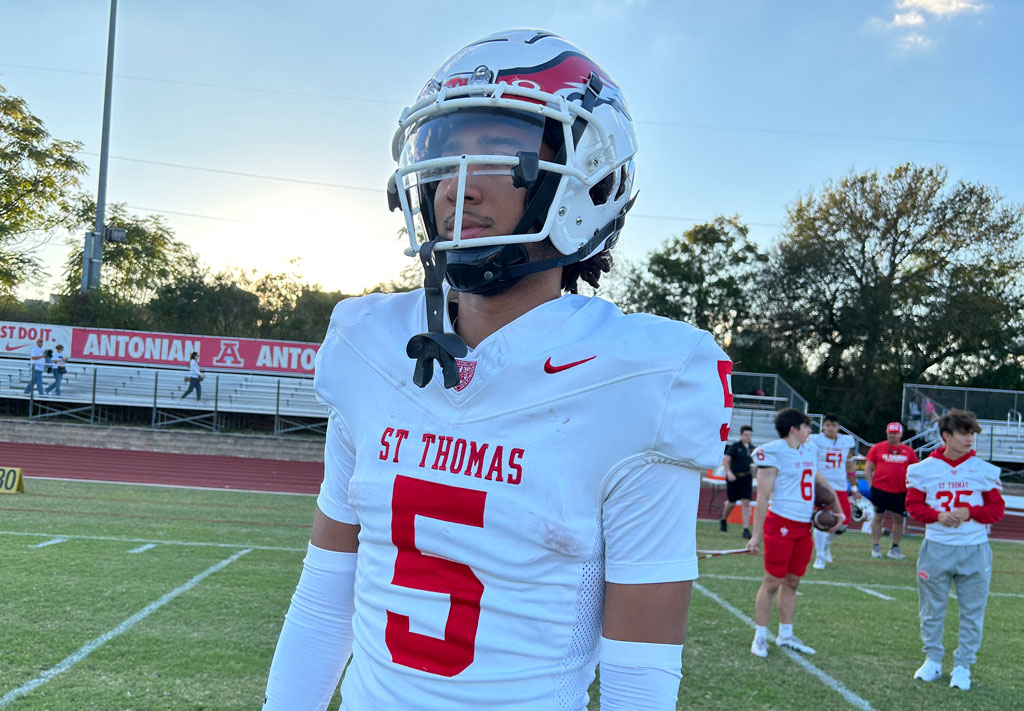 Defensive demons Jack Reid '25 and Dominic Ori '24 each registered a pair of sacks. Marauding linebacker Tyler Day '24 (verbal Rice) was his usual master of mayhem, racking a quarterback takedown among his 14 total tackles.
SMELLS LIKE TEEN SPIRIT
Hartwell was remarkably steady if not sensational in his first varsity start after emergency relief in the 42-21 smashing of St. Pius X. The nuclear sub was mature in the bright lights beyond his years, picking meaningful moments.
In the second scoring series of the third frame that increased the advantage to 35-17, Hartwell pulled the ball on a run fake to Cardenas and raced 20 yards to the Antonian 31. He then connected with Edgecomb in the right flat for a 17-yard catch-and-run that set the stage for three straight Cardenas carries for the final nine yards.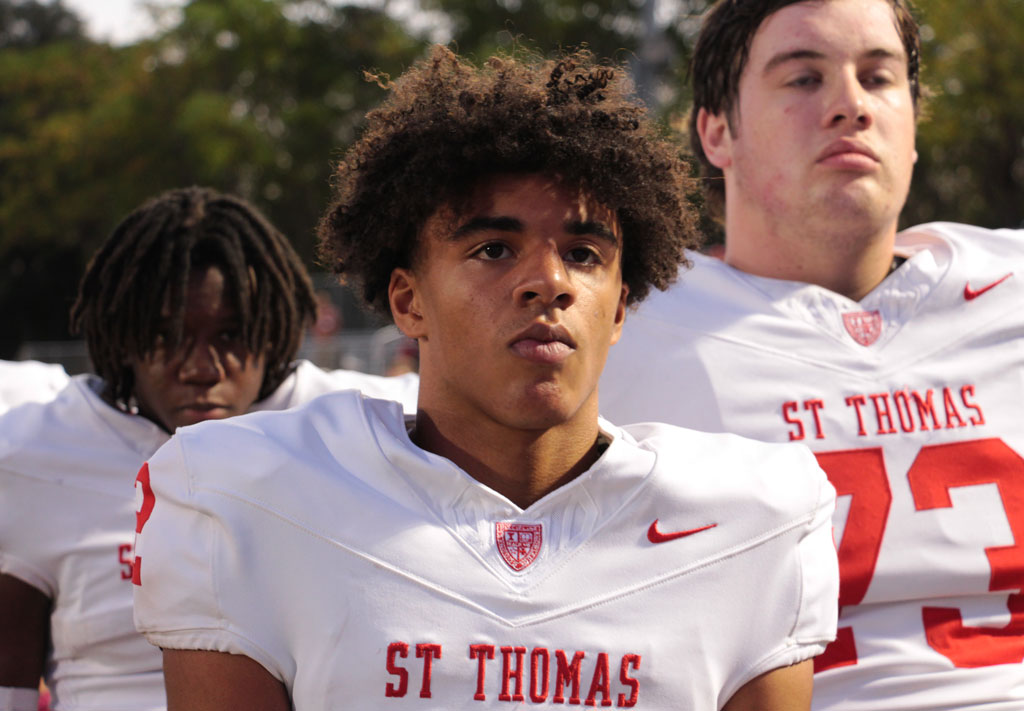 Hartwell completed 10 of his 11 low-risk throws for 128 yards.  He also rambled for seven timely jolts for 36 yards, including the exclamation touchdown in the closing moments that encapsulated everything memorable about this historic evening. Think Samantha Fish, Jesse Dayton, and Eric Johanson in a final encore of pounding, grooving, twisting guitar and vocal riff jamming through "Goin' Down South."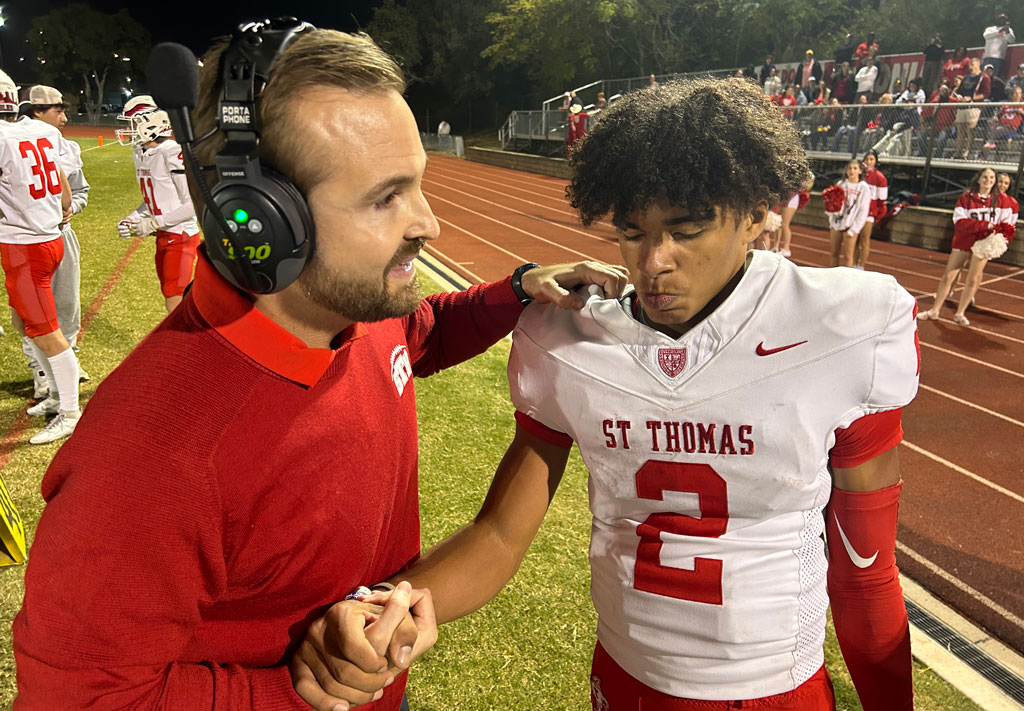 VIVA LA BAM
Cardenas continues his grand slam return after tearing the anterior cruciate ligament in his right knee in October 2022. In eight scintillating starts, the earth-moving back has romped, stomped, and bolted for 1,624 yards with 21 touchdowns, averaging a mammoth nine yards per carry and 203 yards an outing. Along with his seek-and-destroy carnage of Antonian, the irrepressible Cardenas has gorged opponents for 244, 178, 206, 159, 201, 165, and 196 yards with another 291 yards receiving.
In the assault are 77, 75, 48, 46, 42, 41, 31, and 23-yard touchdown gusts with 52, 50, 45, 41, 39, 36, and 24-yard scampers.
AFTERMATH
The Eagles typically adhere to the once-upon-a-time Barry Switzer credo of quick hang-a-half-hundred school of Boomer Sooner domination.
St. Thomas has now racked at least 42 points in eight of its 10 triumphs. Outside the 28-13 verdict over Kinkaid that involved a 21-0 second-half breakout, Eagle Football is pumping 48 points per game with liberal substitution in five games during a six-week stretch.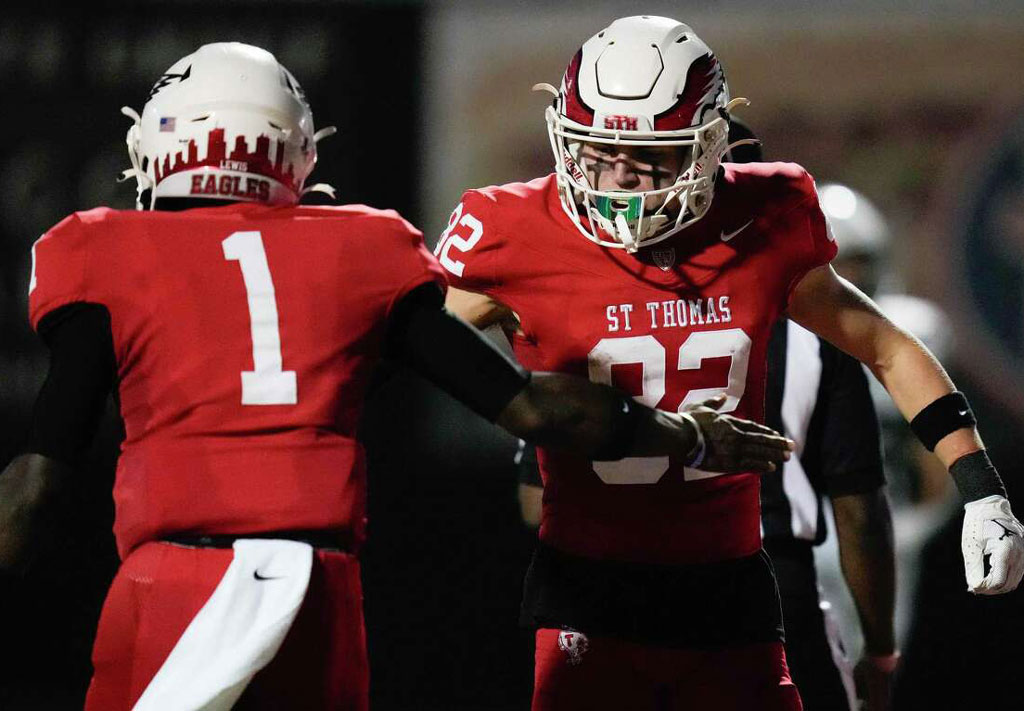 ROCKIN' THE FILLMORE
The third true road knock of 2023 raised Rich McGuire's record to 52-24 in his seventh season as head coach.
McGuire was the Touchdown Club of Houston Private Coach of the Year in 2020. He has guided Eagle Football to 23 regular season wins in its previous 24 games and 17 victories in its previous 18 games in the friendly confines of Hotze Field in Granger Stadium. And since 2021, McGuire is 15-1 in the non-district with 11 straight wins.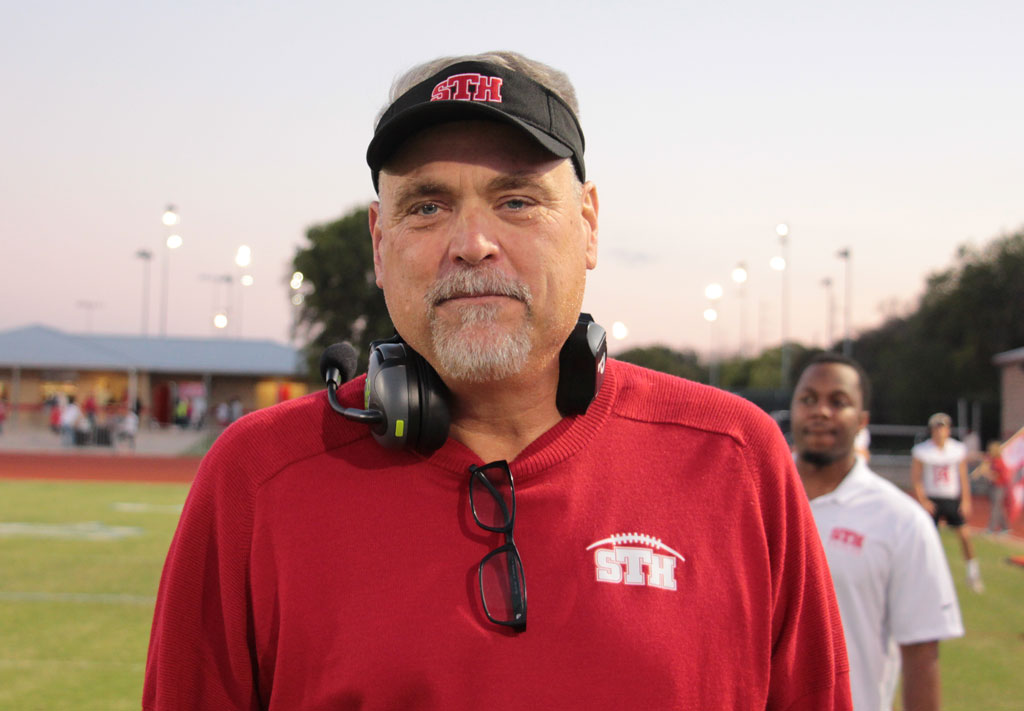 McGuire was the defensive coordinator for head coach Tim Fitzpatrick during that unblemished 9-0 season in 2013. St. Thomas opened the playoffs with a 47-28 shootout over Dallas Bishop Lynch. The voodoo of a 10-game winning streak into the regional final then vanished in a frigid 20-14 overtime loss to Fort Worth Nolan Catholic in Teague.
The Eagle crew included Touchdown Club Private Lineman of the Year Joseph Lowery '14 (West Point), quarterbacks Michael Reul `14 and Michael Keating '16 (San Diego), defensive terrors Julius Pollard `14 and Lorenzo Neal `16 (Purdue), two-way Chris Zook '14 (West Point), tackle Campbell Clarkson '15 (U.S. Air Force Academy), linebacker Payton Pardee '15 (Houston), running back William Heck '14, receiver Rawlings Elam `14, and clutch kicker Jack Brady '15 (Millsaps College).
¡UNO!, ¡DOS!, ¡TRÉ!
With one of the state's most daring playmakers sequestered to the sideline, replaced by a nouveau riche signal caller, Eagle Football rolled up 439 total yards and 42 points, scoring on three of four possessions in each half with only one turnover.
The Eagles haven't trailed since the 13-7 halftime deficit at Kinkaid in Week 6.  They have led or been tied for 22 straight quarters.
Cardenas was ranked in the preseason among the state's top 100 football recruits and vividly showcased in the 64th edition of Dave Campbell's Texas Football, a prelude to his remarkable return from the ACL injury.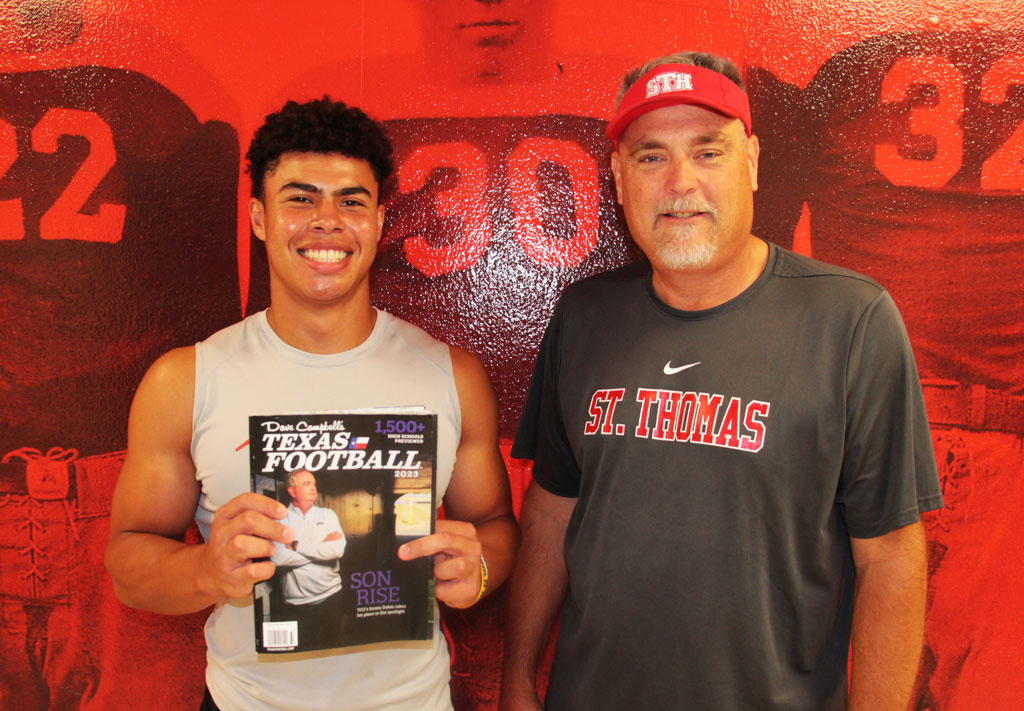 RAVE ON
Before missing the regular season finale and his abbreviated Week 10 outing, Lewis had orchestrated a myriad of mindnumbing highlights through an arsenal of awe-inspiring offense. His moxy was seen in a great understanding of protection and coverages. He was an accurate down-the-field thrower who didn't risk the ball in jeopardy with the confidence to respond immediately to a broken play.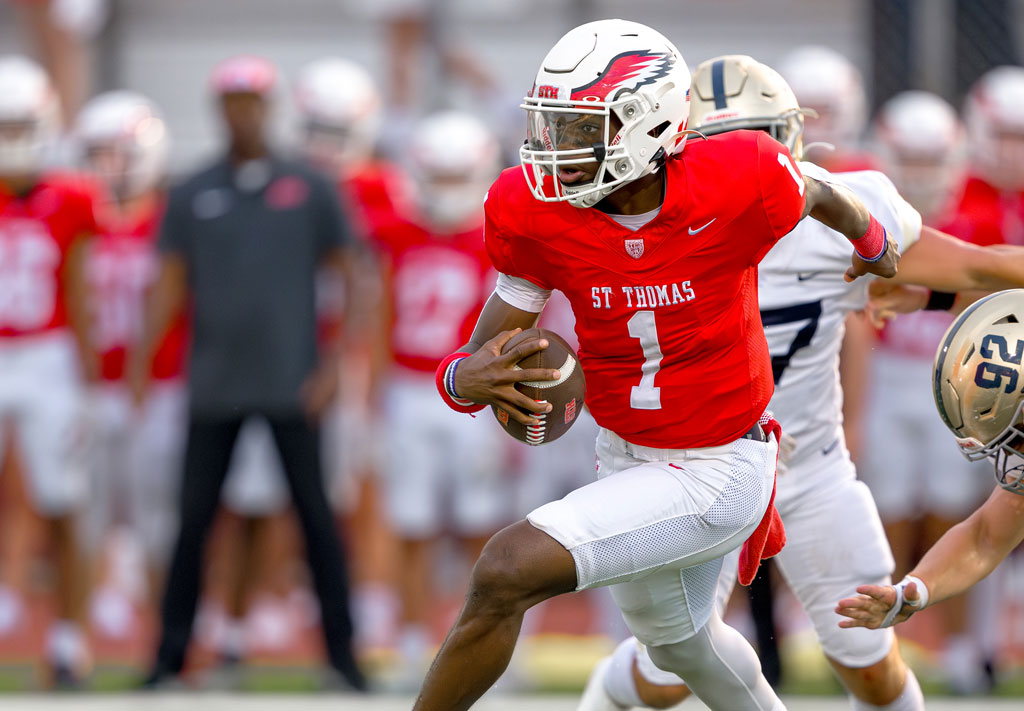 In pouring secret sauce all over a list of opponents, Lewis had scorching breakaway touchdowns of 91, 82, 81, 75, 69, 65, 61, 47, 46, 33, 31, and 31 yards plus rambling gains of 52, 49, 48, 37, and 35 yards. He owns a whomping worth of scoring throws for 77, 75, 72, 68, 63, 52, 50, 48, 41, 35, 34 and 33 yards.
Lewis was turnover-free for seven-plus games and has a 27-2 TD-to-interception ratio (53-9 in his two-year Eagle career) with the only takeaways this season in Week 4.
To steal lyrics from the bygone rock & roll ages, Lewis is a gridworld wizard.
Ain't seen nothing like him in any amusement hall
How do you think he does it? I don't know!
What makes him so good?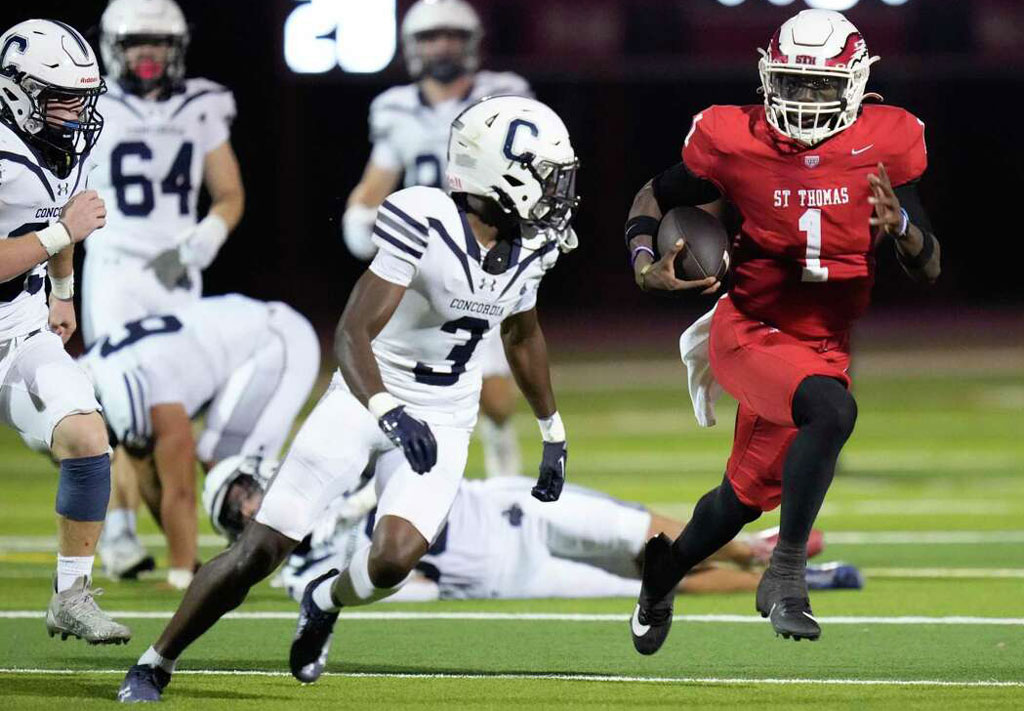 Through eight-plus games, Lewis is completing a sizzling 71% (134-185) for 1,998 yards. His emphatic 142.5 rating includes an outrageous 16 yards per completion. He's rushed for 805 yards and a stunning 18 yards per carry.
In addition to the weekly pyrotechnics from Lewis and Cardenas, Keenan Bonner '24 ripped 61 and 37-yard scoring surges among his three touchdowns against St. John's. Edgecomb is averaging 15 yards per catch and 112 yards per game while Benton is good for 19 yards a reception.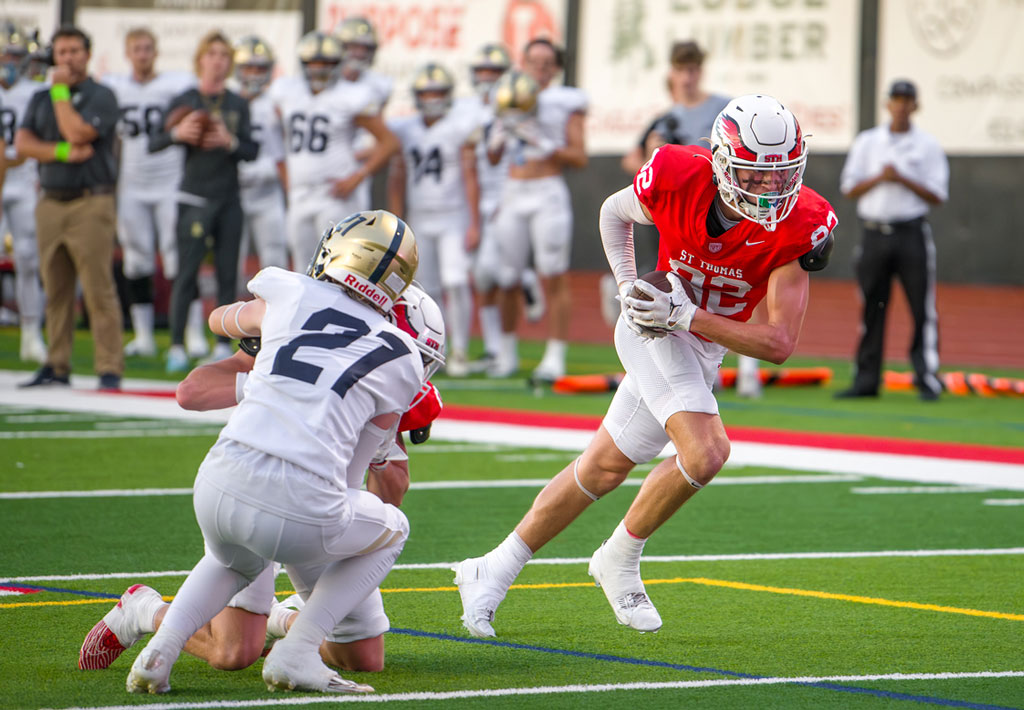 PREGAME PICS
STATE OF PLAY
Coralling Cardenas is proving a tougher task than working the night shift at a haunted children's pizzeria in the Chuck E. Cheese mold where the rickety animatronic band comes to life after dark and hunts for prey, a terrible, mind-piercing jump scare around every corner, a demonic facsimile of Helen Henny or Mr. Munch with murder burning in their cold, dead eyes (think Five Nights at Freddy's).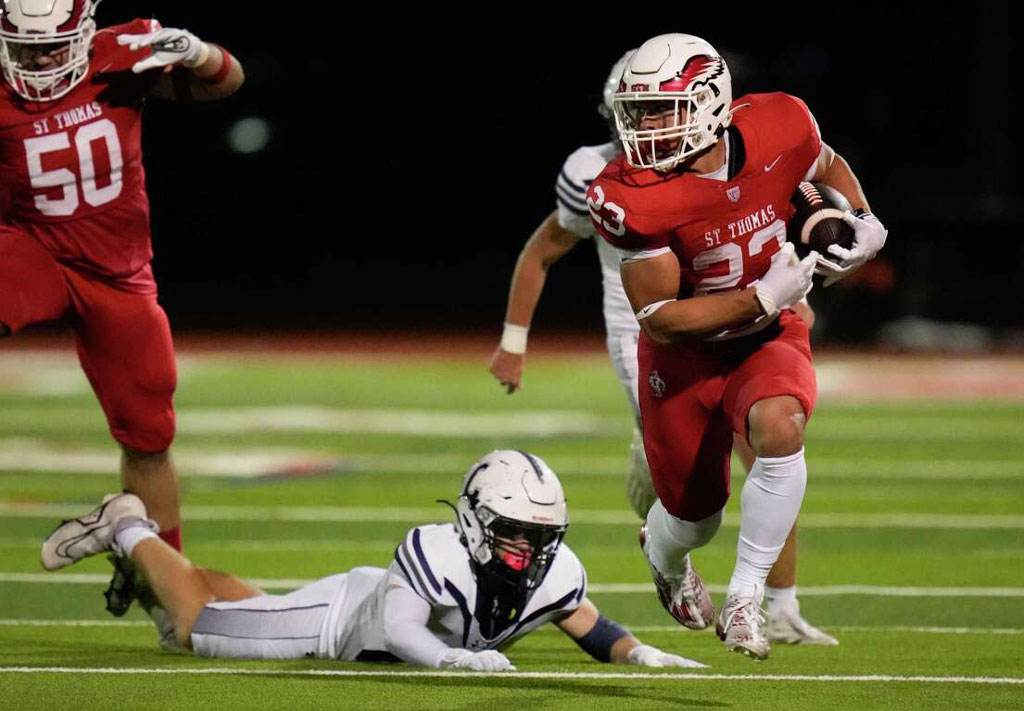 Cardenas is a classic downhill, power back with vision and a physical presence that is rare in the current 7-on-7 schoolboy gridworld. He's nifty enough to slide and skip into a hole and still evade contact like the fast, explosive space runners of today's game. His 6'1" 220-pound frame carries even more weight in the fourth quarter of games when everyone else is tired, as Antonian would attest.
Edgecomb is a glue-grip craftsman exploiting underneath against zones, relentless in the screen game. Benton is a matchup nightmare when facing man coverages regardless of the technique to win slants, back shoulders, and go balls.
Lewis is an ultimate Denzel/Robert McCall-esque equalizer and a multiplier. Until his return, the Eagles still own a formula to prevail. Block the run game. Execute a smart pass game. Not sexy spectacular but efficient until suddenly explosive. Always a plan and identity. Complimentary football. Rhythm. Determine or dictate formations and personnel sets then exploit.
The mantra regardless of personnel or circumstances: Hit your hole. Fill your gap. Do your job. Repeat. Your opponent has a number, not a name. It's not about them. It's about you. Focus and finish. If necessary, survive and advance.
UPCOMING
To the victors go the spoils. Eagle Football now enjoys a bye week and is positioned to host the regional final and the state semifinals.
St. Thomas will first draw either Bishop Lynch or district adversary San Antonio Central Catholic November 17. A win assures the Eagles of a second consecutive state Final Four November 24. The match would be the Eagles' fifth semifinal in 10 seasons and sixth since 2011.
Plano Prestonwood Christian is slotted on the St. Thomas side of the bracket with Antonian and four-time state champion Dallas Episcopal seeded on the other.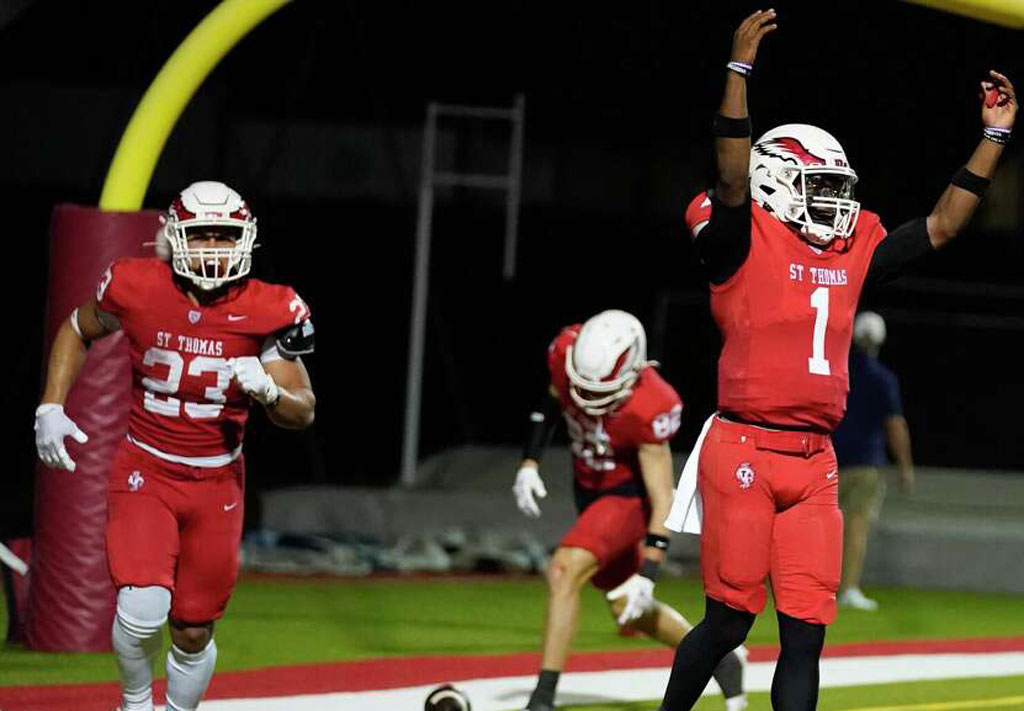 DON'T YOU (FORGET ABOUT ME)
Central Catholic and Bishop Lynch are familiar enough foes.
Eagle Football broke down the Buttons 49-20 in Week 7. The rambunctious Cardenas starred in a 231-yard rampage with three touchdowns and Lewis (213 total yards) delivered three touchdowns, including a pair of scoring strikes to Edgecomb. The second straight emphatic win in the series was the seventh victory in the previous eight head-to-head games.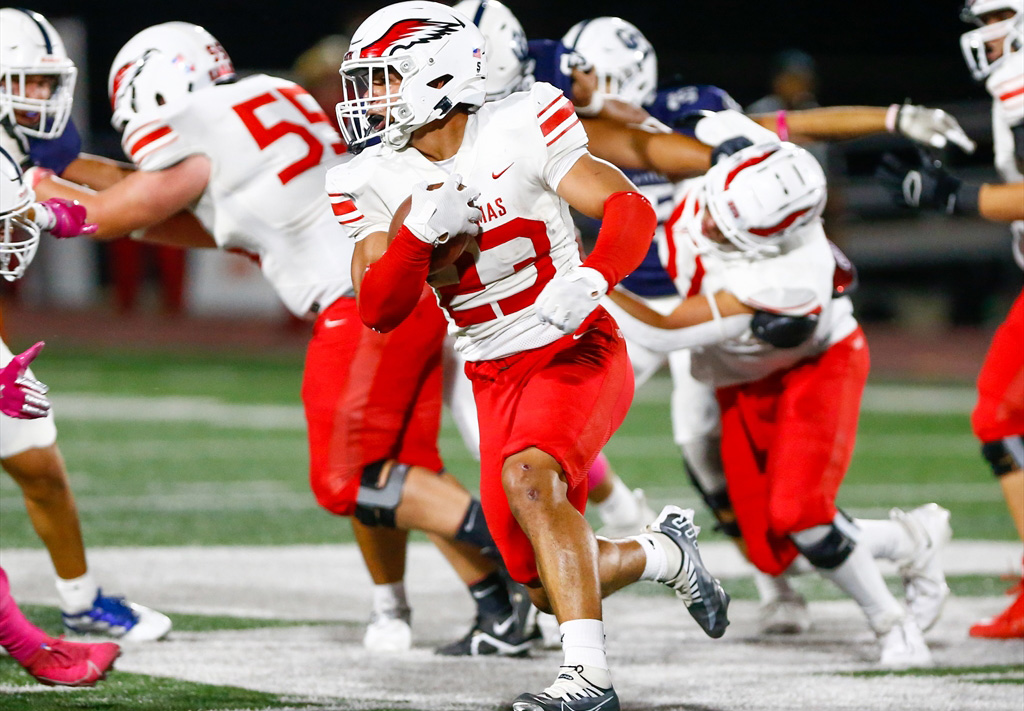 The potential unfriendly fire with Bishop Lynch would be the eighth postseason mano a mano since 2011.
2021
Bishop Lynch 52
Eagle Football 50 (OT)
Record-smashing quarterback Jake Wright '22 ripped four crucial touchdowns in regulation, added another scoring toss in the second overtime plus a vital 2-point completion, but St. Thomas ran out of octane in the regional final in Buffalo.

2019
Eagle Football 21
Bishop Lynch 7
In a late-season revival to rival Brother Love's Traveling Salvation Show, Eagle Football marched into the regional confrontation in Rusk. Game-breaker Cameron Bonner '21 (Baylor) bolted in Usain fashion for electrifying 94 and 79-yard touchdown receptions in a 21-7 slamdance.

2018
Bishop Lynch 42
Eagle Football 35
Quarterback Payton Matocha '19 (Miami) was stoking a scoring machine churning at PS4 Pro levels (with 4K gaming). In the regional playoff in Fairfield, Matocha found Josh Crissmon '20 for a pair of scoring throws in the first half. But Eagle Football played from behind from their first defensive snap and trailed 35-14 into the final stanza.

2016
Bishop Lynch 42
Eagle Football 23
After a 5-5 regular season, Matocha tossed two first-half touchdown passes in his postseason debut but Eagle Football couldn't maintain the mojo and fell to the eventual state champions in the area playoff at Hotze Field inside Granger Stadium.  St. Thomas surrendered a third-quarter advantage in the midst of six lead changes and suffered its first postseason loss in six home games since 2011. The setback was also the earliest playoff elimination since 2010 after three appearances in the state semifinals in five seasons.

2013
Eagle Football 48
Bishop Lynch 27
Reul ignited a 26-point second-quarter eruption for an opening round curb stomping at Hotze Field inside Granger Stadium. The rampage included 570 yards of total offense with Reul throwing for three touchdowns and rushing for 108 yards while Heck rolled for 109 on only 14 carries with a score.

2012
Bishop Lynch 27
Eagle Football 11
A two-yard touchdown from running back Andre Pradia '14 (Saint Vincent College) and two-point toss from Reul to Cavan Biggio '13 (Notre Dame baseball and the Toronto Blue Jays) proved to be the proverbial too little, too late in a second round setback in Buffalo.

2011
Eagle Football 27
Bishop Lynch 21 (OT)
The soaring Eagles erupted from a two-touchdown deficit with 20 consecutive points to post an overtime thriller at Hotze Field inside Granger Stadium. Zook conducted a furious finish, finding receiver Doug Sauter '14 with 1:04 remaining in regulation to tie the game at 21-21. Running back Derek Martin '12 (Mount Union) wrapped a relentless 135-yard rushing effort with a short-range score in the extra session to give the Eagles their first playoff win since 2005 when they reached the state semifinals.
BIG BAM BOOM
St. Thomas is the no. 1 private in Texas in the final state rankings by Texas Football (10th straight poll in the top spot), the no. 1 TAPPS in the state by MaxPreps, and the wire-to-wire no. 1 private in Greater Houston by the Houston Chronicle.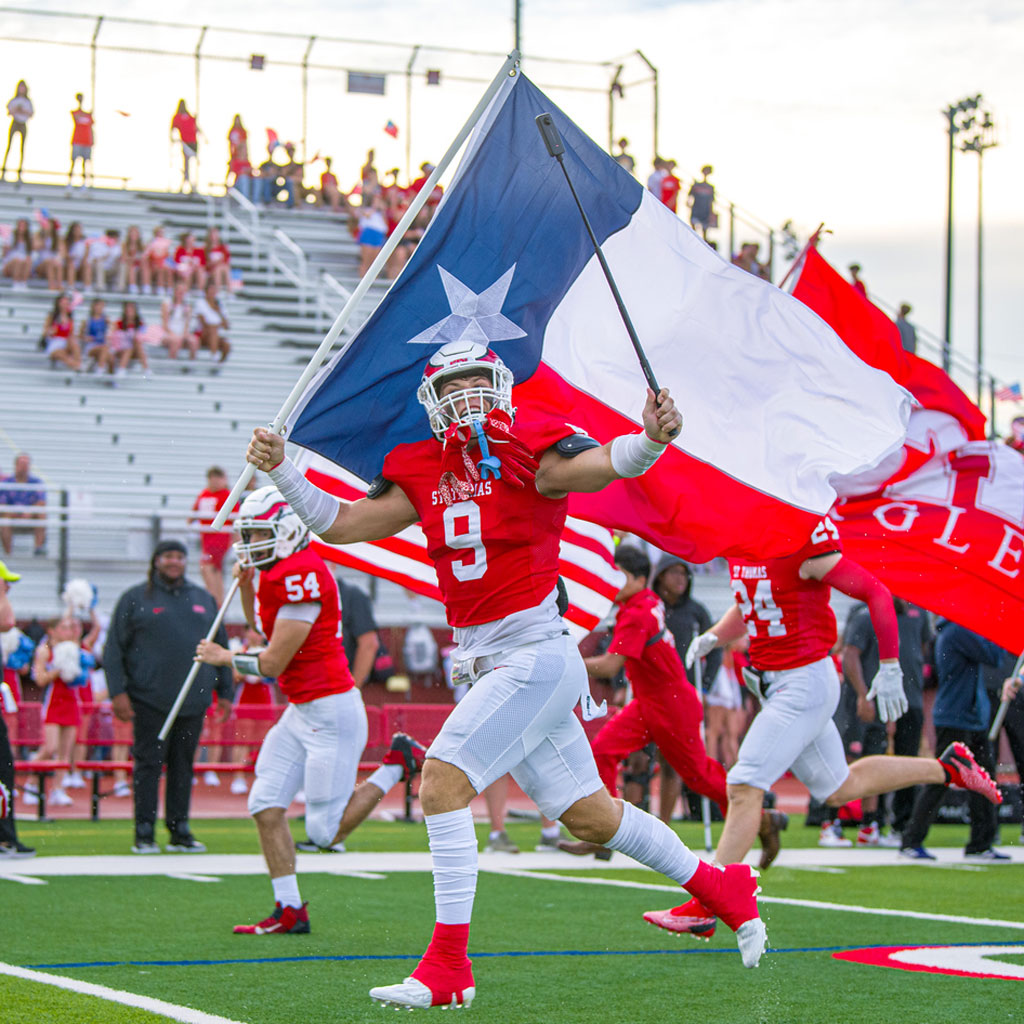 COVERING ALL THE BASES
Lewis was featured in the Hank Aaron Invitational, a showcase game at Truist Park in Atlanta in July capping two weeks of competition, coaching, and evaluation at the Jackie Robinson Training Complex in Vero Beach, Florida.
Lewis was among an elite group of 44 players invited for the exclusive event, powered by the MLB-MLBPA Youth Development Foundation and in partnership with USA Baseball. Lewis then verbally committed to continue his student-athlete career at Kansas St.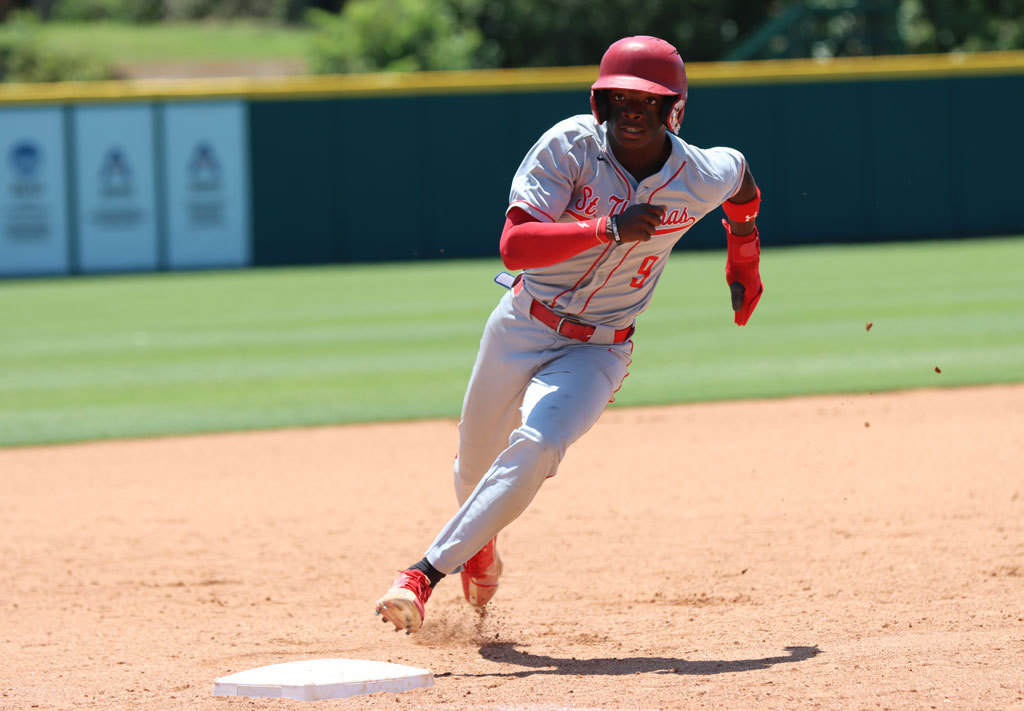 PREVIOUSLY
GAMEDAY CENTRAL || Colossal Cardenas '24 Erupts and Undefeated State No. 1 Private Eagle Football Moves to 9-0
GAMEDAY CENTRAL || Undefeated State No. 1 Private Eagle Football Racks Record-Smashing Eighth Straight Win
GAMEDAY CENTRAL || Undefeated State No. 1 Private Eagle Football Cruises to Homecoming Win for 7-0
GAMEDAY CENTRAL || Undefeated State No. 1 Private Eagle Football Roars in District Opener for 6-0
GAMEDAY CENTRAL || Undefeated State No. 1 Private Eagle Football Storms to 5-0 Start
GAMEDAY CENTRAL || Undefeated State No. 1 Private Eagle Football Dominates for 4-0 Start
GAMEDAY CENTRAL || Undefeated Eagle Football Dazzles Behind Undaunted Donte Lewis '24 and Johann Cardenas '24 Duo
GAMEDAY CENTRAL || Lethal Lewis '24-Benton '24 Combo Ignites State No. 1 Eagle Football to Convincing 2-0 Launch
GAMEDAY CENTRAL || Eagle Football Enjoys Electric Season-Opening Explosion
Eagle Fight Never Dies!