GAMEDAY CENTRAL
WEEK ONE – HOTZE FIELD INSIDE GRANGER STADIUM

El Campo 48
Eagle Football 37
WHAT YOU NEED TO KNOW
In the first on-campus athletic event of the pandemic era, 2020 Elite 11 quarterback Maddox Kopp '21 (verbal Houston) and electric receiver Cameron Bonner '21 (more than two dozen Power 5 offers) torched El Campo with scintillating career-best nights but the pyrotechnics weren't enough to negate a series of opening night breakdowns in a 48-37 defeat to launch the 2020 season at Hotze Field inside Granger Stadium.
TURNING POINT
The Eagles were in comeback mode throughout the night against a UIL 4A team with deep playoff expectations playing its fourth game of the season and featuring a pair of super freak running backs – junior Johntre Davis (23-198 yards, two touchdowns) and sophomore game-breaker deluxe Rueben Owens (17-126 yards, 295 all-purpose yards, four touchdowns).
Early in the final stanza, Kopp rolled right and tossed back left for a short-range score to Bonner to slice the deficit to 41-37. But the ensuing extra point was blocked and El Campo answered with a ground and pound drive that burned more than 7:00 off the clock for the verdict-sealing touchdown.
RAPID REACTION
Athletic Director Mike Netzel
"St. Thomas will never be satisfied with moral victories. But I commend everyone in our community for working around the clock to incorporate public health guidance and appropriate protocols to make this event possible. We'll look back one day and this will be one of the great nights any of us have been a part of because of what we had to go through to get it."
FRIDAY NIGHT FIVE
1. There was no containing the combustible Kopp-Bonner combination which burned white hot for 230 yards and three touchdowns. The big-hitter scores were designed that way, which is impressive this early in the season when types of looks a defensive will give is still in flux. The pulse-pounding 82-yard explosive for the first Eagle points of the season and the 66-yard pitch-and-catch romp to the end zone on the first St. Thomas snap of the second half burned a secondary appearing intent on social distancing.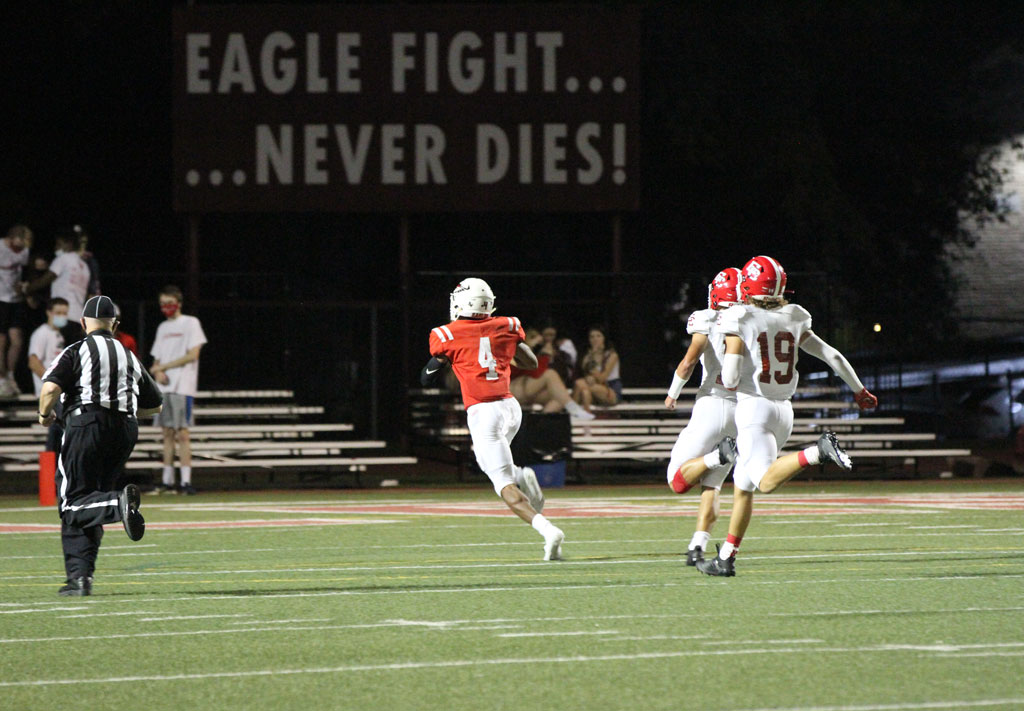 2. Kopp racked 456 passing yards with two more scoring tosses to newcomer Cameron Price '22. The two plastered points on the second series of the second half to shrink the margin to 34-31. Kopp and running back John Fontenot '21 converted a drive-sustaining fourth down with a 16-yard gain from the St. Thomas 37-yard line. Eleven plays later Kopp dialed up an all-alone Price for 34-31.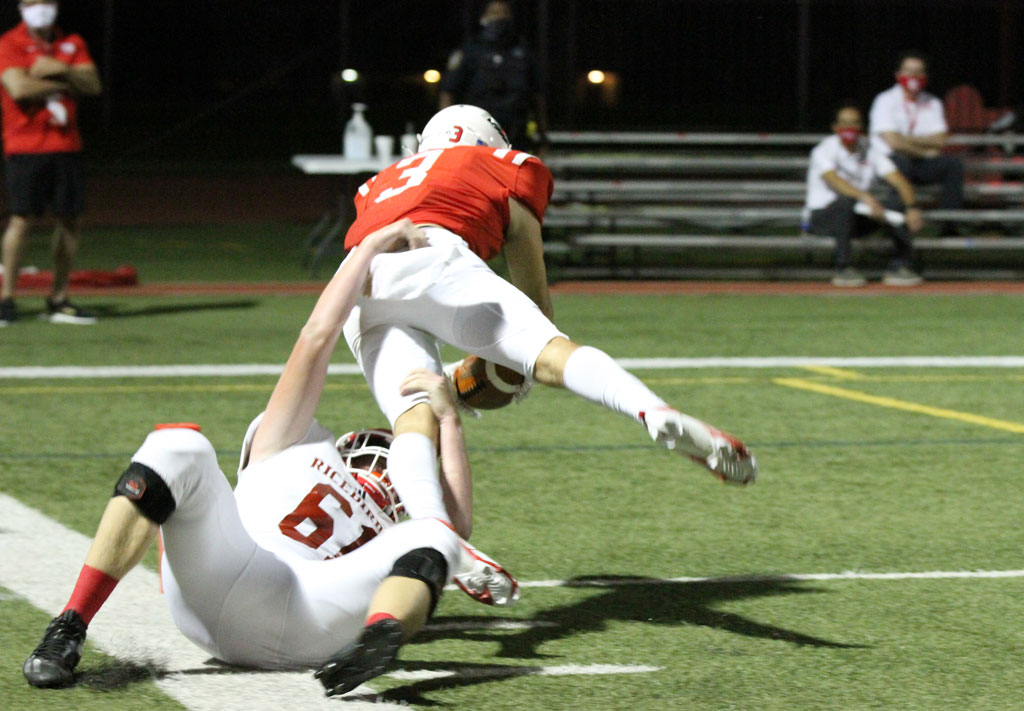 3. In the following Eagle possession, Kopp scrambled for 12 yards to squeeze another fourth down conversion. He followed with completions to Bonner and Fontenot before flipping to Bonner in the end zone for the final Eagle points.
4. The Eagles turbo offensive produced at least one play for 10 yards or more on all six of those scoring drives. However El Campo seized St. Thomas generosity to swing the outcome, cashing in on two kickoff return touchdowns, a fumbled kickoff, and a fourth-and-23 score for 27-10 early in the second period.
5. St. Thomas threatened into the deciding final minutes despite trailing by double digits to end the first quarter and at halftime, by 17 in the second half, and 41-31 entering the fourth quarter.  Eagle Football flashed repeated skill and resilience that placed them as the 'undisputed No. 1 team in the first Houston Chronicle private school poll' and by VYPE Houston.
WEEK 1 || FIRST HALF PICS
WEEK 1 || SECOND HALF PICS
STATE OF PLAY
Everything felt in bounds for Eagle Football after the program navigated the effects of COVID-19 protocols for the first time in-season. When Eagle student-athletes returned to campus for voluntary off-season workouts in August, St. Thomas implemented rigorous policies and procedures aimed at ensuring the safest possible return to athletics participation. Fall training camps and team practices continued with health education and management the essential priority.
For better or worse, the visit from high octane El Campo never represented a one-game referendum on the season.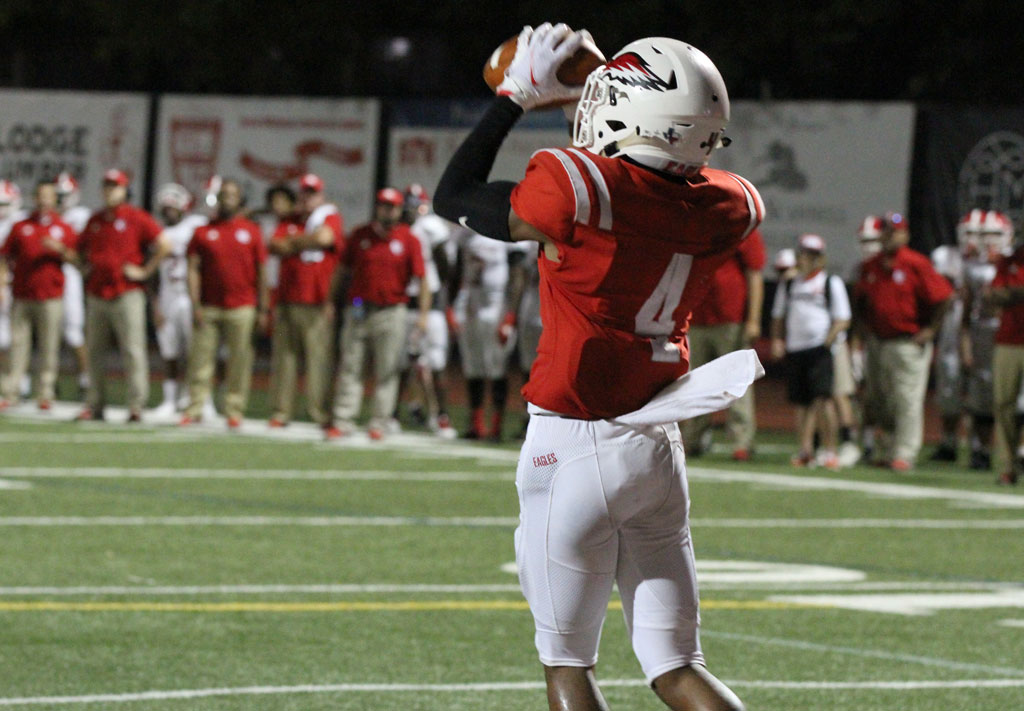 Lethal weapons appear to be a great equalizer while the offensive front and special teams unit develop identity and continuity. This attack has a plan and will terrorize defenses most weeks.  Kopp flashed the ability to pick apart a defense with short passes fully understanding how some of those smaller plays ignite into big ones.  St. Thomas should be able to score more and give up less, assuming the secondary consistently holds together. Look for the Eagle run game to continue to thrive with Fontenot as the featured threat and Kopp's passing numbers building on that success.
Head coach Rich McGuire understands where the Eagles want to go this season and how far the program must travel to get there. After a solid and at times spectacular start to the season, St. Thomas should upgrade its kicking performance and hit McGuire's standards moving forward into Week 2.
UPCOMING
The Eagles will begin district competition October 2 at St. John XXIII. The brief series resumes after St. Thomas flashed a 49-0 Red & White rout in 2014 followed by a 40-0 wipeout the next season.
Games originally scheduled with Needville, Plano John Paul II, Kinkaid, and Houston Christian were canceled in response to the coronavirus outbreak. The amended reboot includes six district contests and two non-distinct matchups with no open dates.
¡UNO!, ¡DOS!, ¡TRÉ!
A parade of Eagle scholar-athletes received significant recognition leading into the 2020 campaign. Kopp was selected as the VYPE private school preseason Offensive Player of the Year while Bonner, lineman Ryan Hanks '21, linebacker Vince Lee '21, tight end Drake Martinez '21, and defensive back Aidan O'Hare '21 were named All-VYPE. Bonner, Fontenot, Kopp, Lee, Martinez, and O'Hare were also named by the Touchdown Club of Houston among its preseason private school honorees.
Bonner, Kopp, and Martinez are ranked among the Chronicle Top 100 Class of 2021.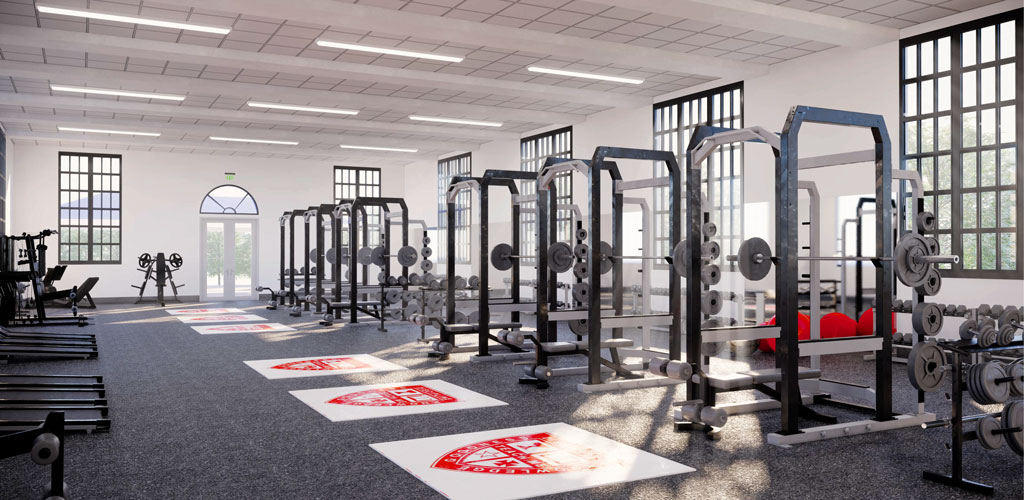 In August, St. Thomas unveiled the Jane and Bill Joplin '54 Campus expansion, the latest priority project to support the school's immediate strategic plan and promote the success of Eagle student-athletes in competition, in the classroom, and in the community. The Joplin Campus, named to recognize the extraordinary philanthropy of Jane and Bill during the 4500Forever and 4500Forever Finish Strong capital campaigns, contains four vital components, all different in their use, but all four supplying Eagle student-athletes with a superior mental and physical training and preparation facility.
THAT'S THE TICKET
St. Thomas debuted its partnership with HomeTown Ticketing to implement a contactless and cashless solution for fans and guests attending events at Granger Stadium.
The essential goal throughout the current academic year and beyond is to administer enhanced safety protocols and best practices – measures that instill confidence among supporters during the challenges resulting from the pandemic.
Eagle Fight Never Dies!