GAMEDAY CENTRAL
WEEK FIVE – HOTZE FIELD INSIDE GRANGER STADIUM

San Antonio Antonian College Prep 28
Eagle Football 35
WHAT YOU NEED TO KNOW
2020 Elite 11 quarterback Maddox Kopp '21 (verbal Houston) connected with receiver Cameron Price '22 for a nine-yard touchdown in overtime and defensive back Aidan O'Hare '21 sealed the decision with an end zone interception as Eagle Football rescued a dramatic 35-28 cliff hanger over San Antonio Antonian.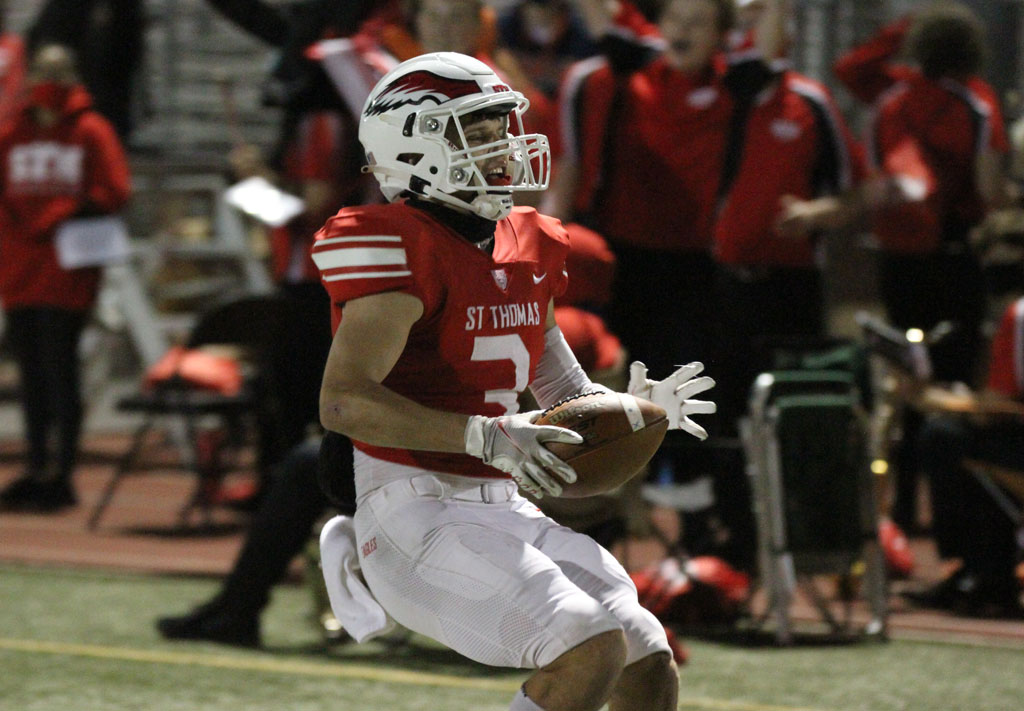 The theatrics earned the Eagles their 12th consecutive district victory since 2018. The two-time defending champs remained undefeated in the 2020 race (4-2, 4-0) in a resounding bounce back from consecutive defeats to open the season against stout UIL competition in 4A El Campo and unbeaten 6A Pasadena Dobie.
TURNING POINT
The Eagles built seemingly comfortable advantages of 14-0, 21-7, and 28-14 – all of which which vaporized in a series of explosive Antonian scoring plays that forced St. Thomas into an extra session.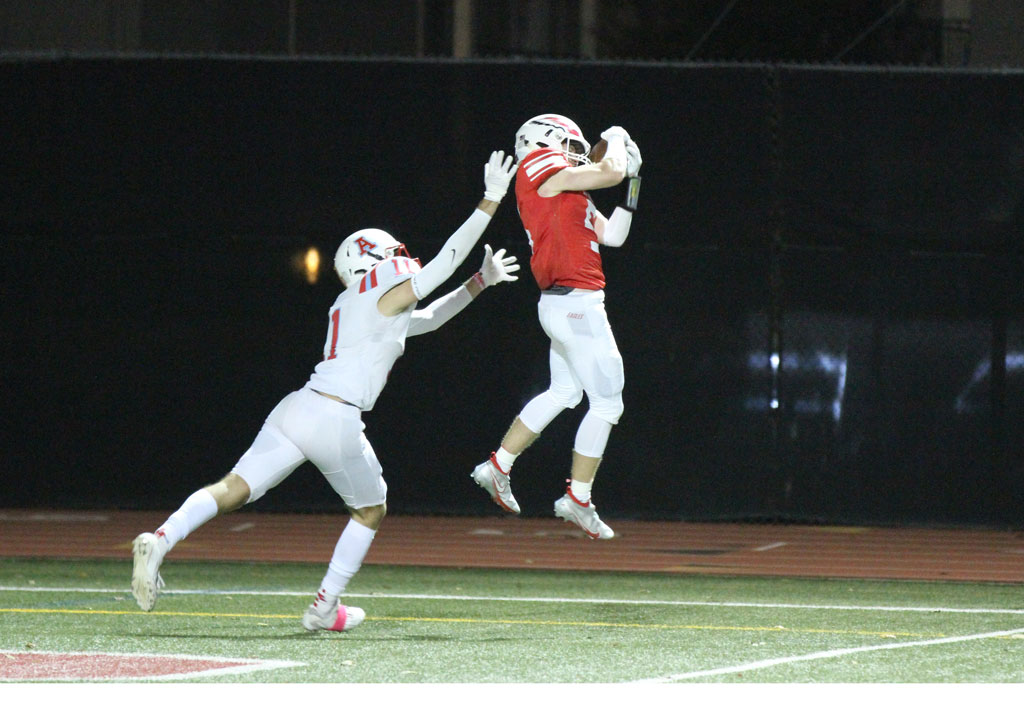 Running back John Fontenot '21 (season high 84 rushing yards on 15 carries) bullied for six and 10 yards to give Eagle Football a first-and-goal at the nine-yard line. On the next snap, Kopp (28-44, 364 yards) found Price (12-138 yards) in the left flat. He bolted up the sideline for his eighth touchdown reception of the season.  Three plays later, O'Hare was perfectly positioned in single coverage in the right corner of the end zone to stamp the verdict complete. His first takeaway of 2020 ignited insane happiness of a team that knew they escaped doom with a determined effort, some great adversity overcome.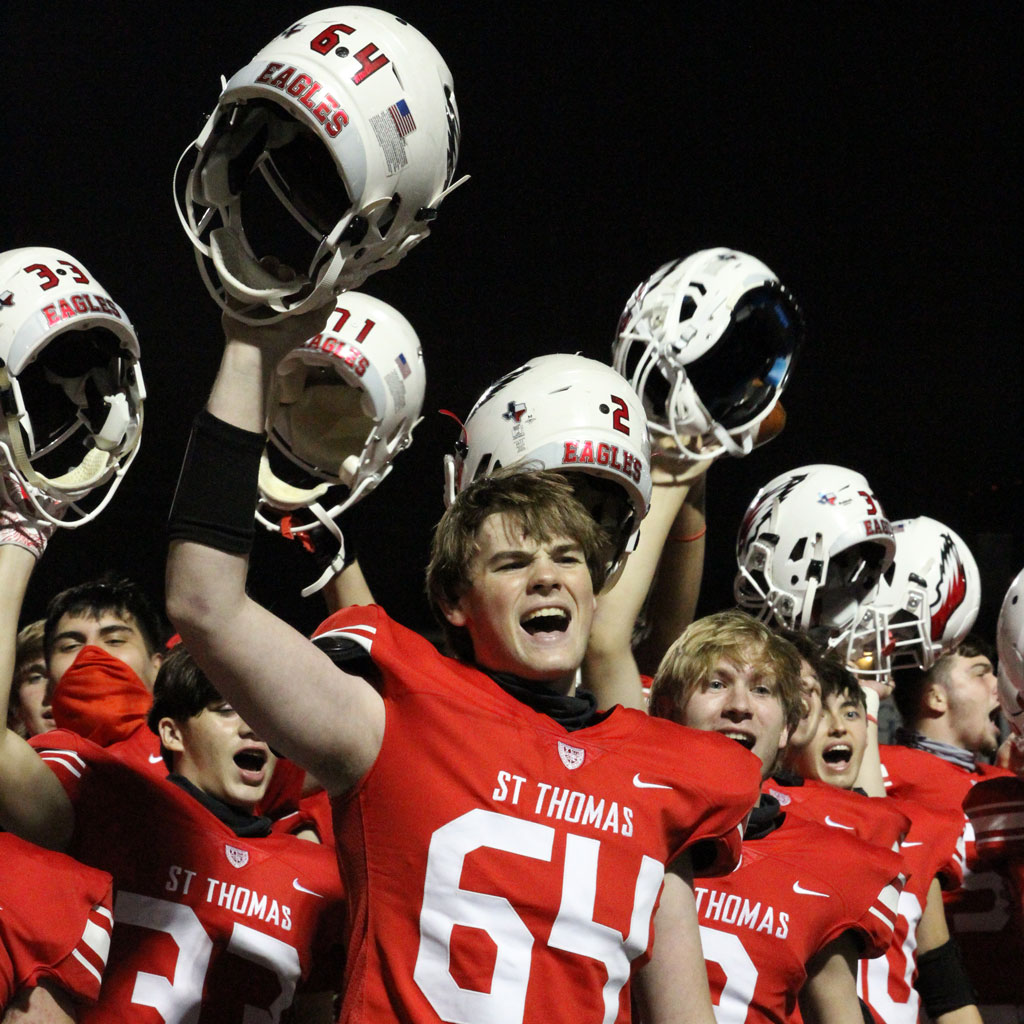 The raucous Red & White rush was more fun than a $9.95 rib plate at Gatlin's.
The opponent was left as empty as Braes Bayou during a July drought.
RAPID REACTION
Head Coach Rich McGuire
"Great fight from our football team. That was not our A game. Good teams win when they have their B or C game. Our defense answered when it absolutely had to respond. That unit is improving and we're going to be better as we continue to grow and develop. This team is nowhere near where it can be and where I think it will be."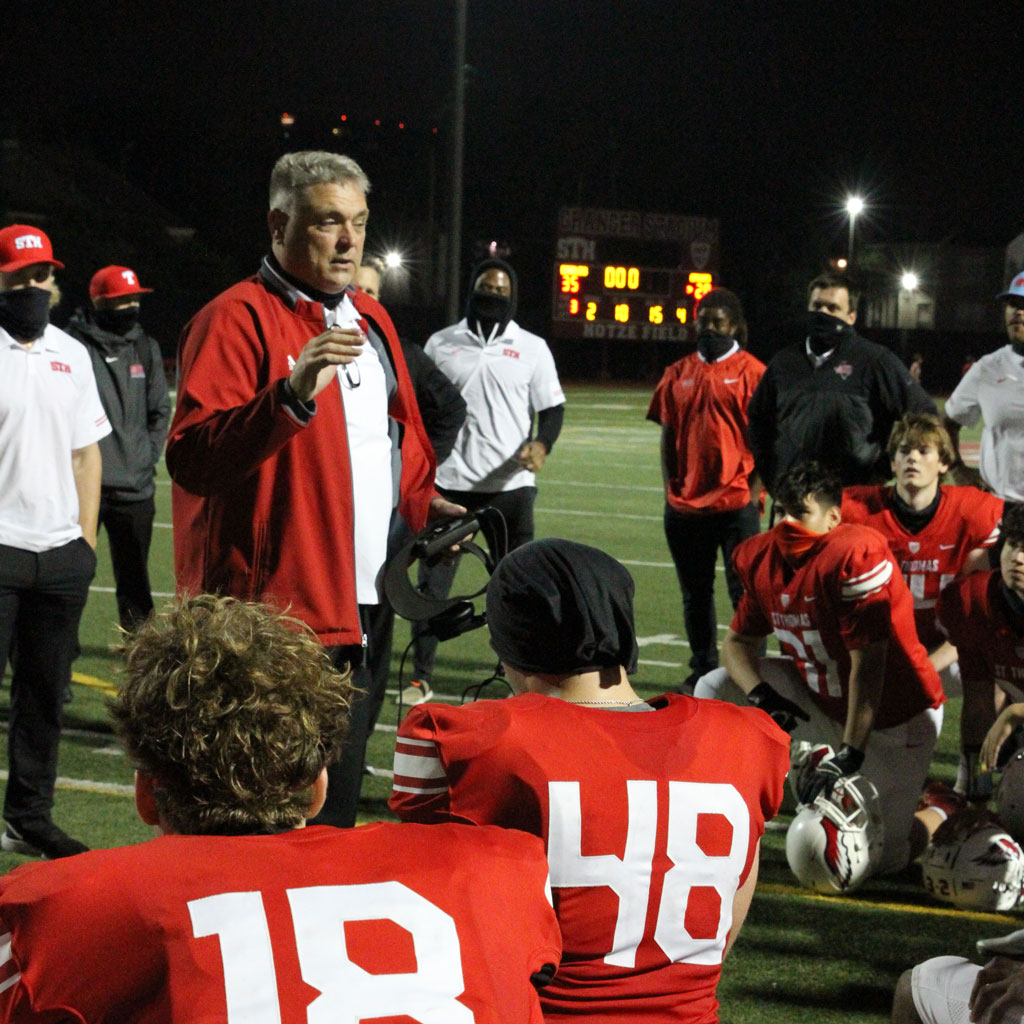 FRIDAY NIGHT FIVE
1. The game started half curious, half hostile, like new neighbors. After a scoreless first quarter, Kopp was surgically precise on the first St. Thomas drive for points. He completed 5-6 for 53 yards, the final 17 on a dart to Joe Rick Madden '22, who made the grab on the left hash marks and quickly pivoted to the outside to race untouched to the end zone for a 7-0 lead.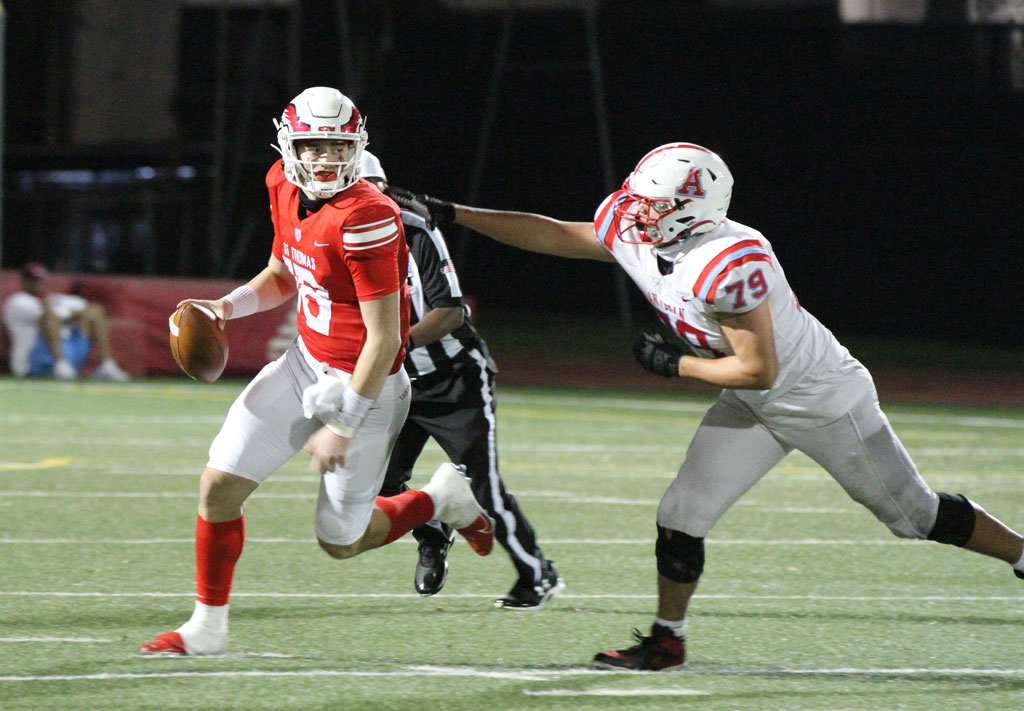 2. Together, Kopp and Cameron Bonner '21 (more than two dozen Power 5 offers) are continuing as one of the great entertaining pairings, along with Butch and Sundance, Riggs and Murtaugh, Shaq and Kobe, Gosling and Stone, Mulder and Scully, Spongebob and Patrick.
Midway in the second period, the pair easily burned isolation coverage in the middle of the field. Bonner (7-134 yards) broke free and Kopp delivered a touch ball in stride for 54 yards for their eighth tag-team touchdown in five games. The two later converted a fourth-down pitch-and-catch at the midfield sticks to extend the opening series of the second half that resulted in a touchdown.
On the next possession, Bonner turned acrobatic wonder, going up and over inferior defenders to secure another deep ball worth 47 yards. Fontenot rammed and jammed the final nine yards for 28-14.
3. The tenor of a majority of the game didn't match the final score. The Eagles marched up and down the field with little opposition to start the second stanza. Kopp sandwiched three completions to Price around a 17-yard ad lib scramble. The short-range quarterback dive capped an 11-play series to move in front 21-7.
4. The high octane Eagle offense was stymied on their final five possessions of the second half, including punts, a turnover, and a missed 45-yard field goal that would have ended the proceedings on the last snap of regulation.
5. The Eagles' down-to-down defense inflicted large doses of damage. Linebackers Vincent Ori '21, Vince Lee '21 (9 tackles) and Kevin Silva '21 (11 tackles) along with Mark Pownall '21 (7 tackles) were the ring leaders in malice and mayhem.  And in the clutch manically moments, the unit upped its contribution.  Linebacker Tegan Spencer '22 (8 tackles) registered a resounding fourth-down stop that stifled Antonian late in the third period.  All of which set the stage for O'Hare's heroics.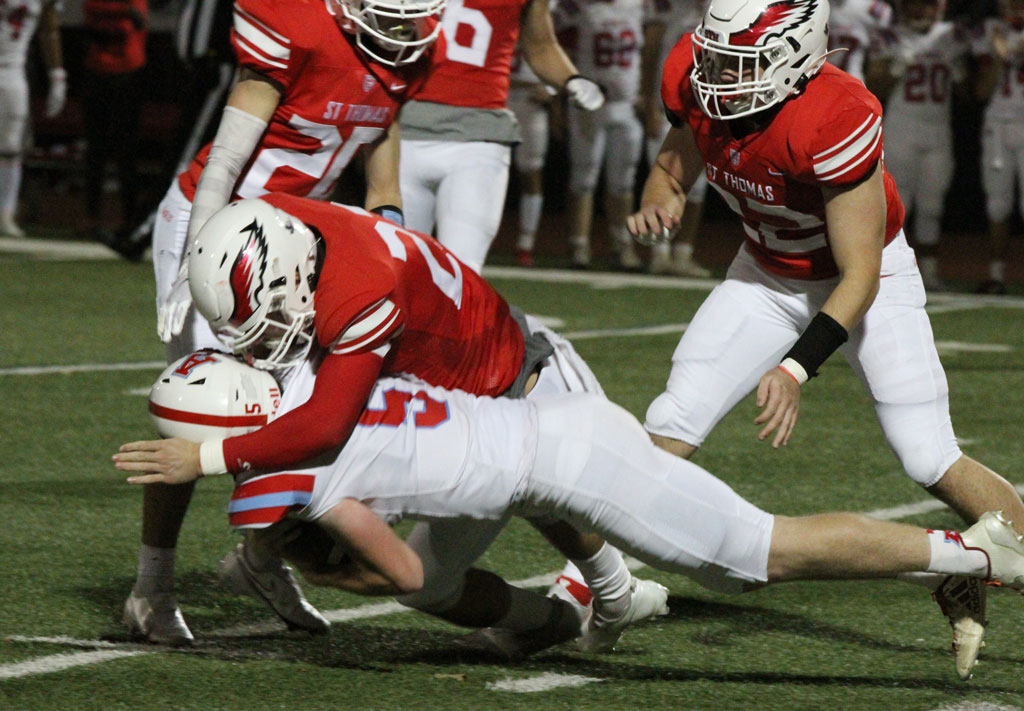 SMELLS LIKE TEEN SPIRIT
The Eagles hosted their fourth socially distanced event in five weeks with attendance increasing to 50% of Granger Stadium for the first time.
The victory was the the Eagles' first overtime outcome since losing 20-14 to Fort Worth Nolan in the 2013 TAPPS Division I regional final in Teague, Texas.  The crushing defeat followed the first unbeaten regular season for Eagle Football since 1939.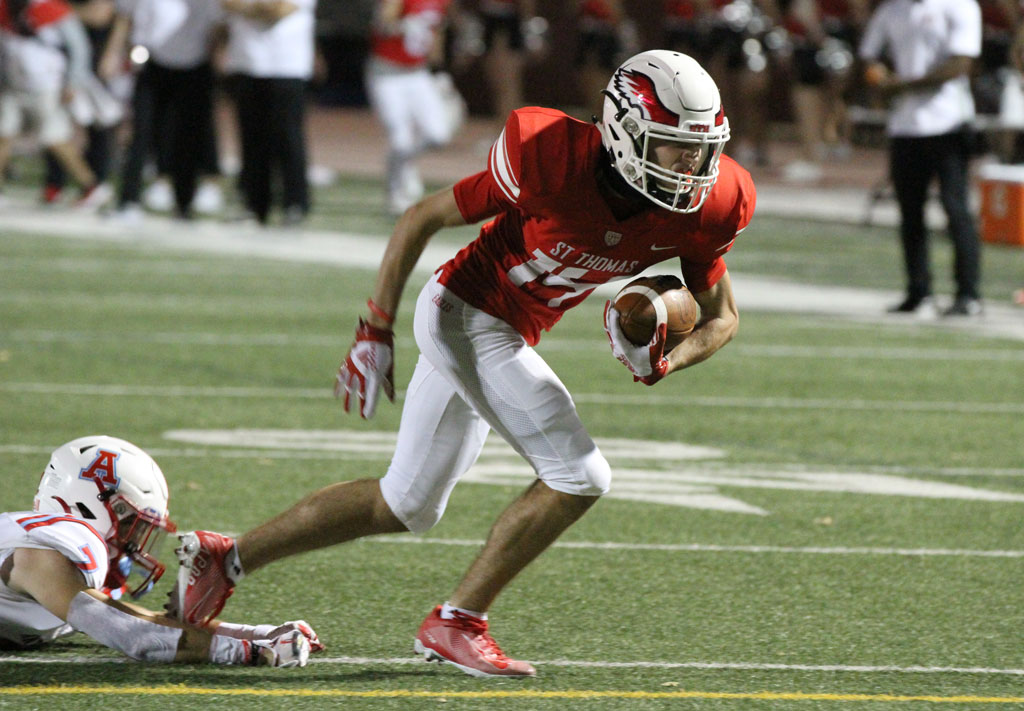 The Eagles began the night ranked the No. 2 private in the Houston Chronicle media poll.
Kopp now owns 1,959 passing yards with 21 scoring passes against only 3 interceptions. On Wednesday, he was named the Texas Ford Built Tough private school Player of the Week after his wrecking ball assault on San Antonio Christian. Kopp torched school records with 533 passing yards and eight touchdowns in the 65-14 runaway. He added a 62-yard romp in the third period.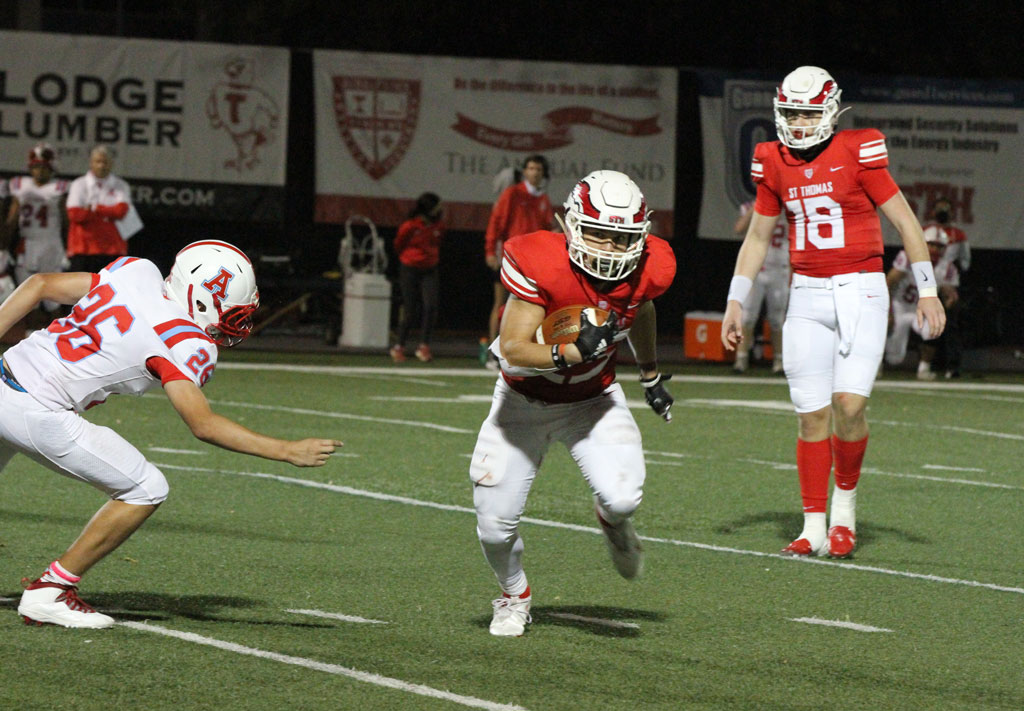 The Week Two district match that was cancelled by St. John XXII 48 hours before kickoff for non COVID-19 reasons registered as a forfeited victory for Eagle Football.
STATE OF PLAY
In a time when unprecedented has become the precedent, chaos has become an expectation and the surreal a weekly reality. So it should be no surprise that a myriad of game-shifting plays, bizarre results, and pulse-pounding finishes have become part of the 2020 backdrop, much like empty stadiums and coaches wearing masks.
Proceed with extreme caution.
Maybe the Eagles had to get something out of their system. They were the more physical team. They ran the ball better. They hit the Antonian defense's weak spots. They controlled the clock and tempo. It was nearly not enough on their home turf with a trio of two-touchdown cushions.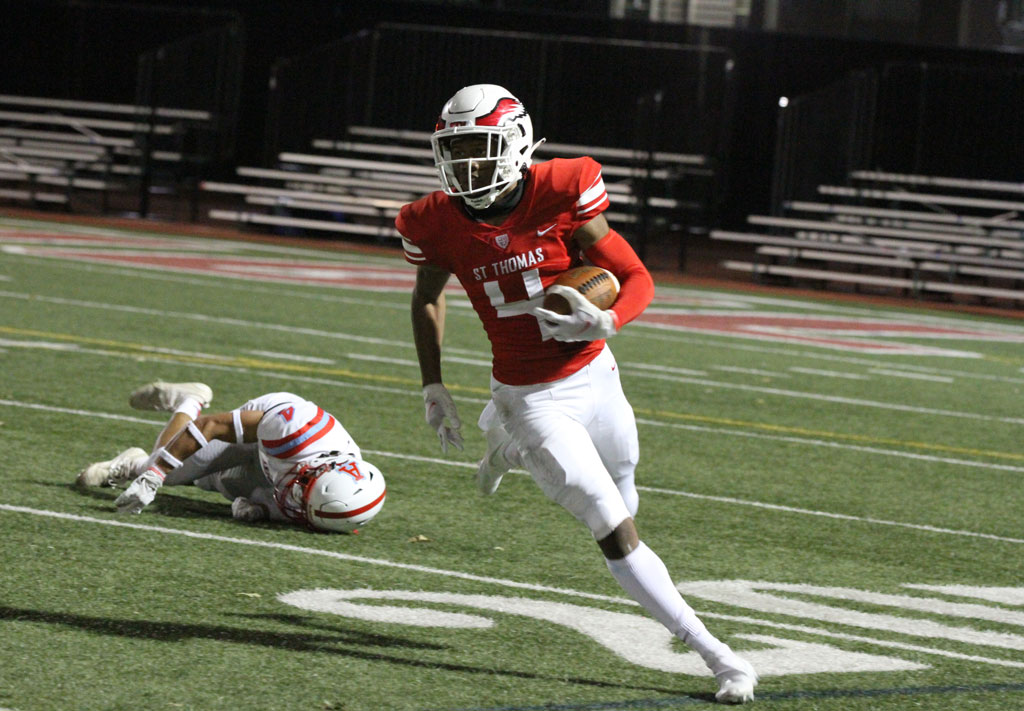 Despite having no spring practice because of the pandemic and an extremely limited offseason program, Kopp's chemistry with the lethal threesome of Bonner, Price, and Drake Martinez '21 (verbal Colorado St.) – honed during exhaustive offseason throwing sessions away from the St. Thomas campus – is obvious.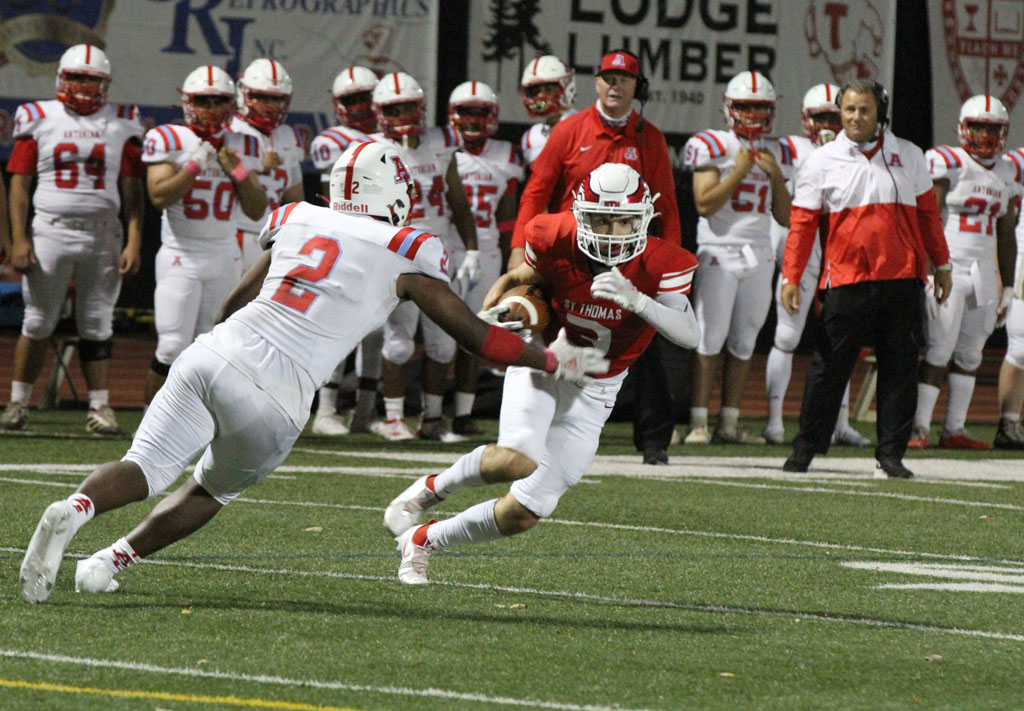 This Eagle offense is so adept at moving defenders around with adjustments and motion and opening up the matchups it wants. And when they did find opportunities against Antonian, Kopp and his wideouts took care of business.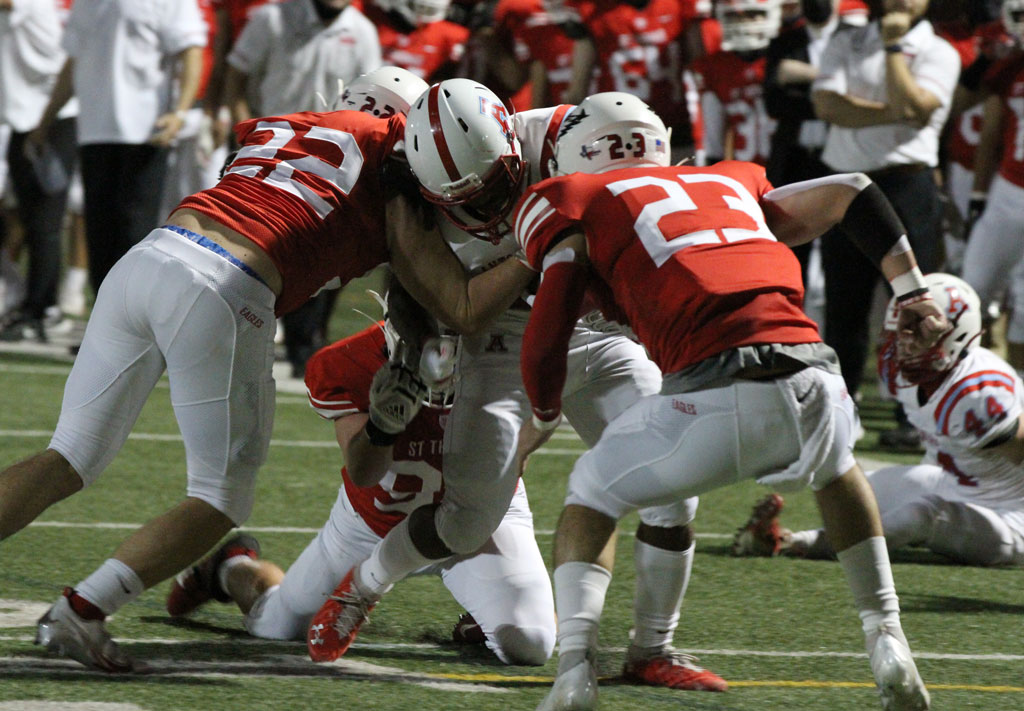 The remaining question is whether that defense, as talented as it is in several spots, is going to develop some week-to-week consistency to eliminate high alert shock plays. Kopp and Crew give you a chance to survive shootouts, no question, but that's not how McGuire wants to play at all.
WEEK FIVE || FIRST HALF PICS
WEEK FIVE || SECOND HALF PICS
MOOD MUSIC
I think that I should warn you
There's something bout to change
We're standing at the border
Where history is made
We're cranking up the lights now
So everyone can see
It's all happening right now
We're gonna make you believe
It's about to get crazy
It's about to go down
It's about to get crazy
It's gonna be loud
This is our house
We do what we wanna
We'll blow the roof up
Everybody's comin'
It's about to get crazy
It's about to go down
It's about to go down
We'll make the whole world hear us
So throw your hands up high
We're bout to show you why they fear us
Here comes the battle cry
Here comes the battle cry
It's about to get crazy
It's about to go down
It's about to get crazy
It's gonna be loud
UPCOMING
The clash with St. Pius X that has routinely closed the regular season and determined at least a share of the district championship has been moved to midseason.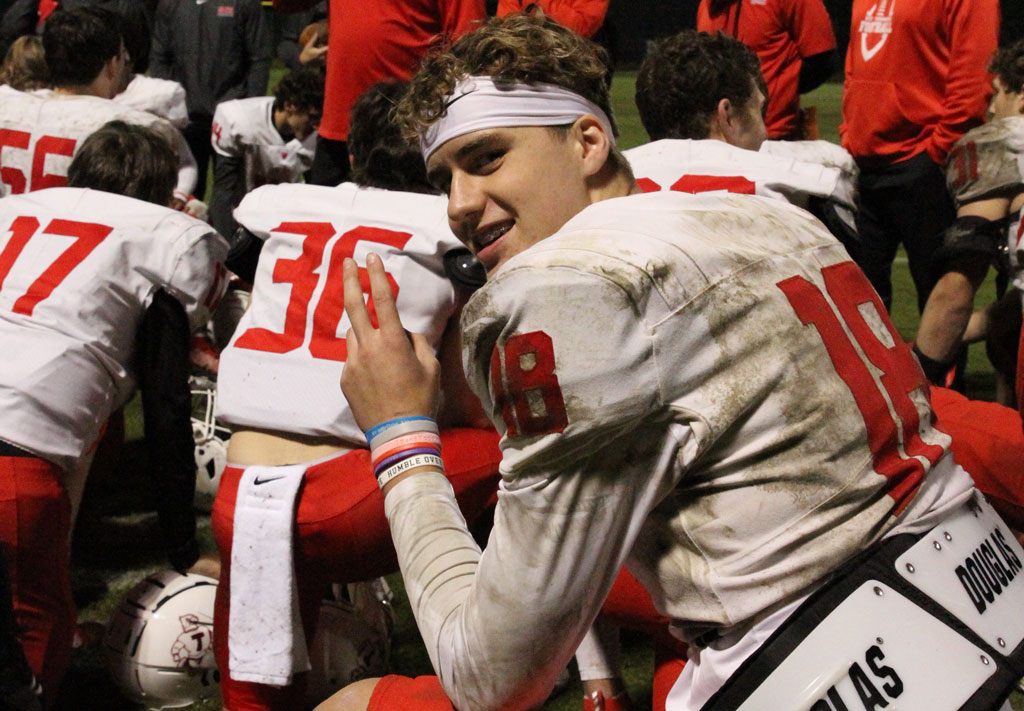 In 2019, Eagle Football used an avalanche of 40 consecutive points for a commanding 47-21 verdict to cement a second straight undefeated title, the sixth crown in eight years.  Kopp blistered SPX for a then career-best five touchdown passes, three in the final 2:27 of the first half, as the Eagles shook a shaky start to face-plant the Panthers with an outcome so devastating it required an autopsy.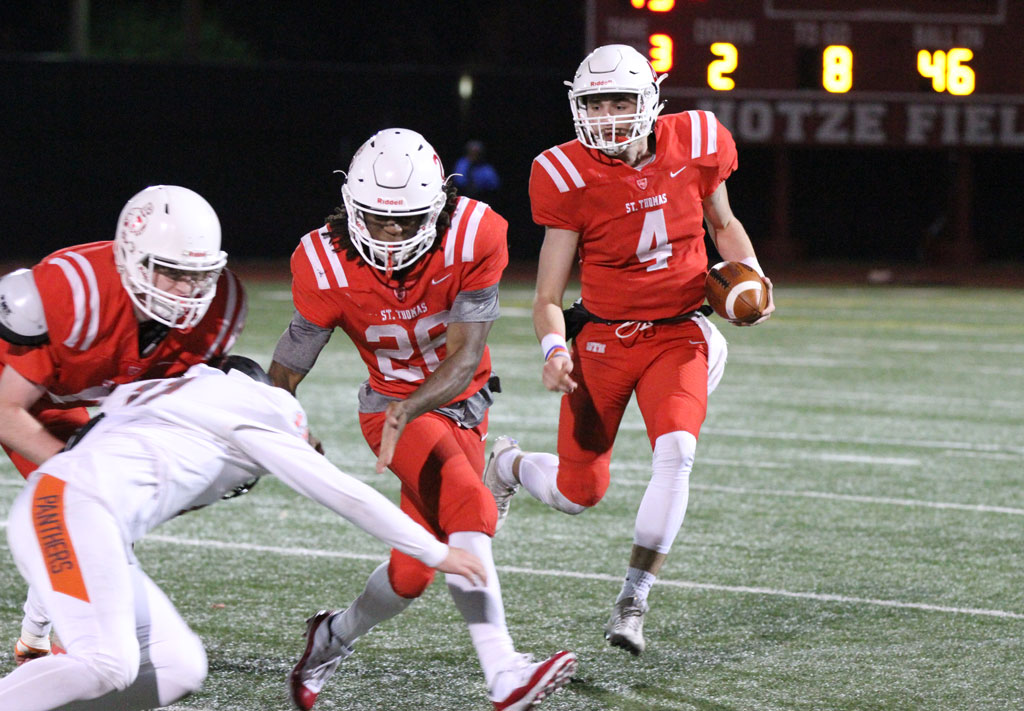 In 2018, quarterback Peyton Matocha '19 put on a dazzling display of talent, skill, precision, will, and want with seven touchdowns including four in the third quarter when Eagle Football seized control to rally for a stunning 52-49 shootout to reclaim the district crown.
The Eagles captured four straight showdowns from 2012-15 with the district title at stake by a combined score of 144-62. In the stretch dating to 2011, Eagle Football enjoyed five wins in a row and six in seven games.
PREVIOUSLY
Gameday Central || Record-Smashing Eagle Football Dominates 65-14 to Stay Perfect in District
Gameday Central || Eagle Football Remains Undefeated in District after 31-14 Win
Gameday Central || Eagle Football Launches First On-Campus Event of Pandemic Era
¡UNO!, ¡DOS!, ¡TRÉ!
A parade of Eagle scholar-athletes received significant recognition leading into the 2020 campaign. Kopp was selected as the VYPE private school preseason Offensive Player of the Year while Bonner, Martinez, offensive lineman Ryan Hanks, Lee, and O'Hare were named All-VYPE. Bonner, Kopp, Lee, Martinez, O'Hare, and Fontenot were named by the Touchdown Club of Houston among its preseason private school honorees.
Bonner, Kopp, and Martinez are ranked among the Chronicle Top 100 Class of 2021.
St. Thomas is partnering with HomeTown Ticketing to implement a contactless and cashless solution for fans and guests attending events at Granger Stadium. The priority throughout the current academic year and beyond is to administer enhanced safety protocols and best practices – measures that instill confidence among supporters during the challenges resulting from the pandemic.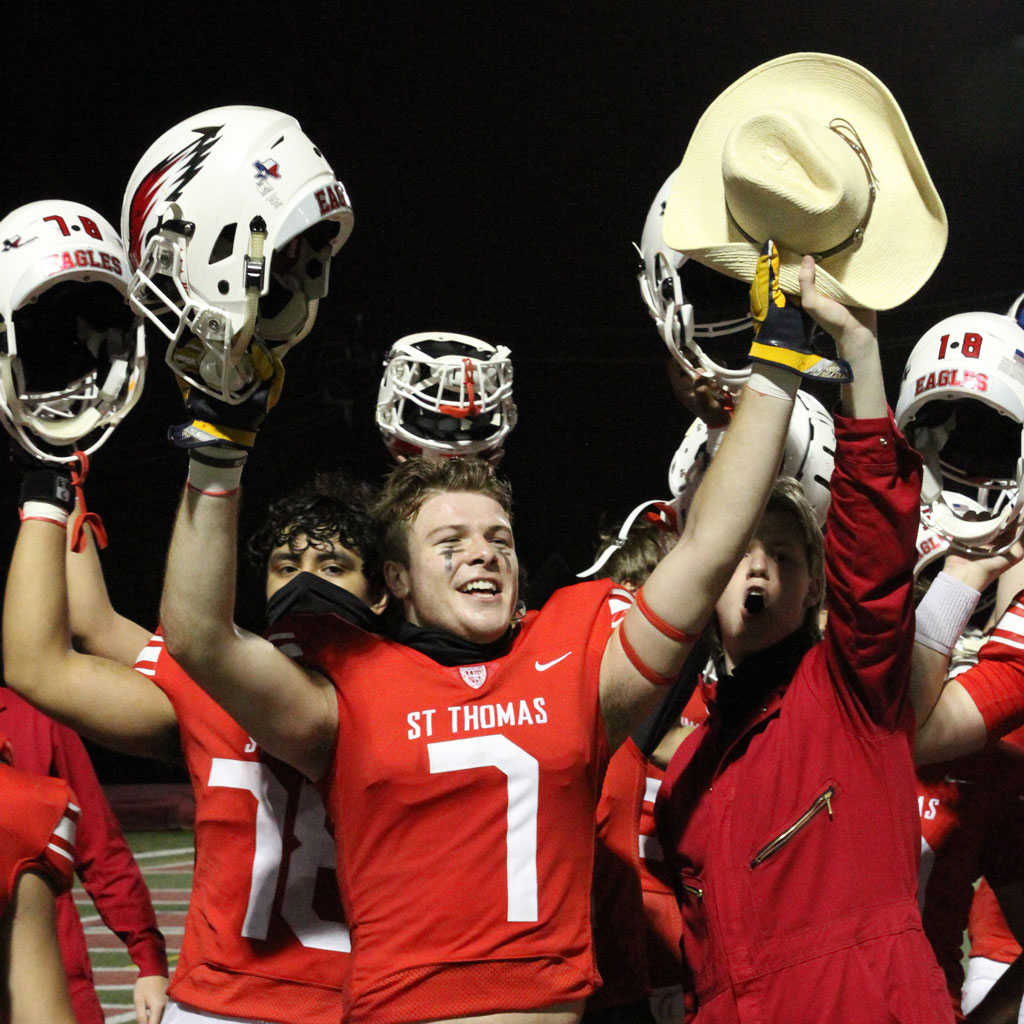 Eagle Fight Never Dies!