GAMEDAY CENTRAL

WEEK 8 – SCHROEDER STADIUM, TOMBALL

Eagle Football 35
Tomball Concordia Lutheran 7
WHAT YOU NEED TO KNOW
Overpowering Humvee running back Johann Cardenas '24 racked 158 rushing yards on only 16 carries with four touchdowns while a doomsday demolition St. Thomas defense continued its slamdance lockdown in a 35-7 rout for its seventh straight win to start the season.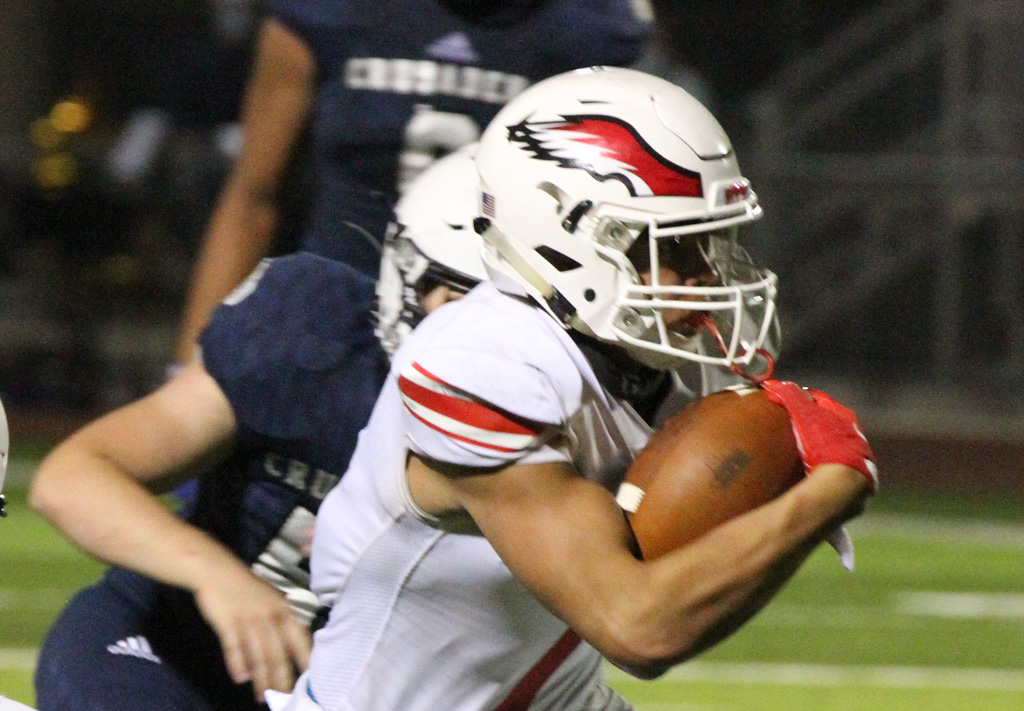 St. Thomas continues its most robust beginning since the 2013 unbeaten regular season with a second consecutive Division I District 2 victory that raises its record inside the race to 21-1 since 2018.
TURNING POINT
After St. Thomas forced a third punt in five possessions, Lewis orchestrated a crisp 3:32 scoring sprint. His quick flip to Cardenas in the left flat carried for 19 yards to the brink of the end zone. Cardenas capped the possession on the next snap for 21-7 with 4:24 remaining in the first half.
Two minutes of game clock later, mighty-mite defensive back Marquis Kiatta '24 perfectly closed on an overthrown out-route for his third interception of the season. The 54-yard touchdown return for a comfortable 28-7 cushion was as laserlike, pure, and precise as a Staffelter Hof riesling crafted from the steep slate slopes of the Mosel River.
FRIDAY NIGHT FIVE
1. The Cardenas Extravaganza opened midway through the first quarter from short range, three plays after a Dominic Ori '24 fumble recovery near midfield. Quarterback Dante Lewis '24 (13-21 for 173 passing yards) promptly set up the score, splitting the secondary and dialing in big play specialist Shaffer Henderson '23 for a 40-yard explosive.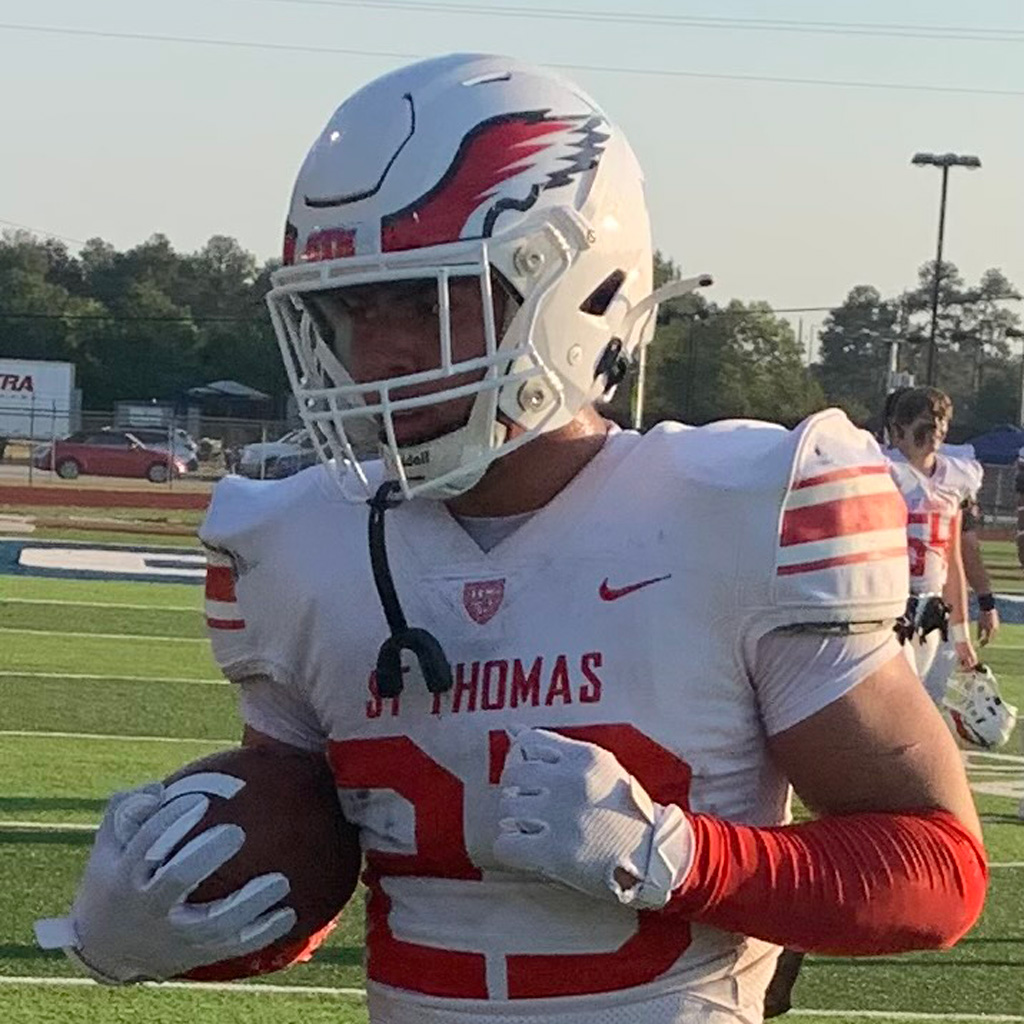 2. The Eagles then slapped a 21-point second quarter to effectively decide the outcome by halftime. Cardenas flashed some of the best soloing since rock-guitar gunslinger Eddie Van Halen unleashed his slash-and-burn aesthetic "Eruption." Two minutes into the second stanza, he exploded into TCL's second tier and raced untouched for a 62-yard bolt for his second touchdown. Once Eagle Football recaptured the lead at 14-7, the Crusaders were zero threat to take it back.
3. Eagle Football stalked TC with more contempt and menace than the ominous opening installment of "The Watcher." All-state linebacker Zach Rocha '23 and his bash brothers badgered and bullied with the intent of midterm election campaigns. The wrecking crew with leading tackler Jack Ward '23 and all-state safety Caleb Davis '23 consistently ruled the line of scrimmage with body blows and convincing stops from an ever-improving group of front-seven playmakers.
4. St. Thomas continued to prove to be much more than its signature pinball passing attack. It's the ability to let fly that high octane when it's properly revved, or emphasize the beast-mode Cardenas when that seems more effective.
5. A promising drive to open the second half was short-circuited by a red zone turnover. The Eagles immediately answered with Cardenas touching the ball four times in a six-play scoring series. He bulldozed the final 22 yards for his fourth rushing touchdown of the game, his 13th of the season and his 18th overall for 2022.
VIVA LA BAM
St. Thomas has now allowed only five touchdowns in four consecutive convincing victories starting with the running clock shutout at Plano John Paul II. The Eagles then shutout Kinkaid in the second half of a 35-14 verdict and allowed eight points after halftime in a 17-pt knockout of San Antonio Central Catholic.
ROCKIN' THE FILLMORE
Eagle Football continues to dominate a series by a Grand Canyon-esque gap, raking 11 overwhelming wins in 12 tries by a combined margin of 385-117.
¡UNO!, ¡DOS!, ¡TRÉ!
Eagle Football started Week 8 the unanimous no. 1 in the Houston Chronicle private school rankings for the fourth consecutive week, no. 3 in Dave Campbell's Texas Football state poll for the second straight week, and no. 23 in the SBLive Sports Illustrated Media small school state rank.
McGuire is in his sixth season as head coach and improves his overall record to 40-22, 22-4.
Eagle Football is chasing at least a share of the district championship for the fifth consecutive season.
PREVIOUSLY
GameDay Central || Undefeated Eagle Football Hammers San Antonio Catholic to Open District
GameDay Central || Undefeated Eagle Football Downs Kinkaid for Best Launch Since 2013
GameDay Central || Eagle Football Dominant in Catholic Bowl II for Best Start since 2015
GameDay Central || Eagle Football Roars in Home Debut for 2-0 Start
GameDay Central || Eagle Football Soars to Dazzling Debut Win
UPCOMING
The Eagles are next matched in their annual Homecoming game against The Village School. The Vikings are making the transition from TAPPS Division V and have lost six games in a row, including 0-2 in district.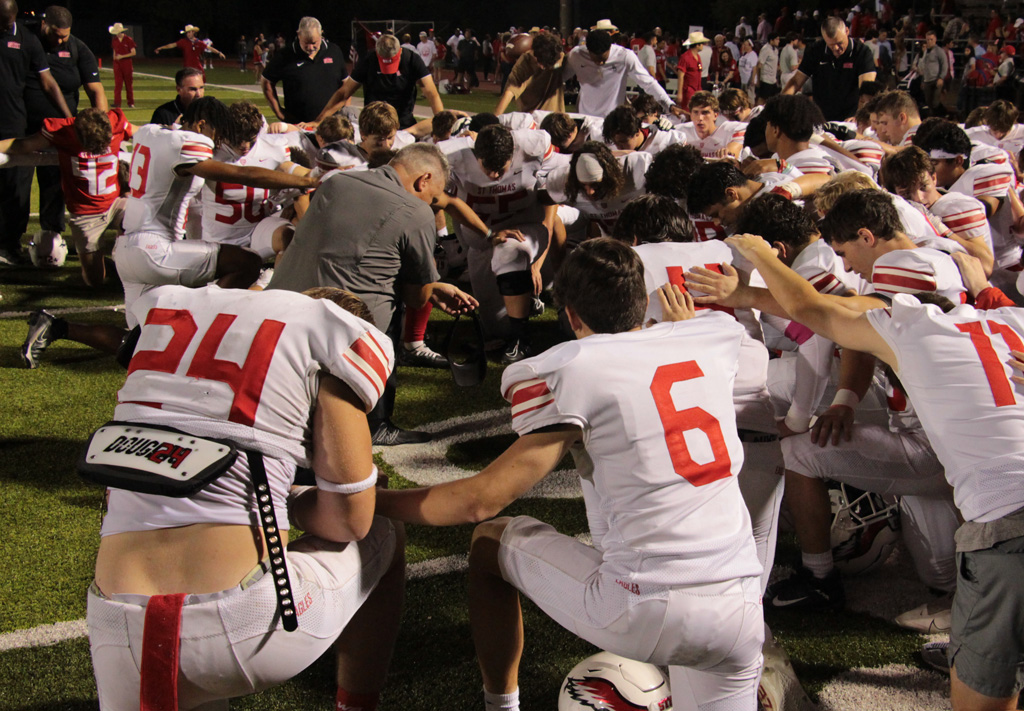 Eagle Fight Never Dies!